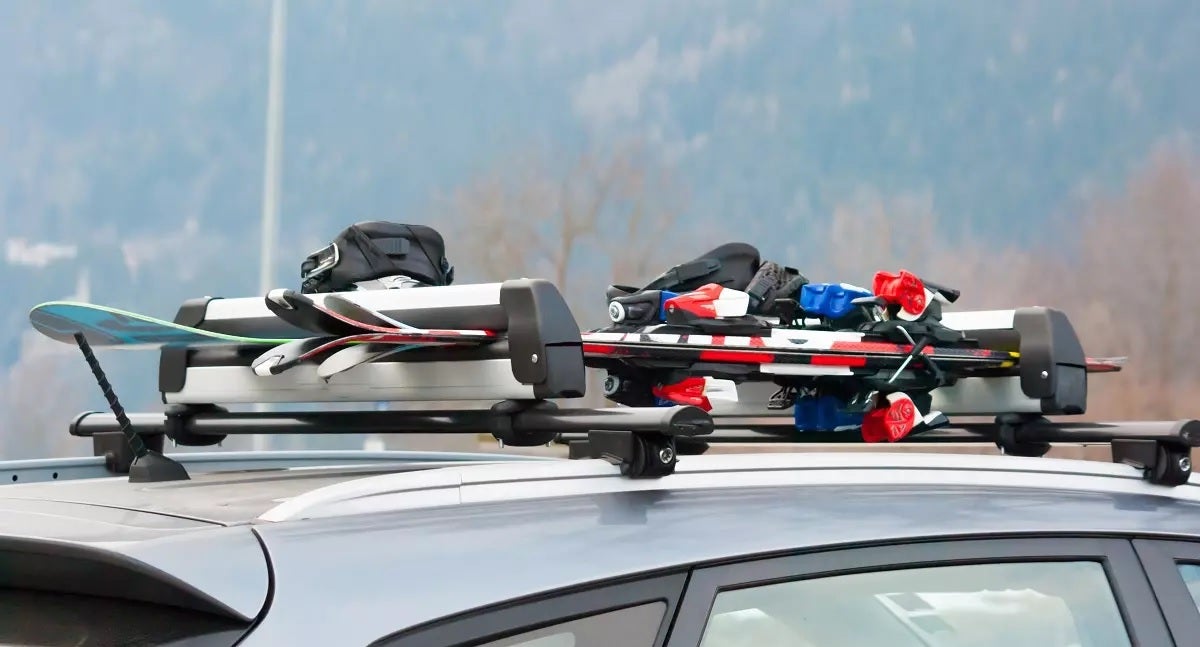 Our Editors independently research, test, and rate what we feel are the best products. We use affiliate links and may receive a small commission on purchases.
Let's first do a quick rundown of where you should not store your equipment. You do not want to store them in direct sunlight, in very cold, or in very hot conditions. You also do not want the environment to be damp at all as this can seriously start to wear down the materials, which will not only cut their life span but can also negatively affect performance.
Why let your gear wear down when all it takes is a few extra minutes to place them in a proper storage environment? It may be tempting to store your gear away under your bed, in a closet, or behind a door, but please try to avoid doing this! This is only putting them at a greater risk of damage and will also leave the susceptible to collecting dust and grime.
Cleanliness
It's not only crucial to keep your skis and boards in the right place, but also in the right state of cleanliness. Whenever you're putting them away for more than a few days, you really need to clean them up. Even though they may look clean, snow actually carries quite a bit of dust and dirt with it.
The good news is that cleaning them is pretty easy and common sense. Simply use a soft cloth and get some warm water, wiping them down on every surface. Make sure you're not scrubbing though, and wipe with a clean, dry cloth once you're done. Make sure they are completely dry before you put them away (remember what we said about damp environments).
Storage Racks
These are our preferred method of storage and honestly, can't be beat in terms of logistics, convenience, appearance, and affordability. Storage racks come in an array of different configurations, with some designed for you to store them close to the ceiling and away from view while others are meant to be mounted or stood up against a wall for you to display your equipment. If you have skis, you may even prefer freestanding designs where your skis are standing upright.
You have everything from a more industrial steel look to a more handmade wooden appearance – whatever suits your tastes best! If you have quite a few skiers/boarders in your home then there's no better alternative here. They save a ton of space and make sure your gear looks good while being safely stowed away.
Ski/Board Bags
If you travel quite regularly with your skis/board then you may want to consider getting a travel/storage bag for them. These padded bags are designed to fit your skis or snowboard safely without having to struggle with the process. They're very well-padded so even if you're traveling by plane and checking them in, you can rest assured that they'll be well protected from any bumps and abrasions.
You'll get your choice of either a soft shell or a hard shell, similar to what you'd find for guitar cases. Soft shells are going to be more affordable though offer a bit of flexibility for easier storage. Hard cases on the other hand, are much more durable and offer added protection though are more expensive and don't have any "give" to speak of.
What's cool about these bags is that even when you're not traveling and simply want a safe place to stow your skis/board on the offseason or whenever they're not in use, you can leave them in their bag. These bags will protect them from harmful UV exposure, liquids, and general exposure to the elements.
We still recommend keeping them away from the cold and moisture, but they'll likely be pretty safe even stowed in the garage if you keep them in their bag, properly zipped up. Don't forget about your boots! Store them safely in a boot bag so they are protected and ready for next season.
Ski/Snowboard Rack (for Vehicles)
Yes, we know that we've already covered ski/snowboard racks earlier up in our guide, but those are a different type of rack designed for at-home use. These, on the other hand, are made to store your equipment on a vehicle.
These roof racks also come in an array of configurations, depending on the gear you're transporting, and the style in which you'd like to keep them safe. Some racks feature an open design where your skis or boards are exposed freely to the elements, while others are a closed "box" type design that seal shut and close out any moisture or coldness. If you can, these will be the best for keeping them in tip-top condition and extending their lifespan as much as possible.
Now that we have covered storing your skis, lets go over transporting them
Overview
Whether you're planning on transporting your skis or snowboard by plane or by vehicle, you need to know ahead of time what kind of space you have available and what the rules are. This goes double when it comes to flying by airplane and you should know the rules for the specific airline you'll be traveling with.
Flying with Skis or Snowboard
If you've never traveled with your skis or snowboard before by air, it may sound a bit daunting. The good news is, that it's typically not any more difficult than checking a regular piece of luggage! Again, it's important to be aware of specific rules per your airline.
Snowboard and Ski Bags
Before you do anything else, you're going to need a proper snowboard bag. You obviously aren't going to be able to simply check your snowboard or skis in without any protection. Okay, technically you could but that's only if you're hoping for your board, skis, or bindings to get damaged!
As with any kind of travel, planning will be your best friend. With the right type of luggage, you'll be able to breeze through security and the entire bag check process. In my personal opinion, I find wheeled snowboard bags to be the most convenient.
As you probably already know from traveling with regular suitcases, wheeled luggage is just more convenient. You don't have to worry about getting a kink in your neck or wearing your upper body out from carrying it – not to mention the hand cramps!
Wheeled bags allow you to glide your board along without issue, moving between crowds seamlessly with more energy when you get to your destination. While it's not a rule, wheeled options also tend to offer additional compartments to keep other gear like boots and outerwear organized and safe. Some even have room for ski helmets!
You may be able to save some cash by simply packing your helmet and/or boots in your carryon, but that's not feasible for everyone. If you have space in your carryon, simply roll up your clothing and push it inside your boots and around them.
Boots
Many airlines will let you check in your ski bag and a boot bag as a single checked bag, however, so it's important to check the specific policies in this regard. It could end up saving you quite a bit of money! Just remember that there's always the chance that your boot bag doesn't arrive to your destination, and boots are significantly more difficult to rent than a board or skis are , especially boots that you've taken the time to break in. No one wants to deal with blisters and discomfort when they should be simply enjoying the trip!
Backpacks
I highly recommend traveling with a backpack, even if you do have a ski or snowboard bag large enough to hold all of your clothing and other gear. A backpack is where you'll be able to store your more delicate items safely. Electronic devices like laptops, cameras, toiletries, makeup, etc. will be placed here as putting them along with the rest of your board/ski bag is not the best idea and will not provide the protection they need.
Packing Tips
If you really value the kind of organization that your "regular" suitcase can offer or if you can't fit all of your clothing into your ski/snowboard bag, you may actually need an extra piece of luggage. You can always ship your gear ahead of time too, if the idea of carrying around so much luggage stresses you out.
Roll Your Clothes Up – I mentioned this up earlier in the article, but simply rolling up your clothes and layers will honestly save you quite a bit of room in most cases, where you can slide them in your boots and between your skis, etc.
Use Stuff Sacks – These are great for keeping smaller things like socks and underwear organized and ensure you don't lose them among all the rest of your pack's contents.
Organize Clothing – Furthermore, try to keep your regular street clothing separate from your ski/snowboard clothes. This will save you time when it's time to get changed, so you aren't digging around frantically looking for your only nice shirt to go out to dinner in.
Transporting Skis by Car
If you are going to be using your own vehicle, then this won't be too much of a problem. All you really need is a ski roof rack and you're ready to go. This way, you can transport multiple pairs of skis or boards without taking up any space inside your car or SUV.
If you're going to be using a rental car, then you can occasionally check with the rental company to see if they can rent a carrier for you. In many cases – particularly in areas where ski and snowboard tourists are common – this is a very real possibility but make sure you check this before you actually rent the car so you're not stuck.
Notice:
OutsidePursuits.com is a participant in the Amazon Services LLC Associates Program, an affiliate advertising program. OutsidePursuits.com earns fees from products sold through qualifying purchases by linking to Amazon.com. Amazon offers a commission on products sold through their affiliate links.