Our Editors independently research, test, and rate what we feel are the best products. We use affiliate links and may receive a small commission on purchases.
If you've been to an airport lately and have watched the throngs of people shuffling from one spot to the next, you may have noticed that the luggage they are using is different from the traditional suitcases many of us grew up recognizing.
Today, most travelers rely on a rolling duffel bag to get their stuff from Point A to Point B. The modern rolling duffel bag is much more than a simple duffel bag with wheels attached to the bottom. Most of the best duffel bags are designed with a purpose, and have a robust frame, an extending handle and a body that has both a semi-rigid shape, yet still has the flexibility to let you stuff as much of your clothing and other materials inside as you need, and still be able to close the zipper.
Try that with most traditional suitcases and you'll often wind up being "that guy" at the baggage claim that sees your suitcase roll off the conveyor belt wrapped in a giant plastic bag and a note saying, "Broke In Transport" from the airline. To that end, here are some of the very best rolling duffel bags available for your gear transportation needs.
Quick Answer: The Best Rated Wheeled Duffel Bags
---
#1 Editor's Choice – OGIO Terminal Rolling Duffel Bag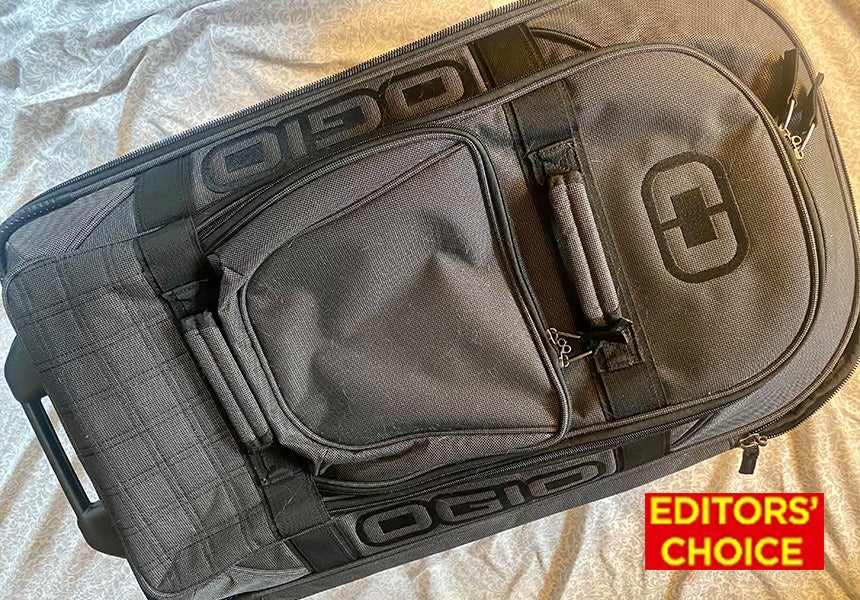 OGIO Terminal Rolling Duffel at a Glance
:
---
Dimensions

: 29″ H x 16″ W x 13″ D

Weight:

10.6 pounds

Compartments

: Top and bottom compartments with zippered dividers, three exterior compartments

Carrying

: Extendable pull handle, carry handles on the top, side and two on the front
My first exposure to Ogio bags came when I started traveling to ATV riding events. Most of the other editors in attendance usedan Ogio Rig 9800 as their luggage/gear bags. Of course, I had to get in on this, as that bag truly is the best way to haul a lot of gear. I also grabbed a Layover rolling bag from them to use as a carry-on. The only problem I had was that when I was traveling for non-riding events or vacation, the Rig was too big. My wife also needed a bag she could use for her travels. The obvious solution was Ogio's stellar Terminal bag. This rolling duffel bag is the perfect in-between size, when you need more space than a carry-on bag, yet you don't need to carry everything in your closet. 
The Terminal rolling duffel bag is structured, so it holds its form. If you need extra room, the top section has a zippered expansion area that adds some more volume to the interior. The maximum capacity volume is 5,800 cubic inches. That comes in handy when you pick up some extra stuff along the way. The bag is big enough that my wife and I can both use it to pack for a weekend road trip, and have room for everything. Typical of an Ogio bag, construction is top notch. It is made from 420 D Doby Nylon that holds up to rugged travel and use. It comes with a limited lifetime warranty, too.
---
#2 Runner Up – Pathfinder Gear Rolling Drop Bottom Duffel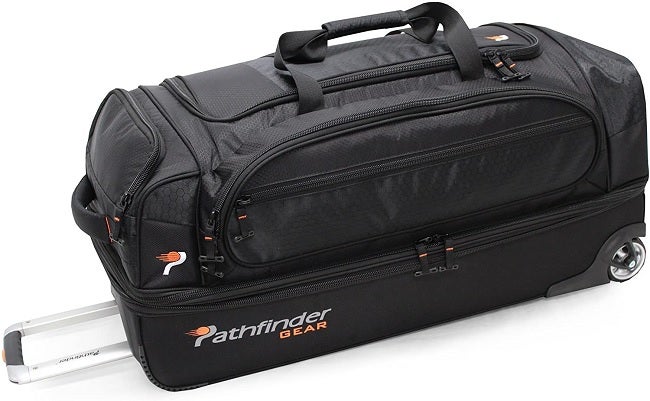 Pathfinder Gear Rolling Drop Bottom Duffel at a Glance
:
---
Dimensions: 30″ X 20″ X 11″

Weight: 11 Pounds
Compartments: Large interior compartment, various interior zipped sections and exterior zipped pocket
Carrying: Handle with comfortable grip, center and top handle
Pathfinder is well known as a quality brand that offers durable and stylish products, and this wheeled luggage bag is no exception. It comes in a range of finishes that lets you express yourself while still looking stylish. This bag combines form and function, offering a durable 600D polyester that can offer protection, even against the elements, to keep your belongings protected.
The Pathfinder duffel is also comfortable to wheel around thanks to its TPR overmold grip, a great addition that you'll really come to appreciate for those longer trips. Another awesome feature is the interior cinch system, which works to keep your belongings especially safe and secure. This means you can transport even a smaller volume of belongings and keep them secure.
---
#3 Best Packing Versatility – O
sprey Rolling Transporter 90 Duffel Bag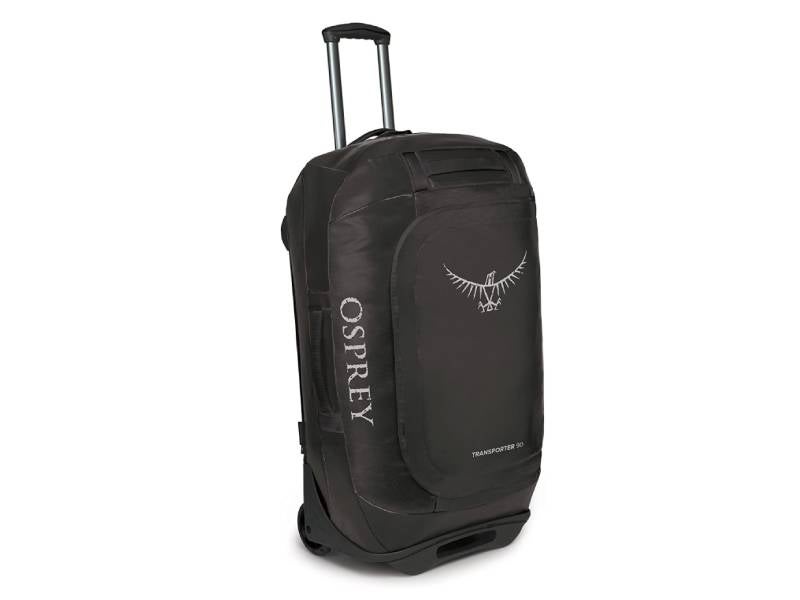 Osprey Rolling Transporter at a Glance
:
---
Dimensions: 32″ x 17″ x 14″
Weight:

7.05 p

ounds
Compartments: Large main compartment, 2 zippered end pockets
Carrying: 5 Carry handles and telescoping pull handle
Additional features: 6 lash points, lockable zipper
If you're looking for packing versatility, the Osprey Transporter is certainly one of the best picks. You'll find a range of pockets available, making organization in this 90L duffel bag an absolute breeze and helping you get to your belongings when you need them. The U-shape top opening is great to get easy access to your belongings – much more convenient than a backpack where items have a tendency to stack up.
The Transporter is unlike many duffel bags in that it has a lightweight aluminum frame to keep its shape, as well as protect your belongings. The internal straps help to organize your belongings and prevent them from shifting around. The 400D nylon outer shell is strong and offers a more durable option compared to polyester found in cheaper bags. A telescoping pull handle is a great option when your bag is packed with belongings on those particularly large trips, while 6 lash points make it a breeze to attach other gear.
---
#4 Best Warranty – Thule Chasm Wheeled Duffel Bag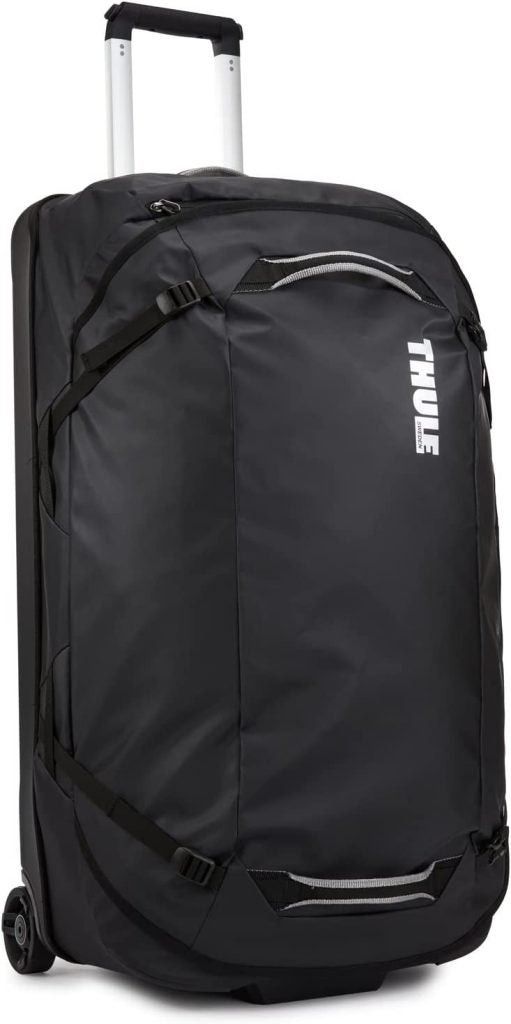 Thule Chasm Wheeled Duffel Bag at a Glance
:
---
Dimensions: 32″ x 16.9″ x 15.4″
Weight: 10 pounds
Compartments: Multiple inner and one outer
Carrying: Top handle, wheels
Additional features: Limited lifetime warranty
This Phthalate-free TPE laminate from Thule is tough and durable, exactly what you'll need for the harsh conditions of air travel. The TPE also gives it water resistance so if you get caught in the rain, the contents will stay dry. You'll find that there are a host of internal compartments to store your belongings, making packing a breeze and allowing you to separate dirty clothes. The telescopic handle is comfortable and feels sturdy, while the wheels are smooth with quality bearings, exactly you'd expect from a brand like Thule.
We really liked the addition of the top zippered compartment for frequently accessed items. You'll also get the standard Thule limited lifetime warranty should you ever have defect or issue with your bag. If you don't mind spending a little extra, this could be one of the best roller duffel bags for your needs.
---
#5 Best Lightweight – Samsonite Andante Wheeled Duffel Bag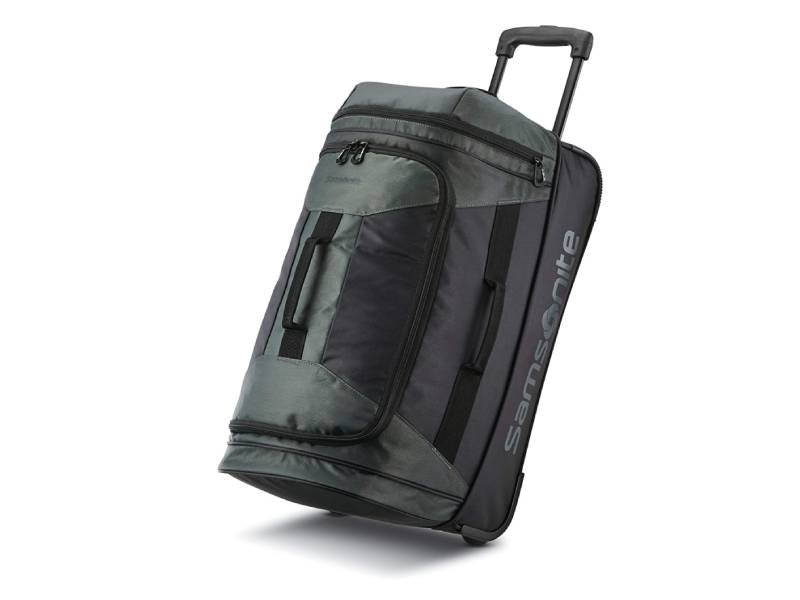 Samsonite Luggage Andante Wheeled Duffel Bag at a Glance
:
---
Dimensions: 22" x 12" x 12.5"
Weight: 5 pounds
Compartments: Large interior compartment with u-shaped access, side compartment
Carrying: Carrying handles, rolling wheels
Additional features: Lightweight design
This Samsonite duffel bag is all about convenience. It has a lightweight design that makes it easy to move around, while also maximizing the weight you can put inside. You can reach all of these items easily thanks to a u-shaped opening – all your belongings will be easily accessible.
A side compartment is also a nice touch, making sure you have all of your important items at a moment's notice, such as your passport and boarding passes. The interior also helps with organization by offering a range of pockets and compartments. The bag has traditional carrying handles and wheels that can be pulled by a locking upright handle. This Samsonite option is ideal for any travel scenario you may find yourself in, earning a spot among the best wheeled duffel bags.
---
#6 Best Durable – Gonex Rolling Duffel Bag with Wheels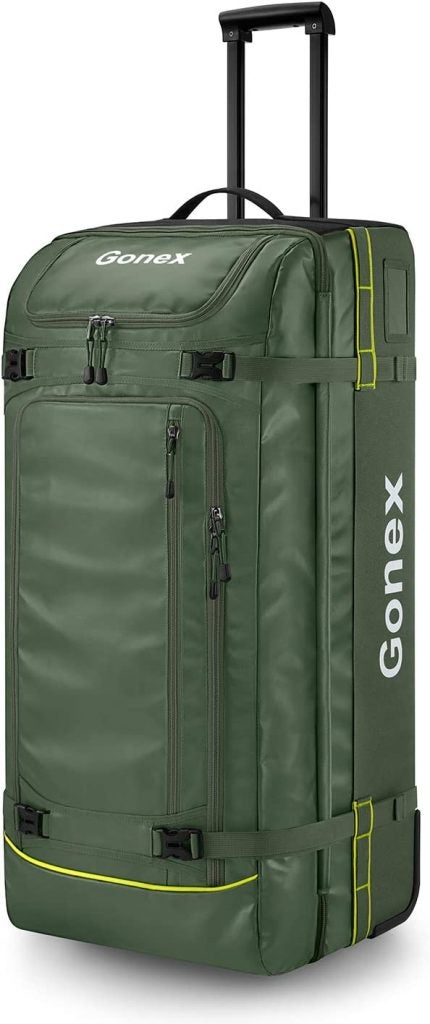 Gonex Rolling Duffel Bag with Wheels at a Glance
:
---
Dimensions: 31.5″ x 13.3″ x 9.1″
Weight: 10.88 pounds
Compartments: Large main compartment, two exterior pockets
Carrying: Top and bottom handle, telescoping pull handle, wheels
If you're looking for a great duffel bag with wheels that's durable yet still lightweight, this might be the one for you. This Gonex option is made of 1200D high-density PVC that's water resistant and also resists wear and tear from air travel. Specific compartments for things like toiletries and shoes are a nice touch, helping you to pack quickly and efficiently. The quick access pocket is perfect for items needed while traveling, and a TSA approved password lock is also included.
Coming with top, side and bottom carry handles, you have many options for transporting this bag. The Gonex is available in two sizes, the 70L (26 inches) and a 100L size (30 inches). The same series of bags also includes 50L and 110L options. The frame can also be collapsed, meaning you can store the bag away easily. This makes it a great option for students in small dorms, or others who might have limited space at home. The in-line skate wheels are also durable, offering a smooth journey as you pull the bag using the rubber ergonomic handle.
---
How to Choose the Best Wheeled Duffel Bag – Buyers Guide
Whether you're using your rolling duffel bag for travel, camping, gear hauling or as a way to carry your gear for a sporting activity, there is an option that will be the best rolling duffel bag for you. There are probably several options actually, so it all comes down to your personal needs, what you want in a bag and what to expect from it. Need a little help deciding your personal criteria? That's what we're here for!
Wheels
There are two basic forms of wheels for rolling duffel bags. The basic type is nothing more than a plastic wheel with a pin axle. These types of wheels are not known for durability. Luckily, the best rolling duffel bags use technology borrowed from rollerblades, with a polyurethane wheel spinning on replaceable ball bearings that spin on a solid axle. These wheels are much smoother and more durable than the others.
One thing to keep in mind is that you need to keep your wheels clean. Wherever I travel, I check the wheels on the bag before I leave, and if I roll my duffle bag through some mud or on dirt, I clean the wheels when I get back. Remember, if you have a wheel failure, it defeats the purpose of having a rolling duffel bag in the first place.
Features
The features are very important in selecting a bag, because the bag has to work for you. Size is a major factor, and that is why I have multiple bags of different sizes. That way, regardless of the situation, I have the right bag for the moment. Take a good look at what each bag has for features and pick what you need and want.
Weight is an important feature to consider, as you only have so much weight to play with when flying. Be sure to look into how much your rolling duffel bag weighs before you travel. It can save some headaches and money.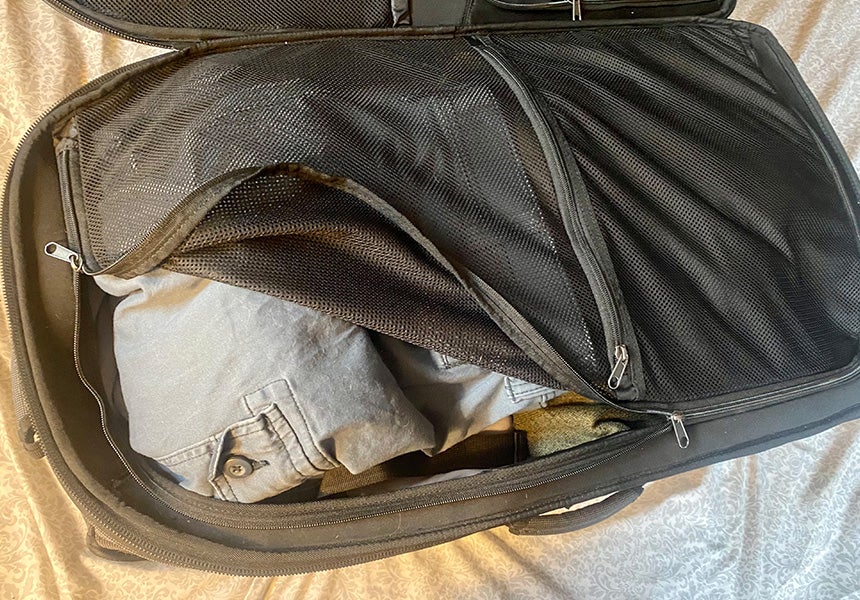 Ease of Packing
The ease of packing a rolling duffel bag is more important than you think. Each bag has a different layout. One thing I look for is a bag that has compartments for my stuff. Take the Ogio Terminal bag. It has zippered dividers and zippered mesh compartments and pockets, as well as exterior zippered pockets that can be locked if need be. This helps me organize my gear that I'm packing and helps me sort things for different activities.
Carrying Options
Even the best rolling duffel bags need options for those times when you can't roll it along.
Carry Handles – You'll need to carry your rolling duffel bag some and that calls for carry handles. The best rolling duffel bags will have multiple handles that are sturdy and wide enough to fit your hands.
Shoulder Strap – Some rolling duffel bags have the option of a shoulder strap. What I look for is one with a padded strap, and options for where to mount it. Not all duffel bags will have this, but if it is an option, make sure you take the shoulder strap off if you're checking it or storing it in the overhead bin on a flight. It saves all kinds of troubles.
Materials
The materials are far more important than you might think. You absolutely want durability if you're looking for the best option for your bag. There is no sense in buying one, only to have it fail or fall apart while you're using it. A heavy-duty nylon variation is a good way to go. I'd also suggest treating it with a water repellent to help keep your gear dry. I once watched in mild horror as a bag of mine sat on the tarmac waiting to be loaded on a plane during a rainstorm. It sat, getting soaked for 45 minutes due to a delay. Not saying being sprayed with a water repellant would have kept everything dry, but it would have helped.
Budget
Budget is important. The old saying of you get what you pay for rings true yet again. Spend a little more up front for a rolling duffel bag that will last. You want a bag that can be thrown into the back of a truck, dragged into a campsite or loaded on multiple planes and still work great and hold up. Set how much you are willing to spend and then look for the best option available. Customer reviews are a great way to see what works for others, too. We don't include anything that is poorly rated in these lists, if that helps.
Tie Down Straps
Duffel bags have large storage compartments, and some of the best rolling duffel bags have adjustable straps inside to keep your clothes from getting jostled and wrinkled, as well as just keeping things arranged as you wanted.
Conclusion
Rolling duffel bags are an awesome way to transport a wide range ofstuff. They can be transported comfortably, while also giving you ease of access to your belongings and important documents. There are a wide range of rolling duffels available, and it won't take you long to find the right rolling duffel bag or bags for your adventures
FAQs
Are rolling duffel bags any good?
Yes, they are. If you get a well-constructed one with good wheels, it'll last you for years of use.
How much does a wheeled duffel bag cost?
The prices vary in an extremely large range. You can spend anywhere from $75 to over $400, depending upon size and quality. Keep in mind to select the right one for your needs, and spend enough to get a quality bag, so it lasts you for years.
What size duffel bag do I need?
That depends upon how much stuff you want to haul. For me that depends upon the activity and the duration of the trip. You don't want a ton of extra space, but I always plan extra room in case I pick up something along the way.
Are rolling duffel bags allowed on planes?
Yes, as long as the dimensions are in line with those specified by the airline. Select bags can work as carry-on bags, while others are good as checked baggage. Just keep in mind that bigger bags add weight, which can push you past the weight limit for a checked bag and then cost extra.
Notice:
OutsidePursuits.com is a participant in the Amazon Services LLC Associates Program, an affiliate advertising program. OutsidePursuits.com earns fees from products sold through qualifying purchases by linking to Amazon.com. Amazon offers a commission on products sold through their affiliate links.