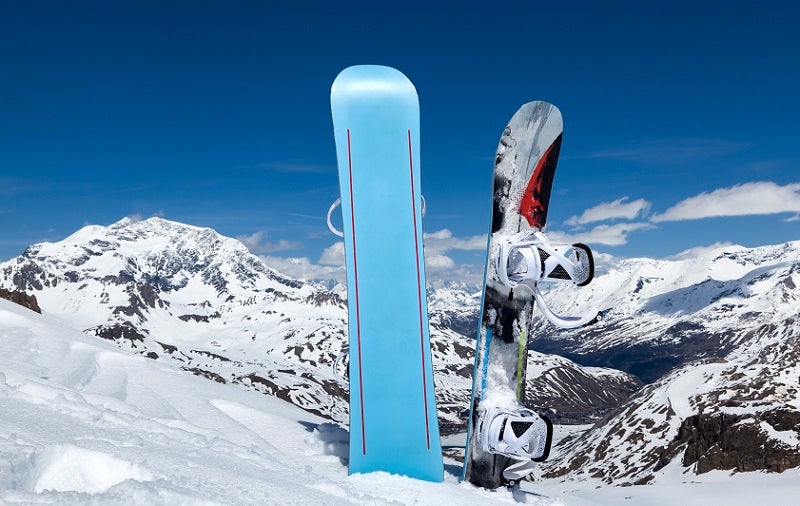 Our Editors independently research, test, and rate what we feel are the best products. We use affiliate links and may receive a small commission on purchases.
Alright, so you've just discovered that snowboarding is one of the coolest sports on the planet. Whether you went out with friends, a school group, or just decided to take up a new hobby the next step is getting geared up.
Picking out the best beginner snowboard can be difficult, though. You're inexperienced and new to the whole world of mountains, snow, and the adrenaline of snowboarding.
Today I'm going to help you learn what it takes to pick out the right beginner snowboard for you. Not everyone is alike when it comes to how we like to snowboard.
That's why there's no single answer to the question, "What's the best beginner snowboard?"
To find out the answer you'll need to understand how snowboards work and how to pick them out. I'm going to suggest a few beginner snowboards to choose from when getting started.
With a solid understanding of what to look for you'll be able to easily pick from one of our recommendations and get started with a new snowboard in just a couple days!
Best Beginner Snowboards
| | Burton Ripcord Snowboard | K2 Standard Snowboard | Salomon Sight Snowboard |
| --- | --- | --- | --- |
| | | | |
| | | | |
| Profile: | Taper from nose to tail | Flat | Flat |
| Lengths: | 150cm - 162cm | 147cm - 163cm | 150cm - 166cm |
| Features: | Flat Top for stability & better balance with camber / rocker combination ideal for turns | Flat profile makes it ideal for the boarder who wants to rapidly progress | Cross Profile of rocker & camber for control and forgiveness w/ soft flex makes it easy to guide into turns |
| Best For: | Groomers/All Mountain | Groomers/All Mountain | Groomers/All Mountain |
| | | | |
For more of my snowboarding recommendations, have a look through these popular Outside Pursuits guide links: Snowboard Boots, Snowboard Bindings, Snowboard Jackets.
Quick Answer: The 7 Best Snowboards For Beginners
There are so many top rated beginner snowboards to choose from that it can become crippling to make a choice. Analysis paralysis sets in when you just don't know what to pick!
Let's take a look at a handful of good beginner snowboards that you can start with. You may want to consider going with a complete snowboard package that includes the board, boots and bindings.
---
Beginner Snowboard Reviews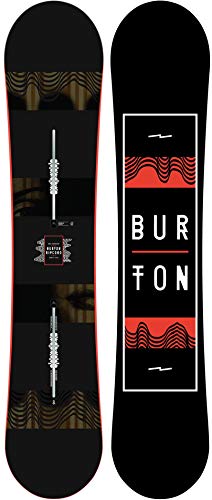 Burton is inarguably a powerhouse in the world of snowboarding. Their gear is legendary because they've been around since the beginning of the sport and their performance shows it!
I like the combination camber / rocker with an early rise outside that helps to initiate turns without a catch. The more early rise rocker on the tip of the board, the easier it will be to carve from turn to turn.
There's also a 5 mm taper from nose to tail. This means your board nose will be wider than the tail which helps with turn entry and exit.
The board has directional flex, in this case the tail is more flexible than the nose for increased "pop". The Ripcord is meant to be ridden with a backset stance. Ever so slightly behind center, the board prefers riding regular over goofy.
Overall the engineering in this board won't leave anything to disappoint and I think the best beginner snowboard.
It's affordable enough to make it a solid choice for beginner boarders while packing enough punch to keep up with your ride for several seasons to come. Pair it up with the Burton Freestyle Snowboard Bindings.
Women's Model: Burton Deja Vu Women's Snowboard
Best For: Beginners looking for an all mountain board that rides best in a single direction with easy turns.

---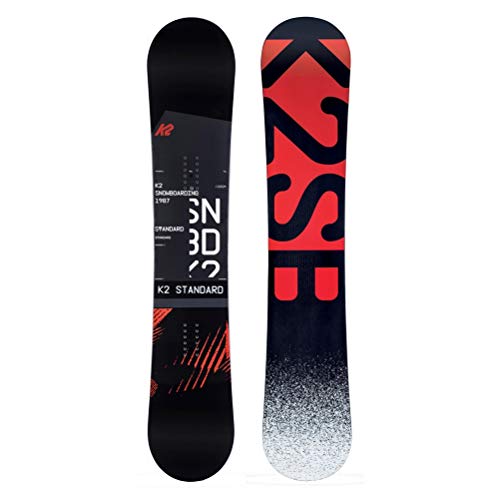 K2 is one of my personal favorite ski and snowboard brands. Their equipment is an amazing balance of power, ease, and grace. With the K2 Standard snowboard you'll get a classic look with solid performance.
One of the goals of this board is to make make your first carves as simple as possible when learning to board. The flat rocker and early rise tip and tail make it effortless to switch, carve, and roll the board from toe to heel.
Being a flat profile, this board remains playful and quick in the park. It's a directional twin which means you can ride the board either direction, though it prefers regular.
Overall the board is going to have a mild temperament and an easy attitude that will get you quickly into newer tricks, harder terrain, and more advanced tactics. Pair it up with the K2 Sonic bindings.

Women's Model: K2 Bright Lite Women's Snowboard
Best For: Beginner to intermediate snowboarders ready to rapidly advance into new skill zones!

---
Salomon is another of my top picks in the world of mountain snowsports. Their gear is made to top quality standards and always works great right out of the box.
That's why this beginner snowboard makes a solid choice for hassle free entry into the sport.
This soft flex snowboard is easy to guide into the turns but won't hold an edge as well at speeds or under extreme force when compared to advanced, stiff boards.
Unlike the K2 Standard board, the Sight features a rocker/camber/rocker profile which is a better in all mountain or on trail conditions.
It's a twin shape with a directional flex which lends power and stability at speed. Great for all types of snowboarding, the directional flex helps you push your limits with stability at speed.
Following your friends into the terrain park? No problem, you can land switch with the twin tip design.
At some point you might want a dedicated freestyle and park board, but when you're getting started having one board to do it all just makes more sense. Pair it up with the Salomon Snowboards Rhythm bindings.

Women's Model: Salomon Lotus Women's Snowboard
Best For: Beginner snowboarders who will spend more time on the trails than in the parks but need some options!
---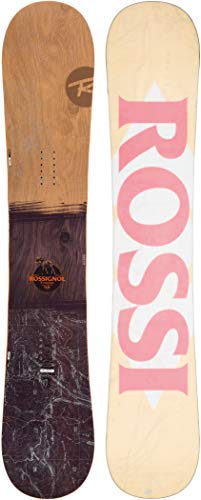 Rossignol is another huge name in winter sports equipment. From snowboards to skis, they've been making everything that slides down mountains for years.
This board is ready to roll if you pair it with a set of Rossignol Viper bindings that bolt right up. It's really a board that tends more toward the middle of the skill level, but we know you'll advance rapidly.
You'll love the more advanced features such as the serrated edges which expand edge grip into the full length of the board with ease. This is an advanced skill that Rossignol has made easier through improvements in board design.
Rossignol rates this board at a 6/9 in stiffness which means it might take a while to tame this restless beast.
Once you master the board, however, you'll have more power and control at extreme speeds and demanding situations where softer boards would have given up.
Women's Model: Rossignol Frenemy Magtek Snowboard
Best For: Those with some experience or plans to advance rapidly!

---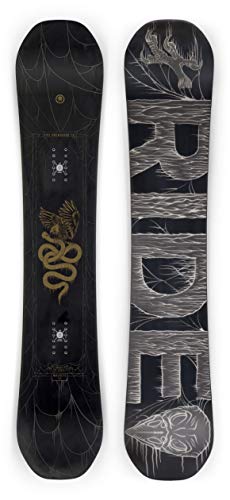 This board is a standby favorite that racks up consistent love and reviews from riders year after year. Ride has purposely left the design of the Machete board untouched because, as they say, "If it ain't broke, don't fix it."
While it's made to rip the groomers (groomed runs) this board has enough going for it that you won't get left behind no matter where the day takes you.
Carbon Slimrods run partially through the board and add pop and power into the deck to help you really take off in the park. The flat deck is squirrelly yet controllable and designed to easily roll from turn to turn.
The twin tip rocker design is meant to be at home on the groomers with a more freeride type style. However, it's a mellow and tame response that won't throw you on your butt with the simplest mistakes.
Overall the board has a careful and thoughtful blend of characteristics that can take the beginner snowboarder in just about any direction.
Women's Model: Ride Rapture Women's Snowboard
Best For: A balanced blend of features that can get you where you're going on the groomers.

---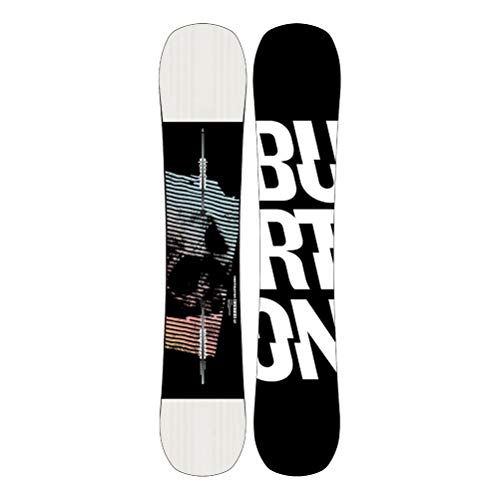 Is it any surprise that a name like Burton shows up on our list more than once? Answer: no.
Burton made this snowboard to be soft, playful, and easy to ride. It's a flat, rockered, ride that makes snowboarding as easy as it is fun. You've got directional control with a shape that lends stability to a board that might otherwise be a bit unruly.
Because of the flat, rockered shape of the board it's going to seem eager to launch from turn to turn. The directional 5mm taper will make it so that your stability riding forwards is pleasant and safe.
While you can ride the board backward, it won't be nearly as rock solid. Overall this is definitely a board for beginners that will bring easy enjoyment to the sport.
You may outgrow this board if you're a rapidly advancing snowboard that likes to push limits and demands only the most hardcore equipment, however. Pair it up with the Burton Freestyle Bindings.
Women's Model: Burton Feelgood Flying V Women's Snowboard
Best For: Beginners looking for a soft, comfy ride that's easy to learn.

---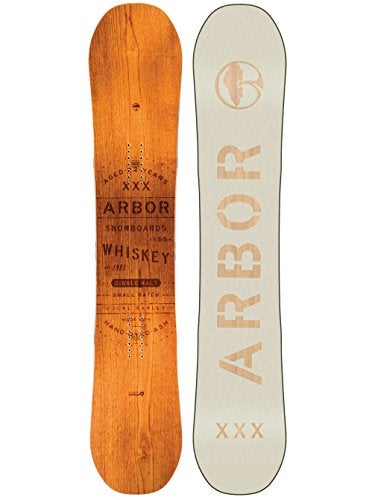 If you're a beginner snowboarder, this board was made specifically for you! Meant to deliver on buttery smooth turns, slides, and switches everything about the board should make your life easier, and more fun as you learn to love snowboarding.
With a medium flex and several profile adaptations, you can get a soft feeling board that engages when it's time to go hard.
They used a specially designed parabolic rocker to create a slightly "uneven" rocker profile which helps to keep the board light when you want to be playful, yet stiff enough to dig in like a tick when you kick it.
With a shortened tail compared to the tip of the board you'll have an easy time floating the board. If you end up in powder or need to get onto the back of the board, it won't be hard to float the nose when your stance is already slightly backset. Pair it up with the Union Flite Pro Snowboard Bindings.
Women's Model: Arbor Ethos Snowboard Women's
Best For: Beginners looking for max-level playfulness.

---
Beginner Snowboard Comparison Table
Author's Expertise / Why You Should Trust Our Reviews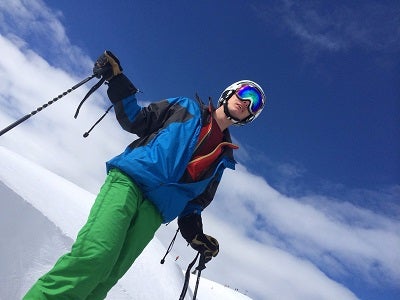 I started writing online for my own outdoor sports blog in 2010. Right out of the gate I landed opportunities to test gear for Road ID, Hydrapak, Wolverine, Helle Knives, Pearl Izumi, and GU Energy. Those were the days when growing a no-name blog was easy. Today niche blogging is a different story.
In 2012 I left Central Wyoming College with a degree in Outdoor Education and Leadership. Soon after, I was on a month-long expedition with the National Outdoor Leadership School's Outdoor Educator Course which helps would-be outdoor guides ascend from "aspiring" to "inspiring".
Between here and there I've participated in and spoken at length about outdoor pro-deal programs for companies like Patagonia, Smith Optics, Giro, Therm-a-Rest, Platypus, MSR, Columbia, and many more. I still work closely with tons of outdoor gear companies to review and analyze products. If you have a product opportunity you'd like to discuss, please review my guidelines and contact me here.
After several seasons of guiding backpacking trips and working as a certified Alpine Ski Instructor at Deer Valley Resort in Park City, UT for several seasons, I had to move on. As any educator will tell you – teaching doesn't pay the bills very well.
In 2016 I began building my freelance writing career as readers and other bloggers reached out to me for help with technical outdoor sports content strategy for online businesses. Within weeks I was overloaded with requests for freelance writing and my new career blossomed.
2018 saw the launch of Hike With Less, my ultralight backpacking partnership program with Dustin Walker.
How to Choose the Best Snowboard for Beginners
There are tons of factors that go into creating a snowboard. These tools of shredding are engineered to deliver high quality thrills at top speeds in cold environments. So what factors really make a difference in choosing a beginner snowboard?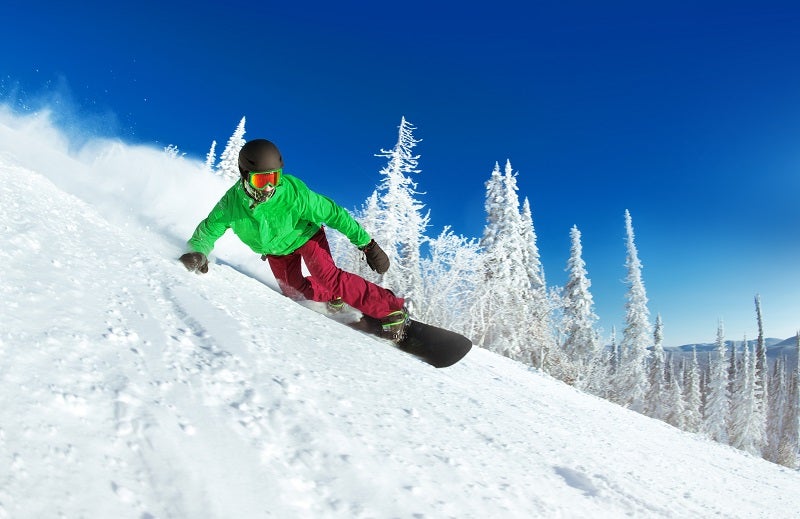 Snowboard Length
Picking out a snowboard starts with understanding how length affects ride type and style. Each snowboard is made to a set length. Some snowboards are made with several lengths available to choose from. It's up to you to understand how to choose a snowboard length.
For freeriding snowboarders – a longer board is needed. Freeriding is focused more on speed and long, smooth runs where the mountain is the playground. Freeride boards are more stable at higher speeds thanks to their increased length.
For freestyle boards – a shorter snowboard is ideal. These shorter boards are more agile, lighter, and easier to manipulate in the terrain park. Err on the side of shorter when looking for a snowboard to rip some sweet freestyle moves in the terrain park.
For beginners – it might make the most sense to choose a snowboard that is directly in the middle of your suggested length range.
Since you may not be sure yet of your style or preferences, staying in the middle of your range leaves you room to grow into any style you prefer.

Snowboard Width and Boot Size
In the world of snowboarding, width is largely predetermined by the size of your snowboard boots. Because snowboard boots are mounted perpendicular to the length of the board, they determine width.
It just won't do to have your snowboard boots and bindings hanging over the edge of the board. If your toe side or heel side are dragging in the snow when the board is on edge, it can create dangerous drag and loss of control.
Snowboard width should be such that the toe and heel of your boots are just barely sticking over the edge of the board when mounted.
If you don't know your snowboard boot size, you'll need that before buying a board.
Because narrow boards are more agile, carve harder, and can be put on edge with less effort it may be desirable to ride a more narrow board than your boot size allows.
In this case you can try to get outfitted for low profile snowboard boots. These narrower boots allow you to ride a narrow waisted board.
While there are several other adjustments that might allow a rider to mount a narrower board, for beginners these are usually out of the question.
Snowboard Width Sizing Chart
| | | | | | | |
| --- | --- | --- | --- | --- | --- | --- |
| Boot Size (US Men's) | -- | 7.0 - 9.5 | 8.5 - 10.5 | 9.5 - 11.5 | 10.5+ | |
| Boot Size (US Women's) | Up to 6.0 | 8.0 - 10.5 | 10+ | -- | -- | |
| Board Waist Width (mm | 225-235 | 246 - 250 | 251 - 254 | 255 - 259 | 260+ | |
| Snowboard Width | Narrow / Women's | Regular | Regular | Mid-Wide to Wide | Mid-Wide to Wide | |
Snowboard Length Sizing Chart
| | | | |
| --- | --- | --- | --- |
| Rider Height (in) | Rider Height (cm) | Rider Weight (lb) | Snowboard Size (cm) |
| 4'10" | 147 | 110 -120 | 128-136 |
| 5′ | 152 | 115-130 | 133-141 |
| 5'2″ | 158 | 125-135 | 139-147 |
| 5'4″ | 163 | 135-145 | 144-152 |
| 5'6″ | 168 | 140-155 | 149-157 |
| 5'8″ | 173 | 150-165 | 154-162 |
| 5'10" | 178 | 160-175 | 159-167 |
| 6′ | 183 | 170-185 | 160+ |
| 6'2″ | 188 | 180-195 | 160+ |
| 6'4″ | 193 | 190-205 | 160+ |
This Video from SnowboardCamp explains some more sizing details.
What Length Snowboard Should I Get? Answered
Types of Snowboards
There are a handful of styles available that you've probably heard of. If you're not familiar with the terms then allow me to define them here so you don't end up with the wrong board!
Snowboards are sized, engineered, and built differently for each style so it's important to understand the difference.
All-Mountain Boards
Are meant to be ridden on any part of the mountain in any condition. These boards excel at nothing but won't leave you hanging back in funny conditions.
Most boarders will use this type of board and beginner snowboarders would be well advised to use this board type.
Freestyle Boards
These boards are shorter and usually twin tipped. They're made specifically to excel at terrain park riding. They may be difficult to control in other conditions such as powder, crud, or off trail riding.
Freeride Boards
Are for off-trail riding and odd conditions. These boards are built to explore the entire mountain and excel in the trees, in powder, and usually feature a longer profile and directional shaping.
Powder Boards
Are wider, longer, and shaped to handle deep fluffy powder. Bindings on these boards may be set differently than other boards to help float the board through powder.
They may be shaped, designed, and engineered in such a way that they're harder to control on groomed runs due to their preference for powder conditions.

Snowboard Shapes
Snowboards may be shaped to help the rider achieve certain goals. Based on your riding style and where you'll be on the mountain, you may want a different shaped board to help you meet your goals.
Twin Tip – is a shape where the front and back of the board are identical in shape and design. These boards ride equally well in either direction and usually belong in the terrain park.
Directional Boards – are meant to be ridden in a single direction. While you can ride them switch, they will perform strangely and won't be as efficient. These boards are common in freeride applications.
Asymmetrical Boards – can be oddly shaped. These boards might be stiffer in the tip or tail. They can also sometimes have unequal sidecut or profiling. They might be made so that heelside turns are sharper and harder, while toeside turns are longer and more gentle.

Rocker vs Camber
What exactly is rocker and camber, and how does it affect your board? These are easy to understand and they make a huge difference in performance so let's review them!
Rocker – is most easily described as a banana shape. Rocker refers to an upturned shape where the center of the snowboard is in contact with the snow while the tip and tail are elevated.
This shape is extremely "buttery" and can be easily turned switch. Rocker shape is helpful in applications such as park riding.
Camber – is just the opposite of rocker. A cambered snowboard is bent downward so that the tip and tail are touching the snow while the center of the board is lifted off the snow.

Once weighted, the entire board lays flat on the snow. This design style helps to apply even pressure to the edge of the board along the entire length of the snowboard.
Usually snowboards will feature some combination of camber and rocker to achieve a harmonious balance. It's rare to find a board that is only rockered.
Cambered boards tend to have better edge hold and control, while rockered boards tend to be more "squirrely" and agile.

Flex Rating
Soft flex boards are usually the best place for beginners to start. These boards bend more easily than a stiffer boards. For this reason they're easier to initiate turns, and more forgiving if you mess up!
Soft flex is ideal for beginners because it's much easier to build your confidence on these boards. Stiff boards provide more performance but they're harder to master and can be frustrating for beginners.
Stiff boards are ideal for advanced snowboarders who want the "pop" and power. Once you've learned to control the board well enough, it may be time to upgrade to a stiffer board.
Start with a soft flex board, you'll be glad you did!

Sidecut and Turn Radius
Sidecut is a term that refers to the shape of the edge of the snowboard. The difference in width between the tip, tail, and waist of the board make up the sidecut.
The board waist is usually the dead center of the board between your feet. Sidecut is important for modern snowboards because it unlocks the power of a carved turn.
Using the metal edge of the snowboard and the shape of the edge of the board, a snowboarder can cause the board to rip a turn in hardpack snow with ease. Carving turns is incredibly fun and possible thanks to sidecut.
The greater the difference in width from tip-waist-tail the greater the sidecut. A snowboard with a dramatic "hourglass" shape would have a hefty sidecut, usually measured in millimeters.
Greater sidecut results in a smaller, snappier turn radius.

Splitboarding
A splitboard is a snowboard made for backcountry skinning. In backcountry snowboarding you have to literally split your snowboard in half and hike up the mountain with each half like a ski.
Once you're at the top you put the board back together like a full snowboard using built in clips. Then you strap up and ride down that bottomless, untouched powder that you worked so hard to find.
There's really something pretty great about backcountry skiing and snowboarding and I encourage everyone to try it!
Warning: Backcountry boarding is inherently quite dangerous and all backcountry users should get formal avalanche training before setting out.
Video Overview of the Snowboards For Beginners
The 7 Best Beginner Snowboards
FAQs For Beginner Snowboards
Q: What's the best snowboard profile for park?
A: First let's clarify for those in the back: park means "terrain park". This is where all the cool cats roll to see who's got the best tricks to whip out.
Now, on to the best profile for park boarding…
Depending on your preferences and exactly what you're trying to pull off, general park boarding is probably best done on a true twin tip. These directionless boards are perfectly symmetrical and perform exactly the same both regular and goofy (left or right foot forward).
Why not have a directional or partially directional board? Because many tricks require you to start or land switch which means starting goofy and landing regular or vice-versa.
For beginners a standard rocker-camber-rocker profile is going to be just fine. However, a flat board can be better for grinding. With a flat board you'll lose a lot of that pop you can get by preloading up the the tail so expect "flat" air with a flat board.
As for internals, if you've got the budget for it you can find park specific boards with all kinds of advanced materials to increase pop for those jumps. That's a bit outside the scope of this article though.
Q: Should I get speed laces for my boots?
A: This is a bit of a trade off between budget and preference.
The goal of speed laces is to make it easy to quickly loosen your boots between runs. This is ideal for advanced riders who are using stiffer or tight fitting boots. Loosening them between runs helps you feel better when riding all day and it keeps your toes from freezing off on the chair ride.
However, most beginners don't really need speed laces. Your boots are usually softer in flex and large enough that they're not necessarily constricting. That means you probably don't need to loosen them up that much, unless you really just want to.
Speed laces are expensive so beginners are probably better off just going with the plain old simple regular laces.
Q: What is sidecut on a snowboard and why do I need it?
A: Sidecut is the difference in width of the board between the center of the board and the nose/tail. This means when you put the board down on the snow and look down at it, it should have an hourglass shape.
This sidecut helps to form part of the radius of a circle and, when laid on edge, the snowboard begins to follow that circle shape on the snow. So, when you're sliding down the hill and tip your board up on its edge the metal edges will cut into the snow and begin to turn along that circle shaped path.
This is a critical design feature of modern snowboards and skis, both. These sidecut shapes can be radically different from board to board, but they all serve to improve grip and agility while helping the board to cut into the snow during a turn.
Q: What is P-tex?
A: P-tex is the plastic base material used in most snowboards and skis.
It's a very specific type of plastic that has the ability to absorb wax. Wax can, and should, be applied to a snowboard base on a regular bases. Having fresh wax of the correct type can improve glide.
Contrary to popular belief, the purpose of wax is not usually to make a snowboard "faster" but instead to improve control. Much like a sharp knife, a waxed and sharpened snowboard is much easier to control and predict for the rider.
With a good wax your board will glide and slide smoothly. Compared to a dry base which can drag, stick, or clump up with ice at poor times, a good smooth base won't leave you falling on your face when you meant to drop in.
If you get a nasty tear in your base from hitting a rock or stick, it must be repaired with P-tex. Core shots, or tears in the base deep enough to reveal the core of the snowboard, can usually be repaired too but you should take it to a tuner to be sure it's done right.
Q: Is a longer or shorter board better for me?
A: Hmmm….
Well, it's up to you to make the decision but I'll give you some things to consider.
Short boards have:
Better agility
Quicker turns
Easier to control
Beginner friendly
Less float off-trail
Longer boards have:
More stability at high speed
Less chatter on groomers
Bigger turn radius
More float in powder
If you're a beginner and you're likely to spend most of your time on groomed trails, go with a relatively short board. They're easier to learn, easier to control, and just overall more beginner friendly.
If you're a seasoned rider and you want to do some off-trail exploring in the deep stuff, go with a longer board. Just be careful though because those longer boards are slower to respond when you're zipping through the trees.
Boutique Brands
Exactly why boutique brands are gaining popularity, I can't say. However I can guess that the handmade appeal, unique styles, and smaller batches make buyers feel a sense of uniqueness in their boards more than big brands.
Boutique brands are smaller snowboard makers who often run limited lines of boards with cutting edge shapes, tech, design, or graphics. Sometimes the boards themselves aren't that technically advanced, and often they're not even as "good" as major brand names.
However, many boutique brands set themselves apart with unique branding or boards shaped for uses that nobody else is making. You might find jibbing boards (urban park) or split boards with unique shapes at a boutique brand that you just won't find Burton making.

Best Snowboard Brands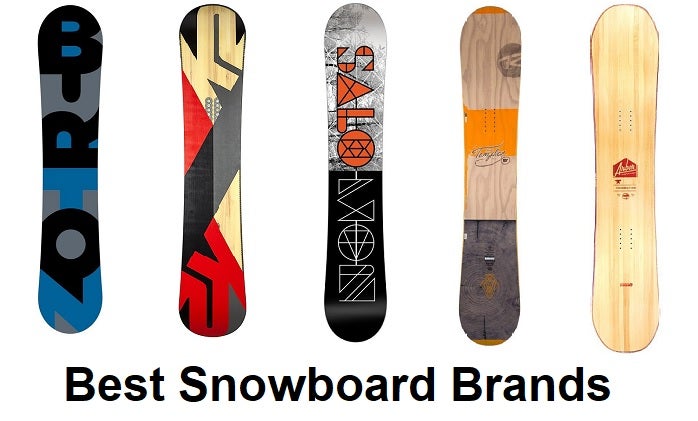 While choosing the best brands of snowboards is of course subjective and of depends partly on the type of snowboarding you do. Since we are reviewing beginner snowboards I will focus on brands better for beginners.
Burton – The undisputed king of snowboards and accessories. They invented the category and still maintain a solid leadership position by producing an excellent line of beginner snowboards. When you progress they will have a snowboard for you!
Salomon – Without question one of the finest manufactures of ski equipment, they have brought their knowledge to snowboards and have a lineup of excellent beginner snowboards.
K2 – Another manufacturer that got their start making ski equipment and have been in business since the 1960's. Their "Standard" beginner snowboard is one of the best on the market.
Rossignol – If you are even somewhat aware of skiing you have probably heard of Rossignol. This French company has been around since 1907 and you don't stay in business that long unless you produce quality products. Needless to say they make quality beginner snowboards.
Conclusion
Now that you have a better understanding of the differences between snowboard types and designs, it's time to pick out your first board. On our list is everything from terrain park masters, easy carvers, to all mountain monsters.
Eventually you'll develop your own taste in what you want for a snowboard, but as you evolve a beginner board is designed to get you there with ease!
---
I hope this guide was helpful for finding the best beginner snowboard to fit your needs. If you want to comment or recommend a board I didn't include, please use my contact form to get in touch.
Have fun and be safe!
How We Researched
To come up with the best beginner snowboards, we researched a variety of sources for reviews such as REI, Backcountry, Moosejaw, EVO along with our own personal experience.
We also consulted online magazines for product research and reviews to get as much unbiased information as we could. To help weed out fake reviews we used Fakespot.com to make sure we only looked at genuine reviews.
With so much quality gear available, we had to narrow it down based on what we felt were the best options were for the price. The author, Casey Fiedler was a full-time ski instructor for Park City and The Canyons in Utah.
To help narrow down the selection he used his personal experience along with recommendations from fellow ski instructors.
After extensive research, we came up with our list to help you choose the right one for you.
Sources
Notice:
OutsidePursuits.com is a participant in the Amazon Services LLC Associates Program, an affiliate advertising program. OutsidePursuits.com earns fees from products sold through qualifying purchases by linking to Amazon.com. Amazon offers a commission on products sold through their affiliate links.