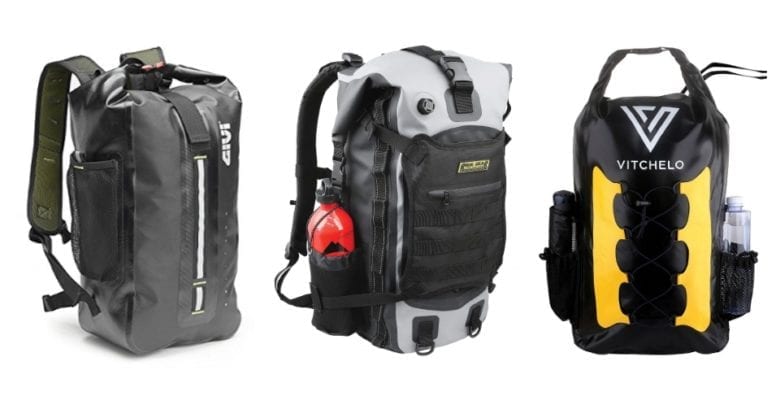 Our Editors independently research, test, and rate what we feel are the best products. We use affiliate links and may receive a small commission on purchases.
All of these waterproof backpacks are well-suited to outdoor active sports like hiking, boating and motorcycling. To learn more about the the selection criteria, features and functionality of the top-rated best dry bags see, How To Choose The Best Waterproof Backpack. Also see the Top 10 Amazon Bestsellers.
Best Waterproof Backpack
| | Nelson Rigg SE-3040 Hurricane 40L | Cougar Outdoor Waterman | Givi Waterproof Backpack |
| --- | --- | --- | --- |
| | | | |
| | | | |
| Material | 24oz Tarpaulin PVC material | PVC Vinyl material | 420 denier tarpaulin nylon |
| Waterproof | 100% waterproof bags | 100% waterproof bags | 100% waterproof bags |
| Special Features | Side pockets for water bottles or fuel bottles | Several external pockets | xternal water bottle pockets |
| Customer Ratings | 4.4 / 5.0 Stars | 4.2 / 5.0 Stars | N/A |
| | | | |
Also see: Waterproof Backpacks Price Comparison Table.
---
Quick Answer: The 5 Best-Rated Waterproof Backpacks
---
Waterproof Backpacks Reviews
This PVC waterproof backpack is made to live somewhere between the frontcountry and the backcountry. With niche features like a laptop sleeve, it's handy in the RV, motorcycle, or kayak.

24oz Tarpaulin PVC material
One-way purge air valve
Side pockets for water bottles or fuel bottles
I have to say that I like this backpack for a wide array of outdoor sports. It's made with a comfortable harness system that can be worn for longer periods. Plus, at a reasonable 40L size it's not out of the question to handle loads on your back with this bag.
Click To See MoreSee Less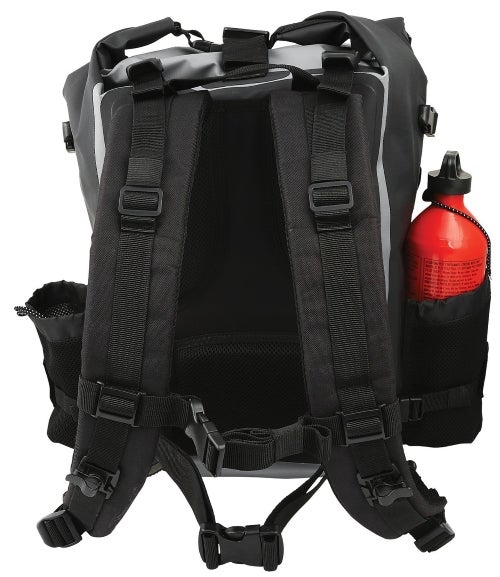 For today's EDC preppers, the MOLLE panel on the back provides room to attach everything tactical you can imagine. Or you can just remove it altogether if you don't need the space to clip onto the webbing chains.

Whether you want to use the side pockets for water bottles if you're riding a motorcycle or fuel bottles if you're on a back country expedition – they'll be there.

Rigg Gear Hurricane Waterproof Backpack/Tail Bag

I think that features like these just show that this pack is positioned to do anything and everything. Best for versatile activities and adventurers that travel from the streets to the trails.
---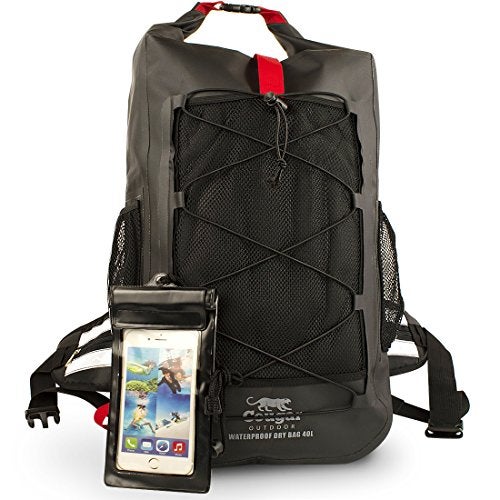 While it's not going to win any awards for ergonomics, the advanced backpack features make it clear this pack is meant to carry! It's also hard to argue with a pack that comes in light on the wallet.

Several external pockets
Generous hip belt with pockets
PVC Vinyl material
I think of all the things this bag has going for it, the affordable price is one of the top. It's hard to argue with details when you can get a functional waterproof dry bag backpack for the cost of dinner out!
Click To See MoreSee Less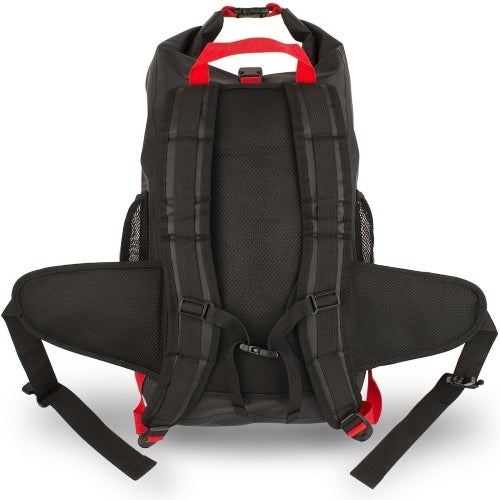 I think any dry bag backpack should be rocking side water bottle pockets as this one dose. Whether or not the additional mesh and shock cord back pocket is necessary will be up to your preferences.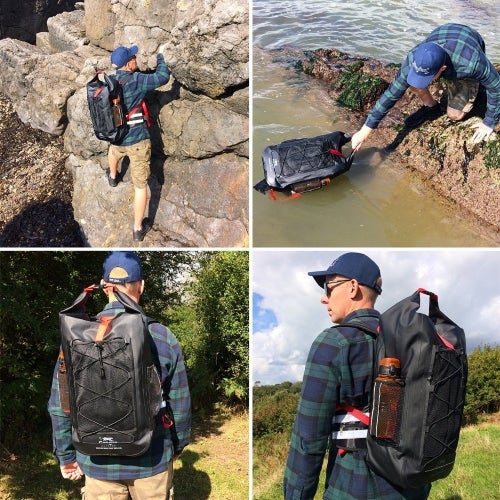 I have to point out that the hip belt is really more like a chest belt. Since this pack is relatively short, the belt sits too high to be on the hips of just about anyone. It will, however, still help keep the bag stable while you carry it at least.

Best for an affordable dry bag backpack with standard features.
---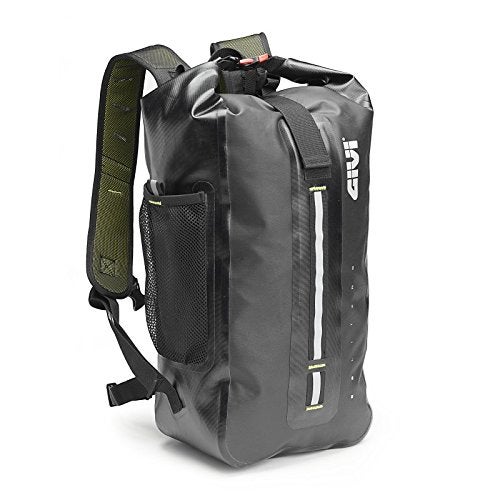 External water bottle pockets
Wide shoulder straps
420 denier tarpaulin nylon
Givi is known in the motorcycle world for making some of the best luggage and accessories. That's why I'm not surprised to see the relatively high price tag on this waterproof backpack. Don't be fooled, though, the quality is obvious!
Click To See MoreSee Less

Of course, you can get by with saving some money and going cheap on your dry bag. But you'll probably lose out on comfort and finish. That's where the Givi pack excels past competitors.

I like the longer design of the bag which keeps the center of mass a little lower and helps the bag hang sensibly. Since the bag has just sternum strap, a good hang is important because there won't be any help from a hip belt.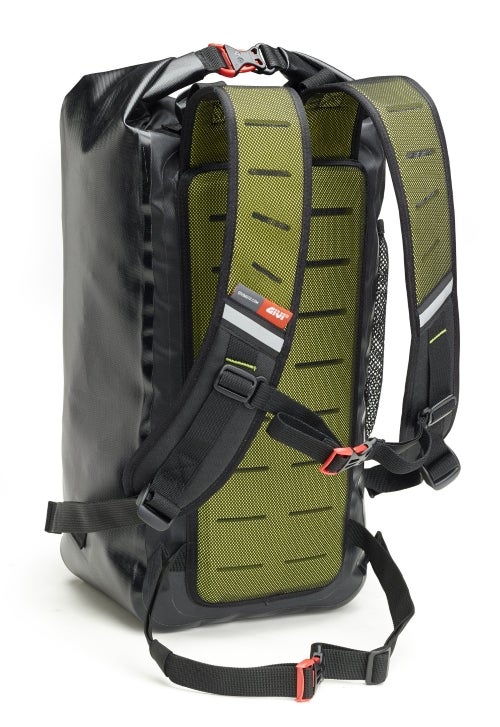 Like the Nelson Rigg, this bag has an air removal valve so you can size it down and squeeze out air. Unlike the Nelson Rigg, it has less accessories and keeps things truer to the slim design of a simple dry bag at just 25L.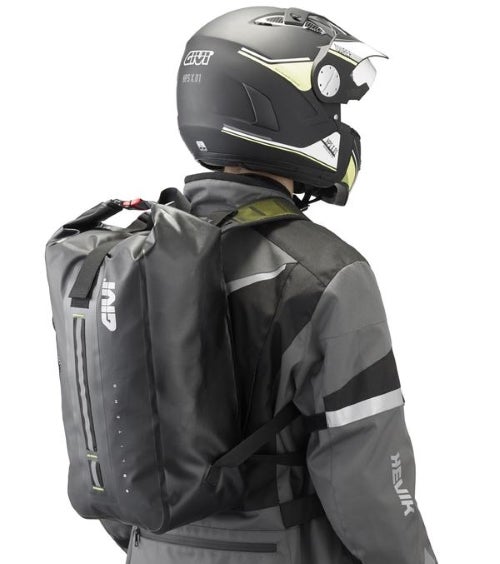 This bag is the perfect size and shape for a day bag on the water or on the motorcycle.
---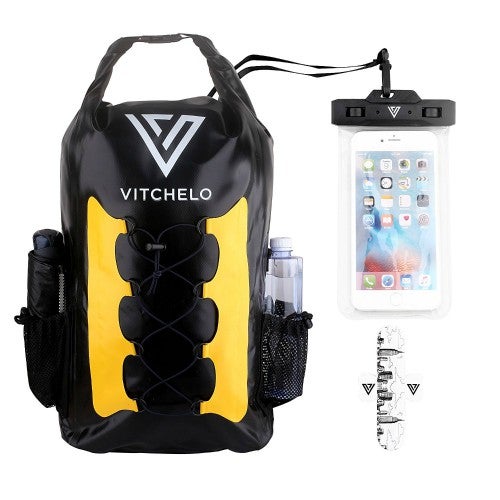 This bag might achieve the best balance of affordability and features on our list. Does that make it the best bag on our list? That's up to you decide based on what features really matter for your needs!

Shock cord lashing
2x water bottle pockets
Padded mesh back panel
If you're a sucker for free goodies – watch out! This bag comes with a free waterproof pouch for your phone or MP3 player. Don't be fooled though, you're paying for it when you buy the pack.
Click To See MoreSee Less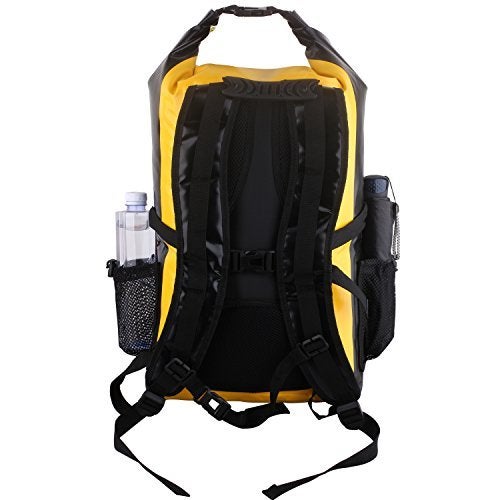 At 30L in size it's a good medium size for day trips or very lightweight overnights. Since it's not massive there's really no reason to worry about a hip belt and this bag doesn't.

While we don't get as much information about the tech specs of this pack as I'd like – we do get a 60-day money back guarantee. There's also a lifetime limited warranty, though the depth and breadth of that remain mysterious to me.

Waterproof Dry Bag Rucksack Backpack 30L Amazon Video Review 2018

Fortunately, with tons of highly speaking user reviews I don't think you'll need that money back guarantee.

Best for an affordable small backpack hybrid that can go anywhere.
---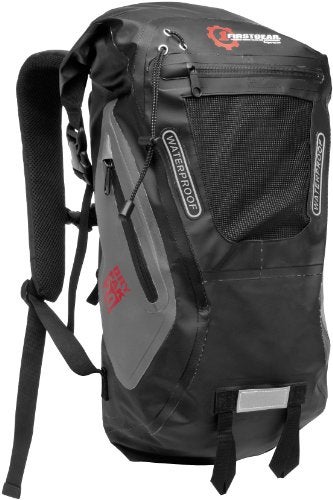 Many external pockets
Sternum strap and waist belt
D-rings for lashing to motorcycle
Of all the waterproof dry bag backpacks on our list, none can beat the Torrent Backpack for style. This bag looks sleek and mean, but is that enough to make it worth your time? Let's find out.
Click To See MoreSee Less

This pack is made to be a waterproof commuter backpack. The air-mesh back panel allows airflow to move around the pack as you ride so you don't overheat. But don't worry – that same rule applies if you want to take this on a hiking or kayaking trip.

I like the sternum strap and minimal hip belt. This pack isn't big enough to warrant a full size hip belt but even small ones help stabilize your bag while you hike or ride.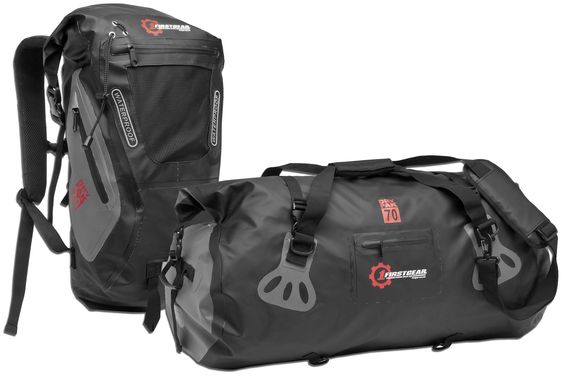 Without a doubt this pack has more features for motorcycles than any other on our list. The D rings located around this pack are located so make it easy to lash down to a passenger seat. Being an avid rider myself, I know I would love to have a feature like this on my bags.

Best for daily motorcycle commuters who need a small waterproof backpack to keep everything dry and right!
---
Waterproof Backpacks – Price Comparison Table
---
How to Choose the Best Waterproof Backpack for You
I never really understood the need for an enormous dry bag with backpack straps. That was until I spent a week paddling and portaging Michigan's Au Sable river in its entirety. It was that trip which taught me the real beauty of having a nice-sized dry bag backpack and I would have traded just about anything to have one at the time.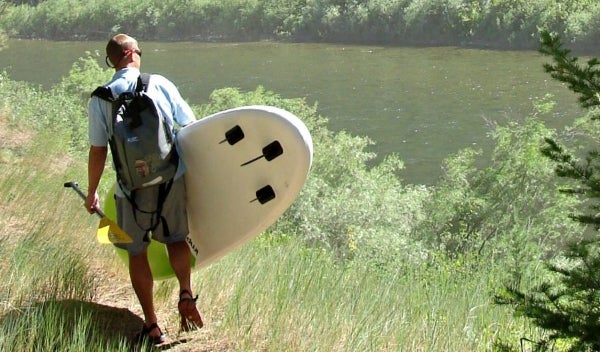 Since you're probably better prepared than I was chances are good that you're here to find out which dry bag backpack to buy. That's a really good thing because you'll be glad you put the research in before you get left "high and dry" as it were.
Going outdoors for any length of time in rainy weather demands waterproof clothing and storage for your valuables and other belongings. In this article you'll learn exactly what to look for in the best waterproof backpacks or dry bag backpacks.
What Size Do I Need?
This is a tricky question and it varies heavily from person to person. However, it is possible for us to narrow things down a bit and work within a few rules of thumb. I'll give you some guidelines that you can work with so you're not buying blindly.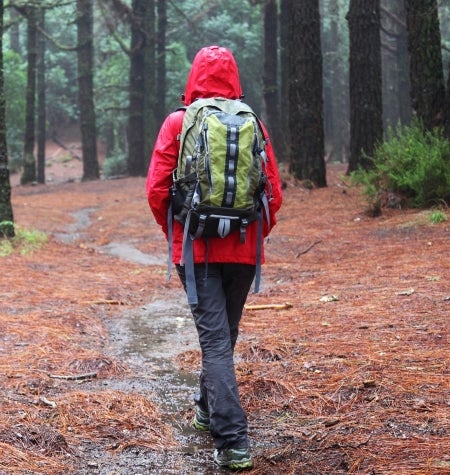 0-10L – Accessory bags for ditties
10-20L – Enough room for day trips
20-30L – Larger gear loads on day trips
30-40L – Enough room for lightweight overnight trips
40-60L – Enough room for overnight trips with heavy gear loads
60-80L – Enough room for multi-day trips
80+L – Enough room for extended expedition style trips
The thing with dry bags is that you have to roll them closed. On top of that, things never seem to fit snugly inside so the use of space tends to be inefficient. That said, it's always easier to go a size larger than you need. You can always roll the top down more, but you can't make the bag any bigger once you buy it!
It's worth noting that carrying multiple smaller dry bags gives you some redundancy. If you're concerned about dry bags breaking or rupturing, carrying two 20L instead of one 40L might be an ideal worth considering.

Choosing a Material
Today's dry bags are becoming lighter and more effective every day. That said, they tend to still be made from one of two main materials.
Vinyl/PVC
A very thick, heavy, and durable waterproof material. It's great for bags carrying rough or abrasive items. If you're going into conditions where your dry bags will be exposed to abuse – such as whitewater trips in sandstone canyons – consider going for durability!
Silnylon
A lightweight waterproof fabric. This is a great material choice for backpacking trips or bags that will be sheltered inside a more robust pack. Silnylon is durable, but not nearly as durable as thick vinyl dry bags.
Both materials are relatively easy to repair. Just be sure to carry a well prepared repair kit and practice repairs before you need to perform them in the field. I've seen many vinyl and nylon dry bags live dozens of years in the field with repair patches!

Closing a Dry Bag
This is, arguably, the most important single operation in keeping your gear dry. Dry bags won't do any good if you fail to close them properly. That's why I always double check the dry bags when heading on a trip with other inexperienced people.
In order to properly seal a dry bag you need to roll the top at least three times. Then you can clip the top closed.
One thing to note is that if you clip the top roll seam the wrong direction it may unroll! Pick up your dry bag by the handle and be sure that the material isn't going to unroll. Once you're experienced with it, you'll be able to tell which direction to clip the top closed so it holds itself but many beginners make this mistake.
If you overfill a drybag and try to close it, you may have trouble rolling the seam fully. Remember to leave room to fold the top down adequately.

Backpack Features
Dry bag backpacks have to be two things at once. They must function perfectly as waterproof bags and they need to be passable as backpacks.
Few, if any, dry bag backpacks attempt to be full featured backpacks. Instead, they usually have just enough backpack features to help you portage or load and unload from the dock.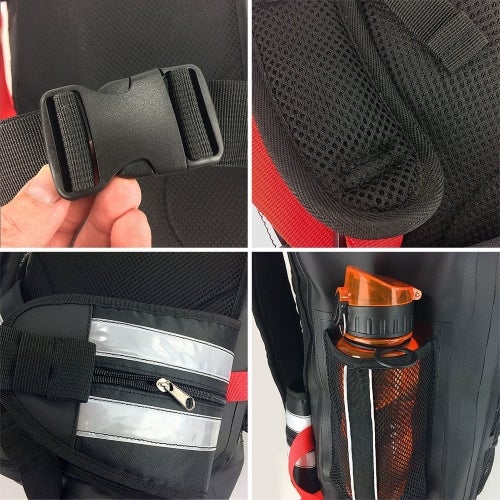 Shoulder Straps
Shoulder straps on dry bag backpacks can often be an afterthought. There are two ways to look at this, though. If you're rarely carrying the bag by the shoulder straps and only need to travel a few dozen yards through portages, this may be acceptable.
If, however, you're carrying your dry bag backpack a considerable distance on a regular basis, poor straps may be unacceptable. An example of this would be sea kayakers carrying gear to and from camp every night.
Hip Belts
Hip belts are a low priority for those in the "I don't need to carry this very far" camp. However, for those with large dry bags and heavy loads, the shoulder straps just won't be enough. Good hip belts are critical to spread out the load!
Hip belts are harder to find in dry bag backpacks, but if you feel these are a necessity, they are out there.

Additional Features
Some waterproof travel bags have flashy extra features. These can range from clear viewing windows to zippered access outer pockets.
Generally speaking, I prefer to avoid additional features. Every added seam, zipper, clip, and weld on any dry bag is another place that water can eventually get in.
Instead of fancy dry bags, I look for additional features on PFDs, backpacks, or boats that can take the place of fancy additions to my dry bags.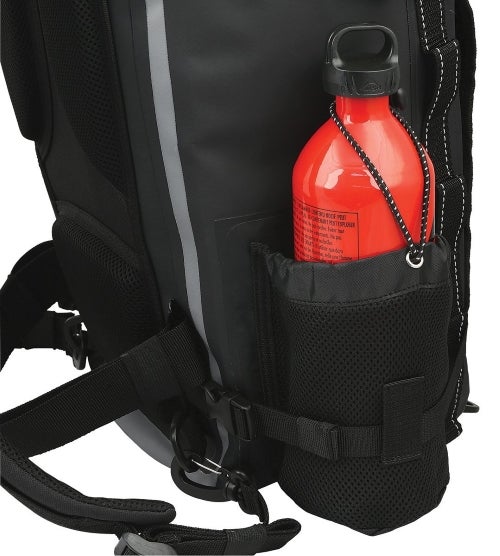 In the case of drybag backpacks, durable external storage pockets, clips, and straps can actually be handy. Ensure that the bag you're buying is of good quality, however, or these areas can be prone to delamination on cheap bags.
One feature that I do enjoy is the eVAC dry bags from Sea to Summit. These bags have a waterproof breathable material along the bottom which allows air to escape but keeps water out. Using these you can compress your dry bags – particularly those with clothes and sleeping bags – to make them smaller. I have enjoyed these dry bags for years!
A similar feature that sometimes appears on dry bag backpacks is a vent nipple. Like sleeping pads, you can turn these valves and let air out and then close them off. These valves are simple and rarely prone to failure or leaking so I like them!
Conclusion
Whether you're using your waterproof pack for kayaking, bicycling, or anything in between there's something here for you. Just remember that there's no single "best" waterproof backpack because each person needs different features.
Think about how you'll use your bag and what's most important to you before you click that purchase button. That will save you from being frustrated and having to buy another one down the road in order to find what you really wanted in the first place.
I like to keep things simple when using waterproof dry bags. This means less hassle and less likelihood of things breaking or leaking. However, there's something to be said about the convenience of advanced features!
---
Thanks for reading The 5 Best Waterproof Backpacks. We hope this article has helped you to discover the best dry bag or best dry pack for your needs and your preferences.
And if you're shopping for other gear take a look at these related review articles from Outside Pursuits:
SPORTS & HOBBIES  ELECTRIC SCOOTERS | AGGRESSIVE INLINE SKATES | INLINE SPEED SKATES | OUTDOOR BASKETBALLS | OUTDOOR BASKETBALL SHOES | BASKETBALL HOOPS | WATERSPORTS SHOES | PICKLEBALL PADDLES | GOPRO ALTERNATIVES | DRONES FOR GOPRO | INDOOR SOCCER SHOES | COOLER ICE PACKS | 12 VOLT COOLERS | CAMPING AIR MATTRESSES | WATERPROOF BACKPACKS | WATERPROOF BOOTS
---
Amazon Top 10 Bestsellers
Sale
Bestseller No. 1
FENGDONG 40L Waterproof Lightweight Outdoor Daypack Hiking,Camping,Travel Backpack for Men Women Blue
❤ Water Resistant & DURABLE: Waterproof Material included. FENGDONG camping backpack is made of extra thick, tear-resistant, water-resistant and anti-abrasion polyester fiber. All stress points are reinforced with bar tacking to increase its longevity.
❤ Breathable Mesh Padding: Stylish DayPack with the ventilated mesh padding shoulder straps and backside, breathable system and lightweight design are the perfect hiking backpack for outdoor sports. Ergonomically designed provides body comfort even when pack is completely full. Keep it cool even in summer.
Sale
Bestseller No. 2
Bestseller No. 3
MIER Waterproof Backpack Sack Roll-Top Closure Dry Bag Lightweight for Kayaking, Rafting, Beach, Boating, Swimming, Camping, Hiking, Fishing, Green, 30L
WHY WATERPROOF? --- MIER dry bag is constructed with waterproof soft TPU + welded and heat-taped seams + roll top closure for better waterproofing. This 100% waterproof bag will prevent water, rain, snow, dirt, dust, or sand penetrating this bag and keep your gears such as cellphone, cameras, clothes dry
ROLL TOP BACKPACK --- The roll down sealing system makes the bag dry pack easy to open/close, provides ultimate protection while traveling, can easily pack tighter or expand larger depending on your needs
Bestseller No. 4
Tactical Backpack for Men Molle Military Rucksack Pack Waterproof Daypack 30L with USA Flag Patch
✅ DURABLE & WATERPROOF: Made of High-quality nylon material assault pack is tear-resistant, which guarantees for your long term use. Outer nylon material with a waterproof function can protect your item inside being wet in inclement weather.
✅ MOLLE DESIGN & FOAMED PROTECTED: Molle system design provides portability for you to combine with knives, pockets, hooks or other small gadgets. This molle hiking daypack comes with a USA Flag Patch stick on the front can make you stand out when in the forest. The foamed back part and padded shoulder straps make you feel comfortable even it loads a lot.
Bestseller No. 5
Outlander 100% Waterproof Hiking Backpack Lightweight Packable Travel Daypack(Orange)
100% WATERPROOF and DURABLE. Waterproof main compartment with roll top closure and sealed seams keep your gear dry in the worst conditions. This Outlander Backpack is made from highly rip and waterproof nylon fabric that provides strength and long-lasting performance with minimal weight. Stress points are reinforced with bar tacking for increased longevity. Durable 2-way Abrasion Resistant SBS Metal Zipper across the backpack.
COMPACT. Folds into zippered inner pocket to fit anywhere. Unfolds from pocket to backpack. A must-have on any trip.
Bestseller No. 6
Venture Pal 40L Lightweight Packable Travel Hiking Backpack Daypack
【Upgraded Wet Pocket Design】Venture Pal backpack stands out with more humane design for easy and convenient use. One waterproof wet pocket is added to the main compartment, a zipper on the back of this backpack which led to the internal wet pocket, to better separate sweaty clothes, towels or other personal things after swimming or taking exercise.
【Durable Material】This backpack is made of high quality tear and water resistant nylon fabric,heavy duty metal zippers and enhanced by bar-tacks at major stress points provide long-lasting durability against daily activities.The extra strength provided by the double-layer bottom piece makes it possible to carry more stuff.
Bestseller No. 7
IDRYBAG Waterproof Backpack Floating Dry Bag, Dry Bag Backpack Waterproof 20L/30L, Roll Top Keeps Gear Dry for Kayaking, Boating, Rafting, Swimming, Hiking, Camping, Travel, Beach
500D Waterproof Guaranteed: IDRYBAG 20L dry bag backpack is carefully designed and meticulously constructed of 500D Vinyl-coated woven polyester with heavy duty welded and watertight seals, which has excellent performing on water resistance, tear resistance and abrasion resistance. The waterproof backpack dry bag is the perfect combination of premium quality, extreme durability, and maximum protection! Keeps your gear dry & safe...Amazing companion for outdoor enthusiasts!
Easy to Use & Clean: Just load your gear into the dry backpack, grab the top woven tape and roll it down tightly 3-4 times, and then plug buckle to complete the seal. You may also guide the stretched strap over the zipped clip for a more compressed fit. It is waterproof either way! Quick and easy to use, the smooth durable surface of your dry sack backpack is easy to wipe clean after each use.
Bestseller No. 8
IDRYBAG Waterproof Dry Bag Dry Sack, Lightweight Dry Backpack Water Sport, Hiking Dry Backpack Shoulder Straps 20L/30L/40L
500D Waterproof Material: Idrybag 30L dry bag backpack is constructed from 500D PVC heavy duty material that is waterproof, scratch proof and high performing, ensuring no water can enter from the top of the dry backpack to keep your camping gear dry during adventure. Your waterproof backpack dry bag is double reinforced at all the major pressure points so that it's durable enough and wear-resistant. Idrybag dry bag would definitely be your choice for any tough environment you may encounter!
How to Use: Align the straps on the top of the waterproof dry backpack after stores your gear, then grab and roll the straps 3-5 times and connect each side buckle of the dry sack backpack to complete the seal. Stretch two side straps to protect the bag from leaks. Connect the top buckle and stretch the strap to avoid your gear wet. Each backpack dry bag is equipped with a wide firm hand-hold for your convenience, meet your different demands for handheld or shoulder carrying.
Bestseller No. 9
We chose the Nelson Rigg SE-3040 Hurricane 40L as Editor's Choice for the best dry bag or backpack.
Last update on 2021-01-18 / Affiliate links / Images from Amazon Product Advertising API
Notice:
OutsidePursuits.com is a participant in the Amazon Services LLC Associates Program, an affiliate advertising program. OutsidePursuits.com earns fees from products sold through qualifying purchases by linking to Amazon.com. Amazon offers a commission on products sold through their affiliate links.