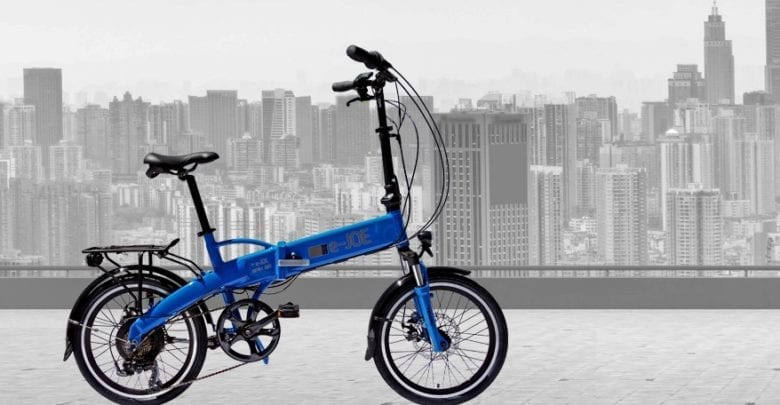 These are the top-rated folding e-bikes. The best electric folding bicycle for you will ultimately come down to specs, performance and budget. For more about how we chose the top-rated folding e-bikes see our section, How To Choose The Best Electric Folding Bike For You.
Best Electric Folding Bike
| | e-JOE Epik Sport Edition SE | ProdecoTech V Mariner | e-mazing Innovations B.O.B |
| --- | --- | --- | --- |
| | | | |
| Voltage | 48 Volt | 36 Volt | 36 Volt |
| Range | Up to 30 miles | 25-35 miles | 20-30 miles |
| Top Speed | 22-24 mph | 20 mph | 15 mph |
| Weight | 65 lbs | 51 lbs | 35 lbs |
| Customer Ratings | 5.0 / 5.0 Stars | New Product | 3.8 / 5.0 Stars |
| | | | |
---
Quick Answer: The 5 Best-Rated Folding Electric Bikes
---
Electric Folding Bike Reviews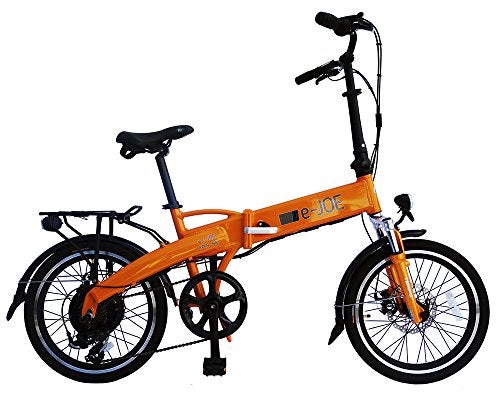 This is an upgraded version of a very popular, comfortable, and value for money electric folding bike. It now has more power and improvements over its predecessors, albeit with an increase in price.
5 levels of pedal assist and a thumb throttle allow you to control the amount of power, with a top speed of 20 mph. When power is applied, it is not overwhelming. You remain in control of the 500-watt geared hub motor at all times.
The battery is a 36v 9 Ah Lithium-ion model. You can get 20-30 miles of range on one charge, in part thanks to the motor inhibitor that cuts power when the brakes are applied.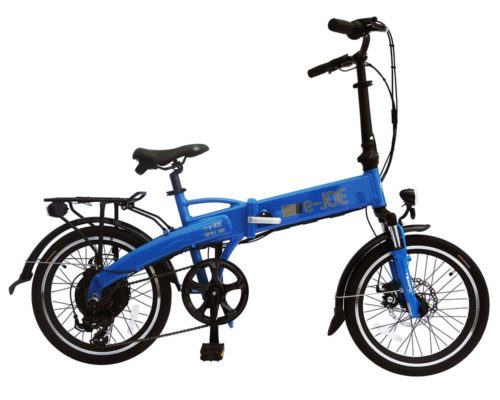 All of this can be controlled from the improved LCD display panel. Two buttons are all that is needed to navigate the settings. Charge time for the battery is 4 hours.
 You will be very comfortable riding this bike. Both the handlebar and seat height are adjustable and you can get the seat very high, which is an advantage for taller riders.
The swept back handlebars give you a relaxed riding position. Thanks to the low frame, it is easy to step onto the bike. Adding to the comfort, and total weight is a basic suspension fork to take the sting out of potholes.
When folded, the Epik measures 35" x 24" x 17" and is held together with magnets, which is a creative solution. An aluminum protector under the chainring takes the weight of the bike when sitting on the floor, avoiding any possible damage to the chainring and keeping floors clean.
You get a full package with the Epik. It ships with a full set of fenders, a rear rack and even lights. They may not be the best fenders but they get the job done without raising the price too much, keeping the Epik affordable.
In keeping with this, the entry level Shimano Tourney 7-speed drivetrain keeps the price down but still gives you reliable performance. Although entry level, at least it is Shimano and not a budget manufacturer that no one has ever heard of.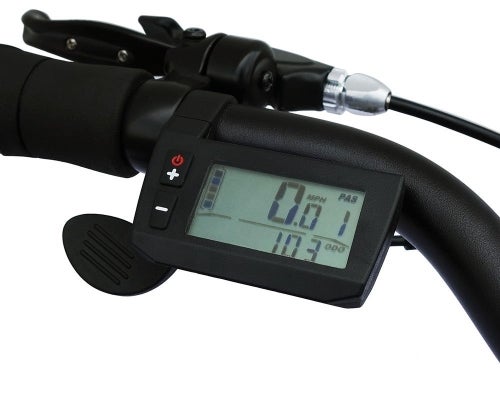 Everything rolls on 20" wheel and 3 puncture resistant Kenda tires. The total weight is 65 lbs, making the Epik no lightweight. Thanks to the upgrades, the Epik still represents great value for money despite the price increase. A one year warranty is included.
---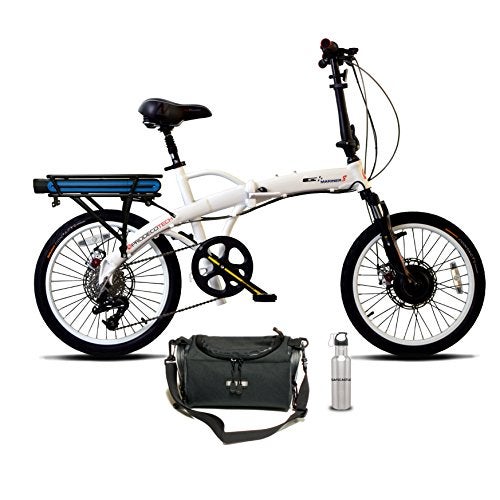 If you want a high quality electric folding bike with tons of power and quality components, the Mariner is a great choice. It sports a 500W motor with a top speed of 20 mph and a range between 25 and 35 miles. Charge time is 4 hours.
Power is controlled via a twist throttle and you can also switch between pedal assist modes. A basic display shows you the battery level with green, yellow and red LEDs.
While you do not get all the data that a LCD display shows, such as speed, power mode or remaining battery life, you do not really need all of this.
As opposed to previous models, the Mariner now has a rear hub motor instead of a front hub motor. The result is better traction and steering at the price of the whole bike being quite rear heavy. The motor is powered by a 36V 11.5 Ah Samsung battery that is mounted on the rack, further adding to the rear-heavy feel.
It can be removed and charged separately but a downside is that the rack cannot be used for storage, meaning anything you need to transport will need to go in a rucksack.
A consequence of all this weight pushing on the rear wheel is that the front wheel develops a wobble at high speeds. It is also not too hard to get the Mariner to wheelie. Wheelies may be fun for some people but our guess is that most of you want to keep both wheels on the ground at all times.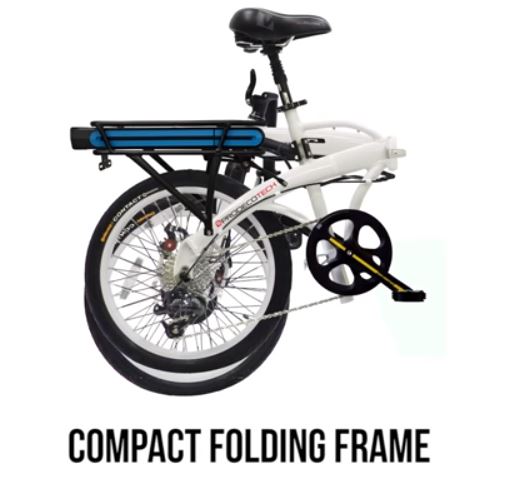 Keeping this in check are Avid DB1 hydraulic disc brakes, with huge 180mm rotors. These brakes are otherwise at home on serious mountain bikes so at first glance it would seem overkill to spec them on a commuter bike.
However, with so much power available, you can have peace of mind that you can stop fast and confidently whenever you need to.
The brakes are not the only high quality components on the mariner. SRAM provide a drivetrain with XO shifter and X9 derailleur for accurate gear changes. A Suntour Swing Shock takes the sting out of potholes and bumps but weighs half of a standard suspension fork.
Further adding to the ride comfort is a seat post shock, which is probably a must with all of the weight at the back. 20" wheels with Continental Contact tires keep everything rolling.
When folded, the Mariner measures 36" x 29" x 19". Although the folding mechanism works well, there are certainly bikes that fold better but have a much higher price tag. There is also noticeable flex when riding, especially when cornering.
Folding and Unfolding
Total weight is 51 lbs and you will enjoy the two year warranty. Overall the Mariner is a well built bike with some fantastic components and lots of power.
While the frame may not be as solid when riding or easy to fold as the competition, it still performs very well.
Despite the flex, you can still be assured that you are riding a reliable bike and you will absolutely enjoy the experience riding with the high quality brakes and gears.
---
The GB5 500 is a more powerful version of this popular full suspension electric folding bike. Greenbike USA have a focus on their bikes being comfortable and safe forms of transport, rather than "just" being a bicycle or exciting gadget.
This version of the GB5 now has a 500W motor powered by a 48V, 13ah fast-charging Samsung lithium-ion battery. For easy charging the battery can be removed. One of the stand-out features of the GB5 500 is the impressive range.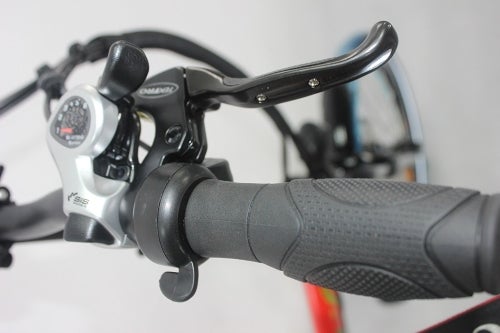 You can get around 60 miles from the throttle only mode or up to 90 miles with the 9 levels of pedal assist. This is huge and there are few others that can match this. It has a top speed of 20 mph.
Front and rear lights are powered by the battery and there are even left and right signals so that other road users know which way you will turn. All of this can be controlled at the LCD display, which also has a USB port for charging other devices.
The 20" wheels run on puncture resistant Kenda tires. Keeping you comfortable when riding is a suspension fork, a rear shock, and a seat shock.
With the huge range on offer, you may want to take the GB5 500 on some big rides, so this added comfort will be welcome. Even if you just use it for commuting, the smooth ride from the pothole-eating suspension will keep you smiling.
When folded, the bike measures 37" x 17" x 28". It is quick and easy to fold and is very compact when stored.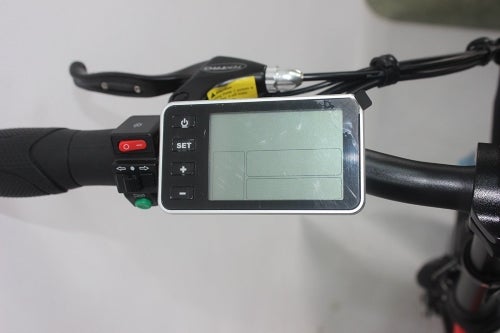 Unfortunately, not even this great bike is perfect. The otherwise great performance is somewhat let down by the weak disc brakes. Stopping time could be improved with an upgrade.
The relatively high weight of 59 lbs is also a disadvantage, and lots of the weight is on the rear wheel, making the GB5 500 prone to accidental wheelies if you accelerate too hard in throttle mode.
However, this does not mean that it is a bad bike. The stopping time is still acceptable and by no means unsafe. If you can deal with lifting the 59 lbs, you will enjoy commuting and leisure rides on this comfortable and compact bike.
---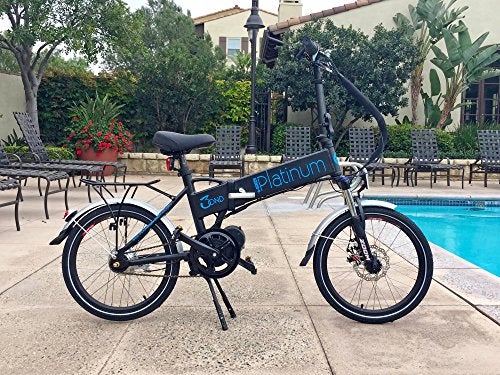 Platinum may not be the most known manufacturer of electric folding bikes, but the 3OND is one of the best available.They are designed and built by Cristine Wiseman, who has made this clean looking and balanced folding bicycle.
You get a complete package with the 3OND. It comes with fenders, a rear cargo rack, and lights. The headlamp is actually integrated and runs off the battery power. There is also a two-leg kickstand.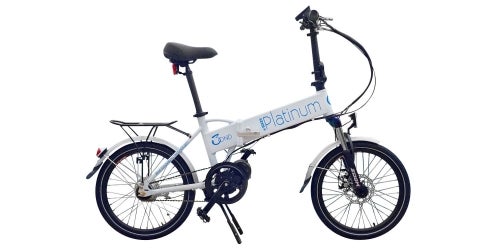 Hidden inside the frame is a 36V, 14 Ah Samsung lithium-ion battery that powers a 350V Bafang motor. You should be able to get between 25 and 60 miles out of one charge. When the battery needs charging, you can either leave it in the frame or remove it. Charging time is approximately 5.5 hours.
Thanks to the frame mounted battery and bottom bracket mounted motor, all the heavy components are held centrally and as low as possible.
The result is a stable ride and you will not have to worry about front wheel wobble or the risk of accidental wheelies.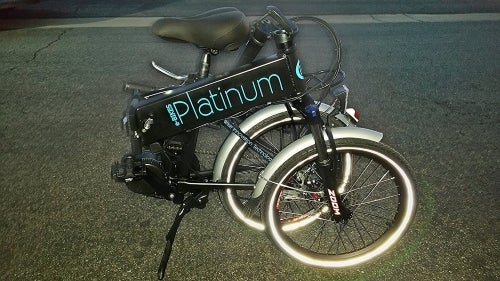 Throttle only, or 9 levels of cadence-sensing pedal assist are available and everything is shown on the LCD display. And we mean everything: Speed, average speed, pedal assist level, power, time, clock, odometer, range, battery voltage or percentage, and a battery infographic.
There is also a USB port on the display to run another light, charge a GPS device, or your phone.
Another advantage of using a frame mounted motor, is that a rear internally geared hub can be used. You will enjoy not having a derailleur hanging out all the time, as well as the smooth and easy shifting of the 7-speed Shimano Nexus hub.
The folding mechanism is secured with a slide lock to prevent accidental opening. Once folded, there is no retaining system apart from an included velcro strap. An engineered clasp system or magnets may seem like something that is missing at first glance.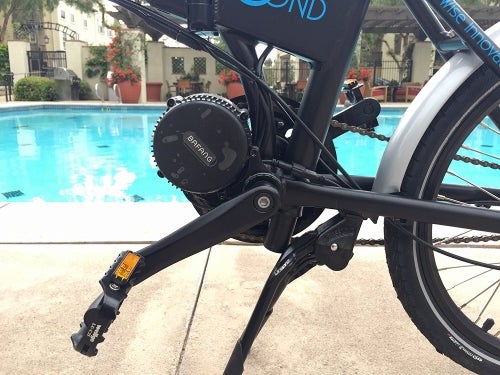 However, such a system would actually add more weight and the strap does the job just fine. It is even possible to strap the folded bike in such a way that no metal parts come into contact with each other.
The pedals do not fold, which is a bit of a shame as they stick out when the bike is stored.
The 3OND rolls on 20" wheels. A reflective strip is on each side of the tires, helping you to stay seen when riding in the dark. If you choose the white frame, you will be even more visible.
Folding bikes are often uncomfortable for taller riders. Not so with the 3OND. The seat and stem can extend far out of the bike, accommodating all but the tallest people.
As always, be aware of extending the stem too far. You do not want to stress the cables when turning. Adding to the comfort is a basic suspension fork. Although you cannot adjust the rebound or preload, it does have a lockout option.
Weighing in at 53 lbs, there are lighter electric folding bikes available. However, the extra weight of the 3OND is offset by its comfort and stability. The great looks may also help you justify the extra weight.
A one year warranty is included.
---
How To Choose The Best Electric Folding Bike
Electric bikes have come a long way in the last 10 years. So when it became apparent that the market was ready for a compact foldable electric bike the options began to appear. We waited until now to deem anybody's the best electric folding bike because so much was changing and improving.
Folding bikes have long been popular among commuters who need to store their bicycle in a small space at home or in the office. Thanks to their small folded size, they are easy to get onto trains and buses, or even a taxi. With the rise in popularity of electric bikes in recent years, it is no surprise that folding electric bikes have come onto the market as well.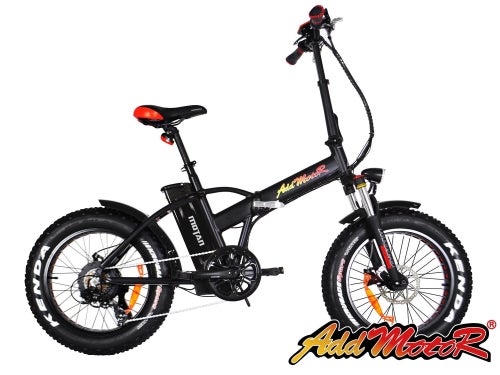 It makes a lot of sense to put these two technologies together. You can get all the advantages of an electric bike in an easy to transport package. An electric folding bike really is the ultimate solution for commuting.
You can let the battery do the hard work and not worry about getting sweaty as you scoot across town to a meeting, or you can arrive at the office faster than with just leg power alone.
If part of your journey necessitates taking a train or a bus, all you have to do is fold up the bike and hop on.
Now you have decided that you want one, you need to find out which is the best folding electric bike for you. There are a few things that you need to consider when making your decision so we thought we would help you out and outline the considerations for you below.
Wheel Size
You can find electric folding bikes with a number of different wheel sizes. Most folding bikes use smaller wheels than standard bicycles to keep the folded size as small as possible. 16", 18", 20" and 24" are the common wheel sizes that you will find.
While a smaller wheel makes for a smaller folded bike, you need more power output to reach the same speed as on bigger wheels. Ultimately you need to consider your exact electric folding bike needs and how you will use it to make the right decision.
Folded Size
It is not just the final size that is a factor here, but the time it takes to actually fold the bike. The quickest simply fold in half but have a larger folded size than models with a more complicated mechanism.
If you will be folding your bicycle multiple times per day, a quick folding time may be better, as long as it does not take up too much space on the bus or in the office. If you live in a tiny apartment and only ride to work, then go for something that folds up really small.
Weight
Due to the added weight of a motor and battery, electric bikes are heavier than normal bikes. Folding bikes in general tend to be quite weighty because of the folding mechanism.
An electric folding bike therefore can be on the heavy side. Consider the weight of the model you are looking at. Are you happy lifting that weight? Will you still be happy lifting that weight at the end of a long day?
Power
How much power do you need from your folding electric bike? What about the top speed? One thing you will need to do is check your local laws to find out what is allowed where you live.
Battery Life & Charging Time
The range of your electric folding bike is an important consideration, especially if you plan to use it for leisure. Although you can still pedal an electric bike without the motor assisting you, this may not be ideal when you are out of juice and miles from home.
Likewise, how long does it take to recharge the battery? If you can charge it fully while getting work done in the office then great!
Can the battery be removed and charged separately from the bike? If not, can you park it somewhere near a power supply that is safe?
Motor Position
Where the motor is mounted will influence the performance and ride characteristics of the bike. A front hub motor leaves the rear hub free for all gear options and if the battery can be mounted at the rear of the bike, the whole ride will be balanced. However, having so much weight on the front wheel will make you feel bumps more and negatively influence the steering. Also you may encounter traction problems when cornering on wet roads or riding uphill.
A rear hub motor has better traction but forces a lot of weight to the rear of the bike, which can cause unintentional wheelies. They also prevent the use of cassette gears.
A chain drive motor is mounted on the frame and pulls the chain (in addition to leg power with pedal assist). The weight is central and low on the bike, helping keep things balanced and any gear system can be used.
---
Thanks for reading The 5 Best Electric Folding Bikes Reviewed. We hope this article has helped you to discover the folding electric bicycle for your needs and your preferences.
You might also be interested in our related review article, The 7 Best Electric Scooters.
Also see these informative articles, Top 10 Road Biking Routes in the United States and How To Get Started Road Biking – A Beginner's Guide.
MORE BIKE GEAR  ROAD BIKE SHOES | ROAD BIKE PEDALS | CYCLING SHORTS | ROAD BIKE JERSEYS | ROAD BIKE WHEELS | ROAD BIKES UNDER $500 | ROAD BIKES UNDER $1000 | ELECTRIC BIKE CONVERSION KITS | ELECTRIC FOLDING BIKES | E-BIKE BATTERIES | CRUISER BIKES | BEACH CRUISERS | BALANCE BIKES | BIKE TRAVEL BAGS | ROAD BIKE HELMETS
Notice:
OutsidePursuits.com is a participant in the Amazon Services LLC Associates Program, an affiliate advertising program. OutsidePursuits.com earns fees from products sold through qualifying purchases by linking to Amazon.com. Amazon offers a commission on products sold through their affiliate links.