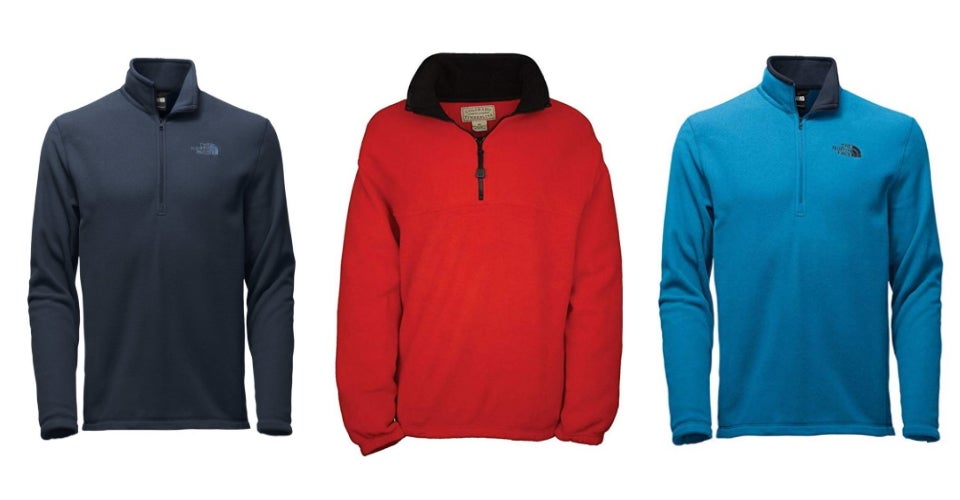 Our Editors independently research, test, and rate what we feel are the best products. We use affiliate links and may receive a small commission on purchases.
In this side-by-side product review Outside Pursuits leads you through everything you need to know in order to pick the best fleece jacket for your specific needs and winter weather conditions.
We'll take a look at what makes a great top-rated fleece jacket and what to avoid. Also see How To Choose The Best Fleece Jacket later in the article. So, what is the best fleece jacket?
Best Fleece Jackets
| | The North Face Men's TKA Glacier Quarter Zip Pullover | Condor Alpha Tactical Fleece Jacket | Colorado Timberline Steamboat Fleece Pullover |
| --- | --- | --- | --- |
| | | | |
| | | | |
| Materials | 100-weight classic fleece | 285 g/m² 100% polyester fleece shell with mesh lining | 365 g/m² fleece |
| Average Weight | 10.93 oz | 14.0 oz | 12.87 oz |
| Style | ¼ zipper, low profile at neck | Full front double zipper | ¼ zipper |
| | | | |
Also see: Fleece Jackets Comparison Table and YouTube Video Review
---
Quick Answer: The 7 Best-Rated Fleece Jackets Reviewed – [2021]
---
Fleece Jacket Reviews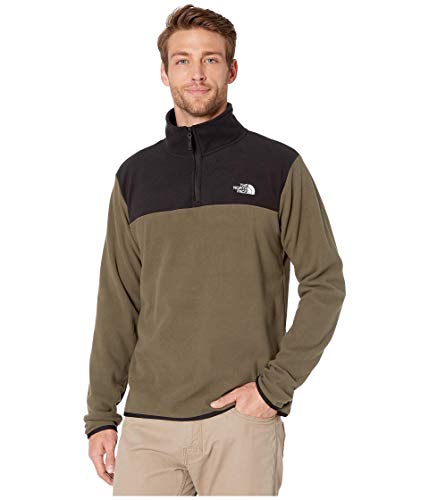 Key Features of the The North Face TKA 100 Glacier Fleece Jacket:
| | | | |
| --- | --- | --- | --- |
| FEATURES | SUITABLE FOR | PROS | CONS |
| 100-weight classic fleece, 100% polyester | Layering in all seasons | Super soft | Not suitable as top layer in winter seasons |
| Average weight: 13.05 oz | Hiking | Durable | No pockets |
| Made with recycled materials | Running | Lightweight | |
| ¼ zipper, low profile at neck | Casual wear | Machine wash | |
| | | Lifetime warranty | |
The North Face TKA 100 Glacier is a classic fleece jacket that offers great value. It is manufactured from 190 g/m² 100-weight 100% polyester using recycled material to help reduce waste.
Thermal Kinetic Advancement (TKA) is a proprietary fabric by North Face with superior insulation and resistance to wear.
TKA 100 is a lightweight, high-performance microfiber with a luxurious finish, making this jacket ideal next to your skin or as a layer.
The durable material is resistant to pilling, offers warmth even when wet and pack well thanks to excellent compression qualities.
The jacket is soft, comfortable, warm and breathable and you can further regulate temperature with a ¼ zipper that is comfortable near the neck thanks to a low profile.
The material dries quickly, insulates well and wicks moisture away. This fleece jackets is an affordable lightweight option with many uses that you can wear casually or as a layer for many activities.

---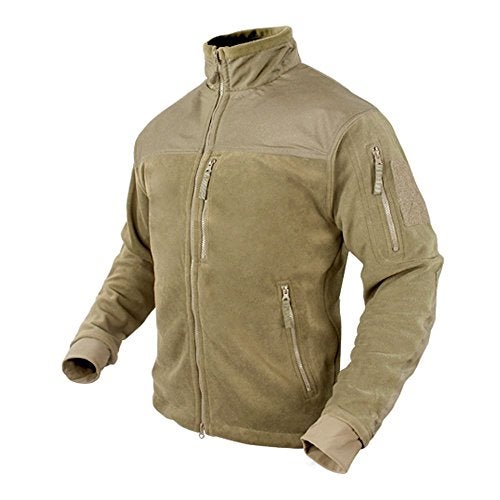 Key Features of the Condor Alpha Tactical Fleece Jacket:
| | | | |
| --- | --- | --- | --- |
| FEATURES | SUITABLE FOR | PROS | CONS |
| 285 g/m² 100% polyester fleece shell with mesh lining | Layering in all seasons | Many pockets for storage | Little stretch |
| Full front double zipper | Top Layer in cold weather (temp. 40°F -50°F) | Very warm | Big & bulk people might have to size up |
| Hand pockets, chest & shoulder pocket | Extended outdoor activities and work | Durable | Waistband is not elastic (but has drawstring) |
| Extendible sleeve | Casual wear | Machine wash | |
| Drawstring waistband, shoulder patch panels | | Stormguard on frontal zipper | |
| Reinforced collar, shoulder and forearm | | Tactical fleece jacket | |
The Condor Alpha is a tactical fleece jacket rich in features. This thicker and heavier model consists of an outer shell made from 285 g/m² 100% polyester with mesh lining and reinforcements.
Collar, shoulder and forearm are also reinforced against abrasions. The full frontal double zipper features a storguard and the waistband is adjustable with a drawstring to seal your jacket against wind and cold.
Four zippered pockets in total allow for lots of storage room: two slash hand pockets, a vertical chest pocket and a shoulder pocket.
Further extras are media ports for headphone or charge cables, two velcro loop shoulder patch panels and two inch extendible sleeves with thumb holes to keep your hands warm.
This fleece jacket performs best in a temperature range of 40°F – 50°F and can be padded with bottom layers or a warmer jacket on top in colder weather.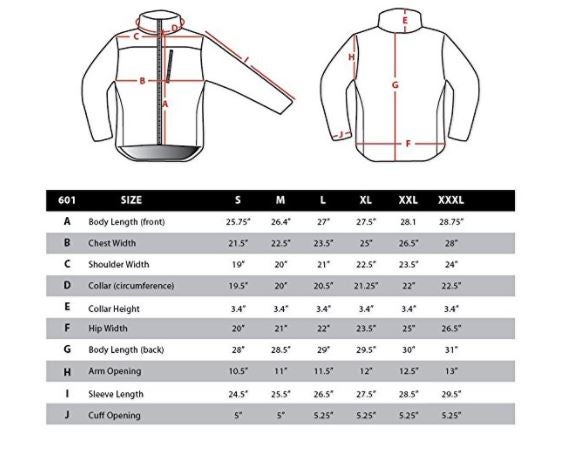 The Condor Alpha fleece jacket offers durability, warmth, comfort and tactical options for work and outdoor activities in harsh conditions.

---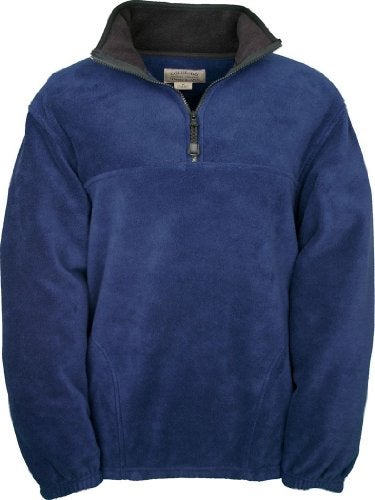 Key Features of the Colorado Timberline Steamboat Fleece Pullover:
| | | | |
| --- | --- | --- | --- |
| FEATURES | SUITABLE FOR | PROS | CONS |
| 365 g/m² fleece | Multi-season use | Comfortable | Oversize cut requires you to size down for snug fit |
| Average weight: 12.87 oz | Top layer in autumn | Durable, pilling-resistant | No zippers on pockets |
| Oversize comfort cut | Casual wear | Keeps your neck warm | Less practical for outdoor activities |
| ¼ zipper | Camping | Lightweight | |
| On-seam pockets | Hiking | | |
| Taped contrast | | | |
| Elastic waist and cuffs | | | |
The Colorado Timberline Steamboat fleece pullover is a lightweight budget options to keep you warm and comfortable on chilly days.
Its oversize cut, taped collar and elastic cuffs and waist highlight a comfy fit and more casual wear, but you can either layer up underneath or size down to wear the fleece as a layer itself.
The ¼ zipper offers ventilation or neck warmth when zipped up.
The high quality fabric and construction make this fleece durable with maintained soft feel. The pockets lack zippers, rendering them less practical for activities where you need to stow things securely.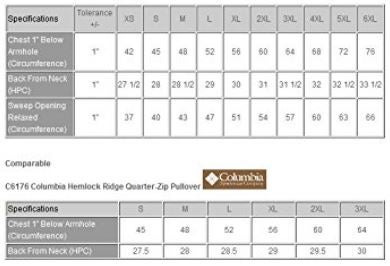 The Steamboat fleece performs best in chill weather or situations where it can be worn as a top layer such as hiking, camping or lounging around.

---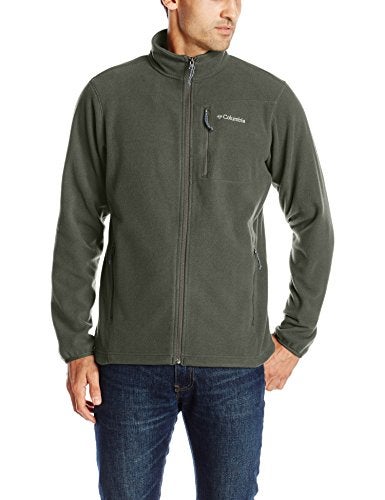 Key Features of the Columbia Cascades Explorer Fleece Jacket:
| | | | |
| --- | --- | --- | --- |
| FEATURES | SUITABLE FOR | PROS | CONS |
| 100% polyester anti-pill microfleece | Layering in all seasons | Easy, relaxed fit for comfortable range of motion | Not suitable as top layer in winter |
| Full frontal zipper | Trail | Anti-pilling material | Sizes seem to run long |
| Stand collar | Top layer in 50°F-60°F weather or bottom layer below | Lightweight | |
| Zippered hand pockets & vertical chest pocket | Casual wear | Machine wash | |
| Straight hem with drawstring, elastic cuffs | | Cross-season wear | |
With the Columbia Cascades Explorer, you have the choice of a comfortable microfleece jacket that serves you well for a range of activities and conditions.
The full zipper allows you to easily layer, and the 100% polyester fabric is durable, soft and resists the elements well. The standing collar warms your neck in harsher weather and the easy fit give you the full range of motion.
This fleece jackets performs best on the trail but also looks good for wearing it casually.
You can layer up underneath or wear it under another jacket in colder climate. The fine knit has great wicking and breathing properties.
The sleeves are equipped with elastic cuffs and you can adjust the waist with a drawstring. Zippered pockets hold your keys or gadgets during hiking or running.

The Columbia Cascades is a great all-around fleece jacket that unites durability, versatility and optimal value.

---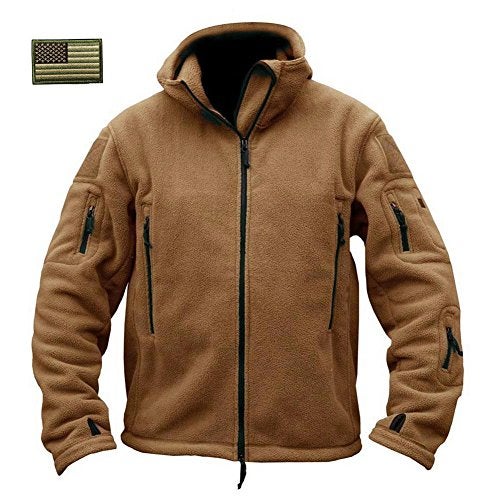 Key Features of the ReFire Gear Warm Military Tactical Fleece Jacket:
| | | | |
| --- | --- | --- | --- |
| FEATURES | SUITABLE FOR | PROS | CONS |
| 100% polyester | Top layer in autumn and winter | Very warm & comfortable | No drawstring on hood |
| Full frontal double zipper | Tactical: military, hunting, fishing | Durable | No drawstring or elastic on waist |
| Integrated fleece hood | Outdoor sports & activities | Versatile | High front pockets awkward for hands |
| 7 pockets: 2 large front, 2 back, 2 sleeve, 1 small sleeve | Casual wear | Integrated hood | |
| Long sleeves with thumb holes | Bottom layer under waterproof jacket | Tactical jacket with many pockets & features | |
| 2 velcro shoulder patches | | | |
The ReFire Gear fleece jacket is a tactical, military-style model with many pockets and the only hoodie option in our men's selection.
It is made from 100% polyester soft fleece material to keep you warm outdoors in autumn and winter, whether you do sports, hunting, travel, adventure or work.
A double zipper serves to protect you from harsh conditions and each sleeve is equipped with a thumb hole to keep your hands warm. The many pockets offer plenty of storage room.
The fleece jackets features two large front pockets, which sit unusually high, so you have to ge used to putting your hands in there.
It also has two back and arm pockets and another small pocket with a pen holder on the right arm.
The integrated hood is great if you don't want to worry about keeping your ears and head warm, but it might be a pain point for some users. There is no drawstring to fasten the hood, which is not ideal in windy situations.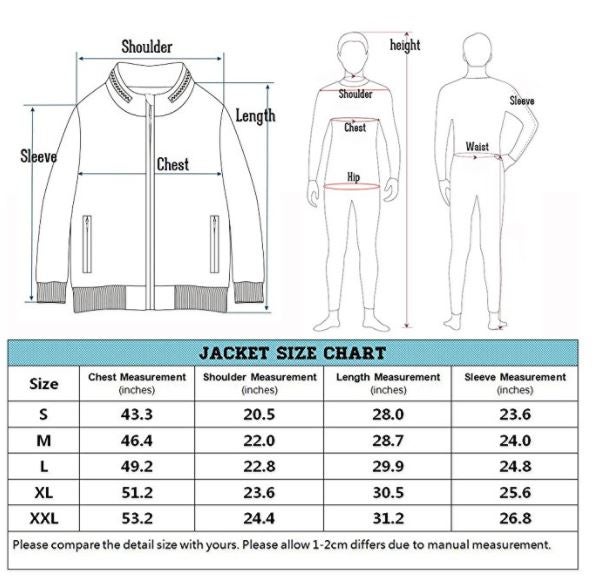 The jacket also lacks a pocket for tucking away the hood. All in all, this fleece jacket is a good choice if you rely on tactical versatility, want a warm top layer in autumn or a bottom layer you can wear under a waterproof jacket.

---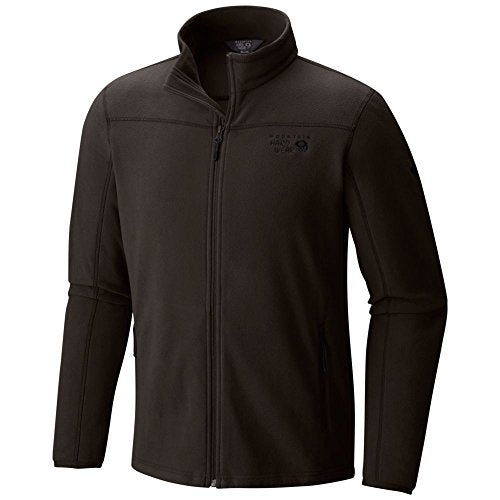 Key Features of the Mountain Hardwear Microchill 2.0 Jacket:
| | | | |
| --- | --- | --- | --- |
| FEATURES | SUITABLE FOR | PROS | CONS |
| 168 g/m² Velous Micro Fleece | Bottom or mid-layer | Super soft & comfortable | Less suited as top layer |
| Average weight: 11.5 oz | Hiking, backpacking | Durable & good quality | No elastic or drawstring on sleeve hem |
| 2 zippered side pockets | Walking, running | Absolute lightweight | Less breathable |
| Full front zipper | Casual & office wear | Very warm thanks to micro fibers | Low drying speed |
| Inside chest panels against wind | | Great for layering | |
| Adjustable waist hem | | | |
The Mountain Hardwear Microchill 2.0 fleece jacket is the absolute lightest model we reviewed. The manufacturer achieves a low weight with the 168 g/m² Velous Micro Fleece fabric, a proprietary material with a close knit and excellent durability.
It won't pill or shrink and fights tight, not baggy, without being too snug. The micro fibers make this a warm jacket and it has inside chest panels to cut wind, yet it's not meant to perform as a top layer in harsh outside conditions and has a slow drying speed.
It's ideal for wearing it under a softshell or windbreaker and as a bottom or mid-layer. The fabric does wick away sweat but is less breathable than other material, so you might have to adjust ventilation with the zipper and wear a layer underneath it.
When fully zipped up, the collar is stiff enough to give your neck a bit of warmth, and you can adjust the waist at the hem. Sleeves lean towards greater length, but lack elastic or adjustable hems.
The Microchill 2.0 fleece jacket is a go-to model for cooler days and mild outside activities, and thanks to its cut and design, you can wear it not only casually, but also at the office.
The material will last and keep you warm a long time and it will serve you well as a second layer.

---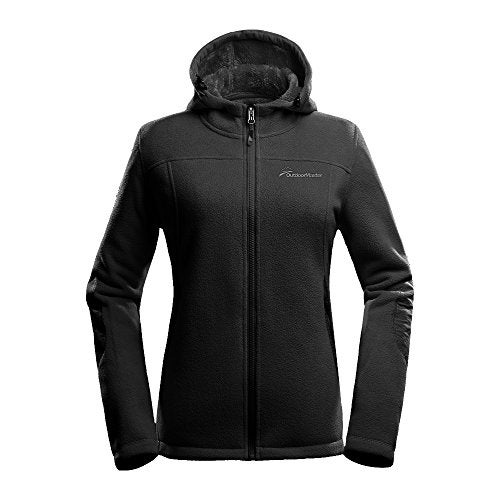 | | | | |
| --- | --- | --- | --- |
| FEATURES | SUITABLE FOR | PROS | CONS |
| 100% polyester fiber fabric | Top layer in autumn weather | Soft, warm, comfortable | Some reviewers report off sizes (long sleeves, tight waist) |
| Slender waist cut | Ideal temp. range: 30°F – 40°F | Available with hood with drawstring | |
| Large,warm external zippered pockets & inside pockets | Outdoor activities & sports | Treatment against stains & liquids | |
| Soft and plush lining | Casual wear & at the office | Machine wash | |
| Padded elbows | Misty conditions | 1 year warranty | |
| Water & stain repellent coating | | | |
| Full zipper, available with hood | | | |
Our top choice for women is the OutdoorMaster fleece jacket. It is available with or without a hood with a drawstring and features a full zipper in the front in both versions.
An anti-pinch neckline protects your chin and the whole jacket has a thick and plush lining for extra warmth and comfort. The high quality material is made to last and the fabric is 100 % polyester.
On the outside, a special coating treatment protects the jacket from fluids, so you can wipe off stains. It's not completely waterproof, but will withstand misty conditions or a light sprinkle.
Key Features of the OutdoorMaster Women's Fleece Jacket:
OutdoorMaster opted for a slender waist design: the jacket is slightly tapered to fit the female form. Study the sizing chart and read how it fit the body type of other reviewers.

Depending on how snug a fit you prefer, you might have to adjust your size. This jacket is ideal as a top layer in temperatures between 30°F and 40°F for outdoor activities or casual wear.
You can layer up and wear it under a coat or waterproof jacket in colder climates.

---
Fleece Jackets Comparison Table
---
How to Choose the Best Fleece Jacket
A fleece jacket is essential clothing for many outdoor activities, keeping you warm and comfortable during hiking, running, climbing or skiing, at home or camping outside.
With different materials and options, you can wear a fleece jackets as a breathable, light layer or a cozy, even stylish outfit. We'll highlight the differences and individual features so you can easily choose your best fit.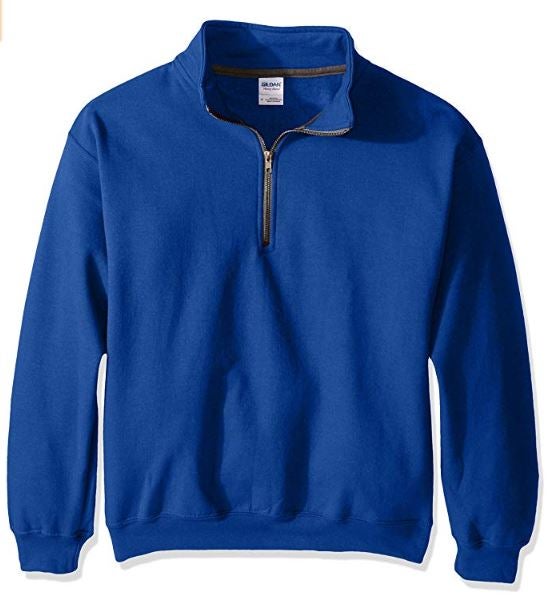 Most people select a fleece jacket for warmth and comfort, and there is a trend that a majority of models are well suited for casual and cozy wear. But a fleece is also great for layering and can be worn as a functional, technical clothing.
Yet the more you emphasize performance, the more you might want to consider a down jacket to keep you warm or other synthetic fabrics for strenuous outdoor activities.
With that said, we'll highlight key aspects of fleece jackets that will help you make the best selection for your needs.
Which Fleece Is Best For You?
Fleece jackets are technical clothing and can cost more than a simple sweater. The ideal model is versatile and will serve you in more than one situation, regulating your body temperature by keeping you warm or cool.
You'll need to decide for which activities you need a fleece jacket, the environment and temperature range you'll encounter, how light, thick or breathable your jacket should be and what demands you have on the material.
Below our following selection of top fleece jackets, we'll further outline important aspects to consider when making your decision.

Material
Fleece, also known as polar fleece, is a synthetic material most commonly produced from 100% polyester. The invention offers the warming benefits of wool at a fraction of the weight. It's hydrophobic and won't absorb water like cotton or wool.
While most fleece jackets are similar or identical in material, some manufacturers use recycled materials or combine the fleece with natural fabrics or some sort of lining.
There are also differences in fiber size and the tightness of the weave, which influences weight, heat retention and weight.

Weight & Warmth
Fleece jackets tend to be lightweight and the rule of thumb is that the more active you are, the lighter your model should be. How warm your jacket will be also depends on the weight of the material, which many companies list in grams per square meter.
A medium weight is good for various layers, whereas a heavy weight makes for a fleece jacket that can be worn as a top layer and during more stationary activity.
Many manufacturers are using proprietary fabrics, so you have to pay attention to insulation, thickness and density as well.

Breathability
By trapping your body heat, a fleece keeps you warm. But as heat builds up and activity raises your body temperature, you begin to sweat. Fleece has the quality of good breathability, allowing perspiration to escape.
The downside is that the material is hardly airtight and any gust of wind can chill you. This is why thin fleece jackets work better as a layer underneath than on top of other clothing.
Some jackets reduce breathability and improve insulation with a lining or outer shell. Other features such as a neck or front zipper, pockets, an adjustable waist or elastic cuffs influence the insulation and breathability of a fleece jacket.

Weather Resistance & Drying
The weak point of any fleece garment is the resistance to wind and water. The material is hydrophobic, but it's not meant as sole protection against these elements.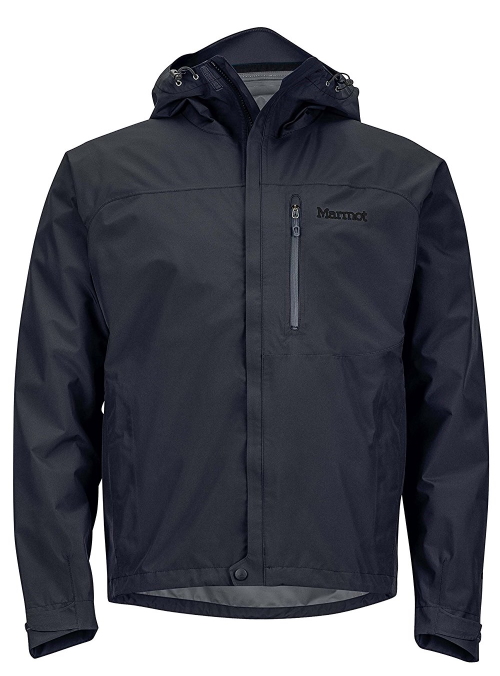 The thicker the jacket, the more it will block the wind, and some models are treated with a special coating to make them more repellent. However, in rough conditions you will need a softshell or rain jacket for reliable protection.
How quick a fleece dries depends on the tightness of the fabric, as some trap water more than others.

Layering Ability & Fit
You should consider the other clothing you'll wear together with your fleece jacket as the ability to pair well is important.
Your layering options also depend on the fit: if the jacket is too tight, it will bunch up your layers underneath; too loose and large and it will let in the cold and not work well with another layer on top.

Extras
Hood
On a fleece jacket offers extra warmth for your head but increases the profile of the fleece and raises the question of how and where to tuck it away when not needed.
It can get in the way of your outdoor activities, and in really cold weather you're better off with a beanie or wool hat.
Thumbholes and extendible sleeves
These are often found on tactical jackets and provide extra warmth for your hands without gloves.
Drawstrings
Drawstrings help you regulate fit and breathability.
Zippers
Zippers further aid ventilation and help with layering and putting on the jacket.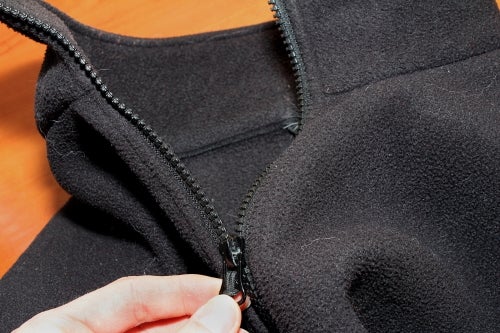 Pockets
Pockets keep things handy or just warm up your hands.
Durability
Fleece is generally a very durable material where high quality comes with great longevity. However, the fabric is prone to eventual "pilling" – a process you're hardly able to reverse.
Manufacturers try to prevent this with proprietary fibers and treatment, but the better care you take of your fleece jacket, the longer it will stay comfortable and great-looking.
Keep your fleece out of the drier, follow the care instructions, wash delicately and consider a micro-fiber laundry bag. Keep your jacket away from fire as it will melt under extreme heat.
Fleece Jacket FAQs:
Q: Who makes the warmest fleece jacket?
A: The North Face is known for winning this title, with their TKA 100 Glacier ¼ Zip Fleece Jacket. However, there are other great contenders such as the Condor Alpha Tactical and the Columbia Cascades Explorer.
Q: Is a fleece jacket good for the wintertime?
A: It's not only good, but one of the best options you can make during the cold seasons. As they're so lightweight, soft, and insulating, they're perfect for daily use and for use under heavier outer layers.
Q: Is fleece a good material?
A: As it's lightweight yet warm and comfortable, it's one of the most popular materials for braving the cold with. If you happen to find wool irritating or if you have an allergy to it, fleece is an excellent alternative.
Q: Is fleece warmer than wool?
A: Yes! If you're comparing ounce-for-ounce, fleece will almost always be the warmer of the two.
Fleece Jacket Buyer's Tips:
If you're going to be in wet weather conditions, make sure to bring a jacket or coat to go over your fleece. While fleece is an incredible insulator, it isn't moisture-resistant so you'll need a waterproof shell of some sort to keep yourself nice and dry.
Look for flexible fleece with pockets, if you can. If you're going to be using your fleece jacket for hiking or other physical activities, you'll want to be able to move around without feeling restricted. In moderate temperatures, you're likely to wear nothing over your fleece so having pockets to keep your necessities like cards, keys, smartphone, snacks, etc. is a must.
If you're going to be in light rainy conditions, fleece is perfect. As the fabric is made of petroleum and petroleum-based products, it repels moisture very well.
Conclusion
We turn to fleece jackets for warmth and comfort through heat regulation and breathability. Nonetheless, companies continue to evolve their materials and designs to offer more technical and high-performance models.
Focus on where and under what conditions you'll wear and use your fleece jacket and define what aspects are important for you to select fleece jacket that will last and serve you effectively.
---
Thanks for reading The 7 Best Fleece Jackets. We hope this article has helped you to discover the best choice for a fleece or fleece-lined jacket to meet your needs and types of winter activities. You might also be interested in our informative article entitled, Winter Clothing Materials and Fabrics.
Have a great winter season. We hope that your down jacket keeps you active and warm. Enjoy!
MORE WINTER GEAR HEATED GLOVES | DOWN JACKETS | FLEECE JACKETS | BASE LAYERS | BEANIES | WINTER GLOVES | WATERPROOF BOOTS | NECK WARMERS & GAITERS | HEATED JACKETS | HARDSHELL JACKETS | SOFTSHELL JACKETS | WINDBREAKERS | ICE FISHING BOOTS | WINTER HATS | WINTER SOCKS

Fleece Jackets – YouTube Video Review
How We Researched
To come up with the best fleece jackets, we researched a variety of sources for reviews such as REI, Backcountry, Moosejaw, EVO along with our own personal experience.
We also consulted online magazines for product research and reviews to get as much unbiased information as we could. To help weed out fake reviews we used Fakespot.com to make sure we only looked at genuine reviews.
With so much quality gear available, we had to narrow it down based on what we felt were the best options were for the price. The author, Richard Moore, is a keen outdoors adventurer. Because he spends so much time outdoors in cold winter conditions, he knows what's best to wear when the snow is falling.
To help narrow down the selection he used his personal experience along with recommendations from fellow outdoor and winter sports enthusiasts.
After extensive research, we came up with our list to help you choose the right one for you.
Sources
Notice:
OutsidePursuits.com is a participant in the Amazon Services LLC Associates Program, an affiliate advertising program. OutsidePursuits.com earns fees from products sold through qualifying purchases by linking to Amazon.com. Amazon offers a commission on products sold through their affiliate links.