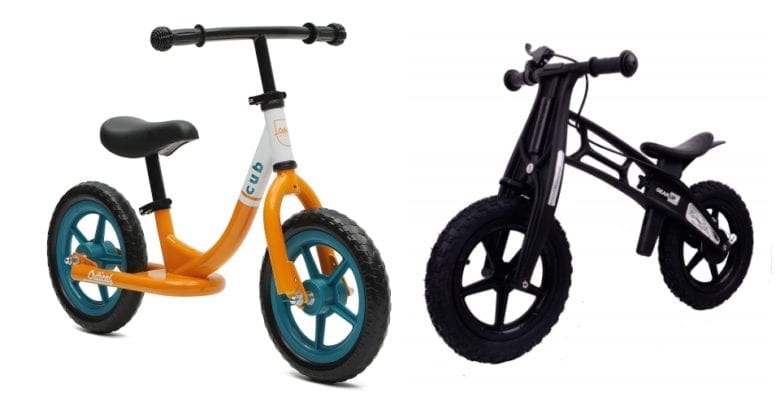 Our Editors independently research, test, and rate what we feel are the best products. We use affiliate links and may receive a small commission on purchases.
There are some significant differences between balance bikes which will determine the right product for your child at his/her age and skill level. A detailed comparison of the top-rated balance bikes is included below.
Also see a comprehensive buyers guide called, How To Choose The Best Balance Bike and to see what others are buying see Amazon Bestsellers.
Best Balance Bikes
| | Strider 12 Sports Balance Bike | Critical Cycles Cub Balance Bike | GOMO Balance Bike |
| --- | --- | --- | --- |
| | | | |
| | | | |
| Price | $95.83 | Price not available | |
| Age Range | 18 months to 5 years | 20 months to 5 years | 2 to 5 years |
| Adjustable Seat | Yes | Yes | Yes |
| Adjustable Handlebars | Yes | Yes | Yes |
| Feet Rest | Yes | Yes | Yes |
| Customer Rating | 4.8 / 5.0 Stars | 4.3 / 5.0 Stars | 4.6 / 5.0 Stars |
| | | | |
Also see: Best Best Balance Bikes Comparison Table
---
Quick Answer: The 5 Best-Rated Balance Bikes – 2019
Also see: Best Balance Bikes – YouTube Video Review
---
Balance Bike Reviews
Features of the Strider – Sport Balance Bike

Children Age: 18 months to 5 years
Built-in Footrest
Adjustable Handlebar and Seat
Cushioned Seat
Padded Handlebar
Steel Frame
Strider might be well-described as the "Schwinn" of kid's balance bikes. This balance bike from Strider-12 Sport is an upgrade to the previous Strider-12 Classic model because of its topnotch enhanced features.
The handlebars and seat of this bike can be adjusted to accommodate the growth of your child up to 5 years. If your kids are willing to share, you can simply readjust it when it's time for each of them to play.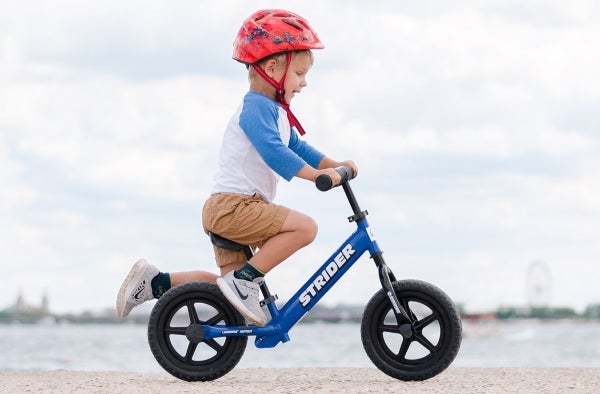 The design is more advanced than the Classic. It can accommodate future modifications and upgrades such as new tires and a foot brake. This bike is the perfect gift if you're looking for a balance bike for 4-year-olds because of the many modifications that you can add.
The age rating for this balance bike begins at 18 months, and that's why the chassis weighs just 6.7 pounds, so that it's easier for children to navigate.
The grips on the handles are properly sized for toddlers as well so that they have better control over the bike.
Not to mention, there are even footrests so that they can learn to glide and balance.
The features of this design are safe, as well as comfortable. The cushioned seat and padded handlebar provide sung surfaces, so your child doesn't face any discomfort while riding for longer periods of time.
With the frame made out of durable steel, rest assured that this Strider  balance bike can withstand much wear and tear.
Meanwhile, the puncture-proof tires won't make you endure the hassles of maintenance anytime sooner either. Available in a wide range of colors, it's well-suited to be a boys balance bike or a girls balance bike as well.
---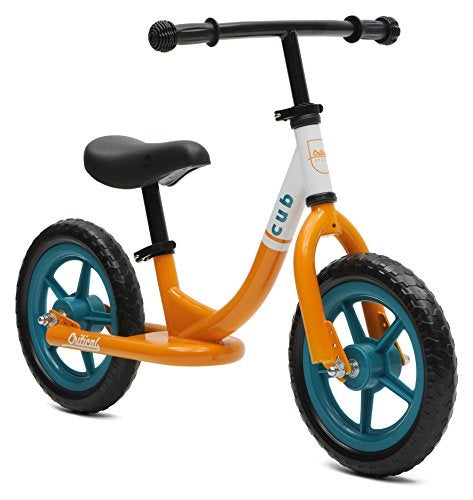 Features of the Critical Cycles Cub No-Pedal Balance Bike

Children Age: 20 months to 5 years
Adjustable seat and Handlebars
Step-thru to Easily Get on and off
Air-free Tires
Steel Frame
This bike has more of a back-to-basics kind of theme which is compliant with viewpoints if you feel like less is more. This bike has fewer features, which is indicated by the price which falls way below that of the Strider bike.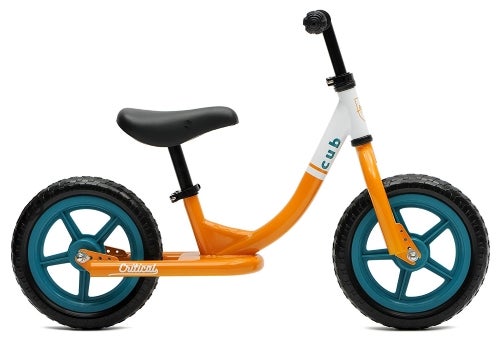 It does, however, have a unique step-thru design that allows younger children to easily get on and off the bike without tripping over themselves. The bike requires minimal assembly and comes in three parts, so all you'll need to do is attach the seat and handlebars.
It does have the feature of adjustable seat and handlebars so that it grows with your child. Although the seat is similar to those on pedal bikes, some parents have the opinion that it may be a bit uncomfortable for children if you don't use extra cushioning.
While the amount of seat padding depends on your child's preference, it's better to get additional padding so that they can ride for longer without getting tired.
The steel frame gives this bike a good score on the durability scale which means that it is fairly resistant to damage and requires little maintenance considering that Critical Cycles has incorporated air-free tires into the design.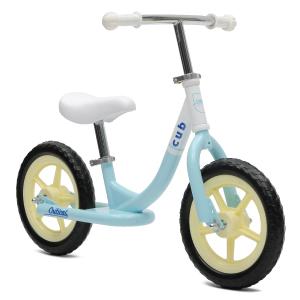 The bike itself weighs 9 pounds which is why the age rating starts a little higher than that of the Strider balance bike but overall, it's maneuverable.
---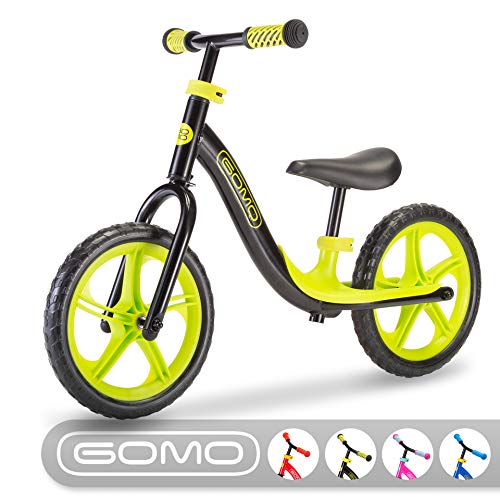 Features of the GOMO Balance Bike

Children Age: 2 to 5 years
Adjustable Seat and Handlebar
Footrest
Eco-Friendly fiber-based frame
Rubber Tires
This balance bike gives you a bigger bang for your buck. Although the design is pretty straightforward, they have cut down on the age rating by making it suitable for children starting at two years.
This feature makes it an excellent choice if you're seeking a balance bike for two-year-olds. The height of the seat can be adjusted according to your child's height so that there's more space between their legs and the ground.
While this balance bike isn't as lightweight as its opponents, it weighs slightly over 9 pounds which are pretty adequate since the starting age for riding this bike is two years.
The steering on the design is limited which means that your child can only turn around 30 degrees left and right to avoid making a big turn that could cause them to fall. This feature also keeps kids from feeling scared of falling off their balance bike.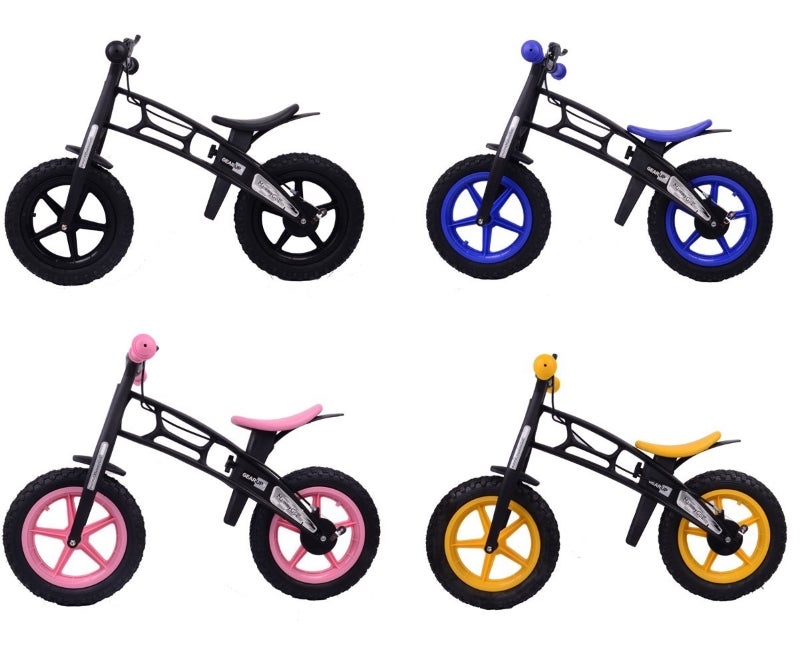 The footrest is part of the design and can help your child develop a sense of balance while riding. Some parents may have doubts about buying this bike because it comprises of a fiber-based material that's similar to plastic but it's still pretty sturdy.
The fiber has the advantage of being resistant to the damage caused by elements such as rain. The assembly is quick, and that means you can take it apart and bring it along on a trip too.
If you need a balance bike for three-year-olds, then this is the one will suit your child well.
---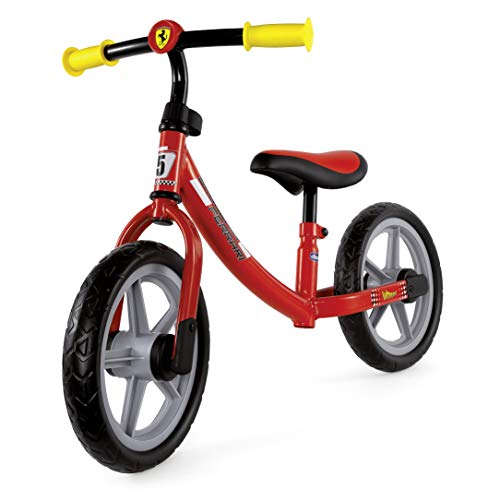 Features of the Chicco Ferrari Kids Balance Bike

Children Age: 3 to 5 years
Adjustable Seat
Cushioned Seat
Handlebar Rubber Grips
Metal Frame
Puncture-proof tires
To help kids quickly transition to pedal bikes, Chicco developed the Red Bullet which meets the affordable price range and will last longer.
Designed with a metal-based body, this no pedal bike is made for excessive wear and tear.
The drawback is that it's suited for children starting at the age of three but will last up till the time they are five. The sturdy frame and its adjustable features allow increased stability for beginners.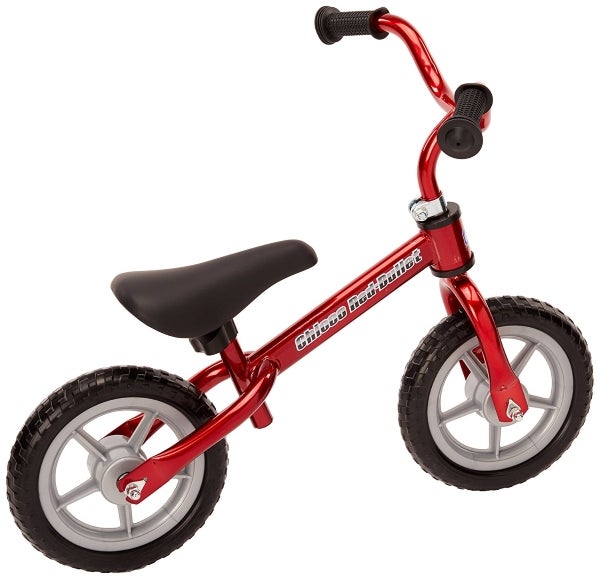 The seat comes with a cushion so that your little one can enjoy riding for longer times around the block while the rubber handlebar grips ensure that they have better control over the navigation of their balance bike.
The tires are designed to be puncture proof so that there isn't much need for pricey upkeep even after excessive wear and  tear.
Make sure that the balance bike grows along with your child by opting for adjustable handlebars and seat, so that there's more room between themselves and the ground.
This bike will meet the needs of your child without breaking the bank, so it meets the standard of best balance bike for three-year-olds.
It's a smooth transition to their pedal bike stage. The bold color makes this option the perfect boys balance bike.
---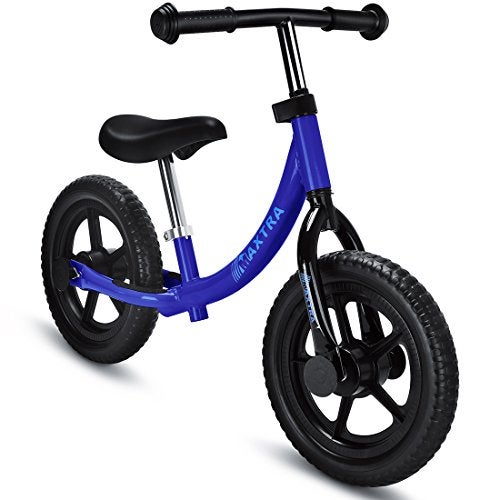 Features of the Maxtra Balance Bike

Children Age: 2 to 5 years
Adjustable Seat
Adjustable Handlebars
Non-slip Handlebar Grips
Puncture-proof EVA Tires
Cushioned Seat
If you're looking for a good toddler push bike, then this may be the one that you and your little one will both love.
This balance bike by Maxtra is the perfect toddler bike because for a range a child sizes because of its adjustable, yet simple design.
It'll last until your child turns five years old or so, which makes for good longevity of use. The adjustable seat and handlebars expand  according to your child's growth so that they ride with proper fit for around 3 years overall.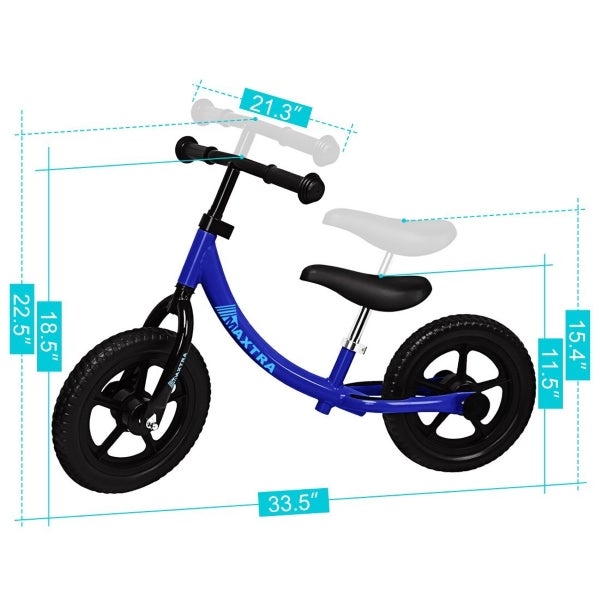 Moreover, this toddler bicycle has non-slip handle grips that ensure safer riding sessions without the risk of falling. The frame on this balance bike is really minimal physically and lightweight so it's easy for kiddos to maneuver.
The wheels on this balance bike are solid EVA hard plastic which means they are maintenance-free and totally durable.
These wheels are essentially designed to help your child develop a better sense of rubber tires' traction, without dealing with the maintenance of pneumatic tires as they move up  to pedal bikes with inflatable tires.
---
Best Balance Bikes Comparison Table
---
How To Choose The Best Balance Bike
Balance bikes teach kids from about 2 – 5 years old how to eventually master a pedal bike in a variety of ways.
They start by walking while straddling the balance bike, and then eventually scooting or gliding with their feet off the ground and coasting.
It's not just educational and therapeutic for any child – but also FUN!  So what is the best balance bike for kids?
Times have changed and so has the nature of children's favorite pastime- riding their bike around the block. The creation of the balance bike is definitely one that could be accredited, considering it gives children a headstart on the pedal bike.
Here's some great videos submitted to Strider showing kids using their balance bikes on sidewalks, trails and even snow! :
Strider Video Contest Highlights - January 2018
You're probably wondering which balance bike is best, but it often depends on what you prioritize the most. This reason is why it's essential to go through a buying guide before deciding as to purchasing a balance bike.
All pedal-less bikes would be considered as adequate to get the job done yet they still differ in the experience they offer to a child.
Many important things have to be taken into consideration when buying a balance bike for toddlers which is why we've compiled a list of them for you.
Size Of The Bike
The size of a balance bike tops the list as the most important factor to consider because you have to buy these according to your child's current size instead of later on.
That's because getting a balance bike for 4-year old for a toddler won't be effective and your child may end up having a negative experience with their first ride.
The company measures the size of a kid's balance bike from the wheels, which can be either 12 or 14 inches.
This can give you an idea of what type of balance bike you should get for your child. However, this isn't the only thing you must consider about size, and you should also take the maximum height of the seat into account.

Height of The Seat
A bike with an adjustable seat can prove to be more effective than one that doesn't.
The reason for this is that you can settle for bigger wheels while making sure to get a balance bike which has an adjustable seat that you can lower according to your child's needs.
Here are a few tests you should do once the bike which you have ordered, arrives.
Can your child easily stand over the bike without being disturbed by the seat?
Can he/she walk with the bike between his/her legs?
Can your child sit on the bike in an ergonomic position?
Do your child's hands easily reach the handlebars while sitting on the balance bike?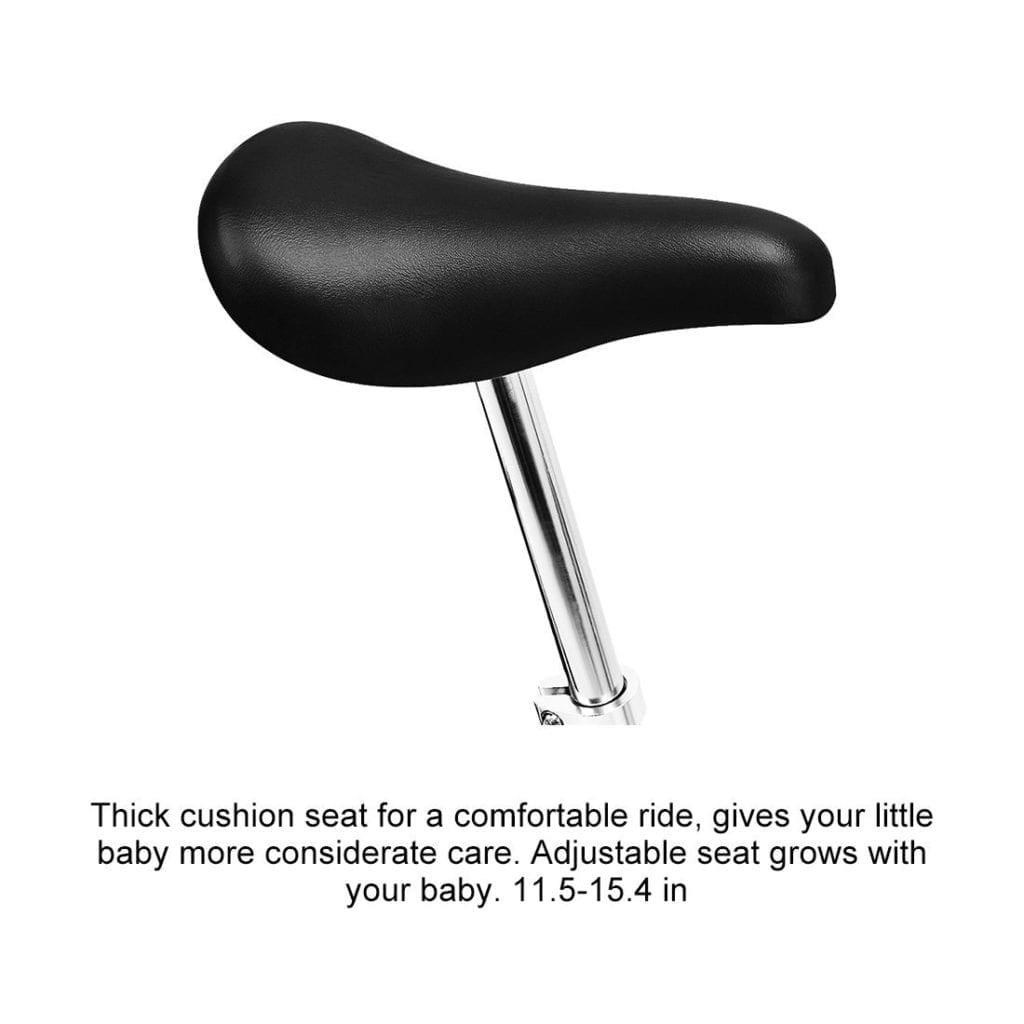 The height of a seat isn't dependent upon the size of the tires, and they usually begin at the height of 10 inches and move upwards till the adult range of 40 inches.
To be able to ride a balance bike properly, your child's feet should touch the ground and be able to push themselves forward while sitting on the bike.
A bike that will perfectly fit your child should have a seat height that is 1.5 inches less than the length of their feet and crotch.

Weight of The Bike
Essentially, buying a balance bike that weighs over 30% of your child means ruining the experience because it will be difficult to lug around. If you need a balance bike for two-year-olds, getting a ten-pound one would be a bad idea.
That said, you'll have to keep in mind that your child will be using this bike until he/she's five years old, so it's better to invest in a lightweight but sturdy model.
But overall, it mostly depends on your kid's personality and lifestyle. Kids that are athletic may have no problem lugging around heavier bikes, which is why you can buy one with extra features.
On the other hand, children that are petite or less athletic may have trouble with bikes that are heavier than 30% of their weight which is why it's best to stick to the recommended weight range.

Tires on The Bike
Tires themselves come in various forms which include foam, rubber, hard plastic, and air inflated. Even though there are many types, balance bikes usually comprise of foam and air inflated tires.

Air Inflated Tires
These take precedence as being commonly used in all kinds of bikes because they provide a cushioned ride and better grip on the road or curb.
The pattern on this category of tires is either knobby, similar to that on bikes used to ride on mountains or standard type used for roads.
It's important that you understand the terrain or surface that y our child will be riding his/her bike on before purchasing one.
Bumpy and rough terrain would require that your child's balance bike has tires with a knobby pattern to act as shock absorbers that can promote an enjoyable ride.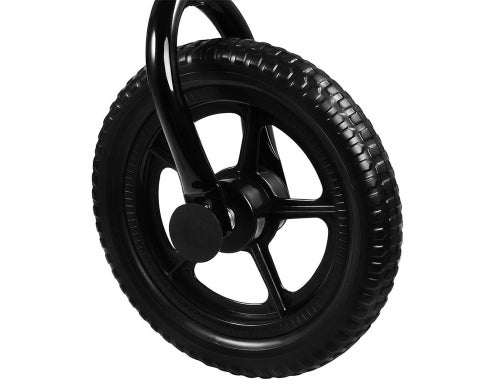 The downside of air inflated tires is that they are susceptible to flats, if your child rides over broken glass then it's possible that the tire will suffer from a puncture.
A simple solution to this problem is to apply sealant inside the tire because it quickly covers any cuts or holes which may have affected your tire.
This way, you can avoid buying another tire. A way to avoid flat tires completely is to ensure that the pressure in them remains high so that they are less prone to being punctured.

Foam-Based Tires
These are a durable take on the traditional inflatable tires, and they are often preferred by parents because they require little to no maintenance.
Even though they may not provide as much of a grip as their inflated counterparts, they do sit lower which makes them well-suited for balance bikes aimed towards smaller children.

Materials
Balance bikes are designed to be made using a selection of base materials. These can range somewhere between, aluminum, plastic, and wood. It's a no-brainer that the price will indicate the cost of the material.
Aluminum
Aluminum is a material used for the best balance bikes because of its durability and lightweight properties that surpass others. However, aluminum-based balance bikes will come for a higher price than others so be ready for a hefty price tag.
Wood
Wooden balance bikes are gaining popularity because of their aesthetic appeal and adequate durability. They don't, however, provide the same durability and they are prone to damage from exposure to the elements.
Plastic
A toddler bike is usually made of plastic because it's a cheaper alternative and weighs less as well. It's better suited to withstand the wear and tear of excessive use.
Moreover, it'll be better at avoiding damage caused by exposure to sun and moisture, unlike wood.
---
Thanks for reading The 5 Best Balance Bikes Reviewed. We hope this article has helped you to discover the best balance bike for the money to suit your little one.
Also see these informative articles: Top 10 Road Biking Routes in the United States and How To Get Started Road Biking – A Beginner's Guide.
MORE BIKE GEAR  ROAD BIKE SHOES | ROAD BIKE PEDALS | CYCLING SHORTS | ROAD BIKE JERSEYS | ROAD BIKE WHEELS | ROAD BIKES UNDER $500 | ROAD BIKES UNDER $1000 | ELECTRIC BIKE CONVERSION KITS | ELECTRIC FOLDING BIKES | E-BIKE BATTERIES | CRUISER BIKES | BEACH CRUISERS | BALANCE BIKES | BIKE TRAVEL BAGS | ROAD BIKE HELMETS
Best Balance Bikes – YouTube Video Review
Amazon Bestsellers For Balance Bikes
Bestseller No. 1
Radio Flyer Air Ride Balance Bike, Toddler Bike, Ages 1.5-5 (Amazon Exclusive) (808Z)
GREAT BEGINNER BIKE: The Air Ride Balance Bike is a pedal-free beginner bike that allows toddlers to focus on balance. As they learn to walk, glide, and run, this balance bike will help them develop coordination. The ringing bell also adds to the fun!
RUBBER AIR TIRES: 12" rubber air tires provide a smooth ride on any terrain. The white walls also add to this classic design.
SaleBestseller No. 2
Strider - 12 Sport Balance Bike, Ages 18 Months to 5 Years, Blue
JOIN THE STRIDER FAMILY - Meet the bike that set the world on fire and revolutionized the way kids learn to ride. Children as young as one are experiencing the thrill of riding without training wheels before they're out of diapers.
GROWS WITH YOUR CHILD - The seat and handlebar heights adjust to accommodate ages 18 months to 5 years, or a 12– 20 in. inseam (no tools required).
SaleBestseller No. 3
Banana LT Balance Bike - Lightweight for Toddlers, Kids - 2, 3, 4 Year Olds
IT'S MORE FUN ON A BANANA BIKE - The Original Banana-shaped bicycle frame design, with a low centre of gravity and an easy step-through frame design, the lightweight (just 6.4Lbs) Banana Bike LT is the ideal training bike for 2, 3, 4 or 5 year old children to have fun on their outdoor adventures.
NEW MODEL - The new LT Version 4 is better and lighter than ever. With new premium ultra-comfy, durable seat, new extra safe grips with wide cushioned bar-ends, quick release clamp for easy seat adjustment, new ultra-lightweight puncture-proof EVA wheels with improved traction, new axle setup for faster spinning durable bearings, new unique twin bearing headset for ultra-smooth steering, safe child-proof handlebar locking hex clamp, new more environmentally friendly, robust powder coated paint.
Bestseller No. 4
SaleBestseller No. 5
Bestseller No. 6
Balance Bike, 12 Kids Balance Bike Lightweight Balance Bike No-Pedal Pre Walking Bike Outdoor Toys for Boys & Girls 2, 3, 4, 5, 6 Year Old by Yanshida
✅【Kids Balance Bike】✅ With this no-pedal bike, little girl/boy benefit from both a walking bike and a standard bicycle. They can perfect their balance without the need for stabilisers and learn how to ride a bike whilst having fun. Through this way, your child will also learn coordination and confidence;
✅【Best Gift for Kids】✅ Best Christmases gift, New Year gift or Birthday present for your baby kids. And the riding activities will make your children enjoy the ride and outdoor sports easily, staying away TV and games. Improve child's physical consistency , gain self confidence at early age. Promote baby brain and bone development;
Bestseller No. 7
Schwinn Koen Boys Bike for Toddlers and Kids, 12-Inch Balance Bike, Blue
The Koen balance bike is designed to help young children develop balance and coordination as they learn to ride. Fits riders ages 2 to 4, or 28" to 38" in height. Does not come with pedals or training wheels.
SmartStart steel kids balance frame with rigid fork features kid-specific proportions for easier handling.
Bestseller No. 8
Bestseller No. 9
TheCroco Lightweight Balance Bike for Toddlers and Kids… (Light Blue, Basic Model (Steel))
Premium Version includes Handlebar Pad and Bell
Main Differences between Premium vs. Basic Model – Premium is lighter, handlebars are adjustable, tool-free set up and is rust-resistant. Premium is made out of top quality Aluminum making it the lightest bike available, being lightweight is essential your kids to easily control it, building their confidence while learning; Still our Steel Bike is also super light (only 6 lbs) vs. our competitors (over 9 lbs).
We chose the Strider - Sport Balance Bike as our Editor's Choice for the best balance bike for kids and toddlers starting out to learn to ride a bicycle.
Last update on 2021-01-19 / Affiliate links / Images from Amazon Product Advertising API
Notice:
OutsidePursuits.com is a participant in the Amazon Services LLC Associates Program, an affiliate advertising program. OutsidePursuits.com earns fees from products sold through qualifying purchases by linking to Amazon.com. Amazon offers a commission on products sold through their affiliate links.