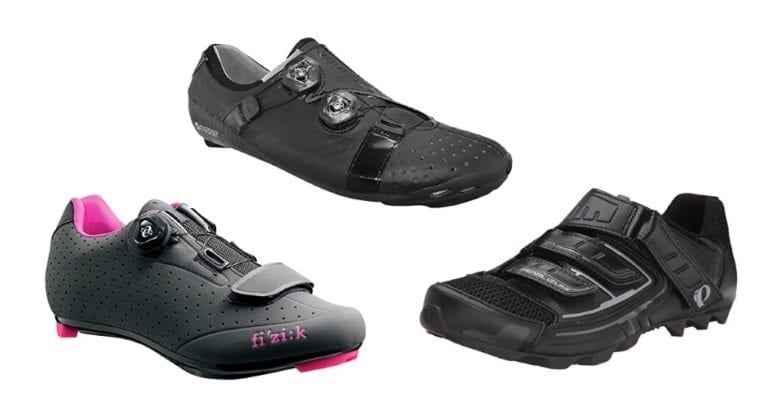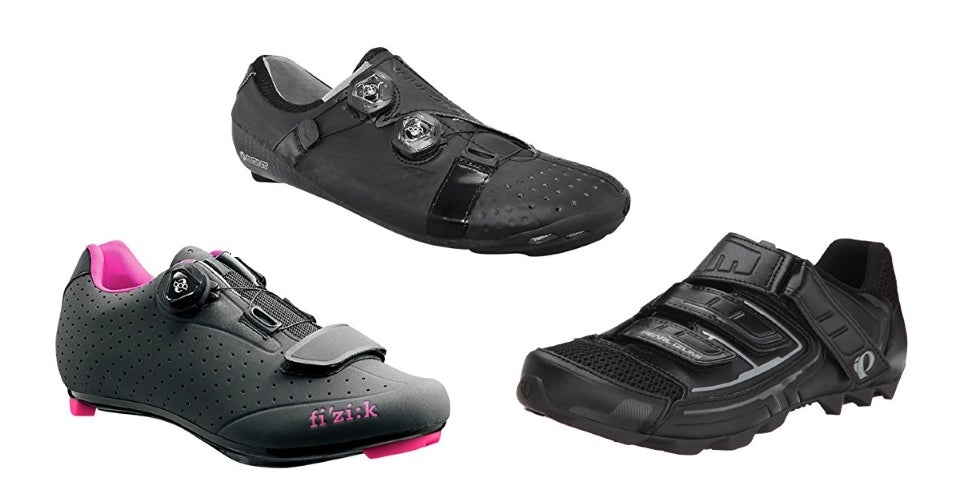 In this article we discuss the best road cycling shoes, some which are the top-rated. Then we discuss differentiating factors of the best road bike shoes for the money.
For information about cycling shoes quality factors see our buyer's guide, How To Choose The Best Road Bike Shoes For You. Also take a look at Top 10 Amazon Bestsellers to see which road bike shoes others are buying.
Best Road Bike Shoes
| | Pearl Izumi Select Road III | Fizik R5B Donna Women's | Giro Trans |
| --- | --- | --- | --- |
| | | | |
| | | | |
| Mens or Womens | Mens | Womens | Mens |
| Sizes Available | Mens 39 thru 46.5 EU | Womens 36 thru 43 EU | Mens 39 thru 50 EU |
| Weight | 13 ounces | 215 grams (size 38.5) | 275 grams (size 42.5) |
| Special Features | Concave shaping for enhanced plate stiffness ; 3 velco straps | BOA Cable dial-in closure system ; Upper material: Microtex | SuperNatural Fit Kit, which lets you customize the footbed to your exact specs |
| Customer Ratings | 4.0 / 5.0 Stars | 4.8 / 5.0 Stars | 4.6 / 5.0 Stars |
| | | | |
Also see: Road Biking Shoes Comparison Table
---
Quick Answer: The Best-Rated Road Bike Shoes – 2019
---
Best Road Bike Shoes Reviews
These shoes are a great choice if you are new to clipless pedals and shoes. Their low cost means that you do not have to break the bank finding out if clipless is for you.
The price is not the only great thing about these shoes. They are compatible with all cleat types so you can go ahead and choose any pedal system you like.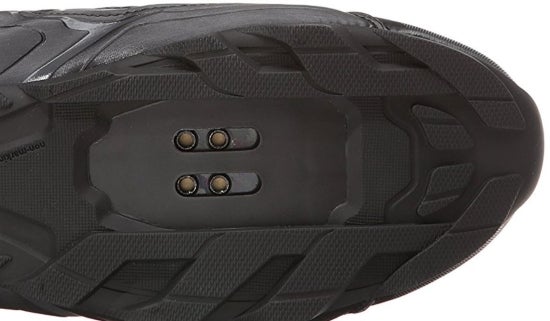 Three velcro straps allow you to adjust the fit at different points on your foot and get the fit comfortable for you. A nylon composite sole transfers a good amount of power.
Although you do not get the same stiffness as carbon sole, these are entry level shoes and not intended for competition use. Furthermore, the flex in the sole will keep you comfortable on long rides, which is more important than all-out power transfer for beginner riders.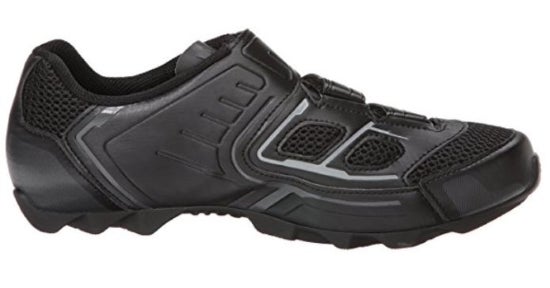 Synthetic leather is used for the upper. This does the job but is not as breathable as other materials. A nice feature is the reflective detailing to help keep you visible at night.
Granted, there are more stylish looking shoes available if you look below, but they will cost you more.
---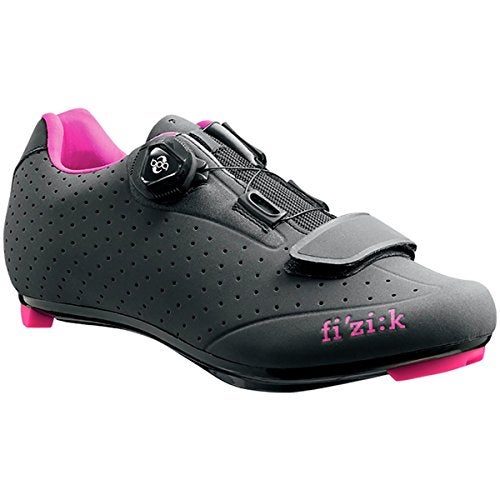 If you don't hate the "shrink it and pink it" style of these women's cycling shoes, they are great beginners choice thanks to the affordable price and features on offer.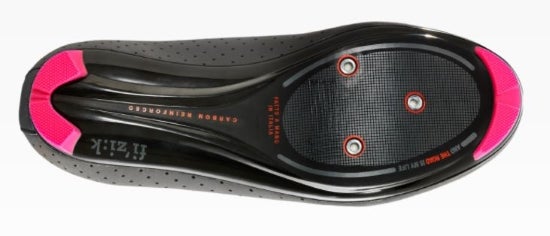 A single velcro strap near the toe is backed up with a boa strap. The high heel makes getting them on a bit difficult at times, but once they are on and the dial tightened, they are very snug. The strap and boa dial secure them very well and evenly on your foot. Finding the right size is almost guaranteed as half sizes are available.
The carbon reinforced nylon sole has some flex for comfort on long rides but enough stiffness to make sure enough power is getting transferred. Overall these are a light pair of ladies cycling shoes, which is helped by the carbon reinforced sole.
Only 3 hole cleats are compatible with the R5B Donnas, so factor this in when choosing pedals.
---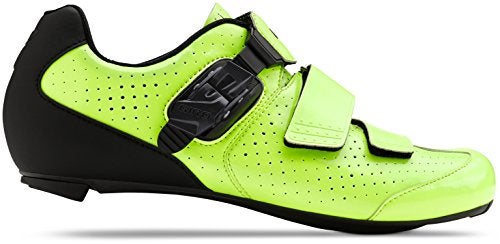 The Trans is a very efficient and ventilated shoe at a mid-range price, making it a good choice for beginners as well as racers. Giro cycling shoes are among the most popular in the world.
The carbon composite sole is provided by Easton. While composite soles are not as stiff as pure carbon, there is no noticeable flex when sprinting. Even though you may not feel it, flex is present and this will help with comfort over long distances.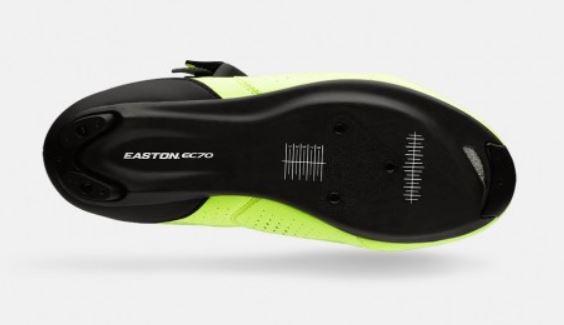 Ventilation and comfort are high. The upper moulds perfectly to your feet thanks to the microfiber material used. Mesh panels on top of the toes and a vent underneath the toes in the sole channel air over your feet. On top of this, the toe box is deliberately roomy to aid ventilation. You can customize the fit with the SuperNatural System footbed that has an anti-microbial treatment to ward off bad smells caused by sweaty feet. A wide version is available for anyone with paddle feet.
Velcro straps and a ratchet hold the shoes securely on your feet. Only one hand is needed to adjust the ratchet, meaning you can adjust it while riding. The space in the toe box can be closed down by tightening the velcro straps, allowing you to sacrifice some ventilation for more power transfer and better sprinting.
---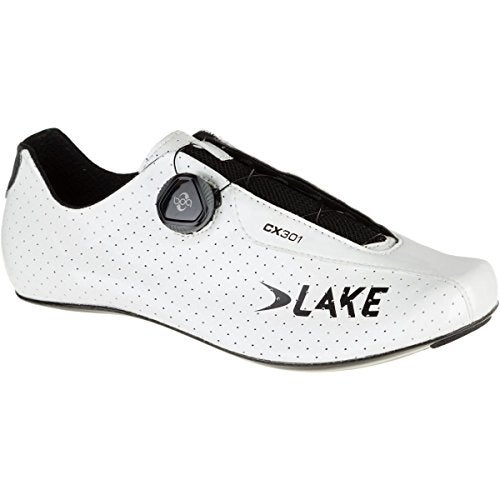 A super lightweight and ventilated shoe for all day comfort in warm climates. The bright yellow color will also guarantee that people notice you as you zip by!
The carbon sole has a double bonded layer to allow a slight flex. Vents on the sole channel air inside and there are positioning lines to get your (3 hole) cleats set up. There is a replaceable rubber bumper on the heel but its small size means that it does not protect the sole too much.
These are very comfortable shoes. The upper molds nicely around your foot and the many holes (along with the vents on the sole) keep your feet cool and a dry when you get sweaty. In fact, you should only use these in very warm weather, as using them outside of summer would mean you get cold feet quickly and the holes will let in rain water straight away.
Save them summer use however, and you will find that the CX301s are comfortable for long sun drenched rides through the mountains.
---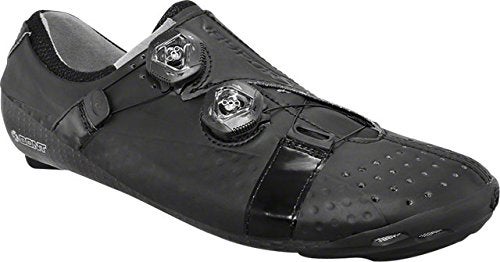 These are some of the best road cycling shoes that you can buy for stiffness. The carbon soles have (according to Bont) the best strength to weight ratio and they simply do not flex.
Adding to the comfort, the sole curves up around the side and back of your feel. This cup shape hugs your foot and increases power transfer. If you find that there are any pressure points, the sole is heat moldable so you can make them fit your feet exactly.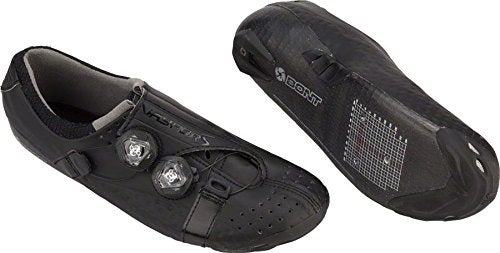 Durolite synthetic has been used for the upper. This has the appearance of leather but can be cleaned much easier. It is also light and breathable while being supple as well. There are holes on the toes for ventilation. Mesh panels found on other shoes allow more air flow so bear this in mind if you get especially sweaty feet.
Two BOA dials take care of securing the shoe. On the sole you will find a grid around the (3 hole) cleat section to help you get your cleats set up perfectly.
While these may not be the lightest or best ventilated shoes, they might be the best cycling shoes for stiffness and comfort.
---
Road Biking Shoes Comparison Table
---
How to Choose the Best Road Bike Shoes for You
Investing in a good pair of road biking shoes is a great way to take your riding to the next level. You'll get more power to the wheel from each pedal stroke and be able to ride in comfort for longer intervals. But how do you know the best road bike shoes for you?
 Clipless road bike shoes are designed to attach securely to clipless pedals and hold your feel in the optimum position. In comparison to a normal pair of shoes or trainers, they have a stiff sole to keep your pedaling as efficient as possible.


Sole
A stiff sole transfers more power as less energy is lost in it flexing. While the stiffest possible sole will indeed be the most efficient, it is not necessarily going to be comfortable to use on long rides, especially for beginners.
It is therefore advisable for anyone using clipless shoes for the first time to choose a pair of shoes with a more flexible plastic, nylon or composite carbon sole.
Once you have got used to the feel or are looking for more all out power, you can make the switch to a stiffer fully carbon soled shoe. Carbon has the added advantage of being lighter than plastic or nylon, but also costs more.
You should also look out for replaceable rubber or plastic heel pads. These pads protect the sole from getting damaged when you walk around. Over time they wear down so being able to replace them will maximize the life of the shoe.


Cleat System
There are three different cleat systems used on clipless pedals. You will need a pair of shoes that are compatible with your pedals. To find out more about cleat systems and the differences between them, have a look at our article about road bike pedals.
Retention System
The retention system is what tightens the shoe on your foot and holds it in place. It could be one or a combination of systems.
Cheaper shoes use velcro straps. These are light and easy to adjust with one hand but are not as secure as other systems. Ratchets are found on mid price shoes and offer a better hold.
While ratchets can be tightened with one hand, you often need two hands to loosen them, so think twice before tightening too much when riding.
Dials provide the strongest and most comfortable hold. These are found on more expensive shoes. There are a couple of different types of dials but the boa dial system is the most popular.
Finally, classic shoelaces have been making a comeback recently. They are functional and can be tuned for a custom fit. On top of this they have a retro look.
Upper
The body of the shoe that wraps around your foot is called the upper. Different materials are used on different priced shoes.
A synthetic mesh is found on lower priced shoes and as the price increases, you will find lighter and more breathable materials such as leather. The most expensive shoes use kangaroo leather.
If you are into sprinting, a stiff upper will help you but be uncomfortable on longer rides. Choose a shoe with a more supple upper if you like to spend long hours in the saddle.

Fit
Like all clothing, how your shoes fit is a very personal thing. Some brands tend to fit certain feet better and you may find some shoes that are also available in wide varieties.
TO convert from US and EU sizing conventions us the following universal chart: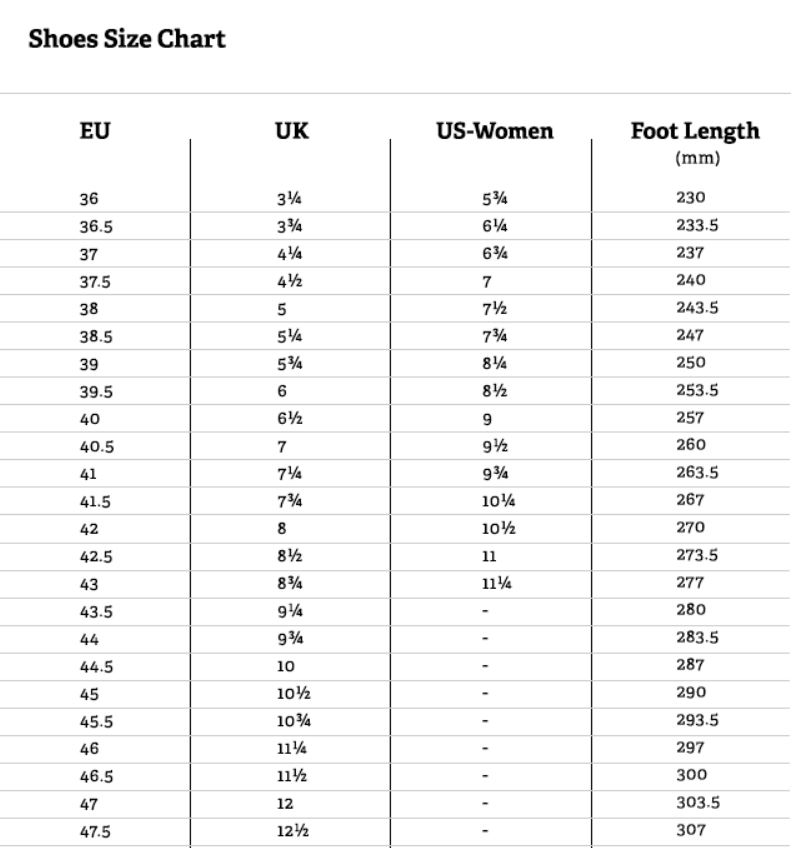 ---
Thanks for reading The 5 Best Road Bike Shoes. We hope that this article was a helpful to you in your search for the best shoes for road biking to meet your specific needs. Also see these informative articles, Top 10 Road Biking Routes in the United States and How To Get Started Road Biking – A Beginner's Guide.
MORE BIKE GEAR  ROAD BIKE SHOES | ROAD BIKE PEDALS | CYCLING SHORTS | ROAD BIKE JERSEYS | ROAD BIKE WHEELS | ROAD BIKES UNDER $500 | ROAD BIKES UNDER $1000 | ELECTRIC BIKE CONVERSION KITS | ELECTRIC FOLDING BIKES | E-BIKE BATTERIES | CRUISER BIKES | BEACH CRUISERS | BALANCE BIKES | BIKE TRAVEL BAGS | ROAD BIKE HELMETS
Top 10 Amazon Bestsellers – Road Bike Shoes
Bestseller No. 1
Bestseller No. 2
SaleBestseller No. 3
Bestseller No. 4
Bestseller No. 5
Bestseller No. 6
Bestseller No. 7
Bestseller No. 8
Venzo Cycling Bicycle Road Bike Shoes with Xpedo RF07MC Pedals White Size 42
FEATURE:Features the award-winning technology for performance.Quick-drying, highly-breathable mesh and synthetic upper.Compatible with all SPD, SPD SL and Look KEO style pedal systems.
SPEC:Closure System: Boa IP1.Materials: Microtex laser perforated.Size: 39 / 40 / 41 / 42 / 43 / 44 / 45 /46 / 47 / 48.Weight: size 42 - 490 g (1.1 lbs) / pair.Made in Taiwan
Bestseller No. 9
Tommaso Strada Elite - Quick Lace Style Road Bike Cycling Shoe - 42 Black
BEST VALUE ROAD SHOE ANYWHERE, PERIOD: With Tommaso's factory direct pricing and decades of experience in the industry, we have created the absolute best value, high performance road cycling shoe on the market. Don't be fooled, this isn't a "value" shoe, this is a high performance road shoe with the best price anywhere!
COMFORTABLE: The upper is made from premium microfiber with ultra-strong nylon mesh inserts, for amazing ventilation on your toughest rides. The footbed is made with a molded EVA insole, which is breathable and removable, for optimal comfort.
SaleBestseller No. 10
We chose the Pearl Izumi Select Road III as Editor's Choice for Best Road Biking Shoes.
Last update on 2019-07-19 / Affiliate links / Images from Amazon Product Advertising API
OutsidePursuits.com is a participant in the Amazon Services LLC Associates Program, an affiliate advertising program. OutsidePursuits.com earns fees from products sold through qualifying purchases by linking to Amazon.com. Amazon offers a commission on products sold through their affiliate links.