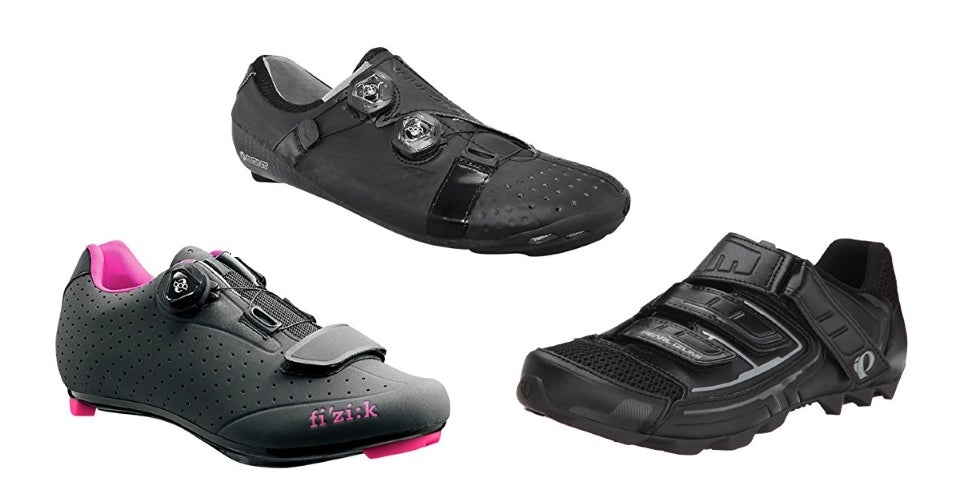 Our Editors independently research, test, and rate what we feel are the best products. We use affiliate links and may receive a small commission on purchases.
In this article we discuss the best road cycling shoes, specifically the 5 top-rated brands. Then we discuss differentiating factors of the best road bike shoes for the money.
For information about factors to consider when purchasing road bike shoes see our buyer's guide, How To Choose The Best Road Bike Shoes For You. Also take a look at Top 10 Amazon Bestsellers to see which road bike shoes others are buying.
Best Road Bike Shoes
| | Sidi Cycling Shoes | Fizik Road Cycling Shoes | Venzo Road Biking Shoes |
| --- | --- | --- | --- |
| | | | |
| | | | |
| Products available: | Alba/Alba 2, Sixty, Shot/ Shot Matt, Wire 2 Carbon range, Ergo 5/Matt, Genius | Transiro, Vento and Tempo series | Road Cycling Riding Shoes, Cycling Road Bike Shoes |
| Price range: | $150-$500 | Roughly $100-$200, some over $300 | Around $100 |
| | | | |
Also see: Road Biking Shoes Comparison Table
---
Quick Answer: The 5 Best-Rated Road Biking Shoes Brands
---
Road Bike Shoes Reviews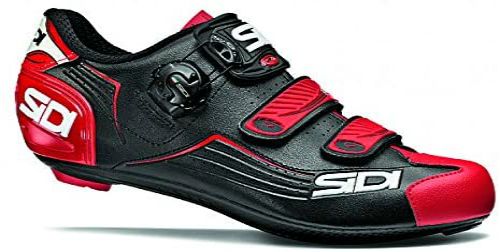 SPECS
:
---
Products available: Alba/Alba 2, Sixty, Shot/ Shot Matt, Wire 2 Carbon range, Ergo 5/Matt, Genius
Price range: $150-$500
Company Background
If you're looking for top-notch quality, reliability, cutting-edge technology, style, and comfort, then you're looking for Sidi Cycling Shoes.
From their start 80 years ago, they've had plenty of time to perfect their craftsmanship and bring consumers exciting new styles with proven functionality. Today, you'll see their shoes on the feet of countless renowned athletes around the world.
However, this level of quality comes at a price and it's not necessarily a cheap one. That doesn't mean they're not worth the money, though.
In fact, if you can afford the more expensive price upfront, it will typically end up being the more affordable in the long run.
Product Groups
Sidi offers a full-fledged selection of road bike shoes, from more affordable/basic models to world-class/advanced alternatives. They're made to last for years of training and competitive use. On top of that, they feature incredible comfortability from the fit to airflow.
Alba/Alba 2
These feature a Techno – 3 system made of politex material and compacted PVC for extra durability and resistance to ripping, fading, and more. If you're on a budget, these are a good route to take.
Sixty
The Sixty takes things a step further with a Tecno-4 Push System, and comes made of Microfibra Techpro, which is a microfiber polyurethane made in Italy. The eco-friendly leather won't stretch, offers excellent stability, is lightweight, and repels water.
Shot/Shot Matt
This line offers a great amount of ventilation in the toe for excellent airflow, though is too much for some users. This is where their slide comes in, so you can adjust it. It's also nice and roomy and won't squeeze the feet uncomfortably. Many riders who've reached the podiums are wearing these, and you can expect to pay a significantly higher price to wear them, too.
Wire 2 Carbon Air, Wire 2 Carbon Matt, Wire 2 Carbon
These all feature the same design, essentially, with only very slight variations. The Wire 2 Carbon is the first design of the bunch, with a single Tecno-3 Push System.
The Carbon Matt is the same, except it comes in matte colors instead of shiny ones. The Wire 2 Carbon Air is also the same as the original Carbon but comes with tiny air holes throughout the entire shoe instead of carefully placed groups of holes like the others have.
They feature the same microfiber uppers you'll find on the Sixty.
Ergo 5/Matt
This line is a more refined version of Sidi's most popular model ever. With upgrade Techpro synthetic leather, new heel cup design, and even lighter weight, they're perfect if you love a nice balance of stiffness and long-term comfort.
Genius
This line is a slightly more basic one than the previous lines we've covered, and even their latest – the Genius 10 – is very affordable. If you don't have a large budget but still want a great quality, innovative shoe.
Last but not least, is the Zero Gore, which is the perfect selection if you're going to be pedaling away in the cold of winter. Warm and waterproof, it comes with a Gore-Tex liner to keep out moisture, and reaches above the ankle, unlike the others.
Specialized Features
Alba
The lower entry shoe comes with many features that you'll only find in higher-end cycling shoes typically. You'll get a great selection of color options as well as a single TECNO 3 dial which comes with a flip-up tab to add tension and 2 buttons to loosen it.
Sixty
Made to celebrate the brand's 60th anniversary, it comes with a hand-made Vent Carbon sole which is very stiff and ideal for efficient energy transmission. The TECNO-4 closure system allows for very fine adjustments in tension, though it does take some practice to use intuitively. For those with normal to narrow feet, it's a great option.
Wire 2 Carbon
They may not be as lightweight as the others, but they still have a lot to offer. The Additional toe protector and tongue section keeps your feet safe and comfortable, and the two TECNO-Push 3 dials make them super easy to use. A midsole vent and a sliding toe vent allow you to adjust your airflow, too!
Ergo 5
This one is more lightweight while still offering generous padding for a comfy all-day wear. The redesigned heel cup is a favorite among many, keeping the feet stable and secure while reducing hot spots. High security Velcro make adjustments quick and accurate, too!
Genius
We wouldn't recommend these for all-day wear as the extremely stiff and full carbon sole offers great energy transfer but can get uncomfortable after a few hours. However, the soft instep and redesigned heel cup did make them very efficient while we did use them.
Zero Gore 
Featuring an ankle-height neoprene cuff, it's ideal for coverage that seals out frigid winds and moisture. The hook-and-loop forefoot strap along with the TECNO-3 system allows for precise adjustments, as well.
Price Range
You can find Sidi shoes anywhere from around $150 well into the $500 range. The least expensive lines will be the Genius and the Alba, with the most expensive being the Wire and Zero Gore.

---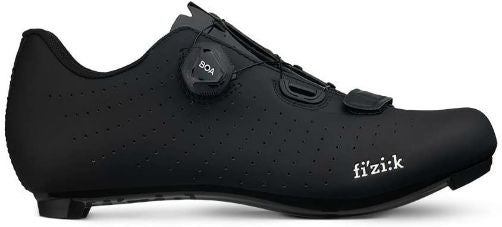 SPECS
:
---
Products available: Transiro, Vento and Tempo series
Price range: Roughly $100-$200, some over $300
Company Background
Fizik is a much younger brand, having started in the mid-90's. However, they're a brand who from the start, have been determined to create the most sophisticated and beautiful gear for the top cyclists in the world.
They definitely have accomplished that, with their shoes on the feet of countless pro peloton winners.
Each of their shoes are incredibly sleek with beautiful but never obnoxious colorways. Each aspect is understated, but never underrated in performance and comfort.
Once you put them on your feet, you're sure to feel inspired and motivated to accomplish all your goals. Not only that, but they're one of the most affordable brands when looking at the top performers today.
Product Groups
Fizik has very defined lines of shoes, and each have their own purpose and different design style.
Transiro Series
This line is very special and features an array of different options made specifically for triathlon and triathlon-training usage. They are made to offer quick and efficient transitions so you perform your best in the race. This line consists of the Transiro Infinito R1 Knit, Transiro Infinito R3, and their Powerstrap R4.
Vento Series
These are ideal for pure racing, and each shoe was designed together with various pro cyclists, so you can rest assured they have your best interests in mind.
You don't get quite as many options in this product line, but they're worth checking out. This series features the Vento Powerstrap R1 and the Powerstrap R2 Aeroweave.
Tempo Series
If flexibility is what you're looking for in terms of applications and environments, the Tempo line is for you. These road cycling shoes are made for versatile use and comfort, regardless of where you are.
Whether you're competing or simply enjoying your time in the fresh air, they work all-around. They're great if you live in a place that experiences "all seasons" as they will keep your feet fresh in the summer, and warm in the winter.
This line consists of the: Tempo Overcurve R5 Les Classiques, Tempo Powerstrap R5, Overcurve R4, Overcurve R5, and the Tempo Powerstrap R5.
Special Features
Transiro Infinito R1 Knit
These feature a knitted upper not found on any other Trasiro model. The upper makes for luxurious comfort and enhanced breathability, along with a perfect fit and easy foot entry.
Transiro Infinito R3
These have lamination on targeted areas that combines with the full carbon outsole for excellent stability and power transfer.
Transiro Powerstrap R4
As you could probably deduce from the name, these feature a huge "powerstrap" making it easy to open and shut. This offers optimal speed for transitioning, to cut your race time down significantly.
Price Range
Every one of the lines feature quite similar pricing, in the $100-$200 range. However, the exception is the Transiro line, which can get up to and over $300.
However, you're paying for speed and convenience during races – not to mention good looks and comfort.

---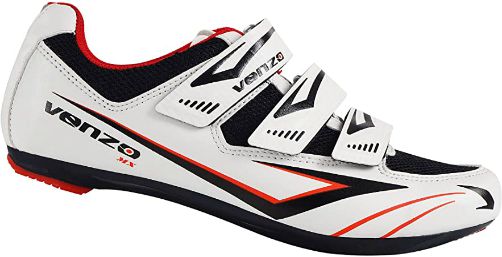 SPECS
:
---
Products available: Road Cycling Riding Shoes, Cycling Road Bike Shoes
Price range: Around $100
Company Background
Venzo is easily one of the most affordable brands on the market today, while still maintaining a certain level of quality. They're not a very old brand, and actually didn't get their claim to fame through road biking shoes.
They became known first for their bikes, which means they know exactly what you need on your feet for the best ride possible.
Each of their shoes are straightforward and relatively basic, though they provide excellent comfort and performance each time.
Product Groups
The product groups here vary very little.
Men's or Women's Road Cycling Riding Shoes – 3 Straps
 This model is their most popular in both performance and looks. It's actually won awards for the technology incorporated, and comes with breathable mesh for great airflow.
The Boa IP1 closure system along with the 3 straps make for a very precise, accurate fit each time.
Cycling Road Bike Shoes
 These don't have as much mesh as the previous model, but instead come with more synthetic upper with air holes.
The effective reel knob lacing system is one of the best we've used, and the strap at the forefoot ensures a great fit. You can also opt for their laced version, which looks a lot like a soccer cleat.
Price Range
You'll find all of them under or just above the $100 mark.

---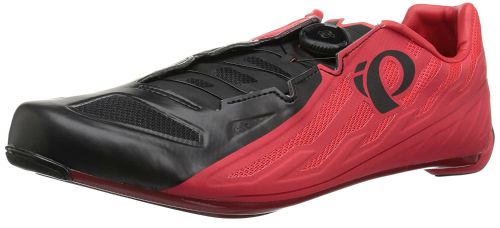 SPECS
:
---
Products available: All-Road V5,

SELECT Road v5 Studio, Tour Road,

PRO Road v5,

X-Road Fuel v5, Attack Road
Price range: $75-$100, some over $300
Company Background
Pearl Izumi is that "biggest bang for your buck" brand. Beginning almost 60 years ago in Japan, the brand started out by making racing kits, using only the best fabrics and materials available.
Today, that still holds true, though they've expanded onto road biking shoes, too. Top performance is at the forefront of all of their products, taking looks and comfort into consideration too.
Through keeping their founder's original mission in mind of making small improvements each day, they've become an industry first in many fronts and forms of technology. You'll find many of them in other brands now, today.
Product Groups
You get a few different options here, but most are similar with variances in the colorways and/or closure systems/straps.
All-Road V5
This is their best-selling model, and can be used just as well in the studio as on the road and for many, those are the only two places their ride their bike.
The 3-strap closure system isn't overly complicated or time-consuming, allowing for quick adjustments and taking them on and off.
SELECT Road v5 Studio
This is the previous model in terms of attractive visual appearance, but they've taken the materials and craftsmanship to a new level to hold up against the abuse indoor cycling shoes receive.
Anti-microbial upper mesh and lush foam padding makes it ultra-comfortable with a tough exterior.
Tour Road
 This model combines the classic appearance of a lace-up with modern technology. The nylon composite sole and stiff carbon plate is supreme in energy transfer, yet still flexible for a natural feel and comfort.
Thanks to the traditional lacing system, the fit couldn't be better.
PRO Road v5
 This is the most advanced of the bunch, and is based off of the original Road model, too. This time around, they've used less material and opted for less carbon to maximize performance but still keep it lightweight.
The knit upper fits like a sock, flexing in all the right places for a perfect fit.
X-Road Fuel v5
 This model also has laces but is perfect for use on and off the bike. The rubber lugged outsole offers excellent traction and toughness, and the forefront is the most flexible we've seen.
While they may look like traditional running shoes, they're actually SPD compatible!
Attack Road
 Lastly, we have the Attack Road, which is an incredibly clean design with a seamless upper and carbon-insert sole.
The single Boa closure eliminates hot spots along with the lack of seams. EVA foam and a rubber heel bumper make it perfect for all-day use, whether you're biking, running, or just strolling.
Specialized Features
All-Road V5:
The nylon composite plate combines stiff power transfer along with just enough flex for comfortable walking. The level of support is perfect for beginners.
SELECT Road v5 Studio:
Made for both the studio and road cycling.
PRO Road v5:
Dual Boa dials, a full carbon sole, and fine mesh are some of the supreme features we found here.
X-Road Fuel v5:
Nylon plates drive energy from your legs to bike, while beveled heels encourage a natural walking motion. Rubber lugged outsoles provide the best grip we've seen on all kinds of surfaces.
Attack Road:
The L6 Boa system with sequence routing offers the best micro-adjustability and security we've come across.
Price Range
The least expensive of the bunch land around $75, while most are in the $100 range. There are a couple that go up to $300, though.

---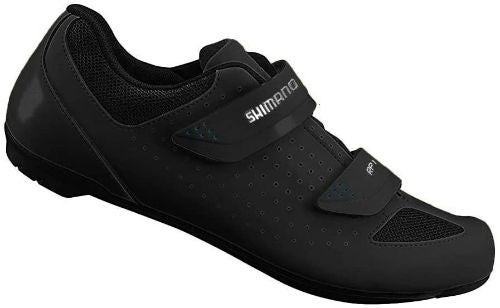 SPECS
:
---
Products available: RP 1, 3, 4, 5, 7; RC9; RC9T
Price range: $45-$100
Company Background
The Osaka-originating brand from the very beginning has been committed to promoting good health and happiness through combining nature and technology.
Established almost exactly 100 years ago, they've since taken their company worldwide. They not only work with cycling gear, but other sports, as well.
Product Groups
You'll find many similarities among each of the models.
RP1
This is a great general performance shoe with a very sleek and simple look. Dual hook-and-loop straps provide a secure and precise fit, while lightweight glass fiber nylon soles make sure they don't weigh you down while transferring energy efficiently.
RP3
Made with high-density synthetic leather, these are very durable and offer just the right amount of flexion. The super low-profile, reverse mount buckle is quick and easy to use, keeping the feet securely inside.
These also come made with fiberglass-reinforced nylon soles for energy transfer.
RP4
Just like the previous model, they are made with synthetic leather with perforations from nice fit and breathability. However, the RP4s also come with a Boa L6 dial for easy, fast adjustments.
RP5
The RP5s are almost identical to the RP4's, though there are a few important differences. The integrated sole and upper construction offers an even better fit and rigidity.
Not only that, but the surround wrapping upper design helps to reduce the risk of overlap, fitting like a sock, almost.
RP7
These are some of the most lightweight road biking shoes you'll find out there. They're ultra-rigid and feature carbon fiber composite soles.
The DYNALAST technology helps eliminate braking loss, and you'll get dual Boa L6 dials for precise adjustments. Finally, the adjustable powerzone wire guide holds the forefoot in place.
RC9
You'll get the DYNALAST, integrated sole and upper construction, dual Boa dials, and an adjustable powerzone wire guide that we've seen before in the previous models. However, you also get built-in drainage holes for rainy conditions.
RC9T
This is just a slight variation of the last model, tailored to work best for sprinters, T.T., and Criterium specialists.
Price Range
Each of the models are similar in price.

---
Road Biking Shoes Comparison Table
| Road Biking Shoes | | Products available | Price range |
| --- | --- | --- | --- |
| Sidi Cycling Shoes | | Alba/Alba 2, Sixty, Shot/ Shot Matt, Wire 2 Carbon range, Ergo 5/Matt, Genius | $150-$500 |
| Fizik Road Cycling Shoes | | Transiro, Vento and Tempo series | Roughly $100-$200, some over $300 |
| Venzo Road Biking Shoes | | Road Cycling Riding Shoes, Cycling Road Bike Shoes | Around $100 |
| Pearl Izumi Road Bike & Cycling Shoes | | All-Road V5, SELECT Road v5 Studio, Tour Road, PRO Road v5, X-Road Fuel v5, Attack Road | $75-$100, some over $300 |
| Shimano Road Cycling Shoes | | RP 1, 3, 4, 5, 7; RC9; RC9T | $45-$100 |
---
Frequently Asked Questions (FAQs)
Q: What are the best road cycling shoes?
A: That's difficult to say, as everyone has slightly different preferences. However, you can't go wrong with any of the shoes on this guide.
If you have a larger budget, then we highly recommend going with either a Shimano or Sidi model. They may cost quite a bit more, but in the end, their durability and performance make it worth it.
Q: What kind of shoes should I wear for cycling?
A: You want road cycling shoes with stiff soles, and 3-hole cleats which connect to clipless pedals.
They should have excellent energy transfer, be well-padded, lightweight, and offer protection against rocks and other potential debris that may get thrown up at your toes.
Q: Do you need special shoes for cycling?
A: It's highly recommended, as you won't get the same level of comfort, connection, security, etc. with regular shoes.
Q: Do road bike shoes make a difference?
A: They make a huge difference. They offer greater comfort and flex, which means a more intuitive and well-connected feeling with each pedal.
You'll get a design that actually works with your body instead of against it, better energy transfer, and so much more.
Most importantly, they help maximize your efficiency while pedaling. You won't just be pushing down, but pulling up as well.
---
More Road Bike Shoes To Consider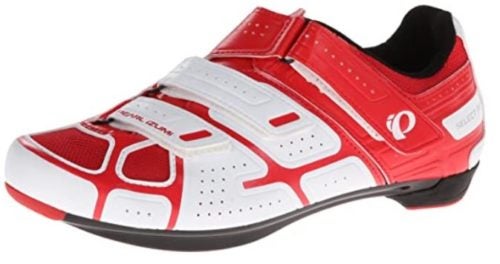 These shoes are a great choice if you are new to clipless pedals and shoes. Their low cost means that you do not have to break the bank finding out if clipless is for you.
The price is not the only great thing about these shoes. They are compatible with all cleat types so you can go ahead and choose any pedal system you like.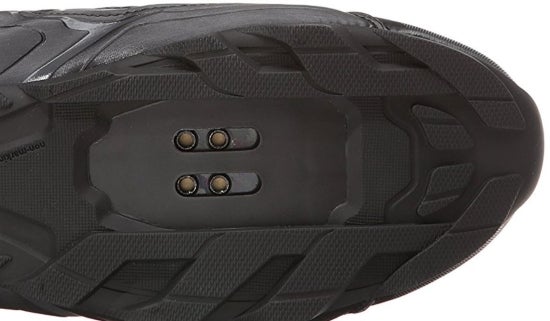 Three velcro straps allow you to adjust the fit at different points on your foot and get the fit comfortable for you. A nylon composite sole transfers a good amount of power.
Although you do not get the same stiffness as carbon sole, these are entry level shoes and not intended for competition use.
Furthermore, the flex in the sole will keep you comfortable on long rides, which is more important than all-out power transfer for beginner riders.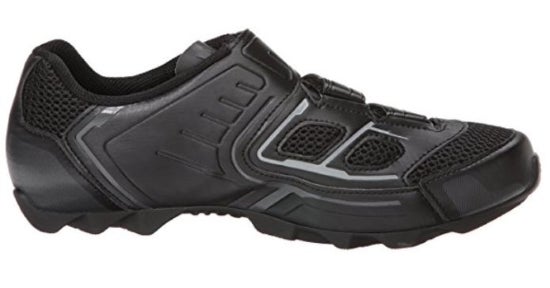 Synthetic leather is used for the upper. This does the job but is not as breathable as other materials. A nice feature is the reflective detailing to help keep you visible at night.
Granted, there are more stylish looking shoes available if you look below, but they will cost you more.
---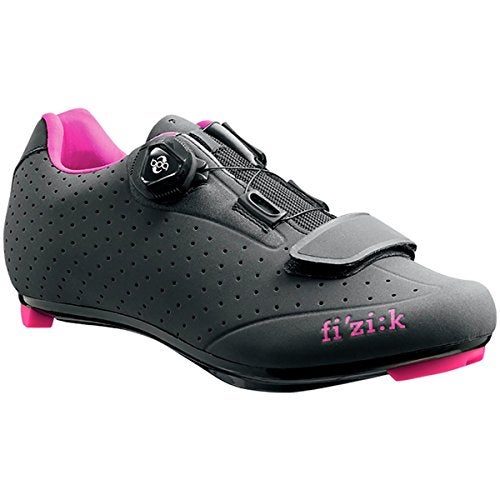 If you don't hate the "shrink it and pink it" style of these women's cycling shoes, they are great beginners choice thanks to the affordable price and features on offer.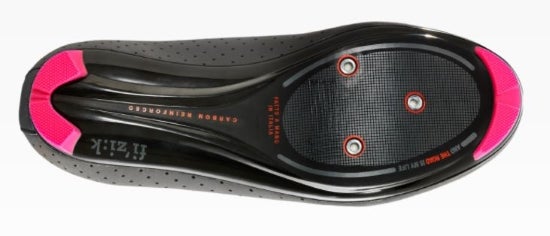 A single velcro strap near the toe is backed up with a boa strap. The high heel makes getting them on a bit difficult at times, but once they are on and the dial tightened, they are very snug.
The strap and boa dial secure them very well and evenly on your foot. Finding the right size is almost guaranteed as half sizes are available.
The carbon reinforced nylon sole has some flex for comfort on long rides but enough stiffness to make sure enough power is getting transferred. Overall these are a light pair of ladies cycling shoes, which is helped by the carbon reinforced sole.
Only 3 hole cleats are compatible with the R5B Donnas, so factor this in when choosing pedals.
---
The Trans is a very efficient and ventilated shoe at a mid-range price, making it a good choice for beginners as well as racers. Giro cycling shoes are among the most popular in the world.
The carbon composite sole is provided by Easton. While composite soles are not as stiff as pure carbon, there is no noticeable flex when sprinting. Even though you may not feel it, flex is present and this will help with comfort over long distances.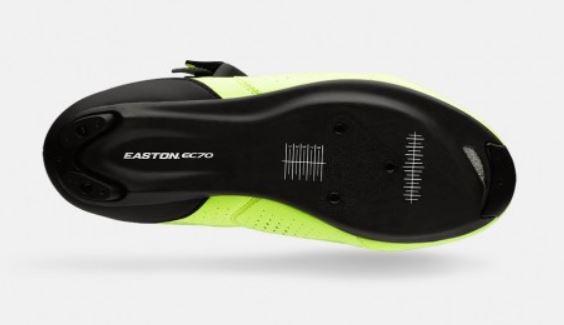 Ventilation and comfort are high. The upper moulds perfectly to your feet thanks to the microfiber material used. Mesh panels on top of the toes and a vent underneath the toes in the sole channel air over your feet.
On top of this, the toe box is deliberately roomy to aid ventilation. You can customize the fit with the SuperNatural System footbed that has an anti-microbial treatment to ward off bad smells caused by sweaty feet.
A wide version is available for anyone with paddle feet.
Velcro straps and a ratchet hold the shoes securely on your feet. Only one hand is needed to adjust the ratchet, meaning you can adjust it while riding.
The space in the toe box can be closed down by tightening the velcro straps, allowing you to sacrifice some ventilation for more power transfer and better sprinting.
---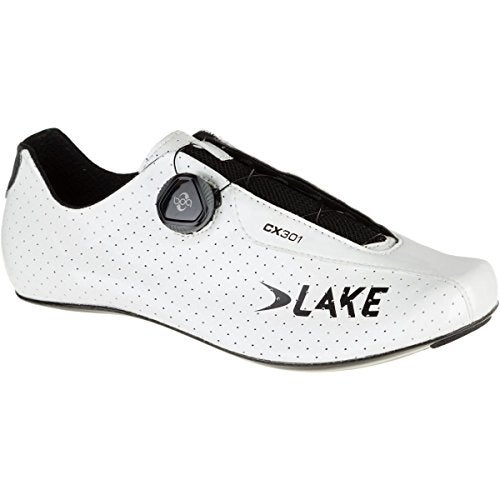 A super lightweight and ventilated shoe for all day comfort in warm climates. The bright yellow color will also guarantee that people notice you as you zip by!
The carbon sole has a double bonded layer to allow a slight flex. Vents on the sole channel air inside and there are positioning lines to get your (3 hole) cleats set up.
There is a replaceable rubber bumper on the heel but its small size means that it does not protect the sole too much.
LAKE Carbon Shoe Heat Molding Instructional Guide
These are very comfortable shoes. The upper molds nicely around your foot and the many holes (along with the vents on the sole) keep your feet cool and a dry when you get sweaty.
In fact, you should only use these in very warm weather, as using them outside of summer would mean you get cold feet quickly and the holes will let in rain water straight away.
Save them summer use however, and you will find that the CX301s are comfortable for long sun drenched rides through the mountains.
---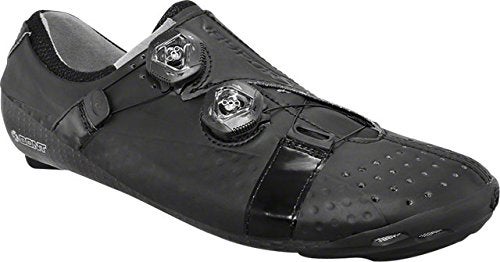 These are some of the best road cycling shoes that you can buy for stiffness. The carbon soles have (according to Bont) the best strength to weight ratio and they simply do not flex.
Adding to the comfort, the sole curves up around the side and back of your feel. This cup shape hugs your foot and increases power transfer. If you find that there are any pressure points, the sole is heat moldable so you can make them fit your feet exactly.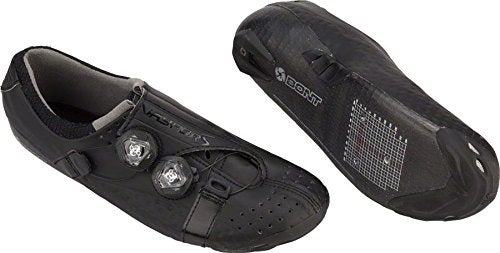 Durolite synthetic has been used for the upper. This has the appearance of leather but can be cleaned much easier. It is also light and breathable while being supple as well. There are holes on the toes for ventilation. Mesh panels found on other shoes allow more air flow so bear this in mind if you get especially sweaty feet.
Two BOA dials take care of securing the shoe. On the sole you will find a grid around the (3 hole) cleat section to help you get your cleats set up perfectly.
While these may not be the lightest or best ventilated shoes, they might be the best cycling shoes for stiffness and comfort.
---
How to Choose the Best Road Bike Shoes for You
What's better than putting on a pair of a pair of road biking shoes and going on a smooth ride, taking in the fresh air? Doing all that, but putting on one of the best road biking shoes! To do that, the easiest and most reliable route to take is by finding a brand you like. The brand should be reliable, consistent, and feature well-engineered shoes throughout their line(s). That's exactly what you'll find on this guide; by the end, you'll have at least a couple exceptional options for your needs.
Investing in a good pair of road biking shoes is a great way to take your riding to the next level. You'll get more power to the wheel from each pedal stroke and be able to ride in comfort for longer intervals. But how do you know the best road bike shoes for you?
 Clipless road bike shoes are designed to attach securely to clipless pedals and hold your feel in the optimum position. In comparison to a normal pair of shoes or trainers, they have a stiff sole to keep your pedaling as efficient as possible.


Sole
A stiff sole transfers more power as less energy is lost in it flexing. While the stiffest possible sole will indeed be the most efficient, it is not necessarily going to be comfortable to use on long rides, especially for beginners.
It is therefore advisable for anyone using clipless shoes for the first time to choose a pair of shoes with a more flexible plastic, nylon or composite carbon sole.
Once you have got used to the feel or are looking for more all out power, you can make the switch to a stiffer fully carbon soled shoe. Carbon has the added advantage of being lighter than plastic or nylon, but also costs more.
You should also look out for replaceable rubber or plastic heel pads. These pads protect the sole from getting damaged when you walk around. Over time they wear down so being able to replace them will maximize the life of the shoe.


Cleat System
There are three different cleat systems used on clipless pedals. You will need a pair of shoes that are compatible with your pedals. To find out more about cleat systems and the differences between them, have a look at our article about road bike pedals.
Retention System
The retention system is what tightens the shoe on your foot and holds it in place. It could be one or a combination of systems.
Cheaper shoes use velcro straps. These are light and easy to adjust with one hand but are not as secure as other systems. Ratchets are found on mid price shoes and offer a better hold.
While ratchets can be tightened with one hand, you often need two hands to loosen them, so think twice before tightening too much when riding.
Dials provide the strongest and most comfortable hold. These are found on more expensive shoes. There are a couple of different types of dials but the boa dial system is the most popular.
Finally, classic shoelaces have been making a comeback recently. They are functional and can be tuned for a custom fit. On top of this they have a retro look.
Upper
The body of the shoe that wraps around your foot is called the upper. Different materials are used on different priced shoes.
A synthetic mesh is found on lower priced shoes and as the price increases, you will find lighter and more breathable materials such as leather. The most expensive shoes use kangaroo leather.
If you are into sprinting, a stiff upper will help you but be uncomfortable on longer rides. Choose a shoe with a more supple upper if you like to spend long hours in the saddle.

Fit
Like all clothing, how your shoes fit is a very personal thing. Some brands tend to fit certain feet better and you may find some shoes that are also available in wide varieties.
TO convert from US and EU sizing conventions us the following universal chart: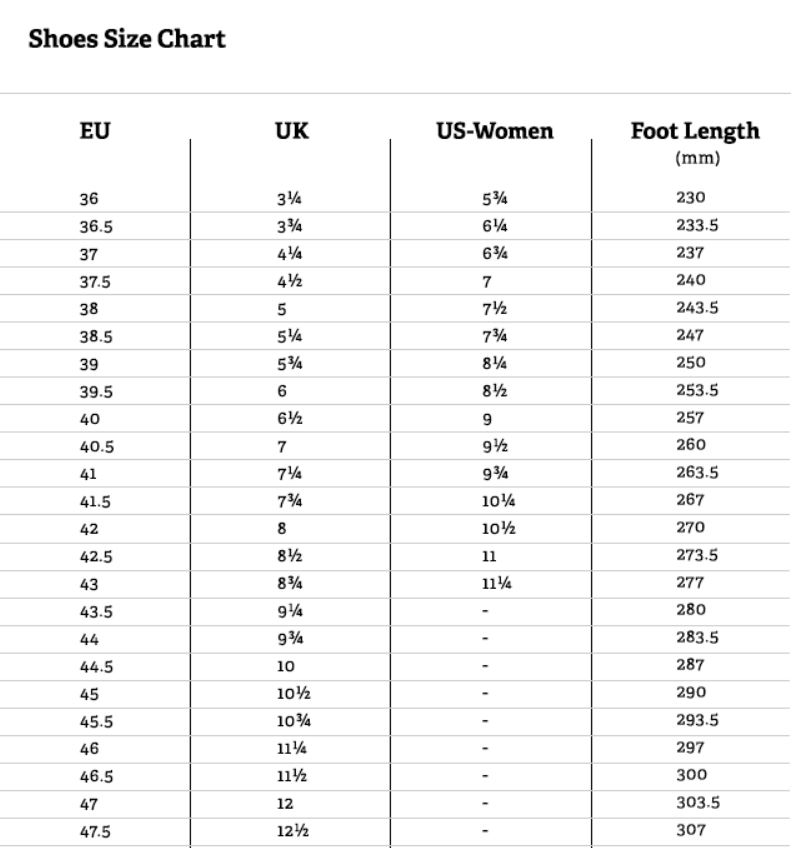 ---
Thanks for reading The 5 Best Road Bike Shoes. We hope that this article was a helpful to you in your search for the best shoes for road biking to meet your specific needs. Also see these informative articles, Top 10 Road Biking Routes in the United States and How To Get Started Road Biking – A Beginner's Guide.
MORE BIKE GEAR  ROAD BIKE SHOES | ROAD BIKE PEDALS | CYCLING SHORTS | ROAD BIKE JERSEYS | ROAD BIKE WHEELS | ROAD BIKES UNDER $500 | ROAD BIKES UNDER $1000 | ELECTRIC BIKE CONVERSION KITS | ELECTRIC FOLDING BIKES | E-BIKE BATTERIES | CRUISER BIKES | BEACH CRUISERS | BALANCE BIKES | BIKE TRAVEL BAGS | ROAD BIKE HELMETS
How We Researched
To come up with the top road cycling bike shoes, we researched a variety of sources for reviews such as CompetitiveCyclist, JensenUSA, REI, EVO along with our own personal experience.
We also consulted online magazines for product research and reviews to get as much unbiased information as we could. To help weed out fake reviews we used Fakespot.com to make sure we only looked at genuine reviews.
With so much quality gear available, we had to narrow it down based on what we felt were the best options for the price. The staff authors have a wide and varied background in road cycling, racing and bike packing.
The authors have decades of experience in cycling and eager to share their knowledge with readers.
To help narrow down the selection we used personal experiences along with recommendations from fellow cyclists, bloggers and bike shops.
After extensive research, we came up with our list to help you choose the right one for you.
Sources
Notice:
OutsidePursuits.com is a participant in the Amazon Services LLC Associates Program, an affiliate advertising program. OutsidePursuits.com earns fees from products sold through qualifying purchases by linking to Amazon.com. Amazon offers a commission on products sold through their affiliate links.