Choosing the right pair ski gloves is a compromise of thickness, dexterity and warmth. The ideal ski glove needs to be as thin as possible while being warm and water resistant.
So what are the best ski gloves? We took 11 of the top brands and evaluated them on some of the coldest days of the year skiing in Colorado and Montana, then rated them based on price and performance.
Ladies: We created a separate list of women's ski gloves.
These are our favorite ski gloves that won our trust because of their superior performance.
Here is an overview of the ski and snowboard gloves, full reviews and our buying guide is below.
The 3 Best Men's Ski and Snowboard Gloves
Mobile Users Scroll Over =>
Outdoor Research Men's Arete Gloves
Columbia Men's Bugaboo Interchange Gloves
BURTON Men's Baker 2-in-1 Under Gloves
Construction:
Light 100-weight fleece insulation keeps hands warm and a silicone grip palm on the liners.
100% waterproof, breathable pre-curved nylon shell .
Waterproof polytex fabric, with removable fleece liners.
Features:
Silicone grip liner palm with removable insulated liners, cinch closures to keep the snow and cold out.
"Omni-Heat" technology to provide the ultimate in warmth.

Removable touch screen compatible glove liner.
Touchscreen control with
dual function heater/vent pocket to accommodate a handwarmer.
Waterproof:
Waterproof with wicking properties, windproof and breathable,
Water-proof, and wind-resistant and breathable.
Waterproof, windproof, with a fleece insert.
Link to Purchase:
Men's Ski and Snowboard Glove Reviews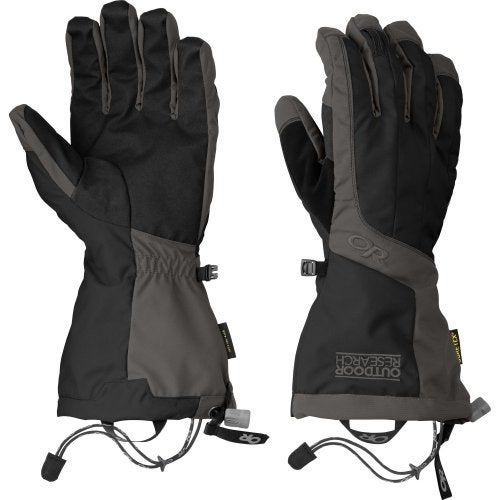 It's funny that they would name these gloves after a distinctly climbing related word (an arête is a feature of a mountain which is more often heard in climbing than skiing). That little knowledge bomb said, Outdoor Research really knows what they're doing, I have long been a fan of this company specifically for headwear and gloves.
Outdoor Research Arete Gloves
feature a removable liner, dedicated hand warmer pocket, and highly adjustable snow collar you're looking at a feature rich glove with good tech specs.
GoreTex waterproof membrane has really lost its appeal to all but those who still value the name brand (there are now tons of competitors and superiors on the market) but it's not necessarily a bad membrane choice for this glove.
Long cuffs are nice – the longer the better in my opinion.
Long cuffs make it harder for snow to get it. I prefer to pull my coat down over the gloves whenever possible.
Liners have Velcro exposed (for attaching to the shells) which is nice, but I've found it to be annoying when the Velcro invariably gets stuck on other things. It's particularly irritating when my glove liners snag my nice new shirts…
With these gloves, you will not need hand warmers even if the weather temperature is well below zero. In my opinion these are best ski gloves if your hands get cold easily.
All in all, this is a good technical glove with enough features to make it a contender though the higher price point may leave plenty of room for a serious argument about buying it online for a discounted price..
This is a pair of gloves you will not regret buying and a great option for a ski/snowboarder glove.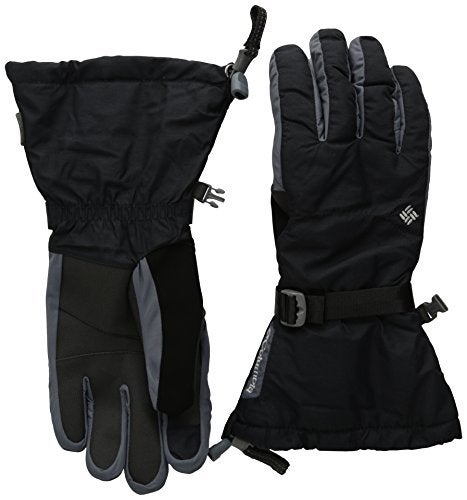 One of the coolest things Columbia has got going these days is their inclusion of "Omni-Heat" technology. Okay, so you know I'll cut through the BS and explain it – here it is:
Omni-Heat is just a dumb trade name for aluminized reflective dots adhered to the inner surface of the fabric.
This adds a great deal of radiation insulation (the part of heat which travels by electromagnetic physics) but doesn't do much for conduction, convection, or evaporation.
Great, now that you're drooling and bored, what I'm really saying is that all things being equal, those fancy reflective dots actually do keep you warmer than other gloves. It's pretty sweet!
Columbia Bugaboo Interchange Gloves
have a waterproof/breathable membrane that comes with inherent pros and cons but all things said and done, I think it's better for the everyday skier than not having a waterproof glove.
Especially for the kids who are sometimes prone to sucking on gloves or getting them wet with snow. Yeah… kids love to suck on gloves until they're soaked. It's not a joke.
The liner on these gloves is also removable and features a touch screen finger which I think is more thoughtful than most other models.
Bulky gloves even with touch screen ability are almost impossible to use with a phone.
Using the much thinner and nimbler liner gloves will result in improved phone enjoyment.
Weighing in a bit lower on the price scale than most comparable gloves, I think you'd be hard pressed to be let down by these Columbia gloves. In my opinion they are the best ski gloves for the money.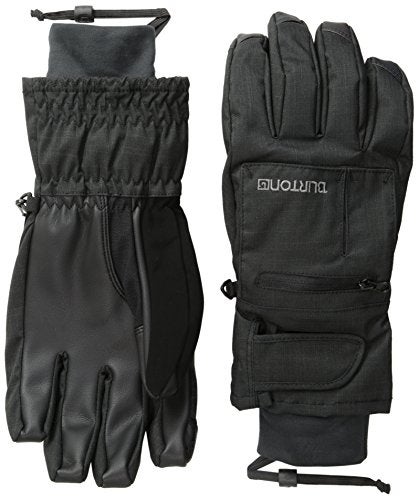 When it comes to winter gloves I have pretty high standards – spending more than 100 days a season in gloves will do that to ya. That being said, if I were in the market for gloves, the Burton Baker gloves might just give the competitors a run for their money. Why? Let's find out.
Removable fleece liner gloves are a great addition and when your glove gets wetted out from a serious day of shredding the slopes like Bode, you're going to be grateful you can just pull out the inner liner.
I would never recommend a glove without a liner (unless you're buying an oversized glove or mitt and adding your own liner).
Waterproof membrane is arguably useful or not – depending on your persuasion. I find that for mid-winter conditions, where wet precipitation is unlikely, I would rather not have the waterproof membrane at all to begin with.
It really just makes it harder for sweat to get out. The second your gloves get wet with sweat, you're in for cold fingers! If you're expecting wet conditions then look for waterproof membranes, otherwise… they're kind of negligible.
Touch screen finger adaption in the Burton Baker gloves is pretty much industry standard at this point so it's good that Burton is keeping up with the tech crowd and including some touch functionality.
On top of that there's a separate hand warmer pocket on the back of the glove. This is perfect for those of you with cold hands or parents looking for a glove for the kids.
Keep 'em warm and stick a hand warmer in that back pocket – it's super useful. But being these are very warm ski gloves you probably won't need them.
While there are better gloves you can buy, you will need to spend a lot more money to get better than the Burton Baker gloves.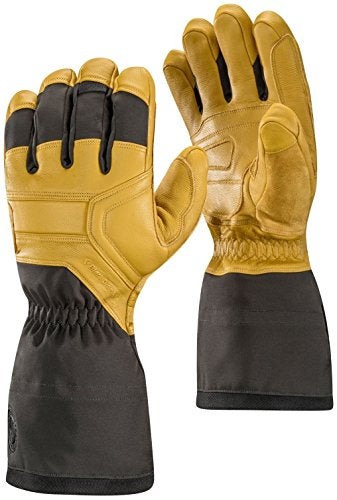 If your hands tend to get cold then the Black Diamond Guide gloves are for you. With 100g of fleece lining insulation these are probably the warmest ski gloves and will keep your hands warm in the coldest of weather.
They also have one of my required features of having removable liners so when the weather is not that cold you can remove them. So you can ski and snowboard with the shell only or just use the liners.
Now the extra warmth does come at bit of a price, these are not the most flexible and dexterous gloves. The goatskin lining, while tough and soft does take some time to break in. However after a few days they are pretty flexible allowing you to do most functions without taking them off.
The fleece lining is extremely soft, comfortable and breathable so if you're really tearing it up on the slopes and your hands start to sweat, the fleece liner wicks away the moisture to keep your hands dry. The goatskin not only looks great in my opinion, it is incredibly durable.
The rest of the glove has a thick abrasion resistant shell that adds to its durability. These gloves are going to last you a long time, provided you take care of the leather.
The Black Diamond Guide gloves have a foam padding in the fingers that not only provide some extra warmth but protection for your fingers as well.
The combination of goatskin leather and tight nylon weave shell make these gloves completely water proof.
This is not normally your biggest consideration in cold weather but when skiing in sleet or spring conditions when it's warm and wet out, you will definitely appreciate how waterproof they are.
The Black Diamond Guide glove has been well designed and has some useful features like a cinch closure to keep the snow out, a nose wipe on the thumb and the liners are held in place securely with Velcro strips.
All in all, if you're looking for a warm, stylish glove the Bank Diamond Guide is a serious contender.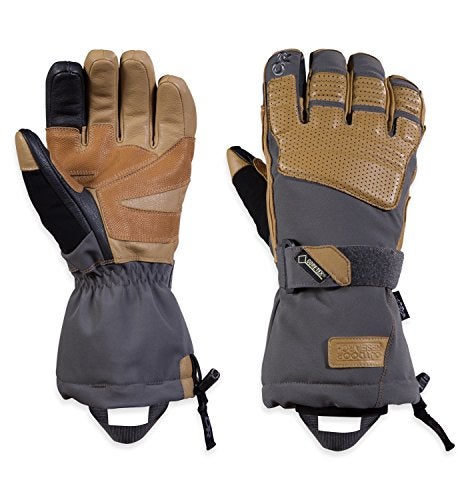 Coming in on the higher end of the price scale is the Outdoor Research Olympus sensor gloves. For this extra money you are getting a well above average glove. They are one of the warmest gloves tested and still managed to be pretty dexterous. We were able to zip our jackets, buckle ski boots and helmets with the gloves on.
For the extra money you get touch screen enabled thumb and index fingers so you can use your smart phone on the slopes. In some cases the glove worked better than our bare fingers, not sure how Outdoor Research managed that.
The gloves are just about 100% water resistant so these gloves are ideal for wet and warm conditions like those found in spring skiing. The only caveat being you need to take care of the leather. The goat skin is extremely durable and soft, not to mention they really look awesome but I am partial to leather gloves.
The goat skin, like any leather glove has a break in period, these didn't take very long though. By the end of the day they were almost completely broken in. Just be sure to take care of them, don't store them in hot and dry condition in the off season.
I really like the pre-curved design of the gloves, it make them much more comfortable of the course of the day. The design makes it much easier to grip ski poles if you're a skier.
The fleece linings on the Outdoor Research Sensor gloves have a wool blend and feels very warm and comfortable on your hands.
Not only is the lining warm, they are breathable so if you start working up a sweat, the wool fleece blend will wick away any moisture keeping your hands comfortable.
They have some nice features like a Velcro wrist adjustment so you can achieve a perfect fit along with a cinch closure to keep the cold and snow out. Plus the design of the wrist leash is nice as not only are they removable, they don't seem to get in the way like they do in other gloves.
The Outdoor Research Olympus Sensor gloves are an excellent pair of gloves that will keep your hands warm in the coldest and windiest of conditions.  If you can afford to spend a little extra, these gloves are worth it and will give you many years of service.
How to Choose Ski Gloves
To a lot of people, all gloves are pretty much the same and there are no major differences. But on the contrary, gloves have a lot of differences. It is just that the differences may be difficult to discern by a lot of people. The differences and major features of the best ski/snowboard gloves will be covered.
Waterproof
No matter how thick your gloves may be, they can't keep you warm when they are soaked. Your gloves need to be waterproof not just water resistant, so that your gloves will still keep you warm in the wettest of conditions.
Fit and Comfort
When they fit properly, you will be able to buckle your snowboard bindings and ski boots without removing them and you will also be able to get a firm grip on a trail maps, your phone etc. A common challenge with fitting is that the fingers may fit into the gloves perfectly but the width may be tight or too loose. Or the width may be perfect but the fingers may have problems.
Your gloves should fit firmly around your fingers and hand, but not too tight so that become uncomfortable after wearing them all day.
To mitigate this, if you have the opportunity, try on the gloves or mittens before buying or make sure they have have received good reviews and can be returned. You need gloves that fit your fingers firmly but ensure the material is of the type that expands slightly.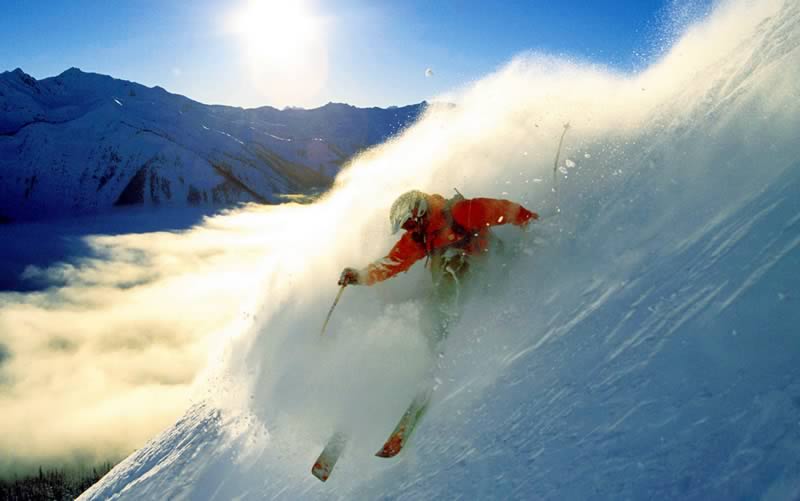 Dexterity and Durability
A great way to testing the fit of gloves or mittens, is that you should be able to push your hand down the mitten to the point where your fore finger parts ways with your thumb without much pressure. If you have to apply much inward pressure before touching, it means they are too small for you. Too much of a gap and they are likely too big.
This is a good way to separate two pairs of mittens if they seem to be about the same size and they both appear to fit your hands. An important fact to keep in mind is, that some gloves may feel a bit tight at first, but expand slightly within a few days and then fit perfectly.
Another necessary feature of good ski gloves is durability. But you can't tell the durability of gloves just by looking them and feeling their texture. All of the below reviewed gloves have been time tested and proven themselves to be durable.
Warmth
Since all good gloves must keep your hands warm, they must have a good quality insulation. The thicker the glove the warmer it will keep your hand. So, you may want to select the thickest pair of gloves. But there is a little twist involved. The thicker a glove is, the heavier and bulkier it becomes. So thicker is not necessarily better. It is best is to go for a moderate thickness.
Features
Some modern gloves have the ability to use your touch screen device with your gloved forefinger. When it's cold and windy and you need to use your phone on the slopes, you will really appreciate this feature! While it is fantastic feature only a few gloves and mittens give you this ability.
Having discussed the qualities of good gloves, all the below Men's gloves reviewed below meet our demanding criteria.
In summary, all of the above gloves meet our minimum requirements for warmth, water resistance and durability.
Looking for a good ski helmet or goggles? Read our reviews of the best ski/boarding helmets and here for our reviews of ski goggles.
Notice: Outside Pursuits is a participant in the Amazon Services LLC Associates Program, an affiliate advertising program to provide a means for sites to earn advertising fees sold through by advertising and linking to Amazon.com. Amazon offers a small commission on products sold through their affiliate links. Each of your purchases via our Amazon affiliate links supports our efforts to bring you the best possible product reviews at no additional cost to you. We appreciate your support here at OutsidePursuits.com
Review Overview
Summary : The Columbia Bugaboo Interchange Gloves were our favorite gloves, they excelled in keeping our hands warm and dry on the coldest of days. They are a bargain price for the quality and performance.