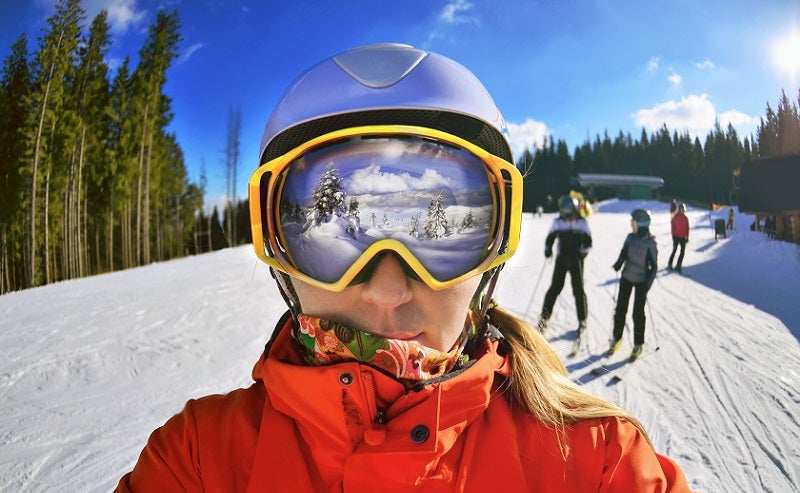 In the world of snowboarding there's no piece of gear more critical than your goggles. Snowboards are the biggest and flashiest piece of gear you'll use on the mountain. Jackets and pants define your style.
But having the best snowboard goggles can make the difference between seeing what's in front of you, and burying the tip of your snowboard in a mogul and tomahawking into the snow.
I've taken a few nasty diggers in poor lighting conditions, even with great goggles. They can't save you from everything, but it sure helps to see what's coming.
Today's goggles offer large views, clearer field of vision, greater clarity and depth, as well as protection from the elements.
I'm going to walk you through a few of the more popular goggles in the marketplace, then in the How to Choose the Best Snowboarding Goggles for You section we'll discuss what you need to know in order to pick out the right snowboarding goggles for you.
For more of our top snowboarding gear recommendations, have a look through these popular Outside Pursuits review articles: Snowboard Helmets, Snowboard Boots, Snowboard Jackets.
Quick Answer: The Best Snowboarding Goggles
---
Best Snowboarding Goggles
Spherion Gear Ski Goggles
Oakley Men's Canopy Snow Goggles
Bolle Mojo Snow Goggles


Lens Type
Oversized Double Poly-Carbonate Spherical Lens
Plutonite lenses with F3 anti-fog coating for superior fog elimination
Carbo Glass with Bolle's P-80+ premium anti-fog layer
Lenses Included
(1) Daytime and
(1) Low-Light Amber
Choice of (9) styles with (1) dark, reflective lens installed
Non-reflective lens with UV protection installed
Frame Material
Durable & Flexible Poly with Silicone Facial Padding
Plastic
Flexible Poly
Customer Ratings
4.9 / 5.0
4.6 / 5.0
4.4 / 5.0
---
Snowboard Goggles Reviews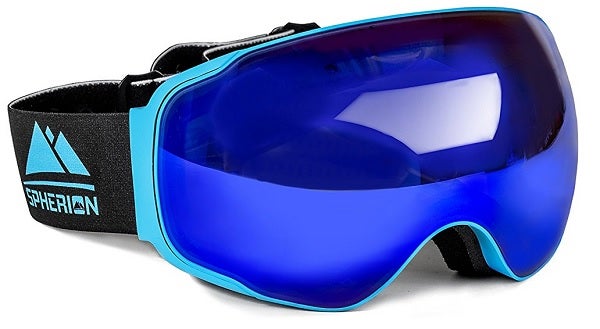 Spherion isn't necessarily a big name in snowboarding goggles, but users rave about this newcomer. The name of the game with Spherion is affordability and high end features.
If you're wanting a large profile goggle with a low price tag, this might be the one for you!
With up to 6 different styles to choose from, there's something that will fit your style right out of the box. Some of these interchangeable lenses comes with two lenses to start.
In these cases, you'll get a dark reflective lens with tons of shading and sun protection, not to mention cool factor. You'll also get a yellow low-light lens perfect for dark cloudy days where lighting is flat and low.
I like that they managed to nail most of the high end features such as three layer foam, all in an affordable package.
There's a 22" inch adjustable strap with pivoting outriggers. These are ideal for adapting to various helmet sizes and positions.
Best For: Budget minded snowboarders looking for high end features.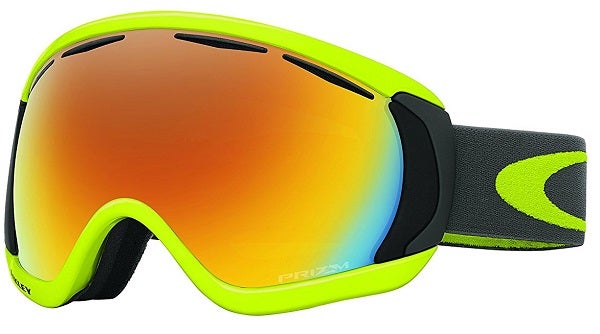 Oakley is an entrenched brand in the world of snowboard goggles. They have been making goggles for years and have perfected nearly every aspect of the process.
I love that these goggles come in a nearly unlimited variety of frame and lens colors. Want a black frame with pink lenses? Got it. Want white frames with blue reflective lenses? Got that, too.
I trust Oakley to make great lenses that combat high altitude UV light. Spending days at altitude where UV light bounces off the snow and assaults your eyes can be dangerous and fatiguing.
That's why you need the High Definition Optics 100% UV protection. Love it!
These lenses also excel in lens ventilation and face ventilation. This keeps your face cool without freezing your eyeballs, thanks to the row of foam vents near the top of the lens.
It also helps to keep sweat from condensing on the lenses which makes for a terrible time! These are even compatible with glasses (OTG) and make a great choice for any snowboarder!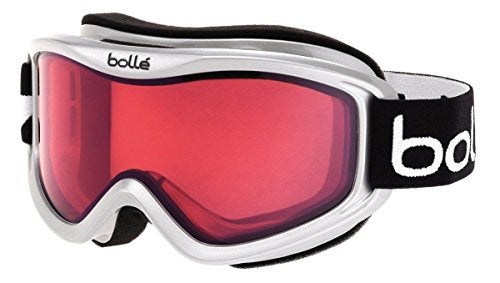 Bolle has been making this same style of goggle for… ever? It's an extremely simple design with an insanely low price tag.
While you might pay several hundred dollars for top line interchange goggles from a major brand, Bolle is just hanging out with these goggles around the $20 mark.
So how can they be that affordable? Well, ditch the spherical lens, drop the full UV protection, use a single layer of foam padding, simplify the goggle strap design, and keep the lenses as simple as possible. That's what we've got here.
Does that mean you have to be a bad snowboarder to wear these goggles? No way. I've seen some of the best skiers and snowboarders I know wearing old school goggles that just work.
When you've got insane skill, there's no need to show off with fancy gogs.
Best For: People who prioritize budget over all else!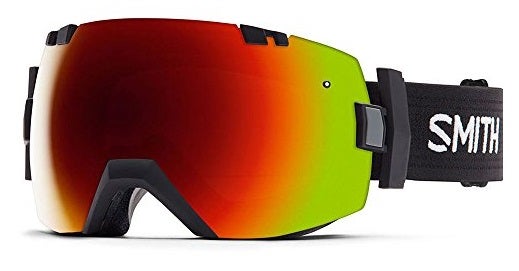 Ah, and so we come to it at last. The Smith IO/X is, in my opinion are the best snowboarding googles available to the modern shredder. If you're ready to take your game to the top, then you need to be rolling with the IO/X goggle!
Why?
Because they come in tons of frame colors, and handfuls of lens colors and options. But that's not enough to make them the best. They also feature a two pane lens with one way breathability.
Remember that problem of water getting in between the lens layers? Not an issue with the IO/X goggles.
The interchangeable lenses are quick to swap and each goggle comes with two lenses right out of the box. One dark and one light lens for each goggle.
There's a 5x anti-fog coating and I've personally used these goggles for over 400 days on the mountain. They just don't fog up!
They'll fit over your glasses, and the wide angle lenses have room to spare. The view is clear, crisp, and uncompromising.
Best For: Serious snowboarders who spend tons of time on the mountain.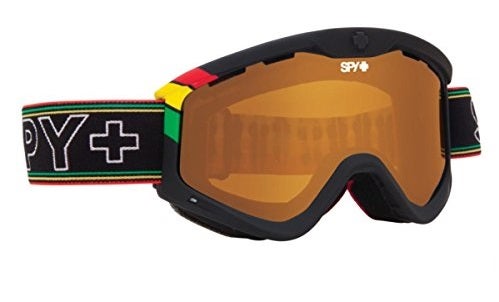 Much more similar to the Bolle Mojo goggles than the Smith IO/X these goggles trend near the affordable and simple end of the spectrum. They do sport a few enhanced features though which we'll dig into here!
Spy won't leave you hanging, they've put in three layer foam for best in class comfort and dryness. While the lenses aren't interchange, you could just buy several goggles at the low price of this goggle.
I do like that they've engineered the goggles for 100% UV protection. They also put in a dual pane lens to reduce or eliminate fogging issues.
I would be careful if you're rocking a large helmet though, as the straps may not adjust large enough for some.
What you lose at this price are spherical lenses, advanced ventilation, large adjustable straps, interchangeable lenses, and other top end features of hardcore goggles.
Best For: Beginners or those seeking to keep the price down!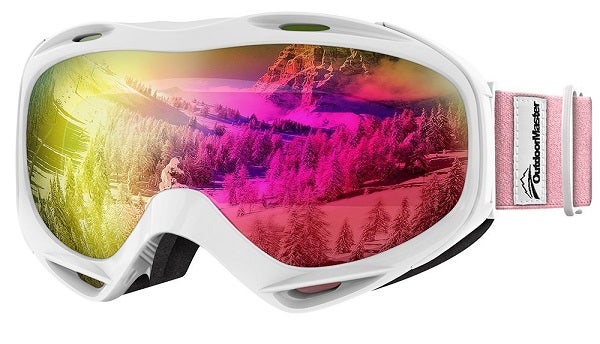 These goggles from OutdoorMaster heavily rely on an old Oakley design. They're available with nice looking reflective lenses in a variety of colors to the tune of 10+ different variations.
They come with a carrying pouch and a 6-month warranty. OTG goggles are made to fit over the top of your glasses so those with eyewear will have space to comfortably wear glasses inside these goggles.
They do have a dual layer lens and advertised 100% UV protection. Because I don't know OutdoorMaster as a brand, it's hard to say if they live up to that.
I would worry a bit about the size of the helmet strap and the overall quality. I would consider these goggles for budget-minded snowboarders, or those just getting started.
The lenses are quite narrow and field of view is one of the biggest factors in google quality, so I have to ding them for that factor.
Choose these goggles if you're just getting started and want a high-end looking goggle at a low price!

Possibly the most outlandishly large lenses I've seen on a goggle, the Zionor lenses look like they belong in a jet fighter cockpit. That said, large lenses mean great field of view, and that's one of the ultimate factors in goggle quality overall!
I love the dual lens and top end foam use. This means a dry and comfortable experience with minimal fogging or condensation.
Dual layer anti-fog and glare coatings on the lens help to keep the image quality as sharp as possible in all conditions.
It is a spherical lens construction, but the flexible lens may bend a bit too much to keep the view perfect.
With all the features of top end goggles and a price that can compete with even the Bolle Mojo it leaves me wondering how they keep the price down.
Users rate these goggles as 4 of 5 stars currently but I would be hesitant to stake them as a competitor against Oakley or Smith just for quality and reliability questions.
Best For: Large unrestricted field of view at a budget price for any snowboarder.
---
How to Choose the Best Snowboarding Goggles for You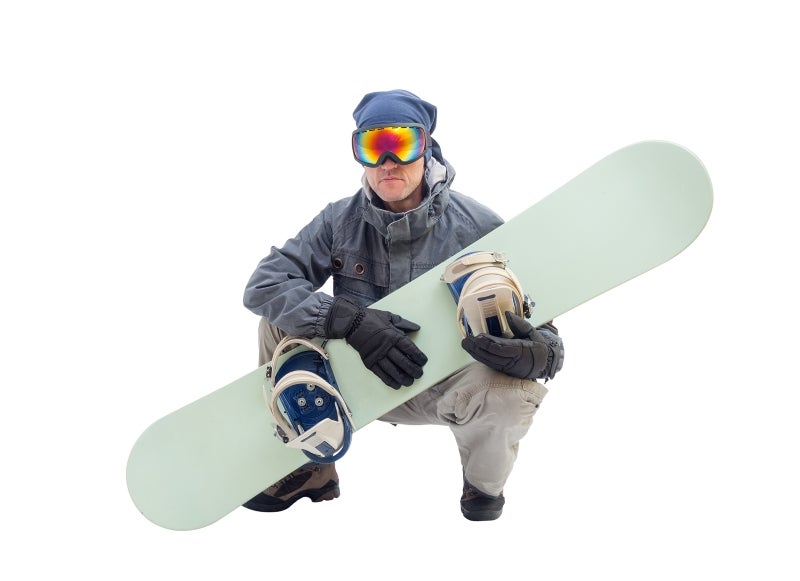 Understanding how to choose the best snowboarding goggles for you isn't as easy as it may seem. With over 500 days on the mountain over the last 5 years, I'm going to help lend my experience to your decision making process.

Field of View
Most goggles today are trending toward large, bug-eye looking things. In the past goggles were slim, fit near the face, and usually had smaller lenses. Today's goggles have morphed into wide-view monsters that really up the game.
The larger profile and wraparound style lenses on today's goggles aren't just for looks. A great goggle needs to maximize your peripheral view so you can scan for incoming snowboarders, trees, bumps, and terrain features.
If you're still wearing narrow, tight fitting goggles you need to ditch them! Being able to see what's around you will improve your snowboarding and reduce the chances of injury from previously unseen hazards.

Interchangeable Lenses
Seems like a gimmick for goggle makers to get more money out of you, doesn't it? Well, not only does it help with style points, interchange lenses also help snowboarders adapt to changing light conditions.
From day to day, or hour to hour, light conditions on the mountain can change rapidly! With a clear lens, for instance, a bright sunny day can damage your eyes. However, with a dark lens, a cloudy stormy day becomes dangerous as visibility is reduced to near zero.
By changing lenses on the fly you can adapt safely to light conditions. I always keep a dark lens and a light lens on me at all times. I've had to ski down in blizzard conditions with a dark lens before… it's not fun! Don't get caught with your lenses down!

Lens Padding
Another seemingly trivia factor that just simply isn't. Lens padding makes the difference between a comfortable fit and wear versus sweaty, scratchy days on the mountain.
Cheap goggles use a single layer of open cell foam to pad the face. This sucks and breaks down quickly!
Today's goggles use a three layer foam system that greatly improves on past designs. Open cell foam is usually just the beginning.
From there a second layer of softer cushioning foam is added. It's all topped off with a layer of microfiber that absorbs sweat and sits nicely against the skin.
If your old goggle foam is crumbling and failing, it's time to upgrade!

Anti-Fog Coatings
Fog and condensation on lenses is a real pain in the ass. When things are already dark and stormy outside, the last thing you want is a foggy lens when the temps drop and the clouds roll in.
At one time it was common to apply after market products, or just spit on the lenses and smear it around to prevent fog. No more!
Good lenses today come with anti fog coatings pre applied. Like any great optical system, anti fog lenses improve the reliability of each ride.
If you do begin to get condensation or fogging that just won't go away, your lenses may need replacing. On newer 2-layer lenses sometimes moisture can get in between the lens layers and create problems. Replace lenses if this happens.

Spherical Lenses
Today's top lenses are perfectly spherical in shape. They're made to be perfectly in line with your eye's view of the world and thereby avoid distorting dimensions or shapes of things around you.
This is achieved by creating a lens that is a portion of a perfect sphere. Most top lenses today are spherical. It's not a sales gimmick – it really does provide the absolute best in image quality.

Goggle Straps
A quick word about goggle straps! There are a few things to keep in mind with goggle straps and, in the spirit of helping you out, I'm going to share them here.
Almost all goggle straps today are coated with a silicone bead. This sticky silicone layer helps the goggle strap stay in place on the helmet. It's a small feature that makes a big difference!
The other thing to keep in mind when buying goggles is strap size. I wear an XL helmet and some goggle straps struggle to fit fully around the helmet.
This leaves the goggles uncomfortable tight on my face, pinching my nose. Avoid this by trying on goggles with your helmet before purchasing.
Conclusion
We hope this review and comparison of snowboarding goggles has been helpful to you. If you're new to the sport and want to get started with some basic instructions, see our helpful guide entitled: How to Snowboard – A Beginner's Guide.
Ultimately, when selecting goggles for snowboarding, it's up to you to decide what makes sense for your needs.
Upgrading to goggles with spherical lenses, anti-fog features, and wide field of view was one of the best things I ever to improve my time on the mountain.
I would suggest highly that you spend top dollar on your goggles if you want to move your snowboarding game to the max.
Of course, we all have different priorities and you'll find goggles from the top to near the bottom of the price range on our list.
---
I hope this guide was helpful for finding the best snowboarding goggles to fit your needs. If you want to comment or recommend a pair of goggle I didn't include, please use my contact form to get in touch. New to mountain biking? Here is a guide to get you started.
Have fun and enjoy your time on the slopes!
Notice: Outside Pursuits is a participant in the Amazon Services LLC Associates Program, an affiliate advertising program to provide a means for sites to earn advertising fees sold through by advertising and linking to Amazon.com. Amazon offers a small commission on products sold through their affiliate links. Each of your purchases via our Amazon affiliate links supports our efforts to bring you the best possible product reviews at no additional cost to you. We appreciate your support here at OutsidePursuits.com