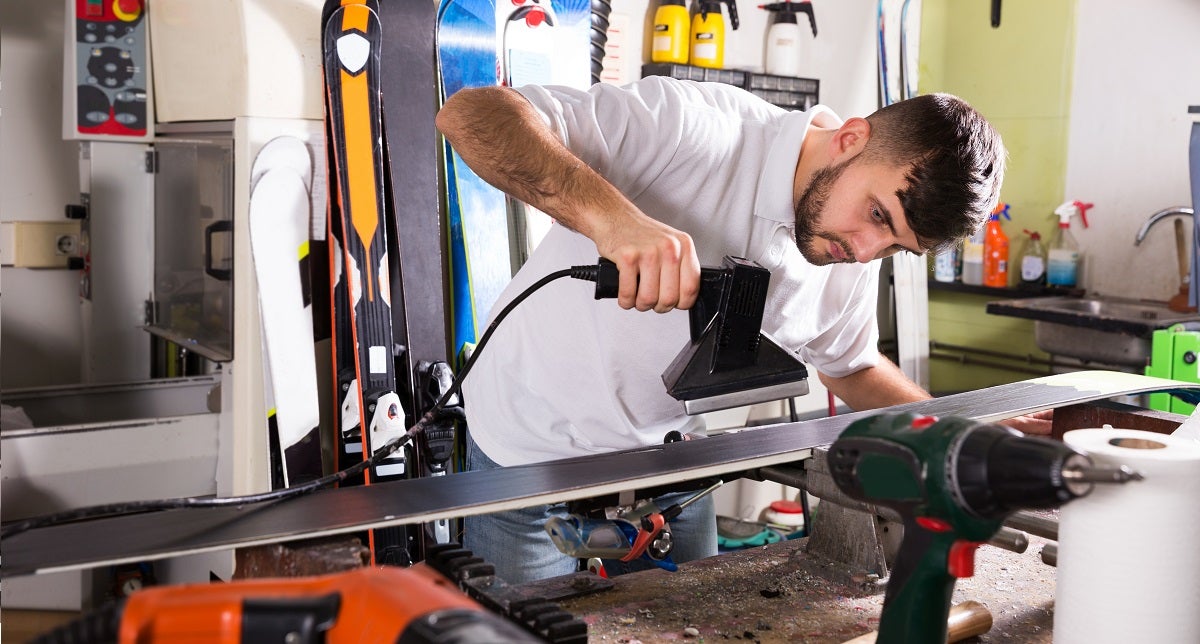 Our Editors independently research, test, and rate what we feel are the best products. We use affiliate links and may receive a small commission on purchases.
If you're a winter sports enthusiast, you've likely spent a lot of money on your equipment. To make your investment last for years to come, you need to take care of it properly. It's not enough to merely toss your skis in the garage when the snow melts.
So how can you maintain your winter sports equipment? You want to begin by creating a safe place protected from the elements. Then, you need to follow specific instructions for each type of gear you own.
Here are ten tips to get you started.
1. Clean After Use
Keeping your equipment clean isn't just the first step in enjoying a more positive experience on the slopes. It also helps to ensure your safety. In 2015 alone, 88,000 people endured injuries from snow skiing and another 61,000 sustained snowboarding injuries. Dirt or salt between your boots and bindings can result in severe falls.
After every excursion, take the time to wipe down your skis or snowboard with a damp rag. Make sure to dry them thoroughly after removing all the dirt and grime. The same goes for your snowshoes, though the scheduling is a little different. You'll want to take the last day of the season to wipe them down, as they don't demand as much attention.
Aside from that, never leave your equipment sitting outside in the snow, even if you only go inside for an hour to grab lunch. Your gear makes an attractive target for thieves. Plus, exposure to the elements allows rust to develop.
2. Wax Your Equipment
To maintain your snowboard or skis, you'll need to wax them. The first step in this process is cleaning your gear thoroughly, as the wax won't stick to a dirty board or pair of skis. You can use a hot scrape to apply a thin layer of wax and then immediately remove it. Then, wipe the equipment with a clean cloth.
How often should you wax your snowboard or skis? It depends on how often you use them and the slope conditions. Most experts recommend waxing after every three to eight days of use. However, if you notice that you're moving more slowly than you'd like, you might benefit from more frequent applications.
How to Wax a Snowboard | The-House.com
3. Keep Everything Dry
When the off-season arrives, as it inevitably will, you need to make sure you protect your gear from the elements. For example, if ice skating is your jam, exposure to moisture can dull your blades and lead to painful falls. Likewise, storing skis and snowboards in a damp environment will lead to warpage and other damage.
If you plan to store your equipment in a basement or the garage, ensure that you prevent water damage. One way to maintain a dry environment without a significant cash outlay is to install a ceiling fan. These devices work best when their blades hang seven to nine feet from the floor and 10-12 inches under the ceiling.
You also want to protect your gear from extreme temperatures. If you're storing your equipment in your garage, install insulation to prevent excessive heat or cold from causing damage.
4. Sharpen the Edges
It doesn't matter whether you skate or ski — you need to keep your blades sharp for maximum speed and safety. If you skate, chances are you'll take your equipment to a professional.
However, it's still useful to know basic terminology so that you can identify potential problems with the process. For example, you'll want to understand the way that hollows affect your game if you're a hockey player.
If you ski approximately one to two weeks per year, it's okay to have your gear sharpened once annually. However, use a handheld file to remove burrs or nicks after every day or two on the slopes. If you're getting out there every week during the season, have your skis professionally sharpened monthly.
5. Repair Minor Gouges
The best way to repair significant damage to your equipment is to take it to a pro shop. They have the necessary machinery to get the job completed the correct way. However, sometimes you want to take advantage of a perfect weather day, and you don't have the time to go to the pros.
You can repair minor gouges yourself by using a P-tex stick and a lighter. Begin by scraping away any debris from the damaged area. If the damage extends down to the core, unfortunately, hitting the shop is your best option.
Otherwise, use the lighter to melt the P-tex into the gouges one at a time. Make sure to ventilate the area since this stuff doesn't smell the best. Once filled, scrape the material until it's even with the base. Repeat if necessary.
Your snowshoes are also likely to accumulate damage over the season, so check for any holes or abrasions in leather trim. Ensure the various binding and pivot systems are working, and if things aren't looking the best, schedule a professional tune up. Like we said, it's the best way to repair significant damage.
6. Get the Right Storage Bag
The right storage bag helps maintain your snowboard in excellent condition for the next time you hit the slopes. When selecting a storage bag, consider the travel you do with your equipment.
For example, if you fly to different destinations, you'll need denser padding than you would if you merely gather your things in your car for weekend road trips. You never know what baggage handlers will do!
If you ice skate or play hockey, make sure to invest in the right blade guards to travel from the locker room to the ice. These also protect your hands from nasty cuts. With that in mind, always cover your blades before storing your skates in your bag.
7. Upgrade or Maintain Your Roof Rack
You can carry some winter sports equipment in your car. However, you may need a roof rack for more extensive equipment, especially if you drive a compact vehicle.
When selecting a roof rack for your car, consider the weight of the gear you typically haul with you. Also, keep security in mind. If theft is a considerable problem in your area or the regions where you travel, a locking version can prevent loss.
8. Adjust Your Bindings
The bindings on your skis whether downhill or cross country skis contain heavy-duty springs that keep your boots locked in place while remaining able to release them at a moment's notice. Before you store your skis for the off-season, take the time to set them to the lowest level on the DIN windows.
It's a wise idea to put a sticky note on your skis as a reminder to dial these back when it's time to hit the slopes again  (so you don't get ejected).
9. Schedule Professional Maintenance
Even if you're primarily a weekend warrior, you'll want to schedule professional maintenance for your gear each year. You'll need more regular trips to the shop if you edge toward professional athlete status.
When selecting a shop, ask for recommendations from other people who participate in the sport. You can also speak to an employee at your favorite recreation area for assistance.
10. Protect Your Investment
Finally, you want to protect your gear from thieves. Even the savviest homeowners can fall prey to careless mistakes that leave their investment at risk. For example, if you have an automatic garage door, and you leave your remote in your car when you park on the street, you roll out the welcome mat for miscreants.
Likewise, a backyard shed with windows to the interior displays your belongings for anyone to take if you omit a padlock. It takes only seconds to lock up everything safely, and it can save you a small fortune in both cash and heartache. It's the best way to ensure your snowboard, skis or snowshoes remain safe.
But that's not all. When it comes to snowshoes, you'll want to hang them out of reach of any hungry rodents. They like to chew on rawhide, so make sure your equipment is elevated.
Maintain Your Winter Sports Equipment
Your winter sports equipment provides you with so much joy during the darkest months of the year. Return the favor by caring for it properly with these ten tips.
Notice:
OutsidePursuits.com is a participant in the Amazon Services LLC Associates Program, an affiliate advertising program. OutsidePursuits.com earns fees from products sold through qualifying purchases by linking to Amazon.com. Amazon offers a commission on products sold through their affiliate links.