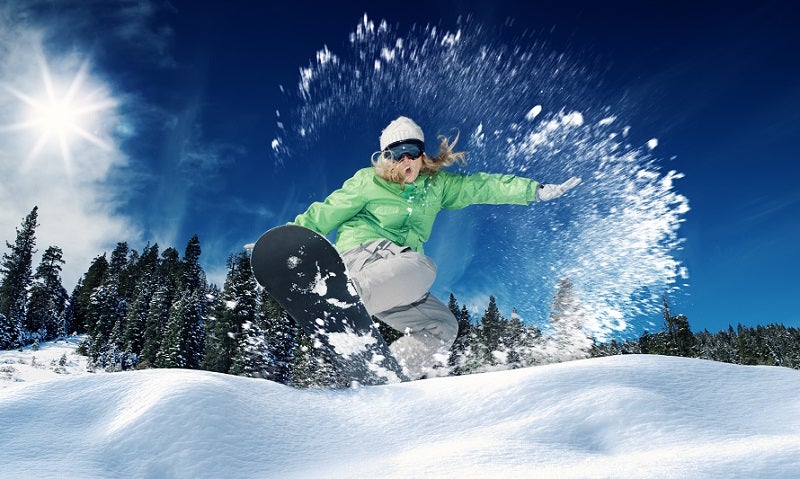 Our Editors independently research, test, and rate what we feel are the best products. We use affiliate links and may receive a small commission on purchases.
Snowboarding is one of the most thrilling ways to enjoy the mountains during the winter. Once a niche sport, snowboarding now represents a significant portion of every mountain slope.
Unfortunately, learning all the gear you need to start snowboarding might feel like a chore to some. Getting started isn't always easy, but a snowboard package can help.
Snowboard packages combine bindings, snowboards, and boots into a single package that makes buying easy.
Instead of getting lost in analysis paralysis you can just go with a premade snowboard package that will have you hitting the slopes in no time.
Let's take a look at some top rated snowboard packages for both Men and Women!
Best Beginner Snowboard Packages
| | Flow Burst Men's Snowboard Package | FLOW Star Women's Snowboard Package | Camp Seven Drifter Men's Snowboard Package |
| --- | --- | --- | --- |
| | | | |
| | | | |
| Snowboard / Sizes: | Soft Flex Board / 162 cm | Soft Flex Board / 144 cm | CRCX All Mountain / 153 -163 cm |
| Boot / Sizes: | Soft Flex Vega LTD BOA / Sizes 11-14 | M3 Venus Laced / Sizes 6-10 | APX Boots / Sizes 8-13 |
| Bindings: | Alpha Stormtrooper Bindings | M3 Luna | System APX binding |
| | | | |
For more of my snowboarding gear recommendations, have a look through these popular Outside Pursuits guide links: Snowboard Pants, Snowboard Gloves, Snowboard Jackets, Women's Snowboard Jackets.

Quick Answer: The 7 Best Complete Snowboard Packages
Our reviews of the top rated snowboard packages along with our comparison table and buyers guide will help you choose the right one for you.

---
Best Men's Snowboard Packages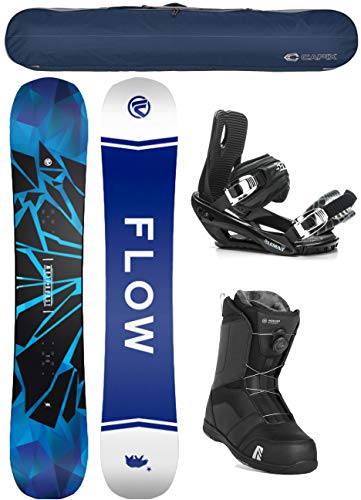 Flow Burst WIDE Snowboard Package at a Glance
:
---
Soft Flex Board 162 cm
Soft Flex

Vega LTD BOA Men's Snowboard Boots

Alpha Stormtrooper Bindings


4 Year Manufacturer Limited Warranty
This snowboard binding and boot package from Flow is ready to shred into 2020 with a full set of board, bindings, and boots.
Of course, because it's a package you won't have to wonder if all the parts will match up when it comes in the mail. It's guaranteed to work and be ready to hit the slopes.
With boot sizes available from 11 to 14 there's an option for a wide range of average foot sizes. The boots are the Flow Vega LTD BOA snowboard boot.
These are softer flex boots which provide tons of comfort for all day riding and a forgiving ride on the slopes. Softer flex boots might not be the top pick for advanced riders, so keep that in mind.
I do like that the boots are made with a removable liner which can be taken out to dry and warm up the boot between rides.
Expand To See MoreSee Less

The brand new 2020 Vert board comes with a 4 year manufacturer limited warranty which should cover problems arising from construction process.

So if your board starts to delaminate due to normal riding conditions, you can contact support and get it replaced.

This board features a flatter profile that's heavy with rocker. Expect a buttery ride with easy turn initiation. There's ample sidecut as well so the board should be able to easily edge into turns for the beginner riders.

The board you get will be based only on your boot size, so there's not much customization to be had. It's probably the overall best snowboard package, especially in it's price range!

---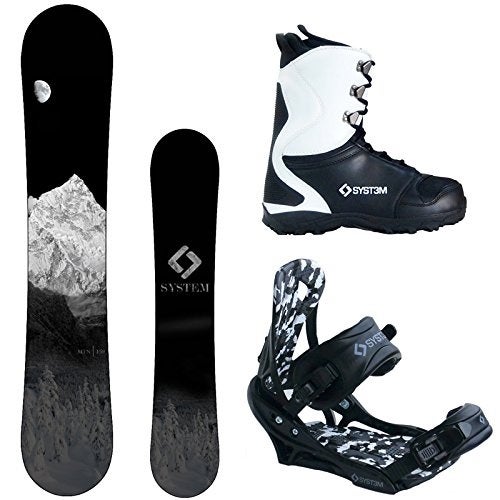 System MTN Snowboard Package at a Glance
:
---
All-mountain board 139-158cm sizes
Boot sizes 8-13

System APX Bindings

3 year warranty on each component
Another complete snowboard package updated for 2020, the System MTN and APX package has a little more customization to bring to the table.
With boot sizes 8-13 and snowboard lengths from 139cm to 158cm you can choose what package seems the best for you. Just make sure you review the "how to choose" section before you make your choice.
This package focuses on the MTN snowboard by System which is a rocker-camber-rocker design.
Perfect for all mountain boarding.
The sidecut isn't as aggressive as the Vert board above, but it's plenty to get the edge in hardpack and turn.
The board is a wood core design meant to provide tons of pop and power when you want to put the pressure down on the tip or tail to get the board singing.
Expand To See MoreSee Less

System APX bindings make up the middle of the package. These bindings have full length padding for the foot and ankle. That means less pressure and pain on the back of the leg.

I do like that the toe strap can be ridden as a cap or over the toe style so you can choose or alternate depending on what feels good to you.

On your foot will be the System APX boot. These boots are simple and feature traditional lacing. Nothing too fancy here. But they're rocking metal lacing hooks so you don't have to worry about breaking lacing when you're cinching down.

They do have Thermofit heat moldable liners that can be fitted to your foot with a bit of customization. That's a step up and an unusual luxury for a combo package.

Every component in the package is covered by a 3 year warranty and another top contender for the best Men's snowboard package!

---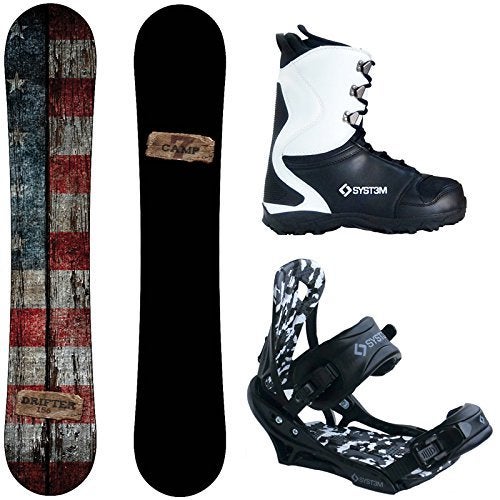 Camp Seven Drifter Snowboard Package at a Glance
:
---
Board Lengths 153cm – 163cm
Boot Sizes 8 – 13
System Bindings and Boots

3 Year Warranty on each component
Another boot, snowboard and bindings package available in boot sizes 8-13 with a few less options when it comes to board length. There's a wide array of options though, so don't worry.
You can choose the Drifter snowboard in lengths from 153cm to 163cm with several wide width options.
The Drifter board is an all-mountain snowboard ready to tackle a variety of conditions as you learn where on the mountain you like to call home.
This board features a heavily rockered profile for tons of float in deep pow and a buttery, slippery feel on hardpack. Overall the board is designed to be light, with dual poplar core, and squirrelly with a rocker heavy profile.
Good for park or powder.
Expand To See MoreSee Less

Attached to the Drifter board is the System APX binding. This binding has been used on other packages in our list because it's a versatile soft binding ready to tackle any part of the mountain.

Thanks to its padded, softer flex it makes a forgiving ride that won't punish you for small mistakes. That also means it won't push your board to the max either. It's a give and take battle.

Again we get the APX Boots which match perfectly with the APX bindings. This makes a perfect match that can't get messed up.

When boots and bindings from different manufacturers get paired together, they don't always "like each other".

Not the case with the APX boots and bindings.

I like that they have a removable heat molded liner that can be fitted to your foot for an exact, comfortable fit that really dials in your boots.

---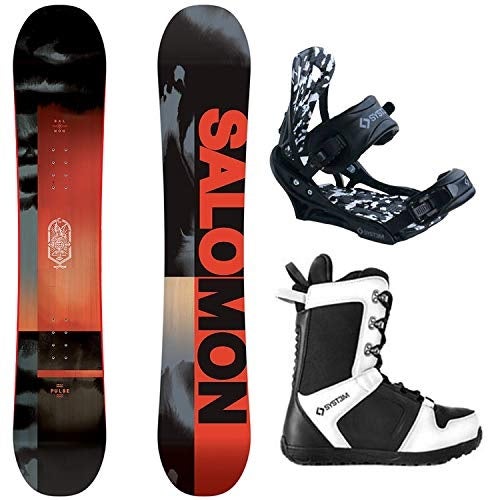 Salomon Pulse Complete Package at a Glance
:
---
Board Lengths 149-163cm

System APX Snowboard Boots,

Sizes 8 – 13

Salomon Pulse w/ APX Bindings

4 year warranty
If you are looking for a cheap snowboard package that comes in boot sizes from 8 – 13. That's a pretty wide range that should work for a good majority of men.
Remember, get sized for snowboard boots before you buy, or at least make sure to thoroughly check the manufacturer's sizing guide recommendations. Snowboard boots aren't always the same as shoe size.
You'll be riding on the Salomon Pulse Snowboard updated for 2020. They now have boards from 149-163cm that are moderately waisted, meaning the sidecut is distinct but not aggressive.
The board is a flatter and rockered profile. Like other boards on our list, this common shape is best for park and powder.
Because it's a flatter profile the board won't easily cut into hard pack, ice, or crud and may feel squirrely on packed runs.
Expand To See MoreSee Less

The Salomon Pulse w/ APX Bindings are fitted with a toe cap style strap which provides backward and downward retention to the boot.

This keeps your heel locked to the back of the binding and prevents the annoying toe cramp of a toe strap style binding.

One difference here is that the System APX Men's Snowboard Boots feature a lace adjustment, unlike some of the newer boots that feature BOA adjustments.

Some users prefer this over lacing because you don't have to bother tying strings or messing with laces when it's cold and you'd rather have gloves on. However, laces work just fine and give a secure fit.

Overall this is the best snowboard package for beginners that can fit a variety of users in a variety of conditions.
---
Best Women's Snowboard Packages
FLOW Star Women's Snowboard Package at a Glance

:
---
Board Length 140cm
Women's Boot Sizes 7 – 9
True Twin Tip Board
3 Year Warranty
Ladies you're in luck because the last few snowboard binding and boot packages on our list are aimed right at you. Women's snowboards are designed to fit better with women's sizing for boots, bindings, and weight according to industry averages.

While it's possible for women to fit men's boards and vice versa, generally men's and women's boards are slightly different and the changes do matter in many cases.

The gently waisted sidecut of this board makes it a good choice for float and skidded turns. With a true twin tip design it's also easy to ride regular or goofy so switching it up in the park is no worries.

Overall it's a mostly flat profile with mild camber and rockered tip and tail which makes it a buttery board that should be right at home in the park.

While the Head Velvet bindings are ready to lock in your boots for a solid ride. These bindings are fully EVA padded for a gently ride that won't beat up your feet.

The toe strap is an over-the-toe design with an adjustable ratchet system.

Expand To See MoreSee Less

Of course, the boots are a step up from many package boots. They're the Flow Vega BOA designed specifically for women. That means they're rocking the BOA lacing system which is the turn dial lace.

Again, these can be adjusted easily without taking off your gloves so you don't freeze your fingers off when you transition from the lodge to slopeside.

Overall this system is an adjustable and stable platform for twin tip riding. The board is only available in 140 length so make sure that's the right size for you before ordering.

If you're unsure, refer to our "how to choose" section below. As long as the sizing is right for you, this would be my top pick for the best Women's snowboard package.
---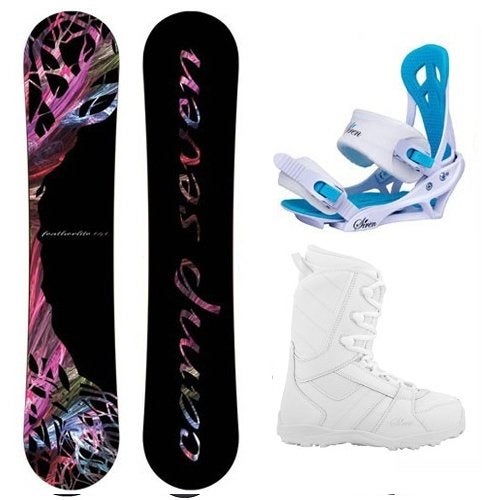 Camp Seven Featherlite Women's Snowboard Package at a Glance

:
---
Featherlite Snowboard – ultra lightweight board
Board Lengths From 138cm – 150cm
Siren Mystic Snowboard Bindings
Women's Boot Sizes 6 – 10
3 Year Warranty on each component
Another Camp Seven boot, snowboard and bindings package on our list, yet this one is aimed at the ladies. The board, boots, and bindings are all designed, styled, and colored to capture the crowd with functional equipment.

Overall the package is meant to be light, agile, and compact and I think they nailed it with this package. It looks good, and combines tons of great features to bring you a solid package.

The featherlight board is made with a lightweight poplar core supported with layers of stiffer, stronger wood to keep things light but strong.

The board is rockered with cambered tip and tail which makes it a decent all-mountain board.

There's a bit more camber than other boards on our list so this board could be a good contender as a groomer ripper – ready to lay some serious edges down!

Expand To See MoreSee Less

The Siren Mystic snowboard bindings are women's specific and made for comfort and forgiveness. The straps are padded and generous to make being strapped in as enjoyable as possible.

The bindings are fully EVA padded on the feet and highbacks to keep things comfortable even when the riding gets rough.

I love the crisp, clean white of the Siren Lux boots in this package. They come in plenty of sizes to make sure the majority of riders can find a boot that fits, too!

This is a traditionally laced boot that's meant to fit comfortably. They've added features like padded gel patches in high contact points to keep the ride enjoyable all day long.

---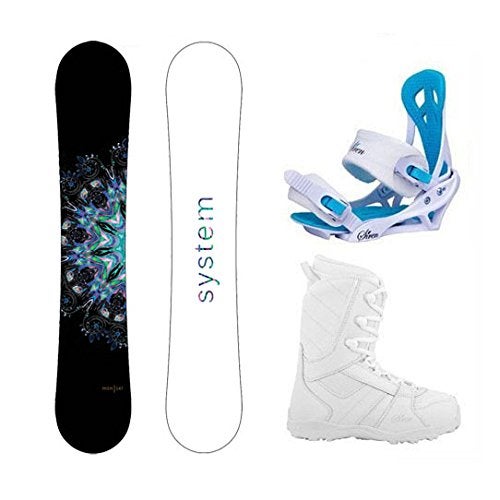 System MTNW w/Mystic Women's Snowboard Package at a Glance

:
---
Snowboard Lengths From 144cm – 150cm
Boot Sizes 6 – 10
Rockered board for stable riding on all-mountain terrain
3 Year Warranty
This complete snowboard package hinges around a 2018 version of the System MTN women's snowboard. It brings comfortable bindings and boots to the table based on a board that's meant to grab the snow and provide a predictable, stable ride.

According to System their MTNW board is tailored for women's riding. That means a specific flex pattern, camber/rocker profile, and core system tuned for the size and weight of riders in the 144 – 150cm board range.

This board will be at home in crud, hardpack, and groomed runs.

This set comes with the Lux women's snowboard boots which are a traditional boot. It's a laced boot with a removable liner and a clean white look which matches the board and bindings perfectly.

Honestly the whole set has a well defined, continuous aesthetic that's quite attractive.

Expand To See MoreSee Less

Like several of the women's System board packages, the new Mystic binding is the choice for this one. It has a distinctly wide and comfortable strap system, with a toe cap adjustable strap on the front.

Both the footbed and the highback are padded with blue EVA foam for a comfortable and forgiving ride.

Overall this board makes a good choice for beginners or intermediates looking for an all mountain board that's at home on the groomers.

---
Snowboard Package Comparison Table
Author's Expertise / Why You Should Trust Our Reviews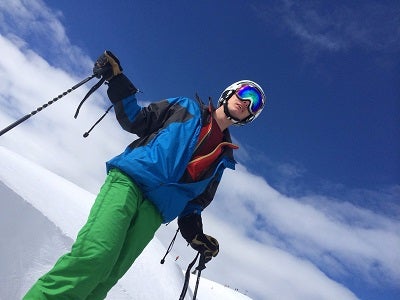 I started writing online for my own outdoor sports blog in 2010. Right out of the gate I landed opportunities to test gear for Road ID, Hydrapak, Wolverine, Helle Knives, Pearl Izumi, and GU Energy. Those were the days when growing a no-name blog was easy. Today niche blogging is a different story.
In 2012 I left Central Wyoming College with a degree in Outdoor Education and Leadership. Soon after, I was on a month-long expedition with the National Outdoor Leadership School's Outdoor Educator Course which helps would-be outdoor guides ascend from "aspiring" to "inspiring".
Between here and there I've participated in and spoken at length about outdoor pro-deal programs for companies like Patagonia, Smith Optics, Giro, Therm-a-Rest, Platypus, MSR, Columbia, and many more. I still work closely with tons of outdoor gear companies to review and analyze products. If you have a product opportunity you'd like to discuss, please review my guidelines and contact me here.
After several seasons of guiding backpacking trips and working as a certified Alpine Ski Instructor at Deer Valley Resort in Park City, UT for several seasons, I had to move on. As any educator will tell you – teaching doesn't pay the bills very well.
In 2016 I began building my freelance writing career as readers and other bloggers reached out to me for help with technical outdoor sports content strategy for online businesses. Within weeks I was overloaded with requests for freelance writing and my new career blossomed.
2018 saw the launch of Hike With Less, my ultralight backpacking partnership program with Dustin Walker.
How to Choose the Best Snowboard Package
So let's cover exactly how to choose the right snowboard package for you to get you out on the slopes and shredding!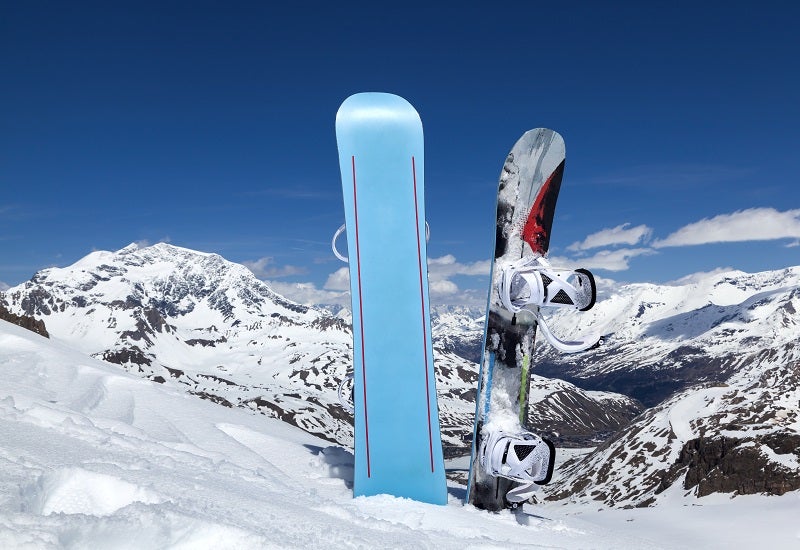 Snowboard Length
To pick the right snowboard length you need to understand how that length can change the way your board rides. Most snowboard packages will come with many different lengths of board to pick from. So, how do you know which one to choose?
If you want to board faster, longer runs with a focus on the freeride style of boarding, you may want a longer board. Freeride boards are meant to be more stable at high speeds thanks to their longer length.
If speed is your thing, longer boards should be a focus.
Freestyle boards err on the other side of the spectrum. Shorter boards mean more agility and lighter weight for easier tricks. For terrain parks and having ultimate control of your snowboard you may want to go with a short freestyle type board.
Beginner snowboard lengths usually are best on the shorter end of the spectrum. Short boards are easier to control and manipulate compared to longer boards.
However, if you're unsure going with a snowboard in the middle of your size range is an acceptable compromise.
| | | | |
| --- | --- | --- | --- |
| Rider Height (in) | Rider Height (cm) | Rider Weight (lb) | Snowboard Size (cm) |
| 4'10" | 147 | 110 -120 | 128-136 |
| 5′ | 152 | 115-130 | 133-141 |
| 5'2″ | 158 | 125-135 | 139-147 |
| 5'4″ | 163 | 135-145 | 144-152 |
| 5'6″ | 168 | 140-155 | 149-157 |
| 5'8″ | 173 | 150-165 | 154-162 |
| 5'10" | 178 | 160-175 | 159-167 |
| 6′ | 183 | 170-185 | 160+ |
| 6'2″ | 188 | 180-195 | 160+ |
| 6'4″ | 193 | 190-205 | 160+ |
Snowboard Width and Boot Size
When it comes to snowboard width, there's a hard and fast limit. The width of your snowboard can only be as small as your boots are. Therefore those with large boots must have larger boards.
Snowboard width generally will be sized so that your boots are approximately equal to the width of the board. If you're not sure what your snowboard boot size is, consider checking with a local outfitter. Get fitted for boots so you have a better sense of what size boot you'll need.
Low profile snowboard boots are available for those who wish to rip a little harder. These boots are less intrusive and provide more space for the board to edge and carve before the toe or heel of the boot trenches out.
For more optimization and customization you'll probably want to wait until you're an advanced rider. Snowboard packages usually don't offer tons of customization – they're meant to keep things simple.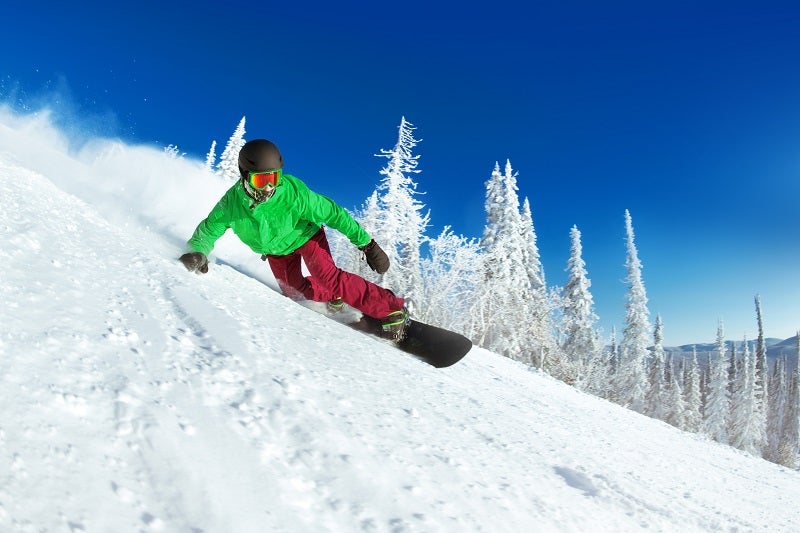 Snowboard Width and Boot Size Chart
| | | | | | | |
| --- | --- | --- | --- | --- | --- | --- |
| Boot Size (US Men's) | -- | 7.0 - 9.5 | 8.5 - 10.5 | 9.5 - 11.5 | 10.5+ | |
| Boot Size (US Women's) | Up to 6.0 | 8.0 - 10.5 | 10+ | -- | -- | |
| Board Waist Width (mm | 225-235 | 246 - 250 | 251 - 254 | 255 - 259 | 260+ | |
| Snowboard Width | Narrow / Women's | Regular | Regular | Mid-Wide to Wide | Mid-Wide to Wide | |
It just won't do to have your snowboard boots and bindings hanging over the edge of the board. If your toe side or heel side are dragging in the snow when the board is on edge, it can create dangerous drag and loss of control.
Snowboard width should be such that the toe and heel of your boots are just barely sticking over the edge of the board when mounted.

Types of Snowboards
So what types of boards are available and how do they vary in sizing?
Powder boards
These boards are wider and longer than other boards, generally. They're meant to float in deep, soft powder. Because of this, powder boards require larger surface area to stay afloat.
Freestyle Boards
Generally short, twin tipped boards. They may be truly symmetrical because they're meant to be ridden both regular and goofy equally. These are good choices for terrain park riding.
All-Mountain Boards
These boards are ideal for any situation or condition. They're supposed to perform well no matter what the mountain throws at you. That means they're usually a blend of all snowboard features.
Freeride Boards
These make good choices for off-trail conditions. These boards are built to explore the mountain and make the off-trail world a playground. They excel in trees, powder, and variable conditions. They generally feature a directional preference and a longer profile.

Snowboard Shapes – Which is Right for You?
Boards can be shaped and profiled in many ways. Depending on your riding style and preferences, you may want to consider a specific board shape to make the most of your riding.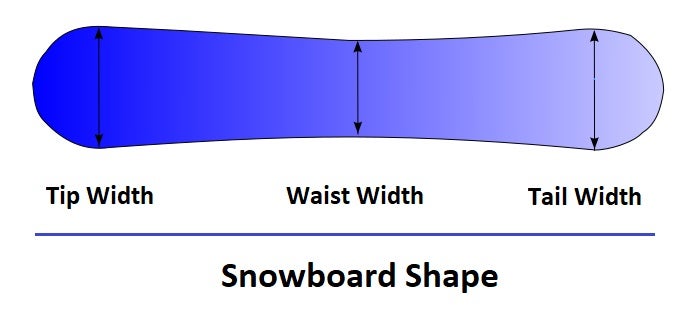 Twin Tip Boards
Are truly symmetrical designs where the tip and tail of the board are mirrored exactly. They ride the same in either direction and make a good choice for the terrain park.
Asymmetrical Boards
Come in just about any shape you can imagine. The stiffness, width, and shape may change dramatically from tip to tail. Asymmetrical snowboards can be made so that they have a toe side or heel side preference.
Directional boards
Have a preference for being ridden forwards. Riding switch is usually not a good idea, or not even possible with directional boards. Directional boards are common in freeride situations.

Rocker and Camber Explained
What in the world is rocker and camber? Don't worry it's not rocker science. Ha!

Rocker is the upturned banana shape of a snowboard. It's the U shaped bend in a snowboard that causes only the center of the board to touch the snow. A truly fully rockered board would only make contact with the snow in the center, while the tip and tail bend up and away.
Rockered boards are slippery and buttery, they switch from regular to goofy more easily. However, they lack solid edge contact on the tip and tail which makes edged turning and carving difficult or impossible. Rocker is usually best in applications such as terrain parks.
Camber is the opposite of rocker. A truly cambered board would look like an upside down U shape where only the tip and tail touch the ground. Camber is common in almost all snowboards and is usually blended with rockered tips and tails.
Camber causes the tip and tail of the board to apply greater pressure to the snow when weighted. This increased positive edge grip and edge hold.
Particularly useful for groomed trails, hardpack, and ice. Camber facilitates edge hold during carved turns as well.

Snowboard Flex – What is it?
Boards always have a flex rating. Flex is just a measure of how hard it is to get the board to bend or change shape. Flex ranges from soft to stiff and anywhere in between.
Soft flex boards are best for beginners because they make turning and controlling the board easier. As snowboarders progress, stiffer boards may become ideal for certain situations.
Stiff boards have tons of power and edge grip. For advanced boarders, stiffer boards can offer improved performance in many cases.
For beginners or intermediates something on the soft side of the flex spectrum is probably the most ideal option.

Sidecut and Turn Radius

Sidecut simply refers to how much variance in width exists between the tip, tail, and center (waist) of the board. Sidecut makes the snowboard take on an hourglass appearance when viewed from above.
Sidecut is an important feature that plays a huge role in how agile the board is when on edge. Snowboards with tons of sidecut will turn sharply when properly edged.
Snowboards with less sidecut are a little more sluggish when edged.
Sidecut also reduces the overall surface area of the board. This is ideal for agility and stability on hard packed snow, but it may cause boards to sink in powder.
For that reason you'll notice that off-trail boards such as freeride boards tend to have less sidecut than those meant to rip it on the groomers.

Conclusion
We've put enough different types of snowboards and packages to appeal to almost any type of rider. If you're just getting started a package can make things easier and quicker as you learn the sport.
Spend more time learning to ride and less time trying to figure out what to buy when you pick up a package deal!
Ladies have options on our list as well. Boots, bindings, and boards are all designed a bit different for men and women's boards so it does make a difference.
Remember that the board you pick does depend on what kind of riding you want to do. Revisit the how to choose section and read about board types, board shapes, and sidecut.
These factors are different between all the boards we've chosen. Making sure you select the board that matches your riding style will mean an enjoyable snowboard that will remain a companion for years to come.
---
I hope this guide was helpful for finding the best snowboard package to fit your needs. If you want to comment or recommend a package I didn't include, please use my contact form to get in touch.
Have fun and be safe!
How We Researched
To come up with the best snowboard packages, we researched a variety of sources for reviews such as REI, Backcountry, Moosejaw, EVO along with our own personal experience.
We also consulted online magazines for product research and reviews to get as much unbiased information as we could. To help weed out fake reviews we used Fakespot.com to make sure we only looked at genuine reviews.
With so much quality gear available, we had to narrow it down based on what we felt were the best options were for the price. The author, Casey Fiedler was a full-time ski instructor for Park City and The Canyons in Utah.
To help narrow down the selection he used his personal experience along with recommendations from fellow ski instructors.
After extensive research, we came up with our list to help you choose the right one for you.
Sources
Notice:
OutsidePursuits.com is a participant in the Amazon Services LLC Associates Program, an affiliate advertising program. OutsidePursuits.com earns fees from products sold through qualifying purchases by linking to Amazon.com. Amazon offers a commission on products sold through their affiliate links.