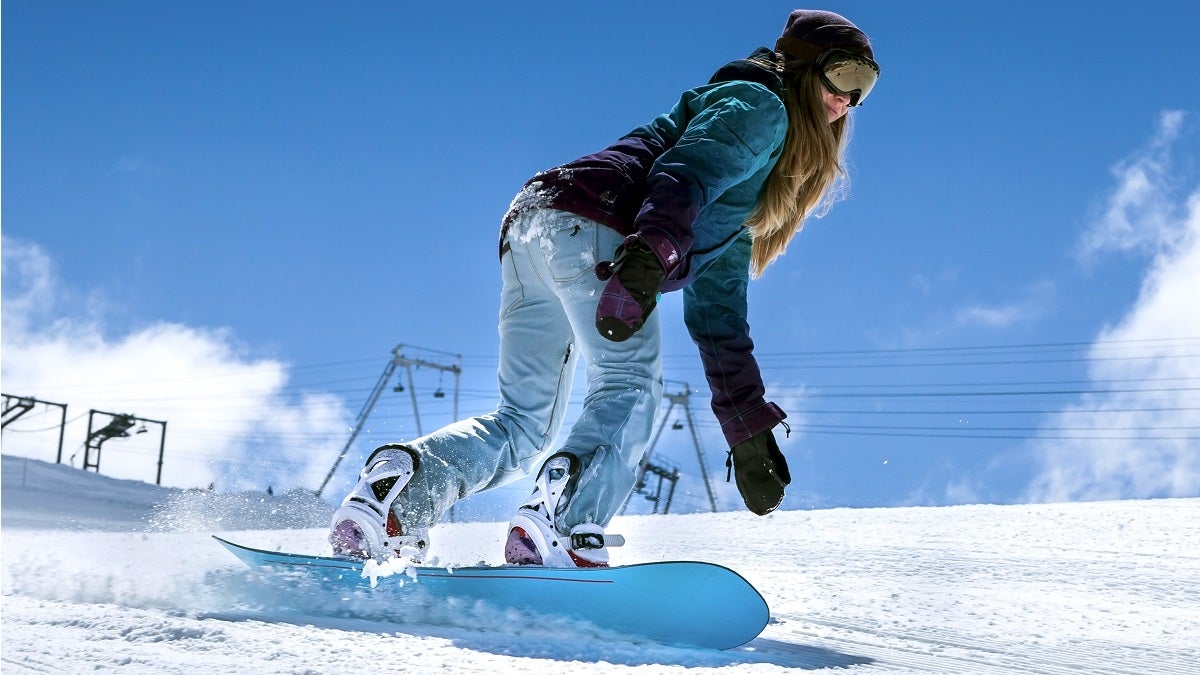 Our Editors independently research, test, and rate what we feel are the best products. We use affiliate links and may receive a small commission on purchases.
So, you've decided you're going to learn how to snowboard – how exciting! Snowboarding is a thrilling experience for both the mind and body, but you'll need some tips to know how to get off on the right foot and make the most of your time.
We've decided to use our own experience along with tips that have helped others to compile a detailed guide for you. By the time you're finished reading, you'll know exactly what your next steps will be to be a confident snowboarder in no time!
1. Clothing
First things first, you have to have clothing that will keep you warm, dry, and comfortable. Let's take a look at the main articles of clothing that you'll need before you head up to the resort for the first time.
Jacket
This is an absolute necessity – you cannot go snowboarding without it. A good snowboarding jacket is more valuable than any other piece of clothing you're going to need so pay attention here. You need something that will work with your body type so if you're a female you may want to also check women's snowboard jackets as well. These are designed for the wider hips and narrower waist and shoulders that the female figure features.
These are waterproof and windproof to keep out any moisture and cold temperatures/wind from getting inside while being breathable enough to let our excess heat and moisture from the inside. They're durable enough to resist against ripping or holes, while still being flexible enough to allow for a complete range of motion in your upper body which is essential for all types of snowboarding.
Snowboarding Pants
Next up, you also need snowboarding pants. Don't even think of going up to the mountain in a pair of jeans, leggings, or anything else except for actual snowboarding pants. These pants are made to be able to take the beating you're undoubtedly going to give it from the countless falls you're undoubtedly going to make.
Snowboarding pants hold extra pockets to keep your lift passes, cards, IDs, and more handy. Not only that but they're made of almost the same materials as snowboarding jackets so you can expect them to keep moisture and the cold out. Some are insulated but most are not, so you may choose to wear thermal leggings underneath. That's all up to your personal preferences and the specific weather conditions of your ski resort.
Gloves
We never recommend going out in the snow for more than 10 minutes without gloves, let alone an entire day speeding and falling down a snowy mountainside without them! These gloves will keep your fingers warm, dry, and protected against hard objects like ice, rocks, trees, and your board.
Trust us when we say that it'll only take you one time of hitting your ice-cold finger on the edge of your board or scraping them on your bindings to learn your lesson. Not only that, but gloves offer an incredible grip you won't have when your hands are cold and wet.
2. Snowboard Gear
Next up, is the gear you need for snowboarding aside from clothing.
Snowboard
First things first, you're going to need a board to actually snowboard! A beginner board is what you need. These are easier to ride fakie or regular, meaning that the nose and the tail are identical and just as easy as the other end to ride down the mountain.
Just remember that a beginner board doesn't mean a low-quality or amateur board. These are actually made by the best snowboard brands in the world, so you can rest assured you're receiving a quality piece that will help you improve your skills rapidly and effectively.
Bindings
Bindings are what connect your body to the board, so needless to say they're pretty important! These are where you strap your feet in, or in some cases "snap" your feet in. The most common and reliable types of bindings are the traditional kind with two or more straps to secure your boots.
There are other "step-in" kinds that require a special boot that locks into the binding. These do not have highbacks which are crucial for butter and control, no matter what level of snowboarder you are.
With that being said, we recommend the standard bindings. They're simply more functional and secure, and when you're dealing with barreling down a mountain at full speed, you need both.
Boots
That brings us to our next piece of necessary gear: boots. Snowboarding boots are what keep your feet protected – not only against the cold snow and wind, but against them rubbing on your bindings. They are nice and thick, and perfectly insulated. If you've ever gone skiing before, you'll also find they're much more natural and easy to walk in than ski boots.
You'll almost always find that they close with laces so you can get a snug fit that will support your ankles and lower legs to offer more control while buttering, doing tricks, etc.
Note: If you don't want to worry about buying all of them separately, you can make it easier on yourself and simply purchase an entire snowboard package which includes the board, bindings, and boots already!
3. Learning
Let's imagine that you now have all your gear ready to go. How are you going to learn? Many people wonder, "Is snowboarding hard to learn?". It's not necessarily hard to learn though you need to be prepared to take some falls. After the first few times you head up to the mountain, you can expect a lot more fun. While it does require a bit of pain at first, it's more than worth it!
To make this process easier, we recommend taking at least a couple snowboard lessons the first couple of times you go to the resort. Your instructor will help orient you on how to use the board, how to fall properly, get up, get on and off the ski lift, how to turn, stop, and more. This is much better than going into things blindly or relying on a friend to help, who may not be a very good teacher or dedicated to help you learn.
Occasionally, you can find deals on snowboarding lessons if you go with a group or if it's your first time up. We recommend contacting your ski resort or even head to a snowboard shop where they can help fill you in.
Summary
Now that you know how to get started snowboarding, we are sure you're impatient to get up to the mountain. Snowboarding is an incredibly rewarding sport and is a great way to make friends and keep your body in shape. We hope that our guide has helped guide you to where you need to go and that you're already feeling more confident. Thanks for joining us, and we'll see you again shortly!
Notice:
OutsidePursuits.com is a participant in the Amazon Services LLC Associates Program, an affiliate advertising program. OutsidePursuits.com earns fees from products sold through qualifying purchases by linking to Amazon.com. Amazon offers a commission on products sold through their affiliate links.