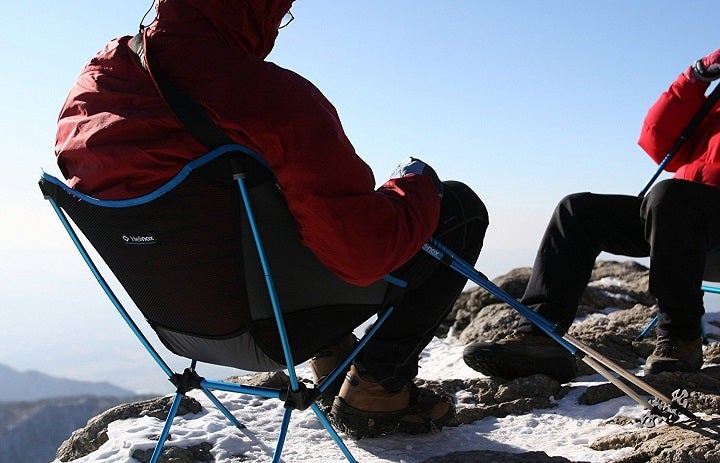 Our Editors independently research, test, and rate what we feel are the best products. We use affiliate links and may receive a small commission on purchases.
Just because you're are in the backcountry doesn't mean you can't enjoy some comforts like sitting around the campfire in comfort.
All you need is the best backpacking chair that combines lightweight, small packed size and is comfortable.
Unfortunately, this is not an easy combination to find so to make it easy, Outside Pursuits has put together this guide to assist you.
Best Backpacking Chairs
| | Big Agnes - Helinox - Chair One | Mountainsmith Sling Back Chair | TravelChair Slacker Folding Tripod Chair |
| --- | --- | --- | --- |
| | | | |
| | | | |
| Design: | Folding chair with 4 legs | Rollup reclining | Folding tripod |
| Capacity: | 320 Pounds | Depends on hiking poles used | 275 Pounds |
| Packed Size: | 14" x 4" x 5" | 14.75" x 3" x 4" | 24" x 3" x 3" |
| Weight: | 2 Pounds | 4.75 Ounces | 2.1 Pounds |
| | | | |
For more of my backpacking gear recommendations, have a look through these popular Outside Pursuits guide links: Sleeping Bags, Sleeping Pads, Backpacking Tents.
Quick Answer: The 5 Best Rated Backpacking Chairs For 2021
Let's take a look at the top rated backpacking chairs, then we'll talk about how to choose the right one for your needs in our buying guide below.
---
Backpacking Chair Reviews
Helinox, best known for their backpacking tents have created what I consider the best backpacking chair. Super light, weighing less than 2 pounds and supporting an amazing 320 pounds!
They were able to do this by using a strond 600D polyester fabric and an anodized aluminum frame that does not rust or corrode.
Expand To See MoreSee Less

The Helinox will fold up to the size of roughly a newspaper at 14" x 4" x 5" but what I really like is how easy it is to setup. The support poles fit into small pockets on the corner of the chair, similar to a tent.

Quick and easy to do, even in the dark you will be relaxing in minutes enjoying the campfire. The Helinox is a versatile chair, equally at home in the park, beach or a campfire.

Hard to go wrong here, highly recommended.

Helinox Backpacking Chair at a Glance

:
---
Design: Folding chair with 4 legs
Weight Capacity: 320 Pounds
Packed Size: 14″ x 4″ x 5″
Weight: 2 Pounds
---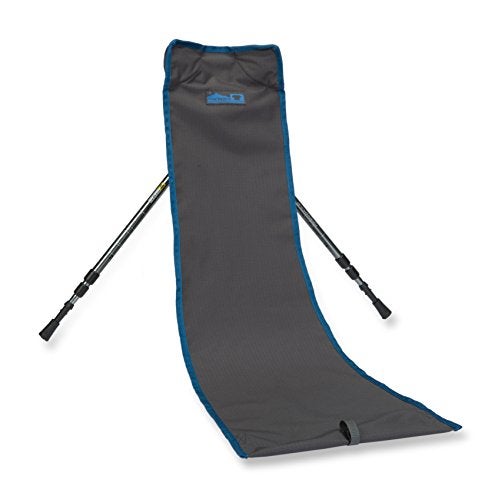 Here we are looking at the absolute smallest and lightest "chair" you can buy. I say "chair" because its more like a recliner because there are no legs and you sit on the ground with it.
This has some major advantages, namely it weighs less than 5 ounces and rolls up and fits in a tiny pouch that will fit in any backpack.
Expand To See MoreSee Less

Since there are no legs the chair requires you to use hiking poles for back support. You cannot just use any hiking poles however; they have to be collapsible hiking poles.

You can lean back and relax in comfort with the Mountainsmith, the 610D Cordurra fabric is light and strong.

If you are looking for a minimalist backpacking chair, you have found it with the Sling Back.

Mountainsmith Sling Back Chair at a Glance

:
---
Design: Rollup reclining
Weight Capacity: Depends on hiking poles used
Packed Size: 14.75″ x 3″ x 4″
Weight: 4.75 Ounces
---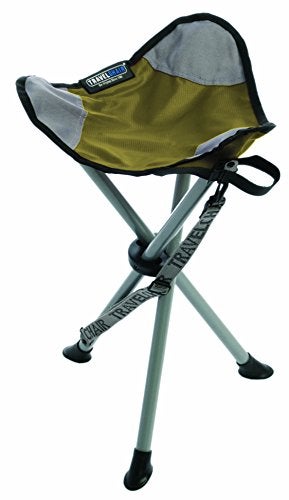 Almost identical in size and weight to the Helinox, the Slacker hiking chair is a different design however. This is a tripod chair so its not quite as stable or comfortable in my opinion.
You cant get much easier setup than the Slacker, unfold the legs and insert them in the edge pockets. Setup time is measured in seconds so you can take a load off quickly after a long day of hiking.
Expand To See MoreSee Less

The Rip Stop polyester and powder coated steel chair will support up to 275 pounds.

One feature I really like is the "duck billed" feet, wider than the feet on most other chairs, they won't sink into soft soil or sand. This makes it ideal to take to the beach as well!

The Velcro strap keeps the chair folded up so it can be easily put in your pack or clipped on the side.

The Slacker is UV resistant and the powder coating prevents rust, this chair will last you a long time.

TravelChair Slacker Folding Tripod Chair at a Glance

:
---
Design: Folding tripod
Weight Capacity: 275 Pounds
Packed Size: 12″ x 3″ x 3″
Weight: 2.1 Pounds
---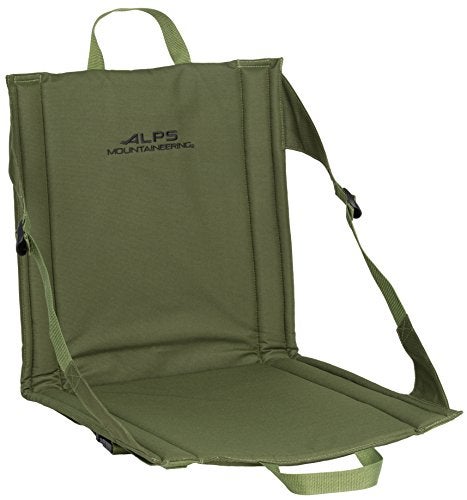 The Weekender is possibly the most versatile backpacking chair on our list. It's equally at home in the stadium, canoe or in the backcountry.
While you have to sit on the ground, at least you have a ½ inch of padding so you are not sitting in the dirt and is surprisingly comfortable.
Expand To See MoreSee Less

Weighing just a bit over a pound it's one of the lightest options on the market and definitely the easiest to use. Flip it open and your ready to have a seat.

The sturdy, adjustable straps will allow you to sit back and relax.

A feature I really liked was the mesh pocket on the back of the chair to keep some reading material, or gadgets handy and from getting lost.

Fold it, or roll it up, the Weekender is ready to go anywhere on your next adventure.

ALPS Mountaineering Weekender Seat at a Glance

:
---
Design: Folding bleacher style seat
Weight Capacity: N/A
Packed Size: 17″ x 33″ x 0.5″
Weight: 1.3 Pounds
---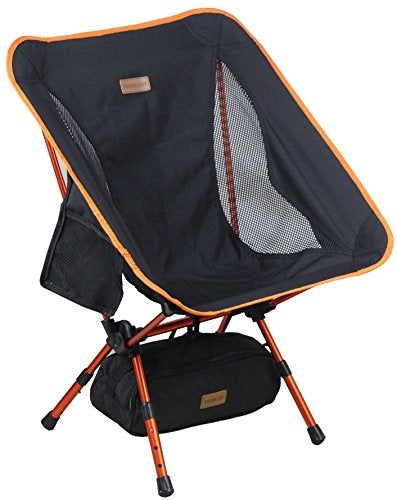 The Trekology backpacking chair has a very similar design to the Big Agnes Helinox. It has one feature I would have like to have seen on it and that's it adjusts in height.
Not a whole lot, it adjusts from 25, 26 or 27 inches high, just enough so that you can find the right height for you.
The chair is light at about 2 pounds, made from 600D nylon with anodized 7075 aluminum poles and supports an amazing 300 pounds!
Expand To See MoreSee Less

The chair folds up into a compact 14 inch long travel pouch that clips on or fits in your backpack for easy portability.

The Trekology is quick to setup, unfold the poles and insert them in to the fabric pockets, it can be setup in less than a minute, even in the dark.

If you have back issues, the Trekology offers good back support and extremely comfortable. If you are looking for the best hiking chair that is versatile and lightweight the Trekology is a great option.

Trekology Portable Backpacking Chair at a Glance

:
---
Design: Folding chair with 4 legs
Weight Capacity: 300 Pounds
Packed Size: 11″ x 4.5″ x 3″
Weight: 2 Pounds
---
How to Choose the Best Backpacking Chair

Comfort
Its pretty obvious that if you have been hiking all day with a heavy pack on your back, sitting on a rock would be comfortable but compared to sitting in a full sized camping chair then a backpacking chair will seem pretty primitive.
That's not to say some of the latest designs are not surprisingly comfortable. New materials and designs make these chairs a pretty good option.

Versatility
Ideally a backpacking chair can be used for more than just backpacking, especially when your spending around $100 you would like to be able to use it for other purposes.
Several of the chairs reviewed are suitable for taking to the park, beach or even tailgating. The only one that probably would be considered only a "backpacking chair" would be the Mountainsmith Morrison because it needs hiking poles to be usable.

Weight/Size
Without being too obvious, with a backpacking chair, lighter is better. Last thing you need or want is a heavy camping chair hanging off your pack. The latest designs can foldup and almost fit in the palm of your hand while weighing under a pound!
A smaller the chair also gives you greater versatility because now you can take it into sporting events in your purse or a small backpack.

Stability
Another important consideration that you might not consider is how stable the backpacking chair is. If you are looking to kick back and relax and not have to worry about tipping over, then a chair like the Big Agnes Heliox is the best option.
Whereas the Travel Chair is incredibly light and small but you really cant sit back and relax. A chair with a wider stance and 4 legs will give you pretty solid stability even on uneven terrain.

Setup
After a long day of hiking the last thing you want or need is to have to deal with trying to get a chair setup so you can relax, especially in the dark! The absolute simplest design is the ALPS Mountaineering Weekender, just flip open and you are set!
Only problem is you are sitting on the ground, this might not be a good scenario, especially if the ground is at all wet. All of the other ones on our list require a minimum of setup, usually just unfold the legs and attach the fabric seat.

Is a Backpacking Chair Necessary?
You may consider that you don't really need a separate chair to lug along. You have the option of putting your sleeping bag against a tree and be comfortable. Not a good option with wet ground or if there is nothing around to lean against.
However a backpacking chair being specifically designed for sitting are going to be much more comfortable and convenient.
---
I hope this guide was helpful for finding the best backpacking chair to fit your needs. If you want to comment or recommend a chair I didn't include, please use my contact form to get in touch.
Have fun and be safe out there!
Notice:
OutsidePursuits.com is a participant in the Amazon Services LLC Associates Program, an affiliate advertising program. OutsidePursuits.com earns fees from products sold through qualifying purchases by linking to Amazon.com. Amazon offers a commission on products sold through their affiliate links.