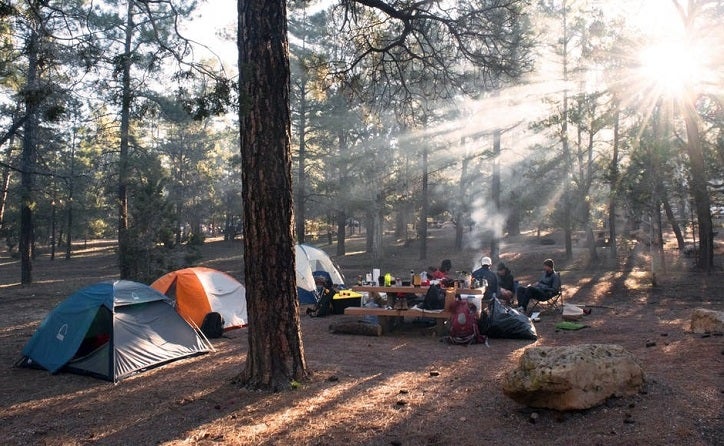 Our Editors independently research, test, and rate what we feel are the best products. We use affiliate links and may receive a small commission on purchases.
When you camp with your family, there's a few things you look forward to. You lay out among the trees with skies lit only by stars. You are wrapped in your sleeping bag to the hum of crickets in the brush.
A stunning mountain view. All these and more would be reason enough to pack the car and hit the nearest campground with your family this season. And what better way to spend some quality time with the kids?
Whether you're planning to share a favorite outdoor hobby with your child or just looking to get them in the fresh air, it's hard to beat the hands-on rough n' tumble of a family camping trip. Plus, you're guaranteed to make a few treasured memories along the way!
Before you can start roasting marshmallows and hot dogs over an open fire, put up your "Gone Fishin'" sign at work and get start preparing the family for the trip. Here's a few things you might need to make the trip as smooth as possible for you and your family.
Find The Right Campsite
The first thing you should do is find the best campsite for your family to visit. Finding a decent campsite is possibly one of the most crucial decisions you'll make (apart from remembering to bring your bug spray). This will take the most research depending on where you'll be driving from or where you live.
Thankfully, there's an abundance of national parks, campgrounds, scenic sites, and gorgeous drives for you to choose from all over the map. Take the time to explore these options — compare campsites side-by-side to see which ones have your needs.
For many campsites, you'll need to book a reservation in advance. Campground space is limited, especially on weekends. Think about everything you'll need to answer the question of just how much "roughing it" you'd like to do.a
For novice campers, picking a campground that's a little less remote may be your best option. Plenty of state and national parks and organized campgrounds have such amenities as running water, showers, toilets and cooking grills that make camping just a little simpler for the less experienced camper or for families with young children.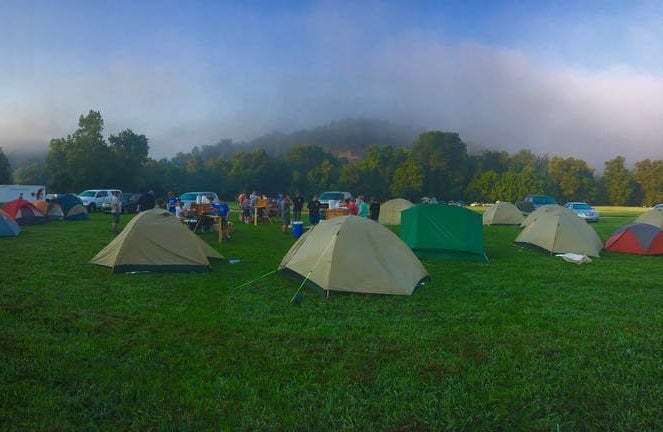 If you'd like to do a little hiking, or explore a neighboring town, make sure you have set up camp closer to your desired activities.
For families with older children, or more experienced hikers and campers, a more remote campsite may be your next challenge, especially if you plan on spending most of your time in and around the site.
Anyone who likes hiking or off-roading might be able to find camping spots you normally wouldn't be able to access. If you and the kids are giving it a shot out in the wilderness or off a trail, keep in mind there will be plenty of hiking to and from the campsite, a reality that might be a little tough when you have tired kids in tow.
Do A Trial Run
If you are a novice camper, a long weekend trip may be inappropriate for you, especially if you bring the kids along for the ride. In that case, what might be best is an overnight or day trip.
Make a reservation at a nearby beach, lakeshore or park, or just drop by for the day to acclimate you and your family to the outdoors (and maybe bake a few potatoes over the fire).
Take this time to teach your family members about the ins and outs of camping, or figure it out for yourself. If you've never put together a tent before, now's the time. This is especially useful if you've recently purchased a new tent too.
Learn how it works and what makes it tick — how do you get it to be sturdy enough to stand the night? This is also a good time to figure out if you need more sheets or padding to make it easier to lay on. Is it enough room for everyone in your family, or is it going to be cramped?
Should you buy a different tent? Do you need mesh to prevent insects from entering the tent? It's during this dry run that you should take the time to practice, especially before a long weekend.
This is the perfect time to think about the itinerary for the camping trip too. When are you going to eat? How will you cook anything? What pots, pans, and other food items do we need to prepare before we arrive?
Do we have enough water? Where will everyone sleep? A lot hinges on this trial run for novice campers. Even if you are testing it out in your backyard, bring a notebook along with you and take a few notes so you're prepared for your next outing, and pack plenty of snacks.
Leverage your car as best as you can. If you have space in the trunk, use it. If you are looking for things to do, perhaps pop in a movie or TV show on the way to and from the campground. For anyone not quite used to sleeping in a sleeping bag or a tent, think about letting them sleep in the car.
If your kids are new to the idea of camping, you might try a night camping out in your backyard so you can ease them into it. Getting your children used to sleeping or playing in a tent will help them become more comfortable with the idea of camping away from home.
Gear Up
You'll probably have a good idea of the gear you'll need after a trial run, but the longer the trip, the more potential for mishap.
If you have picky eaters, you might want to make a meal plan with a few choice foods to ensure happy campers, or if you have a child who's constantly on the go, you might consider a few fun activities to keep her occupied.
Whether you're going out on your first trial trip or spending a few days at a campsite, you'll need at the minimum:
First aid kit
Batteries
Flashlights
Rain Gear (coats, ponchos)
Food and snacks (such as granola bars and trail mix)
Water and water containers
Bug spray
Sunscreen
Tarp
Whistles
Extra clothes
Here's a list of more things to pack, from tent equipment to everyday essentials. Always be sure to plan for bad weather, even if the days ahead look to be clear.
Consider giving your child a list and letting them pack a few things as well, to give him a little more responsibility during the trip. Have them pack a few toys or games that might help them stay occupied and comfortable.
Make sure you've got plenty of trunk space for your trip, too, so you don't miss any essentials. Roomy SUVs like the trusty Chevrolet Suburban and the Ford Expedition are known for their carrying capacity, leaving plenty of room for your tent and maybe even a rambunctious family dog.
Overall, be sure to follow the Boy Scout motto: Always Be Prepared!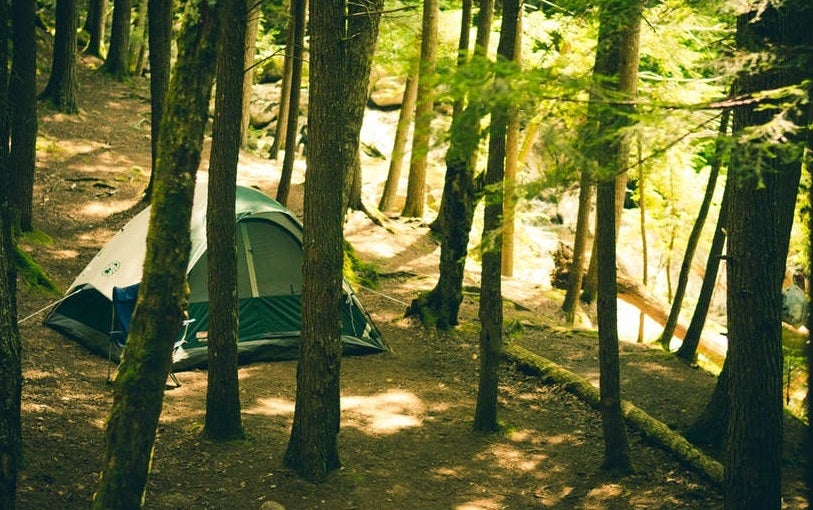 Plan For A Long Drive
Maybe you're more of a city slicker than country mouse–and as a result, your campground is more of a long-haul road trip than a quick getaway. Classic family road games like Padiddle or the License Plate Game can help pass the time for restless kids.
But you may opt for more high tech solutions–if you happen to be driving with a 10-speaker sound system like the one in the Ford Escape, you might find kids occupied with podcasts, or DJing their own music for the ride.
Some kids may loath to give up creature comforts for too long and become antsy with a full day's drive. A car like the Toyota Highlander hits the mark with a rear seat entertainment system, as well as a roomy trunk for lots of gear and snacks.
If you're looking to hit the road a little longer and catch a few sights on the way to camp, here's a few ideas to get your family road-ready for the summer.
Stay Organized And Safe
You don't have to plan every minute for the trip to be a success–but be sure to stay organized! Encourage your children to return items to a designated bag or location to make sure essentials are always easy to find. Have a few ideas for activities at the ready for days ahead to orient your family.
Be sure to instruct them on proper safety habits, such as carrying a whistle and flashlight in case they get separated from you. Point out important landmarks from your campsite to help your child memorize your site's location. If you plan on bringing your dog with you, here are some suggestions.
Have Fun!
Most of all, be sure to have fun! If you're by a body of water, bring swimsuits and pool toys. If you're taking your kids on a hike, point out plants and animals of interest. Bring a few games and toys to while away the hours–but come prepared with a few ghost stories to tell around the campfire at night!
Notice:
OutsidePursuits.com is a participant in the Amazon Services LLC Associates Program, an affiliate advertising program. OutsidePursuits.com earns fees from products sold through qualifying purchases by linking to Amazon.com. Amazon offers a commission on products sold through their affiliate links.