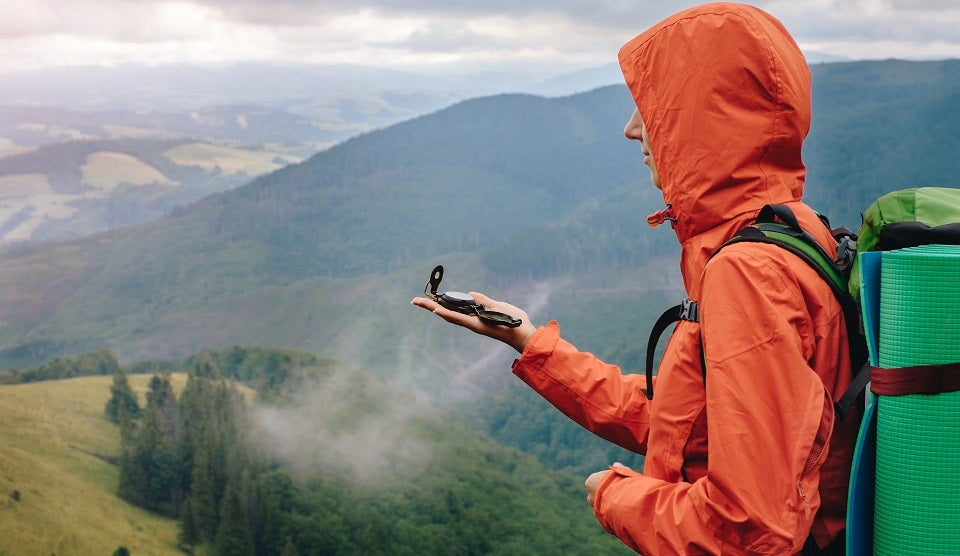 Our Editors independently research, test, and rate what we feel are the best products. We use affiliate links and may receive a small commission on purchases.
Windbreakers are among the most practical pieces of outdoor wear and you can use them for all kinds of outside activities. Their basic purpose is self explanatory — they block wind from your body.
The best windbreakers are lightweight, flexible and often brightly colored, they come in handy for runners, cyclists and hikers alike.
This guide will give you a clear idea of what kind of windbreaker is right for you.
Best Windbreakers
| | Outdoor Research Helium II | Helly Hansen Seven J | Arc'teryx Squamish Hoody |
| --- | --- | --- | --- |
| | | | |
| | | | |
| Shell: | 30D Ripstop nylon | Helly Tech 2 Ply fabric | 30D Ripstop nylon |
| Hood: | Adjustable hood | Adjustable hood | Adjustable hood |
| Pockets: | Chest pocket | 2 Hand pockets | Chest pocket |
| Weight: | 6.4 oz | 7.1 oz | 5.5 oz |
| | | | |
For more of my hiking recommendations, have a look through these popular Outside Pursuits guide links: Outdoor Watches, Hiking Shirts, Hiking Pants.

Quick Answer: The 7 Best Rated Windbreakers For 2021
Our guide and comparison table outline the key factors to take into account to help you get a top rated windbreaker jacket. So let's get started!
Windbreaker Jacket Reviews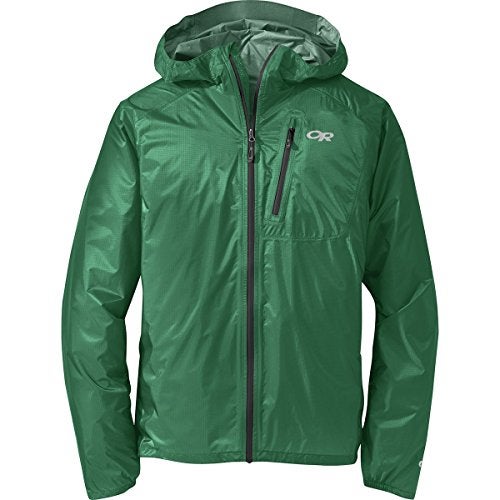 Outdoor Research Helium II at a Glance
:
---
Super lightweight, super compressible
30D ripstop nylon
Waterproof and breathable
Adjustable hood
Great for hiking
The Helium II serves its primary function as a windbreaker remarkably well, cutting out wind and complementing a layer strategy perfectly.
It is surprisingly waterproof considering the weight of it. Made with Pertex Shield+ 2.5L 30D ripstop nylon, it repels water well and is very durable. The taped seams add even more protection when it comes to both rain and wind.
The Outdoor Research Helium II comes with a lot of practical features. The Napoleon-style zippered pocket on the left breast keeps things reasonably dry even in rain. Inside the jacket, you'll find a velcro pocket which has a loop for keys.
Although the wrists are elasticated, you'll find that there are adjusters for the waist and hood. The hood itself cannot be stowed away, but whether you need this or not is really down to personal choice.
For storage, you can pack it into its own pocket, and even at these light and tiny proportions, you can still squeeze a little more air out and pack it discreetly in your backpack.
The Helium II comes in a variety of striking, almost metallic colors, such as lemongrass and aloe/charcoal. These are great for the trail, but have a quick think before you turn up to a dinner party in your new jacket.
All in all, the Outdoor Research Helium II is our Editors Choice for the best windbreaker someone who doesn't have to stick too close to a budget.

Women's Model: Outdoor Research Helium Ii Jacket
---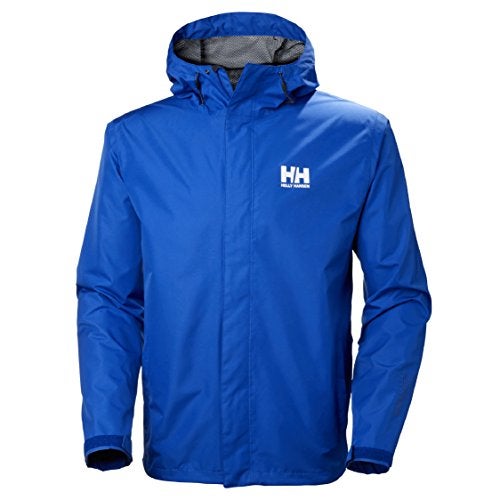 Helly Hansen Seven J at a Glance
:
---
Adjustable hood
Waterproof
Lifetime guarantee
Anti-chafe chin guard
Fully seam sealed
One of the heavier items on this list, the Seven J offers more in terms of keeping you dry. It uses HellyTech fabric, which is waterproof, windproof and breathable.
This means that although it is a windbreaker, it is suitable for sailing and other activities that are likely to give you more than just a quick splash.
Added to this fabric is a Durable Water Repellency (DWR) treatment which collects water into beads so they can be shaken off nice and easily.
As opposed to the Helium II, the Seven J has fully adjustable velcro cuffs to stop water sneaking in through the little gaps. The storm flap protects against wind affecting the zip area.
Around the neck is an anti-chafe chin guard and the seams are all sealed to make sure nothing gets in, while the quick-dry lining means a lot of perspiration goes out.
Design-wise, the Seven J comes in the classic Helly Hansen pastel colors. The lighter versions work well for visibility when you're out in nature, while the sleek, darker colors won't look out of place in walking around town.
The Helly Hansen Seven J is our choice for the best waterproof windbreaker. At around the hundred-dollar mark it's a great deal for this high-tech windbreaker.

Women's Model: Helly Hansen Women's Seven J
---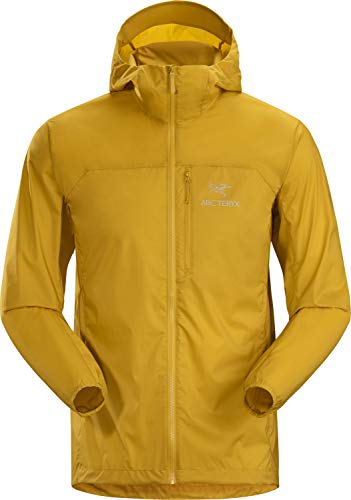 Arc'teryx Squamish Hoody at a Glance
:
---
Stores in its own pocket
Ergonomic design
Breathable material
Adjustable hood
DWR finish
Ergonomically designed with some of the highest quality materials on the market, the Arc'teryx Squamish Hoody is among the best breathable lightweight jackets you can find.
Arc'teryx have clearly focused on the fit, and the articulated elbows and gusseted underarms help with comfort when you're on the move.
Among the built-in features, you'll find adjustable velcro cuffs to keep weight down and the elements out. Drawstring hood and a waist adjusters keep the jacket tight to your body and facilitate movement.
Like the Helly Hansen model, the DWR coating makes it more resistant to water than many of its competitors.
The hood has enough room to fit over a helmet and the drop back hem is good for cyclists who spend their days hunched over.
Despite all the aforementioned features, the Squamish Hoody remains exceedingly light and packs up very easily in its own chest pocket.
Arc'teryx make the Squamish Hoody in a variety of bold, pastel colors to choose from.
Other jackets in this list work better in wet conditions, but as a breathable windbreaker, it is hard to beat the Arc'teryx Squamish Hoody. It is slightly more expensive than rival windbreakers, but the materials used and the build quality more than justify the cost.

Women's Model: Arc'teryx Womens Squamish Hoody
---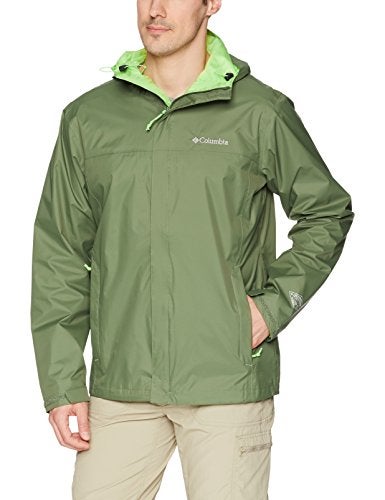 Columbia Watertight II at a Glance
:
---
Waterproof and breathable
Adjustable hood
Side pockets
Stores in its own pocket
As its name suggests, the Columbia Watertight II offers excellent performance in wet weather as well as in the wind. The Omni-Tech Waterproof Breathable material is very impressive, and users report that it stands up incredibly well to rain.
Made up of two layers, the Watertight II has a polyester mesh interior with a nylon shell, so is machine washable.
Drawstring adjusters help with fitting the waist and hood, and the hood itself is easily big enough to keep your head protected from the elements, but cannot be stowed away into the collar.
Most windbreakers choose to keep pockets to a minimum as the zip can let cold breezes through. Most use a Napoleon-style breast pocket, but the Columbia Watertight II sacrifices this for two side pockets, giving you ample room to keep accessories.
One of these pockets, with a "packable" label on it, is where you can stuff the Columbia Watertight II away.
Available in all of the classic outdoorsy colors, the Columbia Watertight II has a choice for everybody.
This is slightly heavier than the more sport-focused windbreakers in this list, but as a light, waterproof hiking jacket, the Columbia Watertight II is one of the best budget windbreakers on the market.

Women's Model: Columbia Women's Arcadia Ii Jacket
---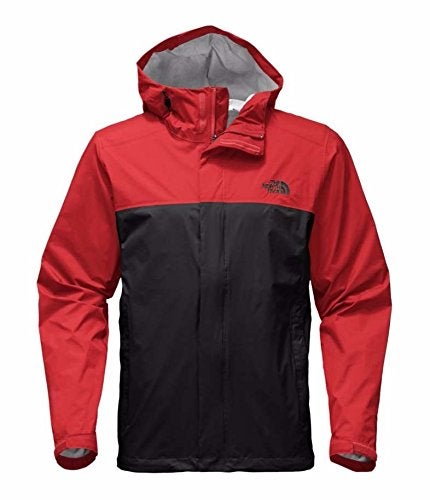 The North Face Venture 2 at a Glance
:
---
Stores in its own pocket
Pit zips
Waterproof and breathable
Lifetime guarantee
Hood leaves room for helmet
Compared to the 15D Ghost Lite, the North Face Venture 2, at 40D, is far more focused on protection than keeping weight down. With a DryVent 2.5 layer shell, it exceeds its role as a windbreaker and works almost at the level of a light waterproof jacket.
It is durable too. The ripstop fabric on the exterior means it can handle a bit of wear and tear, but does make the Venture 2 one of the heavier windbreakers.
The DryVent shell has integrated pit zip vents to get the balance between waterproofing and breathability.
As it is slightly heavier, not to mention thicker with its two-ply material, than others on the list, it is primarily aimed at hikers who won't need to put as much emphasis on weight. However, the hood does leave room for a helmet, should cyclists need to keep their head dry.
The North Face supply the Venture 2 in around 25 different designs, including many two-tone colors.
As you would expect from The North Face, the Venture 2 is a fantastic product which combines quality materials, functionality and a very reasonable price.
Top quality fabrics and high on practicality, the North Face Venture 2 is a brilliant jacket and great value for money.

Women's Model: The North Face Women's Venture 2 Jacket
---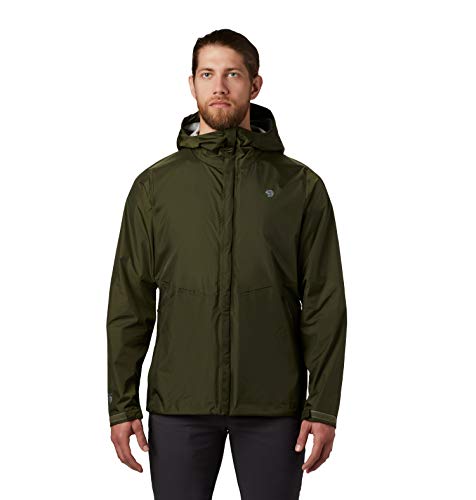 Mountain Hardwear Acadia Jacket at a Glance
:
---
Stores in its own pocket
Stowable hood
Extremely light nylon fabric
Storm hood and velcro cuffs
Great for sports
If a sporty, lightweight windbreaker is what you're after, the Acadia is where you should be looking.
So light you could easily forget you're carrying it, the Acadia packs down into its own pocket and you'll still be able to squeeze a little more air out of it.
When not used for packing away the jacket, the pocket can hold keys, a phone and other devices you might want to use when out on the trail.
With weight in mind, Mountain Hardware have put an elastic rim on the hood, as opposed to drawstrings. You'll find the same feature on both cuffs.
While it isn't for everyone, those looking for a simple, lightweight jacket will appreciate the elastic edges over weightier drawstrings.
While it is not fully waterproof like some of the hiking windbreakers in this guide, the Acadia excels in weight. It is clearly made for athletes, who value something airy and lightweight over a sturdier windbreaker made with water and wind-resistant materials.
Made from Nylon fabric with a DWR finish and nothing that isn't strictly essential, it focuses more on being breathable than being waterproof.
The Acadia is similar to the Outdoor Research Helium II in both purpose and design. With almost-shiny finishes, it'll be a head turner no matter what.
At a very reasonable price and among the lightest windbreakers on the market, Mountain Hardwear's Acadia is a superb choice for runners, cross trainers and other athletes.

Women's Model: Mountain Hardwear Ghost Lite Jacket – Women's
---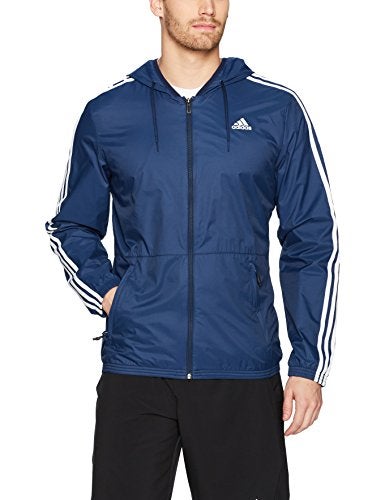 Adidas Essentials Wind Jacket at a Glance at a Glance
:
---
Adjustable hood
Classic Adidas design
Side pockets
Elastic cuffs and hem
Great for sports and casual
The Columbia Watertight II champions waterproofing, the Mountain Hardware Ghost Lite wants to weigh as little as possible and the Adidas Essentials Wind Jacket shows off in the fashion department.
Its unmistakable design and retro look is applied to recycled polyester, making it a good choice for the environmentally conscious among you.
The Essentials Wind Jacket is only available in a handful of colors, with each of them looking discreet yet cool.
But it's not all style and no substance. Users consistently praise the craftsmanship and the fit, which is impressive, especially considering that it is from Adidas' Essentials collection.
Although high on quality, the price is what you'd expect from Adidas' most basic line of clothing, making it the cheapest in this guide.
The Adidas Essentials Wind Jacket works as a windbreaker for runners with a full-length zip to regulate your temperature. The hem and sleeves are elasticated, while the hood is equipped with drawstrings so it can be adjusted to a snug fit.
Like the Columbia Watertight II, it has two side pockets with zips, rather than one Napoleon pocket.
Those of you who are looking for an inexpensive windbreaker that won't look out of place at the gym or in town, the Adidas Essentials Wind Jacket hits the sweet spot.

Women's Model: adidas Women's Essentials Wind Jacket
---
Windbreaker Jacket Comparison Table
How to Choose the Best Windbreaker Jacket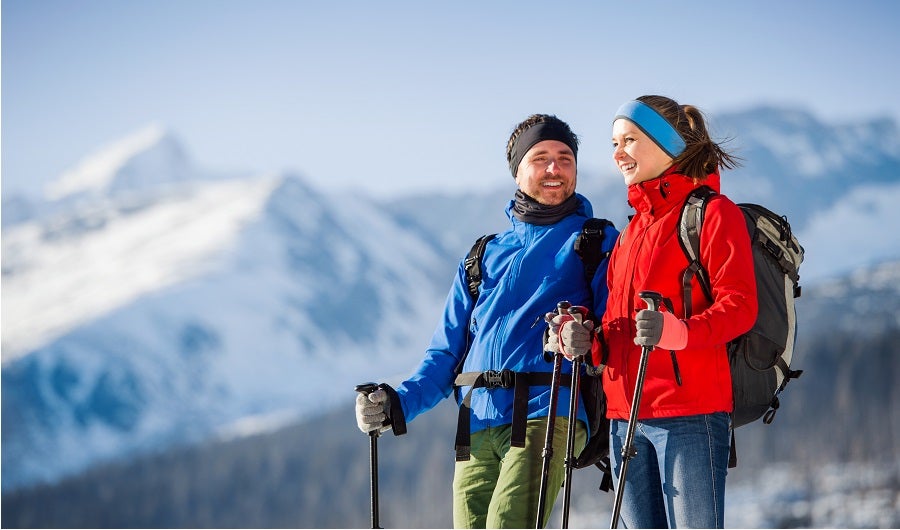 Choosing the best windbreaker for you entails knowing how its features can meet your demands. The items in this guide are suitable for all kinds of necessities, from working as a light, water-resistant jacket, to a casual top to wear into town in autumn.

What is your Windbreaker for?
Choosing a windbreaker is is relatively easy if you have a clear idea of what your windbreaker is for. We would recommend that you use your windbreaker in three kinds of situations:
As part of a layering system. They keep the wind off you and consequently improve the performance of your under layers.
On a warm day, as a top layer if wind or rain is expected.
As a shell when running, cycling or cross training.
My advice would be that the faster you are moving, the lighter you'll need your top to be. The slower you're moving (i.e. a day-long hike), the more time you'll be out in the elements, so a good level of waterproofing will be important.

Weight
Weight is among the most important factors when choosing a windbreaker. Since they were invented, the main concept of being a lightweight layer has not changed.
Things that affect the weight include
Toggles, zips and pockets
Heavy-duty materials, such as fabrics that are used for insulation or that are waterproof.
As I have mentioned throughout the guide, heavier windbreakers are usually more effective when it comes to keeping you dry in unexpected rain, but less breathable at the same time.
As such, a rule to go by is that if you're moving fast and using a lot of energy, go for the lightweight, more breathable models. If you're going slowly and are likely to feel a dramatic drop in temperature when it starts raining, move toward items with breathable, waterproof shells.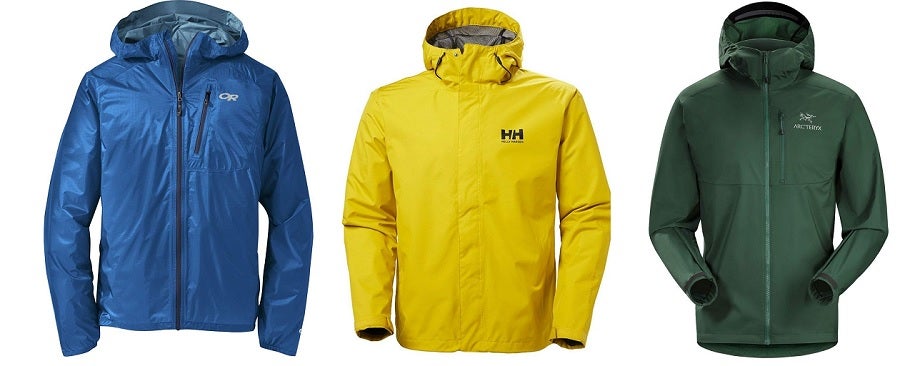 Waterproofing
Nobody wants to get rained on, that's a given, but try not to let a windbreaker being waterproof or not affect your decision unless it really has to. Windbreakers are on the whole designed to be lightweight and not too great in terms of waterproofing.
However, while they shouldn't really be used as a substitute for a full-on waterproof jacket, many of the products on this list have an impressive level of water resistance.
All of the items on this list will give you some protection against light rain, but cutting out the wind chill factor is what they're really for.
Hikers, who will be spending longer in the elements, should prioritize waterproofing slightly higher. I'm sure you've checked the weather, seen 0% of rain and then found yourself in an absolute downpour before. For this kind of situation, the items in this list that lean toward the waterproof market are ideal.

Breathability
But with great waterproofing comes not-so-great breathability. Athletes who are using their windbreaker as a little something extra to keep them warm on the trail can find that even Gore-Tex is not breathable enough for them.
This is why most windbreakers have a very low-denier fabric. This thinner nylon or polyester is no match for waterproof outer layers, but they keep the wind away while allowing for greatly increased breathability and movement.
Like with hardshell jackets, The North Face Venture 2 features pit zips, which are another way of increasing breathability. However, it is the only jacket on this list which has pit zips, as the more zips a windbreaker has, the worse it is at keeping wind out.

Hood
Whether you need a hood or not depends mainly on the sport you'll mainly be doing.
Runners often find a hood too bulky so would opt for a windbreaker either with no hood, or one that can be stowed away without affecting movement.
Cyclists, who have their head exposed for longer than runners may see a hood as an essential, but it can be difficult when it is blowing around in the wind, so there are two things to consider:
Can it be stowed away to avoid air resistance?
And does the hood have to leave room for a helmet and extra layers?
As you will have seen throughout this article, some of the windbreakers have hoods that have been designed with extra room especially for helmets. They are also often adjustable, so you can custom fit them to your needs.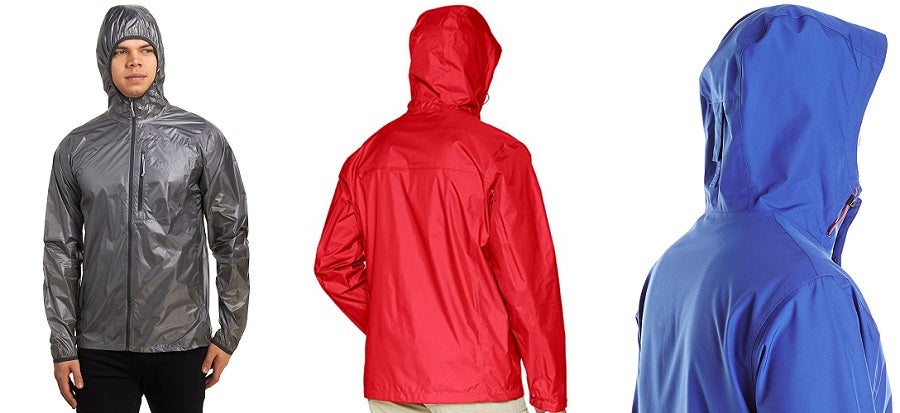 Fit
One key thing to take into consideration here is if you know the specific sizes that each brand uses. A lot of companies have their own guides, like this size chart from The North Face.
So you know what size will fit you, but now the question is: do you even want it to fit you?
As I mentioned above, windbreakers are very often used as part of a layering system, meaning you'll have to leave a bit of room if you want it to cover your other layers. You can easily test this by popping on your layers and measuring up as outlined above.
Another great idea is to pay attention to the Amazon comments section. You can get very detailed descriptions and even pictures from a range of people of different shapes and sizes talking about their own experiences.

Materials
Windbreaker jackets can span a broad swath of gear but the materials used for windbreakers are relatively predictable.
Nylon is commonly used. Nylon usually has superior wind and water resistance, compared to other materials. Its use is restricted almost entirely to hard shell type jackets. If you're looking for a fully waterproof rugged jacket, nylon is the best choice.
Polyester is most commonly used in softshell jackets. Polyester is a manmade fiber that excels at wicking moisture when used next to skin. Combined with good DWR treatment it is soft, flexible, and elements-resistant outer material.
Fleece is often added inside windbreaker jackets. With few exceptions, this material is almost always made from polyester as well. It's a great material to soften up the collars and neckline of windbreakers to reduce chafing.

Color
Surely choice of color i just personal choice! I hear you cry.
Well yes it is. But a bit of common sense advice for you runners and cyclists out there. If you're out and about at night, or when a fog comes drifting in, you're going to want to be visible. Choosing yellow or white would be your best options in this case.
What's more, both the Helium II and the Squamish Hoody have reflective logos for that bit of extra visibility when you need it most.
Apart from these safety tips, the color choice is just whatever takes your fancy. The vast majority of the tops in this guide have over five colors to choose from, and some have far more than 10. Happy browsing!

FAQs For Windbreaker Jackets
Q: Can I find a fully waterproof windbreaker?
A: A key thing to remember when choosing a windbreaker is that they are only really designed for what their name suggests. They are not intended to work like hardshell jackets, which are a defense between you and extreme conditions.
Therefore, as a general rule, windbreakers are not waterproof. They often use a DWR to provide protection from the rain, but aren't suitable for heavy rain. However, being thinner and without a waterproof layer, they do provide better breathability.
Windbreakers can protect against a bit of light rain, but on the whole, they are designed to keep out the wind chill without taking up much room or weighing you down.
Q: Will a windbreaker keep me warm?
A: Although windbreakers are among the lightest and thinnest layers on the market, they perform remarkably well when it comes to keeping you warm, keeping the wind off other items, such as soft-shell jackets.
Runners in mild conditions will find that they also work well over a nylon or polyester under layer. They keep the wind at bay, while body heat generated through exercise provides warmth. The key advantage for athletes is the balance between cutting wind out and breathability.
Q: How much does a windbreaker weigh?
A: Of course this changes, depending on size, but a simple answer is: very little.
It is difficult to find a windbreaker that weighs as much as one pound, and the vast majority are between two to five ounces.

Final Thoughts
Windbreakers can be a fantastic piece of kit to add to your wardrobe, whether you're going for a hike and want to keep the breeze off, or if you're about to set off for a summer jog, but see dark clouds up above.
Remember that because of their weight and size when packed up, windbreakers are neither cumbersome nor heavy, so you can add them to your package with no problems.
Have a think about what your regular activities are, and I'm sure you'll be able to find your ideal windbreaker in this guide.
How We Researched
To come up with the top windbreakers we researched a variety of sources for reviews such as REI, Bass Pro Shops, Cabelas and Backcountry along with our own personal experience.
We also consulted online magazines for product research and reviews to get as much unbiased information as we could. To help weed out fake reviews we used Fakespot.com to make sure we only looked at genuine reviews.
With so much quality gear available, we had to narrow it down based on what we felt were the best options for the price. The author, Casey Fiedler has been leading backpacking trips for over a decade in his native state of Michigan.
To help narrow down the selection he used his personal experience along with recommendations from fellow guides and outfitters.
After extensive research, we came up with our list to help you choose the right one for you.
Sources
---
I hope this guide was helpful for finding a good windbreaker jacket to fit your needs. If you want to share your experience getting blown around on mountain tops, or you think I've missed something, get in touch using my contact form.
Notice:
OutsidePursuits.com is a participant in the Amazon Services LLC Associates Program, an affiliate advertising program. OutsidePursuits.com earns fees from products sold through qualifying purchases by linking to Amazon.com. Amazon offers a commission on products sold through their affiliate links.