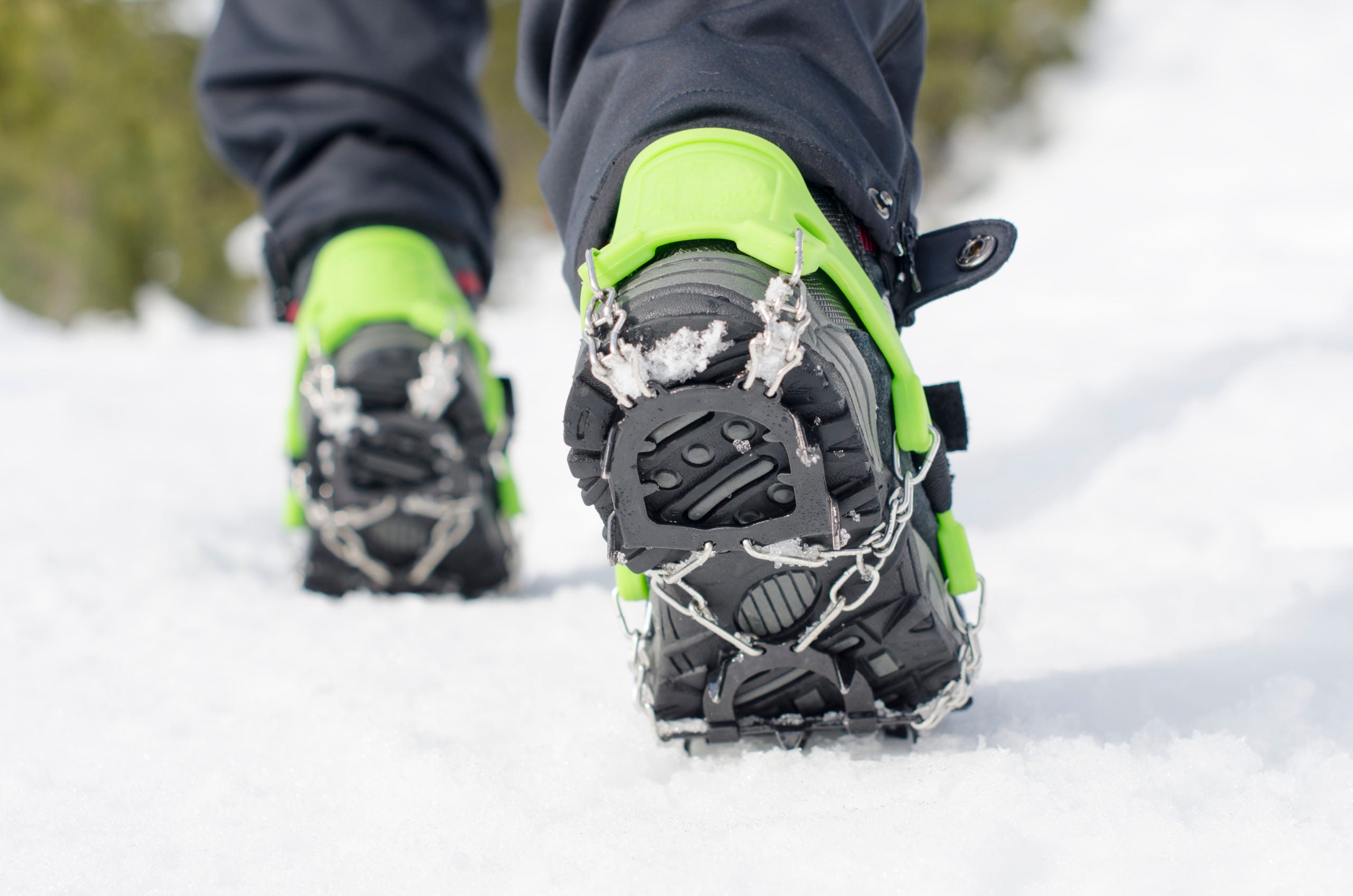 Our Editors independently research, test, and rate what we feel are the best products. We use affiliate links and may receive a small commission on purchases.
In this side-by-side product review Outside Pursuits leads you through everything you need to know in order to pick the best ice fishing boots for your specific needs and ice fishing weather environment.
We'll take a look at what makes a great pair of boots for ice fishing and what to avoid. Also see How To Choose The Best Ice Fishing Boots later in the article. What are the best boots for ice fishing?
Best Ice Fishing Boots
| | Baffin Men's Control Max Insulated Boot | Columbia Men's Bugaboot Omni Cold-Weather Boot | MuckBoots Men's Arctic Pro Hunting Boot |
| --- | --- | --- | --- |
| | | | |
| | | | |
| Base Type | Arctic Rubber Shell | Techlite Man-made Materials | Synthetic |
| Outer Material(s) | Leather | Leather and Textile | Synthetic and Fabric |
| Sole Material and Tread | Rubber Grooved | Rubber Tire-Track Sole | Synthetic w/ Molded Bump Grip Surface |
| User Ratings | 4.5 / 5.0 Stars | 4.4 / 5.0 Stars | 4.6 / 5.0 Stars |
| | | | |
Also see: Ice Fishing Boots Comparison Table and YouTube Video Review
---
Quick Answer: The 5 Best Ice Fishing Boots
---
Ice Fishing Boots Reviews
Fiits well alongside wool socks
Thick body keeps water from seeping in
Rubber sole is fully grooved
D-rings keep the laces intact and together
Baffin makes these winter fishing boots with an Arctic rubber shell and EVA midsole plus a rubber outsole. All items resist moisture and are rated to work in conditions as low as -94 degrees Fahrenheit. The inside features full-grain insulated leather.
Baffin Inner Boot System Technology
The waffle-comb foot bed offers a flexible surface. This keeps the shoe from feeling stuff or difficult to wear.
The removable boot liner adds additional insulation. The top cinch also secures the boots around your feet, thus keeping the warm air inside the boots.
The boots are also around four pounds in weight. The sturdy materials keep you from bearing with too much stress when trying to walk around. The dense materials also keep the boots intact without them being at risk of tearing up or weakening over time.

---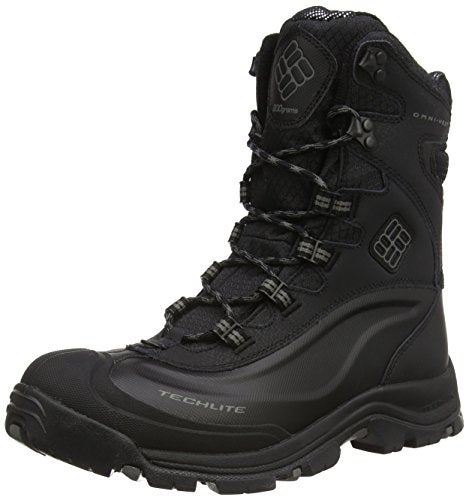 Weighs around two pounds total
Resists large amounts of water
Narrow at the top without adding too much pressure
Rubber compounds do not tear up easily
Columbia makes this boot with a 7-inch shaft that covers the arch and ankle. The waterproof body uses the Omni-Heat reflective lining system with 200g insulation.
The Techlite midsole offer a lightweight body with a flexible cushion that bends in all directions. It also absorbs a large amount of energy.
Leather and textile materials mix to create a carefully insulated body. The comfortable sole is also curved to fit your natural foot pattern.

---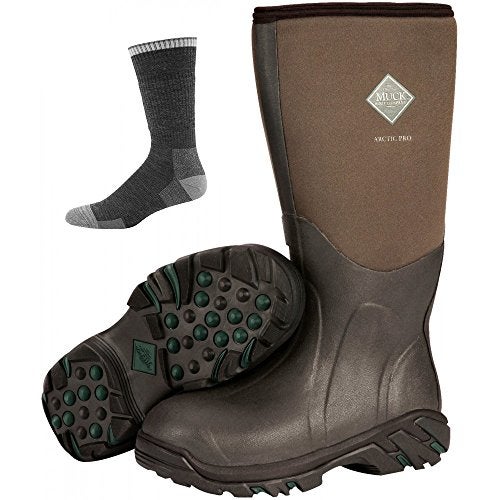 Foam can stretch in many directions without too much stress
Rated at -50 degrees
Strong reinforcement without any steel tips required
Neoprene sole and body stick together
The next of the ice boots to see is this model from MuckBoots. The 2mm thermal foam underlay keeps warm air inside the boots so your feet stay warm.
Double reinforcements are included at the instep, heel, and Achilles sections. These keep the inside body of the shoe secured.
The pull-on body of the boot includes a flexible top area that can be quickly fastened for added security. The shaft is fully waterproof while the upper part uses a stretch-fit topline.

---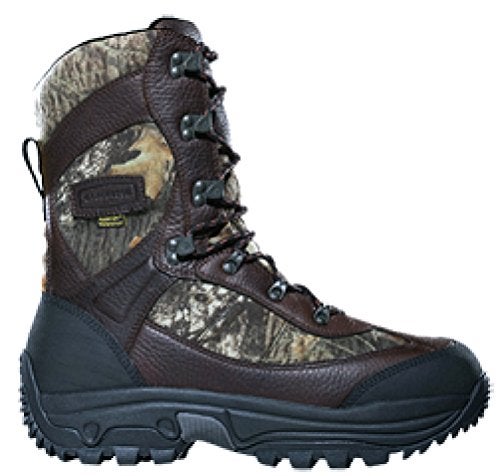 Does not wear out in the event the surfaces stretch
Fits well with wool socks
Strong Thinsulate interior adds a layer of protection
Metal buckles keep the laces fully secure and in place
At around ten inches in height, this next set of winter fishing boots offers insulation through a 100 waterproof barrier. Moisture from seat leaves the boots while outside water stays out.
The full-grain leather keeps the boot sturdy while the 1000 Denier nylon surface adds a durable and strong layout. The heel and toe cap are both reinforced to keep abrasion from being a problem.
The lug pattern on the bottom makes these among the best boots for walking on ice. The pattern keeps snow and ice from being stuck at the bottom, thus reducing the weight of the boots while you are walking. The added traction ensures that you avoid slipping.

---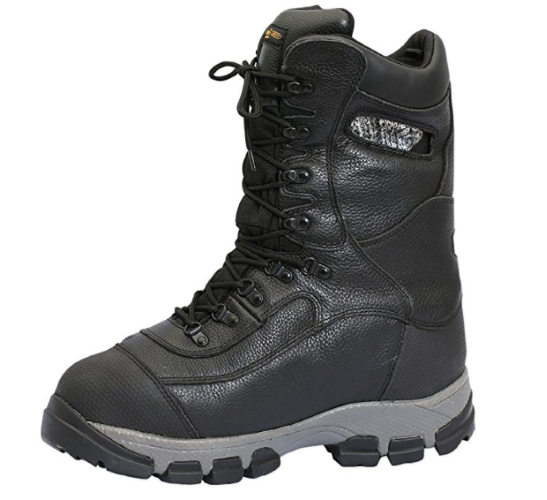 Contains five layers of Thinsulate
Fully waterproof
Metal lace fasteners are easy to open and close
Ports on the sides allow air to move in and out without becoming stuffy
The 1000g Thinsulate Ultra Insulation feature on the inside part of the boots offers an extra amount of protection. It absorbs cold air and keeps it from moving into your feet.
IceArmor Onyx and Arctic Boots.mov
The two-part rubber outsole includes enough openings to keep ice and snow from being stuck. The divider in the middle of the outsole supports the natural shape of your foot.
The removable liner can be cleaned off and reinserted quickly. The full-grain leather upper adds a strong body.
The boots are around twelve inches in height and a little more than two pounds in weight. This adds enough space for your feet without adding more bulk than what you can afford.

---
Ice Fishing Boots Comparison Table
---
How To Choose the Best Ice Fishing Boots
If you've ever been ice fishing then you know how important proper clothing, including footwear, can be to the enjoyment of your fishing trip. In this article we will review the best ice fishing boots available for warmth, comfort, traction and protection.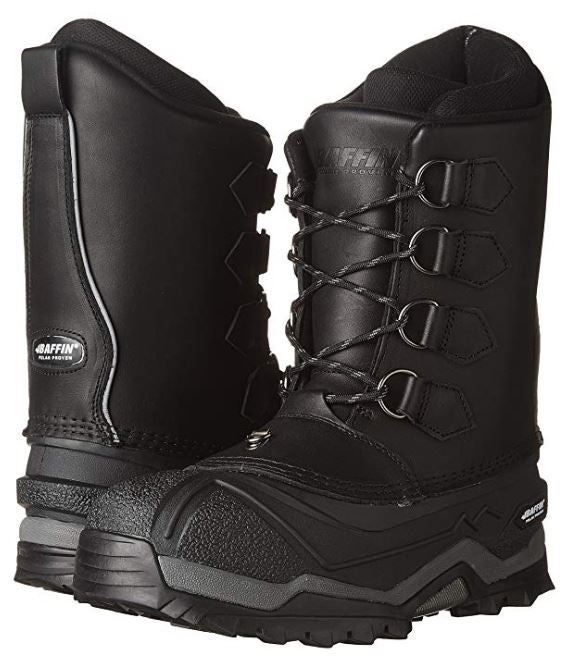 Ice fishing boots must provide all of these or you can have an unpleasant, or even dangerous, ice fishing trip. Probably no other outdoor sport requires more specialized equipment to stay warm. Consider these factors:
As you look for boots for walking on ice and snow, you need to look at several points. Ice boots are only useful when they not only fit well but also have the key features needed to keep you warm and at less of a risk of slipping.

Boot Materials
You must look at the materials used in the construction of your boots for snow and ice use. There are three particular materials you could find in your boots:
Rubber
A rubber upper features a flexible outside shell with a synthetic inner boot. Rubber materials are waterproof and thick enough to keep cold air out of the way.
Synthetic Materials
Synthetic materials often include nylon compounds. These feel softer and are typically light in weight.
Leather
Leather offers a stiff surface that does not tear up or wear out quickly. Many leather boots are paired with a reinforced heel and toe surfaces to create a more rigid body.

Boot Stiffness
Check on how stiff your boot is before buying it. Rigid boots are typically best for ice fishing. A sturdy boot keeps the pressure off of your body and can handle rough icy surfaces.
The stiffest boots are especially ideal for when you are planning on staying still or in the same spot for an extended period like what you would experience while ice fishing.
Some other boots for snow and ice are not as rigid and are designed to be more flexible. This is particularly the case with rubber boots.
Flexible boots are best for when you plan on being mobile while outdoors. Such boots can bend quickly though so be careful when wearing them.
Boot Outer Covering
See how well the boots you order can cover your feet. Many boots come with tall bodies that are ten or more inches in height.
The coverage helps give you enough protection over the ankle and heel although it might be tougher to move around if the boot is too tall.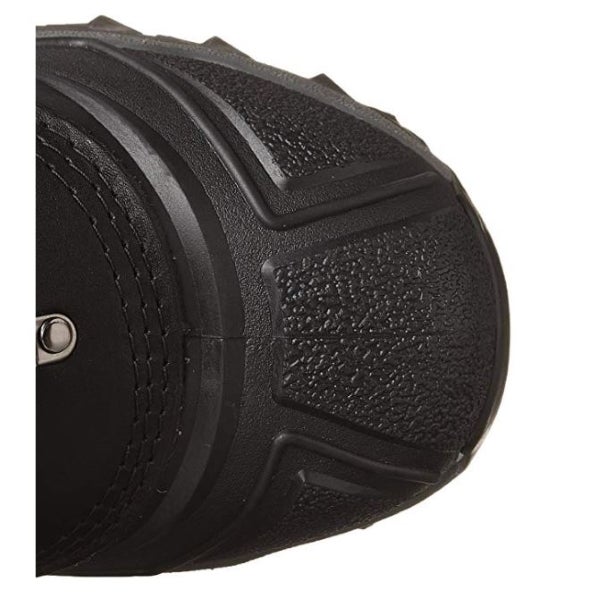 Some steel tips may also be found on the ankles or toes. Steel coverings add an extra layer of protection to keep your feet from harm against icy surfaces or other rough items.
Such materials are best for when you are in rough surfaces and might be at risk of encountering debris. These typically weigh more than most other boots, what with steel being a very dense material.
Boot Insulation
The insulation inside a pair of the best cold weather boots will keep your feet warm while in the toughest conditions. They will also allow air to circulate while letting any moisture produced by sweat escape. Cold air will not get into the boot either.
In some cases, a cold weather liner is added to the boot. This is often measured based on the minimum temperature that it can support. This is typically a simple guideline and not necessarily a direct statement of what is precisely included in the boot.
The amount of Thinsulate used inside the boot should be reviewed. Thinsulate is included in some of the warmest ice fishing boots on the market.
This is an insulation product developed by 3M that features polypropylene fibers. These fibers are stitched together and supported inside the body of the fabric to create a strong barrier.
Typically, the number of grams of Thinsulate used determines how strong the protection is. A boot with more Thinsulate will do better at protecting your feet but will also weigh more. The added compound also keeps the boot from being as flexible.

Additional Considerations
You should take a look at a few other factors when finding the best boots for ice use:
Socks
See how well your boots can fit socks. Great boots fit well with thicker wool socks that add an extra bit of protection over your feet.
Laces
Check on how well the laces are secured on your boots. Metal clamps are often secured at the front to keep the laces from slipping out. Such clamps should be easy to open in the event you have to replace the laces.
On a related note, look at the type of laces that can be supported by the boots. A quality lace should be thick enough to be easy to grip while wearing gloves and still sturdy to where it will not tear apart easily.
Sole Pattern
Review the sole pattern on the bottom. A great sole pattern has enough grooves and openings to allow ice to move through without being stuck. The sole should also come with a strong rubber compound that lasts for years.
---
Thanks for reading The 5 Best Ice Fishing Boots. We hope this article has helped you to discover the best choice for a pair of boots for ice fishing to meet your needs and type of lake environment. You might also be interested in our informative article entitled, Winter Clothing Materials and Fabrics.
Or, if someone you know is new to ice fishing see our guide How to Ice Fish – A Beginner's Guide.
MORE WINTER GEAR HEATED GLOVES | DOWN JACKETS | FLEECE JACKETS | BASE LAYERS | BEANIES | WINTER GLOVES | WATERPROOF BOOTS | NECK WARMERS & GAITERS | HEATED JACKETS | HARDSHELL JACKETS | SOFTSHELL JACKETS | WINDBREAKERS | ICE FISHING BOOTS | ICE AUGERS | ICE FISHING REELS | ICE FISHING SHELTERS

How We Researched
To come up with the top ice fishing boots we researched a variety of sources for reviews such as REI, Dicks Sporting Goods and Bass Pro Shops along with our own personal experience.
We also consulted online magazines for product research and reviews to get as much unbiased information as we could. To help weed out fake reviews we used Fakespot.com to make sure we only looked at genuine reviews.
With so much quality gear available, we had to narrow it down based on what we felt were the best options for the price. The author, Casey Fiedler has been an avid fisherman for decades and leads fishing trips into the backcountry.
To help narrow down the selection our authors used their personal experience along with recommendations from charter captains and tour guides.
After extensive research, we came up with our list to help you choose the right one for you.
Sources
---
Notice:
OutsidePursuits.com is a participant in the Amazon Services LLC Associates Program, an affiliate advertising program. OutsidePursuits.com earns fees from products sold through qualifying purchases by linking to Amazon.com. Amazon offers a commission on products sold through their affiliate links.