| | Best Electric Ice Auger | Best Gas Ice Auger | Best Propane Ice Auger |
| --- | --- | --- | --- |
|   | ION 40V 3 Amp-Hour Electric Ice Auger | Eskimo Mako 43cc Quantum Gas Ice Auger | Eskimo High Compression 40cc Propane Ice Auger |
| | | | |
| | | | |
| Auger Diameter: | 8" diameter auger | 10" diameter auger | 10" diameter auger |
| Auger Length: | 46 inches with included 12 inch extension | 42 inch auger length | 42 inch auger length |
| Weight: | 21 lbs. | 22 lbs. | 36.3 pounds |
| Customer Reviews: | 4.7 out of 5 Stars | 4.5 out of 5 Stars | 4.3 out of 5 Stars |
| | | | |
Best Ice Augers
You must have an ice auger to prepare an open space in the water for ice fishing. An auger should be not only easy to hold, but also powerful enough to bore holes into even the toughest ice surfaces.
There are a few intriguing ice fishing augers that you could use, but it is important to look at how well they operate. Each model is different based on how it is powered and how well it can move through icy surfaces.
Quick Answer: The Best Ice Augers For 2017
ION 40V 3 Amp-Hour Electric Ice Auger
Eskimo Mako 43cc Quantum Gas Ice Auger
Eskimo High Compression 40cc Propane Ice Auger
Strikemaster Lazer Hand Ice Auger
Eskimo Hand Ice Auger
For more of the best ice fishing gear recommendations, have a look at these popular Outside Pursuits review links:  Ice Fishing Boots, Ice Fishing Shelters and Ice Fishing Reels.
First, lets take a look at our top 5 favorite ice augers. Then we'll discover how to choose the best one for your needs in How to Choose the Best Ice Auger for You.
Ice Fishing Auger Reviews
Here is a feature review and comparison of our top ice auger picks: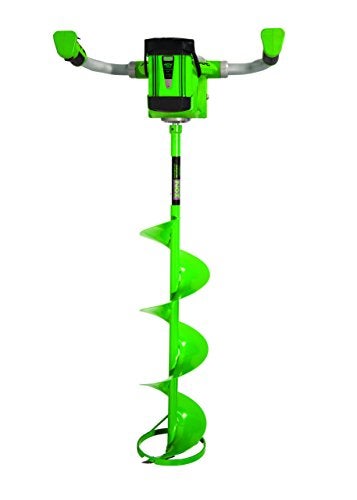 ION offers this 8-inch drill powered by a 40V battery. The unit can drill up to forty holes into around two feet of ice on one charge. The battery works without generating much noise.
You do not have to add any gas or maintain a complicated engine for this to run. A 12-inch extension can also be added onto the end of the auger to go 46 inches deep.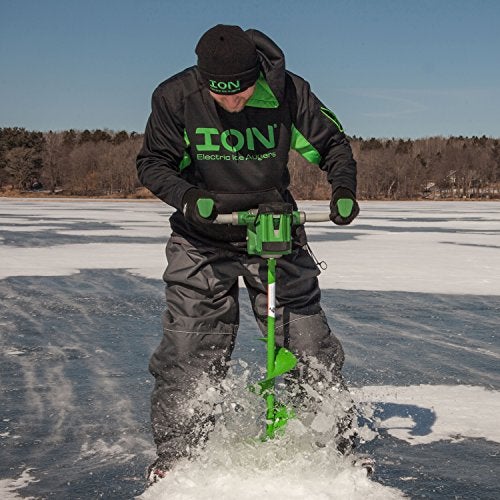 You will not require an ice skimmer as this comes with a reverse control feature. The auger cleans off the hole, so it retains a perfect cut.
The ION ice auger is only 21 pounds in weight and the handlebars are spaced out wide for an easy grip. The trigger button is large in size and easy to use and the best ice fishing auger you can buy.
Operates smoothly without generating lots of vibrations
Handles come with easy to hold grips
Easy to read battery power display
Battery is easy to insert into a locking system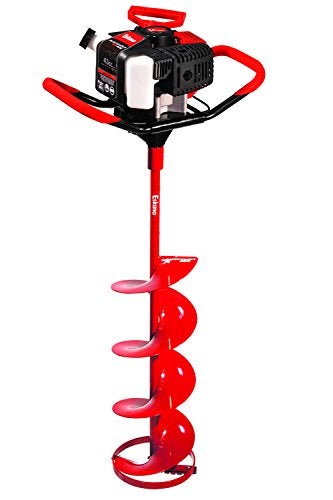 The Eskimo Mako is a viable choice for ice fishing equipment as it is reliable in cold conditions. The two-cycle 43cc Viper engine starts quickly.
The wide-wing steel handle bars take in vibrations and prevent shaking. The throttle works with a single button that lets you start it up without having to remove your gloves first.
The auger is 42 inches long and features a 10-inch diameter although a smaller 8-inch model is also available. The engine is also properly insulated with a secure outside body that keeps the unit from being fully exposed.
Gas tank is see-through
Primer button improves starting process
Muffler guard keeps the hand auger from being too hot
Foam grip handlebars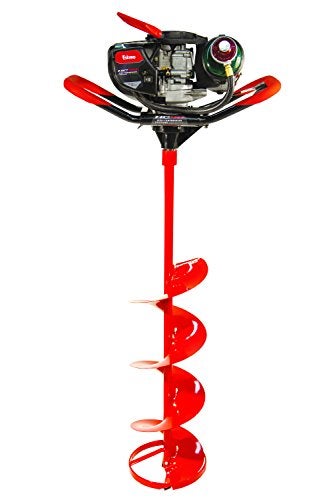 Propane is the main part of what makes this next bit of ice fishing gear work. The 40cc 4-cycle engine operates with the power of a propane fuel cylinder.
The ice fishing auger supports up to one pound of fuel at a time. The propane fuel moves quickly from the can to the engine where it runs fast.
The auto-priming fuel system ensures the engine will start up quickly. You just have to flip the switch to the on position. The auger starts working shortly after that.
The two-blade system on the propane ice auger is 10 inches in diameter. At 42 inches in length, it goes through most icy surfaces cleanly and quickly while generating a circular cut each time.
Burns clean without too many emissions
High compression to add additional power
Ball bearing transmission
Operates well in most cold conditions

When looking for a hand ice auger, this model from Strikemaster works well. The stainless steel blades cut through most surfaces quickly.
The powder coating on the paint keeps ice from building up on its surface. Rubber grips are added to make this auger comfortable on your hands.
The handle comes with an ergonomic system that fits into either hand. The hand ice auger is also adjusted to move from 48 to 57 inches in length, thus giving you easy access to some of the deeper or tougher to drill spots.
Responds to movements and pressure faster
Blade guard protects you from harm
Works on thicker ice surfaces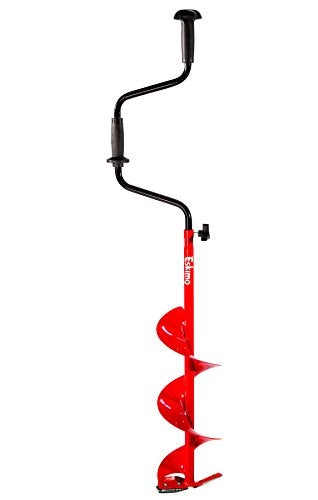 The last choice to see when finding the best ice auger is this model from Eskimo. It is available in six, seven and eight-inch models.
At just six pounds in weight, this offers a secure grip that does not become loose with regular use. The straight blades last for a long time.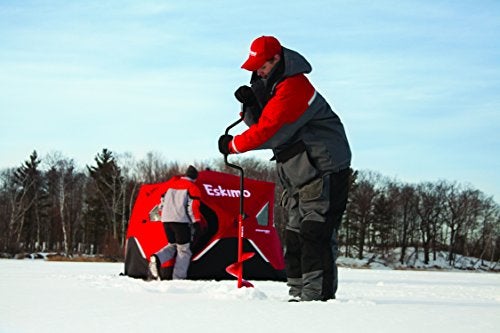 This is adjustable from 49 to 58 inches in length. The blades can also be removed and replaced as needed. You can sharpen the blades as needed. The process of sharpening them up is easy to handle as you just use a file.
Easy to assemble and take apart
Comfortable two-part grip system
Height adjustment knob is easy to grab and adjust
How to Choose the Best Ice Auger For You
Whether it entails a hand-powered, propane or electric ice auger, you have to look at what is available. Check on many features relating to your auger when finding a choice that fits in well for your demands. These functions focus on not only how well it is powered but also how easy it is for you to start up such an auger.
Uses
The main purpose of an ice fishing auger is for it to cut through a sheet of ice that you wish to go fishing in. It does well with producing circular ones in varying diameters.
You could also use an auger to cut lines through ice if you need to produce a larger fishing area. A stronger model with sharp blades is needed to help you with cutting large lines although you would have to get the blade guard removed for it to cut through larger spots.
Also, some augers may produce smaller holes for tent support needs. These include holes that would go into snowy spots where you need to get access to the ground so you can get the tent secured right.
Power Types
There are four power type options for an ice auger. Each has its own specific features that make it work right:
An electric ice auger works with a rechargeable battery. It typically uses lithium-ion power. Such a battery produces no emissions and is quiet.
A gas-powered auger is stronger as the motor on its body adds more force and power.
A propane-powered auger uses a setup where you apply a propane container onto a port. Propane is clean-burning and generates more energy in a short period of time.
Hand-powered augers are made with strong handles that require physical force for you to produce a drilling motion. This requires extra effort but it can be useful for smaller surfaces.
Sizes and Weights
The size of your auger should be reviewed carefully. The diameter is the first measurement to look at. The diameter refers to the size of the hole that can be produced by your auger. Most models produce holes that are six to ten inches in diameter.
Also, in some cases a guard is placed around the blades to keep them from cutting beyond a certain space. The guard helps with producing a circular cut all the way through.
The length of the auger is also important to see. Most augers are from 40 to 60 inches in length. The cutting mechanism typically takes up about half of that length. This means most options should be capable of cutting through two inches of ice.
The weight should also be reviewed carefully. A hand-powered auger can be around five to eight pounds in weight. A gas-powered model will be around 30 to 40 pounds. The added weight comes from the extra fuel and engine features. Any model you choose should have a sturdy series of handles so it becomes easy for you to handle its weight.
Portability
The main portability feature to see involves the handles. Many battery and engine-powered augers use wide-positioned handles that are easy to grip onto. They allow you to focus the blade right into a certain space.
Meanwhile, a hand-powered unit would feature grips that include grooves or cushions. These would provide you with a comfortable hold. The handle should be ergonomic so it could work in either hand.
An auger typically comes in just one piece although some models come with adjustable height knobs. Such a knob lets you move the auger up or down to help you get into tougher spaces. Some choices also let you take apart the two halves for easy storage although this feature is not all that common among augers.
Other Considerations
Several other points must be used when finding a quality auger:
Review how well the blades on your auger can be maintained. The blades must be dried and sharpened for them to last longer.
Look at how easy it is for you to take off and replace the blades as necessary.
Review the power mechanisms of your auger if you have a fuel-powered model. A primer may be included in some models. Spark plugs may also help with producing more power.
See how long it takes for an auger to run before it can work to its best. Some models require you to idle your auger for a minute or two before you can start running it.
Thanks for reading our ice fishing augers reviews.  We hope that this is helpful to you to make the most of your ice fishing adventures.  If you or someone you know wants to learn the basics of ice fishing see our How To Ice Fish – A Beginners Guide.  Enjoy the ice fishing season!
Notice: Outside Pursuits is a participant in the Amazon Services LLC Associates Program, an affiliate advertising program to provide a means for sites to earn advertising fees sold through by advertising and linking to Amazon.com. Amazon offers a small commission on products sold through their affiliate links. Each of your purchases via our Amazon affiliate links supports our efforts to bring you the best possible product reviews at no additional cost to you. We appreciate your support here at OutsidePursuits.com