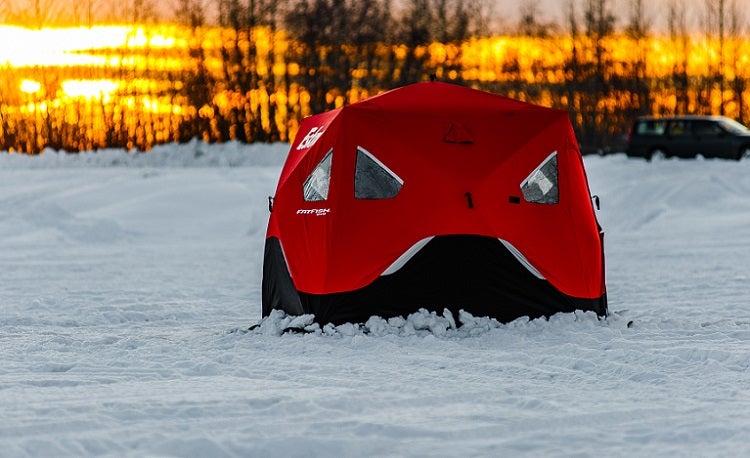 Our Editors independently research, test, and rate what we feel are the best products. We use affiliate links and may receive a small commission on purchases.
Comedian Jeff Foxworthy liked to joke that people who would go out onto a frozen lake to fish were nuts. Maybe we are, but it sure is a good way to pass the winter months! Ice fishing is a productive time of year to catch some tasty fish, have a good time, and above all else, get outside during a time of year when many would likely be huddled up inside the house. One way to make the day out on the ice more enjoyable is to use a portable ice fishing shelter. Shelters, or shanties, are essentially tents with no floor that allow you to be protected from the wind. They allow you to use a portable space heater, too, which ups the enjoyment factor. The additional benefit is that they help block ambient light, giving you better visibility under the ice. There are several different styles of shanties available, so  read on and get an idea of what are the best ice fishing shelters for you.
Best Ice Fishing Shelters
| | Eskimo FatFish Insulated Ice Shelter | Nordic Legend Ice Shelter | THUNDERBAY Ice Cube Fishing Tent |
| --- | --- | --- | --- |
| | | | |
| | | | |
| Size: | 3-5 Anglers, 61 sq feet | 4 Anglers, 55 sq feet | 3 - 4 Anglers, 56 sq feet |
| Insulated: | Yes | Yes | No |
| Weight: | 34 Pounds | 32 Pounds | 26 Pounds |
| Features: | 6 self-tapping ice anchors w/ fully-Insulated 300 Denier walls | 8 heavy duty ice anchors & insulated walls | 6 self-tapping ice anchors w/ 300 Denier fabric walls |
| | | | |
Quick Answer: The Best Ice Fishing Shelters
---
Ice Fishing Shelter Reviews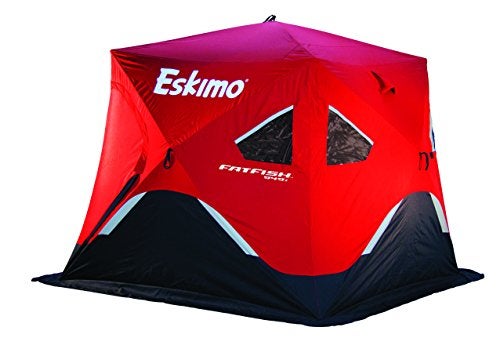 Eskimo FF949I Insulated Ice Shelter at a Glance
:
---
Capacity of 3-4 people
Weighs only 34 lbs and comes with a carry bag
Comes with six self-tapping ice anchors
Two doors with durable and smooth YKK zippers
Fully insulated, providing 35% more warmth than comparable ice shelters
Made from 300 Denier Ice Tight fabric
The Eskimo FF949I wide-bottom insulated pop-up portable shanty is probably the best ice fishing shelter on the market. The FatFish is an solid offering from Eskimo that is designed to provide with protection in freezing conditions.
It features a durable construction with a fully insulated IceTight Fabric (300 Denier) and Insulated Quilted Fabric to provide you with the warmth and the comfort you need in extremely cold conditions.
The larger diameter poles and the all metal ball and socket lines enhance its durability, thereby providing you with many years of use. The Eskimo FatFish is easy to set up; it weighs only 34 lbs making it one of the best portable ice fishing shelters available.
Video: Overview of the Eskimo FatFish.
Eskimo FatFish 949 & 949i Overview
It has plenty of elbow room of 99" x 99" and a setup size of 94" x 94"; it is 80" high and can easily accommodate 3-4 persons. This will give you more usable fishing area.
For easy access into the FatFish, Eskimo included two doors with tough and freeze proof YKK zippers on the either sides of the shelter.
The included large mesh pocket provides you with additional space to keep your important fishing gear while its six self-tapping ice anchors deliver on their promise of withstanding high winds and securing the shelter.
If you want a high-quality ice shanty at an affordable price, the Eskimo FF949I wide-bottom insulated portable shanty might be your best bet!

---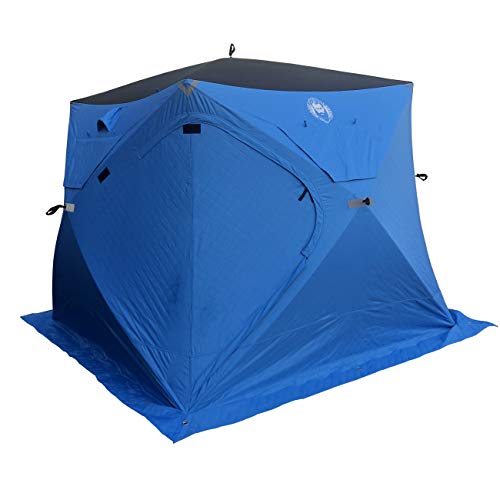 Nordic Legend Portable Ice Shelter at a Glance
:
---
8 ice anchors for a secure setup
Capacity of 4 people (other sizes available)
Lightweight: (32 lbs) with a carry bag included
55 sq feet for fishing
Easy to setup with two doors
If you're looking for an excellent quality ice shelter at an affordable price, the wide bottom ice shelter from Nordic Legend might be all you need.
It is made with high-quality materials that not only makes it durable but also furnishes it with the ability to withstand the harshest weather conditions. The superior 300D thermal fabric of the Legend conserves heat while preventing the build up of frost.
One of the reasons why I love the Nordic Legend is because of its portability. It is lightweight and comes with a carry bag for easy transportation.
This wide bottom shelter has a roomy 55 square feet of interior space which makes it a great option for a 4-person fishing party.
The Legend is very easy to set up and take down; one person can set it up in 60 seconds. It is also equipped with nine strong ice anchors to keep the shanty firm and secure in high winds.

---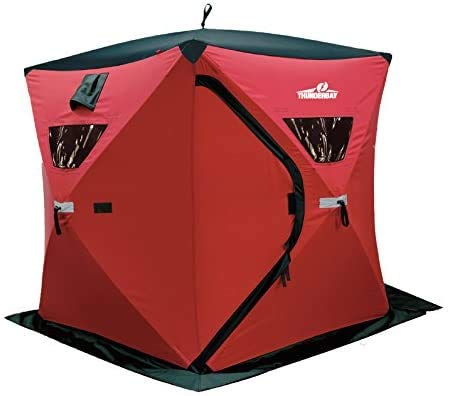 THUNDERBAY Ice Cube Portable Ice Shelter at a Glance
:
---
Highly durable 300 Denier fabric
Setup size is 90" x 90" with 80" center height and 56 square feet fishable area
The shelter has a capacity of 3-4 anglers
It is portable and weighs 20lbs; carry bag included for easy transport
30% more interior space with overhead storage hammock
If all you want is nothing but a simple, high-quality ice shelter tent, the THUNDERBAY Ice Cube might be able to fill the gap.
It is made of a tough and tear-resistant 300 Denier fabric; this makes it stronger than most of its competitors. Its heavy-duty poles can stand against the wind and protecting you from the elements.
The THUNDERBAY is 30% roomier than competitor models, with this increased capacity, you can bring in more fishing equipment and anglers (about 3 – 4 people) to fish comfortably inside the tent.
This portable shelter weighs 26 lbs and also comes with an oversized carry backpack that makes it easy to transport, along with being easy to setup and take down. The six ice anchors work perfectly in securing the shelter against strong wind.
The THUNDERBAY Ice Cube is highly durable and portable. It is probably the best ice shanty you will find within its price range.

---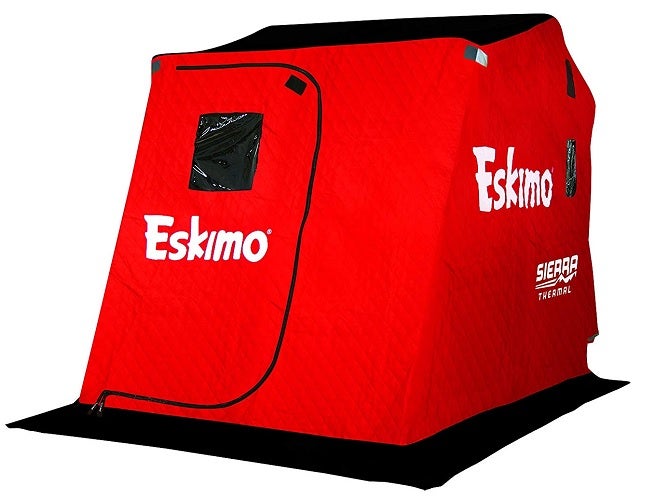 Eskimo Sierra Ice Fishing Flip Shelter at a Glance
:
---
It provides 22.5 square feet of fishable area
The setup size is

60″ x 31.5″

300 denier ice tight fabric
Capacity of 2 anglers
Easy to set up and pack up
The Eskimo QuickFlip 2 is a high end ice fishing shelter from Eskimo. It's fully insulated and features 300 Denier IQ Fabric which has a 59% higher thread count than its competitors.
This superior quality material ensures the shelter's durability while keeping you warmer so you can enjoy fishing in comfort. It is a two-person capacity shelter with a fixed table and comfortable seating arrangements.
The durable aluminum poles keep the shelter rigid and strong while keeping the weight down. It weighs 82 lbs, so it's heavier than many shelters but that is due to the insulation and is easy to set up or take down.
It has a one door, two storage pockets, and four removable windows that can be adjusted for ventilation. It is towable and comes with a pull rope for easy transport.
The Eskimo Sierra ice shanty delivers on its promise of durability and comfortable ice fishing experience. For two anglers, this is an ideal solution.

---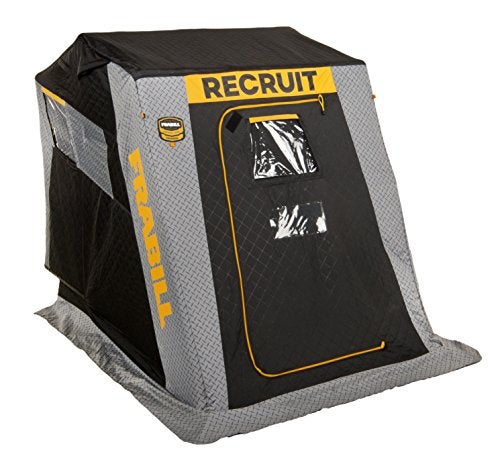 Frabill Citadel 3255 at a Glance
:
---
Fully Insulated
Lightweight, (weighs 98 lbs)
2-3 person capacity
Setup size is 98″ Length x 71″ Width x 75″ Height

Modular Seating System
Frabill, a name that is well known for making quality fishing shelters, the Citadel 3255 lives up the expectations. It is made from tough, tear resistant fabric that is not only lightweight but also insulated to keep you warm for a day of ice fishing.
Compared to most traditional ice fishing shelters, the Frabill Citadel 3255 gives you 30% more fishable space than comparable shelter.
It is a 2-3 person shelter with a setup size of 98"L x 71"W x 75"H when its folded up into its carry case it measures 58"L x 33"W x 16 "H.
Although the Frabill Citadel is about avg in weight at 98 pounds, it's fully insulated to keep you warm when the wind is howling!
The shelter is easy to set up although the instructions could be better. Once you do it a few times you will quickly get the hang of it.
Frabill Citadel 3255 is a solid option for an insulated ice fishing shanty and at a reasonable price.

---
How to Choose the Best Ice Fishing Shelter for You
After being bitten by the ice fishing bug, one of your most important purchases is an ice fishing shelter. Lets cover some important considerations for a shelter.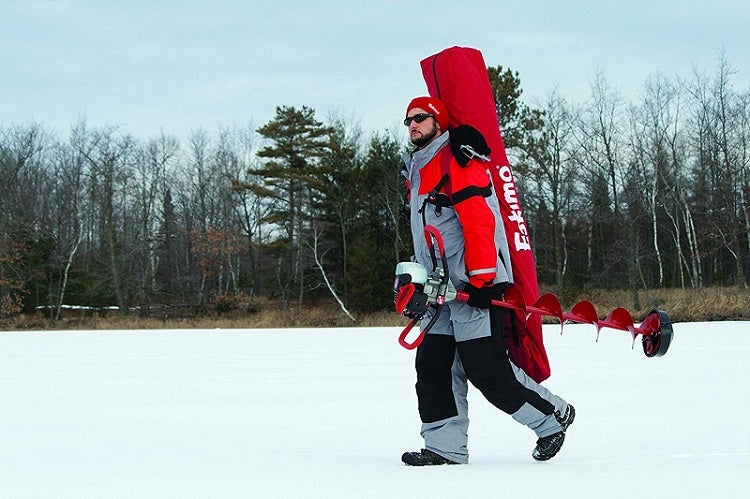 Types
There are four types of ice shelters for you to consider:
Hub-style shelters
Cabin or hut style ice shelters
Flip-style shelters
Windbreakers
The flip style shanties are the most popular among ice fishermen. They are erected on a strong plastic sled base and normally have a capacity of two to four people. The windbreaker type are inexpensive, light in weight, and easy to transport.
The cabin-style shanties are built on plastic sled base and have adjustable poles just like the flip style shelters. They can contain up to 8 anglers and are not meant to be taken down after every use.
The hub-style shanties are customized to meet the needs of the ice fishermen. They have external poles as their frames and looks just like a camping tent.

Sizes and Capacity
Does size matters when it comes to selecting the best ice fishing shelter? Of course it does! Before you decide on your ideal shelter size, consider how many people will be accompanying you plus how much gear you have.
A shelter of 4 to 5 person capacity might be your best choice if your not sure and will provide enough space for your equipment.

Materials
The materials used in manufacturing a shanty are a trade off of weight, durability, insulation and of course cost. A shanty made of high-quality, thicker material will not only ensure the shanty's durability but also provide more protection from harsh weather.
Most shanties are made of a polyester or nylon fabric whose durability and thickness are measured in Denier. For instance, a shelter of 600 denier fabric is thicker, more durable and seals out the cold wind better than a shelter made out of a 300 denier fabric.
However, it will be heavier and more expensive.
Thermal insulation is also an important element of most modern shelters that will retain heat better from heaters and transfers warmth from sunlight into the shelter while sealing out the cold.
While thermal materials may be your best friend during the harsh weather they may not be necessary, especially in warmer weather conditions and will add more weight to the shelter.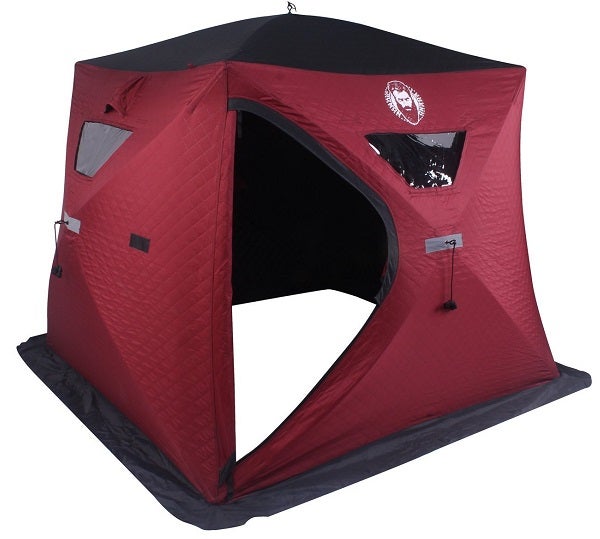 Weight and Portability
When it comes to shopping for a ice fishing shelter, weight is an important factor to consider most especially if you are packing it in. The heavier your shack, the more it will be difficult for you pack it and carry it out. You are also more you're likely to need a towing vehicle to move it around on the ice.

Seating
Seating is of course an important factor to consider since you'll be spending most of your time sitting while ice fishing. Flip-style shacks usually have one or two padded in-built seats. For other styles, you may need to purchase separate seats.

Budget
You don't necessarily need to spend a fortune to get a high quality shanty. With modern manufacturing, the price of shelters have come down considerably while providing more protection for the elements. Even with a budget of under $300 you can still get a shelter for 4 fishermen while providing warmth and comfort. Spending a little more will get you insulation and built in seats. Either way, you don't need to spend a lot of money you get a quality shelter.
How We Researched
I remember going ice fishing the first time when I was very young. Being from an outdoor family in Northern Michigan meant that I was going to spend a lot of time with a fishing pole in my hands, and that didn't stop just because the lakes were frozen over. I have used a lot of shanties, ice houses and more, and have fished on the ice all over North America. My research started out with personal experience having used many different shelters, and checking them out whenever I had the chance.
From there, I spoke with a bunch of different experts in the field, including the guys who make a living fishing and guiding on the ice and open water. We looked at areas like quality of construction, space, ease of setting up and more.
Notice:
OutsidePursuits.com is a participant in the Amazon Services LLC Associates Program, an affiliate advertising program. OutsidePursuits.com earns fees from products sold through qualifying purchases by linking to Amazon.com. Amazon offers a commission on products sold through their affiliate links.