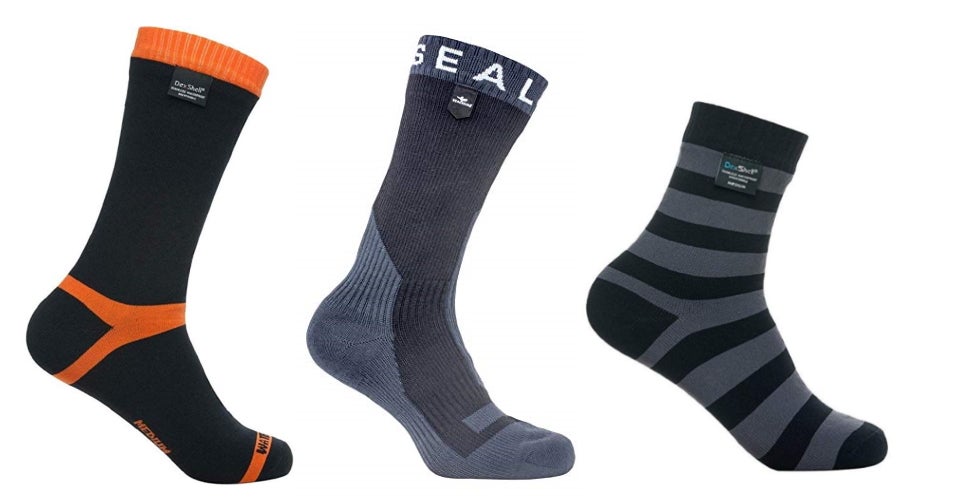 Our Editors independently research, test, and rate what we feel are the best products. We use affiliate links and may receive a small commission on purchases.
Regular socks just don't cut it in extreme cold and wet weather conditions. And layering multiple pairs of cotton socks doesn't do the job of keeping your feet and toes warm and dry. If you're looking for the best winter socks available, you've come to the right place.
There are several factors that go into choosing the best socks for winter to keep your feet warm in extreme cold weather. See our complete guide on How to Choose the Best Winter Socks. Also see the top-rated 12 best winter socks in 4 major categories.
Best Winter Socks
| | Dexshell Hytherm Pro Waterproof Socks | SealSkinz Waterproof Trekking Socks | AIvada 80% Merino Wool Thermal Socks |
| --- | --- | --- | --- |
| | | | |
| | | | |
| Sizes: | Small to x-large | Small to x-large | Small/medium and medium/large |
| Length: | Mid-calf | Mid-calf | Calf-length |
| Material: | 38% merino wool/38% acrylic/24% nylon | Merino wool | 80% merino wool |
| | | | |
Also see: Best Winter Socks Comparison Table
---
Quick Answer:  The Best-Rated Winter Socks
---
Winter Socks Reviews
Best Thermal Socks for Extreme Cold Weather
Starting off the list is our top 3 picks for the best thermal socks for extreme cold weather! These are socks that are the best way to keep feet warm in more intense winter conditions.
They're the best winter hiking socks, the best socks for anyone that works in extreme cold, and just for anyone that will be out in unbearably cold conditions!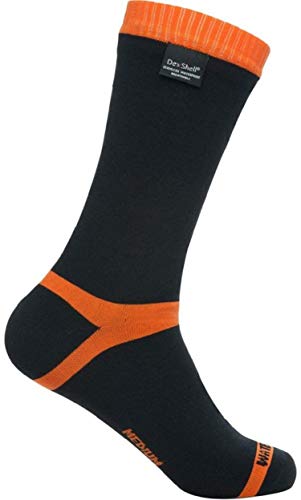 Dexshell Hytherm Pro Waterproof Socks at a Glance
:
---
Sizes: Small to x-large
Length: Mid-calf
Material: 38% merino wool/38% acrylic/24% nylon
These amazing Hytherm Pro Waterproof Socks from Dexshell are our very first pick. These are Dexshell's warmest socks and are great for even more extreme
cold weather
conditions.
These socks are designed to be incredibly comfortable with a seamless design and keep your feet warm and dry through almost any conditions. They're made up of a combination of nylon, merino wool, and a special anti-pilling acrylic fabric.
Together, these materials are able to create a sock that is immensely comfortable, keeps your feet at a super comfy warm temperature, and that has several other important benefits.
These socks are both windproof as well as waterproof. These are very important features for keeping your feet comfortably warm.
Keeping both water and wind out creates special protection for your feet where they aren't affected by outside conditions.
Something else cool about these socks is that they are very breathable. Socks like this can be great for cold temperatures but then can be a serious problem when it is warmer out.
You don't have to worry about that with these because they let your skin breathe and properly regulate temperature regardless of the weather. This gives them a high level of versatility.
The porelle membrane blocking water at the center of the socks layers is what makes these the best socks to keep feet dry.
Just remember that if water goes above the top of your socks, it can get down inside them at that point. They come in sizes ranging from small to x-large, meaning they can fit women with feet as small as size 5 and men with feet as large as size 14.5.
So, they should work for almost anyone. They are certainly up there when it comes to cost, but if you really do want the best socks for cold weather, they can be an excellent investment.
They even come with a 100% satisfaction guarantee from Dexshell!


---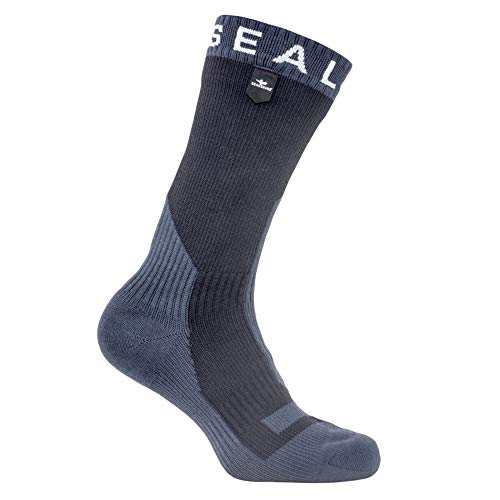 SealSkinz Waterproof Trekking Socks At a Glance
:
---
Sizes: Small to x-large
Length: Mid-calf
Material: Merino wool
These SealSkinz Trekking Socks are another great waterproof winter sock option perfect for those extreme winter conditions.
These are pretty similarly priced to the Dexshell Hytherm Pro socks, but they have a bigger price difference between sizes.
In other words, the small SealSkinz socks are cheaper than the small Dexshell socks, but the large SealSkinz socks are a little pricier than the large Dexshell socks.
Just like Dexshell, the size range for these socks is small to x-large. They're also mid-calf length like Dexshell. These are heavy-weight socks that do an excellent job at keeping the warmth in.
The inner-most layer of the socks is comfy merino wool that not only allows the sock to remain breathable while helping your body to safely and effectively regulate your temperature, it also helps these to be the best moisture-wicking socks.
So, since they are also waterproof, they keep outside water away from your feet and wick sweat out and away from your feet to keep your feet dry all around. This increases comfort and helps your feet stay warm even in extremely cold conditions.
A padded footbed, toe, and heel help to increase comfort and support while also ensuring the sock has the best possible fit and stays in place.
This reduces possible friction and also helps to prevent blistering. Overall, these are very comfortable and highly effective heavy-duty waterproof winter socks.


---
Best Merino Wool Socks for Winter
Next up is our top 3 picks for the best wool socks for winter! These are all high-quality merino wool socks.
You probably noticed that our first picks for the best socks for extreme cold all contained some merino wool as well. That is just because of how incredible the properties of merino wool are.
The difference you will find with these socks that we've chosen as the best merino wool socks is that they have a considerably higher concentration of merino wool in the materials.
It creates super comfy versatile socks that are great for regular use throughout the winter and stay comfy both outdoors and indoors.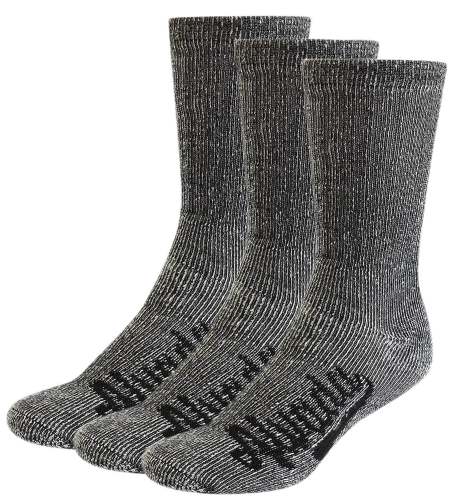 AIvada 80% Merino Wool Thermal Socks At a Glance
:
---
Sizes: Small/medium and medium/large
Length: Calf-length
Material: 80% merino wool
Here are some really incredible and super comfy socks from Alvada! These are also very affordable compared to many of the good winter sock options out there.
They actually come in a 3-pack, which adds a ton of value to your purchase. Even with coming with 3 pairs of socks, the price tag is very reasonable.
In fact, 3 pairs of these socks are actually less expensive than just one pair of our first couple of winter socks on our guide.
The 80% merino wool composition creates incredibly soft and comfortable socks that you will want to wear all the time! Also, keep in mind that this is luxuriously soft and cushy wool.
It won't itch at all as certain wool choices would! Polyester and nylon also help make up the materials of the sock at 15% and 4%, respectively. This adds a lot of durability to the socks and helps keep them together even with wear and tear over time.
Finally, the last 1% of the material is made from spandex. This gives them just the right amount of stretch to easily and comfortably fit your specific foot shape.
The bottom of the sock also features thicker padding at key points in order to further ensure a comfortable custom fit. You can choose from two different sizes, which thanks to the spandex and careful design are very versatile and fit a wide range of shoe sizes.
The small/medium size fits women with shoe sizes from 6 to 10.5 and men with shoe sizes from 5 to 9.5. The medium/large size fits women in sizes 9.5 to 12 and men in sizes 11 to 13.
The socks are a simple charcoal color that fits well with any other colors or styles. These do have some basic moisture-wicking properties.
So, while they are far from waterproof, they are good for things like keeping out dew from the grass or lighter snow. They're definitely an affordable choice of comfy socks perfect for keeping your feet warm.

---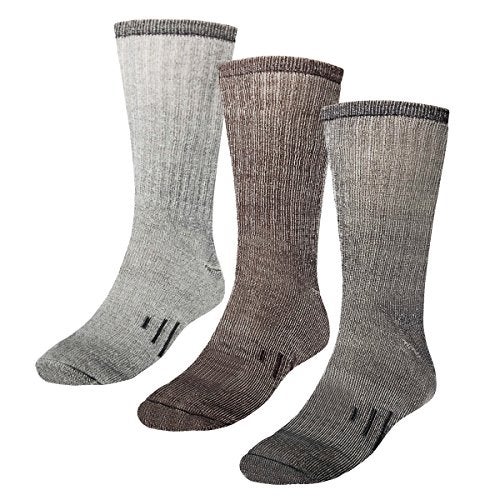 Thermal 80% Merino Wool Socks At a Glance
:
---
Sizes: Small, medium, and large
Length: Calf-length

Material: 80% merino wool, b

rushed fleece lining
This pair of merino wool socks is pretty similar to the first pick from Alvada! They are made from 80% merino wool for maximum warmth and comfort.
They also include nylon for durability and spandex for greater versatility just like the Alvada socks. They come in a very affordable 3-pack as well.
Rather than all being one color like the Alvada socks, each of the three pairs is a different color. You get a pair of brown, a pair of grey, and a pair of black socks with this purchase.
Of course, the colors are all very light. So, black is almost more grey than black and the grey is a very light grey color.
These socks come in 3 different sizes rather than just 2. This lets them fit a wider variety of foot sizes and that even includes some children sizes!
They are super soft and the brushed fleece lining of the socks even takes it another step forward to help really ensure the comfort of the wearer. These are excellent winter hiking socks, especially if you're on a budget.
In fact, they're probably the best winter hiking socks for less extreme conditions that wouldn't require the waterproofing of our extreme cold sock picks.
These are certainly great for hiking, but they also make the best socks for cold feet for just around the house. That is thanks to the breathability and overall versatility of the socks!


---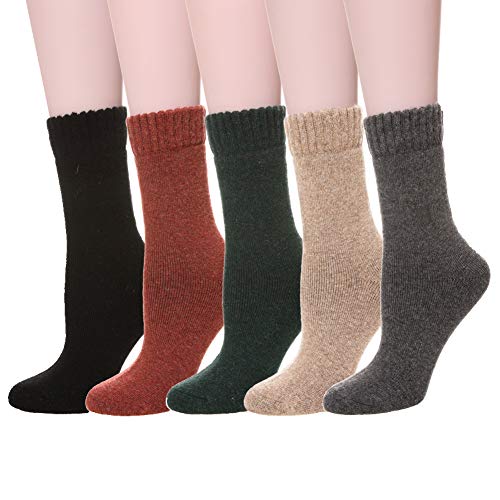 Velice Womens Super Thick Merino Wool Socks At a Glance
:
---
Sizes: One-size-fits-all
Length: Ankle-length
Material: Merino wool
Our last pick for our favorite merino wool socks is this simple option from Velice. These are great if you're just looking for the best warm socks with the best overall value.
They are nice and high-quality, but still super cheap! You get 5 pairs of these socks with your purchase and even with 5 pairs, they have the lowest price tag yet!
So, you get more socks for less cost than our other merino wool sock picks. These are luxuriously soft and comfy. They are specifically made for women and only come in one size.
This is because the material is so malleable and soft that they are "one-size-fits-all" for women. They should fit almost any woman with no issues and may also work well for older children and men with smaller feet.
These socks are 75% wool and come in a variety of solid colors. You can choose a pack of socks where all 5 pairs are black or where all 5 pairs are grey.
You could also choose a variety pack where you can receive a variety of the black or grey or several other colors such as red, green, and tan.
The colors are all softly muted and make great socks for fall and winter not just because of comfort but also because of style. These are ankle-height socks rather than calf or mid-calf.
This can be good for tennis shoes or lower boots. With such incredible value, luxuriously soft warmth, and even great style, these can be a hard choice to beat when it comes to the best wool hiking socks for women!

---
Best Men's Socks for Winter
Obviously, men tend to have bigger feet than women. They also are more likely to be rougher on their socks and more regularly work in more intense conditions.
So, we have a few picks of winter socks that are specifically designed for men! These are all highly durable socks that have multiple beneficial features for keeping warm and comfortable even during rough and frigid work conditions!
Here are our top 3 picks for the best men's socks for winter!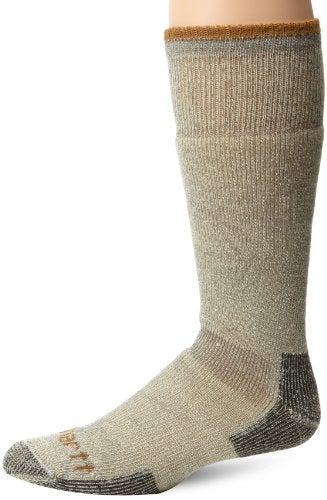 Carhartt Men's Arctic Heavyweight Wool Boot Socks At a Glance
:
---
Sizes: Small and large
Length: Calf-length
Material: Wool
Our very first pick for men's winter socks is this pair of excellent Arctic Heavyweight Wool Boot Socks from none other than Carhartt!
Carhartt is well-known for making all kinds of heavy-duty, high-quality gear to get through conditions of all sorts! These socks live up to the Carhartt name well and really bring nearly unbeatable warmth and comfort to your cold-weather experiences.
They're easily the best men's wool socks!
These socks come up to about mid-calf height making them ideal for wearing with work boots. They have special compression arches and stabilizers at the ankle to guarantee that the socks stay right where they should without shifting or slipping.
This also creates better overall support in the addition to special padding that, together, help you be able to wear the socks comfortably for longer.
The inclusion of 68% wool along with a nice and thick design keeps your feet perfectly warm even in frigid conditions for longer periods of time.
Moisture-wicking keeps your feet dry from sweat, and the natural anti-microbial properties of the wool do a great job at preventing any unpleasant odors.
You can get these socks in small (men's size 6-12) or large (men's size 11-15). They also come in your choice of heather grey, moss green, or brown.
The price is a little higher on these but not too bad overall. That is especially true when compared to the first set of picks for extreme cold weather.


---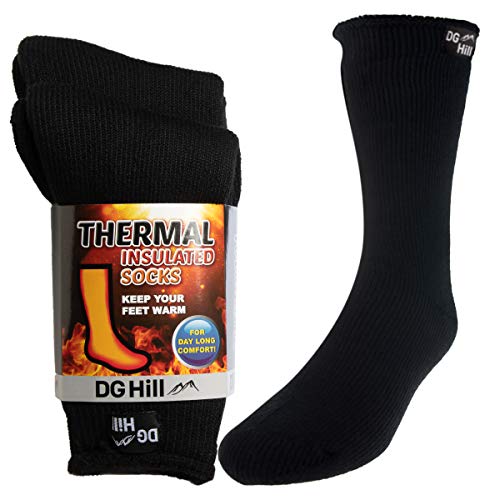 DG Hill Mens Thick Winter Boot Socks At a Glance
:
---
Sizes: Small, medium and large
Length: Mid-calf
Material: Primary acrylic
Here is our first pair of winter socks that contain no wool at all. Wool is remarkable in many ways, but these socks are a great alternative as well.
These are made with primarily acrylic but designed in such a way that makes them 7 times warmer than cotton and softer than wool! They're also non-itchy.
The inside layer of the socks that goes right up against your feet is heavily brushed to the point of being ultra-soft and fuzzy. This increases overall comfort and helps thicken the insulation for your feet as well.
The material is also very affordable. You actually get 2 pairs of these socks for the price of one pair of the Carhartt ones above. Just like the Carhartt men's socks, these DG Hill socks are mid-calf height.
This lets them come up your leg the perfect amount for work boots. These are not just strictly for men, though.
We picked them out for our favorite men's winter socks specifically, but they can work well for older kids and women as well. They come in 3 different sizes which fit a variety of people of all sizes.
For men specifically, these socks will work for sizes 4 to 12. The DG Hill socks are ribbed near the top to keep them in place on your feet and also come in a variety of designs ranging from solid black to blue and purple striped!


---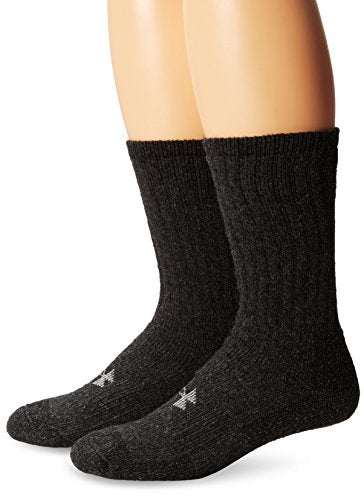 Under Armour Men's ColdGear Boot Socks At a Glance
:
---
Sizes: Small and large
Length: Mid-calf length
Material: 69% polyester/16% wool/14% nylon/1% spandex
Our final favorite pick for the best men's winter socks is from the wonderful brand Under Armour! These socks are about the same price as the DG Hill socks and also come in a 2-pack.
They have an interesting composition of materials. They're 69% polyester, 16% wool, 14% nylon, and 1% spandex.
Polyester and nylon create solid durability and keep the socks more affordable. The wool adds important insulation that creates comfort, warmth, and breathability.
It also adds moisture-wicking capabilities to the socks and is an important component in the sock's ArmourGaurd technology that keeps away unpleasant odors.
Then, the small amount of spandex gives it that much-needed stretch. This allows it to have a customized fit that stays in place better.
There are two different sizes available, so you can get these socks for men with shoe sizes anywhere from 4 to 12.
They come in your choice of black, grey, and brown. Coming up to around mid-calf makes these another great pair of winter socks to pair with work boots.
They also work fine for tennis shoes, though, if that is what you need or prefer.

---
Best Women's Socks for Winter
Finally, our last category of winter socks is the best women's socks for winter! Playing off of the men's sock category, these are all socks that are more ideal for and specifically designed for women.
They are luxurious, incredibly comfortable, and keep feet nice and toasty warm weather out in freezing conditions or just lounging around the house.
They're also stylish for women that like to look especially good even while working on keeping warm!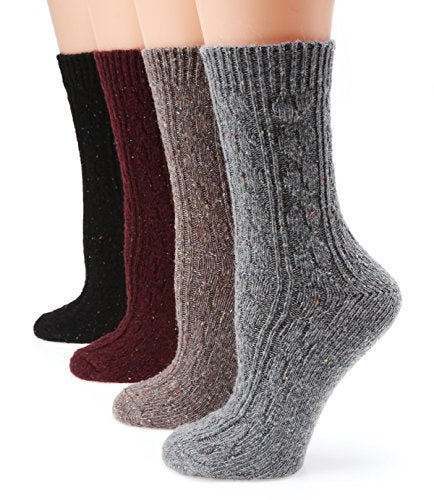 MIRMARU Women's Premium Blend Winter Socks At a Glance
:
---
Sizes: One-size-fits-all
Length: Calf-length
Material: Premium wool blend
These MIRMARU Women's Premium Blend Winter Socks are basically sweaters for your feet! Not only are they super warm and comfy, but they are adorably stylish as well! These socks are made up of a premium blend of high-quality materials.
This includes 30% wool and 27% spandex. The wool makes them nice and comfy like many of the other options on our list. It keeps heat in, wicks moisture out, and helps prevent any unpleasant odors that might otherwise come up.
You'll probably notice that the concentration of spandex in these socks is considerably higher than in other options. That's because of the special stretch-to-fit design.
These socks look smaller than they are before you put them on because they are designed to be stretched onto the foot.
This keeps them snugly fitting and securely in place on your foot. It also brings in a good amount of versatility in sizing. This one pair of socks should fit most women of close to average-sized feet.
With a low price and 4 in a pack, these socks are also pretty affordable overall with a really nice value to them.
One of the most attractive features of these socks is that they have stylish patterns sewn into the design similar to classic sweaters! The designs vary according to which style you pick.
You'll also have many colors and patterns to choose from as well! You can choose simple neutral options to go with nearly anything or go with bright, fun, and bold socks that make a statement!


---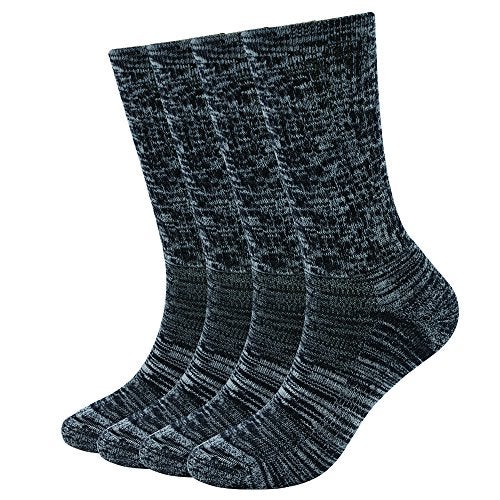 EnerWear Women's Merino Wool Crew Sock At a Glance
:
---
Sizes: One-size-fits-all
Length: Calf-length
Material: Merino wool
With the highest concentration of merino wool on our entire guide, these are possibly the coziest socks we've reviewed yet!
These women's merino wool crew socks are simple and stylish while also maintaining remarkable comfort and functionality. They contain 86% merino wool!
They are unbelievably soft and cushy and keep the heat in amazingly well.
They allow your body to effectively regulate temperature even in the coldest of places. This is another pair of one-size-fits-all women's winter socks.
These socks are designed to be very stretchy in order to fit most women's shoe sizes without any discomfort at all even for women with larger feet.
Terry-loop cushioning in the design provides natural padding to keep your feet comfy even on long walks or hikes.
They're also quite stylish with simple textured looks on solid designs in addition to an impressive selection of various colors, patterns, and designs.
A crew length fits most styles and needs well and ribbing at the top of the sock keeps it securely in place. Falling around mid-price on our list overall, this 4-pack of merino wool women's socks is great for style, functionality, and value!


---
Winter Socks Comparison Table
---
How to Choose the Best Winter Socks
When winter rolls around and the cold comes with it, your feet can be one of the most vulnerable parts of your body.
Not only are they closest to the ground, but the extremities lose heat the fastest and can quickly become uncomfortable and, in some cases, even painful when in the cold.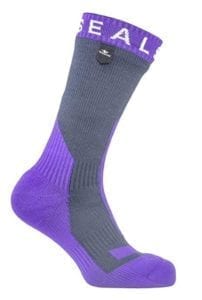 That is why it is so important to be prepared and take proper precautions against the cold for your feet. The right winter socks are a great place to start.
To find which winter socks are the right choice for you, read over these easy-to-understand factors of consideration below!
Materials
Right off the bat, you want to look at what materials your socks are made of. This is usually a blend of different fabrics and has the biggest effect on the capabilities of the sock as well as what experience you will have with it.
Here are the most common material choices you will find in winter socks and a little information about each one:

Wool
Wool is a safe and renewable resource that is harmlessly harvested from sheep and other various animals. It is incredibly warm and can be quite soft as well.
It has natural anti-microbial properties, is moisture-wicking, water-resistant (NOT waterproof), and remains breathable.
Polyester
This is a synthetic material that is lightweight, highly affordable, and easy to care for. It helps wick away moisture and dries very quickly. It is also quite durable.
Nylon
Overall, nylon is very similar to polyester. It is also a synthetic material that is lightweight, affordable, and easy to care for. It is a little stronger than polyester but doesn't dry quite as quickly.
Cotton
In general, cotton is not the best material for winter socks. When used in a blend with things like wool, it can add some comfort and breathability, however.
If a winter sock does contain cotton, it is probably best for around the house wear and/or wearing in less extreme cold weather. You definitely don't want it for sweaty or otherwise wet cold activities.
Spandex
Often times, socks contain some spandex to help them have better stretch. This helps with fit, comfort, and versatility.
Sizing
The sizing of various socks is pretty important, of course. You need socks that fit after all! Most socks come in different sizes. Sometimes, they just come in 2 sizes and sometimes they come in 3 or even more sizes.
Each size of sock will fit a different range of shoe sizes. Socks that come in a wider range of sizes will work well at giving a more precise fit for a wider range of people.
Some socks, however, are made to be one-size-fits-all. Of course, it would be more accurate to say, "fits most". These socks are generally made with a lot of stretch to them in order to let one size of sock fit a wide range of foot sizes.
You will most commonly find this sizing choice among women's socks. Just make sure you look at the range of sizes that any particular sock can work for and choose the right size for you!

Overall Fit
Playing off of the consideration of size, you also want to dig deeper to look at the overall fit of the sock – that is, the way the sock fits onto your foot.
This is affected by the design of the sock and the choice of adding things like ribbing at the top of the sock to prevent slipping or adding support at the arch of the foot for longer-lasting comfort.
You may also find some socks include padding in key points throughout the sock's design to further increase comfort and provide a better fit.

Moisture-Wicking
One really helpful feature of many winter socks is a moisture-wicking ability. This simply means that the fabric pulls moisture away from the skin to keep your feet feeling dry.
It is really good for keeping your feet comfortably dry from sweat, which can easily occur when your feet are bundled up for winter conditions.

Breathability
This is another important feature for winter socks to have. You want them to keep your feet efficiently warm, but you don't want them to feel suffocating either.
This also goes along with moisture-wicking. A good winter sock that allows some breathability will help keep your feet warm while also allowing airflow to the skin. This reduces sweating and increases comfort.

Odor-Control
Socks tend to start smelling quickly due to being bundled up on a generally sweaty part of the body. This can be uncomfortable, inconvenient, and even embarrassing.
Certain socks are made with special materials and/or designs that allow them to prevent odors. A good example of this is the natural anti-microbial properties of wool that help prevent the growth of bacteria that can cause bad odors.

Waterproof
Even most winter socks are not actually waterproof, but there are some options that are. Waterproof socks will have some sort of membrane within the construction that will not allow water to pass through.
So, you could step directly into water and still manage to keep your feet dry in waterproof winter socks – as long as the water isn't so deep that it goes above the top of your sock, of course.
If your feet will be getting very wet while in cold temperatures, you definitely want the waterproof feature. Otherwise, it isn't really necessary – especially since it adds to the cost a decent amount.

Length
The length, or height, of your socks is pretty relevant too. Some socks land very low on your ankle while others go farther up on your leg.
Longer socks are great for keeping you as warm as possible, but shorter socks can often be more comfortable overall and generally cost less, too.
You want to choose socks that at least go up as high as your choice of shoes. From there, it is mostly just about personal preference.

Style
This isn't going to be a top priority for an item with an important function like winter socks, but style can certainly still help play a role in your choice. Many socks come in different colors.
Some socks may come with different textures and patterns as well that further affect the style.
You can choose if you prefer to keep it simple with solid neutral colors or if you'd like to have some fun with bright colors and bold patterns!

Cost
Finally, you will need to consider the cost of the socks. In general, socks are considered very low-price items.
However, depending on the features, materials, and even the brand of the socks, the price can end up being quite high. Some winter socks are even well over $50 for a single pair.
There are plenty of highly affordable choices that still have good features, though.
You just have to figure out what you are able and willing to spend on the socks and then balance that with the features that you want in your socks.

FAQs on Winter Socks
What's different about winter socks?
When you hear winter socks, you might wonder what makes winter socks so different than just any pair of socks. Most ordinary socks don't do a whole lot to keep heat in. They are light and thin and don't provide much, if any, insulation.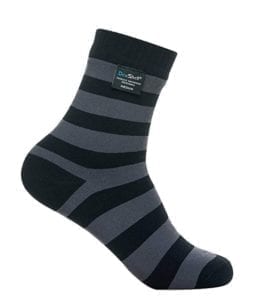 Winter socks are specifically designed to provide that insulation and prevent heat from escaping your body through your feet.
This keeps your feet nice and warm even in colder conditions. Winter socks are also often water-resistant or waterproof, moisture-wicking, and specially padded for additional support.
Are winter socks actually worth purchasing?
In most cases, winter socks are absolutely worth purchasing! Some winter socks are quite expensive, but the really expensive ones are unnecessary for most people.
Now, if you are constantly working in extremely cold conditions and/or if your feet will be getting wet when temperatures are very low, you will be glad to have purchased some of the more expensive options.
However, for most people, there are affordable winter socks that will fit well in their budget while also providing for their needs by keeping them much more comfortable and warmer even during cold weather.
They can even be good for keeping feet warm just around the house if that's all you need them for!

Winter Socks Buyer's Tips
Depending on what you intend to wear your winter socks for, they can be important for anything from just keeping you as comfy as possible around your house to actually keeping you safe on a long and wet winter hike.
They have a huge number of specific uses and purposes, but it all comes down to keeping your feet warm.
If you want to make sure you have the right socks to keep your feet warm when taking into consideration all the factors of the situation, remember to look at things like size, length, fit, and other features like moisture-wicking ability and odor-control.
All of these come together to determine what situations, environments, and people that each pair of winter socks is best for.
Don't forget to choose a trusted retailer for your purchase as well! Amazon has many wonderful winter sock choices.
Plus, they tend to have fast and easy shipping and top-notch customer service. There are certainly other places worth checking out, too, though! Your feet will soon be thanking you for the best winter socks!
---
Thanks for reading The 12 Best Winter Socks. We hope this article has helped you to discover the best choice for winter and thermal socks to meet your needs and types of winter activities. You might also be interested in our informative article entitled, Winter Clothing Materials and Fabrics.
MORE WINTER GEAR  HEATED GLOVES | DOWN JACKETS | FLEECE JACKETS | BASE LAYERS | BEANIES | WINTER GLOVES | WATERPROOF BOOTS | NECK WARMERS & GAITERS | HEATED JACKETS | HARDSHELL JACKETS | SOFTSHELL JACKETS | WINDBREAKERS | ICE FISHING BOOTS | WINTER HATS | WINTER SOCKS
How We Researched
To come up with the best winter socks, we researched a variety of sources for reviews such as REI, Backcountry, Moosejaw, EVO along with our own personal experience.
We also consulted online magazines for product research and reviews to get as much unbiased information as we could. To help weed out fake reviews we used Fakespot.com to make sure we only looked at genuine reviews.
With so much quality gear available, we had to narrow it down based on what we felt were the best options were for the price. The author, Madison Haire, is a family matriarch who loves the great outdoors. She knows just what socks are best for her and her whole family when the winter months turn cold.
To help narrow down the selection she used her personal experience along with recommendations from fellow outdoor adventurers.
After extensive research, we came up with our list to help you choose the right one for you.
Sources
Notice:
OutsidePursuits.com is a participant in the Amazon Services LLC Associates Program, an affiliate advertising program. OutsidePursuits.com earns fees from products sold through qualifying purchases by linking to Amazon.com. Amazon offers a commission on products sold through their affiliate links.