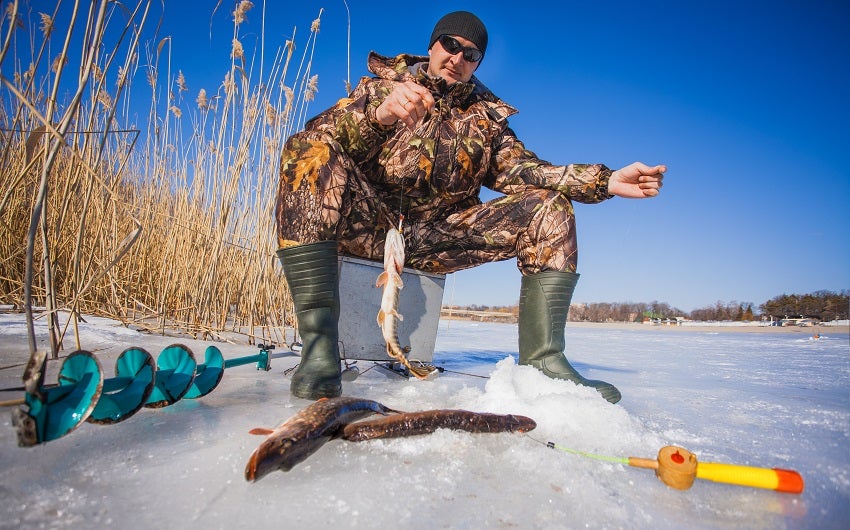 Our Editors independently research, test, and rate what we feel are the best products. We use affiliate links and may receive a small commission on purchases.
On the surface, ice fishing appears to be a simple activity. Simply, it entails catching fish in ponds, lakes or rivers where the surface has frozen over. But this is an activity that is intricate and requires preparation. You must put in effort and preparation before you head out onto the ice. You have to find a place for fishing while also using the best techniques for the process. Ice fishing can be enjoyable, provided you have the proper skills and gear on hand. So let's get started, shall we?
The History of Ice Fishing
It is unclear as to when ice fishing first took place in history, but it is known that the activity developed as a means of survival. Native Americans, particularly those in the Midwest United States, were believed to use sharp materials to chip away at iced-over surfaces during the winter. They would then use the openings for fishing.
Native Americans would use spears for ice fishing as other materials had not been invented or at least perfected just yet. They would even set up tepees for protection. One common strategy was to cover a hole so the light that shines into the water is not too intense.
Over the years, people started to use more traditional pieces of fishing equipment for ice fishing. Baits that could handle colder conditions and metal fishing lines that could persist in frigid waters were eventually developed.
The efforts created a more secure space for fishing without being too rough or hard to follow.
When Do People Ice Fish?
Naturally ice fishing seasons take place during the winter. The laws for when people can legally engage in ice fishing do vary by each state or province one is in.
Check with your local government or that of where you plan on fishing at so you can find out whether or not it is legal for you to go fishing at a certain time.
Where Can You Go For Ice Fishing?
There are many places around the United States and Canada that are conducive for ice fishing. The activity is popular in upstate New York as well as New Hampshire, Vermont, and Maine. Minnesota and the Upper Peninsula of Michigan are also noteworthy places.
You are more likely to find spots for ice fishing if you travel up north into Canada or Alaska.
Some of the best spots for ice fishing include:
Montana's Fort Peck Lake has a large variety of fish.
Lake Champlain spreads through New York, Vermont, and Quebec. The waters are wide open and feature plenty of sturdy ice surfaces during the winter season.
Devil's Lake in North Dakota features a significant number of perch.
Kathleen Lake in the Yukon Territory is famous for its massive trout population. The lake is in the middle of the Kluane National Park.
Lake Simcoe in Ontario is the home of the Canadian Ice Fishing Championship. The lake is famous for having a large variety of fish.
Lake Winnebago in Wisconsin is a quaint location with a light amount of snow along the icy surface.
Larger lakes are always good to find. Such lakes have more oxygen, thus making it easier for fish to swim around. The lakes listed above are all good examples of large spots to fish at.
What Can You Catch?
The types of fish that you could catch while ice fishing includes the following:
Perch
Trout
Northern pike
Walleye
Sunfish
Pickerel
Sauger
Such fish are more likely to be active in cold conditions than others. They are also more likely to be found in northern bodies of water than most other fish.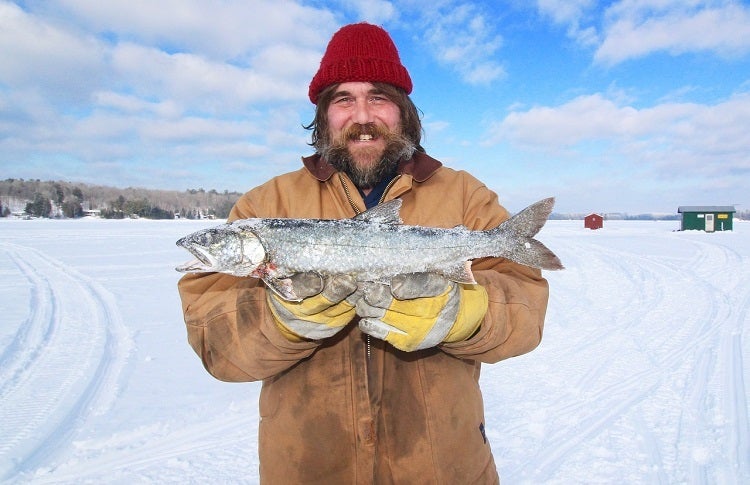 Ice Fishing Safety
What Should You Wear?
Be prepared for the cold weather when getting out to an ice fishing station. Wear plenty of sturdy layers of clothing. Thermal materials are especially important. Keep your head, feet and hands protected the most as those areas are more susceptible to the cold.
Since you be standing for long periods of time and walking over ice, a pair of ice fishing boots that will keep your feet warm and provide traction is necessary.
Anything that offers a secure fit that can be sealed off so cold air does not move into your feet always helps. A warm pair of socks is a good idea made from Merino wool is very popular with ice fishermen.
Have a coat, preferably a down coat is your best bet. A good base layer underneath the coat will provide additional comfort and warmth. Don't neglect your head! You will lose most of your body heat through your head, wear a warm winter beanie.
Check the Ice
Before you start ice fishing, you must look at how safe the ice is. Use an auger to cut through the ice to measure how deep it is. Review how deep the surface is.
There are a few standards to follow:
Stay off of any ice surface that is three inches thick or less. Such a surface could be at risk of bearing apart.
Ice surfaces that are four to six inches thick are safe to walk on for ice fishing.
A snowmobile or ATV fits on an ice surface that is at least eight inches thick.
A car or small pickup vehicle works on 12 inches of ice.
Check the ice thickness totals regularly while you are fishing. Make sure they are consistent and leave the area and take any vehicles with you in the event the ice becomes too thin.
Always Fish With Someone
Of course, you should never go ice fishing on your own. The buddy system is critical as it ensures you have someone on hand with you to watch what is happening and to see that any problems relating to ice come about.
Having another person on hand ensures that you have someone who can assist you in the event of an emergency. This is especially critical in cases where ice conditions might suddenly become a concern.
Ice Fishing Basics
When To Fish?
It is best to fish as the sun rises or sets. The conditions will be cooler during those times, thus ensuring the ice does not weaken.
Fish can still be found during any time of the day. Finding them during the sunrise or sunset periods is still best as those are times when fish are more likely to feed and search for food.
The full and new moon periods are ideal times for fishing. These are periods when fish are more likely to feed.
Fish are also active when the weather is stable. It is not ideal to fish when the winds are too difficult or the temperature is fluctuating in some way.
Cutting the Ice
An ice fishing auger is needed for getting a hole into the ice. An auger typically moves through several inches of ice at a time. It forms a circle that is a several inches in diameter.
This prepared a secure space for fishing that lets you quickly drop a line into the hole while keeping the surrounding ice from breaking apart or weakening.
Keep the auger as steady as possible. Do not let it shake while it drills into the ice. A model that features a blade guard is recommended as it produces a better circular shape into the ice.
Gear and Equipment Needed
As noted above you will need an auger to cut through the ice. Once you have a decent sized hole you need a rod and reel. However not just any reel will do.
Specially designed ice fishing reels  and ice fishing rods are available that can withstand the elements. Next up since you are going to be in possible frigid conditions, appropriate clothing is needed.
Lastly, if conditions are especially cold, a shelter of will make your time fishing much more enjoyable. There are specially made ice fishing shelters that are insulated that will also stand up to strong winds.
If you plan to leave a vehicle at the lake's edge overnight, or for several days, pack a portable battery jump starter in case your vehicle's battery is drained or frozen over.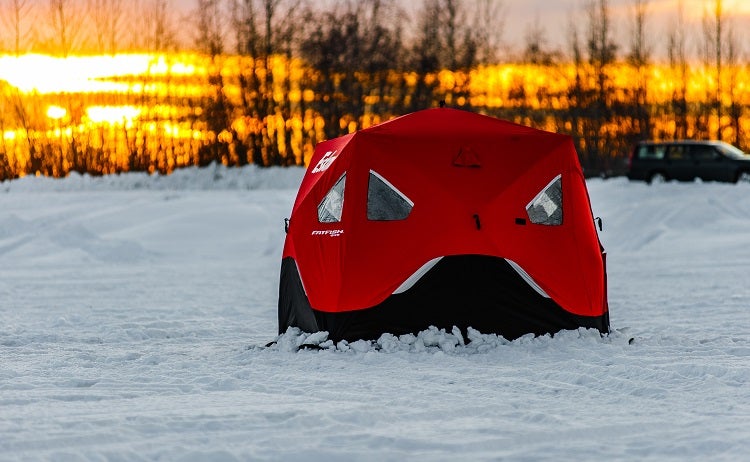 Ice Fishing Techniques
There are multiple ice fishing techniques that you could utilize for getting the most out of your fishing experience:
Jigging is recommended as it entails a jig added into the water to create a shaking motion as the bait is underwater. This creates a more visible lure for the fish to catch.
Line twisting is one technique worth using. Hold the line between your fingers and twist it to allow the jig to spin in the water while staying at the same depth.
Move your bait to the bottom of the lake as it gets deep into the water. Let it touch the bottom so it produces a small bit of dust and debris as it hits the surface. This attracts fish rather quickly.
Keep a cover over the hole after you add the line into the water. A cover keeps excess light from getting in the way.
How Deep Should Your Line Go?
One good part about ice fishing is that you do not have to put your line too far deep into the water. Fish typically get closer to the surface during the winter.
Oxygen stores around the deepest parts of the water start to become depleted as the winter comes along. Therefore, the fish move up towards the surface, thus making it easier for you to find them.
You can still choose to get the line all the way down to the bottom as mentioned in the prior section. But still, you do not have to keep the bait too far.
Some types of fish are easier to spot in deep spaces. Perch and walleye are easy to spot near the bottom. Try using your line at various depths to see how well it responds to different fish.
Types of Bait
Look at the bait you will add into the water. This is so you have a better chance at finding a great catch:
Wax worms are larvae that come from the bee moth. These are up to an inch in length. The distinct off-white body of the wax worm is easy for a fish to spot.
Spikes are blowfly maggots that feature worm-like bodies with pale colors. Trout respond well to spikes.
Mousies, or rat-tailed maggots as they are also called, are about half an inch long without their tails. These are easy to spot, but their bodies are fragile and can slip off of your hook quickly if not secured properly.
Eurolarvae are blowfly maggots that are fed dyed foods to turn them into various colors. The colors are produced to make the more appealing and visible to most fish.
You may also stick with artificial lures. Such lures should include jigging options that shake around and are easy to spot in the water.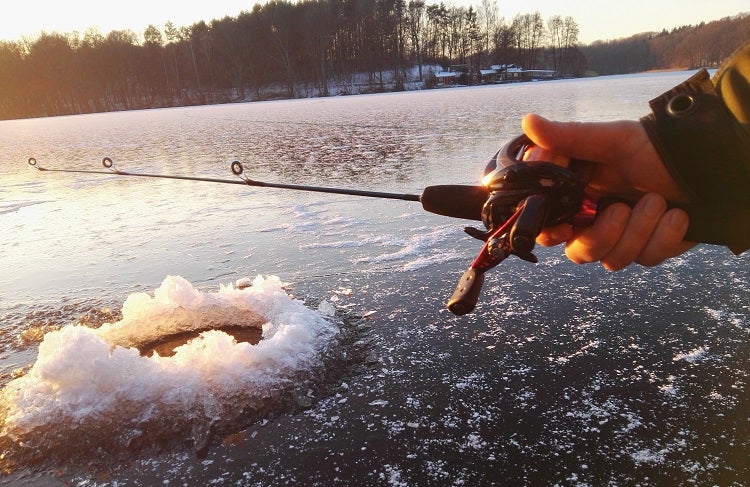 Ice Fishing Regulations
Be sure you review any regulations in a spot that you wish to get ice fishing in. All states and provinces have their laws for when you can fish.
Some bodies of water may be off limits for fishing. Such restrictions are applied due to environmental conservation or safety concerns.
Netting restrictions are often put in place in various places. In most cases netting is illegal. That is, you cannot put in a net to try and catch fish. You are only legally allowed to use a traditional line and reel for catching fish.
Spearing and bow fishing is legal in most places as these forms of fishing are more primitive and traditional. You will still require a license for fishing in this manner.
Getting a License
The most important regulation to follow is to have a license for fishing. You must acquire this type of document from the state or provincial natural resources or wildlife department that represent the place you will be fishing in. Most licenses are good for a full season.
You will require a license if you are aiming to fish in a state or province outside of the one you live in. People who live in their local areas are typically allowed to fish without licenses although that rule may vary.
For instance, residents of Minnesota can go fishing in that state without licenses although there may be limits regarding the materials they can use when partaking in that activity.
Also, people under the age of sixteen do not require fishing licenses in most situations. A license is usually required for minors interested in spear fishing.
Bag Limits
You may be limited in how many fish you can collect. Bag limits operate as a means of protecting the fish population to ensure that enough of them can spawn for regular fishing activities well in the future.
The bag limits may be good for just a few fish of a certain type during a single day. Some of the more uncommon fish in the waters might have even greater restrictions where you can only collect a certain number in a season. For instance, in Wisconsin you can only catch one lake sturgeon during the entire ice fishing season.
Contact the state or provincial government that you wish to go ice fishing in for more information on ice fishing rules. Some governments allow you to apply for a license to fish online.
---
I hope this guide was helpful in learning how to ice fish. If you want to comment or recommend any techniques or gear I didn't include, please use my contact form to get in touch.
Have fun and good luck!
Notice:
OutsidePursuits.com is a participant in the Amazon Services LLC Associates Program, an affiliate advertising program. OutsidePursuits.com earns fees from products sold through qualifying purchases by linking to Amazon.com. Amazon offers a commission on products sold through their affiliate links.