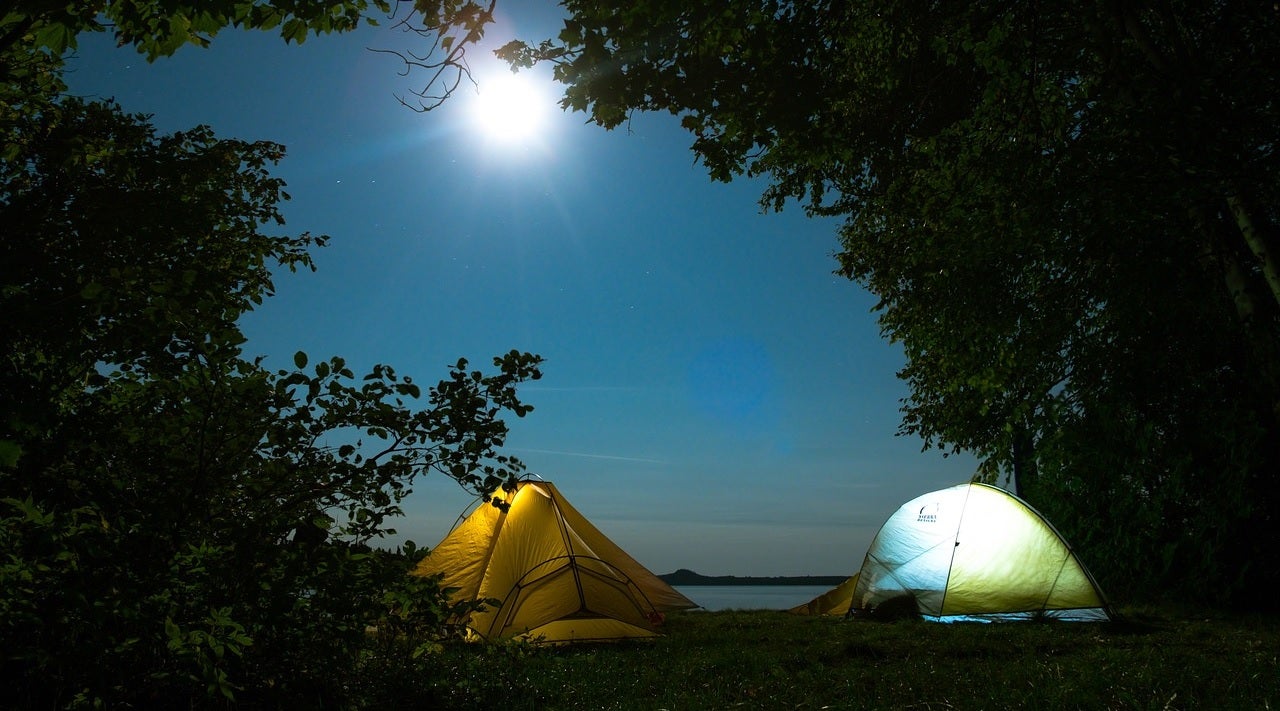 Our Editors independently research, test, and rate what we feel are the best products. We use affiliate links and may receive a small commission on purchases.
Nothing quite beats the joy of a night in the great outdoors. Think marshmallows around the campfire and comfy tents. If you're a first time camper, there's a lot to know about planning your first trip, with many of those things learned through experience and experience alone.
That said, we've put together a few tips you should know from the get-go to help ease your way into becoming a smart camper, and to ensure your first camping trip is a happy one.
#1 You don't have to break the bank with a fancy set up.
If you're a first time camper, you'll likely be enticed to invest in the newest, fanciest set up. After all, you want to make it the first-time camping trip to remember, right? And surely, that's a sure-fire way to do just that? Well, you might be surprised to learn that we don't always agree.
Breaking the bank isn't always necessary, especially when it comes to investing in good camping gear. Do your research and buy only what you think will be necessary for you and the circumstances of your trip. And, don't forget – camping gear is much cheaper when bought out of season. Think the end of August, when most retailers hold summer sales.
#2 But DO buy a bigger tent than you think you'll need.
Although you don't have to opt for the most expensive set-up on the market, you should always consider buying a bigger tent than you initially think you'll need.
For example, a four-man tent may sound ideal, but once you get all of your gear in there, as well as air mattresses and sleeping bags, there won't be much breathing space. Again, do your research and opt for a tent that is more than big enough to house however many people you'll be camping with.
And, to make things easier, get a tent that is head-height. Trust us.
#3 Choose your campsite wisely.
The campsite that you choose will, inevitably, have a big impact on how you enjoy your first camping trip. At the end of the day, the location that you choose is ultimately down to the kind of camping experience you hope to have.
You'll need to consider whether you want you would prefer to venture overseas for your trip, or whether you'd prefer to have a staycation a little closer to home. Are you drawn to the countryside, or does the coast sound more appealing?
Would you prefer a site that has facilities, or do you want to embrace the great outdoors? You will have all of these factors to consider for your trip. As well, if you're camping with a group, try to ensure everyone's preferences are taken into consideration.
#4 Ship your camping equipment ahead.
If you're planning to camp in a site further afield, perhaps overseas, the organizing the transportation of all of your gear should factor into the very early planning stages of your trip. Many airlines will permit you to carry your camping gear with you on your flight.
However, depending on the sizes of the items, doing so can be costly due to oversized baggage fees applied to special baggage by many commercial airlines. Though don't fret, as there is an alternative. You can have all of your camping equipment transported straight to your destination with a shipping company.
Shipping companies collect your equipment straight from your front door at home and ship it ahead to your campsite so that everything can meet you upon arrival. This way, you'll spend less time worrying and more time enjoying your trip.
#5 Avoid camping in severe weather.
If you hope to be a smart camper right from the get-go, avoid camping in severe weather, whether it be rains, wind, snow or otherwise. Of course, no one has control over the weather, and predicting it accurately can often be hit or miss.
That said, you should pay close attention to weather forecasts and be mindful about camping in any kind of severe weather. There's nothing enjoyable or comfortable about being stuck inside your tent for days as heavy rainfall pounds down outside.
And, don't forget, even during warmer months the temperature at night can drop pretty low, so consider this when planning your trip, too.
#6 Camping is all about being prepared.
At the end of the day, camping really is all about being prepared for any kind of scenario, whether it be the weather or otherwise. Bring sufficient clothing which will, of course, depend on the weather forecast, but don't forget to think outside the box, too.
As mentioned, predicting the weather down to a T can be tricky, so even if it forecasts unrelenting sunshine, don't neglect your raincoat. It could be a life saver! Pack layers and jackets for cooler evenings, and put together a first aid kit for any emergencies (though here's hoping you won't need to use it).
We've said it once, but we'll say it again, do your research before planning your trip so you can at least say that you're ready to expect the unexpected.
Notice:
OutsidePursuits.com is a participant in the Amazon Services LLC Associates Program, an affiliate advertising program. OutsidePursuits.com earns fees from products sold through qualifying purchases by linking to Amazon.com. Amazon offers a commission on products sold through their affiliate links.