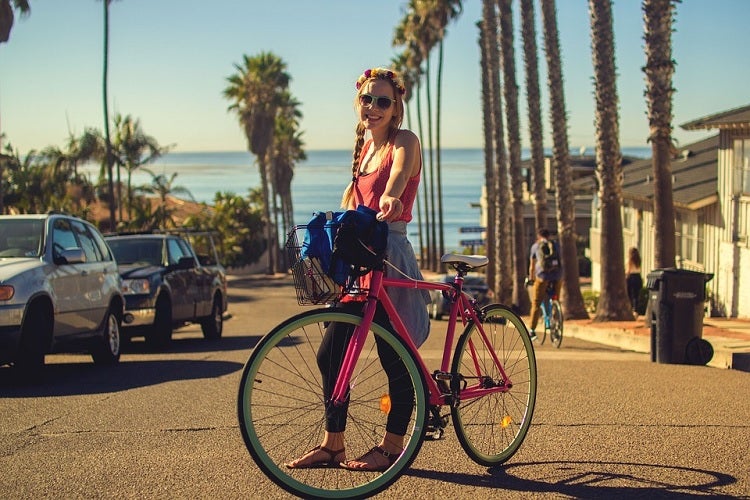 Our Editors independently research, test, and rate what we feel are the best products. We use affiliate links and may receive a small commission on purchases.
The best way to explore a city, town or village is, arguably, on a bike. Cycling in a city not only allows you to explore its landscape but also lets you soak in its culture, people and feel its pulsating heart.
Cars and buses are great ways to explore a destination's tourist sights, but cycles are the best way to absorb the city's way of life and ride its crowded bustling streets. Moreover, it helps you stay fit on vacations and is an environmental-friendly form of transportation.
In fact, National Geographic wrote a blog on how to bike across America and go on an epic solo adventure trip by making lots of memories with zero baggage.
Most people opt to rent bikes while exploring a new city or town or scenic landscape. After all, it's difficult to lug a large cycle across the country.
Bike renting has become increasingly common since it offers an affordable and easy way to cycle across serpentine roads, meander cobblestoned lanes and roam freely on winding streets. However, cyclists should be careful while selecting a bike for rent.
Here are five bike renting tips that you should keep in mind before leasing a two-wheeler:
Read Important Rental Information
Most people, especially gullible tourists, tend to ignore rental information and simply hire a bike for the day. Ignoring rental rules can lead to a lot of problems at the end of your trip such as shelling more cash for the cycle and paying for damages.
It is essential that you read their terms and conditions which include when to pick up and return bikes, store hours, rental charges, deposit fees, types of models available for hire and more. Moreover, usually rental information is listed on the shop's website.
Ask for Maintenance Policies
Some rental shops do a good job in maintaining their bikes – they clean them, lube them and promptly repair broken parts. Some not so much. One important bike renting tip is to ask about their maintenance policies.
Additionally, find out what year the cycle was manufactured in – is it an old bike or a new one? As a thumb rule, bikes should be replaced every year since rental bikes suffer from a significant amount of wear and tear. Of course, how often a bike rental shop replaces its cycles depends on how often the cycles are rented by tourists.
Damage and Late Fee Cost
Let's be honest: No one can guarantee, with a 100% certainty, that their bicycle will be returned to the shop with absolutely in pristine condition, with no damage and on time.
Accidents happen to even the most cautious riders. Therefore, it's necessary to know the damage and late fee cost before renting your bike.
Not only will you be better prepared – both financially and mentally – to pay the cost but it will ensure that you ride cautiously while traveling through new and exciting paths in the city.
For those renting mountain bikes, it's crucial to know the cost of wear and tear and damages. Some amount of wear and tear is permissible and non-chargeable for mountain bikes.
Also, do a comprehensive check of the mountain bike or cycle before you hire it. Take note of any existing damage and wear and tear (if any).
Know the Security Deposit or Credit Card Charge
Bike renting shops almost always take a security deposit either in cash or credit by pre-authorizing your credit card. Some of these charges are extremely steep so it's a good idea to know and compare the charges of different rental shops before selecting one to go with.
Lights, Fenders and Storage
Planning to explore a destination at night? You'll need a cycle with lights. Usually, the best time to explore a city or town isn't during the day – it's at night. This is particularly true when a festival or event is taking place in the city. There's no better time to drink in a city's culture than at night with festival-goers frolicking the streets.
Ensure that the bike is fitted with lights that enable you to sightsee at night. If it has a place to store items such as cameras and phones (for that perfect selfie), then that's even better.
You can also ask the shop to fit fenders if you're renting it for several days. They're not only cheap but you will be grateful to have them when you whiz past a puddle or pothole unexpectedly. Your back will thank you.
Most bike rental shops also offer discounts on the rental fee if you hire a bike for many days. In fact, you can certainly negotiate and get one day free if you lease a two-wheeler for seven days. Additionally, some shops offer a discount or remove the rental fee altogether if you buy the bike.
Keeping these bike rental tips in mind will certainly save you a lot of hassle in the long-run. Whether you're planning to hop on a cycle in Berlin or wander on biking trails in San Diego or jump into the mayhem and traffic of a busy New York City street, renting a bike should be an enjoyable experience that should aid your process of discovering (or even rediscovering) a destination.
Notice:
OutsidePursuits.com is a participant in the Amazon Services LLC Associates Program, an affiliate advertising program. OutsidePursuits.com earns fees from products sold through qualifying purchases by linking to Amazon.com. Amazon offers a commission on products sold through their affiliate links.