Finding the right saddle for your road bike can relieve you of pain and make your rides more enjoyable. Often the cause of saddle related pain is due to the width and shape of the saddle not matching the sit bones of the user.
No two people are built the same so it is impossible to recommend a saddle that will suit everyone.
The best we can do is explain everything that you need to think about when it comes to choosing a saddle and then give you a selection of the best road bike saddles available.
For more of my top gear recommendations, have a look through these popular Outside Pursuits guide links: Bike Lights, Bike Racks, Bike Helmets.
Quick Answer: The 5 Best Road Bike Saddles For 2019
Here is a feature overview of my top 3 overall picks. Our guide and comparison table of the top rated bike saddles will help you choose the right one for you.
Best Road Bike Saddle
| | Fabric Line Race Bike Saddle | Selle Italia Diva Gel Flow Women's Bicycle Saddle | Fizik Aliante Gamma K:ium Rails Road Bicycle Saddle |
| --- | --- | --- | --- |
| | | | |
| | | | |
| Cover: | Waterproof microfiber | Breathable full-grain leather | Durable Microtex fabric |
| Features: | Hollow titanium alloy rails, Poly Urethane foam shell | Streamlined profile and anatomical structure specific for Women | Tubular design metal alloy rails, carbon reinforced nylon shell |
| Best For: | Uni-Sex | Women | Men's and Women's available |
| | | | |
Bike Seat Reviews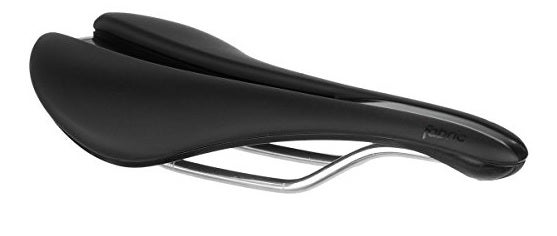 Comfort on long rides is the priority of this saddle. A deep groove for good blood flow, a slim profile and modest padding sit on top of a slightly flexible nylon shell.
The narrow nose allows you to pedal with your knees close together in an aerodynamic stance and by opting for a deep groove rather than a fully cut out section, Fabric ensure that there is no excess flex.
You do not have to be an endurance rider to enjoy the comfort of this saddle though. The rails are lightweight titanium alloy and the cover is durable waterproof microfiber. Overall I would say this is the best road bike saddle.
---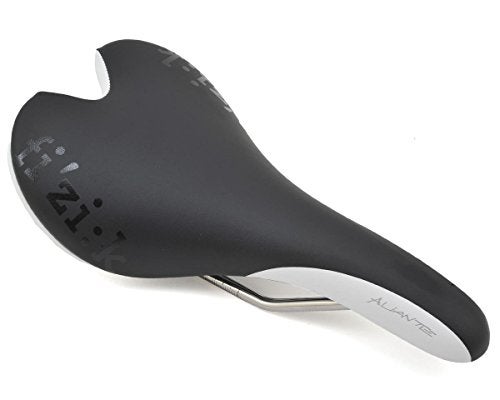 This saddle is intended for riders who ride with a low position and have narrow sit bones. Think Bradley Wiggins (he uses this saddle).
The Arione is quite long, allowing the user to shift their weight during a ride. Wingflex technology allows the saddle to flex for comfort while still ensuring maximum power gets transferred to the pedals.
The price is a bit higher compared to the Fabric Line reviewed above but this is offset by the quality of the construction and clip for saddle bags and lights. The "Kium" alloy of the rails is lighter than titanium while maintaining the same strength.
The seat has enough flex while providing stiffness to be among the most comfortable road bike seats you can buy.
Women's model: Fi'zi:k Luce Manganese Saddle – Women's
---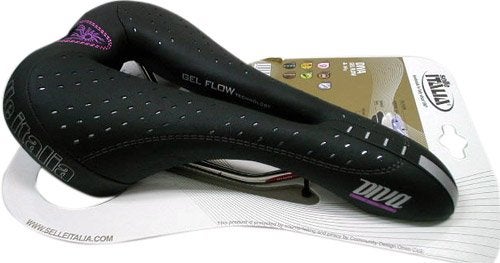 This high quality women's specific saddle is lightweight, features a leather cover and is flexible for comfort.
Often women's components and clothing are excessively pink and pretty, but the Diva contents itself with modest feminine styling.
The large central cut out improves blood flow and the width is relatively wide. Serious road racers may want to try something narrower.
The Diva provides all round comfort for short and long rides so is a great choice for all but very serious racers.
---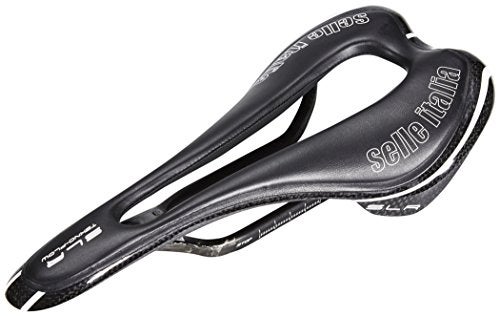 The Tekno sits at the top end of the road bike seat spectrum and is designed for low, aerodynamic racing in the drops. A wide cut out through almost the length of the saddle.
A synthetic cover complements the carbon base and carbo-keramic oval rails (make sure your seat post clamps are compatible) to make this a seriously lightweight option.
The only place where it is not light is on your wallet but you are paying for a serious piece of equipment that will help you stay comfortable and fast. While not cheap, its certainly a top contender for the best road bike seat.
---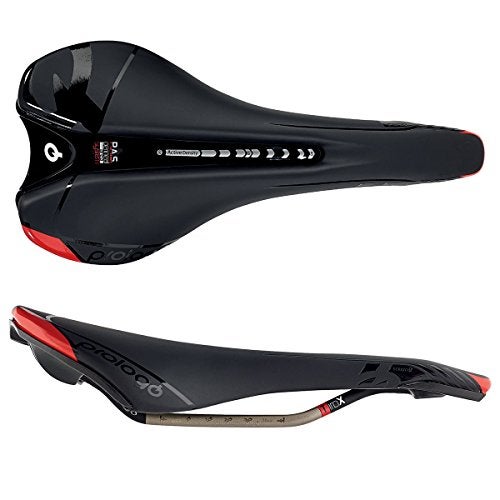 Another great choice for endurance riding. The dropped nose is intended to reduce pressure while still providing support.
The carbon base has a slight flex and padding provides support where it is needed, while pressure is reduced by the groove. It may feel firm, but the padding is there making it one of the most comfortable road bike saddles in its price range.
The profile is fairly rounded and this may not suit everyone (similarly, the nose may not be ideal for all users) but if it does fit, you will be very happy with the Scratch 2.
There is even a clip system at the back that allows Prologo bags, bottle cages and lights to be attached.
---
Road Bike Saddle Comparison Table
How to Choose the Best Road Bike Saddle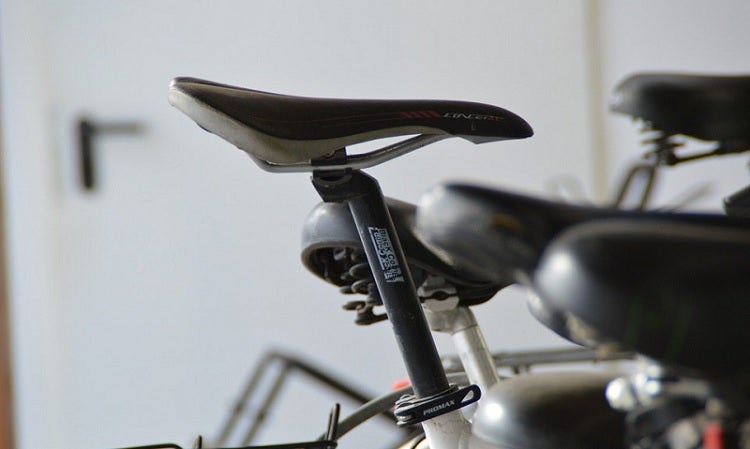 Even twins do not have exactly the same butts. Bear this in mind when reading any saddle reviews because it is highly unlikely that the reviewer has a similar anatomy to yours.
Whether a saddle fits and is comfortable or not is a very personal assessment and no one can tell you that any one saddle is the one for you.
First it is important to understand each part of a saddle and what they are made of.

Anatomy of a Bike Saddle
Cover: The top of the bike saddle is a cover, commonly made of leather or synthetic leather.
Padding: In between the cover the internal support shell may be some padding to provide some support. Serious road saddles will have little or no padding. Saddles with thick padding are not any more comfortable over long distances as the padding eventually compresses and can no longer provide any support.
Width and Shape: This is determined by the shell. This is usually made of plastic or carbon fiber, the latter being lighter but more expensive.
Neither is necessarily more comfortable that the other but many people like the stylish look and feel of real leather. Avoid covers that have seams on top as these can be a point that will rub.
Rails: Holding the whole thing to the seat post are two rails. These are made of alloy or titanium to save weight.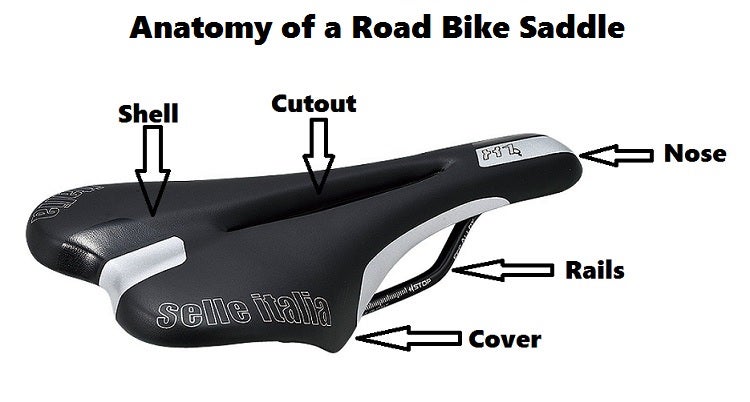 Width
The further apart your sit bones are, the wider the saddle needs to be. Probably. This is not an absolute rule but following it can help get you on the right track.
To measure your sit bone width, sit on a piece of corrugated cardboard and measure the distance between the middle of each depression.
If you have a low riding position that stretches out your body, then a narrow saddle will be allow you to pedal efficiently because less weight will be on the saddle.

Length
The nose of a saddle also supports some weight, especially when climbing. Some saddles even have a lowered nose to reduce pressure but still provide support. A longer saddle will give you the ability to shift your position more than a shorter saddle.


Padding
There is usually very minimal padding in a road bike seat. Thick padding will not prevent soreness but some foam or gel in the right place can help reduce pressure or support your sit bones.
Cutout
You may have noticed certain saddles have a groove or hole cut down the middle. This is to reduce pressure on sensitive areas and increase blood flow to prevent numbness. Look for this feature in a bike seat if you are experiencing numbness.

How to Find the Perfect Bike Saddle
So we have already established that everyone is different. With that in mind and knowledge about your individual needs, you can find a saddle that matches your needs.
You may need to test several before you find the right one. Make sure to test a saddle for long enough as a new one requires several rides to break in. If you can, borrow one from a friend that is already broken in.
---
I hope this guide was helpful for finding the best road bike saddle to fit your needs. If you want to comment or recommend a bike seat I didn't include, please use my contact form to get in touch.
Have fun and enjoy the ride!
OutsidePursuits.com is a participant in the Amazon Services LLC Associates Program, an affiliate advertising program. OutsidePursuits.com earns fees from products sold through qualifying purchases by linking to Amazon.com. Amazon offers a commission on products sold through their affiliate links.