After a long day of hiking there is nothing better than setting in for the night in a comfortable, warm sleeping bag.
With so many types of sleeping bags available how do you know which one to buy? The wrong sleeping bag can make for a miserable trip.
To help make your decision easier we took some of the highest rated brands and evaluated them on weight, comfort, pack size and durability.
So lets take a look at some of the best sleeping bags on the market, then we'll help you choose the best one.
Here is a feature overview of the backpacking sleeping bags with full reviews and our buying guide below.
The 3 Best Backpacking Sleeping Bags
| | Outdoor Vitals Down Sleeping Bag | Aektiv Outdoor Down Sleeping Bag | Teton Sport Tracker Ultralight Sleeping Bag |
| --- | --- | --- | --- |
| | | | |
| | | | |
| Weight: | Packed Weight 2lbs 13oz | Packed Weight 3.5 Pounds | Packed Weight 4.1 lbs |
| Size: | 5 x 30 inches. Fits 6' and under. Long Model - 81 x 32 inches | 84 x 24 x 33 inches | 87" x 34" x 22" Inches |
| Packed Size: | 11 x 8 x 8 inches | 6 X 7 X 10 Inches | 15" x 9" x 9" inches |
| Insulation: | 100% Duck Down | 100% Duck Down | Synthetic |
| Temperature Rating: | 0 Degrees Fahrenheit | 15 Degrees Fahrenheit | 5 Degrees Fahrenheit |
| | | | |
Backpacking Sleeping Bag Reviews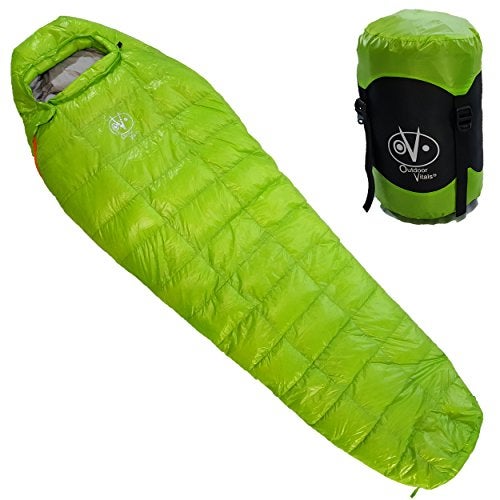 The Outdoor Vitals sleeping bag is a quality mid-range priced sleeping bag. Being made from a high quality down, it provides an amazing weight to warmth ratio. Being made of a 90/10 (down to feather ratio) the bag compresses down to only 11 x 8 x 8 inches!
This bag will fit into any backpack and weighing in at only 2.75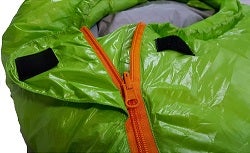 pounds you will barely notice it.
The durable shell is made from Outdoor Vitals "Rip-stop" Polyester that repels moisture and retains its shape.
Once you get in the bag at night you feel like you are in your own world of warmth, the 0 degree rating is spot on and with a sleeping pad is comfortable at even lower temperatures. In my opinion this is one of the best sleeping bags for cold weather.
The zippers are a snag free high quality design that will give you years of trouble free use. One thing to keep in mind with this bag, is being made of down, its important to not store it compressed, use the hooks to hang it and air it out.
Features of the Outdoor Vitals Include:
This Outdoor Vitals bag is a great bargain for the price, you will not find a similar quality down sleeping bag even close to its price range. It is the best hiking sleeping bag for the money.
This is our top pick for a backpacking sleeping bag
.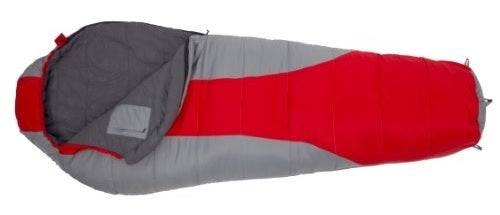 Teton Sport Tracker is a mummy style sleeping bag that will guarantee you warmth on cold nights. It has Pollarlite insulation to ensure that your warmth comes second to nothing. Additionally, it has three piece hood that will keep your face and ears fully covered as you sleep.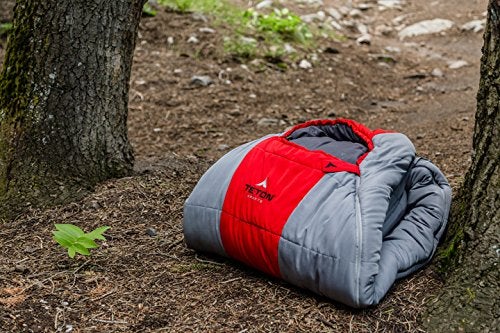 Having a zipper pulls accessible from inside and outside and running from the both the top and bottom, gives you the ability to zip up even if your hood is tied.
The bag is equipped with zippers that are taped with an anti-snag design made from Acetal Resin, it is also able to withstand extreme temperature conditions. The interior is made from a micropolyester liner that is so comfortable you won't want to get out of it.
One of the nice features is a interior pocket that zips up keeping your phone, wallet or other valuables safe and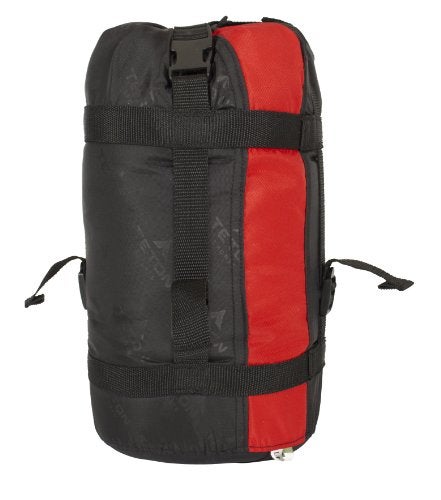 dry. The shell is a made from a patented "ripstop" shell that is incredibly durable and water resistant and able to take almost any abuse you can throw at it.
The Teton Sports Tracker weighs in at only 4.1 pounds, it goes into the extreme light weight category of sleeping bags.
Features of the Teton Sports Traker Include:
Size 87" x 34" x 22"
Weight 4.1 pounds.
Pack size 15" x 9" x 9".
Brushed micro polyester lining.
Sturdy, Water resistant Diamond Pistop Shell.
Interior pocket zips for electronics or wallets.
Innovative 7-denier Interwoven Pollarlite insulation to guarantee warmth.
Teton Sports has a reputation for making durable and quality products and the Sports Tracker will not disappoint. In my opinion, the Teton Sports is the best backpacking sleeping bag under $100. If your looking for a inexpensive sleeping bag, you won't go wrong with the Teton Sports Tacker.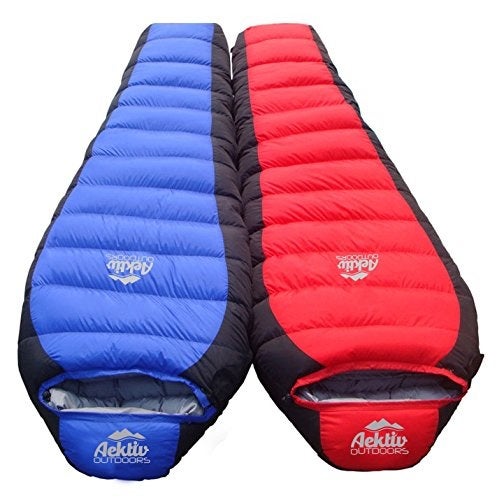 The Aektiv is a lightweight mummy style sleeping bag that will keep you warm and comfortable on the coldest of nights.
The Aektiv Outdoor is made from a quality down and is a 3 season sleeping bag, rated down to 15 degrees F, down to 0F with a sleeping pad.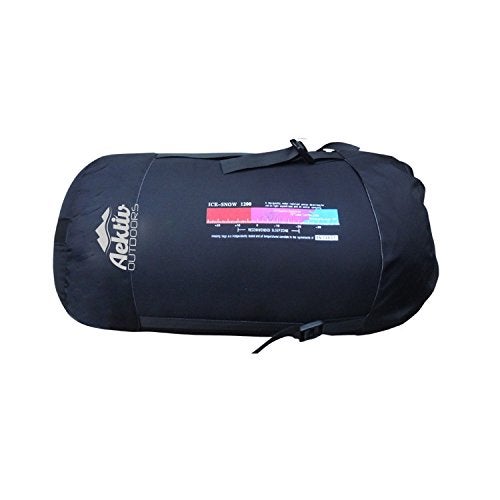 The sleeping bag weighs in at a lightweight 3.7 pounds including the compression sack and measures 6×7 inches when compressed so it will take up little room in your backpack.
Uncompressed it measures 84 x 24 x 33 inches with extra room at the foot of the bag keeping your feet comfortable.
The bag has a internal compartment that zippers up and keeps your valuable secure and water tight.
One thing that is notable about this bag is it is water proof, not just water resistant, so if you are camping where there is a good chance of rain the Aektiv bag is a better option than a "water resistant" sleeping bag and makes it one of the best camping sleeping bags on the market.
Like any down sleeping bag, its important to not store it compressed, use the hooks to hang it and air it out.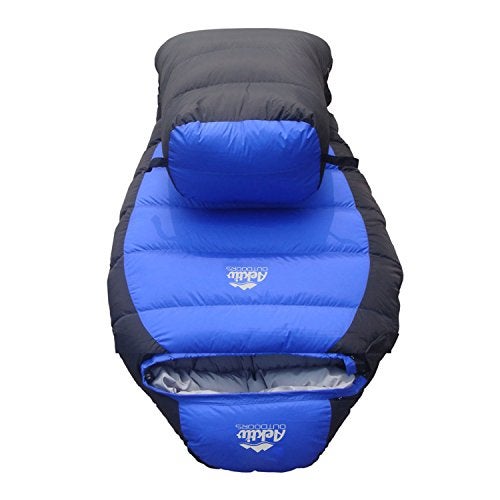 Features of the Aektiv Outdoor Include:
Weight; 3.5 pounds, ideal for carrying around with ease.
It compresses to 6 x 7 inches which allows it to be the perfect size for backpacking
Measurement 84 x 24 x 33 inches
Temperature ratings; 15 Fahrenheit
Extra foot area to allow feet stretching.
The Aektiv Outdoor sleeping bag is a quality backpacking sleeping bag for a bargain price.
How to Choose a Backpacking Sleeping Bag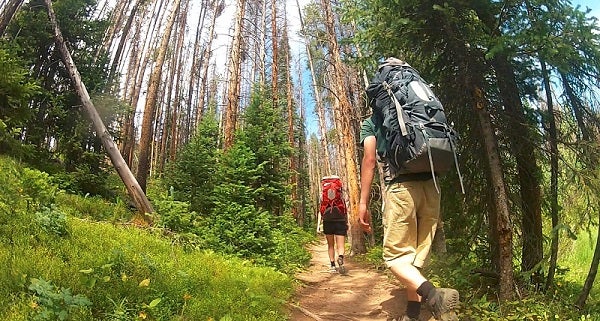 Choosing the right sleeping bag might the most important decision of your backpacking trip. There are a lot of decisions you will need to make to choose the right sleeping bag. Your biggest decision you will need to make is the choice of down or synthetic insulation. They each of course have their advantages and disadvantages.
Above we tried to give you a summary of all the different types of bags to help you make an informed decision. This review has its focus geared to sleeping bags for backpacking but are suitable for car camping as well.
Selecting The Right Type Of Sleeping Bag
What type of sleeping bag will suit your needs? As much as outdoor sleeping should be fun, it doesn't need to  be expensive. The best sleeping bag should be budget friendly, lightweight and pack up to small size so it doesn't take up too much room in your pack. The following are the types of sleeping bags that will commonly find.
Traditional Style Sleeping Bag
If you are the person who considers one backpack for all type of outdoor activities, then the traditional style sleeping bag is ideal for you. These are the most versatile and comfortable because they do not need to emphasize size and weight and are usually better suited for car camping for this reason. Most are suitable for 3 season camping, meaning early spring into late fall.
Camping Sleeping Bags
Camping Sleeping Bags are usually too heavy for a backpack but also tend to be the thickest and most comfortable. If your not hiking to far to your campsite you may be able to use one. They are also usually cheap and can be had for less than $50, sometimes even cheaper.
Ultralight Sleeping Bags.
If your backpacking trip will be more than overnight and involve hiking any sort of distance then this type of sleeping bag is what you will need to invest in. The ultralights are usually under 3 pounds and made of down because of its light weight and warmth. The Outdoor Vitals is a great example of an ultralight sleeping bag.
Types of Insulation
The insulation type of the sleeping bag is your most important consideration. There are two mains types, down and synthetic. Your budget, packing requirements and the season your camping in will determine which type will be best for your needs.
Down
If durability, warmth and compressibility are your primary concerns, then down should be your sleeping bag of choice. They have many pros over their synthetic counterparts. Two of our three recommended sleeping bags are down for this reason. No synthetic insulation has yet to match the warmth to weight ratio of down.
Synthetic
Synthetic sleeping bags are best known for their ability to withstand wet conditions and better at keeping their shape and insulating properties in those type of conditions. However, they are bulkier and heavier than down sleeping bags so you will need to keep this in mind. They are also cheaper, so if your budget doesn't allow for a down bag then you will need to go the synthetic route.
How To Evaluate A Sleeping Bag

We evaluated the sleeping bags the basis of their weight, warmth, packed size, features & accessories and versatility.
Warmth
The thickness of the sleeping is going to determine its ability to keep you warm. Its simple physics, a thicker bag allows more space between you and the cold air and ground. A tighter fitting, mummy style bag will keep you the warmest as it will not allow for cold air to get in between you and the sleeping bag.
As stated above, down sleeping bags tend to be thicker when uncompressed and therefore will keep you warmer than a synthetic bag. We found the Outdoor Vitals to be the thickest and warmest of the sleeping bags. The Teton Traker was the least warm and no coincidence had synthetic insulation.
One thing that will make a big difference in how warm you are is using a sleeping pad. Using a pad in cold conditions or if your really hard core and sleeping on the snow then its a necessity not a luxury.
Packed Size
When you want the smallest possible size of packed sleeping bag then there really is no comparison with a down sleeping bag. Synthetic bags just cannot compress any where near as small and tight as down. The Aektiv Outdoor was able to compress to the smallest size of any bag we tested.
Versatility
The sleeping bag that will allow you to use in cold and wet conditions will of course be the most versatile. So you should consider where you will be camping and the time of year you will using it before making a decision. If you are a year round camper or not sure when you will be going, then you need to go with the most versatile sleeping bag that fits your budget. We found the Outdoor Vitals to be the most versatile sleeping bag at a bargain price.
Comfort
Comfort goes hand in hand with the size and thickness of the bag. A bigger, roomier bag will leave more space for movement within it. However, the downside is that in colder weather that extra space will allow for cold air to come between you and the sleeping bag keeping you colder than tighter fitting bag.
So there is a bit of a trade off there. The longer your trip is then you will need to take this into consideration more so than a simple overnight trip. We found the Aektiv Outdoor bag to be the most comfortable.
Features and Accessories.
Most sleeping bags come with standard features like heavy duty zippers, a durable shell, draft tubes and a stash pocket. The features you should focus on are those that increase warmth, comfort or convenience. One nice extra feature we found useful was a water resistant stash pocket for keeping your phone or GPS device in.
Taking Care of Your Sleeping Bag
If you want a long service from your sleeping bag, then you need take care of them, no big secret there. A sleeping bag with down is more work to take care of. Your main consideration with a down sleeping bag is to store it uncompressed. So when you get home from your trip, the first thing you should do is to take it out of the compression sack and unfold it.
Down sleeping bags typically come with hooks at the bottom to store them hanging so they can maintain their thickness and keep them aired out. Make sure when you clean your down sleeping bag to use a mild soap recommended by the manufacturer.
Synthetic sleeping bags on the other hand are way easier to deal with. They can be put in the washing machine as water does not damage them or clump up the insulation. A synthetic sleeping bag in general will not last as long as a quality down sleeping bag that is properly cared for. But that is somewhat balanced out in that they are typically cheaper.
If you can afford paying a little more you will be better served buying a quality sleeping bag like the Aektiv Elements or Outdoor Vitals.
Your going to need a good backpack to carry your sleeping bag, here is our guide to the best backpacks, hiking shoes and tents. New to camping?, here is a beginners guide to camping.
Notice: Outside Pursuits is a participant in the Amazon Services LLC Associates Program, an affiliate advertising program to provide a means for sites to earn advertising fees sold through by advertising and linking to Amazon.com. Amazon offers a small commission on products sold through their affiliate links. Each of your purchases via our Amazon affiliate links supports our efforts to bring you the best possible product reviews at no additional cost to you. We appreciate your support here at OutsidePursuits.com
Review Overview
Summary : We found the Outdoor Vitals Down Sleeping Bag to be the most versatile, comfortable and warmest sleeping bag we tested.