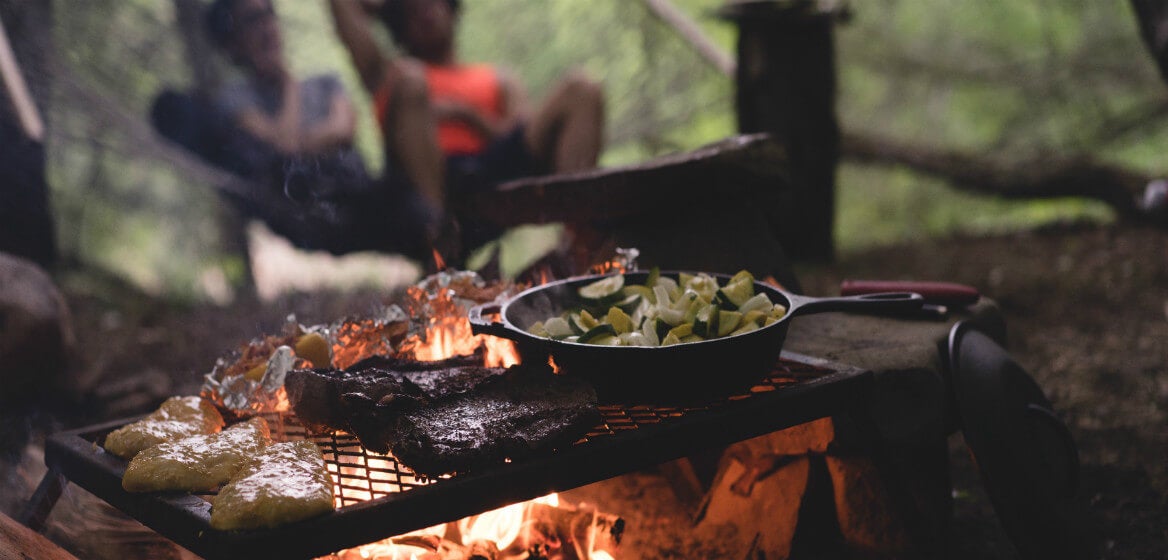 Our Editors independently research, test, and rate what we feel are the best products. We use affiliate links and may receive a small commission on purchases.
One of the most memorable parts about camping is cooking your meals over a fire. The smoky flavor of fire-cooked food is simply unparalleled. Plus, it promises fun for the whole family — from gathering wood to biting into juicy, flame-licked steaks.
However, the idea of doing everything yourself may seem intimidating, especially if you're new to campfire cooking. But with the proper tools and the following tips, you'll be grilling up delicious meals in no time.
Related reading: The Best Smokeless Fire Pits for Camping, Backyards and Tailgating
Pack the Right Food
Campfire cooking is all about coming prepared. And a huge part of preparation includes choosing, prepping and packing all the food you'll need before you leave.
If you're heading out into the wilderness for more than a weekend, this can seem a bit overwhelming. But prepping your meals doesn't have to be a long, arduous process. Plus, it saves you from packing extra items like knives, cutting boards, peelers and other prep tools that only take up space in your pack.
If you'll be hiking most of the day, pack pre-made food and snacks like protein bars, trail mix and fruits to munch on throughout the day. And plan for two main dishes per day — breakfast and dinner. Chop, marinate and label each meal, dividing them into Ziploc bags so you're all ready to cook them when the time comes.
You also might purchase a meal planner to keep track of which foods your campers will be eating each day. This way, nothing goes to waste and you don't run out of meals.
If you pack items that need refrigeration, like raw meat, eggs or dairy products, place them in a cooler with frozen water bottles, juice packs and ice. This is especially important if you're camping in hot weather. Food left out at temperatures above 40 degrees Fahrenheit will breed microorganisms that can make you ill. Keeping meals either frozen or chilled is key.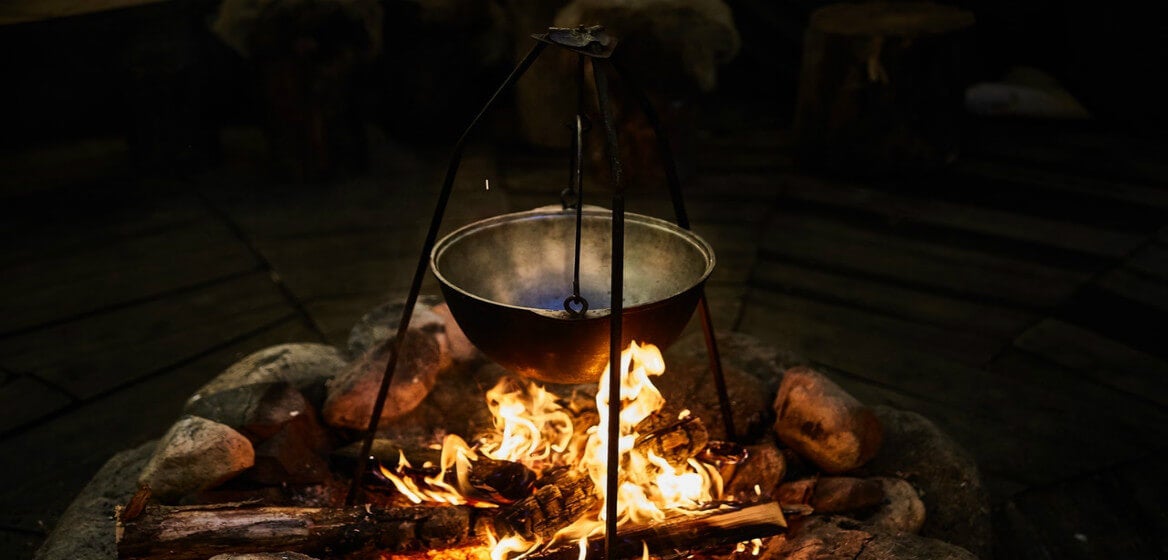 Choose Your Cooking Method
There are several different ways to cook over a fire. Some are better for cooking certain foods than others.
For example, cast iron skillets are great for making eggs, pancakes and other runny foods. However, cooking these items on a metal grate over the fire obviously wouldn't work. But the grate would be perfect for grilling hamburger patties, sausages and long vegetables like zucchini.
Skewers are also ideal for toasting marshmallows or making hot dogs. You might also look into purchasing hobo pie irons, which you can use to make everything from pizza pockets to fruit-filled pie pouches. Aluminum foil packets are equally simple to use, and you can make them yourself by placing entire meals in foil and slowly cooking them over hot coals.
Tripod grills are also relatively easy to use, although they may take up more room in your backpack. You may find it easier to stick with a simple grate placed over a fire.
If you'd rather go completely equipment-free, it's possible to cook food on a flat, hot stone. Just be sure to choose slabs of rock like granite or limestone and ensure they're completely dry before placing them over flames.
Bring the Bare Necessities
Once you determine which cooking method is best for you and the type of food you're taking along, commit to buying and packing only basic gear.
If this is your first time camping, you may be tempted to buy the latest and greatest cooking gear, but this will only weigh your pack down with unnecessary items. This may include skewers, a grate, tongs, a spatula or a skillet. But you likely won't need all of those items to get the job done.
If you're backpacking for most of the day, aim to buy the lightest versions of everything. Often, these are more expensive. But the investment of a few extra dollars is worth the reward of an unbroken back, right? So get online and compare prices to find the gear that'll be lightweight and make cooking easier.
Remember that camping gear is cheaper during the offseason, too. So look for sales in the winter or right after summer ends in August and September.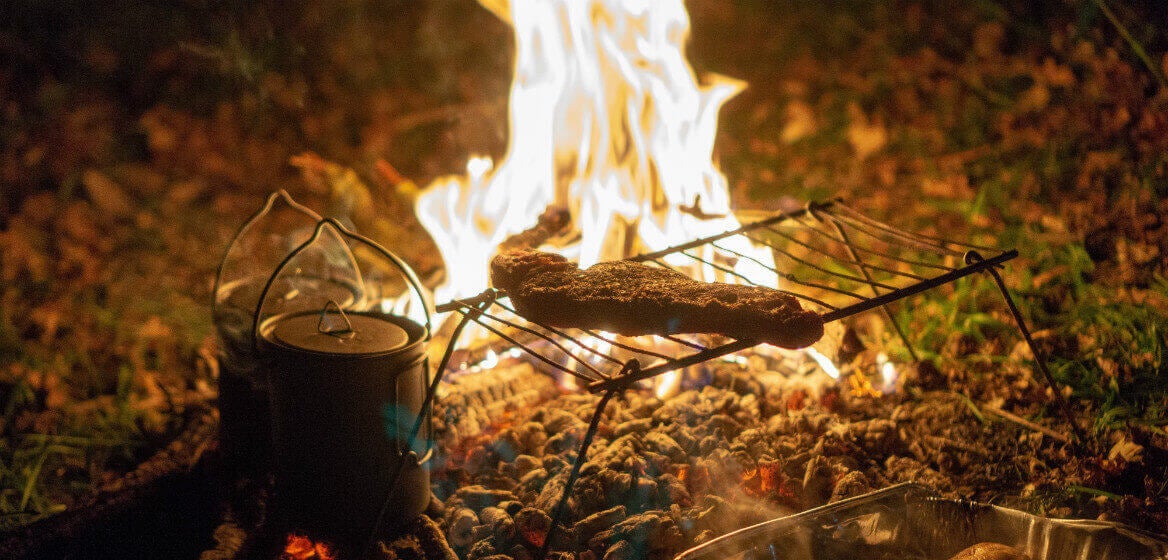 Learn Campfire Cooking Hacks
Of course, cooking food over a fire can be a bit trickier than cooking on your stove at home. Luckily, there are a number of creative campfire cooking hacks that'll help you make the most delicious meals.
As you become more familiar with cooking over open flames, you'll begin to create your own hacks to make the whole ordeal easier. Just be sure to write them down somewhere so you can pull out these cooking skills next season! Here's what to know:
Use skewer substitutes: Have you run out of skewers for marshmallows or shishkabobs? Never fear! Simply take a quick look around for some young, sturdy sticks, stalks of dill or even rosemary. Plus, if you use herbal stalks, they'll even add flavor to your food while it cooks.
Flip food often: Avoid burning your food by flipping it often as it sits over the fire. Temperatures tend to fluctuate rapidly, so keeping a close eye on the color of your food can help prevent charring and allow meats to cook all the way through.
Allow meat to rest: While it may be tempting to immediately cut into a steak, letting it rest for 10 to 20 minutes after cooking will make it juicier. And take the meat off the grill before it's too well-done, since it will continue to cook even after you remove it.
Pack spices in straws: Skip the bags and individual spice containers by filling plastic straws with spices and herbs. Seal both ends with the heat of a lighter. Label them and then simply snip them open when you need seasonings.
Scramble eggs in a bottle: Crack all your eggs beforehand and keep them in a water bottle. Then, simply shake it up to make pre-scrambled eggs. This saves you from cleaning up accidental messes or packing whisks and bowls and other extra gear.
Build a Great Fire
Naturally, cooking amazing campfire meals means building an equally awesome fire. And it may look a bit different from the roaring bonfire everyone loves to gather around at the end of the day.
While it may be pretty to gaze at, a large fire and wild flames aren't exactly conducive to cooking. Rather, build a small fire and allow it to die down a bit. Then, heap most of the coals to one side and place your grill over it.
Cooking your food over coals allows for more even heat distribution compared to cooking over flames. Plus, you can add more coal as your fire burns and dies over time so you always have a hot pile. You might also skip the grills and grates completely and place food directly into the coals — wrapped in foil or not — for a more smoky, charred flavor.
Practice Safety
Cooking over a fire is a one-of-a-kind experience and a must-do if you're going camping. However, cooking over an open flame can be dangerous if you don't take the necessary precautions.
Humans cause 84% of wildfires across the United States, and these can rage for months, destroying everything in their path. Therefore, it's crucial that you use the provided firepits or carefully constructed fire rings and that you check and double-check for elevated fire dangers in the area.
It's also important to never leave your fire unattended, even for a short period of time. If a rogue spark sets fire to something outside the fire ring, you must be present to notice and douse the flame quickly. Moreover, you must plan for the worst-case scenario and look for water or dirt that you can easily use to put out a flame.
Finally, make sure you plan an escape route in case anything does go wrong. Doing so before danger arises can save lives.
Notice:
OutsidePursuits.com is a participant in the Amazon Services LLC Associates Program, an affiliate advertising program. OutsidePursuits.com earns fees from products sold through qualifying purchases by linking to Amazon.com. Amazon offers a commission on products sold through their affiliate links.