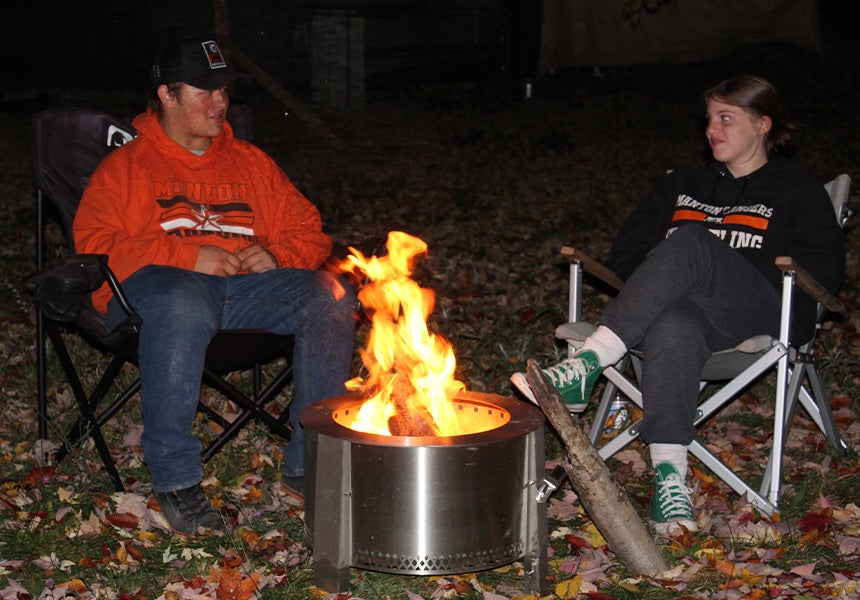 Our Editors independently research, test, and rate what we feel are the best products. We use affiliate links and may receive a small commission on purchases.
Many of us have a superpower and we don't even know it. Ever been sitting around a campfire and no matter where you sit, the smoke from the fire always seems to change directions and find its way into your face? We doubt there will ever be a movie made for this special ability, but we're sure the other folks sitting around the fire appreciate your hidden talent. Want to find a way to enjoy a fire without the smoke? Luckily for you, there are smokeless fire pits that not only serve to give you all the warmth and enjoyment of a roaring fire, but also do so without the plume of smoke getting into your eyes and lungs. What separates the best smokeless fire pits from the rest? Quality of construction and functionality help the best smokeless fire pits rise above the average ones.
Smokeless fire pits have a double-wall design and that's what makes them smokeless, well, not entirely. There is still some smoke, because there just has to be, but it is greatly reduced. To truly work, the vented, double walls of the fire pit need to heat up, which doesn't take long. This causes hot air to rise through the space between the walls and get pulled in through vents. The oxygen in that air heats up and then mixes smoke from the fire creating secondary combustion as the oxygen is burned again along with the smoke. Many people also notice that smokeless fire pits tend to radiate more heat than a traditional fire.
Cover image by Derrek Sigler
---
Best Smokeless Fire Pits
| | Breeo X Series 24 | Blue Sky The Ridge Portable Smokeless Fire Pit | Breeo Y Series Portable |
| --- | --- | --- | --- |
| | | | |
| | | | |
| Portable: | No | Yes | Yes |
| Deck Safe: | Yes, with optional heat shield | Yes | Yes, Built-in heat shield |
| Year Round use: | Yes | Yes | Yes |
| Average time to get a fire going: | 3 minutes | 3.5 minutes | 2.75 minutes |
| | | | |
---
Best Smokeless Fire Pit Quicklinks
---
The Best Smokeless Fire Pits Reviews
---
Breeo X Series 24 – Editor's Choice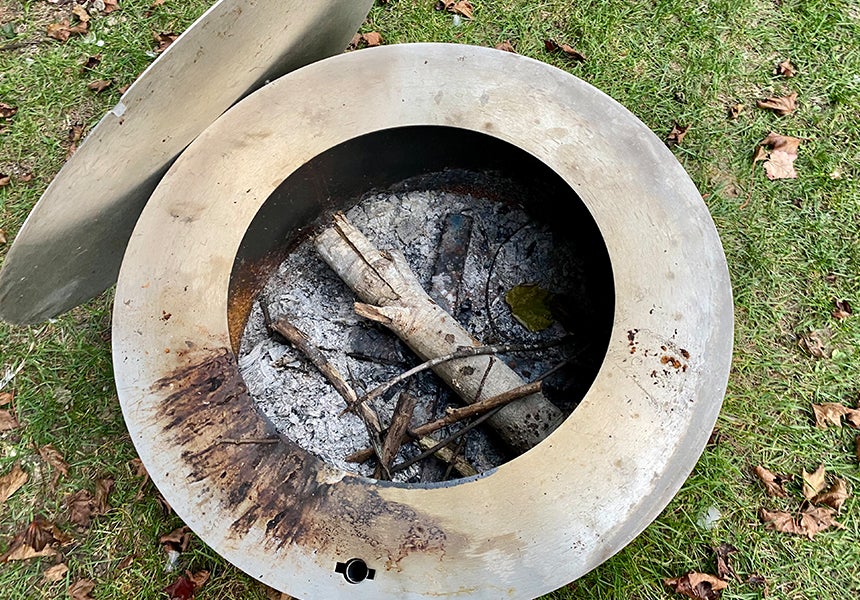 Portable: No
Deck Safe: Yes, with optional heat shield
Year Round use: Yes
Average time to get a fire going: 3 minutes
The Breeo X Series 24 is our pick for Editor's Choice when it comes to smokeless fire pits. It uses Breeo's X Airflow design, which has an "X" shaped row of vents across the bottom of the pit, which helped with venting. A true double-wall design, the Breeo pulls air up through the bottom of the walls for the secondary combustion that is a characteristic of a smokeless fire pit. The row of vents across the bottom help draft more air, helping to make the X Series burn hot.
If you took the best smokeless fire pits and compared them side by side, which we did, you'd notice that the top two out there are really close in how well they work, yet there is one thing that helped push the Breeo X Series 24 over the top and into our pick for Editor's Choice – Durability. The Breeo is made from tough 304-gauge stainless steel, and in the case of our test unit, corten steel for the exterior. The corten steel model starts out as a blue steel, but over the course of a few uses, it develops a sweet-looking rustic patina. Our test unit has been used for quite a bit, and sits in our yard on a regular basis, exposed to the Michigan elements. We even backed into it with a truck and it wasn't dented.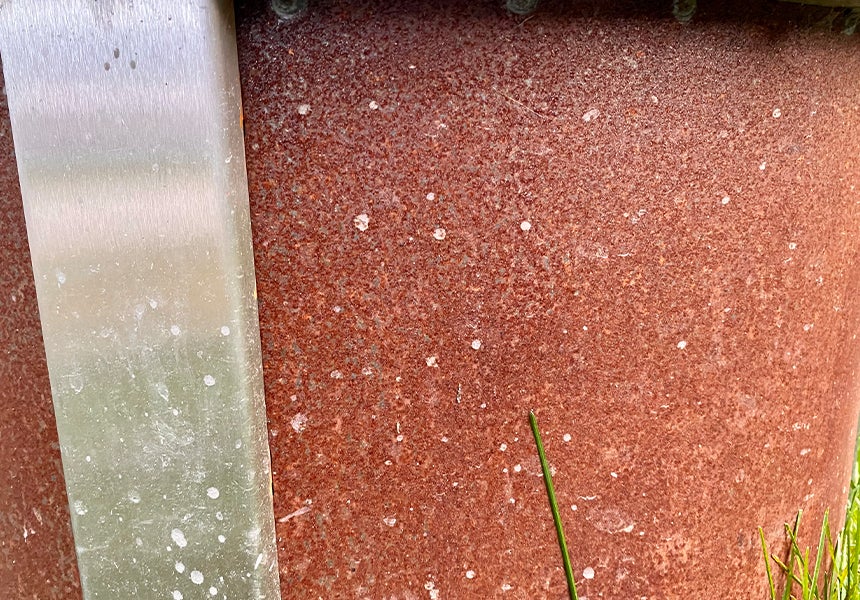 Our Breeo X-Series 24 came with a complete accessory package, which included a sear plate for cooking, a stainless-steel cover and Breeo's excellent Outpost grill, which slots into the post holder for expanded cooking options. We also opted for the Breeo Cast Iron kettle. Learning to cook on the Breeo, as with any smokeless fire pit, takes a bit of a learning curve. These stoves burn a bit hotter than a regular fire pit, so using one for steaks, or even things like hot dogs.
We learned that it doesn't take much to get the fire going in the Breeo X-Series 24. The added airflow that you normally don't get in a traditional fire pit helps feed the fir from below, giving you an extra edge when getting the fire started initially.
Pros: Durable, stylish and lots of cooking accessories available
Cons: Pricier than most
Buy if: You want what we feel is the best overall smokeless fire pit on the market today
---
Blue Sky The Ridge Portable Smokeless Fire Pit – Budget Pick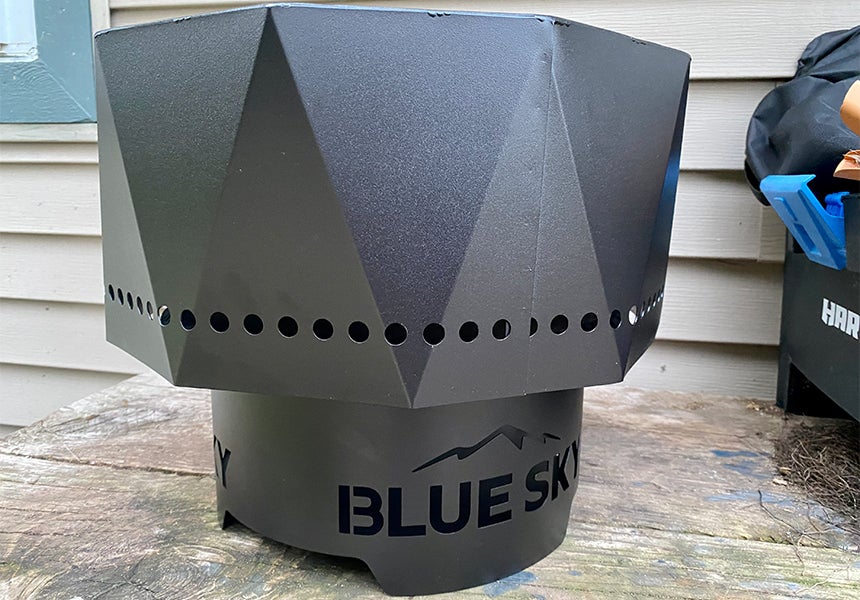 Portable: Yes
Deck Safe: Yes
Year Round use: Yes
Average time to get a fire going: 3.5 minutes
The Blue Sky Ridge pit is small and portable, and it is hard to beat the price coming in under $100, which is what makes it our budget pick. This small pit measures just over 15 inches in diameter, with an interior area just under 12 inches. It is a two-piece design, with an ash tray that the actual fire pit simply sits atop. The whole thing is made from steel that is painted with high-temperature black paint.
Airflow on The Ridge is pretty good and the pit is fairly smokeless, as you should expect. It is a very small design, yet the pit gives off good heat. It would have been better, in our opinion, if there was some way to secure the two halves of the pit, just to make it a little sturdier in the event of something bumping it while in use, but it isn't much of a gripe.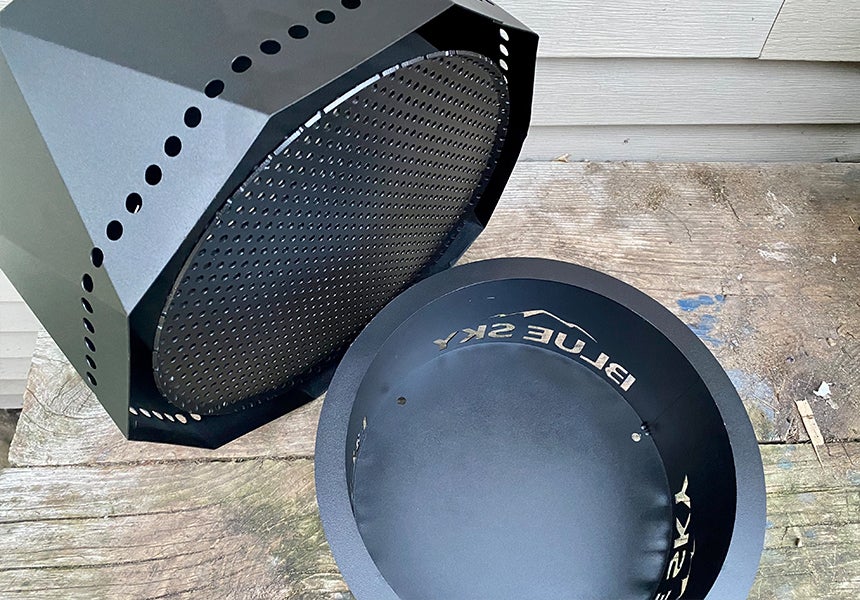 We haven't had it very long, so the question of durability hasn't been answered just yet. Let's be fair though, you can't expect stainless steel for the price you're paying for the Blue Sky pit. Durability is more impressive than you might imagine, though. The parent company of Blue Sky also produces commercial-grade toolboxes and other garage storage options and uses the same construction techniques to make the fire pit products as they do for their other products. It is quite well built.
The Ridge is very portable, and small, but still does a great job when it comes to giving you a rip-roaring fire in short order. Like the Breeo Y Series, the Ridge works well with wood pellets, adding to its portability. One thing we learned is, due to it being two pieces, you have to be careful not to bump the fire pit while in use. We accidentally bumped it and it almost tipped over, which could be a major issue if using pellets as then you'd have burning wood pellets scattering everywhere. That could be disastrous.
Pros: Compacts down into a carry bag, LOW price
Cons: Easier to tip over
Buy if: You want a portable, inexpensive, occasional fire pit
---
Breeo Y Series Portable – Best Tailgating Fire Pit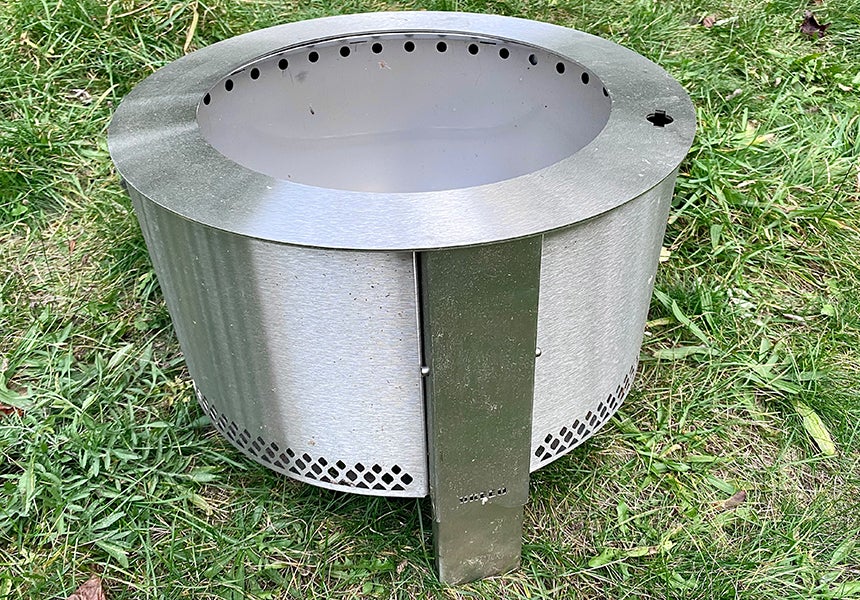 Portable: Yes
Deck Safe: Yes, Built-in heat shield
Year Round use: Yes
Average time to get a fire going: 2.75 minutes
Breeo Y Series is the newest smokeless fire pit from the company and it is completely portable. This 21-inch diameter fire pit has the same features we really like about Breeo's X Series, in that it is extremely durable and easy to use. It is made from the same 304 stainless steel that has the ability to hold up for lots of use, and take the abuse that comes with portability, meaning you can have it riding in the back of the truck or trailer and not take the damage that can come from being toted around to camp sites, football games and more.
What helps makes the Y series portable is that the legs slide up into the body of the pit and slide out and snap in place when you need to use it. There are two possible positions, making the Y series taller should you need it. The lower 15-inch height is perfect for just enjoying a casual time around the fire. If you plan to cook over the Breeo Y Series, pop it up to the taller 20-inch height for best results. With the legs compacted for travel, the Y series is just 11-inches tall, making it easier to carry. There is a built-in carry handle made from durable Pakka wood on the side.
The whole unit weighs just 31 pounds, too. This means that if you want to toss it into the back of a UTV for some trailside tailgating on a brisk fall or spring day, it will fit just fine and not take up too much space.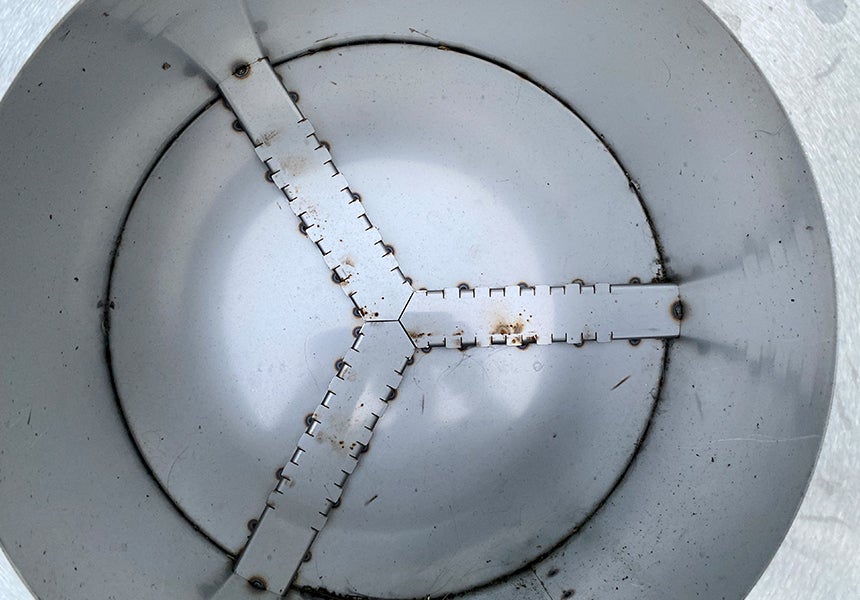 The Breeo Y Series is compatible with Breeo's Outpost grill and there is an available sear plate for expanded grilling options. There is an available Transit case, carry bag for easier transport, too. The Y Series also has a built-in heat shield, making it safe to use on wooden decks.
The Y series from Beero responds very well to the use of compressed wood pellets for use as fuel. We had a really nice fire going in a matter of minutes using a crumpled-up piece of newspaper as an initial ignition point, and a couple small cups of wood pellets, like you'd use for a pellet stove or pellet smoker. The airflow and smaller size of the Y Series helped to ignite all of the pellets regardless of how many you used, as they scatter as you dump them in. It made for a nice fire in short order and really adds to the portability of the Breeo Y Series.
Pros: Compact, yet big enough for cooking and relaxing around the fire. Portable and safe for decks
Cons: Harder to clean
Buy if: You want a durable fire pit that can easily be transported
---
Blue Sky Square Peak – Best for Increased Surface Area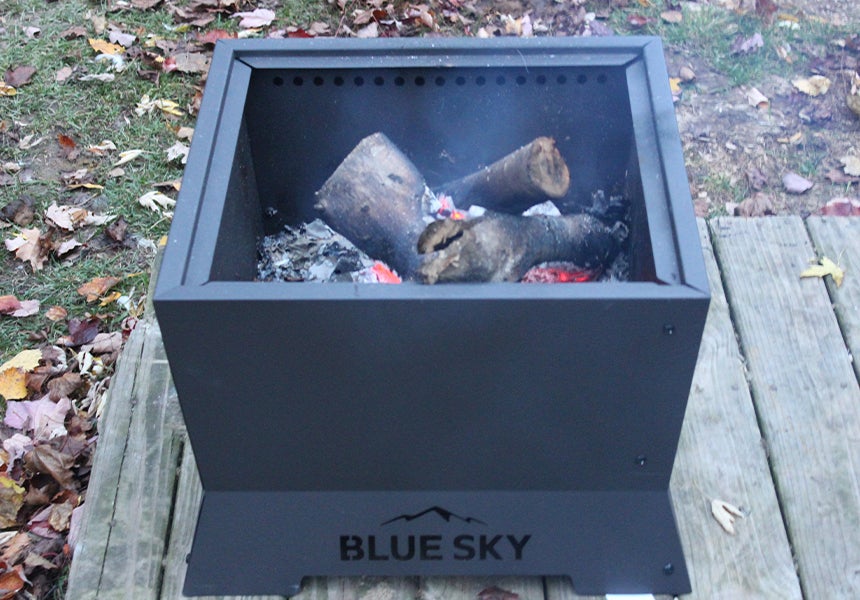 Portable: No
Deck Safe: Yes
Year Round use: Yes
Average time to get a fire going: 3 minutes
The first thing you'll notice about the Blue Sky Square Peak is that it's not round. Blue Sky touts it as the only square-shaped smokeless fire pit on that market and it has some cool advantages. For one, it allows for a selection of larger pieces of firewood to be used. While the Square Peak is just 22-inches wide, it uses more space so it feels bigger than a standard round firepit. I found during testing that wood that wouldn't fit into my larger 24-inch Breeo would easily fit into the Square Peak.
Blue Sky's air ducting works very well, letting the Square Peak to reach temperatures of 1,400-degrees with very little smoke. It is safe to use on patios and decks, and has a removable ash catcher, which is a nice touch. The pit comes as two halves that need to be bolted together, which is cool if you want to wrap one up as a gift. No one will suspect it is a smokeless fire pit!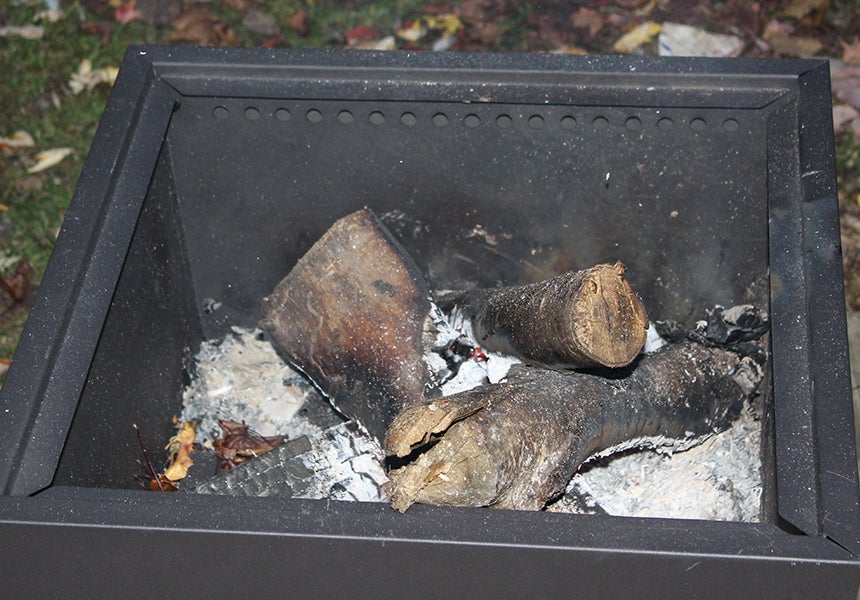 During testing, I found the Blue Sky Square Peak to be impressive. I don't know about the durability of it yet, but so far, it seems to be holding up really well. It is made from what appears to be heavy-duty, powder-coated steel, so I expect it will hold up quite well. Blue Sky offers some accessories, but not quite as many as the competition. You can get a nice screen cover to help catch any floating embers. If you want a smokeless fire pit, but want one that is different shaped than most, I would recommend this one.
Pros: Different shape than other fire pits. Easy to assemble. Very Affordable
Cons: Not sure about how rust-resistant the bolts will be
Buy if: You want a different shaped fire pit that costs less than the competition
---
Solo Stove Bonfire 2.0 – Best Range of Accessories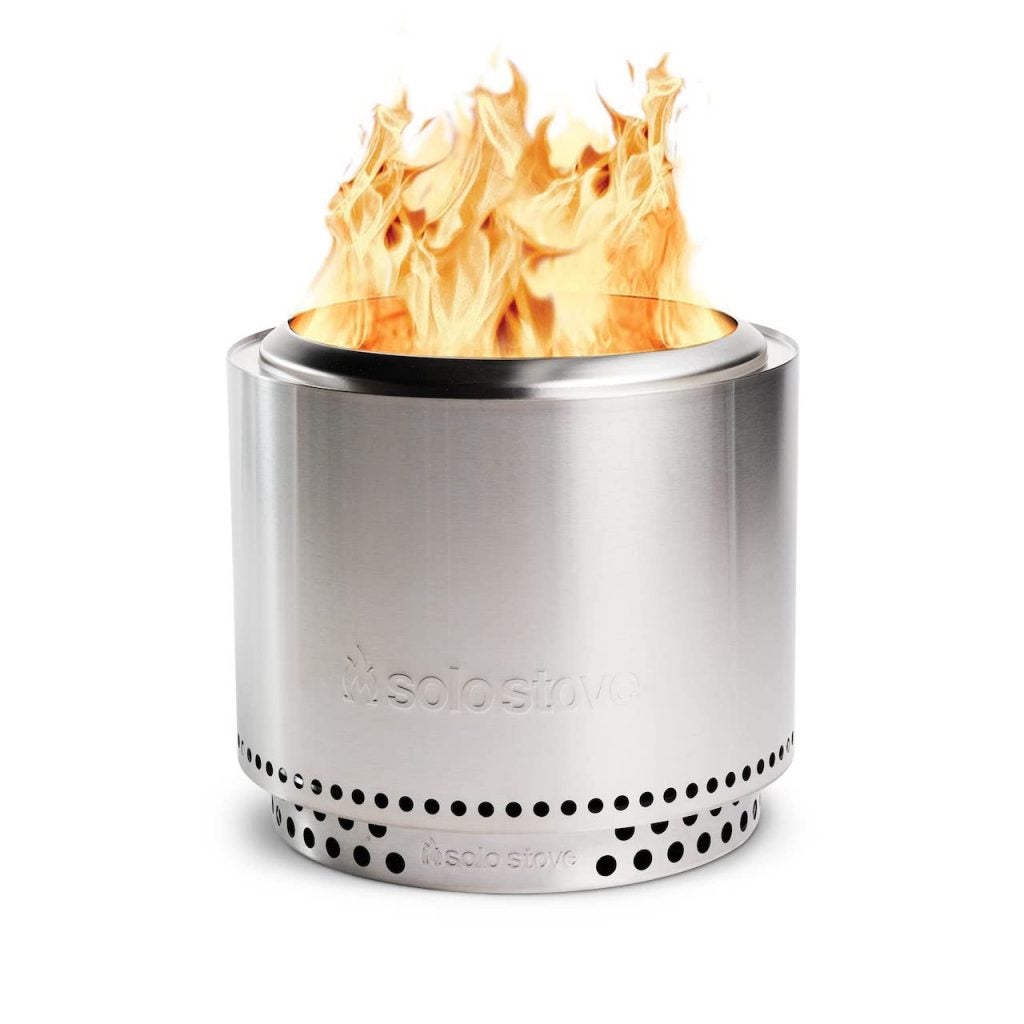 Portable: Yes
Deck Safe: Yes, with an optional stand
Year Round use: Yes
Average time to get a fire going: 2 minutes
Solo Stove is the brand that many readers are most familiar with, and the Bonfire is the company's best-selling model. The company recently launched the second generation of the Bonfire with a removable ash pan to make clean-up easier. Aside from this improvement, the Bonfire 2.0 retains the dimensions of its predecessor, so it's compatible with all the same Bonfire accessories of the original. It's also available in a wide range of colors.
Customization is where the Bonfire 2.0 really outshines its competitors. Buyers can choose from a wide range of upgrades to tailor this smokeless firepit to their individual needs. Some of Solo Stove's most popular accessories for the Bonfire 2.0 include a stand that allows this fire pit to be used on surfaces such as wooden decks, a heat deflector to redirect more heat to folks huddled around it, and waterproof cover to protect it from the elements. If outdoor cooking is your thing, the Bonfire 2.0 is compatible with a wide range of cooking accessories, including a cast iron cooktop, wok, griddle, and even a pizza oven.
Solo Stove's Bonfire 2.0 strikes a nice balance between portability and durability. This mid-sized smokeless firepit measures 14 inches tall and 19.5 inches in diameter. The Bonfire 2.0 tips the scale at a very respectable 23 pounds. Like the Breeo Y series, the Bonfire 2.0 is constructed from 304 stainless steel, and weighs eight pounds less than it's competitor, making it easier to transport. The downside, is the walls are not as thick as the heavier, yet more durable Breeo, making it more likey to get dented.
During testing, we loved how quickly Bonfire 2.0 turned the first spark into a roaring, smoke-free fire. The only drawback we found is that we wish the stand were integrated into the design or was included with the stove.  This way, customers don't have to shell out even more money to use it on a deck. Prospective buyers should read when they should use the optional fire pit stand before buying.
Overall, the Bonfire 2.0 is ideal for the person who wants a mid-sized smokeless fire pit they can use at home or camping, and if you're a gourmet grillmaster, nobody offers a better range of cooking accessories than Solo Stove.
Pros: Extensive accessories for cooking and entertaining. Available in a range of colors. 
Cons: Thin stainless steel exterior dents easier than several models we tested. Deck-safe stand isn't included. 
Buy if: You're looking for a lightweight, portable stove with a wealth of upgrades and accessories.
---
Tiki Patio Fire Pit – Easiest to Clean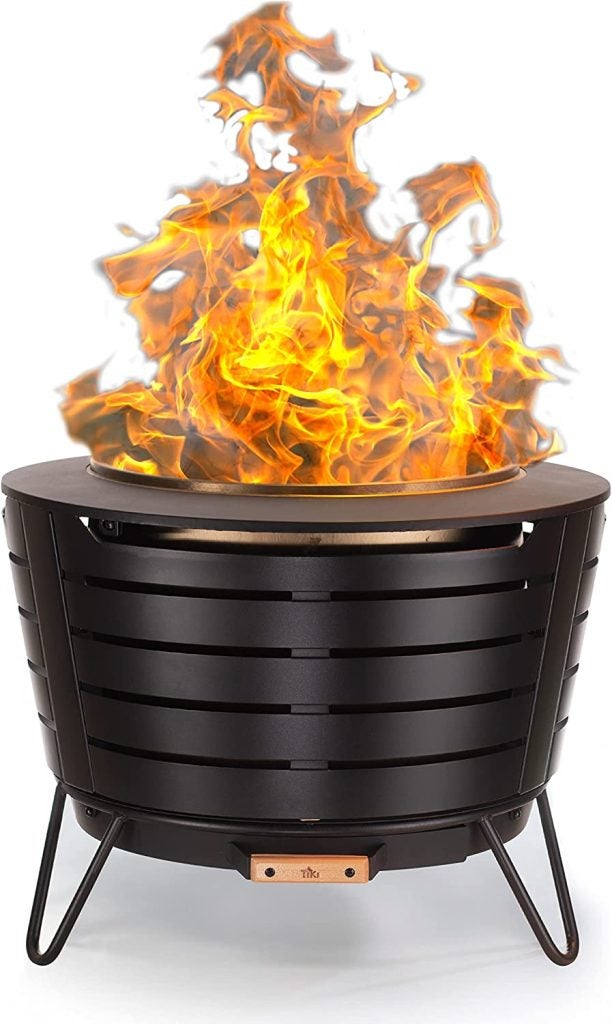 Portable: Yes, but less so than other options
Deck Safe: Yes
Year Round use: Yes
Average time to get a fire going: 3 minutes
If you're looking for a firepit with a less industrial look, Tiki's Patio Fire Pit might be up your alley. Like many of the other top smokeless fire pits we tested, the Tiki has a stainless steel burn cylinder for longevity. The exterior is ribbed powder-coated steel that gives it an upscale look that will add style to any deck.
Speaking of decks, during testing, we really appreciated the fact that the Tiki Patio Fire Pit comes ready to be used on wooden decks out of the box with no accessories needed. One of our favorite features is the side-access ashtray that makes cleaning up a breeze. Tiki also includes a rain cover, wood pellets for your first fire, and a pellet cylinder. The pellet cylinder is an upside-down funnel that sits in the middle of the smokeless fire pit and creates an even distribution of pellets so everyone around the fire can stay warm.
In addition to pellets, this smokeless firepit is also compatible with wood. Tiki claims it has a four-foot heat range. During testing, we felt that it might be slightly less, and attributed this to the design. The ribbed exterior of the Tiki acts as a radiator, keeping the outside cooler than many of the other smokeless fire pits we tested, such as the Bonfire 2.0 and Breeo Y. This has benefits and drawbacks that prospective buyers should be aware of. The benefit of the cooler exterior is that it safer to use around children and pets. The drawback is that we felt like more of the heat was radiated upward, rather than directly toward those of us gathered around it.
The Tiki Patio Fire Pit is one of the larger fire pits we tested, measuring 24.75 in diameter and 18.75 inches tall. It is also one of the heavier options at 43 pounds. This smokeless fire pit has handles for transport, though it is primarily designed for backyard use.
All things considered, the Tiki Patio Fire Pit is a stylish backyard firepit that comes equipped with everything the buyer needs for their first night around the fire.
Pros: Weather-resistant design. Easy to clean. Comes with a stand for use on wooden decks, a weather-proof cover and a bag of pellets for your first fire. 
Cons: Smaller heat radius than similar firepits from Solo Stove and Breeo. 
Buy if: You're looking for a stylish firepit that's easy to clean. 
---
BioLite CampStove 2+ – Best for Camping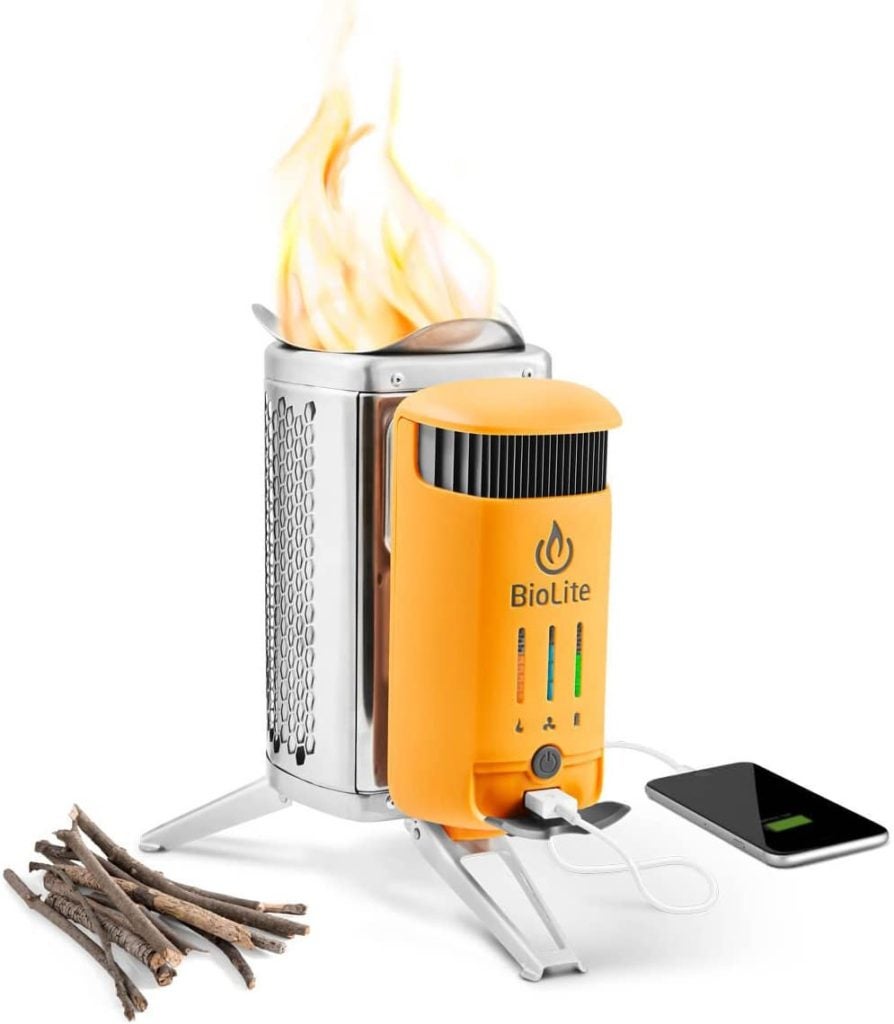 Portable: Yes
Deck Safe: Yes
Year Round use: Yes
Average time to get a fire going: 4 minutes
BioLite's CampStove 2+ is one part smokeless fire pit, one part camp stove, and one part portable power generator. We love this diminutive smokeless camp stove for its versatility and ability to keep our gadgets powered when we're in the woods. Sure, we often camp to disconnect from the distractions of our daily lives, but harnessing the power of fire to keep electronics powered up is a nice "just in case" feature to have.
During testing, the CampStove 2+ turned twigs into heat as well as energy, allowing us to cook meals while charging our phones and flashlights via the integrated USB outlet. An onboard 3,200 mAh battery can charge devices with or without a live fire. With the fire roaring, the CampStove 2+ has a three-watt output that was enough to top off our smartphones.
Although small when compared to many of the backyard fire pits in our test, the CampStove 2+ isn't going to win any awards among the ultralight backpacking crowd. The CampStove 2+ weighs 2.06 pounds / 935 grams and packs down to the size of a 32oz Nalgene bottle. This makes it significantly larger and heavier than dedicated backpacking stoves with fuel canisters. That said, this isn't really the target market for the CampStove 2+. It's a great option for car camping excursions—especially in locations that don't allow open fires. Be sure to check out our feature on Leave No Trace Guidelines For Backcountry Fires.
Pros: Great use of fire to charge camping essentials. Useful as a "just in case" emergency planning accessory. 
Cons: Heavy if used as a backpacking stove. Small heat radius. 
Buy if: You're looking for a way to keep warm while keeping your devices charged. 
---
Solo Stove Mesa – Best Table Top Smokeless Fire Pit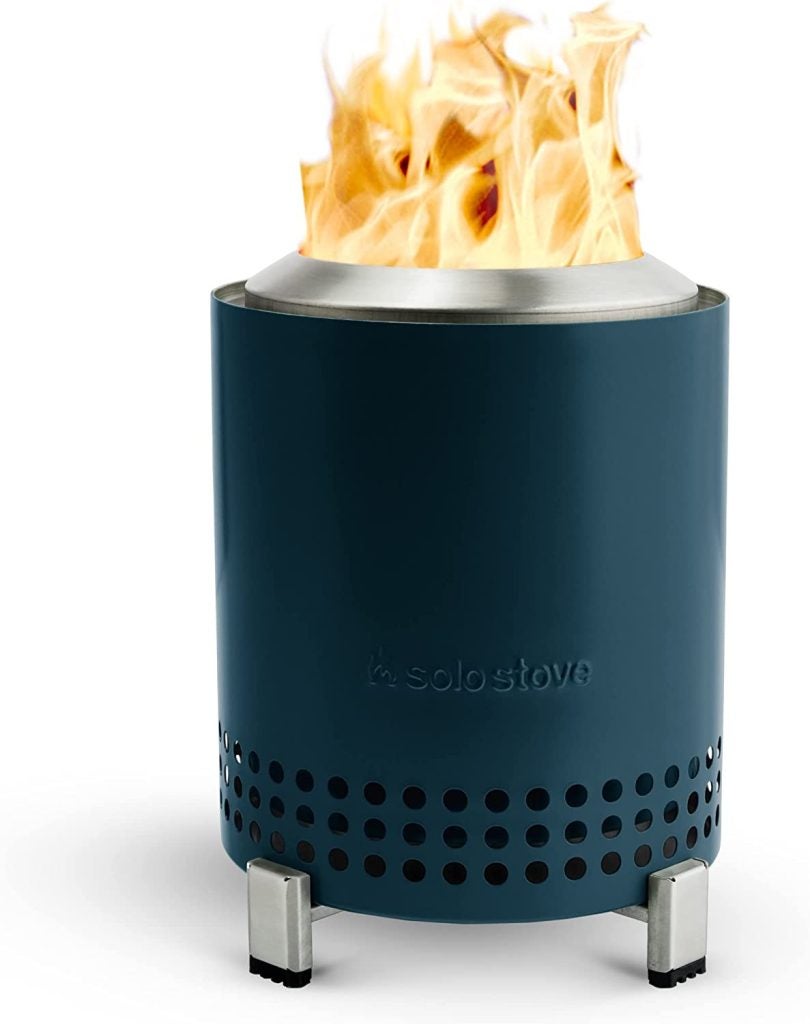 Portable: Yes
Deck Safe: Yes
Year Round use: Yes
Average time to get a fire going: 2 minutes
Not everyone has the space for a full or even the mid-sized fire pits we tested. Not to worry. If space and portability are your primary concerns. Solo Stove's new Mesa is the right smokeless fire pit for you. This pint-sized fire pit measures 5.1 inches in diameter and 6.8 inches tall and weighs just 1.4 pounds. It comes with a carry bag a stand that allows the Mesa to be used on a wooden table, and a cone-shaped adapter that makes this wood-burning stove compatible with pellet fuels.
This petite stove gives off enough heat for a couple or small group of friends to share stories around a table. The most ringing endorsement we can give Solo's Mesa is that we used it more than any other smokeless fire pit in our test. The small size means you don't need as much fuel, and you can use it in outdoor spaces that are too confined for larger models. The Mesa is a great companion for fireside s'mores.
In addition to being convenient, the Mesa is available in an array of colors that helps it stand out from the crowd of industrial stainless steel fire pits. It's also one of the most affordable smokeless firepits on the market, which makes it a great gift for friends or family with limited patio space.
Pros: Small size is perfect for smaller spaces. Good heat radius for its size. 
Cons: Small size means you're limited in what you can burn—twigs and pellets only. 
Buy if: You want the perfect smokeless fit pit for small decks and patios. 
---
Best Smokeless Fire Pits Comparison Table
---
What we learned while testing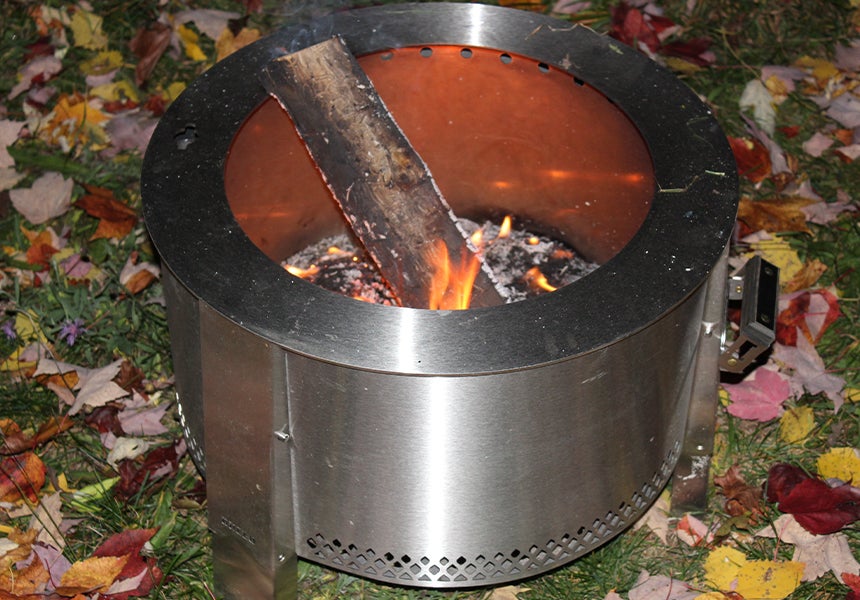 We learned that not all smokeless fire pits are created equal. The units that burn hotter work better at being "smokeless." and while they all have some form of air channel that does this task, the pits that have more airflow will give off more heat and produce less smoke.
We also learned that not every smokeless fire pit is safe to use on your deck or other surfaces. Some require an additional barrier between the pit and the deck, while others have something built into the design to add that extra layer of protection.
Accessory availability is another thing to take into account, depending on what you want to do with your smokeless fire pit. If you want to do any cooking with your smokeless fire pit, you'll want to look for those that have adaptable mounting areas or even grill attachments. If floating embers are a concern, especially for those in high fire-hazard areas, be sure to take screen availability into account.
---
Picking the right smokeless fire pit for you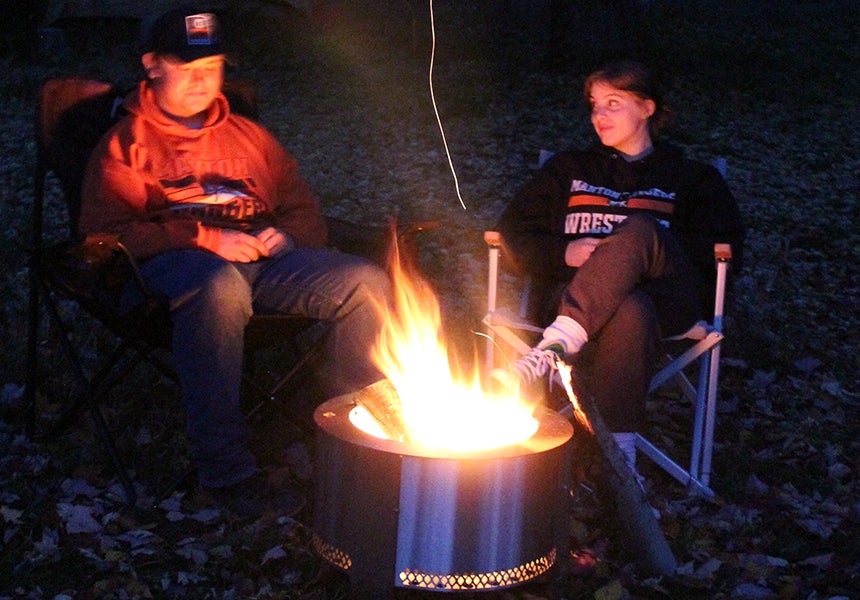 There are plenty of reasons to select a smokeless fire pit for your entertaining fun. They are first and foremost – smokeless, or smoke-light is more accurate. There is still some smoke, but it is greatly reduced to the point that many will not even notice it. They are also self contained, and most have an available screen to keep it even more contained. They are also a bit easier to move, should you change your mind as to where you want to do your entertaining.
Some folks use them on their wooden deck, although this is not really recommended unless there is a heat shield. It would be safer to use them on the ground or with a fireproof pad like you'd use with a wood stove in your home. With all of the different options available, how do you pick the best smokeless fire pit for you?
Size is a consideration, with some smokeless fire pits being rather large. On average, the larger sizes are around the 30-inch mark, and these are some pretty big pits. If you have a big space, and plan to entertain, go with a larger pit. It will let you get more chairs around the fire for more people to enjoy. Sub-20-inch models are perfect for smaller spaces.
Portable models are great for both people who want a portable unit for traveling, camping, cookouts, or tailgating. They also work well for people who don't want to have a devoted area in the yard for entertaining.
Cooking is another area to consider when selecting a smokeless fire pit. By design, smokeless fires are burning hotter than a standard fire because they have more oxygen to feed the fire. Cooking on one calls for some specialized accessories, so you should consider this when looking at buying one. Both Breeo and Solo have a full line of cooking accessories.
---
How to build a smokeless fire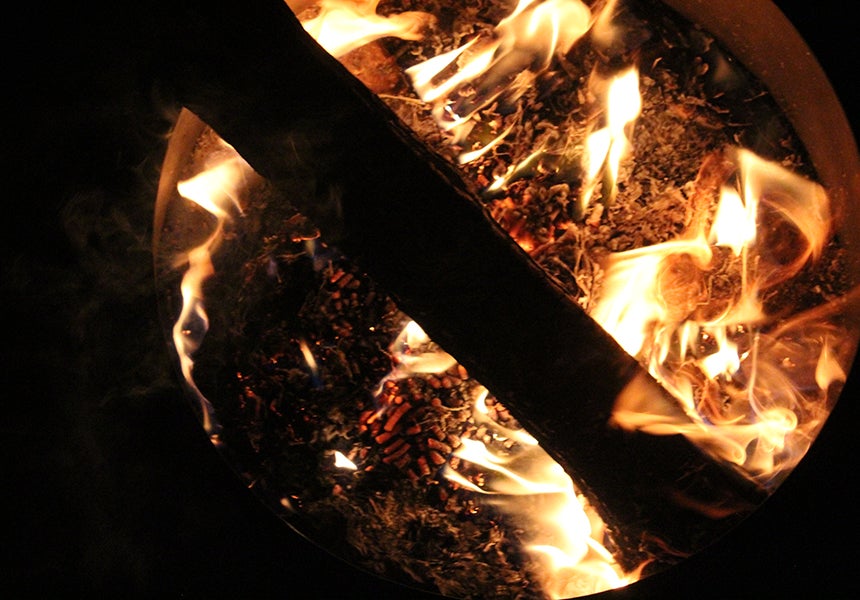 Part of what makes a smokeless fire pit work is the fire itself. You have to understand how to build the fire the right way because there is a key ingredient to keeping the smoke levels down – air. Start off with split, dry kindling. Keep bigger logs on top of the venting in the bottom, for models that have bottom venting. One big tip for keeping the fire smokeless is to move hot coals towards the walls of the fire pit. This helps superheat the double wall design even more, and heat the air being drawn from the bottom even more. Remember that it is the superheated air being down into the fire that causes the secondary combustion and burns off the smoke.
You can use fire starters paper or wood pellets to help get the fire going. Small-to-medium sized logs are best for the actual fire, depending upon the size of the fire pit you use. Small, portable units like the Big Sky can run well on wood pellets, like a pellet stove. Just keep in mind that air is your friend. Fire logs that have been treated and manufactured to help start your fire will work. The downside is that fire logs tend to produce less heat than a standard fire, as chemical burns before the wood. This can cause you to have more smoke than expected.
---
Smokeless Fire Pit Frequently Asked Questions
Are smokeless fire pits worth it?
Can I cook on a smokeless fire pit?
Many smokeless firepits can be used for cooking. Accessories like grills and sear plates are great upgrades for buyers. Be sure to check out our Guide to Campfire Cooking. During our test, our editors agreed that cooking on a smokeless firepit was preferable to cooking over a campfire. With a smokeless fire pit, there's less smoke and a more consistent temperature.
What can I burn in a smokeless fire pit?
Smokeless fire pits burn wood pellets, traditional split logs, and small branches. Be sure the wood is dried if you are using wood collected from your backyard.
Do smokeless fire pits still smell like smoke?
Smokeless fire pits produce very little smoke and very little smell. We found the amount of smoke was negligible once the fires in our firepits started during testing. There is some smoke during ignition and as the fires die out due to the lack of convection.
Can I put a smokeless fire pit on a wood deck?
Many smokeless firepits come with stands that allow them to be used on wooden decks. When in doubt, check with the manufacturer to find out if your smokeless fire pit is approved for use on wooden decks or other flammable structures.
Which is better, Solo or Breeo?
Since these are the two largest smokeless fire pit brands, this is a question many readers are likely asking. We found that Breeo's fire pits are more durable. Solo Stove's smokeless fire pits are lighter and more portable.
Notice:
OutsidePursuits.com is a participant in the Amazon Services LLC Associates Program, an affiliate advertising program. OutsidePursuits.com earns fees from products sold through qualifying purchases by linking to Amazon.com. Amazon offers a commission on products sold through their affiliate links.