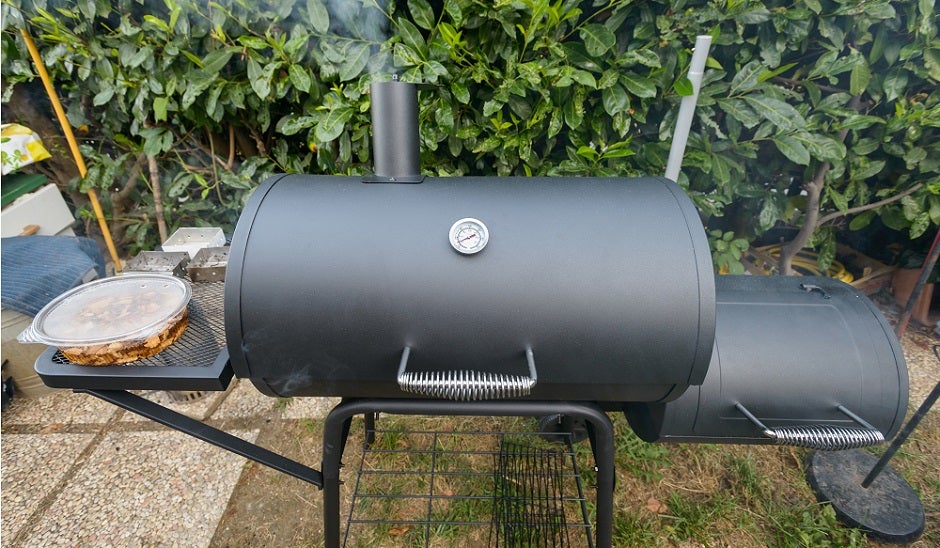 Our Editors independently research, test, and rate what we feel are the best products. We use affiliate links and may receive a small commission on purchases.
For outdoor enthusiasts whether you like to fish or hunt, smoking meat is a time tested way to cure and enhance flavor.
Using the best smoker is a great way to add a little zest to store bought meats, smoking a great cut is a process anyone can enjoy.
I still remember looking forward to the smell and taste of homemade smoked turkey, fish, and venison as a kid. My dad would always toss on some game and we'd wait hours to try the first cuts.
Of course someone invariably jumped the gun and burned their mouth on hot-off-the-smoker meat, but it was worth it.
Of course there's more than one way to smoke your meats and more than one type of smoker to get the job done.
Best Smokers
| | Z Grills - Grill and Smoker | Masterbuilt Electric Smoker | Char-Broil Deluxe Smoker |
| --- | --- | --- | --- |
| | | | |
| | | | |
| Power: | Pellets | Electric | Electric |
| Type: | Barrel | Cabinet | Cabinet |
| Cooking Area: | 513 sq inches | 721 sq inches | 725 sq inches |
| Rating: | 4.5 / 5.0 | 4.0 / 5.0 | 3.9 / 5.0 |
| | | | |
For more of my home and garden recommendations, have a look through these popular Outside Pursuits guide links: Portable Grills, Fire Pits, Inflatable Hot Tubs.

Quick Answer: The 7 Best Rated Smokers For 2021
Together we're going to cover all the details you need to know in order to pick up a top rated smoker and get started ASAP. Since I know you'd rather be out smokin' than reading, let's just jump right into it!
Best Pellet Smoker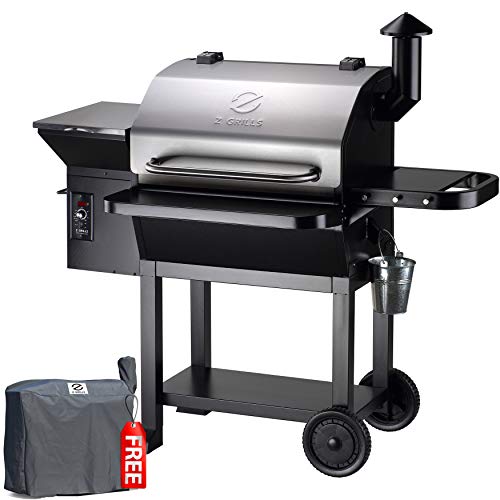 Z Grills Wood Pellet Grill and Smoker at a Glance
:
---
Digital controller maintains accurate temps

8 in 1 Barbecue Wood Fire Pellet Grill

20 pound pellet hopper
Grill or smoke
The Z Grills is our Editors Choice for the best pellet smoker to get past the annoyance of analog thermometers and guessing how much fuel is left for your smoking.
Here we have an auger powered pellet smoker like this one does a lot to help automate the process.
If you're a weekend smoker and a weekday griller you might not want to spend the cash to have two separate things when one could do.
That's the case here. Using the digital thermometer and auger control you can set this horizontal smoker to grill or slow cook.
One thing I like about this grill over many others is that the "drip pan" is outside. Now, that means your meat will still drip into the grill, but it's designed to run out to a catch pan outside the grill for easy collection and disposal.
The Affordable Wood Pellet Grill - Z Grills
One thing to keep in mind is that you will need a power source for this grill. It needs electricity so you'll want an extension cord or a nearby outlet.
Best For: Someone who wants the best smoker grill combo in a set it and forget it style for smoking or grilling.

---
Best Electric Smokers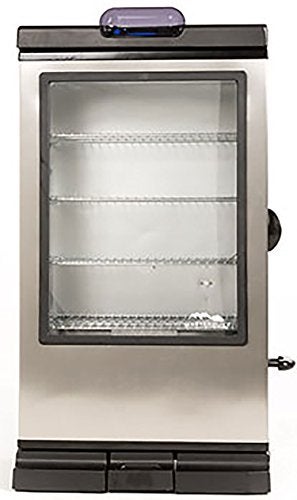 Masterbuilt Bluetooth Smart Digital Electric Smoker at a Glance
:
---
30 or 40 inch models

721 sq. inch of cooking space

Vertical 724" cabinet style
Viewing window
If propane is clean then electrical smokers are the cleanest. That doesn't mean you won't have a bit of a mess to clean up afterwards – grease is always messy and cooking meat is anything but pristine.
If you didn't catch it there's one feature of this smoker that makes it stand out among competitors. On the front is a large clear viewing window that allows you to see the condition of your meat without opening the cabinet.
Speaking of features, let's talk about the fact that this electric smoker is Bluetooth compatible. Honestly it's fun, but is it really necessary?
Char-Broil Digital Electric Smoker with SmartChef Technology
You can turn it on and off, set cook temp, see the internal temp, and turn the light on and off but that's all stuff you could do with a control unit mounted on the smoker anyways…
Maybe a bit gimmicky but it's still the best electric smoker on our list!
Best For: A clean electric smoker with a moderate size cabinet and fun bluetooth controls.

---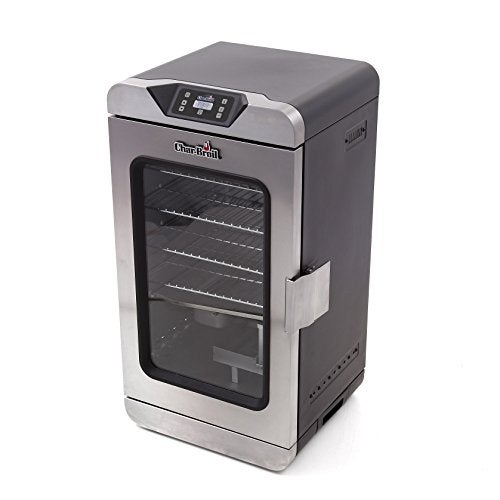 Char-Broil Deluxe Digital Electric Smoker at a Glance
:
---
Insulated, double-wall construction

725 square inch capacity

Stainless steel w/ viewing window
Digital food thermometer
If you want a nice cabinet style electric smoker but would rather save a couple bucks and skip the Bluetooth features of the Masterbuilt, this is your stop!
Honestly, this electric cabinet smoker shares almost all the same features as the Masterbuilt model. Stainless steel racks, wood chip box, drip pan, and viewing window are all very similar.
Where they differ is in the electronic controls.
For almost $100 less this unit forgoes the Bluetooth features and instead has an integrated digital control unit. All things equal it's about 30% cheaper overall for nearly the exact same design.
Unless you're a major techie and you're attached to your phone the price difference makes this model a superior choice for most smokers I think and the best backyard smoker.
Best For: An easy to use electric smoker that won't break the bank if you don't need techy features.

---
Best Charcoal Smokers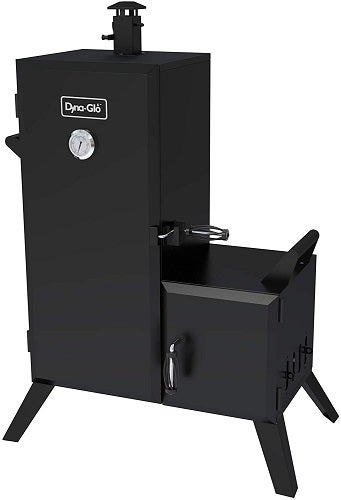 Dyna-Glo Charcoal Offset Smoker at a Glance
:
---
Powder coated steel

Smokes up to 100lbs of food

Offset burner design
Vertical smoker
Dyna-Glo's premium smoker takes the cake on our list for several very good reasons. It's large, durable, affordable, feature-rich and the best offset smoker in it's price range.
This smoker has got the works going on. Vertical smoking chamber with movable racks is ideal for accommodating various meats.
Plus, when you need to add charcoal you can open the offset burn chamber without losing the heat and smoke from the smoking chamber.
I personally like the large footprint of the angle iron legs which help stabilize this large, heavy smoker. The vent moves up and down on a fun, controllable crank handle which is a nice touch!
Dyna-Glo DGO1176BDC-D Vertical Offset Charcoal Smoker
Overall the 780+ inches of smoking space can handle 100 pounds of meat at a time and the very affordable ~$200 price tag makes it easy to stomach.
Best For: Someone who needs a large smoking area and easy to use design at a reasonable price.

---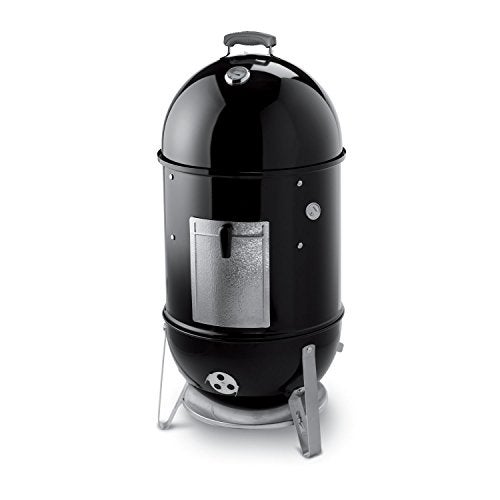 Weber Smokey Mountain Cooker at a Glance
:
---
Classic Weber design

2 nickel-plated 18-1/2-inch-wide cooking grates

Water pan
Porcelain-enameled steel construction
This little guy is essentially a miniature drum smoker. It's one that I grew up with and a classic smoker you'll find in many garages around the country.
I do know from years of personal experience that this smoker will get the job done.
I also know that for beginners or extremely long smoking adding charcoal is a real pain! It's one of the biggest drawbacks of this particular model.
That said, one load of charcoal is usually plenty for the load of this smoker. There are 3 sizes from 14 – 22 inches.
You can fit a good amount of food in there but it won't handle large groups or parties – it's too small even in the 22 inch.
Smokey Mountain Cooker™ Smoker 18.5"
Because of the small size, ease of assembly, and reliability this makes a good intro smoker for people with limited space.
For smokers who will be out there every weekend, go with something more feature-rich.
Best For: Someone who wants the best charcoal smoker for small spaces and beginners who will only smoke occasionally.

---
Best Propane Gas Smokers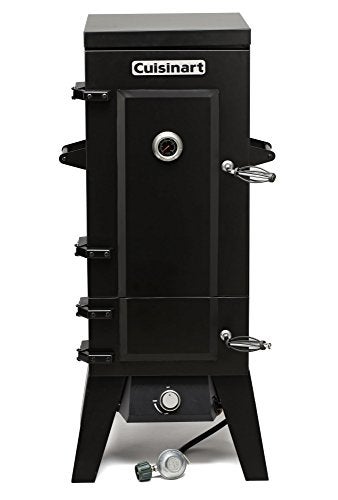 Cuisinart COS-244 Vertical at a Glance
:
---
Propane powered smoker

5.45 square feet of interior space

Two door access
Vertical design
The Cuisinart COS is our Editors Choice for the best propane smoker is a great option because there's no need to add fuel or messy charcoal. They're a bit cleaner, very easy to use and highly reliable.
One of the biggest drawbacks of any smoker design is poor access to the fire pit and smoking chamber.
This vertical smoker has two separate doors with sturdy steel handles and hinges so you can easily access each space.
Plus, the propane fuel is outside and seperate from the smoker so each item is easily accessible.
Inside the smoker has four stainless steel shelves which can be remove or rearranged for different setups.
Overall the profile of this cabinet smoker is quite small and can easily fit on the deck or patio out of the way.
One thing to keep in mind is that the additional water tray takes up a rack space and there's no real drip pan – drippings fall into the chip tray.
Best For: A small footprint area and very simple propane smoker without the mess of charcoal!

---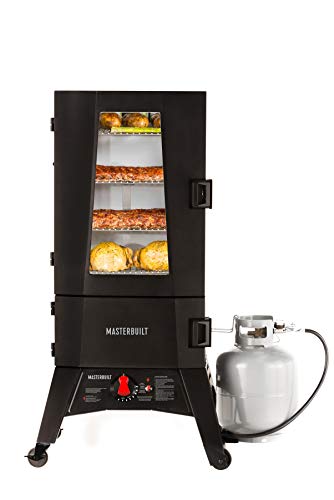 Masterbuilt MB20051316 Propane Smoker at a Glance
:
---
Propane powered smoker

961 square inches Cabinet Cooking Capacity

Push-button ignition
Vertical design
If you like the idea of a propane smoker but you need a larger space then we've got the solution for you! There's a lot to like about this smoker and Smoke Hollow is a well-loved brand.
Like the Cuisinart this propane smoker has a dual door design. This time, however, you get a separate drip pan and water pan.
They do take up a bit of space though and it feels like they intrude into space that could have been used for more cooking room in the smoke chamber.
That said, the convenience of a drip pan, push button ignition, and separate smoke chamber door make this unit the best home smoker.
It's going to have a bigger footprint than the Cuisinart but you get more room to work which means easier to use and easier to clean.
Best For: Those who want one of the best BBQ smokers that's easy to use combined with more room to work.

---
Smoker Comparison Table
How to Choose the Best BBQ Smoker – Buyers Guide

Types of Smokers
Like most tools, there's one that's right for every job and some that aren't so good. When it comes to smokers there's a right tool for every job, just like you'd expect. But what are the different types and how can you tell which one to get?
Horizontal Offset Smokers
Look like a barrel turned sideways. Usually the fire burns indirectly in a separate chamber where the heat and smoke is then channeled into the smoking chamber.
Unlike water smokers, horizontal smokers are easy to maintain during the cooking process. Since the fire burns in its own separate chamber it's really easy to add more charcoal at any time without hassle.
These smokers typically have massive capacity and sometimes have a grill as a part of the fire chamber so you can grill and smoke concurrently.
Pellet Grill/Smoker
Like a pellet burning furnace, pellet grills use wood pellets to heat the chamber. They also share the similarity that there's an auger used to pull a set amount of pellets into the burn chambers for a long, steady burn temperature.
Usually pellet smokers will use an automated auger that you can set and forget. With a push of a button the smoker will maintain a steady feed of pellets so you don't have to worry about the fire ebbing and flowing.
On high end models you may be able to set a thermostat that will control the auger for an exact temperature all the time. This automated control is a major advantage over other types of wood or charcoal fired grills.
Kamado Grill/Smoker
The old school grills have been around longer than most people give them credit for. They've been popularized recently by a wave of intrigue but rest assured, your ancestors have been cooking with similar thermal mass ovens for ages and with good reason. They work great!
Kamado grills when used properly, can be set to grill or smoke without too much trouble. While it may not be a dedicated smoker, a kamado grill might be a good option for those who occasionally smoke meat and often grill.
To get the best kamado grill for smoking you're probably best off going with the largest size you can accommodate and afford. Look for great insulation and thick ceramic walls which help increase efficiency.
While you may have to experiment to perfect smoking on these it is possible. Dedicated smokers may prefer an alternate option, however.
Cabinet Smokers
These mini-fridge-looking smokers are one of the easiest styles to use. They have great temperature control, good insulation, and seal up tight. Thanks to the easy access door you have good clean access to the fire pit and the smoking racks independently.
Most of these can be fitted with water drip pans and other accessories. The best ones have internal heat ducting and fantastic insulation to spread out the heat and ensure a steady smoking.
Their biggest drawback, however, is that they're pretty damn expensive so you'd better be sure that you'll be doing a lot of smoking!
Propane Smokers
These are visually similar to cabinet smokers but they operate on propane gas. That means less wood and charcoal mess to clean up but you'll still have to deal with the grease and cooking mess.
Some users will complain that the classic smoky flavor is reduced or harder to get with this style smoker. With practice, however, you'll find that you can get the smoky flavor you want with the right wood chips or pellets.
Don't worry about any gas taste or odor in your food. There's some contention about this aspect but in my research I found that propane is known for burning clean and odorless – plus it produces far less off-gasses than wood or charcoal. It's just different, that's all.
Water Smokers
These smokers make the top of our list because they're easy to use, effective, and produce some of the most consistent results. In a water smoker the fire burns underneath a water chamber which then cools and disperses the heat evenly while retaining the smoky flavors for the meat.
With water smokers the boiling water helps keep the meat moist and covers the meat with a light layer of water at all times to prevent dry areas. These are great for very low heat slow cooking. However, some users will dislike having the extra hassle of a water pan to clean, monitor, and add to as meats cook.
Barrel Smokers
Sometimes known as drum smokers these are the backyard DIY cousin to the horizontal smokers. They're literally made from a 55 gallon steel drum with a few modifications.
There are tons of instructions out there about how to make one and you can often find a used steel drum on Craigslist for $20 or less. Just be careful – if the drum previously contained hazardous or toxic chemicals do not use it.
You can also buy kits and assemble these DIY smokers yourself. They're easy to fit with water drip feeds, grease pans, and other accessories. If you're a real DIYer you could even insulate them.

Materials and Craftsmanship
When you set out to buy your first smoker you may be tempted to go with the cheapest one you find. I would advise you to carefully consider another course. What's more important is that you invest in a good smoker so you won't end up buying a new one next year to replace it.
When it comes to grilling and smoking you really want some quality materials. Look for thick and durable aluminum or steel (preferable). The last thing you want is to load up the smoker with 20 pounds of meat and have it be flimsy and wobbly (this has happened to me before with small ones).
When it comes to handles, hinges, and hooks look for thick durable steel. Rivets should be well peened and completely set and hinges should be made thick enough to not bend or wobble.
If you see reviews of users complaining about thin or flimsy build, look for another similar smoker and be ready to pay more to get one that will last.
Metals and Their Coatings
Understanding the metals at use in your smoker and how to protect them is important. When it comes to grills and smokers the three metals you'll encounter are steel, stainless steel, and aluminum.
Steel is strong, cheap, and durable. However it can rust over time especially outdoors and especially when exposed to heat and corrosives like barbeque sauce…
Stainless steel is strong, more expensive, and just as durable. It's a great long lasting and hassle free material that won't rust (for a long time at least) and it makes a great option for grills as long as you have the budget!
Aluminum when constructed and used properly can be great for grills. It's lightweight and won't rust ever (technically, it almost instantly forms an oxide [rust] layer when pure aluminum is exposed to atmospheric air).
Aluminum can, eventually, for corrosive layers but it takes forever and it's easy to clean. The biggest issue is that thin aluminum tends to be quite flimsy and can fail to distribute heat evenly – look for sturdy aluminum construction.
Because aluminum and stainless steel are both quite expensive compared to mild steel (aka plain steel) and have some drawbacks, most manufacturers opt for mild steel. To keep this steel from rusting out quickly there are two options: use really thick steel and let it rust, or coat the steel.
Powder coating and high temp coatings are the best ways to protect a steel smoker. Look for sturdy steel construction that's protected with a powder coated (electrically bonded paint) surface or high temp ceramic paint.

Accessories & Considerations
Every good smoker needs more than just a meat rack and a pit for the charcoal. There are essentials we need to seperate modern man from grilling cavemen!
Thermometers can be simple analog or digital styles. Some are even so advanced that they measure the temperature of several pieces of meat and the pit temperature at the same time!
Blowers can be combined with thermometer units to create a controlled burn which then results in a steady and predictable temperature.
Dampers and Vents are used to control the flow of air into the burn chamber which, in turn, controls the heat output of the fire itself.
Tables and Tools are important for laying out trays, spices, and utensils. If this is important to you, look for large work surfaces and hooks to organize your tools.
Size is important to remember when you purchase a smoker. Normally you might feed a family of 3 but how often do you have large parties or guests over? You might need a bigger one for special occasions…
Orientation of the smoker is important for different meats. Ribs usually cook best on horizontal racks while birds cook best hanging vertically. Which are you likely to smoke?
Permanent or Movable smokers are both widely available. Mobile smokers come with wheels so you can scoot them into the corner of the garage after use. Many cabinet style smokers don't have wheels so they're much more permanent once placed.

Water Pans and Drip Pans
Water pans, as we talked about, are great for keeping meat moist and diffusing heat for a slow, even smoke. Another type of accessory you're likely to hear a lot about is the drip pan.
Drip pans go under the meat, usually above the water pan, and are supposed to catch the oil and grease drippings. They don't always work perfectly and there will likely be splatter to clean up. However, a removable drip pan is easier to clean than letting grease go all over inside your smoker!

FAQs About Smokers
Q: Do propane and electric smokers still taste "smoky"?
A: They do indeed! With propane and electric you can more precisely control the smoke flavor you get whereas charcoal tends to overpower even the most aromatic wood chips.
For both electric and propane you'll add a box full of wet wood chips of your favorite style. Oak, apple, hickory, and other hardwoods can add various smoky aromas and flavors to the finished foods as they cook.
Q: What are the best wood chips to use?
A: You'll have to experiment with this. In general though you want to think about three things:
The meat you're smoking
The seasonings you're using
The flavor of the chips
All three of these things have to align to get the best flavor. It's also a lot of personal preference as well. A little personal experimentation will quickly reveal what your preferences are.
Q: What is a competition smoker?
A: If you really get into smoking you may eventually consider competitions. In these only certain smoker styles are allowed and you'll not be able to bring in certain accessories.
Generally speaking most competitions use horizontal smokers of one sort or another. Check the competitions in your area because each one will have slightly different rules and you may find unique events that are focused on certain types of smokers.
Propane and electric are rarely, if ever, allowed.

Final Thoughts
At the end of the day you might be tempted to go with a big, burly, macho smoker. But think about what's more important – smoker aesthetics or getting the food on the table at the right time?
Any of the smokers on our list will produce great results as long as you choose the one that makes the most sense for you. Do you want ease of use and cleanliness? Or do you prefer the slow and steady use of a charcoal smoker with that tasty white wood smoke tumbling out of the chimney?
If in doubt, go back and revisit our buyer's guide to make sure you're picking out the best smoker for you!
How We Researched
To come up with the top smokers we researched a variety of sources for reviews such as REI, Bass Pro Shops, Cabelas and Backcountry along with our own personal experience.
We also consulted online magazines for product research and reviews to get as much unbiased information as we could. To help weed out fake reviews we used Fakespot.com to make sure we only looked at genuine reviews.
With so much quality gear available, we had to narrow it down based on what we felt were the best options for the price. The author, Casey Fiedler has been leading backpacking trips for over a decade in his native state of Michigan.
To help narrow down the selection he used his personal experience along with recommendations from fellow guides and outfitters.
After extensive research, we came up with our list to help you choose the right one for you.
Sources
---
Notice:
OutsidePursuits.com is a participant in the Amazon Services LLC Associates Program, an affiliate advertising program. OutsidePursuits.com earns fees from products sold through qualifying purchases by linking to Amazon.com. Amazon offers a commission on products sold through their affiliate links.