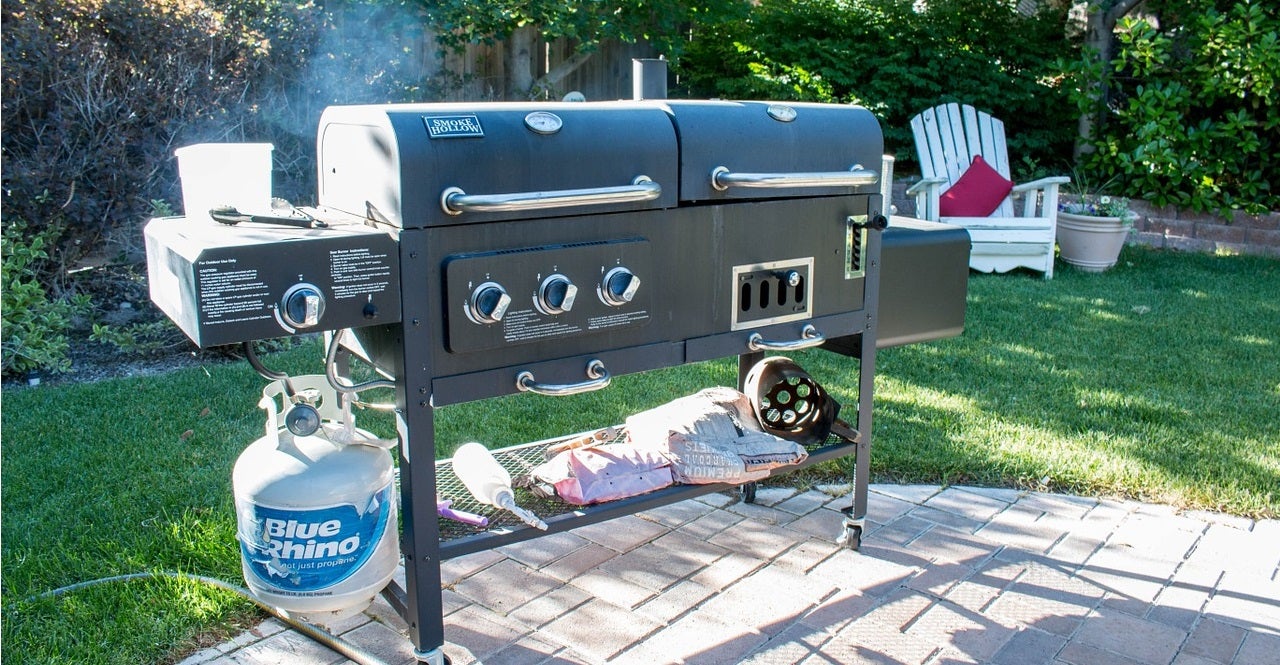 Our Editors independently research, test, and rate what we feel are the best products. We use affiliate links and may receive a small commission on purchases.
Do you enjoy cooking for family and friends, but you have a tiny kitchen and an even smaller dining room? Do you have a backyard? The solution is simple. Move your cooking outdoor.
When we talk about cooking outside, our thoughts immediately slip to portable barbecues or s'mores over a campfire. But these days you can find a broad variety of cooking equipment designed especially for outdoor use.
Whether you're thinking of buying a portable grill to use on your veranda or designing a fully equipped outdoor kitchen, this guide will help you formulate your outside cooking plan.
The Grand Plan
Before you start planning your outdoor cooking facility, you must decide what your aims are. Do you want to cater for large groups of friends, or simply cook for your family?
Do you only want to grill food for occasional parties, or would you prefer your outdoor cooking area to offer the same range of facilities and flexibility as any traditional indoor kitchen?
You also need to think about provisions for your guests. Will you seat them using an outdoor table and chairs, or must your friends stand around while they eat? Give serious thought as to your realistic requirements, available yard space, and maximum budget.
Where Will You Cook?
Ideally, you want a space with firm, flat ground to stand your cooking equipment, plenty of ventilation to vent the smoke, some protection from rain and sunshine, and sufficient space for the equipment you need.
The lucky homeowners who live in a home with a veranda or patio have ready-made foundations for an outdoor kitchen. If you have neither of these, you must decide where to locate your cooking equipment.
Ensure your chosen location is large enough to house your cooking equipment and any seating you wish to provide. Survey your available outdoor space, measuring the ground in likely locations.
Wherever you choose to cook outdoor, the location should provide easy access to the indoor kitchen. This will be essential when you want to collect ingredients from your indoor kitchen to cook outdoor.
For example, if you want to barbeque steaks and sausages, you should keep them inside the kitchen refrigerator until it's time to cook them outdoor.
Another reason for easy access to the indoor kitchen is where you have an unusually large number of guests. In that case, you might want to cook some of the burgers and chicken fillets outdoor on your outdoor electric grill while your partner cooks the rest on the indoor electric grill in the kitchen.
For a permanent outdoor cooking location, you should consider constructing a solid platform, like a stone patio or decking. Decking would be quick and simple to build as well as more affordable but would require more long-term maintenance than a stone platform.
While you're cooking, you may need protection from the blazing sun or the drizzling rain. This may be as simple as using a patio umbrella or involve constructing a more solid roof or pergola.
You may want to purchase a set of outdoor table and chairs for your guests to use while they eat. Alternatively, you could rely on something more casual, like dragging indoor furniture out to your patio or using an inflatable lounger.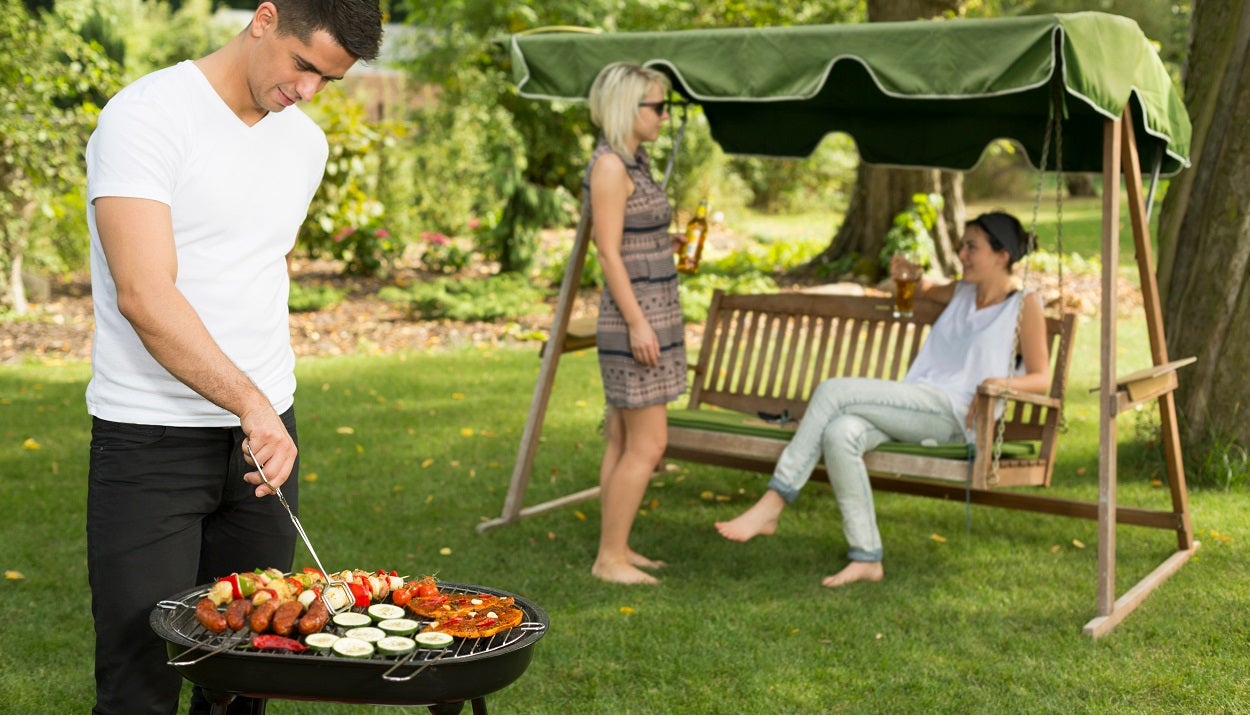 What Do You Want To Cook?
If you just want to cook the traditional barbecue fare, like sausages and burgers, then all you need is a gas, electric, or charcoal BBQ smoker.
A few of these are designed to be portable, like the Z GRILLS Wood Pellet Grill & Smoker which has wheels. But many smokers are heavy with fixed feet.
But if you want to cater to a wider range of tastes, your guests will love to feast on turkey fried in a turkey fryer or devour pizza baked in an outdoor pizza oven. Again, you can find these outdoor cookers in fixed or portable models.
The model you choose depends on how many people you wish to cook for and whether your outdoor cooking area is permanent, or you wish to store away the equipment after each party.
For people who want a permanent outdoor cooking area where they can prepare a wide range of dishes for their guests or family, an outdoor kitchen is best.
The Outdoor Kitchen
If you regularly host large outdoor dinner parties, building an outdoor kitchen in your backyard makes good sense. An outdoor kitchen can include all the same things you get in an indoor kitchen, such as a burner, sink, refrigerator, cabinets, and countertop.
However, it involves you investing a lot more time, effort, and money into constructing your ideal outdoor cooking area.
Considering that everything you use to construct your outdoor kitchen must be capable of withstanding the weather outside your home, you'll have to plan an outdoor kitchen very carefully. Fortunately, the equipment specially designed for an outdoor kitchen is weather resistant.
Choosing Where To Locate Your Outdoor Kitchen
Choosing where to place your outdoor kitchen is more important than simply picking out a spot to stick your portable grill.
The permanently positioned counters, sink, and other equipment could potentially alter the views of your backyard from inside your house. If you wish to preserve the beautiful view from your living room window, don't stick your outdoor kitchen in the way!
Select a location where you can easily access your indoor kitchen, don't block the views from your house, yet provide your guests with aesthetically pleasing views while they eat. Sketching out a house plan with windows and doors along with a kitchen plan for your new outdoor kitchen will help organize things in your mind.
Designing Your Ideal Outdoor Kitchen
When you've chosen your spot, accurately measure the dimensions of the area you want your outdoor kitchen to cover. Again, using a sketch, you can check whether the appliances and counters you want in your kitchen can be squeezed into the available area.
There is a "golden triangle" rule of kitchen design that you should consider when planning the layout of your outdoor kitchen. The theory is that a kitchen's 3 main work areas should be arranged in a triangle at least 4 feet apart but no more than 9 feet.
These 3 areas are the burner, the sink, and the refrigerator. This design prevents congestion when 2 or more people are cooking and promotes ergonomic movement around the kitchen area.
The countertop is an especially important part of your outdoor kitchen, because you'll probably use it both for food preparation and as a breakfast bar. Wooden countertops are popular, but they are high maintenance when used outdoor. I recommend granite or soapstone countertops. Both are hard-wearing and weather resistant.
Even though the kitchen equipment is made especially for outdoor use, it's still a good idea to buy protective outdoor kitchen covers for your burner and cabinets. This will keep them in tiptop condition for longer.
Hire An Expert Vs DIY When Building Your Outdoor Kitchen
You may be an extremely capable person able to perform all the necessary tasks to complete a perfect outdoor kitchen. It's cheaper to do everything yourself, and you know you'll aim to produce the best kitchen possible.
However, think safety first. If you are going to fit a simple, propane-fueled burner, you may be able to complete the job by yourself. But if you want to connect natural gas lines, running water, and electricity, then maybe it's time to call in an appropriately qualified professional.
Remember that there are safety regulations and working codes. You don't want to feel responsible for any accidents that befall your guests.
Other Things You Need
If you are going to make frequent use of your outdoor cooking facilities, there are various accessories for outdoor use that you will find useful.
To ensure adequate ventilation while you are grilling or smoking, and to lessen the heat from cooking in summer, you could use an outdoor ceiling fan. When cooking during the late evening, outdoor floodlights will come in useful.
And to entertain your guests while you're cooking, you might like to invest in an outdoor projection screen, projector, and Bluetooth speakers. With the right decorations and accessories, you can make your outdoor kitchen and dining area as comfortable as an indoor family room.
Get Cooking!
I hope I've provided you will oceans of inspiration for your outdoor cooking dream. Whether you aim to build an outdoor kitchen Martha Stewart would be proud of or drag a portable smoker out onto your porch, your dreams are within reach. Just carefully plan your outdoor cooking area and then choose the best equipment you can afford.
Notice:
OutsidePursuits.com is a participant in the Amazon Services LLC Associates Program, an affiliate advertising program. OutsidePursuits.com earns fees from products sold through qualifying purchases by linking to Amazon.com. Amazon offers a commission on products sold through their affiliate links.