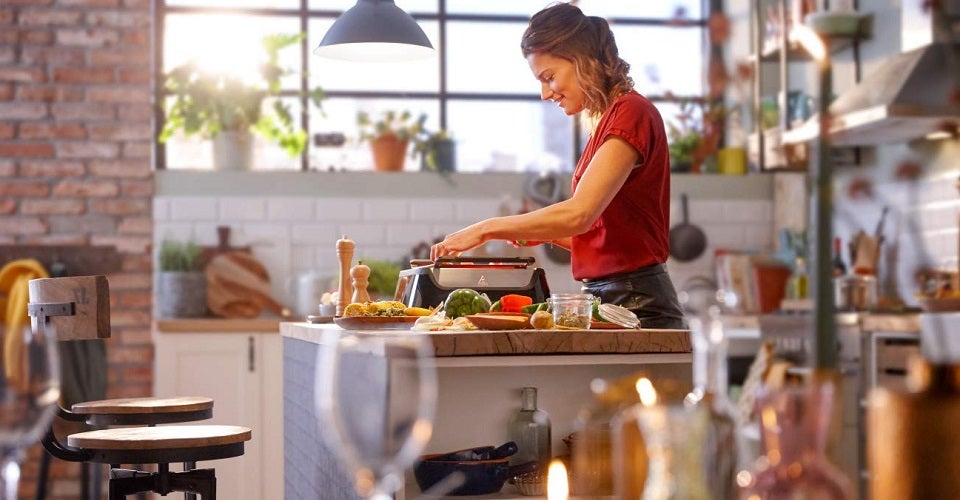 Our Editors independently research, test, and rate what we feel are the best products. We use affiliate links and may receive a small commission on purchases.
Grilling is one of the most fun summer activities, but sometimes we want to enjoy the juicy goodness of a burger or steak when the weather isn't ideal.
Or perhaps you live in an area without a patio or balcony to grill outside. Whatever the case may be, we have the perfect solution: one of the best indoor electric grills.
We've researched the top indoor electric grills available so you don't have to. We know you're probably hungry so let's get started!
Best Indoor Electric Grills
| | Ninja Foodi Indoor Electric Grill | Hot Shot Indoor Smokeless Grill | Cuisinart GR-300WS Griddler Elite |
| --- | --- | --- | --- |
| | | | |
| | | | |
| Cooking Area: | 10" x 10" | 13.75" x 8" | 22" x 14.5" |
| Smokeless: | Yes | Yes | No |
| Non-Stick: | Yes | Yes | Yes |
| Timer: | Yes | No | Yes |
| | | | |
For more of my cooking and grilling recommendations, have a look through these popular Outside Pursuits guide links: Turkey Fryers, Smokers, Portable Grills.

Quick Answer: The 7 Best Rated Indoor Electric Grills For 2021
Our reviews of the top rated indoor electric grills with a comparison table and buyers guide will help you choose the right one for you.
---
Indoor Electric Grill Reviews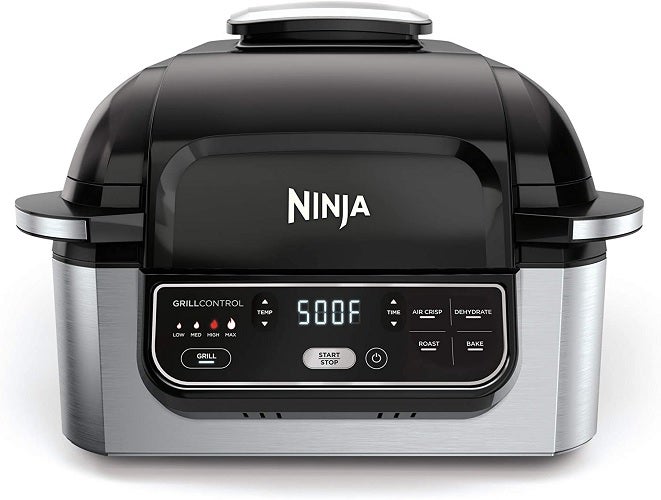 Ninja Foodi Indoor Electric Grill at a Glance:
---
Cooking Size: 10″ x 10″
Smokeless: Yes
Non-Stick: Yes
Timer: Yes
The Ninja Foodi Indoor Electric Grill is our first inside grill, featuring a feature rich but simple to use design.
The large grill is perfect for cooking for bigger groups of people, and if you don't mind spending a bit more money, well worth it. The grill works to heat up in less than one minute, thanks to a whopping 1760 watts included in this model.
You can easily place it on a countertop without taking up too much room, and non-slip feet ensure it stays where you put it for safety and efficiency.
With a PTFE/PFOA free, ceramic coated grill grate you'll always have evenly-grilled food – no matter what it may be.
The grill has the ability to heat up to 500 degrees each time, which is the ideal heat for searing meats while keeping it juicy and packed with flavor.
As all of this is happening, the indoor BBQ grill works to eliminate smoke and dangerous/messy oil splattering.
As the oils and fats move away from the meat while cooking, you'll not only get a healthier meal, but a cleaner one. These oils slide down the grill and into the included drip tray, making clean-up quick and simple.

---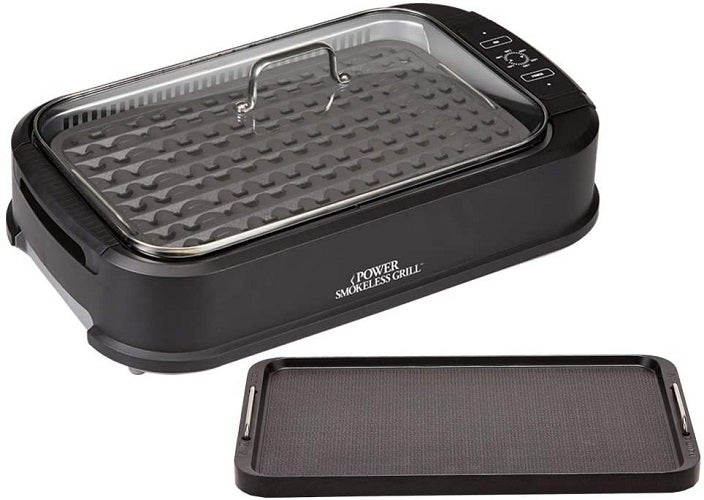 PowerXL Indoor Smokeless BBQ Grill at a Glance
:
---
Cooking Size: 14″ x 8″
Smokeless: Yes
Non-Stick: Yes
Timer: No
The first item on our guide is the best smokeless indoor grill, is the PowerXL Indoor Smokeless BBQ Grill.
The California-designed product is made to work in smaller spaces due to its thinner footprint. Easily stow it away when you're not using it without having to maneuver all the other pots and pans around.
With a 14x8" grilling surface, you can cook for up to 8 people at once, making it the perfect choice if you're having a little get-together with friends or family.
Thanks to the zero smoke production, you can cook wherever you'd like without filling up your home full of pollutants.
With the ability to heat up in literally seconds to 446 degrees Fahrenheit, you won't have to worry about you or your guests going hungry while waiting for their delicious food.
Grill steaks, burgers, veggies, fish, chicken, kebabs, and much more – this model can cook it all to perfection with its infrared heat.
This advanced technology works by using special reflectors to move heat towards the grid to give an even cook every time. The flavor is locked in well, giving a juicy and rich taste without the fat.
As any type of food slides easily off of the non-stick surface, your clean-up time is kept to a bare minimum so you can focus more on your meal and spending time with loved ones.
Moreover, the model is both ETL and FDA certified, so you can rest assured this inside BBQ grill is safe to use.

---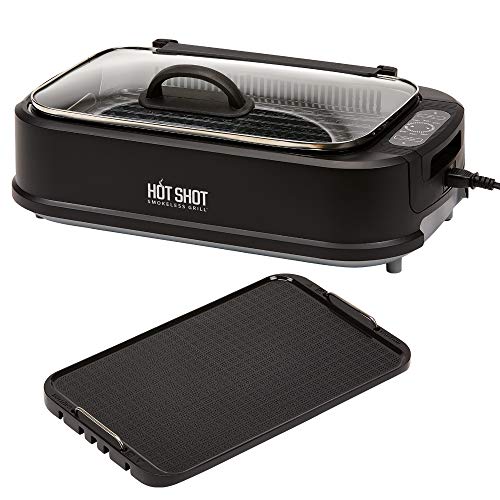 Hot Shot Indoor Electric Smokeless Grill at a Glance
:
---
Cooking Size:

13.75″ X 8″

Smokeless: Yes
Non-Stick: Yes
Timer: No
Next up is the Hot Shot Indoor Electric Smokeless Grill, which is an incredibly versatile piece of equipment that you can enjoy all year-round.
When temperatures drop, you can easily use it indoors without worry of smoke, and when it starts getting nice out, take it outside for the full experience!
With the compact design, it has a small footprint which is perfect for limited spaces. However, this also makes it ideal for picnicking, camping, or even for use in your backyard!
The cooking surface is just slightly smaller than our last product, but still gives you enough room to grill for 8 people at once.
With dual cooking surfaces, you'll receive non-stick grill grates as well as a flat griddle plate. This design makes it easy to cook eggs, pancakes, bacon, steak, and more. If you're in the mood for paninis, you can even use it as a panini press!
The grill plate will give you those famous grill marks on just about any food item.
With the included drip tray, you won't need to worry about oils and fats dripping everywhere and making a mess. This tray works to easily catch all of that, and the removable parts simplify the cleaning process afterward.
With all of that and more to offer, it's easy to see why this is the best indoor grill.

---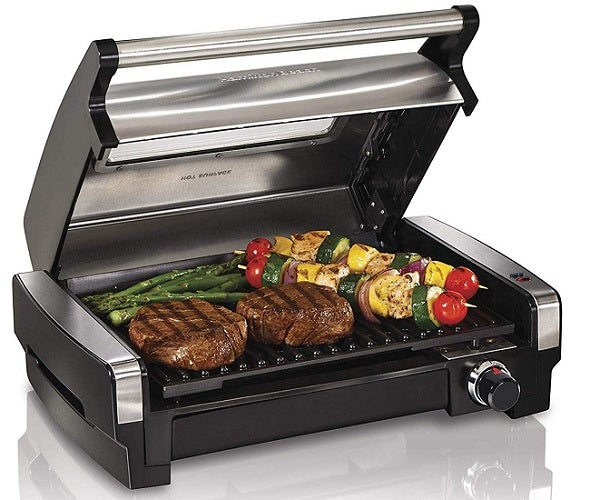 Hamilton Beach 25361 Electric Indoor Searing Grill at a Glance
:
---
Cooking Size: 12.4″ x 16.7″
Smokeless: No
Non-Stick: Yes
Timer: No
Capable of fitting up to 8 servings at once, the Hamilton Beach 25361 Electric Indoor Searing Grill is the best indoor electric grill we've had the joy of using.
The 118 square inches of cooking area can fit around 6 burgers, up to 3 steaks, and even up to 6 large chicken breasts!
This makes it an excellent option if you have a large family or plan on having big groups of people over at a time.
Not only that, but if you're on a budget, we can't recommend the 25361 enough. It costs less than half what comparable models do and comes with a reputable name.
Reaching up to 450 degrees Fahrenheit, you'll be able to cook even the thickest steaks perfectly without risk of burning or drying the meat out.
However, you can easily adjust the temperature dial to work at a lower level of heat if you prefer. While it's not technically a no-smoke model, it also creates very little smoke.
Setting off a smoke detector, for example, wouldn't even be an issue as it's so little.
As your food is grilling, you can watch it, thanks to the built-in window in the lid. This saves you from having to constantly lift up the lid and babysit it.
The indoor grill hood, plate, and drip tray make it easy to separate the fats and wash up when you're all finished.

---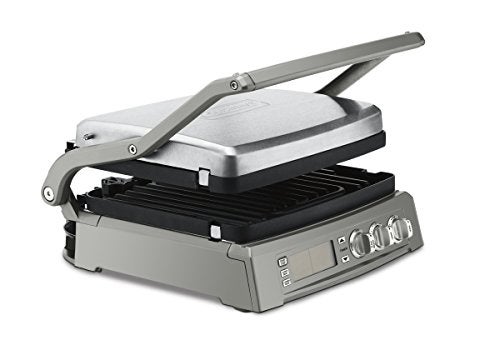 Cuisinart GR-300WS Griddler Elite at a Glance
:
---
Cooking Size: 22″ x 14.5″
Smokeless: No
Non-Stick: Yes
Timer: Yes
With Cuisinart being one of the most reputable names in the cooking world, it's no wonder their GR-300WS Griddler Elite made our list as one of the top indoor barbecue grills out there.
This is probably the most versatile model we've used, with the ability to do just about whatever you want. Grill, griddle, panini press, grill steaks, sear, and more.
No matter if you're a beginner or a "seasoned" pro, this is a must-have for any kitchen.
At first glance, you'll see this is not only a functional piece of equipment, but an attractive one at that. The stainless steel housing looks high-class and modern, finished off by blue LED indicator lights.
On the front, you'll find a large, easy-to-use electronic display which allows you to set a timer along with a dual-zone temperature control.
What's a dual-zone temperature control? It means you can control two different surfaces independent from each other. Griddle an egg on one while making pancakes on the other!
As you have a large 240 square inches of cooking space, multitasking like this is easy. You'll now be able to make a full breakfast in a few minutes, instead of having to wait for the heat to go down or up to make different items.
If you would like to sear, the 500F heat capacity will have it ready to go for you.
With removable, reversible nonstick grill plates, you'll save time by not having to scrape off the leftovers once you've finished cooking.
An integrated drip tray and included scraping tool only facilitate this, leaving the mess already ready to be tossed away.

---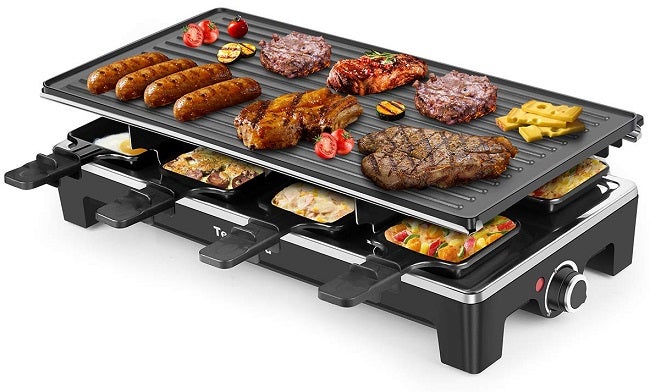 Techwood Electric Raclette Grill at a Glance
:
---
Cooking Size: 18.5″ x 9″
Smokeless: No
Non-Stick: Yes
Timer: No
The next order of business is the Techwood Electric Raclette Grill, which is a large model made to cook all kinds of food without having to stress out about it.
The 1500W grill comes with an adjustable temperature function, letting you adjust on a whim to perfectly suit all kinds of cuisine.
Cheese, fish, vegetables, meat – there's no limit to what you can do. We personally loved using it for potatoes and perfectly made crepes!
With a cooking temperature from 392 to 536 degrees Fahrenheit, go from warming to searing seamlessly. A visible indicator light will make sure you know when it's on, as well as alert others so no accidents happen.
The non-slip feet are also there to prevent any safety concerns, while keeping it in place for efficient grilling.
If you're sick of your other grill just not being able to cook enough servings at once, then this one may just do the trick. The large double-side grill pan also comes with an 8-person raclette pan.
Both are removable, which means when you're done cooking, you can simply place it in the dishwasher! If you don't want to do a full wash, running it down with a wet cloth after the power is off will clean it easily, too.

---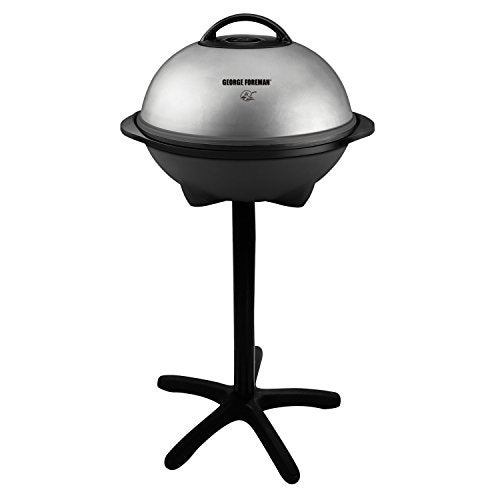 George Foreman Indoor/Outdoor Electric Grill at a Glance
:
---
Cooking Size: 240 square inches
Smokeless: No
Non-Stick: Yes
Timer: No
If there's one name that's synonymous with indoor grilling, it's George Foreman. Easily the most well-known and reputable name on the market, the brand has never failed when it comes to quality and convenience.
However, their 15-Serving Indoor/Outdoor Electric Grill is the model that caught our eye above every other, which is really saying something.
If the other grills on our guide were too small for your needs, then check this one out. It has the capacity to cook over 15 servings at once, which is perfect for large cookouts and barbecues.
Hamburgers, steaks, kabobs, fish, desserts – you have all the possibilities at your fingertips! The adjustable temperature probe lets you select among 5 different heat settings to ensure you receive the best results possible.
The design has more of a traditional grill layout, coming on a removable grill stand which holds strong on a patio or balcony, but you can also remove it for easy countertop grilling.
You can't get much more versatile than that! While it's not 100% smoke-free, we noticed that most of the time, the amount of smoke was unnoticeable anyway.
With the fat-removing slope, you'll get 42% less fat in your meats for a healthier meal. Combine that, with the drip tray, and cleanup is a breeze once you're done.

---
Indoor Electric Grill Comparison
How to Choose the Best Indoor Electric Grill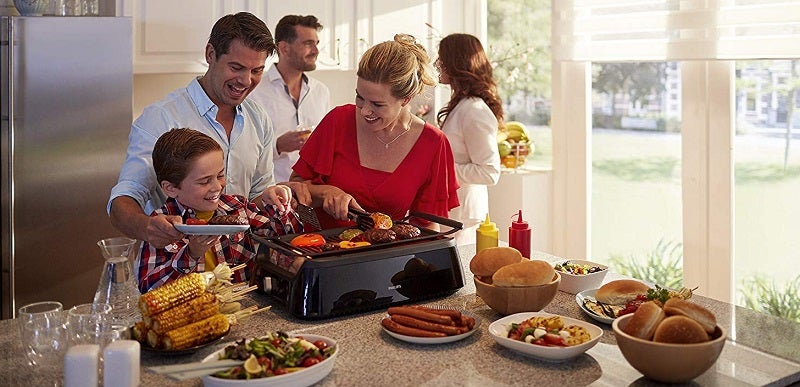 Now that you've had the opportunity to read through all the best smokeless indoor electric grills, which one will be making its home in your kitchen?
If you're still on-the-fence about making a decision, there's no need to worry. We know it can be hard to choose when there are so many attractive options available. That's the reason why we've gone ahead and come up with the comprehensive buying guide, below.
This guide details every step of the selection process, ensuring that by the time you've read through it, you're certain of which is the perfect product for you.
Cooking Area
Before anything else, you need to figure out how large of a cooking surface area you're going to require. Think about the amount of people you'll be cooking for (more or less), while also taking into consideration what you'll most likely be grilling.
For example, a rack of ribs is going to take up much more space than a handful of asparagus. Most indoor grills are going to have the size to at least hold up to four servings. There are larger models that also offer over an impressive 14 servings, and if you're not sure four will be enough, it's better to opt for the bigger size.
Even if you only have a few people you're cooking for, you may want to go for the larger surface area with dual-surface controls that let you cook various food items with differing temperatures at once.
One more detail to consider, is whether or not you want a closed-in model with dual surfaces. These allow you to use both the lid and grill for cooking, so you can cook more in a short amount of time.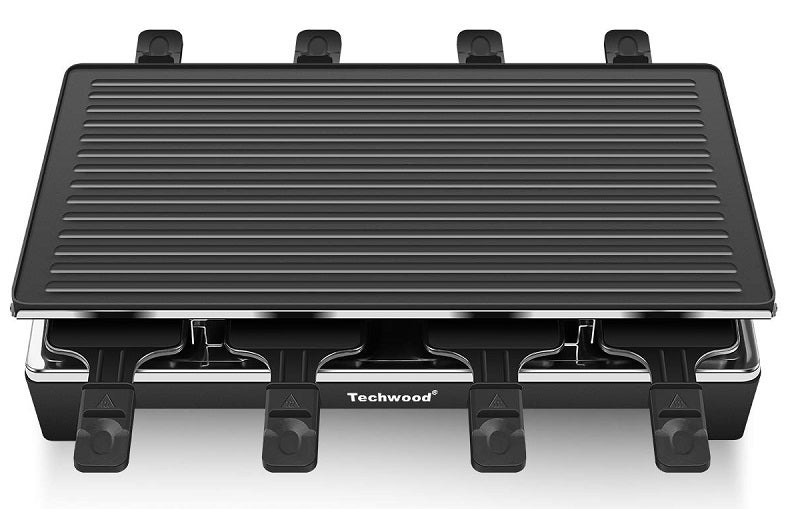 Open vs. Closed
You probably noticed that there are grills that come with a lid, and those that are "open", which cook in the open air.
While many prefer the open models as they can see their food cooking without any obstructions, those with lids tend to keep food more moist, while also trapping smoke and heat inside the grill rather than letting it waft throughout your home.
A great way to get the benefits of closed grills while still being able to see your food without having to take off the lid is to get a model that comes with a window in the lid.
Heating Type
Most grills use an electric-powered heating element, which can usually reach around 450 degrees Fahrenheit. These temperatures are ideal for cooking thicker cuts of meats like steaks which are difficult to cook properly on lower temps.
Not only that, but you'll be able to get the best sear at this level of heat, if that's something you'd like to do. We feel in this day and age even surface cooking throughout the grilling area should be included on all top-level models.
This means that the design evenly distributes heat on the entire surface so all food is cooked at the same rate. Not only does it make it easier to predict when your food will be ready, but you will be able to have it ready for everyone at the same time.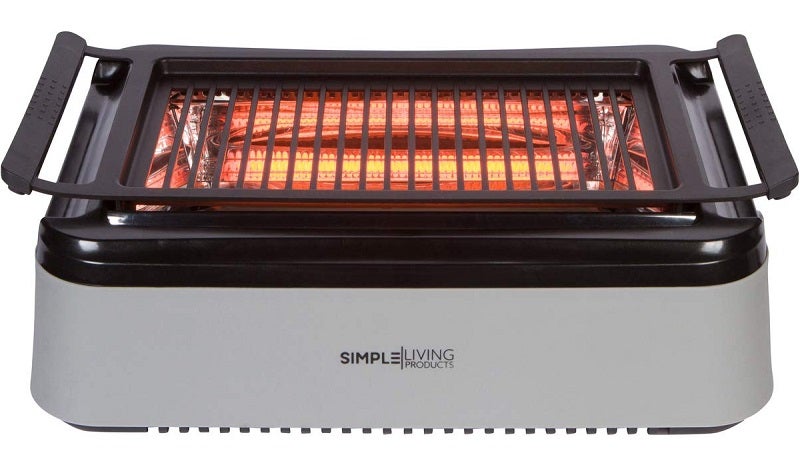 Temperature Controls
You'll want to think about the kind of cooking/grilling you'll be performing. If you're just starting out and don't yet have the knowledge to know when you're under or overcooking your food, then you'll want a model that comes with an adjustable temperature control.
Aside from that, this is ideal to perfectly cook all types of food. For example, you're not going to be cooking a hamburger and a crepe at the same level of heat.
Non-Stick surface
If you're using an indoor grill, you're already looking for convenience. What's inconvenient is trying to pry a chicken breast off the grill to serve it while it's holding on with all its might. You should be able to seamlessly flip your food to give it a nice grill without it shredding apart.
The key?
A non-stick cooking surface. While it's not technically "necessary", if you want the best experience possible, then you'll select a model that has one. Keep in mind that the hotter the surface is (generally), the less food is going to stick to it.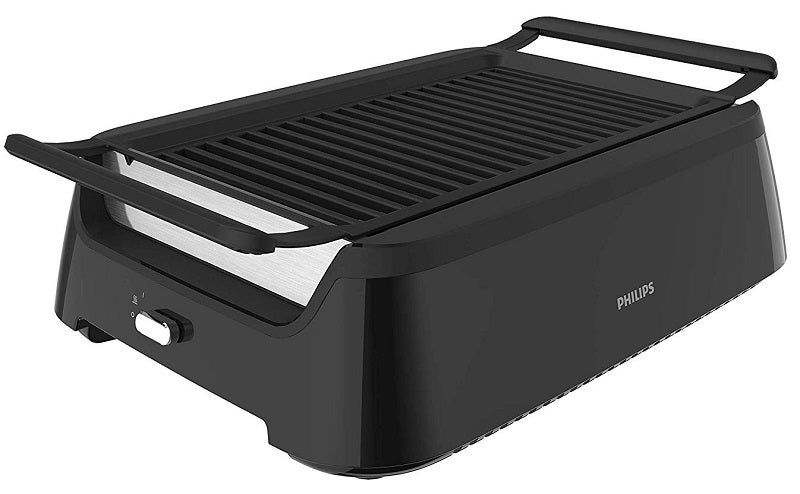 Safety Features
Anytime we're dealing with high levels of heat, safety has to take top priority. Even if you have the most efficient and unique indoor electric BBQ grill out there, it isn't going to be of high-quality if it's unsafe. The two most important features to look for here, are an indicator light, and non-slip feet.
Indicator Light
This light automatically turns on when the grill is hot – it may also turn on when it's about to reach the desired temperature. This is a great way of knowing that you can now start grilling your food, but also that it's extremely hot and to never touch the cooking surface.
Non-Slip Feet
Another 100% essential feature to have on your grill are non-slip or non-skid feet. It may not seem important until you start to get cooking. You may start getting into things or trying to flip food, and all of a sudden the grill slides off of the countertop. This can lead to countless safety risks. Better to just opt for a model with feet that will prevent it from moving from where you place it.
Ease of Cleaning
While cooking and eating is definitely the fun part, you always have to clean up afterward. This is oftentimes the part that we dread doing. However, if you select the right grill, it doesn't have to be a hassle.
Drip Tray
These not only help to get rid of the grease and fat in meat, but collect all the messy liquids during the cooking process. This also helps to minimize the risk of a fire which is important particularly when cooking indoors. As all you need to do is empty it out when you're finished, the cleaning process becomes much shorter.
Removable Parts
To facilitate the process even further, you can get a model with removable parts. After you've dumped out the drip tray, you'll need to clean the actual grill. However, many will have removable ones where all you have to do is wait for it to cool down, remove it from its housing, and place it in the dishwasher! It can't get much easier than that.
FAQs About Indoor Electric Grills
Q: Should I apply cooking oil to my grill before using it?
A: If you have a non-stick grill, then this is unnecessary. However, we understand that for many, this has become a habit to do so. Just make sure that you're only using a light coating of oil, as this can create a mess, extra calories, and an increased risk of fire.
Q: How can I easily clean off cheese from my grill?
A: The easiest way to go about this is to heat the grill up just a bit to where the cheese softens, but not too hot that you burn it on even more. You can also use a bunch of paper towels and push them into the grooves of the grill.
Q: Can I use metal utensils on my grill?
A: All of the models on our list can be used with metal utensils, as well as just about any other standard barbecuing and grilling utensils.
Q: Can I cook frozen foods on my grill?
A: While you technically can, we recommend strongly against it. Not only does it take an incredibly long amount of time, but the taste is really going to diminish.
Tips For Using Your Indoor Electric Grill
#1: If your food keeps sticking to the grill, try oiling your food.
Note we didn't say to oil the grate. Oiling your food lightly can keep it from sticking to the grill, without adding too many calories or mess.
#2: Always avoid using non-stick cookware on your grill.
This is because the models on our list can reach incredibly high temperatures, which can seriously ruin the cookware.
#3: If you miss the taste of smokiness, you can always add in liquid smoke.
Liquid smoke is just a liquid where the flavor compounds from real smoke have been suspended. Adding just a bit of this can give you that authentic taste that you're looking for.
How to Grill Indoors
How to Grill Indoors | Mad Genius Tips | Food & Wine
Summary
Now that you're practically an indoor grilling expert, which one of these best indoor electric grills will be making its way into your home this season? Know that whichever one you select, you'll be receiving one of the best models out there today.
However, it's most important that you pick one that works best for you and your grilling needs, specifically. We hope that our article has helped you do exactly that. Thanks for staying tuned with us, and we'll see you again soon!
How We Researched
To come up with the top indoor electric grills, we researched a variety of sources for reviews such as Home Depot, Lowes, Target and Wayfair along with our own personal experience.
We also consulted online magazines for product research and reviews to get as much unbiased information as we could. To help weed out fake reviews we used Fakespot.com to make sure we only looked at genuine reviews.
With so much quality gear available, we had to narrow it down based on what we felt were the best options were for the price. The staff authors have a wide and varied background in yard design and home repairs.
The authors have decades of experience and are eager to share their knowledge with readers.
To help narrow down the selection we used personal experiences along with recommendations from landscapers, bloggers and contractors.
After extensive research, we came up with our list to help you choose the right one for you.
Sources
Notice:
OutsidePursuits.com is a participant in the Amazon Services LLC Associates Program, an affiliate advertising program. OutsidePursuits.com earns fees from products sold through qualifying purchases by linking to Amazon.com. Amazon offers a commission on products sold through their affiliate links.