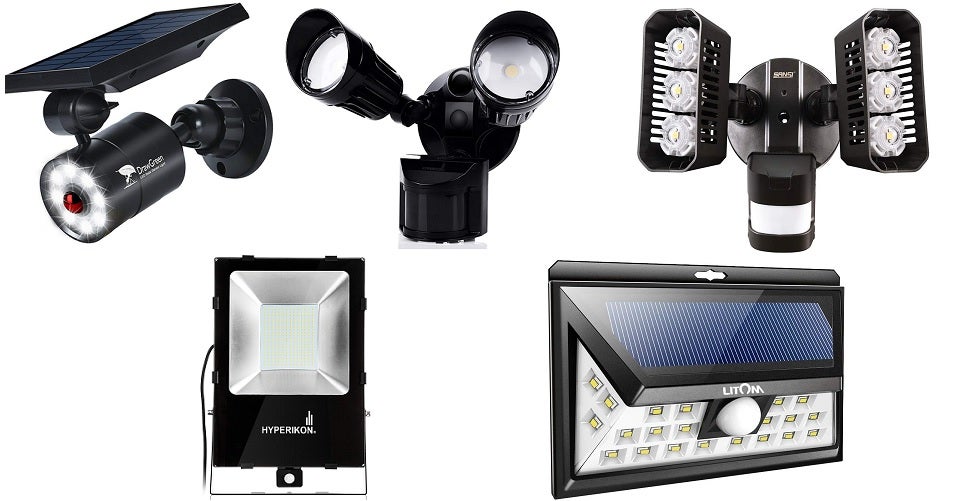 Our Editors independently research, test, and rate what we feel are the best products. We use affiliate links and may receive a small commission on purchases.
Floodlights are broad-beamed, intense lights which can be used for a variety of purposes from lighting up your backyard or for security and convenience with a motion sensor.
No matter what your plan is, you're going to need some of the best outdoor flood lights.
We've done the research so you don't have to. Keep on scrolling to see our reviews of the top motion sensor flood lights on the market!
Best Outdoor Motion Sensor Lights
| | SANSI Motion-Activated Security Lights | LITOM LED Solar Outdoor Security Lights | TBI Solar Powered Security Solar Lights |
| --- | --- | --- | --- |
| | | | |
| | | | |
| Brightness: | 2,700 Lumens | 420 Lumens | 2,200 Lumens |
| Solar: | No | Yes | Yes |
| Power Source: | 110V AC | Lithium ion Battery | Lithium ion Battery |
| Coverage: | 860 SQ Feet | 200 SQ Feet | 800 SQ Feet |
| | | | |
For more of my home & garden recommendations, have a look through these popular Outside Pursuits guide links: Solar Landscape Lights, Cordless Lawn Mowers, Cordless Weed Eaters.
Quick Answer: The 7 Best Rated Outdoor Flood Lights For 2021
Here is a feature comparison of my top rated outdoor motion sensor lights with a comparison table and our buyers guide below will help you choose outdoor lights for you.
---
Motion Sensor Flood Light Reviews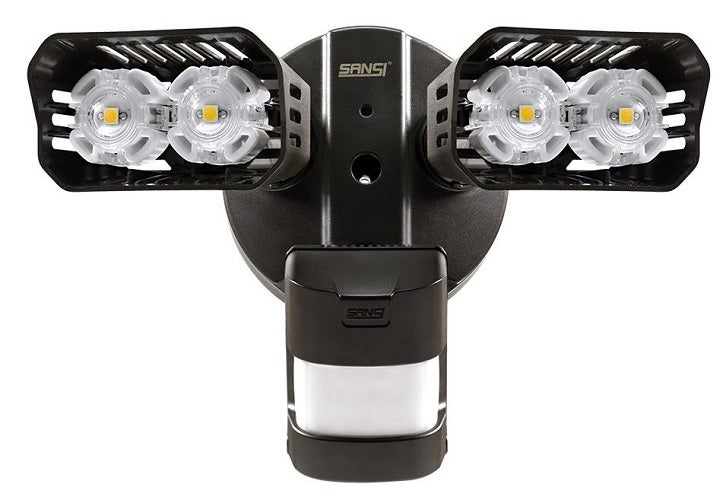 SANSI LED Security Lights 18W at a Glance
:
---
Solar: No
Power Source: 110V AC
Bulbs: LED
Coverage: 860 Square Feet
Brightness: 2,700 Lumens, 27W
The SANSI LED Security Lights are our Editor's Choice for the best outdoor motion sensor lights with an excellent combination of value and performance.
Even though they cost less than $50 they have similar features of flood lights costing significantly more. To start off they have 3,400 Lumens (30W) of lighting power, which is plenty for most applications.
This high intensity is great for use at home and in commercial/industrial spaces. You can easily use it in your yard, workshop, and so much more
.Operation is pretty straightforward, and includes a motion sensor. You can choose how long you'd like the lights to be on for (1,5, or 10 minutes) after the sensor is triggered.
You can also opt to have them stay on continuously, by keeping it on manual mode. The super bright lights also have a dusk-to-dawn photocell which activates at nightfall, and turns off in the day.
The 50,000 hour lifespan is incredible, offering high performance and cooling efficiency to work well over long periods of time.
You'll also save around 88% on power by switching 150W with the 27W here. SANSI also provides a 5-year warranty and excellent customer service that will make you feel secure about using their products.

---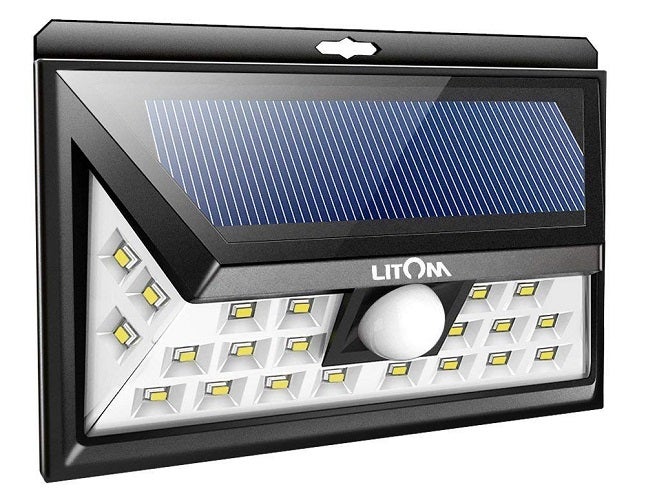 LITOM 24 LED Solar Lights at a Glance
:
---
Solar: Yes
Power Source: Rechargeable Alkaline
Bulbs: LED

Coverage: 200 Square Feet
Brightness: 420 Lumens
Many users have raved about the LITOM floodlights, but we wanted to see what the deal was for ourselves.
Made up of a couple different components. You have a solar powered panel which charges the Li-ION battery, the mount and the LED lights. The fact that it's solar powered is great for those that don't want to run AC power to install security lighting..
Oh, and it's never a bad thing to choose an option which is environmentally friendly!
The way the security aspect works, is if the motion sensor is triggered, lights turn on for 20 seconds, then turn back off in order to conserve energy.
To mount the light, you have to initially place a type of screw or peg onto the wall you'd like to use it on. After that, it's as easy as hooking it on.
You can also opt for a less damaging method of application, by using strong double-sided tape or another kind of adhesive. However, we recommend the first method due to having to switch light modes from the rear of the lights.
What are the lighting modes?
There's constant lighting, constant dim lighting and motion sensor, and motion sensor only. Overall, what we loved most about these lights were how bright they were – especially given its relative size.
The broad illumination it provides is perfect for more open areas such as the garage or outside and for the money, they are the best outdoor security lights on our list!
---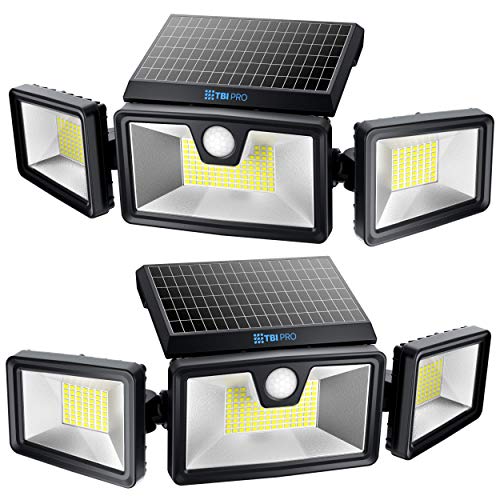 TBI Solar Powered Outdoor Security Solar Lights at a Glance
:
---
Solar: Yes
Power Source: Rechargeable Alkaline
Bulbs: LED
Coverage:

800

Square Feet
Brightness: 2,200 Lumens
With super efficient LED lights the TBI Solar Powered Lights put out 2,200 lumens. That's more than enough light to use outdoors for an extra layer of safety without needing to connect to 110V wiring.
The TBI is built to commercial standards and IP65 waterproof rated so it's more than enough for home security lighting needs with a motion sensor.
Thanks to the patented ceramic heat dissipation technology and hollow-out design, you don't have to worry about it becoming too hot. This engineering will provide you up to an impressive 45,000-hour lifetime.
As the unit is adjustable and can be mounted vertically on a garage or home so the light is pointed down but also horizontally on the ground so the light shines upward lighting up a building.
The dawn-to-dusk photocell turns on when it gets dark, and off in the daylight. The motion sensor works within 180 degrees, and 50 feet out.
If that wasn't enough, TBI also provides you with a 5-year warranty to make them the best outdoor flood lights!

---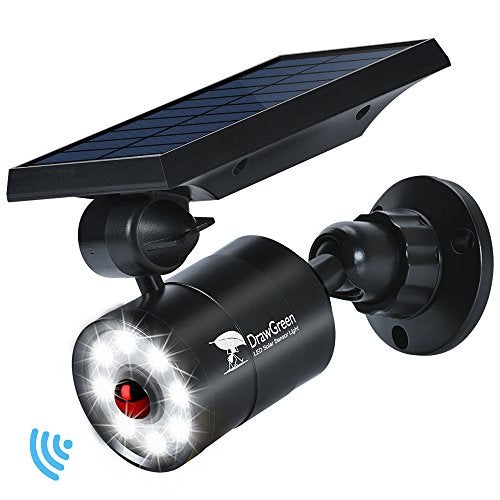 DrawGreen Solar Outdoor Motion Sensor LED Spotlight at a Glance
:
---
Solar: Yes
Power Source: Rechargeable

Lithium Ion 18650 3.7V batteries

Bulbs: LED
Coverage: 40-55 Feet
Brightness: 1,400 Lumens
If you are looking for a flood light to light up a narrower field instead of a wide area the DrawGreen might be what you need.
As it comes with a motion sensor which can detect movement up to 20 to 26 feet, the DrawGreen is the best motion detector light on our list and perfect for security applications.
Similar to other models, once it gets triggered, it will stay on for 20 seconds, then turn off to conserve battery life.
As this model has a waterproof rating of IP66, it's perfect for outdoor use – particularly in rainy environments.
Not just that, but as the outer shell is made of aluminum alloy, it's anti-corrosive and long-lasting. If you live in damp or humid climates, this is a must-have.
The 9W LED provides a 100 lumen output, which gives great luminous efficacy. The 50,000-hour lifespan is much longer than many incandescent, halogen, or fluorescent lights available on the market today.
It also includes a photocell, which knows when light intensity goes below the limit, and automatically turns back on when there's hardly any light.
You can rotate it a complete 360 degrees to suit whichever angle you need it to face, and the solar panel can also be adjusted.

---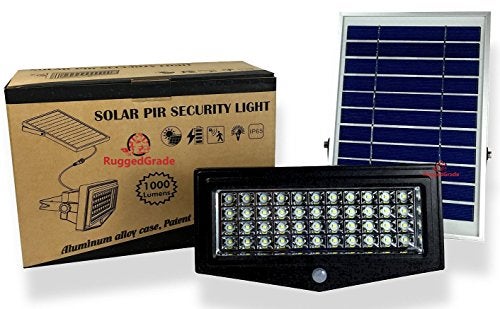 RuggedGrade Solar Motion Flood Light at a Glance
:
---
Solar: Yes
Power Source: Rechargeable

Lithium Ion 8000mAh battery

Bulbs: LED
Coverage: n/a
Brightness: 1,000 Lumens/10W
With over 1,000 Lumens, this super bright RuggedGrade Solor Motion Floodlight is an excellent choice for a driveway, basketball court, backyard, and much more.
You can use it however you'd like for security purposes, too, thanks to the motion and light sensor that is built in! You even get 4 modes to choose from.
The "default" mode is 10%, and goes into full brightness with motion. The second is constantly set to 500 lumens. Three, is set to 1000 lumens, and on the fourth mode, it's "off".
Installation is pretty straightforward and should be a snap for most users. All you have to do is directly mount it on the wall of your choosing, or another surface you may prefer.
It's not much more complicated than hanging a picture. As the solar panel and LEDs are mounted apart from each other, you can adjust them individually to suit your needs.
Despite being so flexible, it's very durable, making it perfect for outdoor use. It's made of high-quality aluminum and plastic, as well as being IP65 outdoor waterproof-rated making the RuggedGrade's the best solar motion sensor lights for the money.

---
Hyperikon LED Outdoor Security Flood Light with Motion Sensor at a Glance
:
---
Solar: No
Power Source: 110V AC
Bulbs: LED
Coverage: n/a
Brightness: 1,800 Lumens, 20W
Hyperikon's LED Outdoor Security Light is another excellent budget-friendly option is you're looking for a more affordable outdoor floodlight.
Coming in either black or white, 2 or 3-head design, you can select which looks and works best for you. The waterproof LEDs are surprisingly bright at 90 lumens, which can easily deter any unwanted activity outside your house.
With both built-in dusk-to-dawn sensors and motion sensors, you'll be all set when night falls. The 150-degree infrared motion sensor can detect movement within a range of 30 to 40 feet, which is sufficient for most homes.
Installation is super easy, and can be mounted to a wall in just a few steps. Use it at the front of your house, in a garage, your workshop, driveway, and much more.
It works excellent in just about any kind of weather, due to the IP65 weatherproof rating. Not only is it good in snow and rain, but can also withstand extreme heat of up to 120 degrees!
What's more, is you can rotate both the cap and adjust each head of the fixture to change the direction of light in any way you please. If you are looking for the best motion sensor flood lights that can withstand the elements, the Hyperikon's are a good choice.
---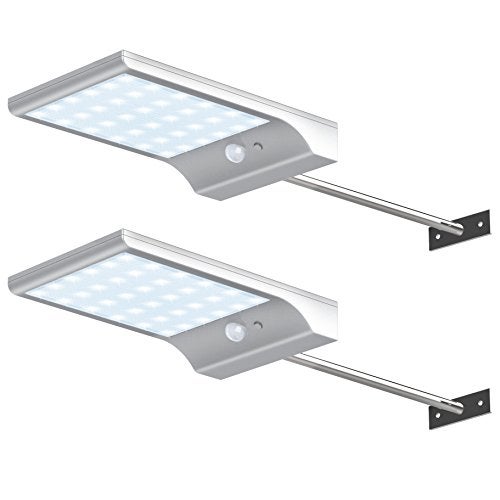 InnoGear Solar Outdoor Motion Sensor Flood Light at a Glance
:
---
Solar: Yes
Power Source: Rechargeable 2600mAh battery
Bulbs: LED
Coverage: n/a
Brightness: 450 Lumens
The InnoGear Mounting Detector is definitely one of the most attractive, innovative floodlights that we've tried. It works well indoors, just as well as outdoors.
With exceptional customer service and professional quality control, you'll be feeling well taken care of as soon as you get the product.
The 270-degree illumination range covers an area of around three times more than most other solar light models.
The 36 LEDs produces around 450 Lumens, which is more than sufficient for lighting up just about anything you need it for. As it comes with a motion sensor, you'll instantly feel and be more secure.
The light comes with four modes for you to choose from: 1: 25% constant brightness, 2: 50% constant brightness, 3: constant dim lighting and full brightness when motion sensor is triggered, and 4: only turning on lights when movement is detected.
As the design features a highly efficient solar panel, the batteries charge particularly fast. As it's also water-resistant, it'll do well in various types of weather conditions.
The high-strength ABS material it's made out of also keeps the spotlights heatproof. Overall, it's very easy to install, very bright, and looks good.
Perhaps the only possible complaint we could think of is that the lighting has a bit of a blue tone, which some people may not like.
If you are looking to light up a wide area, the InnoGear's are the best motion sensor LED lights on our list.

---
Outdoor Motion Sensor Light Comparison Table
How to Choose the Best Outdoor Flood Lights – Buying Guide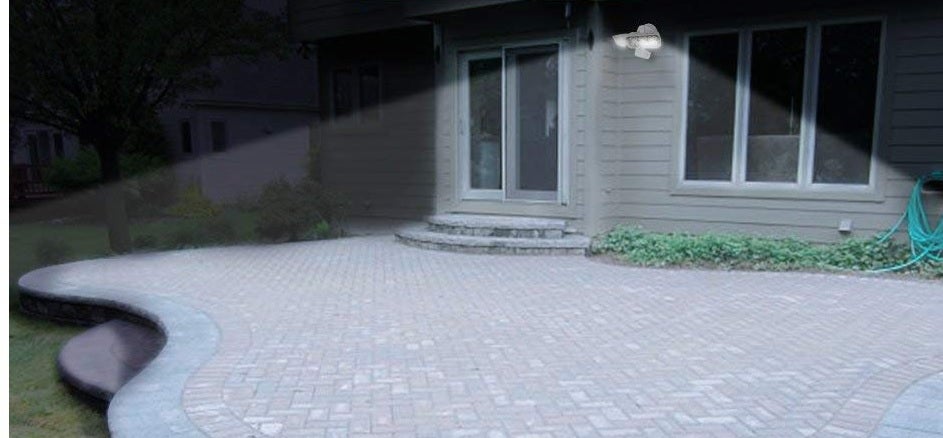 You've gotten through each of the best outdoor flood lights, and are now to our buying guide portion. Have you selected which product is right for you?
If not, that's okay. That's actually why we decided to take it upon ourselves and write one up.
We want to make sure that you're completely satisfied with the product you select, and don't buyer's remorse.

Light Output
For flood lights, you'll typically see their power go anywhere from 10W to 1000W. Chances are, you're not going to need 1000W, but that all depends on what you're planning on using the lights for.
Many flood lights are rated in "Lumens". Lumens are a unit of measure specifically for light.
This chart will help give you an idea of what a Lumen is to Watts.
| | | |
| --- | --- | --- |
| Lumens | Incandescent Watts | LED Watts |
| 375 | 25 | 6 |
| 450 | 40 | 10 |
| 800 | 60 | 15 |
| 1100 | 75 | 19 |
| 1600 | 100 | 25 |
| 2600 | 150 | 38 |
| 3000 | 200 | 50 |
If you're just using them for something like a BBQ, or outdoor activities at home, then you should go for something on in the 2,000-3,000 lumens range.
In contrast, if you need it to illuminate the work area that you'll be using to perform tedious tasks such as a workshop or working on your car then pick a higher power, like 5,000 lumens or higher.
In these cases, you'll want to go to around the middle of this range. In addition, you don't just have to stick with one light with this wattage; you can choose a few sets of lamps to place around the area to create increased uniformity.

Energy Savings
Saving energy is definitely crucial, in terms of your bill, and the environment. If you can opt for something that offers an eco-friendly operation and lower energy bill wouldn't you do it?
What it all comes down to really, is the luminous efficiency of the floodlamps in question. If your light says something like "130 lm/W", this signifies that 130 units of brightness are produced for each wattage power consumption.
It's not a rule, but generally, you'll find that the higher the lumens/watt, the more the lighting efficiency will be. In addition, you'll probably notice a direct correlation with the price rising as lighting efficiency does.

Included Sensors
Even if you're not going into this with plans of using your floodlights for security purposes, having a photosensor and/or motion sensor included is a good idea.
Photo Sensor
A photosensor is going to register the intensity of light, then switching the lights on if it goes under a certain level. These can be convenient in some ways, and inconvenient because you usually can't adjust this limit.
Motion Sensor
The motion sensor has been covered heavily in the reviews above, and you surely already know what they are. Once your light has been properly installed, it's a good idea to test out the motion-sensing limits and distance on your own.

Solar Panels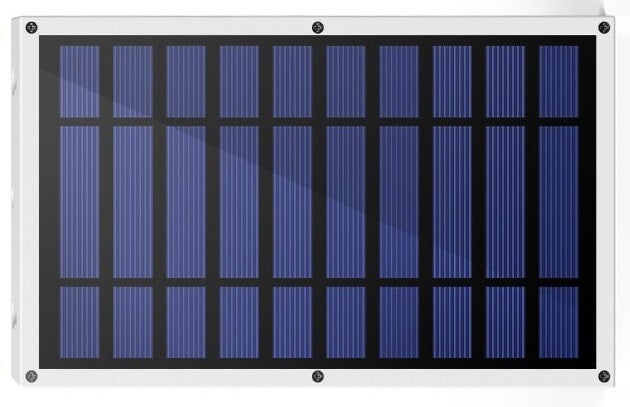 Many of the floodlights on our list feature solar-powered panels. They may not be for you, but let us explain what they offer and what their downfalls are.
First, you'll find that the panel is connected to the lights directly. That means you only have to worry about hooking up one unit on its own, rather than two separate components.
Those with separate units have a wire to keep them connected. It can be a hassle in the sense that you have to now mount two different components.
The upside to this is that you can put the solar panel in the exact spot and angle that allows it to best soak up the sunlight.
This is very important that the solar panel be adjusted to be in direct sun for as much of the day as possible. This will allow the battery to fully recharge.
If you are finding the light is not as powerful as it should be or doesn't last very long, you may need to adjust the solar panel.

Power Source
There are two sources of power for your outdoor flood lights:
Batteries
By far the easiest and most convenient to install is a battery powered LED lighting system that is recharged using solar power. These lights can be mounted most anywhere as long as they have exposure to the sun for roughly 8 hours a day to recharge the batteries.
110V AC
Using standard 110V AC power will give you the more power for brighter lights but this comes at the expense of needing it to be professionally installed. They also have the advantage of not needing to be installed where it needs sunlight and can also light up an area indefinitely.

Weather Resistance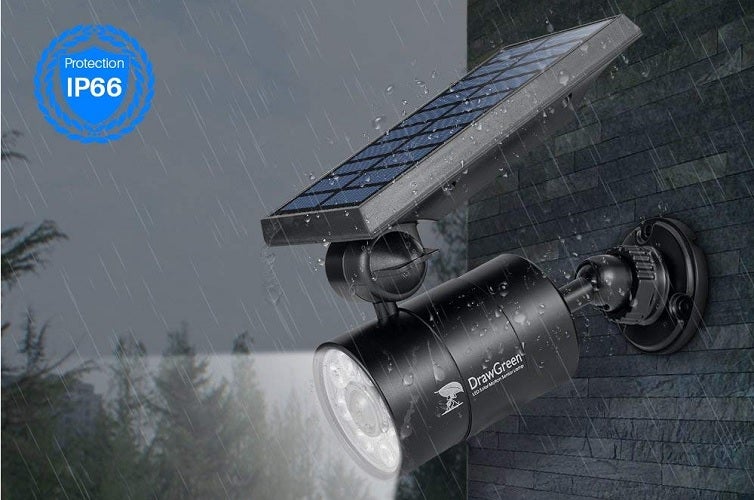 Of course, this will vary a bit, depending on the type of climate you live in. Perhaps you live in a very dry, warm climate that never gets rain or humidity.
In that case, you may not think much about how waterproof your floodlights are. However, if you accidentally spray it with a hose, you'll probably wish you'd gotten waterproof floodlights.
Water resistance is going to be an important factor here. You'll want them to work in whichever elements they're subjected to.
With that, try to find a light with at minimum, an IP65 protection rating. Find a model with solid construction, with high-quality aluminum or a hard ABS plastic to make sure it can hold up against the weather.

Service Life
Another important factor to take into consideration, is how long your light is going to ask. LED flood lights will vary quite a bit in how long they last.
Overall, they last a very long time, particularly in comparison to halogen or metal halide lights. Try to find products that at least give you somewhere between 50,000 to 80,000 hours of illumination.

FAQs About Outside Security Flood Lights
Q: Are the lights affected by cold weather?
A: Not in a negative way, no. LED lights are very resilient, and actually, perform better and more efficiently when temperatures drop!
Q: How much money do LEDs save?
A: This is going to vary per person and situation. However, if you're making the move from halogen to LEDs, then you can save (most likely) over 70% of your energy bill.
Q: How should I estimate coverage area of my floodlight if I'm mounting it a bit higher?
A: The coverage distance will end up being about two to three times the mounting height. So mounting a flood light 10 feet high should light up an area 30 feet away. Keep in mind how powerful the lights are will have a large bearing on the distance.

Tips For Using Motion Sensor Flood Lights
Tip #1: Make sure to pay attention to heat dissipation
This is often not mentioned upfront, but keep in mind that LED chips can be damaged if the junction temperature stays at a very high level. A high-quality floodlight is going to have a good heat sink system and transfer heat from the internal structure, outside of it. Aluminum is great for this.
Tip #2: When first installing your floodlight, first connect the power
If you hook it up first, then connect the power after, you may realize that you've put it in the incorrect spot and it doesn't illuminate what you wanted it to.
Tip #3: If using it for security purposes, try to illuminate corners
A great spot for would-be thieves or criminals to hide are corners. Many of us feel like putting it on the face of a building is the best idea, and it does help. Just consider purchasing another or aiming yours in the direction of corners, too.
Tip #4: Install as close to the roof as you can
We know, it requires much more effort and maybe difficulty, but it's worth going the extra distance. If you don't mount the light high enough, then it may not illuminate the way it was designed to.
How to Install an Outdoor Motion Sensor Flood Light
This video will help you with where and how to install a motion activated LED security light.
How To Install An LED Security Light Fast & Easy
Final Thoughts
Now that you've gone over pretty much everything you could want to know about floodlights, which one will be making its way to your home?
No matter which one you select, know that you're receiving one of the best outdoor floodlights this market has to offer. We hope that our guide has helped you out. Thank you for tuning in, and we'll see you again soon!
How We Researched
To come up with the top outdoor motion sensor lights, we researched a variety of sources for reviews such as Home Depot, Lowes, Target and Wayfair along with our own personal experience.
We also consulted online magazines for product research and reviews to get as much unbiased information as we could. To help weed out fake reviews we used Fakespot.com to make sure we only looked at genuine reviews.
With so much quality gear available, we had to narrow it down based on what we felt were the best options were for the price. The staff authors have a wide and varied background in yard design and home repairs.
The authors have decades of experience and are eager to share their knowledge with readers.
To help narrow down the selection we used personal experiences along with recommendations from landscapers, bloggers and contractors.
After extensive research, we came up with our list to help you choose the right one for you.
Sources
Notice:
OutsidePursuits.com is a participant in the Amazon Services LLC Associates Program, an affiliate advertising program. OutsidePursuits.com earns fees from products sold through qualifying purchases by linking to Amazon.com. Amazon offers a commission on products sold through their affiliate links.