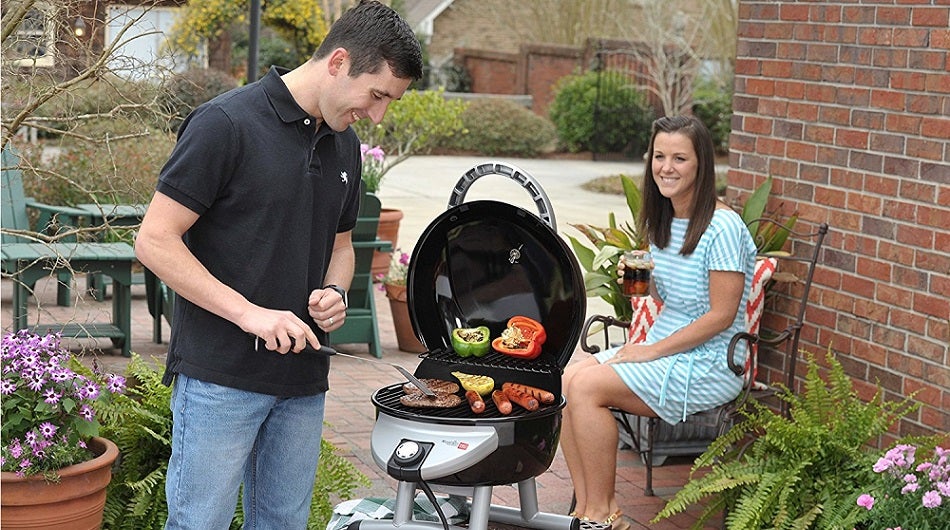 Our Editors independently research, test, and rate what we feel are the best products. We use affiliate links and may receive a small commission on purchases.
Everybody loves a great barbecue – it's the ultimate way to enjoy being outdoors while grilling up some delicious food.
The electric grill has emerged as a favorite in recent years due to its portability, convenience and ability to be used even on small balconies when regulations prohibit the use of barbecues.
While some may argue these grills offer a less authentic grill experience when compared to other options, there's no doubting that they're far simpler and more convenient to use.
Best Electric Outdoor Grills
| | Char-Broil Patio TRU-Infrared | Weber Q1400 Electric Grill | George Foreman Electric Grill |
| --- | --- | --- | --- |
| | | | |
| | | | |
| Cooking Area: | 320 Sq inches | 189 Sq inches | 240 Sq inches |
| Cooking Power: | 1750W | 1560W | 1600W |
| Grill Surface: | Non-Stick | Porcelain-enameled | Non-Stick |
| Weight: | 45 lbs | 28 lbs | 21 lbs |
| Rating: | 4.0 / 5.0 | 4.5 / 5.0 | 4.4 / 5.0 |
| | | | |
For more of my home and garden recommendations, have a look through these popular Outside Pursuits guide links: Portable Gas Grills, Backyard Smokers, Firepits.

Quick Answer: The Best Rated Electric Grills
Here is a feature comparison of my top rated outdoor electric grills, with our buyers guide and comparison table to help you choose below.
---
Outdoor Electric Grill Reviews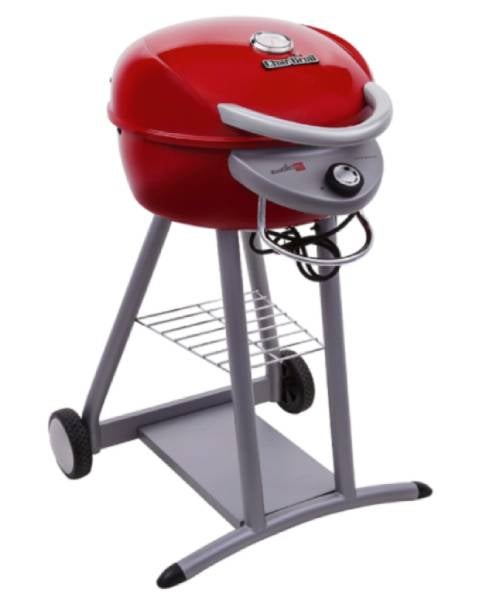 Char-Broil TRU-Infrared Patio Bistro Electric Grill at a Glance
:
---
Cooking Area:

320

Sq inches
Cooking Power: 1750W
Stand Included: Yes
Grill Surface: Non-Stick
Weight: 45 Pounds
Char-Broil was an early pioneer of outdoor cooking, launching it's first charcoal grills back in 1948. In the years since the company has been first to market with new innovations which have become standard on modern grills.
The electric patio grill benefits from the company's most recent innovation, its TRU-infrared system.
This means the grill offers a cooking system which achieves an even distribution of heat which results in juicier food, higher temperatures and also reduces those flare ups which can affect the quality of your food.
Aside from the great results the infrared electric grill can achieve, it's also regarded by many as the best outdoor electric grill given its large surface area and portability.
The Char-Broil TRU-Infrared Electric Patio Bistro
The grill boasts 320 square inches of grilling surface which will fit around eight to twelve hamburgers. It is also easy to move around given the integrated wheels, making for a portable little powerhouse of a grill.
The convenience also continues even after everyone has had their fill: the cooking grates are porcelain coated which makes them resistant to rust and super easy to clean.

---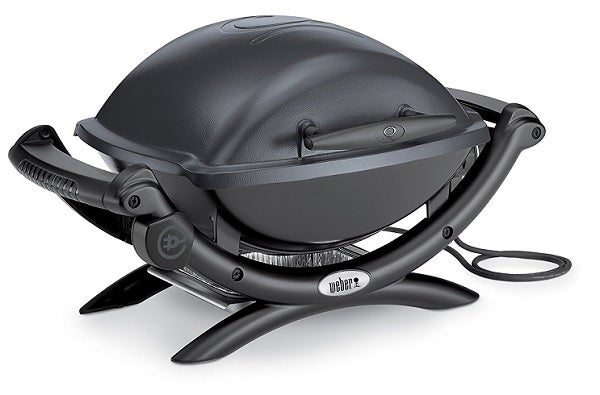 Weber Q1400 Electric Grill at a Glance
:
---
Cooking Area:

189

Sq inches
Cooking Power:

1560

W
Stand Included: No
Grill Surface:

Porcelain-enameled

Weight: 28 Pounds
This highly-portable electric grill from Weber allows its owners to "grill outside the boundaries" due to its small size and ease of use. This model is the most recent design over the older Weber Q 140 model and as such it enjoys a few nice perks, particularly when it comes to the overhauled design.
The new version offers a more ergonomic experience through larger grip handles and control knobs, as well as sturdy front and rear cradles.
The grill comes totally assembled out of the box, meaning that new owners simply have to plug the electric barbecue grill into the wall and get down to some awesome grilling. They also make a wheeled portable cart specifically for this grill.
In fact, the barbecue is touted as a great urban barbecue which can capture that outdoors feeling without leaving home.
A 6-foot grounded cord makes it as convenient to find a power source for the grill's 189 square-inch cooking area.
While this area is smaller than those offered by competing barbecues, it does boast infinite control burner value settings and porcelain-enameled cast-iron cooking grates and a cast aluminum lid and body.
Our choice as the best tabletop electric grill that is very durable and will stand the test of time.

---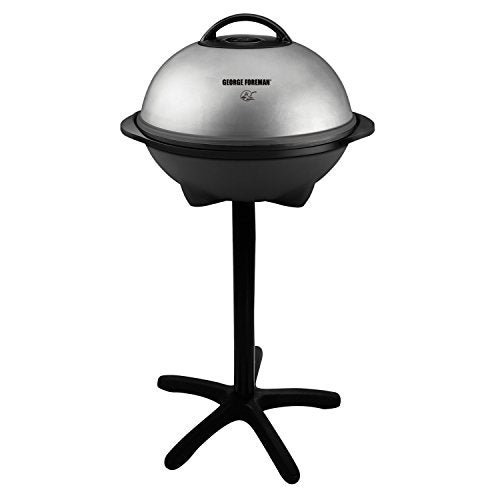 George Foreman Indoor/Outdoor Electric Grill at a Glance
:
---
Cooking Area: 

240

Sq inches
Cooking Power:

1600

W
Stand Included: Yes
Grill Surface: Non-Stick

Weight: 21 Pounds
George Foreman has become a household name when it comes to its line of high-quality cooking products.
This round grill offers 240 square inches of cooking space which means 15 servings can be made at any one time – fun for everyone.
This electric grill takes convenience seriously, offering a removable stand which means the weather doesn't dictate when you grill. The stand is easy to remove making it a breeze to transfer the grill from the patio to the countertop in no time.
In terms of the quality of the build, owners can expect to find all of the features which make George Foreman cooking products so trusted.
The grill is well made with a nonstick coating which makes the grill incredibly durable, easy to clean and also removes the need for butter or oil which makes the food less greasy and cleanup faster.
An adjustable temperature control means that grillers can choose from five heat settings to get the best results no matter the type of food they're grilling.
Unlike some of the other options the grill is also apartment-approved, meaning that it can be used safely indoors.

---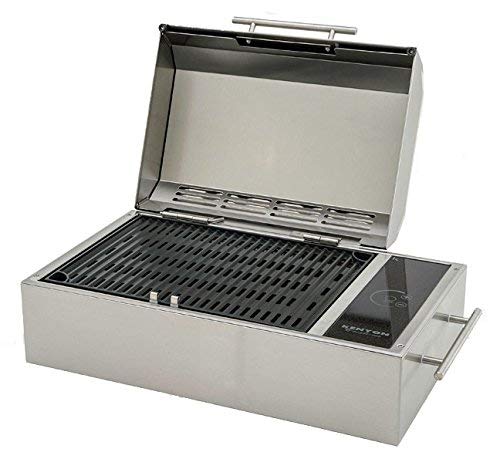 Kenyon Frontier Portable Electric Grill at a Glance
:
---
Cooking Area:

155

Sq inches
Cooking Power: 1,300W
Stand Included: Yes
Grill Surface:

Porcelain-coated

Weight: 32 Pounds
Kenyon have made it onto our list with the Frontier that is sure to please your family and friends. This attractive grill is made from marine-grade 304 stainless steel and is guaranteed to never rust.
The Frontier offers a 155 square inch grilling surface which is large enough to feed large groups of people. Keep in mind this is a table top grill so you will need a cart or place it on on a table.
We really loved the easy to see and read temperature gauge so you can keep your food cooking at the exact temperature you need.
This electric grill uses a 1,300W heating element that gives the grill evenly-cooked food which is juicier and is not affected by flare ups.
What's a bit unusual about this grill is the elements are built into the channels of the grate for faster and more even heating up to 550F.
Alongside these premium features, the grill has a temperature control knob which is very accurate making it easy to achieve optimum temperatures for cooking your food.
A cord management system keeps things especially safe no matter where you are grilling.
It features easy cleaning with a non stick surface and has carry handles for transport. If you want the best electric patio grill with all the features, the Kenyon Frontier should be on your short list!

---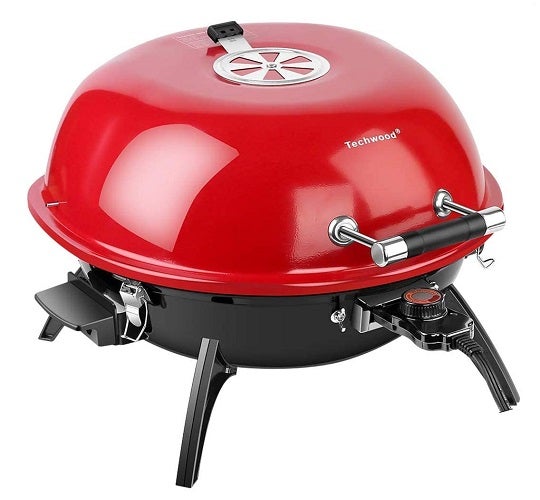 Techwood Electric Grill for Outdoor Use at a Glance
:
---
Cooking Area:

240

Sq inches
Cooking Power: 16000W
Stand Included: No
Grill Surface: Stainless steel grill
Weight: 12 Pounds
If convenience and ease of use are the key qualities drawing you toward a portable electric grill, then this could be the option that you're looking for.
With 240 square inches of cooking surface, it's a good mid sized electric grill. With a simple dial temperature knob you can achieve temperatures ranging from 200F to 500F, so you can cook a wide variety of foods to perfection.
One thing that makes the grill different is you can use wood chips and planks to give a more authentic grill flavor to your food than a standard electric grill.
A big emphasis is placed upon easy cleaning with this model: the reflector pan and grill grate is dishwasher-safe for especially simple cleaning.
This is the best electric grill that for outdoor use only on our list. We love large center adjustable vent on the hood to further adjust the temperature and the smoke flavor of your food.
The Techwood is very compact, so it fits most anywhere you want to use it. Lastly, the domed metal lid has a large cool-touch handle so there is no chance of burning your hand.

---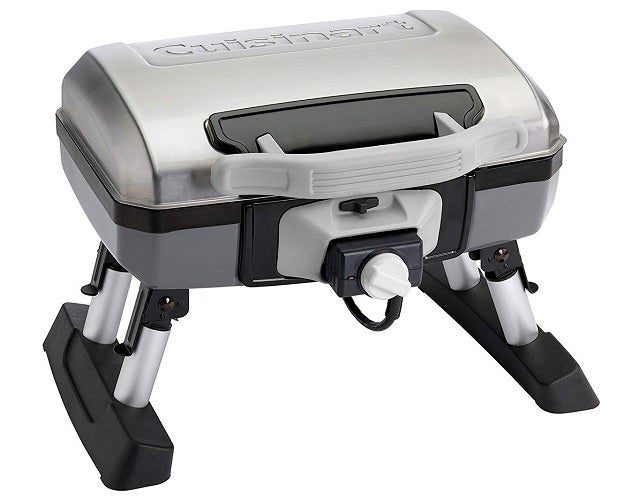 Cuisinart Outdoor Electric Tabletop Grill at a Glance
:
---
Cooking Area:

145

Sq inches
Cooking Power: 1500W
Stand Included: No
Grill Surface:

Porcelain-coated

Weight: 14 Pounds
While this grill is smaller in size it is large in terms of the features that it has on offer. A 145 square inch cooking area offers a fantastic alternative to gas or charcoal grilles, making it appropriate for use in a variety of situations.
Cuisinart's patented infrared system is here again, offering juicier food with fewer flare-ups which mean that hot and cold spots are eliminated – potential risks when cooking with barbecues and grills which use other heating methods.
This grill has a 550-degree temperature gauge which means that it's possible to cook a wide variety of foods safely and to a high temperature, so you'll be able to accommodate for all tastes and preferences at your next barbecue.
The small size of this electric grill means that it is highly portable, capitalizing on one of the key benefits offered by this type of grill.
A porcelain grilling grate is easy to clean up even and last for many years to come, whether you're grilling on your patio, deck or balcony with the best portable electric grill!

---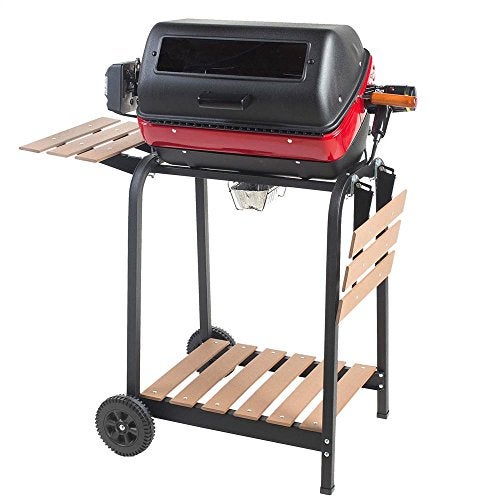 Easy Street Electric Cart Grill at a Glance
:
---
Cooking Area: 

200

Sq inches
Cooking Power: 1500W
Stand Included: Yes
Grill Surface:

Porcelain-coated

Weight: 40 Pounds
Looking for a more traditional design that offers a range of surfaces and heating positions? This grill may be the one that you're looking for.
The 200 square inches of cooking space is heated by a three-position cooking element with foldable, wooden side tables and windows.
This can be a huge benefit when cooking for multiple people and keeping your tools at hand. This extra space isn't present on the majority of other competitor grills so if it's important to you, this could be the grill to look out for.
The grill also offers three heating positions, offering diverse grilling possibilities. The grill can be used to cultivate heat for traditional grilling while the versatile zones mean different temperatures can be used to cook meats to different levels.
Rotisserie grilling can also be achieved when the grill is converted to a fully vertical position. That's a lot of potential!
The grill is also easy to move around being mounted on a rolling cart. The grill has thermostatic control and plugs into any standard household outlet. To complete the package, there is a disposable grease pan to help with cleaning up.

---
Outdoor Electric Grill Comparison Table
How to Choose the Best Outdoor Electric Grill – Buyers Guide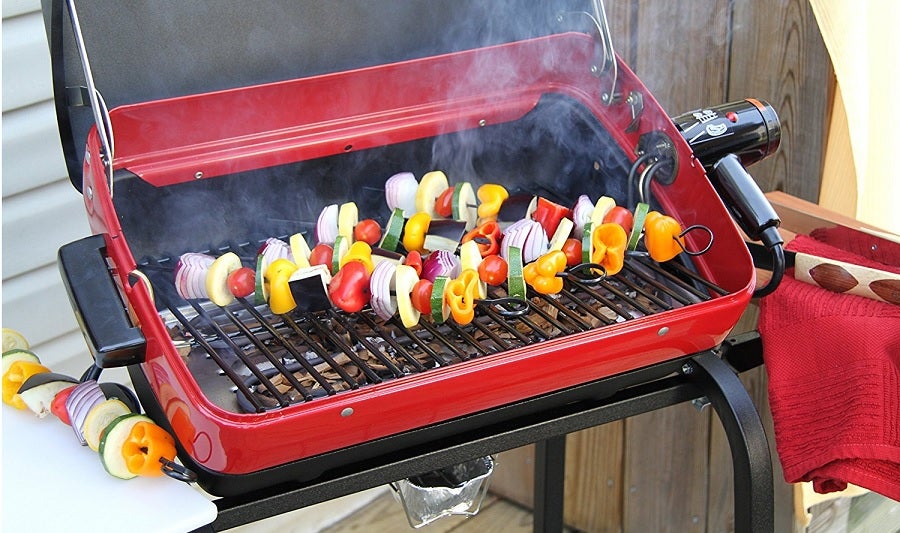 Barbecue enthusiasts, however, frequently debate which type of barbecue is the best. Gas, charcoal, pellet and the electric barbecue grill all have loyal followers who passionately defend the nuances of their chosen grill.
Now that you have a better idea of what might be the best electric BBQ grill for you, let's dig a little deeper into the features which you'll want to pay particular attention to.
Why Use an Electric Grill?
Electric grills in contrast to gas or charcoal have many advantages. Let's cover them now!
Faster – Electric grills heat up quick, faster than charcoal grills, gas grills however as are just as quick to heat up.
Less messy – Electric grills do not require charcoal briquettes to clean up.
Safer – Electric grills do not require you to light charcoal with flammable lighter fluid or have an open flame.
More Convenient – No gas tanks or charcoal to carry around and store.
More versatile – They can be used inside if the weather turns nasty.
Cooking Area
The surface area offered by the grill is obviously going to play a huge role in determining whether or not a grill is the right one for you. If you regularly have large barbecues and host a big group, you'll want to look for a model which offers a larger surface area so you can cook enough food at the same time.
With that said, if your grilling adventures are restricted to smaller groups you could look at smaller models which also help you to save space. Especially important for people with apartments or smaller houses.

Non-Stick Surface
Electric grills are so popular given the convenience that they offer to owners. The ability to pop the grill open at anytime, anywhere is pretty nice and you'll want that convenience to extend throughout the entire grilling process. Non-stick materials are far easier to clean than their standard porcelain counterparts and they can really help to create a pleasant grilling experience.

Cooking Timer
If you don't have a kitchen timer, it can be a really handy tool to have included on the grill that you choose to go with. Some of the grills include this feature and while it's not an essential it is definitely something to consider because it can really make the results of your grilling experience much more predictable.

Price
Of course, your budget is going to affect which electric grill you will purchase. There is a lot of variety in terms of pricing and you'll be sure to find a grill whatever price point you're looking at. It's worth remembering, however, that you get what you pay for and it's usually better to spend more for a quality grill.

Temperature Control
A great grill needs to be able to achieve the high temperatures which are necessary to cook a range of meats and other foods thoroughly. Some grilling aficionados believe electric grills to be inferior given that they are generally incapable of achieving scorching temperatures which lead to that beautifully rich, dark sear.
But there are models out there which can crank up the heat. You should be sure to investigate which minimum and maximum temperatures an electric grill can achieve before making your choice.

Cooking Power
Minimum and maximum temperatures don't tell the whole story, though. If your grill doesn't have the appropriate wattage going to it you may find that it takes a long time for the heat to regenerate after opening.
You will notice that the more pricier grills have the required power to quickly re-achieve the desired heat level. This is something important to consider when you need to open the grill frequently to check how the food is coming along.

Power Cord Length
Electric grills are desirable due to their convenience and simplicity – the key advantages that they have over other types of grills. One factor which buyers sometimes overlook is the length of the cord on the grill.
You want to make sure that it's long enough to reach an outlet from wherever you use it, whether that's inside or outside. It's always more effective to plug the grill directly into the outlet too, given that extension cords have the potential to deliver lower amounts of power.

Design (Indoor/Outdoor)
Everybody has different needs when it comes to an electric grill. While some grillers will use their fancy new electric grill exclusively outdoors, others will hope to get the best of both worlds and use it both inside and outside. So if you plan on grilling inside when the weather turns nasty, be sure the model you choose can be use indoors.

Storage Areas
Everybody grills differently. For some, just the grill is an adequate enough amount of space to conduct a grill out, while others will need a range of extra space to accommodate for tools and a warming area to keep foods warm while others continue to cook.
There is a lot of variety in terms of the amount of surface area offered by electric grills, so it's important for you to consider the different options to get the best fit for your needs.

FAQs For Outdoor Electric Grills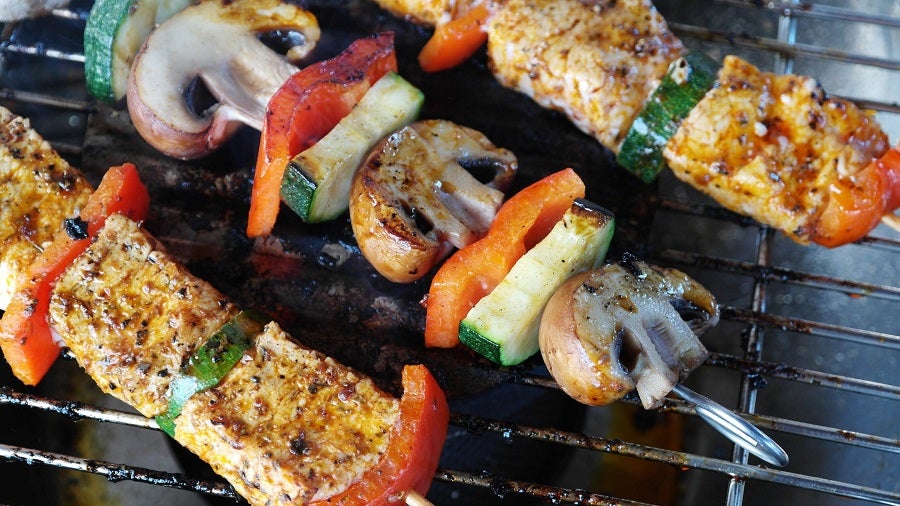 Q: Are electric grills easier to clean?
A: In terms of the grill itself, an electric grill will largely be the same as others when it comes to cleaning. Non-stick materials should be sought after given that these make the cleaning process much simpler. Electric grill do have an advantage, however, in that they do not have charcoal or other such materials which need to be disposed of.
Q: Are electric grills as good for grilling as charcoal or gas?
A: There are passionate debates among grilling fans around the world as to which grilling method of superior. Some believe that charcoal infuses meals with unique flavors which cannot be replicated using other methods, while others swear by using gas.
Electric grills – given that they can't achieve very high temperatures – are sometimes regarded as a poorer option but what they lack in power they make up for in convenience and portability. At the end of the day, it's all down to the preferences of the buyer.
Q: Can electric grills be preheated?
A: Electric grills can indeed be preheated and many expert grillers recommend preheating as much as possible in order to make up for the lower heats that are achieved by electric grills when compared to gas and charcoal options. It's also recommended to do as much cooking as possible with the lid closed in order to preserve heat as effectively as possible.
Q: Can all electric grills be used inside?
A: No – there is a difference between models. When investigating the model that you would like to purchase you should check specifically to see whether it is certified for indoor use. Just because a grill is electric does not mean that it will be free from smoke. It's also important to make the appropriate checks and verifications with landlords, etc.
Q: Can an extension cord be used to power an electric grill?
A: Extension cords can be used but this has the potential to compromise the results that you will achieve, given that lower amounts of power will be supplied to the grill.
If you do have to use an extension cord you should try to use the shortest length possible and given you're working with hot surfaces, ensure that all cables and connections are safely arranged. The length of the cord can be an important consideration when weighing up which electric grill to buy.
Final Thoughts
If you love to grill but lack the space or ability due to your living arrangements, an outdoor electric BBQ grill is the perfect option. You'll find that they are more than capable of achieving excellent results and owners love the convenience and portability that they offer.
While some aficionados may opt to go for other alternatives, the top rated electric grills on our list are more than capable of excellent grilling.
How We Researched
To come up with the top outdoor electric grills, we researched a variety of sources for reviews such as Home Depot, Lowes, Target and Wayfair  along with our own personal experience.
We also consulted online magazines for product research and reviews to get as much unbiased information as we could. To help weed out fake reviews we used Fakespot.com to make sure we only looked at genuine reviews.
With so much quality gear available, we had to narrow it down based on what we felt were the best options were for the price. The staff authors have a wide and varied background in yard design and home repairs.
The authors have decades of experience and are eager to share their knowledge with readers.
To help narrow down the selection we used personal experiences along with recommendations from landscapers, bloggers and contractors.
After extensive research, we came up with our list to help you choose the right one for you.
Notice:
OutsidePursuits.com is a participant in the Amazon Services LLC Associates Program, an affiliate advertising program. OutsidePursuits.com earns fees from products sold through qualifying purchases by linking to Amazon.com. Amazon offers a commission on products sold through their affiliate links.