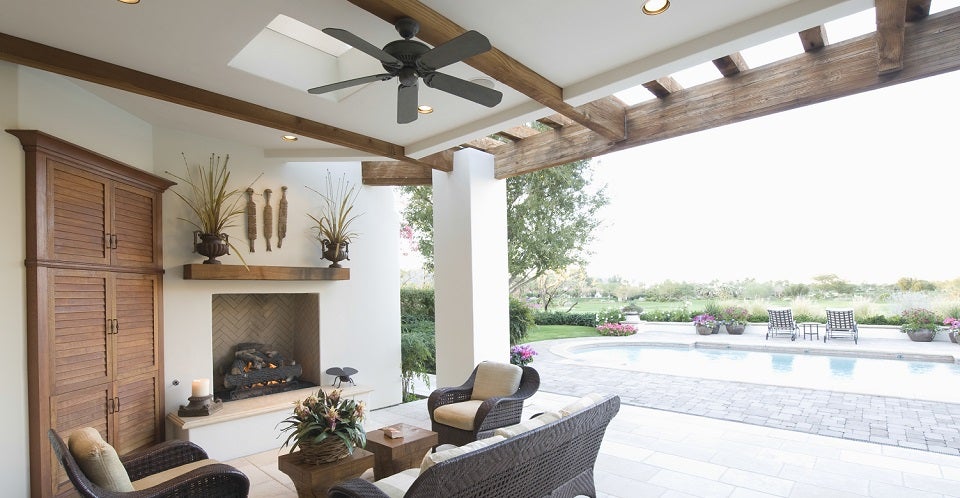 Our Editors independently research, test, and rate what we feel are the best products. We use affiliate links and may receive a small commission on purchases.
Enjoying your porch, patio or gazebo during the warm summer months will be much more enjoyable with a refreshing breeze.
However if mother nature is not cooperating what you need is one of the top outdoor ceiling fans!
There are a ton of options out there so we've gone ahead and done the research for you. Before you start melting, keep on scrolling!
Best Outdoor Ceiling Fans
| | Westinghouse Lighting Outdoor Ceiling Fan | Casa Vieja Tropical Outdoor Ceiling Fan | Home Decorators Outdoor Ceiling Fan |
| --- | --- | --- | --- |
| | | | |
| | | | |
| Size: | 52" | 60" | 72" |
| Color: | Aged Walnut | Oil-rubbed bronze | Brushed Nickel |
| Lights: | 3 – 40 watt / LED | None | 14 Watt LED |
| Blades: | 5 | 5 | 8 |
| Rating: | 4.6 / 5.0 | 4.6 / 5.0 | 4.5 / 5.0 |
| | | | |
For more of my home and garden recommendations, have a look through these popular Outside Pursuits guide links: Outdoor Ping Pong Tables, Outdoor Electric Grills, Outdoor Motion Sensor Lights.
Quick Answer: The 7 Best Rated Outdoor Ceiling Fans
Here is a feature comparison of my top rated patio ceiling fans with a comparison table and our buyers guide below will help you choose a fan for you.
---
Outdoor Ceiling Fan Reviews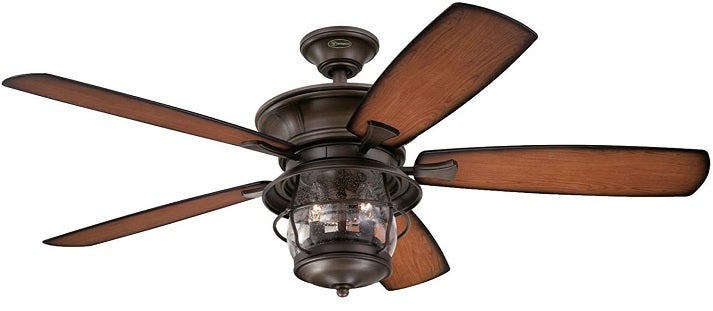 Westinghouse Lighting Brentford Outdoor Ceiling Fan at a Glance
:
---
Size: 52"
Color: 

Aged Walnut

Lights: 3 – 40 watt / LED
Number of Blades: 5
Air Flow Capacity: 4522 CFM
This visually-stunning, rustic ceiling fan is one not to miss both for its attractiveness and operation. If you want a wonderful outdoor fan for an affordable price, then do yourself a favor and give this one a chance.
We really liked the fact that it came with a vintage-looking caged lantern, which is nice if you want to add some mood lighting into the mix.
If you go with the LED lights is also very energy-efficient and guaranteed to last 10 years, so you don't have to worry about changing it out anytime soon!
The bronze finish combined with the dark walnut blades and frosted amber glass on the lantern make for a piece sure to be talked about and gawked at by guests.
The silicon steel motor has a triple capacitor to provide you with high, medium, and low modes, complete with a reversible switch for use in colder weather conditions as well.
The four weatherproof ABS resin blades help achieve efficient air circulation with airflow at 4,522 CFM. With the included extension rods, you get three height options for mounting it where you'd like it.
Overall, it's an excellent choice for humid and hot weather and is nice on the wallet, too!

---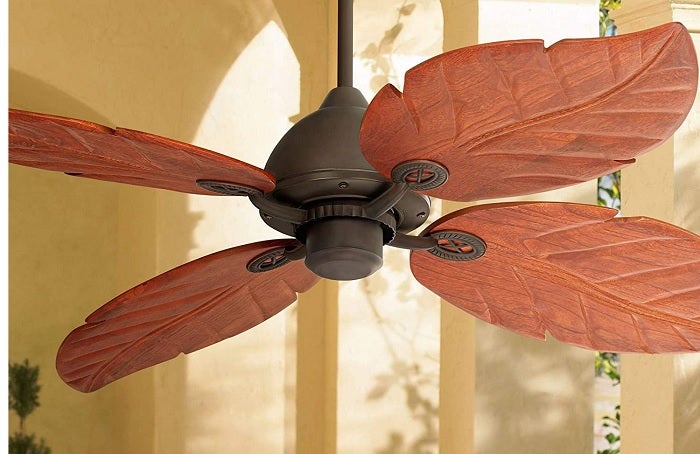 Casa Vieja Tropical Outdoor Ceiling Fan with Light at a Glance
:
---
Size: 60"
Color: Oil-rubbed bronze
Lights: N/A
Number of Blades: 5
Air Flow Capacity: 5416 CFM
We're currently loving the oil-rubbed bronze look, and the Casa Vieja Tropical shows it off just right.
The large leaf shaped blades give it a gorgeous tropical style that will have you wanting to drink pina coladas in your sunroom every day.
At 60 inches this is a pretty large fan that will move lots of air keeping you and your family cool out on the patio.
The solid wood with walnut finish damp-rated blades will do well most locales, but is not suitable near salt water or extreamly humid climates.
Due to their "Quick 2 Hang" technology, you can have your fan set up in just minutes to have it up and operating.
Attaching the fan blades to the motor housing is just a matter of clicking them in and screwing in a couple parts. The blades are also quite lightweight and have a 12 degree pitch so they will move a lot of air!
Featuring 3 speeds, you can change it up to your liking. The motor will run in reverse in the winter to rotate warm air.

---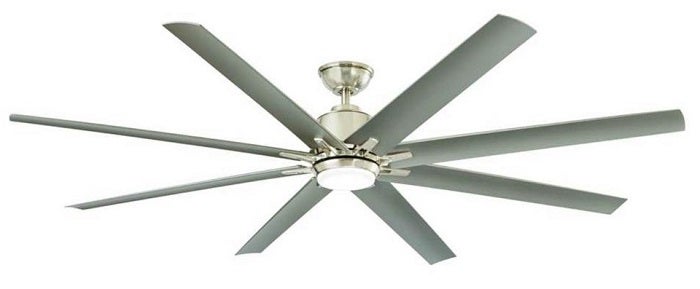 Home Decorators Kensgrove Outdoor Ceiling Fan at a Glance
:
---
Size: 72"
Color: Brushed Nickel
Lights: 14 Watt LED
Number of Blades: 8
Air Flow Capacity: 10484 CFM
If you're not confined to a small space and are looking for real power, then you have to give the Home Decorators Collection Kensgrove Indoor/Outdoor Ceiling Fan a go.
It has a more modern brushed nickel look that works well both inside the home, as well as in outdoor environments. No matter where you place it, it's sure to look stunning.
The 8 weather-resistant blades work to create a ton of power, yet the fan is still Energy Star-rated for low-cost operation.
A decorative canopy ring and coupling cover make sure that any exposed screws are covered, so you have an attractive end result.
The energy-efficient DC motor comes with a whopping 9 speeds to select from. Needless to say, you'll have more than enough control over your temperature and wind power preferences.
The additional lightbulb is also a nice addition, especially for use when it's dark out and you'd like to hang out in the fresh, cool air circulating around.
The included remote control allows you to easily operate the fan and change up your settings. Operation is also notably quiet, so you won't be bothered by any unwanted noises.

---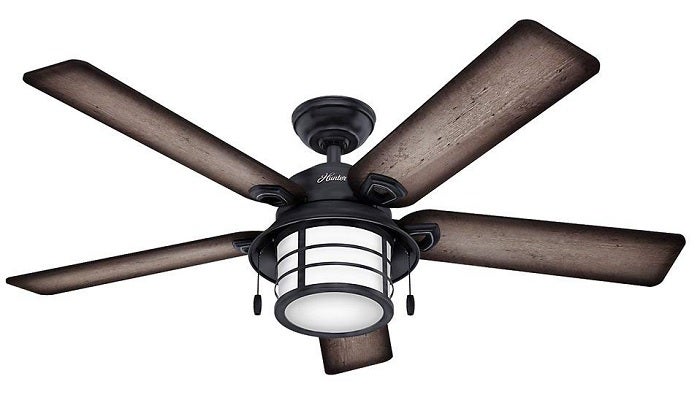 Hunter Key Biscayne Ceiling Fan at a Glance
:
---
Size: 54"
Color: Gray Pine
Lights: Two 14W CFL bulbs
Number of Blades: 5
Air Flow Capacity: 6239 CFM
Looking for the perfect combination of powerful and stylish? Look no further than the Hunter 50135 Key Biscayne 5" Weathered Zinc Ceiling Fan.
Featuring a WhisperWind motor, you get excellent air movement with super quiet operation so you can enjoy the chirping of the birds or flowing of a fountain instead.
The reversible motor also lets you change direction of the fan from downdraft mode to updraft in the winter!
The five pine reversible blades all have a kind of "worn" look, but look vintage and sophisticated. You can select between three different mounting positions, to select what works best in your space.
It is ETL damp-rated so you can use it in covered porches, patios, and sunrooms without worrying about it warping. All stainless steel hardware is rust-resistant, too.
The pull chain makes it easy to adjust the speed, or turn it on or off. The integrated light kit is also beautiful, and will light up your outdoor area to make it perfect for night or day use.
Even better, is that they've included a limited lifetime motor warranty, so you can rest assured that your fan will always be working well!
View at Amazon

Buy From Target
---

Harbor Breeze Twin Breeze Ii Outdoor Ceiling Fan at a Glance
:
---
Size: 74" (Dual fans)
Color: Oil-Rubbed Bronze
Lights: 120W Incandescent
Number of Blades: 3
Air Flow Capacity:

4,450

CFM
Perhaps the most aesthetically-pleasing fan we've seen, was the Harbor Breeze Twin  Outdoor Ceiling Fan. If you're willing to spend a bit more money, we can assure you it will be worth it.
The oil-rubbed bronze finish features 3 cinnamon finish blades. The red and bronze together form a stunning piece reminiscent of old Italy.
This one is different than the others on our list with twin fans. Perfect for larger patio areas where you don't want to install a second fan.
The 24-degree blade pitch is perfect for cooling the air and blowing it in your direction, particularly on those hot summer days.
The coating on the exterior is functional for withstanding rain, as well as direct sunlight, so you don't have to worry about it rusting.
3 speed settings let you change it up to fit your ideal comfort level. We will say that it doesn't have as much power behind it as most of the fans we tried out.
However, it looks amazing, and it does give enough power to circulate air well. The blades are reversable, so if you decide to change the look, it's as easy as turning them over.
It's also important to mention that it doesn't come with a remote control, but you should be able to easily reach the on/off cord.

---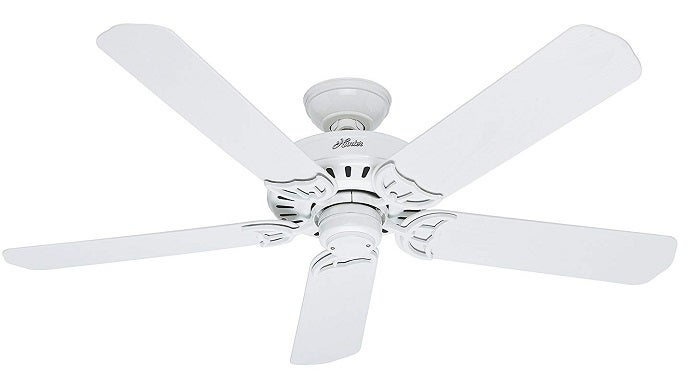 Hunter 53125 Bridgeport Ceiling Fan at a Glance
:
---
Size: 52"
Color: White
Lights:

N/A

Number of Blades: 5
Air Flow Capacity: 5671 CFM
We have yet another Hunter fan; this time, we're bringing you the 53125 Bridgeport ETL Damp Listed Ceiling Fan. The two models are similar in many ways, but they also have some notable differences. First off, they look completely different.
This one is completely white, which looks good just about anywhere and gives a classy finish to an area.
The model includes 5 plastic blades, with a 13-degree blade pitch which creates the ideal air movement and efficiency.
The 3" and 2" downrods make sure it's kept at the right distance from the ceiling, and also optimizing air movement and the height you desire.
The mounting process is pretty easy, and you get to choose from three different positions. Once it's installed, you can simply use the pull chain to move between the settings.
You can even choose "reverse", which is great for use during the winter and for circulating warm air. Due to its WhisperWind motor, you still receive plenty of power behind it, while still experiencing whisper-quiet operation.
As the unit is ETL Damp-rated, you can use it in covered porches, patios, sunrooms and more without worrying about it becoming damaged or operating sub-par.

---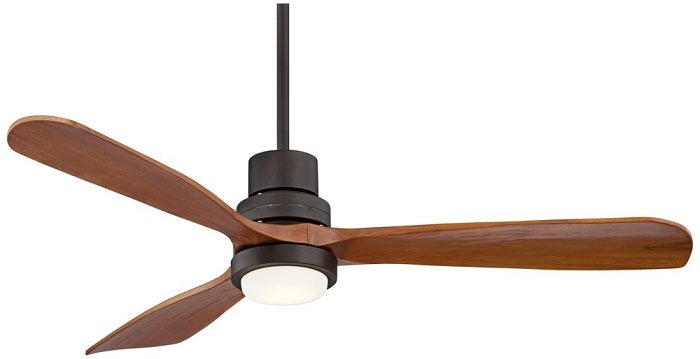 Casa Vieja Delta Wing Outdoor LED Ceiling Fan at a Glance
:
---
Size: 52"
Color: Walnut
Lights: 12 Watt LED
Number of Blades: 3
Air Flow Capacity: 5723 CFM
The Casa Vieja Casa Delta Ceiling Fan is another gem that we couldn't leave off of our list.
Featuring an integrated LED downlight and solid walnut finish blades, it's not only beautiful, but provides a lot of airflow with an energy efficient motor.
The contemporary model instantly adds sophistication and style to your room. The three solid wood blades are nice and durable for outdoor use, and are coupled with an oil-rubbed bronze-finish motor to give a kind of "classic" look.
The size of the fan is neither too big, nor too small. We found that it worked perfectly in most spaces and created an exceptional amount of wind.
With three speeds and a manual reverse air flow, you can use it in just about any kind of weather. It is also UL-listed for operating well in damp environments.
The  12W LED and opal glass diffuser work well to provide a soft light to your area, while still looking rustic.
We would like to note that it's not recommended for use in locations with humid climates with salt water exposure as it could damage the structure of the fan.
View at Amazon

Buy From Target
---
Outdoor Ceiling Fan Comparison Table
How to Choose the Best Outdoor Ceiling Fan – Buying Guide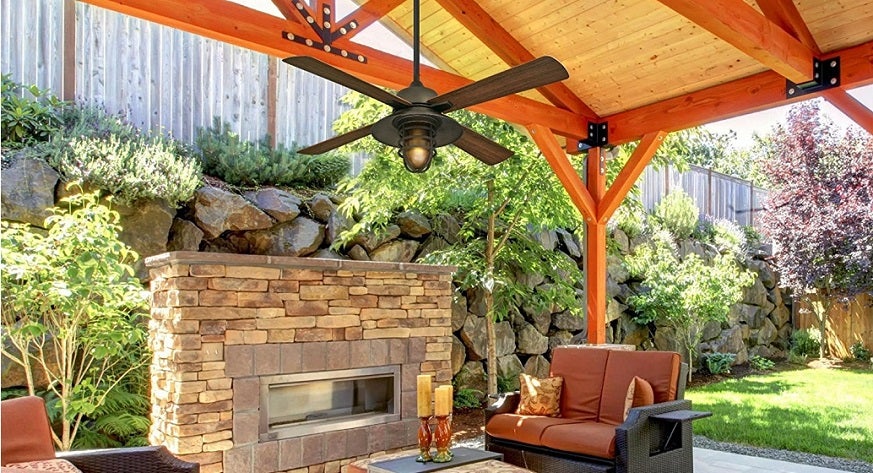 Now that you've read through each of the best patio ceiling fans, which one is your favorite? If you're still on-the-fence about which one to select, we understand.
There are a ton of great options to choose from, and it can be hard to pick just one that's right for you. That's actually why we decided to go ahead and create a user-friendly buying guide, below.
We want to make sure you're completely satisfied and purchase the right product for you and your environment.

Fan Size
As you can see, outdoor ceiling fans come in an array of different sizes. You'll want to find one that perfectly complements the space you're looking to add it in, and actually fits!
If it's too small, however, the air it blows may not reach you, so make sure the blades are large enough (but not within 24 inches of walls). The manufacturer will let you know how big of an area their fan reaches.
Keep in mind the placement is equally as important in regards to air circulation. Below in the FAQ section we have a chart to properly size your ceiling fan.

Water / Environmental Resistance
You may have noticed that the fans above are either "damp-rated" or "wet-rated". You won't see any dry-rated fans here, as they're only suited for indoor locations that won't be subjected to the elements. If you place one of them outdoors, changes are they're going to corrode, warp, and more.
There are also differences between damp and wet-rated fans. Damp-rated models will be able to operate in humid climates, but some do not do well in humidity with salt water, as it can break down the material.
A wet-rated ceiling fan, on the other hand, can handle everything like a champ. It not only handles humidity, but can even operate well in rainfall. In fact, you could even theoretically spray it down with a hose, and it would still be fine.
In these cases, you'd want to place them in areas like gazebos or verandas that are more exposed to this kind of weather.

Blade Materials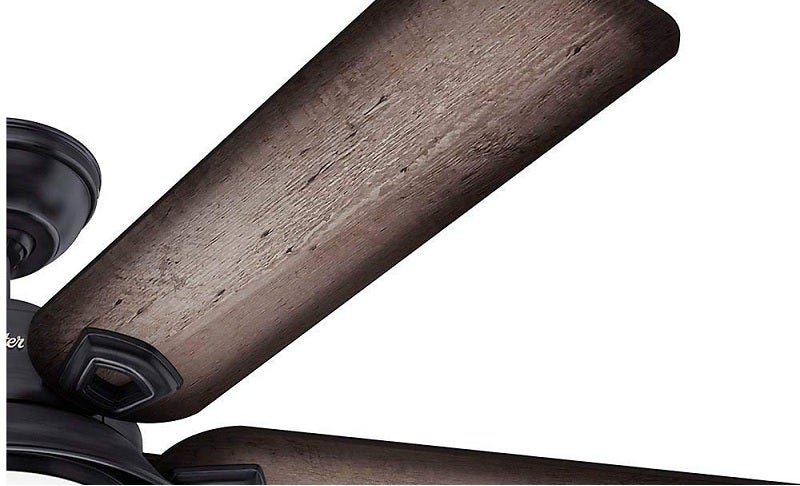 As with anything, knowing what material your product is made out of is important. The material your outdoor ceiling fan is made out of is going to affect how much resistance you get from it. In addition, you'll want to think of where you'll be placing it and how it looks with the surrounding environment or décor.
Often, you'll see iron, steel, aluminum, wood, and stainless steel. You can see that we have a lot of oiled bronze, too, but this is just the finish and not the actual material.
You may even encounter fans made with ABS plastic. It's a cheaper option, but ABS plastic can still withstand quite a bit. Wood is a beautiful, smooth choice that looks wonderful and perhaps more natural outdoors.
However, if you're going for sturdiness, you'll want to go for some type of metal. Aluminum is going to be the most lightweight of the metals, which can make it easier to mount.

Style / Colors
As with the material, it's important to select a style of fan that suits your tastes and the environment it's going to be located in. If you have a more modern porch, you're probably not going to want to go for a super rustic-looking fan as it will just look odd placed there.
If your patio is made of wood, then you may not want a wooden fan for the sake of just looking like you have too much wood everywhere.
For the color, you'll obviously want to choose something that goes with the look well, too. Perhaps you want it to really stand out and will go with a bolder color or finish.
Maybe you want it to blend in and just want to feel the benefits of the air rather than have it be a centerpiece.

Fan Motor / Speeds

This is a huge part of choosing your fan. The motor could be standard, where it only rotates in one direction. There are others that allow you to spin the blades in reverse.
The standard models are those we know well, and circulate cool air downward towards our sweating faces. The reverse feature actually does the opposite, and brings the cold air upward! This leaves you with a warmer environment, which is great if you want to spend cold evenings out on your porch.
Also consider how many speeds your fan will have. Having only one is really going to limit you, and you may not even like that speed! Most offer 3 or 4 speeds, which is enough for most users to adjust to their liking.
However, there are a couple that offer 9 options! If you feel that is too many options, then 3 or 4 is probably enough for you and there's no reason spending more for features you're probably not going to use.

Fan Extras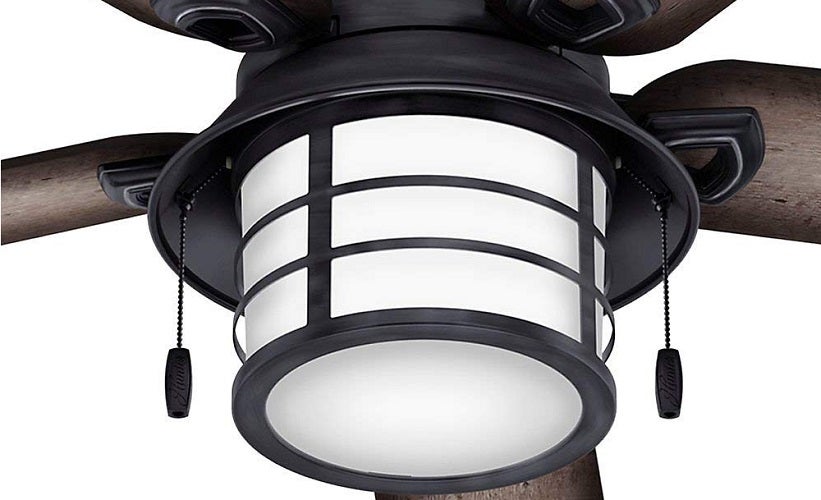 Lights
Does your fan come with a built-in light? Is that something that's important for you to have? Fans that give off a soft light can really set the mood for a nice evening, and obviously provide illumination you may not otherwise have.
Consider the type of light, whether it's an incandescent light or LED. LED lights will tend to last significantly longer than an incandescent light which is important if the fan is difficult to reach.
Controls
If the fan is up pretty high you may have to go with a remote controlled fan and lights. If that is not an issue then, a pull cord may be fine. They are cheaper but also easy to beak if you pull too hard on the cord. Just don't lose the remote control if you go that route!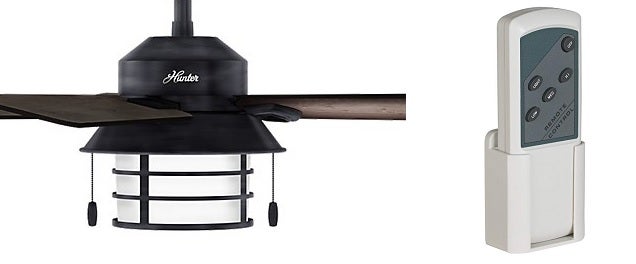 FAQs About Patio Ceiling Fans
Q: How should I select the size of my fan?
You'll want to first consider the space in question. The larger the space, the larger your fan should be.
Spaces up to 75 square feet: 29-36" fans
Spaces up to 75-144 square feet: 36 to 42" fans
Spaces up to 144-225 square feet: 44-inch fans
Spaces up to 225 – 400 square feet: 50 – 54" fans
Also remember that when you're mounting your fan, that you consider the clearance area. You'll want the fan to be at least 12 inches from the ceiling, too.
That's why so many of the manufacturers include a downrod. Also remember to keep all blades at least 24 inches from any walls.
Q: Which outdoor ceiling fan moves the most air?
A: The 8 blades of the 72 inch diameter Home Decorators Kensgrove moves the most cubic feet of air per minute at almost 10,500 CFM.
Q: Do ceiling fans keep mosquitoes away?
A: Ceiling fans can help keep mosquitoes away by making it hard for them to fly through the moving air of the fan. The moving air also makes it hard for them to zero in on the CO2 of your breathing, which is how mosquitoes find you.
Q: Which way should a ceiling fan turn during the summer / warm weather?
A: During the summer you want the air to blow down. On most fans this is in the counterclockwise direction. All of the ceiling fans on our list are reversible so you can get the proper airflow no matter the time of year.
Q: What makes a ceiling fan suitable for outdoor use?
A:  First, that they're made with a durable material like ABS plastic or metal, or have all-weather blades. You'll want them to be made with galvanized tubular steel and powder-coated paint finishes which protects them from corrosion and rust. Also, that the motor casing has a waterproof seal, so it doesn't get damaged as soon as moisture hits.
Q: Where can I use my outdoor fan?
A: The options are really endless. However, the most common applications are as follows: outdoor porches, covered porches, bathrooms, sunrooms, garages, verandas, gazebos, and pergolas.
Q: How do I choose an outdoor ceiling fan?
Your primary consideration is the area you want cooled. So the CFM of the fan will determine which one you need.
How big of ceiling fan do I need?
| | | |
| --- | --- | --- |
| under 200 sq. ft. | 2000 – 3000 | CFM (Cubic Feet per Minute) |
| 200 – 300 sq. ft. | 3000 – 4000 | CFM (Cubic Feet per Minute) |
| 300 – 450 sq. ft. | 4000 – 6000 | CFM (Cubic Feet per Minute) |
| > 450 sq. ft. | 9000 | CFM (Cubic Feet per Minute) |
Q: Is a 3 blade or 4 blade ceiling fan better?
A: A 3 vs 4 bladed fan is not the determining factor which makes a "better" fan. It comes down to CFM, noise levels and its wet rating not the quality of blades on the fan.
Q: Are outdoor ceiling fans effective?
A: Absolutely! The moving air from a ceiling fan evaporates sweat from your body making you feel cooler. The higher the air flow, the cooler you will feel.
Q: Are outdoor ceiling fans waterproof?
A: If the ceiling fan is "wet rated" it will be water proof. These fans are sealed and constructed of rust resistant components and blades will not fall apart when exposed to the elements.
Q: What is the difference between damp rated and wet rated ceiling fans?
A: A damp rated fan is meant to be used outdoors but will not get wet. They are resistant to the humidity in the air only. A "wet rated" fan is designed for actual water damage that can occur on a patio or gazebo.
Q: How many blades are best on a ceiling fan?
A: As we covered in is a 3 or 4 bladed fan better its not the number of blades that matter. The length of the blades, rotation speed and pitch angle of the blades will determine CFM far more than the quantity of blades

Tips For Using Your Ceiling Fan
#1: Make sure to regularly check your fan
Clean out the fan at least annually. Tighten all screws, lubricate the fan, and check for any kind of irregular movement such as wobbling. This is important to do regularly.
#2: Take the time to balance the fan blades
Almost every fan will need to be balanced. The fan will probably wobble the first time you turn on the fan. THe wobble will become more pronounced the higher the speed.
Most all ceiling fans come with stick on or clip on weights that you may need to attach to the ceiing blades to get the fan blades balanced and once you do the wobble will stop. It may  take some trial and error but it needs to be done.
#3: The easiest way to clean blades is to slip a pillow case over the blade
You can then use the same case to wipe dust or dirt off of the rest of the fan. Wipe down the pull chain and motor housing with a clean cloth, and change light bulbs if needed.
How to Install an Outdoor Ceiling Fan
If you are handy with tools you can probably install the fan yourself. This video can help if You have never installed a ceiling fan before. If you have any doubts, hire a licensed electrician!
How to install an outdoor fan
Final Thoughts
Now that you've read through pretty much everything you need to about good outdoor ceiling fans, which one will be making its way into your patio?
No matter which one you select, the most important part is that it suits you. We hope our guide has helped you find the best outdoor ceiling fan for you! Thanks for tuning in, and we'll see you again soon.
How We Researched
To come up with the top outdoor ceiling fans, we researched a variety of sources for reviews such as Home Depot, Lowes, Target and Wayfair  along with our own personal experience.
We also consulted online magazines for product research and reviews to get as much unbiased information as we could. To help weed out fake reviews we used Fakespot.com to make sure we only looked at genuine reviews.
With so much quality gear available, we had to narrow it down based on what we felt were the best options were for the price. The staff authors have a wide and varied background in yard design and home repairs.
The authors have decades of experience and are eager to share their knowledge with readers.
To help narrow down the selection we used personal experiences along with recommendations from landscapers, bloggers and contractors.
After extensive research, we came up with our list to help you choose the right one for you.
Sources
Notice:
OutsidePursuits.com is a participant in the Amazon Services LLC Associates Program, an affiliate advertising program. OutsidePursuits.com earns fees from products sold through qualifying purchases by linking to Amazon.com. Amazon offers a commission on products sold through their affiliate links.