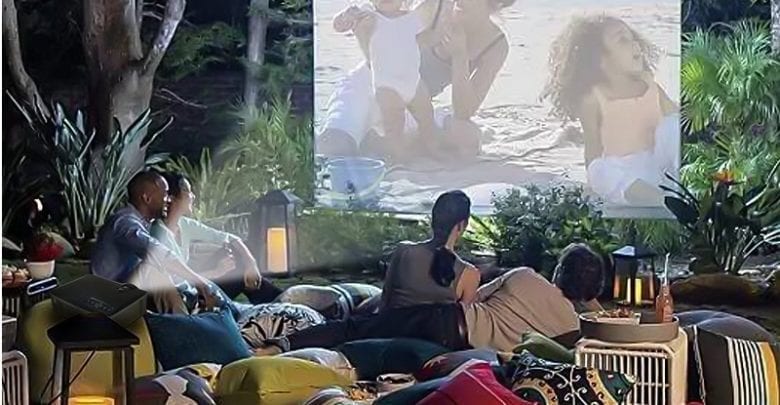 There's nothing like enjoying a cool Summer night watching movies in your backyard or at the campsite.
Whether you want to share precious memories at a BBQ or watch the big game with friends, family and the neighbors, the best outdoor projector can make it happen.
However, there is a lot that goes into choosing the best outdoor projector for your needs.
Here, we're going to teach you all about the technology involved in projectors so you can pick one that will be suitable for your viewing needs.
Best Outdoor Projectors
| | Epson Home Cinema 1060 | GooDee LCD Video Projector | ViewSonic Short Throw Projector |
| --- | --- | --- | --- |
| | | | |
| | | | |
| Brightness: | 3,100 Lumens | 3500 Lumens | 3000 Lumens |
| Max Screen Size: | 300 inches | 200 inches | 300 inches |
| Resolution: | 1920 X 1080 (1080p) | 1280 x 768 | 1920 X 1080 (1080p) |
| Connections: | HDMI, VGA, RCA, USB | HDMI, VGA, AV, USB, MicroSD | HDMI, VGA, AV, USB |
| Rating: | 4.2 / 5.0 | 4.8 / 5.0 | 4.7 / 5.0 |
| | | | |
For more of my top gear recommendations, have a look through these popular Outside Pursuits guide links: Outdoor Projection Screens, Inflatable Loungers, Patio Umbrellas.
Quick Answer: The 7 Best Rated Outdoor Projectors For 2019
We feel confident one of the following top rated backyard movie projectors will need your needs and give you the best outdoor experience. Are you ready to bring the big screen to your backyard?
Outdoor Projector Reviews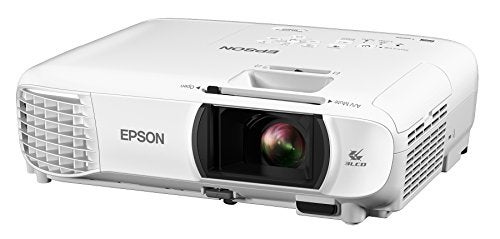 When you want a large, crisp picture for your backyard cinema the Epson will fit the bill. It can give you a GIANT size display of 25 feet and is our Editor's Choice for the best outdoor movie projector.
With that size picture you might think it's not bright but the Epson has 3,100 lumens of brightness so at even that size the picture is excellent.
While the picture is superb I would recommend a good external speaker for good sound. The projector is ideal for movies, sports and even gaming.
Expand To See MoreSee Less

The projector is compatible with most any gaming console, streaming devices(Roku, Apple TV, Firestick & Chromecast), Blue-Ray and of course your cable/satellite box.

The two most common aspect ratios are offered, 4:3 and 16:9, with many types of video, audio, and image formats supported.

The picture size is 30" and 300" when the projector is placed between 3 and 30 feet away from the screen with 1080P resolution.

Epson Home Cinema 1060 Projector at a Glance

:
---
Dimensions: 11.9″ x 9.8″ x 3.4″
Weight: 5.6 Pounds
Connections: Dual HDMI, VGA, RCA, USB
Sound: Built-in Stereo Speakers, 3.5mm Audio Out
Screen Size Range: 30" x 300"
Accessories Included: Remote Control
---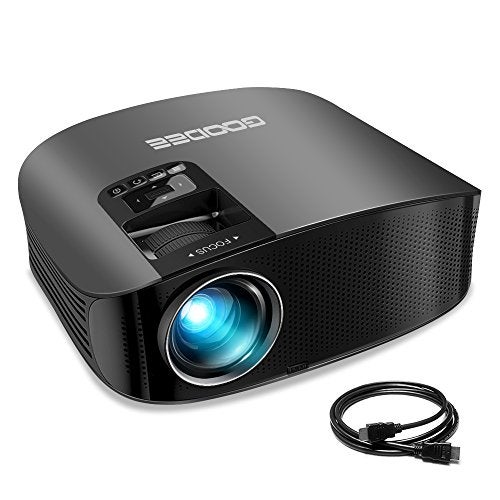 With vivid picture worthy of your photo slideshows, movies, and more, the GooDee LCD Video Projector offers an image of up to 200".

With 1280*768P quality, dependent on the quality of the source video, you can sit back and enjoy an accurate and high definition experience.

The light source is LED for the brightest picture and it features smartphone connectivity along with several other available connections to view almost anything you want from various sources.

Expand To See MoreSee Less

You will get the best quality at 10 feet of distance and a screen size of 98 inches.

However, the viewing distance can be anywhere from 5 to 18 feet and an adjustable screen size of between 44" and 200" making it easy to adjust to the best quality no matter what your space and screen can fit.

It also features a 30,000-hour lamp life so you know you can rely on it for a long time to come.

With a 3-year manufacturer's warranty the GooDee might be the best outdoor projector under $200 and comes with a no questions asked 60-day refund policy.

GooDee Video Projector at a Glance

:
---
Dimensions: 12" x 9" x 5"
Weight: 5 Pounds
Connections: Dual HDMI, VGA, AV, Dual USB, MicroSD
Sound: Built-in Stereo Speakers, 3.5mm Audio Out
Screen Size Range: 54" x 200"
Accessories Included: HDMI Cable, AV 3-in-1 Cable, Remote Control
---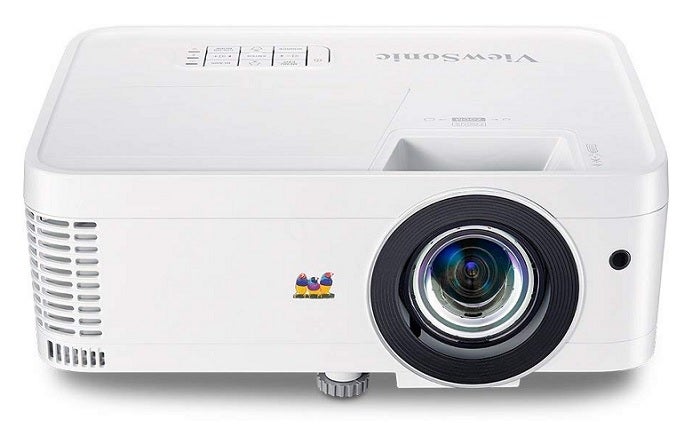 Viewsonic is probably best known for their monitors but they have come out with some excellent projectors.  The Short Throw has similar specs to the Epson but has a significant difference.

The short throw means that you can get the same large picture without having to have the projector very far away from the screen.

This makes it ideal for patios or small backyards wher eyou don't have a lot of room.

Expand To See MoreSee Less

It has 3,000 lumens of projector power with 1080p resolution making it ideal for HD movies, gaming, sports and Blue-Ray DVDs.

It has a maximum picture size of 300" or 25 feet but it's really not designed for those larger sizes. The Epson would be a better choice.

The internal speaker is adequate but for a good movie or to really enjoy a game, you eill want to hook up some external speakers for good sound!

It has all the usual connections: HDMI, USB, VGA, RCA etc so you have lots of flexibility. If you have a small area, this best outdoor projector for you!

ViewSonic Short Throw Projector at a Glance

:
---
Dimensions: 4.5″ x 11.5″ x 8.7″
Weight: 6 Pounds
Connections: Dual HDMI, VGA, AV, Dual USB
Sound: Built-in Stereo Speaker, 3.5mm Audio Out
Screen Size Range: 54" x 300"
Accessories Included: VGA Cable, Remote Control
---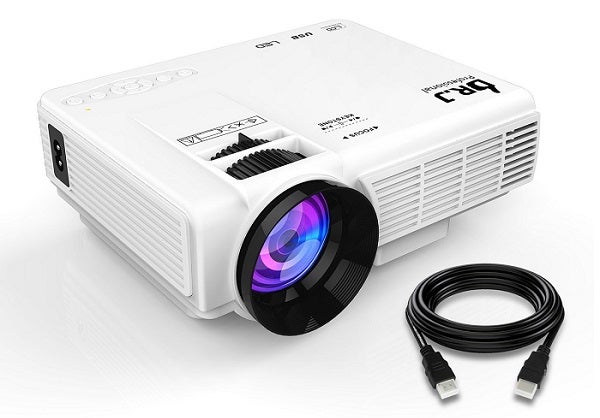 With two available aspect rations, both 4:3 and 16:9, you can watch nearly any slideshow or movie in HD on this outdoor tv projector.

The new 2018 upgrade for the Dr. J Mini Projector includes a 10% increase in light production and the 40,000-lamp hour life ensures a long life with the average being 10 years even if you watch 10 hours per day.

Sync your Mini Projector with your laptop or tablet, or even your Amazon Fire Stick or TV box as well as most smartphones. Enjoy movies and video games on the big screen.

Expand To See MoreSee Less

This outdoor movie projector has a built-in speaker that offers crisp surround sound of a smaller projector. With 1080P fully supported, you will get the crisp picture to go along with beautiful acoustics.

The screen size is adjustable from 32" to 176" for the best viewing no matter the distance from the screen. The fan is quiet but efficient in cooling the projector without interfering with the sounds you really want to hear.

The Dr. J is the best cheap projector under $100 and it's protected by a 3-year manufacturer's warranty including 100% money-back guarantee.

Dr. J Mini Projector at a Glance

:
---
Dimensions: 8" x 3" x 6"
Weight: 3 Pounds
Connections: AV, TF Cards, VGA, HDMI, USB
Sound: Built-in Stereo Surround Sound Speakers
Screen Size Range: 32" to 176"
Accessories Included: HDMI Cable
---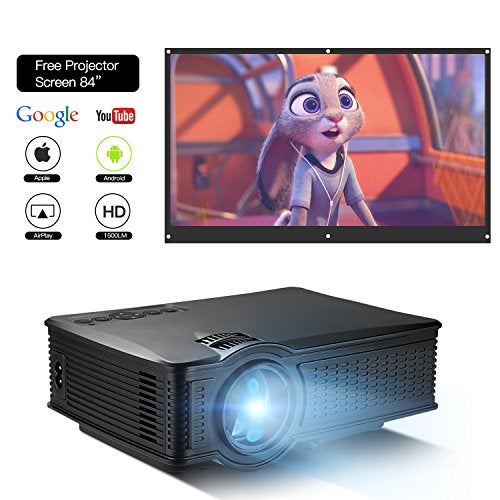 The Doace Indoor/Outdoor Video Projector is made to have crisp, accurate picture both inside and out, whether you are in the backyard or the park. It supports both 4:3 and 16:9 aspect ratio with 1500 lumens light output.

While the best viewing size is 84" on the included screen, it supports a screen size of anywhere between 40" and 150".

Expand To See MoreSee Less

This outdoor theater projector connects to many electronic devices easily, including: smartphones, video game systems, laptops, tablets, or even your TV or Blu-ray Player.

The screen included with this backyard movie projector can be hung easily with nails, hooks, or ropes. You can also hang it with double-sided tape or a bracket if you plan on moving it often.

The fan offers quiet efficiency so the sound of your movie or video game won't be interrupted. The Doace is the best home projector in its price range!

Doace Indoor/Outdoor Video Projector at a Glance

:
---
Dimensions: 7" x 8" x 3"
Weight: 2 Pounds
Connections: AV, HDMI, TV, SD USB, VGA
Sound: Built-in Speakers
Screen Size Range: 40" to 150"
Accessories Included: Free Projector Screen, Remote Control
---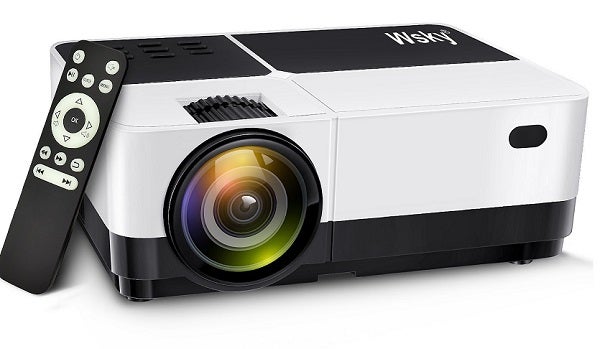 This Wsky Video Projector has been upgraded this year with 2,500 lumens and over 40,000 lamp hours for crisp, clear multimedia projection for many years.

Get the family or your friends together in the backyard for some audio-visual fun in the form of video games, movies, image slideshows and more.

The screen can be adjusted for a picture anywhere from 30" to 176" with 1080P supported.

Expand To See MoreSee Less

It has one built-in speaker but output for external sound as well so you can get the audio you are looking for.

There are dual fans built in to the LED Portable Video Projector to keep it quiet and cool. Set this portable projector up with video game systems or even your smartphone.

This backyard movie projector is backed by a 100% money-back guarantee based on the item's performance and your satisfaction.

This upgraded version of the T21 is the best outdoor projector under $200 and offers brighter, bigger picture with better sound and lower fan noise.

Wsky LED Portable Home Theater Video Projector at a Glance

:
---
Dimensions: 9" x 6" x 3"
Weight: 3 Pounds
Connections: HDMI, VGA, USB, Audio Out, MHL Cord for Apple Products
Sound: One Built-in Speaker
Screen Size Range: 32" to 176"
Accessories Included: Remote Control
---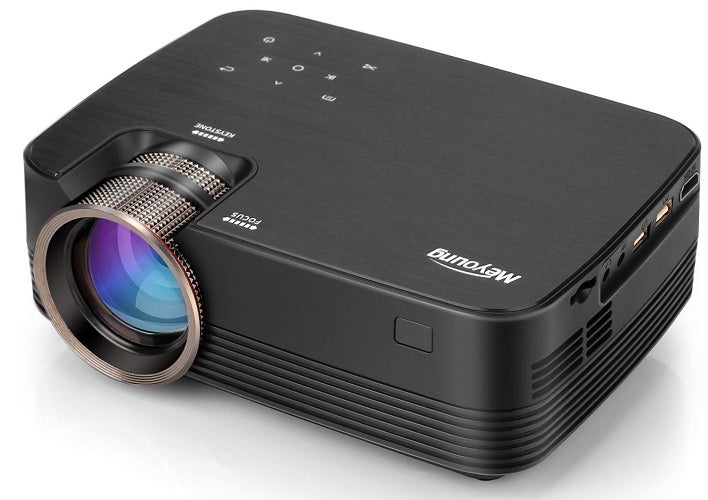 While you may need an external speaker to use the VGA adapter, or just if you'd like a crisper sound, the Meyoung LED Mini Projector is available for HDMI cords and more.

You can even attach smartphones with the additionally purchased cord. The smaller size of the projector makes it perfect to bring to backyard parties or even camping.

Expand To See MoreSee Less

The screen is adjustable between 50" and 130" when the projector is placed between 5 and 13 feet away from the screen with 1080P resolution.

Both major aspect ratios are offered, both 4:3 and 16:9, with many types of video, audio, and image formats supported.

The built-in speaker offers crisp audio with bright picture from 1,200 lumens that feature 30,000 lamp hours. The Meyoung is a smaller projector with big audio and visual quality.

Meyoung LED Mini Projector at a Glance

:
---
Dimensions: 8" x 3" x 6"
Weight: 2 Pounds
Connections: SD Card, USB, HDMI
Sound: Built-in Speaker, External Available
Screen Size Range: 50" to 130"
Accessories Included: AV Cord, Remote Control
---
How to Choose the Best Outdoor Projector – A Buyers Guide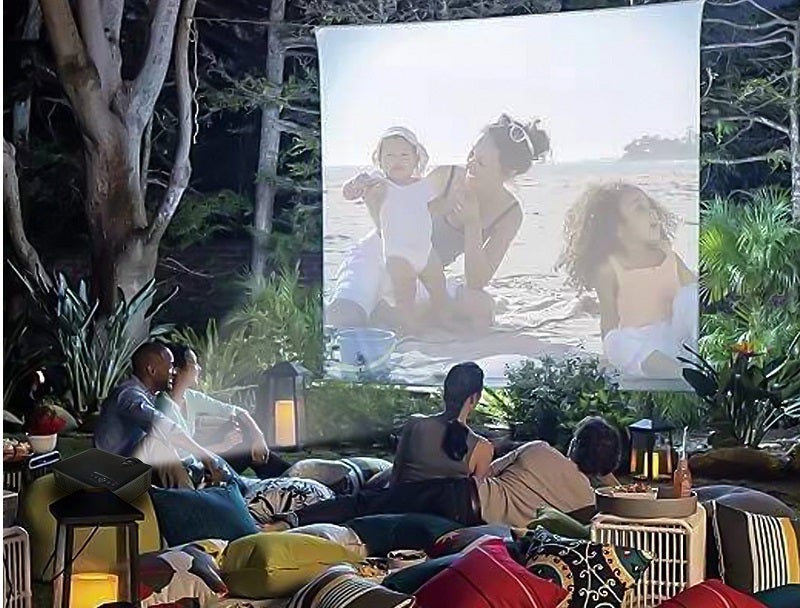 With so many technical details involved in choosing the right projector for your outdoor events, it can be hard to know which of them are important to you. There are several things you may want to look at when choosing the perfect outdoor projector.

Types of Outdoor Projectors
All of the outdoor projectors featured here are LCD, or Liquid Crystal Display. However, there are three types of them.
LCD
A traditional LCD projector has many benefits, including the ability to show images in 3D, with a stronger brightness, as well as images that are more crisp. These are also much quieter, sometimes not needing a cooling fan at all, and they use energy more efficiently.
LCOS
The LCOS display, which stands for Liquid Crystal on Silicon, and it is a type of LCD technology. This is usually only available on more expensive projectors and can create a very vivid picture at larger screen sizes. However, you trade a better picture for an expensive investment.
DLP
A DLP Projector, also known as a Digital Light Processing Projector, use mirrors to display the image on the screen. These are more prone to damage as the mirrors can move out of place. The image can also be a bit blurry at larger sizes and you may see a rainbow prism effect on the screen.
Considerations for an Outdoor Projector
Light Source
While a traditional lightbulb is used in many projectors, it can only usually support about 4,000 lamp hours. Most modern outdoor movie projectors, and the ones listed here, are LED bulbs.

The lamp life of LED projector bulbs can be up to 20,000 hours. LED projectors also give a brighter picture, require less cooling if at all, and are more energy efficient.
Brightness
The brightness of the picture can be affected by light in the area, whether indoors or outdoors. However, the lumens rating of the projector will tell you how much brightness the projector is capable of in perfect conditions. For larger screens, you want to have between 2,000 and 3,000 lumens.
Resolution
Resolution is also known as "pixel density" and is determined by how many pixels are in the picture. A projector with the best resolution will support 1080P, or pixel dimensions of 1920 x 1080.

However, this can always be adjusted. The resolution isn't only determined by the quality of the projector but also the quality of the video feed you are playing.
Lens Zoom and Shift
The lens zoom will allow you to adjust the size of the picture without moving either the projector or the projector screen. This is especially beneficial when adjusting for image quality.

Lens shift, or Keystone correction allows you to adjust the image shape if you aren't able to place the projector immediately in front of the screen. This can be extremely beneficial in outdoor settings.

FAQs For Outdoor Projectors
You most likely still have questions about backyard movie projectors. Do you need more information about how to choose the right one? Or maybe why you need one in the first place. Here, we cover some common questions that people face when looking at outdoor projectors.
Q: Why buy an outdoor projector?
Bringing audio and visual aspects to your backyard get-together or even while camping can elevate the experience. Bring out the blankets, the big pillows, and the camping chairs to relax on cool nights with a video game, a movie, or even a picture slideshow. It's definitely a way to get everyone out of the house and enjoying the outdoors.
Q: What is a "throw ratio"?
The throw ratio will tell you how big the screen will be if the projector is placed a certain distance away from it. If you don't have much room to move the projector back, away from the screen, you need one with a shorter throw ratio. If you have room, you can get the biggest screens the projector can produce by placing it the recommended distance away.
Q: Do I need a projector screen?
While sometimes you can project the images on the side of a wall, you will get the best picture when the projector is used with a projector screen. Most screens will also allow you to project onto the front of the screen or from the back. By placing the projector behind the screen, it removes it from high traffic areas so it isn't bumped.
Q: What are the most popular aspect ratios?
Typically, there are two common aspect ratios when it comes to video. The full screen aspect ratio of 4:3 will be taller than the widescreen format of 16:9. While home videos, photos, and video games may be a bit off from these two most common ratios.
Q: How do I set up my projector outdoors?
The screen should be set up between 5 and 15 feet away from where you will place your projector. Finding a place for a large projector screen in the backyard can be as easy as choosing the biggest wall on the side of your house. However, the screen can also be hung between trees or other objects you have in the area.

The projector, when used outdoors, should be on a sturdy table and well away from foot traffic to prevent accidents. You may want to tack the power cord and video input cables to the ground somehow or cover them with a concealer so the cords aren't easily tripped over.

If you have external sound set up, make sure the table is sturdy enough to hold the audio equipment and that it can be heard by everyone.

Tips for Using an Outdoor Projector
Need tips on how to use your new projector? We have our top 5 tips for making your outdoor projector experience the best it can be.
Tip #1: Get the Accessories
Most outdoor TV projectors these days come with a remote control to make it more convenient to use. You may also find some projectors that come with an included screen, like the Doace P1 projector that we featured above.

However, you may want certain other accessories such as different cables to hook up several types of devices. Phone specific cords can help you connect phones or tables, an HDMI cable is a must. But you may want VGA cables and more so you can always connect your favorite devices.
Tip #2: Adjust for Brightness
Most outdoor theater projectors have a brightness level determined by their lumens. The higher the number, the brighter the picture. However, it is important to keep in mind that the light in the room or produced by other sources outdoors will also affect the brightness of the picture.

The lumens of your outdoor projector should be directly related to how big the screen can get. Those capable of screens over 150" should have between 2,000 and 3,000 lumens. For smaller screens, 1,000 to 2,000 lumens is sufficient.
Tip #3: Pay Attention to the Specs
Not only should you make sure you get the picture as big as you'd like for outdoor use, there are several aspects of projectors that will impact the quality and life.

Enjoying both common aspect ratios is important and you should be able to adjust the resolution to match the source material. A back-lit remote control can make it easier to use outdoors when it can be quite dark.
Tip #4: Focus on Versatility
If you are looking for an outdoor video projector, you may want to take it with you to multiple locations, such as a friend's backyard or even the lake while camping. This means you should look at specs that allow the projector to fit into several situations.

If you have a long throw ratio, it may be hard for you to use it everywhere with the same quality. On the safe side, choose a projector that can be used in many situations with great quality and with ease.
Tip #5: Add a Sound System
While every projector we featured here come with built-in speakers, you may want to add a bit more. Maybe it's a large area and you need to make it louder.

Maybe you just want to enjoy surround sound outdoors. But adding external speakers to your outdoor video projector can give you an even better experience than using the built-in ones.

Final Thoughts
Are you ready to get an outdoor video projector and invite everyone to try it out? Are you ready to pack it up to head to the campground?

Want to spend some time playing video games outside with life-size characters and environments? An outdoor projector can give you an experience like you've never had and can make your backyard the designated spot for block parties.
Ease of Use
Features
Quality
The Epson Home Cinema is our Editor's Choice for the best outdoor projector with its combination of ease of use, features and quality.

User Rating:

Be the first one !
OutsidePursuits.com is a participant in the Amazon Services LLC Associates Program, an affiliate advertising program. OutsidePursuits.com earns fees from products sold through qualifying purchases by linking to Amazon.com. Amazon offers a commission on products sold through their affiliate links.