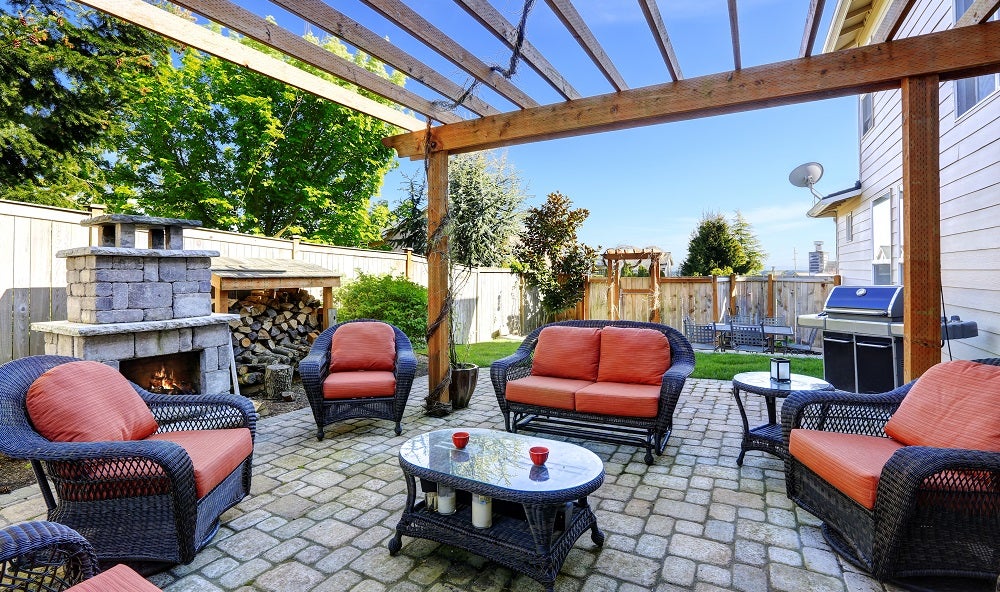 Our Editors independently research, test, and rate what we feel are the best products. We use affiliate links and may receive a small commission on purchases.
No matter where you live or what kind of weather your area receives, you should be able to enjoy your outdoor space. Nowadays, there are so many options when it comes to outdoor furniture that it can be overwhelming knowing what you should actually get. That's why we're here! We've come up with the 10 essential outdoor furniture items for outdoor living to take the guesswork out. Let's take a look at each one!
1. Rocking Chair
Just the sight of a rocking chair seems to make us feel more at home. These pieces of furniture come in a huge array of sizes, colors, finishes, and styles so you're bound to find at least one that perfectly fits with your current theme. They're also made to be used both indoors and outdoors, so you don't have to worry about them breaking down in the elements.
Not only are rocking chairs comfortable to sit in, but the gentle rocking motion will really help you relax your mind and body. They're great for starting your day off with your coffee, or for winding down after a long day.
2. Outdoor Flood Lights
Whether flood lights could be considered "furniture" is debatable but one thing's for sure: you're going to wish you'd bought one sooner! These are wonderful for security purposes, as they can be set to turn on at the detection of motion. That means if any "unwanted visitors" enter your yard, the bright lights will shine right on them and encourage them to leave.
Not only that, but they offer up a well-lit space if you happen to be entertaining at night in larger spaces. Whatever the case may be, you're bound to find these lights incredibly handy, no matter the season.
3. Patio Swing
Patio swings are not only great for increasing circulation and reducing stress levels, but are perfect for bonding with family and friends. As most models allow for 2 or more people to sit at once, they let you all chat or enjoy refreshments while hanging out.
Feel the breeze blowing through your hair while breathing in the fresh air of the outdoors with a nice patio swing. As most come with canopies, you'll also have a nice shady space to shield you from the sun during the daytime. People of all ages can enjoy swinging too, so if you have children around, this is a great addition to any outdoor area!
4. Fans
It's always nice to enjoy warm weather, but sometimes things can just get too humid or hot for our liking. In these cases, you need an effective way to keep you and your guests cool and comfortable. A ceiling fan is one of the easiest ways to do this, and can be adjusted to varying speeds to suit each time of the day.
Outdoor ceiling fans are made to be used outside, so you can rest assured that they will hold up well to wind, sun, and everything else.
If you really want to take things up a notch, then you can even look into getting an outdoor misting fan. These fans come with water reservoirs or have the ability to be connected to a garden hose, to add a refreshing mist along with the cool air.
5. Pop Up Canopies
Lightweight yet durable, pop up canopies are a convenient way to provide shade if you want something a little less permanent. Not only that, but they're one of the most inexpensive forms of shade so if you're on a budget you'll want to look into these.
Coming in just about any color, you can find exactly your style. They also come in a wide selection of sizes to accommodate any size of group or space. As they are so lightweight, you may want to use ropes or tent stakes to keep them grounded if you're in a windy environment. No matter what though, they're perfect for night or daytime events or get-togethers.
6. Patio Heater
Chances are, you're not only going to be entertaining friends or family when the weather is perfect. Perhaps your guests stay late into the night and it starts to get chilly, but you don't want to go inside. What can you do? Get yourself a patio heater, of course! These heaters can cover some nice surface area, so if you want to keep everyone warm without a hitch we highly recommend including one in your outdoor setup.
7. Water Fountain
Patio furniture doesn't always have to serve to keep us comfortable. Outdoor water fountains are the perfect example of that. They look beautiful and can instantly upgrade the appearance of your outdoor space. Moreover, the sound of running water can instantly evoke a soothing and relaxing feeling.
8. Grills & Fryers
Food is a crucial part of entertaining, and no one wants to have to stay stuck inside away from their guests while the delicacies are cooking! If you happen to be outside of your home, then we love portable gas and charcoal grills that can be used on-the-go. They're also ideal if you're limited on space, such as in an apartment.
If you want to get a little more fancy, try out a smoker or even a turkey fryer! Not only are they perfect for outdoor Thanksgiving celebrations, but for anytime you're entertaining large groups of people.
9. Patio Dining Set
After all that cooking, you're going to need to sit down and enjoy those mouth-watering creations with your guests! A patio dining set is the perfect way to do so as they come with ample seating for everyone and a table to place food and drinks on securely. With cushy luxury, you'll be able to sit for hours and simply bask in the company of your friends and family in the fresh air.
10. Outdoor Daybed
What better way to wind down the day or night than completely sprawled out on a daybed made specifically for outdoor use? These beds are nice and durable so you can use them all year long, but cozy enough to keep you in the lap of luxury as long as you use it for. Most are made up of multiple pieces that also act as additional seating for when you have more guests over.
Summary
Now that you've had the opportunity to take a look at the 10 essential pieces of furniture for outdoor entertaining, do you know which pieces you'll be using for your future get-togethers? We know that no matter what you add, you'll be happy with your selections. Thanks for tuning in, and we'll see you again soon!
Notice:
OutsidePursuits.com is a participant in the Amazon Services LLC Associates Program, an affiliate advertising program. OutsidePursuits.com earns fees from products sold through qualifying purchases by linking to Amazon.com. Amazon offers a commission on products sold through their affiliate links.