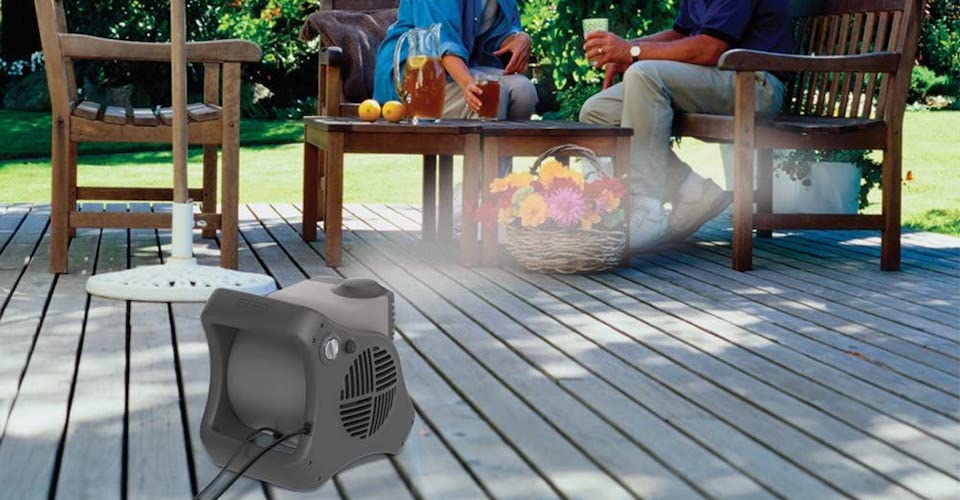 Our Editors independently research, test, and rate what we feel are the best products. We use affiliate links and may receive a small commission on purchases.
When temperatures really start heating up, there's nothing better than being outdoors and enjoying the fresh air.
However, sometimes the idea in our minds is more pleasant that actuality when we realize it's just too hot.
There is a solution however: outdoor misting fans. These fans not only blow cool air in your direction but also use water to mist you as well – the best of both worlds.
We've spent the past month reviewing and testing models to bring you the top outdoor misting fans on Amazon. Let's get started!
Best Outdoor Misting Fans
For more of my home and garden recommendations, have a look through these popular Outside Pursuits guide links: Patio Umbrellas, Outdoor Ceiling Fans, Hammock Chairs.
Quick Answer: The 7 Best Rated Outdoor Misting Fans
Our reviews of the top rated outdoor misting fans with our comparison table and buyers guide will help you choose the right fan for you.
---
Outdoor Misting Fan Reviews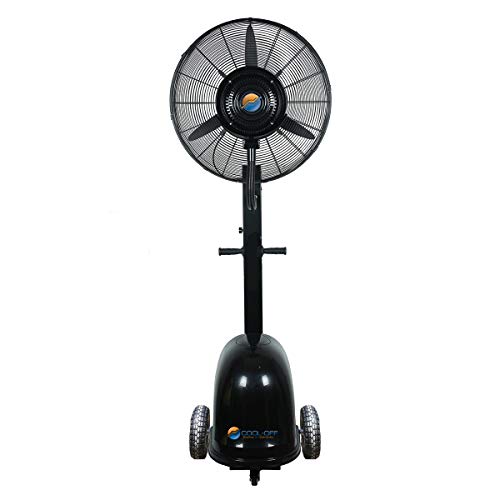 Cool-Off Island Breeze Oscillating Misting Fan at a Glance
:
---
Dimensions:

26 inches



Water Capacity: 12 gallons

Speed Settings: 3 speeds

Oscillating: Yes
If you aren't on a tight budget and are looking for a convenient, robust fan that will be able to get everyone at your next gathering, look at the Cool-Off Island Breeze Oscillating Misting Fan.
This 26-inch monster fan comes with everything you need to keep everyone cool and comfortable.
With sturdy wheels and a safety break, you can transport it anywhere you need to – over grass, pavement, and more.
Instead of having to keep it connected to a garden hose, you have a hefty 12-gallon capacity to store water and ice in!
Pair that with the 12-hour run time, and that means that you won't ever have to worry about it ceasing the production of cool air and mist during your events!
3-speed quiet operation means that it won't bother anyone due to loud humming or buzzing – even if you're standing right next to it.
The 100% copper motor can cover 40 feet of outdoor space without a problem, though in calmer weather conditions it can move even further!
As you can imagine, this model comes made of only the best materials: those that not only look good but are made to perform at top-notch quality as well.
The oscillating fan is specifically made for the heat and is resistant to the elements. It also ensure snozzles won't clog without water filtration, also coming with overload protection, auto water pump shut-off, and robust motor support.

---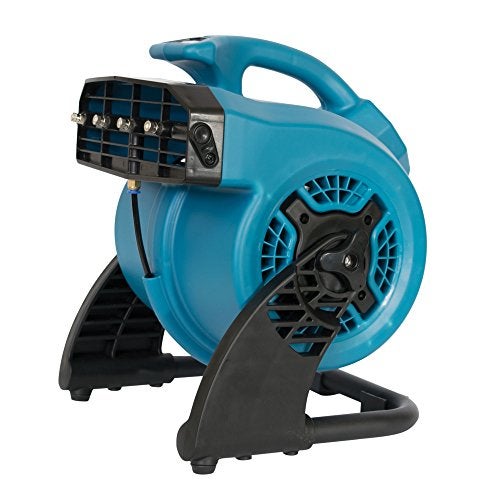 XPOWER FM-48 Outdoor Cooling Misting Fan at a Glance
:
---
Dimensions: 14.7 x 13.6 x 13.1 inches

Water Capacity: n/a

Speed Settings: 3 speeds

Oscillating: No
The second model we have to show you is the XPOWER FM-48 Portable Outdoor Misting Fan.
If portability is one of the biggest features you're looking for, you can't go wrong here. Use it on the patio, in your animal's kennel, by your patio furniture, at sporting events, and so much more.
Setup is incredibly simple and quick. All you have to do is plug it in and hook it up to your standard garden hose. As it's so lightweight, you don't have to worry about lugging it around either.
Made of ABS plastic, it's incredibly tough and resistant to bumps and scratches, and draws a mere 1.2 amps of electricity so your power bill won't be astronomical.
On top of that, it comes with a strong 138-watt induction motor blower which is capable of producing up to 600 CFM of airflow.
If you'd like, you can even use it inside your home – just without the mist feature.
This powerful airflow is capable of speeding up the drying of paint, floors, or simply circulating air around your home.
With 3 adjustable speeds, you're able to customize how strong you'd like the air and mist to be operating.
The 7-foot power cord with a wraparound design, carry handle, GFCI power outlet, and nozzles with 0.3MM are all included so you have everything you need for an enjoyable summer day.

---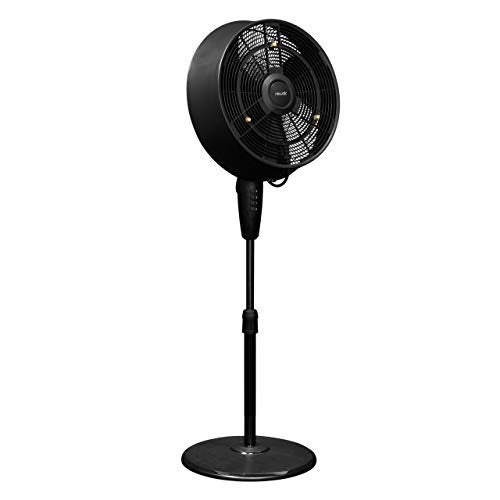 NewAir AF-520B Outdoor Misting Oscillating Pedestal Fan at a Glance
:
---
Dimensions: 18 inches

Water Capacity: n/a

Speed Settings: 3 speeds

Oscillating: Yes
If the best outdoor misting fan for you is one that can cover a large space, then the NewAir AF-520B Outdoor Misting Oscillating Pedestal Fan may be the one for you.
With 5 gentle mist nozzles along with the adjustable design, you can choose exactly how the mist is dispersed, along with the height and angle of the fan.
This allows for the most efficient air circulation, no matter where you are using it – barbecues, parties, pool parties – it works wonderfully for all scenarios.
The 3 fan speeds let you choose the intensity depending on the weather and preferences. Wide-angle oscillation will ensure no space is forgotten about, while the slim design makes it easy to store away.
This eco-friendly fan never uses freon or other harmful chemicals, but rather uses clean evaporation so you can actually feel good about using it.
As safety should always be top priority, we appreciated the various safety feature this brand incorporated into their fan.
A leakage protection device will automatically turn the fan off at the first alert of a potential water leak. In addition, the GFCI plug works with a standard 120V three-prong outlet for maximum convenience.

---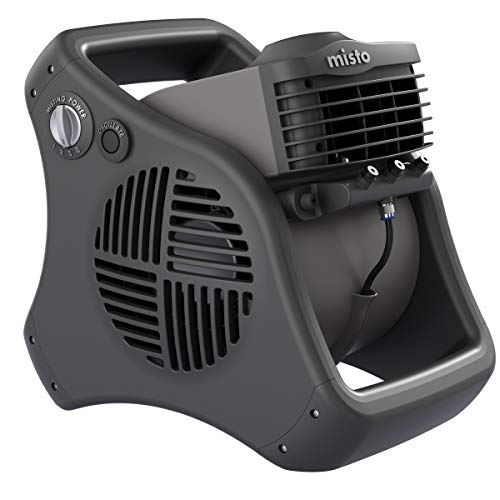 Lasko 7050 Misto Outdoor Misting Fanat a Glance
:
---
Dimensions:

16.25 x 12.3 x 14.85 inches



Water Capacity: n/a

Speed Settings: 3 speeds

Oscillating: Yes
Not everyone is searching for a fan for at-home use. Sometimes what we're looking for is more compact and easy to transport.
For these situations, we recommend the Lasko 7050 Misto Outdoor Misting Fan.
With 3 different speeds, you'll be able to choose exactly the kind of cool breeze you'd like. While it may be small, it definitely packs a punch with high power air – don't let its size confuse you!
The pivoting head lets you choose between direct air flow and circulation. The first produces high-speed air and mist to the specific point where you need it.
The wide-pivot angle lets you move it higher, lower, side-to-side, and everywhere in between.
Capable of lowering air temperature up to an impressive 25 degrees, it's a perfectly portable cooler. There's no need to worry about it becoming damaged in the elements, either.
It's weather-resistant, UV-resistant, and even rust-resistant.
Just like the previous model, it has an in-line GFCI cord ideal for outdoor use, and a ground-fault circuit interrupter. This is best to keep everyone safe, even in damp environments.

---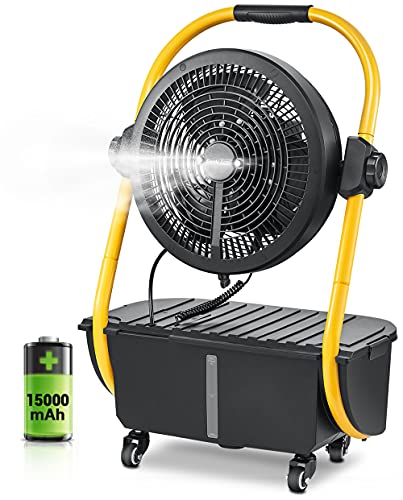 Geek Aire Battery Operated Misting Fan at a Glance
:
---
Dimensions: 12″
Water Capacity: 2.9 gallons

Speed Settings: 5 speeds

Oscillating: No
If you're looking for the most versatile outdoor misting fan, the Geek Aire Battery Operated Misting Fan is just the product for you. The fan comes with a large 2.9 gallon cooler that will last for many hours of cooling.
Not only does it have four castor wheels allowing you to move it easily, the Geek Aire is battery operated. This allows you to take it anywhere!
The 15000 mAh battery will last up to 23 hours at the lowest speed and 3 hours on high speed. You can remove the battery and plug in another one. (extra batteries optional)
Most other models out there require you to attach a hose to the model to supply mist, but this one doesn't! This makes it one of the most portable out there.
If you really want to maximize your results on particularly hot days, go ahead and add in ice! You'll easily be able to cool down with this misting fan for years to come so hot days no longer have to be something you dread!

---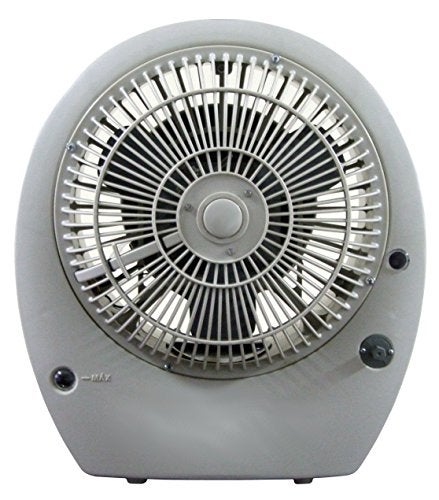 EcoJet Tabletop Misting Fan at a Glance
:
---
Dimensions: 19 x 10 x 21 inches

Water Capacity: 2 gallons

Speed Settings: 3 speeds

Oscillating: Yes
Whether you're looking for the best portable misting fan or the best fan for tabletop use, the EcoJet by Joape Bob Tableton Misting Fan isn't one to miss out on.
Standing just 19 inches high, the entire unit is super easy to transport to different parts of your home or outdoor spaces. Weighing 21 pounds, it also doesn't require a lot of upper body strength to do so!
On top of that, it is incredibly ecofriendly, energy-efficient, and consumes a very small amount of water.
It's low maintenance as well, thanks to the lack of nozzles, filters, and high-pressure pumps. If you do ever have issues with it (which is rare), it will likely be very easy to fix.
Creating a cloud of superfine atomized mist, this fan is very pleasant to use, whether you're indoors or outside.
The easy to use adjustable mist knob lets you simply turn it left or right, depending on if you want more or less mist!
You can even use it if you're trying to focus on a task, due to its ultra-quiet, 60-decibal sound production.
The personal cooler is capable of covering up to a 400 square foot area, depending on the mist level you have it set to.
Creating a comfort zone up to 20 degrees cooler, it even helps draw smoke, dust, and foul odors from your breathing air!

---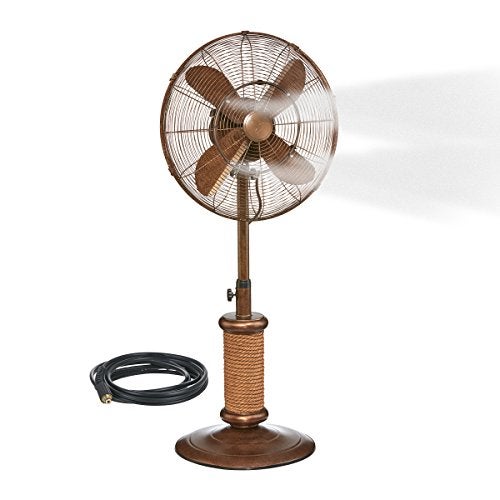 Dynamic Collections Oscillating Fan with Misting Kit at a Glance
:
---
Dimensions:

19 inches



Water Capacity: n/a

Speed Settings: 3 speeds

Oscillating: Yes
If you're on the hunt for the best outdoor oscillating fan, we highly recommend you take a good look at the Dynamic Collections Oscillating Fan with Misting Kit.
This 19 inch model is one of the most beautiful we've been able to use, with a faux rope design and rich bronze bottom.
It looks like an a stunning piece of décor even when it's turned off!
It's important to note that instead of a separate container that holds water, this fan is made to be connected to the garden hose to work.
However, that's not to say it's not easy to use! The misting kit is user-friendly, even if you're not particularly a "handy" person.
What's also cool is that you can use the kit whether you're using the fan or not!
The adjustable height and telescopic neck makes precise adjustments a breeze. You can place it as low as 40" tall, all the way up to 51 inches!
With 3 different cooling speeds, you can choose what's best for the environment and weather conditions. The oscillating head will make sure that each square foot of your space is cooled down nicely.
We mentioned earlier that this is one of the most beautiful fans we've used. To retain its good looks, they've utilized a UV-resistant, all-weather bronze paint.
This means that you can leave it in the blazing sun, and it will still look as good as the day you got it.
The weighted base ensures stability, and as it's ETL "wet listed" you don't have to worry about any safety issues either.

---
Outdoor Misting Fan Comparison Table
How to Choose the Best Outdoor Misting Fan – Buying Guide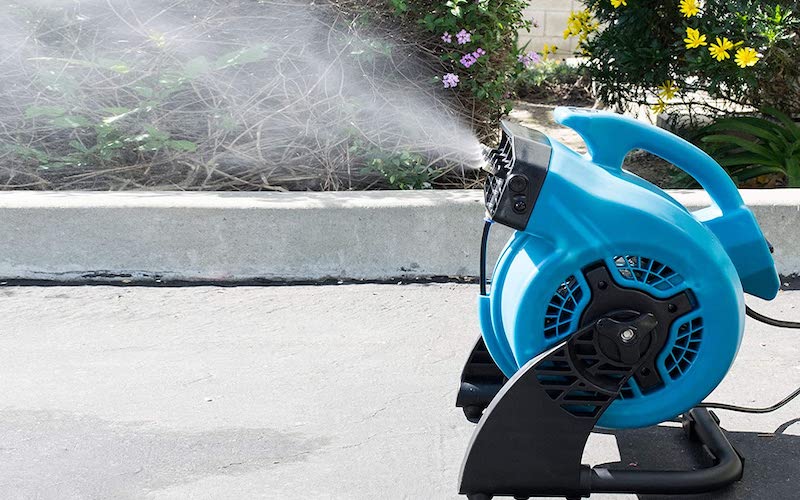 Now that you have had the chance to learn all about the best misting fans, which one is just right for you?
If you're still unsure about which one to wear, there's no need to worry. We know how difficult it can be to select just one when there are so many great options out there!
That's why we decided to take it upon ourselves and write up the user-friendly buying guide, below.
This guide will take you through every step of the selection process, so you can be 100% certain as to which misting fan is right for you.
Size
Before you do anything else, we recommend you determine the area or space in which you're going to use your new misting fan.
If you're just buying for general use or happen to be using it in various spaces, then just use your best judgement.
Otherwise, we would go as far as to suggest actually getting out a tape measure and measuring the area.
You don't want to get a fan that's too powerful and freeze everyone out of a good time! You also don't want to get too small or weak of a fan and have it not cool effectively.
Each model will state the size and how many feet it can cover without issue. Keep in mind that weather conditions can also affect this.
The physical size will play a role in where you place it, how easy it is to transport, etc.
Transportation
This brings us to our next point, which is transportation. Think about how you're going to use your fan. Are you going to be taking it tailgating, camping, to sporting events, and things of that nature?
Then you need a fan that's compact, lightweight, and overall just very portable.
Those that already come with water reservoirs can be more convenient in many cases, as you don't have to worry about connecting it to a water source the entire time.
However, most smaller models won't come with these. There are a few that bring the best of both worlds together, combining a reservoir with a relatively compact size.
There are even a few which feature built-in wheels.
These wheels can make larger models much more convenient to move around, and come with locks so you never have to worry about them rolling away or becoming a safety hazard.
Speed Settings
The speed settings, along with the power of the included motor will vary widely, thus having a large effect on the user experience.
If you have a weak motor then you'll need to use it for smaller spaces and calm weather conditions. The heftier motors can take on bigger areas and push out air and mist further.
If you only have 1 speed setting, the spaces you can use it in are greatly reduced as you won't be able to change it depending on each individual scenario.
Usually 3 speed settings are sufficient, with Low, Medium, and High levels available for you to switch between as the day continues and the weather starts to change.
Oscillation
You may have noticed how certain models feature oscillating heads while others do not. What's the difference? Let's find out.
Oscillating: These move up and down and/or side-to-side, depending on the model and manufacturer.
As you can imagine, these are great for circulating air and offering great coverage – particularly in more open spaces.
Non-Oscillating: These are designed to provide very direct airflow in the specific direction you've placed it towards.
It's not as versatile, but if you need something for your individual space, then it may be most effective.
Runtime
The runtime will vary, and this also doesn't apply to each misting fan out there. Those that come with their own water chambers will have different runtimes, as well as different water-storing capacities.
The most we've seen is 12 gallon storage with a 12-hour runtime. This is amazing, and is probably more than enough for most consumers.
For example, if you're using it for a day at the pool, at a sporting event, camping, etc., you probably aren't going to be at it for 12 hours straight.
You won't have to worry about it giving out on you when you're in the middle of having fun.
Price
How much are you willing to spend on one of the best outdoor misting fans?
We always recommend figuring out a budget for yourself before you start shopping around, as it can be too easy to spend more than you'd originally planned on doing.
No matter what your budget is, we are sure that we have at least one or two models on here that will fit into it.
However, remember not to simply take the price tag into consideration; think about how long the fan is going to last you and compare it to the other models.
If the more expensive model lasts twice as long as the cheaper alternative, will you end up ultimately saving money?
Most likely, the answer will be "yes". Make sure you're thinking of how much you will save altogether and not just look at the price tag outright.
How to Use an Outdoor Water Misting Fan
How to use an outdoor water misting fan
FAQs About Outdoor Misting Fans
Q: Are misting fans Effective?
A: Yes, they are! That's the whole reason why they've exploded in popularity in recent years!
Of course, this does also depend on the weather conditions the fan is placed in, but generally speaking, they do an incredible job of cooling the space around it up to an impressive 20 degrees.
Q: Do patio misters use a lot of water?
A: No, they do not. In fact, most are actually known for being so eco-friendly with low water consumption!
Of course, this number will vary between manufacturer and model, but in general, it is said the nozzles release between 600ml and 800ml approximately per minute
Q: Do misters keep mosquitos away?
A: Yes, they do, fortunately! The mosquitos do not like the forceful air and water being thrown their direction.
Even if they did, it would be practically impossible for them to reach you due to how strong the wind would be blowing at them.
Q: Do misting systems work in high humidity?
A: If properly installed and placed, yes!
Tips For Choosing Portable Misting Fans
#1: Consider where you're going to place your new misting fan.
This is also essential considering that you will probably want a fan that can cover the area where it is installed.
Take note of the size of the area you want the fan to cool and select a model with enough cooling power for said space.
#2: Pay attention to the type of power source it can support or requires.
Before you select the best outdoor fan for you, make sure you know the kind of power source it offers or needs.
If you're going to mount it on the wall, there needs to be a power outlet nearby. You may need to extend a new outlet to the installation point if it becomes necessary.
#3: Always ensure safety is placed at the forefront of your priorities.
Whenever we're dealing with electricity and water, we need to pay close attention to the surroundings, power rating, and obviously safety features.
We recommend choosing a model that is wet rated, so it can work just fine with water.
Not only that, but make sure that if there's even the slightest sign of a water leak, that the fan has an auto shut off feature.
Summary
Now that you have had the chance to read all about some good outdoor misting fans, which one will you be using to keep you and your guests cool and comfy?
No matter which one you choose, know you'll be receiving one of the best on the market today.
However, what is most important is that you select the one that perfectly fits your environment, space, and preferences.
We really hope that our guide has helped you do just that. Thanks very much for tuning in and we will see you again soon!
How We Researched
To come up with the top outdoor misting fans, we researched a variety of sources for reviews such as Home Depot, Lowes, Target and Wayfair along with our own personal experience.
We also consulted online magazines for product research and reviews to get as much unbiased information as we could. To help weed out fake reviews we used Fakespot.com to make sure we only looked at genuine reviews.
With so much quality gear available, we had to narrow it down based on what we felt were the best options were for the price. The staff authors have a wide and varied background in yard design and home repairs.
The authors have decades of experience and are eager to share their knowledge with readers.
To help narrow down the selection we used personal experiences along with recommendations from landscapers, bloggers and contractors.
After extensive research, we came up with our list to help you choose the right one for you.
Sources
Notice:
OutsidePursuits.com is a participant in the Amazon Services LLC Associates Program, an affiliate advertising program. OutsidePursuits.com earns fees from products sold through qualifying purchases by linking to Amazon.com. Amazon offers a commission on products sold through their affiliate links.