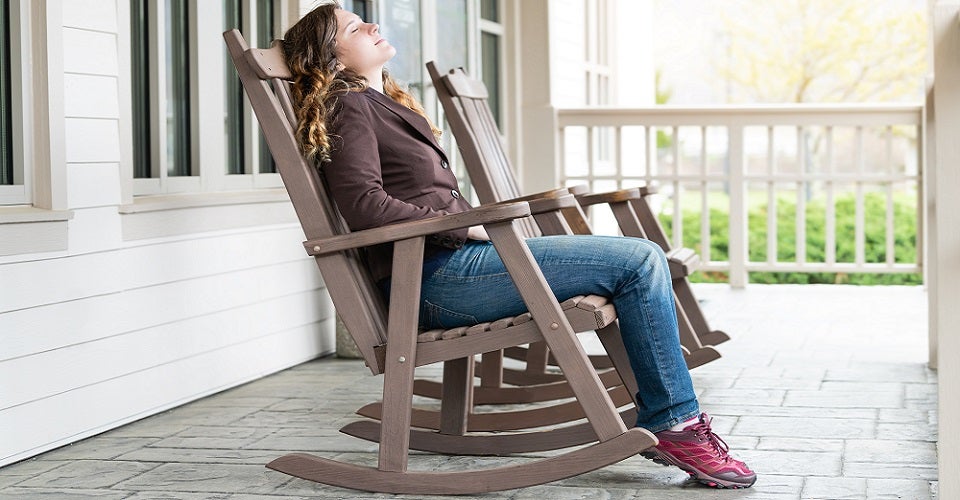 Our Editors independently research, test, and rate what we feel are the best products. We use affiliate links and may receive a small commission on purchases.
When temperatures start heating up, there's nothing better than being outside. Relaxing with a cool drink in hand, sitting on the porch is one of the best ways to spend the warmer months.
While there are tons of different furniture options to choose from, a tried-and-true favorite is the rocking chair.
We've spent the last month or so doing in-depth research to bring you the top outdoor rocking chairs currently available.
We know you don't want to waste any time, so let's get started!
Best Outdoor Rocking Chairs
For more of my home and garden recommendations, have a look through these popular Outside Pursuits guide links: Adirondack Chairs, Outdoor Daybeds, Patio Swings.

Quick Answer: The 7 Best Rated Outdoor Rocking Chairs
Our reviews of the top rated outdoor rocking chairs with our comparison table and buyers guide will help you choose the right outdoor rocking chair for you.
---
Outdoor Rocking Chairs Reviews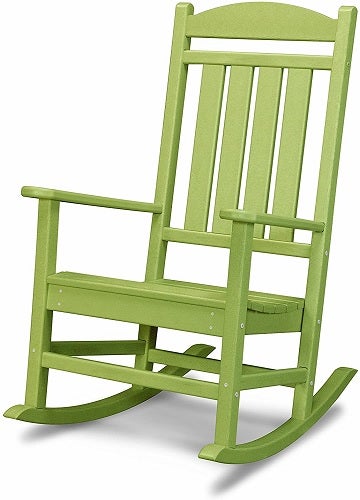 POLYWOOD R100BL Presidential Rocking Chair at a Glance
:
---
Materials: Polywood
Weight Capacity: 400 pounds
Colors: 13
Warranty: 20 years
To start things off, we have the POLYWOOD R100BL Presidential Rocking Chair. This elegant chair evokes a kind of classy, yesteryear vibe with the elegant design.
With a kind of neutrality, you can count on it looking good on just about any porch, no matter what your décor or environment is.
Coming in a wide array of colors, you can choose from dark shades like Black or Slate Grey, or bright and uplifting alternatives such as Red, Lemon, Aruba, and much more.
Made of genuine POLYWOOD lumber, it's one of the most durable you'll ever find.
Resistant to stains and corrosive substances, you can count on it looking like the first day you got it – even with regular use.
Not only that, but it's built to withstand extreme weather conditions.
That means you can leave it out in the burning sun, freezing winters, by the beach, etc. and it won't splinter, crack, peel, etc.
The fade-resistant color holds up against harsh UV rays, too, so the color will stay nice and vivid.
Despite being made of lumber, it's incredibly comfortable thanks to the contoured seat, and wide arms and slats that will support your back nicely.
You'll be pleased to know that it's incredibly easy to clean as well. Simply mix up some soap and water, wipe it down, and you're all set.
No matter where you look for the best outdoor rocking chairs, you're sure to find the POLYWOOD R100BL Presidential at the top of the list.

---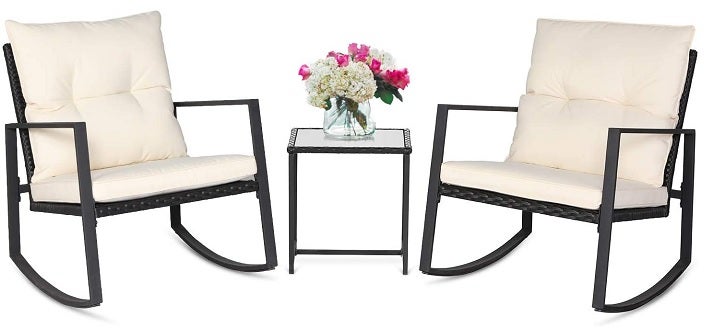 SUNCROWN Outdoor 3-Piece Rocking Bistro Set at a Glance
:
---
Materials: Wicker
Weight Capacity: n/a
Colors: 2
Warranty: n/a
Easily one of the best porch rocking chairs, the SUNCROWN Outdoor 3-Piece Rocking Bistro Set is the perfect way to complete your home's look.
This set is a complete package, coming with 2 chairs and a little center table for you to place your drinks or a snack during those hot summer days.
If you're on the hunt for something for you and another person then we can't recommend this set enough.
You get your choice of either Beige or Brown – both are sure to add a sophisticated touch to your environment.
The frame is made up of a black synthetic resin wicker which is also weather-and-UV-resistant. That means you can leave it out all year-round without worry of it breaking down or becoming worn.
The hand-woven wicker offers a bit of flexibility, but is also incredibly durable, supporting a great amount of weight.
To maintain a nice level of comfort, you have wide, thick chair cushions covering the back and seat. The removable polyester cover feels nice against the skin, and is easy to take off and put in the washing machine.
The table also features the same materials but comes with a glass tabletop perfect for holding a tray of drinks, pitchers, plants, or just about anything else you feel like.
Perfect for long sits on the porch or patio, the chairs are also rocking, so you can instantly transport yourself into incredible levels of relaxation!

---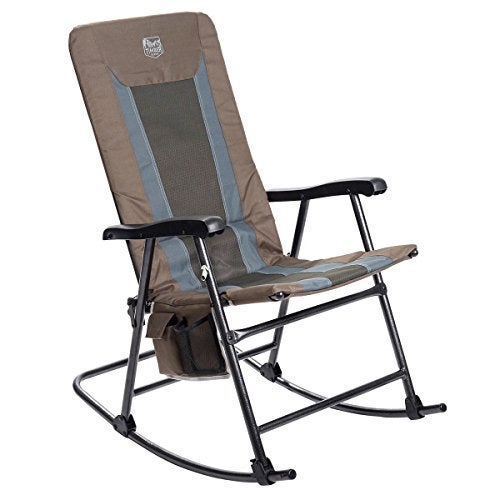 Timber Ridge Camping Rocking Chair at a Glance
:
---
Materials: Steel, Polyester
Weight Capacity: 300 pounds
Colors: 2
Warranty: 1-year
Perhaps what you need is a rocking chair that can go with you just about everywhere you do.
If you want something less stationary, then check out the Timber Ridge Camping Rocking Chair.
This is the best folding rocking chair we've had the opportunity to try out, and is capable of supporting up to an impressive 300 pounds, too!
The design is a bit more rugged, and perfect for watching sports games outdoors, camping, or simply hanging out in your garden.
It comes in 4 different colors: Earth-Side, Lava, Blue, and Beige. Each looks high-quality and features an ergonomic design to support your neck and back properly.
While it's relatively lightweight and easy to fold up/set up, the frame is incredibly sturdy. Made of steel with 600D polyester fabric covering it, you can count on it lasting for many seasons to come.
They're perfect for trips to the beach or hanging out at a barbeque! To ensure the chair doesn't fold up while you're using it, you'll find a stable bottom locking system.
When it arrives on your doorstep, there's literally no assembly required so you can start using it immediately. To transport, you have a buckle design and carry handles.
While you're at your destination, you can take advantage of the side storage bag for snacks or entertainment, and a beverage cup holder so you always have your drink nearby and safe.

---
Highwood Lehigh Rocking Chair at a Glance
:
---
Materials: Recycled Plastic
Weight Capacity: 500 pounds
Colors: 10
Warranty: 12-year residential
Next up, we have the best patio rocking chair: the Highwood Lehigh Rocking Chair. The classic design is beautiful and timeless, and will be sure to draw you out every day to enjoy the sunshine.
Coming in an array of stunning shades, you get your choice of 10 different colors like Toffee, Whitewash, Weathered Acorn, Nantucket Blue, Dried Sage, and many more.
While most others we've covered so far are made of wood, this one is comprised of recycled plastic and Eco-friendly materials.
However, it does give the appearance of real wood, so you kind of get the best of both worlds here. Not only that, but it doesn't have that weird waxy feel or shiny look like many "fake wood" furniture does.
The strong, fade-resistant material is made to hold up to regular use and the elements so you can leave it outdoors without a problem. The colors will always look bright and vivid, as well.
With 304-grade stainless steel hardware, maintenance is practically a thing of the past.
Moreover, this tough construction can hold up to a whopping 500 pounds, which is practically unheard of with outdoor rocking chairs.
The US-made chair is easy to clean, as the material actually repels dust and grime, so even if you live in an area with a lot of sand/dirt/wind, you will be in the clear.

---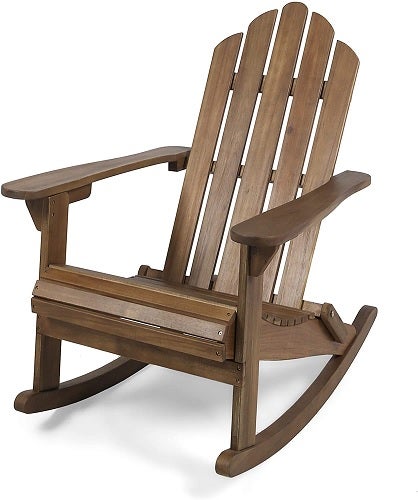 Great Deal Furniture Cara Outdoor Rocking Chair at a Glance
:
---
Materials: Acacia Wood
Weight Capacity: 300 pounds
Colors: Dark Brown
Warranty: N/A
While it wasn't easy to pick, the Great Deal Cara is the most comfortable rocking chair we've seen. They're perfect for chatting with a friend, sharing a conversation with your significant other, and so much more.
This beautiful chair comes in a single color (Natural Stained), though this selection works well with just about any type of design or color scheme you have going on at your home.
The design has a kind of old-world charm to it and looks like it was stained many years ago. Somehow, it still works well to translate its style to the modern world.
Made from the highest-quality acacia wood, it's designed to be strong and hold up well against the elements.
No matter where you live and what your weather conditions are, you can confidently keep the chairs outside during any season.
While it's not as tough as some of the others on our guide, it's still relatively durable in comparison to most.
The slat-backed chairs are not only designed this way in terms of appearance, but also work to offer comfort that won't ever go out of style.
The rocking chairs are great for those who enjoy the soothing rocking motion they offer to wind down the day or just get it started.

---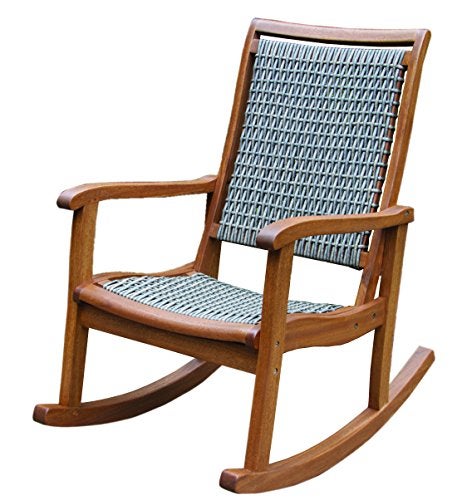 Outdoor Interiors Resin Wicker & Eucalyptus Rocking Chair at a Glance
:
---
Materials: Brazilian Eucalyptus
Weight Capacity: 250 pounds
Colors: 2
Warranty: n/a
Outdoor Interiors is one of the most respected brands as far as outdoor furniture goes, as they perfectly combine affordability with functionality, comfort, and good looks.
You'll find all of that right here with their Resin Wicker and Eucalyptus Rocking Chair.
While it's a bit more expensive than many others we've covered so far, it's more than worth it when you take into consideration the incredible craftsmanship that goes into each chair.
Made from sustainable, plantation-grown Brazilian eucalyptus, it's easily the toughest on the market today.
The beautiful wood is finished off with a stunning brown umber stain that is sure to turn heads.
On top of that, the high-quality HDPE all-weather woven wicker is also very durable and provides a bit of flex to it for added comfort.
Each aspect of the model is made to be fade-resistant and hold up well to harsh and varied weather conditions, so it doesn't matter where you live – you can use it without worry of it breaking down.
The curved seat and backrest only add to the level of comfort without the need for any cushions which could get dirty and lost over time.
With a weight capacity of 250 pounds, it's pretty average in this regard. As the chair comes fully assembled, right when it arrives, you'll be able to set it out and use it!
The rocking motion is sure to give a bit of peace to your life and really allow you to relax.

---
Outdoor Rocking Chair Comparison Table
How to Choose the Best Outdoor Rocking Chair – Buying Guide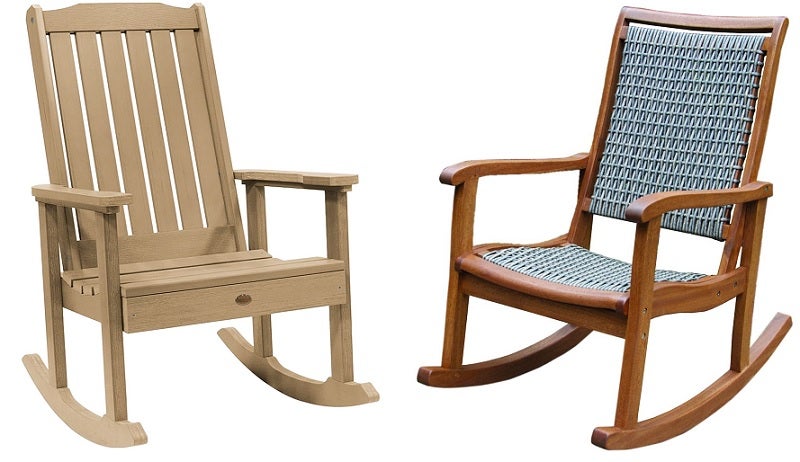 Now that you've had the chance to read all about some good outdoor rocking chairs, do you know which one you'll be sitting in this season?
If you're still undecided, there's no need to worry. We know that it can be difficult to choose just one when there are so many options available.
That's why we've taken it upon ourselves to write up a user-friendly buying guide. This guide will take you through each feature to consider, depending on your style, your lifestyle, comfort level, and more.
By the time you're finished reading, there will be no doubt which is the ideal chair for you!
Size
Before doing anything else, you'll want to consider the size of the chair you need. If you prefer something smaller and more compact, then look for those that aren't so widely spaced out.
If you need or prefer the extra room, then there are many with wider armrests and backs that will accommodate this preference.
However, you should know that generally speaking, rocking chairs are meant to be roomier so you can really relax without feeling squashed.
Also, think about how many chairs you need! Of course, you can always go ahead and purchase multiple chairs, but there are certain packages that already come with a couple and can oftentimes save you money this way.
Weight Limit
While the actual size is important, you need to make sure that it's actually able to support you. It won't matter much if you pick the most durable model out there.
If it doesn't support your weight properly you're not even going to be able to use it comfortably or relax fully.
Not only that but even if you're very close to the weight limit of the chair in question, you could greatly reduce the lifespan of the model which is ultimately going to be a hassle and cost you money to replace it.
The norm here is 250 pounds, though there are a few that have weight limits of less than this and there are some on our guide that even go up to an impressive 500 pounds!
Portability
Not only should you check the weight capacity of the chair you have your eye on, but check the weight of the chair itself!
These vary widely as you can imagine, depending on the construction and the material they're made out of.
As many people like to do, you may want to just leave your chair on your patio or in your garden and never really plan on moving it.
If that's the case, then the weight isn't going to be that big of a factor.
However, if you want to take it indoors once the weather starts getting bad or to pack up and take to a barbecue or sports game, then you'll want to look into it.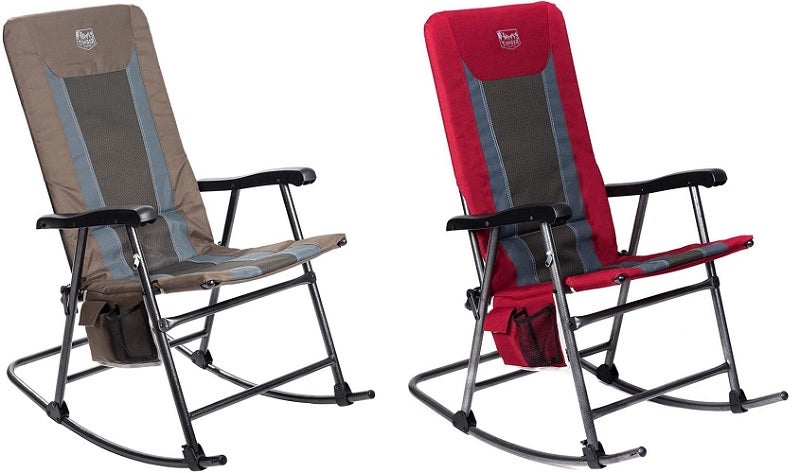 Materials
Obviously, the chair will perform differently depending on the materials they're made out of. is the chair made out of?
Wood, mock woods, and plastics are going to be the most commonly-seen materials used for outdoor rocking chairs.
Wood: Wood is usually the most "high-quality" out of the group due to the fact that it's the most expensive and natural.
However, this is not the most Eco-friendly option and is also not going to last as long as the other materials, even if you use a weather cover.
However, it's very beautiful to look at and very sturdy. If they're finished with a weather-proof coating then they can last even longer but expect to pay a bit more for it.
Mock Woods: These give you the best of both worlds. They're incredibly tough and resistant to harsh weather conditions, even for extended periods of time and no matter where you live.
This means that you can keep them outside all year long and not have to worry about them cracking, peeling, and so on.
Of course, the lifespan will only lengthen if you put them indoors during cold weather.
They're also typically quite affordable while offering the appearance of genuine wood.
Plastics: While plastic generally isn't very Eco friendly either, there are models made entirely of 100% recycled plastics which is quite the opposite.
Not only that, but these are very tough like mock woods and can be left out all year long without worry. These are generally the most affordable option of the bunch but it's not a rule.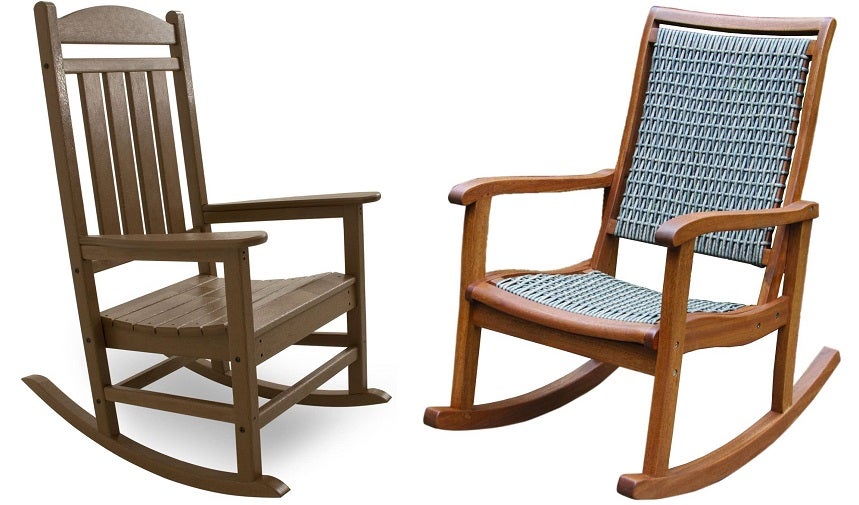 Price
How much are you willing to spend on one of the top outdoor rocking chairs?
It's a good idea to figure out a budget for yourself before you go shopping around, as it can become very easy to accidentally spend more than you'd originally intended on doing.
No matter what your budget is, we are confident there is at least one model on our guide that will fit into it.
However, when you move up in price you'll often get more durable materials which will last longer and could ultimately save you money, paying off in the end.
Warranty
The warranty is also directly related to the price, if you want to think of it like the brand's way of vouching for how long they expect their product to last under normal circumstances.
A warranty can end up saving you money in the long run, giving you a replacement instead of requiring you to purchase another one.
There are some warranties on models on our guide of just 90 days to a year, while others come with a lifetime warranty!
Obviously if you have to pay a bit more for the latter, it's going to save you quite a bit of cash and will probably give you a better user experience as well.
FAQs About Outdoor Rocking Chairs
Q: Can I put a wooden rocking chair outdoors?
A: You can, but you should make sure that they're first designed to be outdoors. These will have weather-proof coatings typically to make sure they hold up against harsh weather.
Q: Are rocking chairs good for your back?
A: They can be if they're made with a curved back and a seat designed ergonomically to suit your body and spine. Rocking back and forth can increase blood flow, however, which is great for the body overall.
Q: How much space does a rocking chair need?
A: This will depend on the size of the chair itself, but it's smart to have a good 5 feet at least of space surrounding you so you don't hit any walls or parts of your home.
Q: Do I need to wash my chair?
A: You should do so regularly, and you can do this by using water and soap to remove any dirt and grime that may have built up over time.
Tips For Choosing Outdoor Rocking Chairs
#1: If your chair has cushions, also wash these regularly.
They can easily accumulate dust and dirt. Not only that, but they can harbor bacteria which isn't just unhealthy but can create unwanted odors and stains.
#2: Make sure it works with your height.
If you're particularly tall or short, make sure to check the dimensions of the seat and the seat back to make sure it will work for you and be comfortable.
#3: If you're planning on having drinks, make sure you have a safe place to put them.
Some of the chairs come with specified drink holders, while others come with included tables to set them down safely.
Summary
Now that we've come to the end of our guide and you've read all about the best porch rocking chairs, have you decided which seat you'll be using this year?
If you haven't made up your mind, there's no need to worry. No matter which one you select, you can rest easy knowing you'll be receiving one of the top models in the world, currently.
However, what is most important is that you select one that suits your needs and preferences just right.
We hope that our guide has helped you do just that. Thanks for tuning in, and we'll see you again soon.
Notice:
OutsidePursuits.com is a participant in the Amazon Services LLC Associates Program, an affiliate advertising program. OutsidePursuits.com earns fees from products sold through qualifying purchases by linking to Amazon.com. Amazon offers a commission on products sold through their affiliate links.