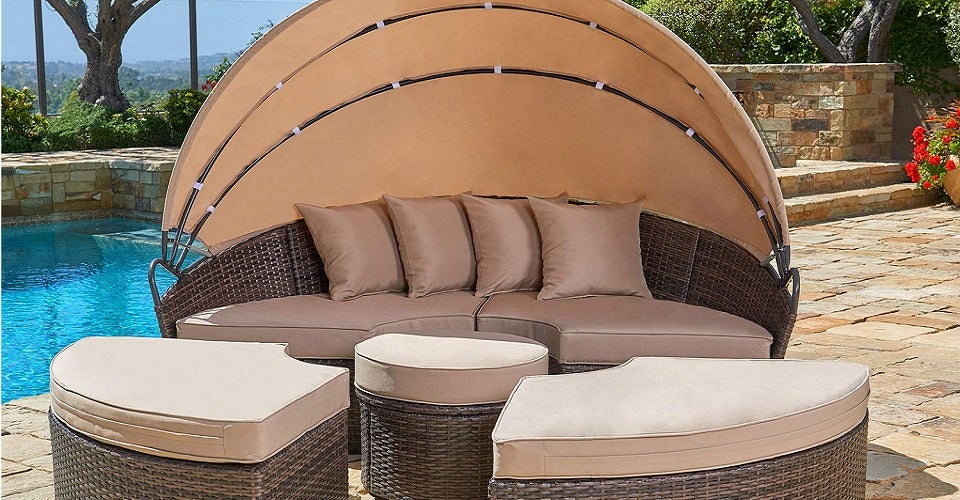 Our Editors independently research, test, and rate what we feel are the best products. We use affiliate links and may receive a small commission on purchases.
When the sun comes out and starts shining, what better than to soak it up relaxing in your backyard? You don't have to be active to enjoy the warm months.
In fact, we have just the solution if you're looking for the ultimate in relaxation and comfort: one of the top outdoor day beds, of course!
We've spent the last few weeks researching the top outdoor daybeds on Amazon so you don't have to. Let's take a look!
Best Outdoor Daybeds
For more of my home & garden recommendations, have a look through these popular Outside Pursuits guide links: Patio Umbrellas, Patio Swings, Hammocks With Stands.

Quick Answer: The 7 Best Rated Outdoor Day Beds For 2021
Our reviews of the top rated outdoor daybeds with our comparison table and buyers guide will help you choose the right one for you.
---
Outdoor Daybed Reviews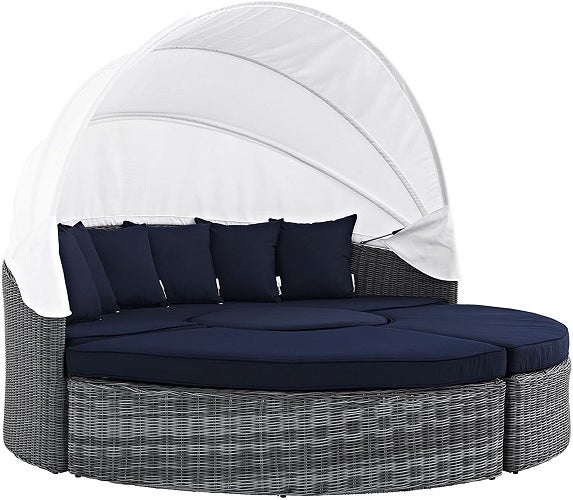 Modway Summon Outdoor Patio Daybed at a Glance
:
---
Size: 91″ x

70

"
Retractable Canopy: Yes
Center Table: Yes
Weight: 126 Pounds
The first of the best outdoor daybeds we have in our guide is the Modway Summon Outdoor Patio Daybed. This setup is perfect for relaxing, having a snack or a drink by the pool, or simply taking in the warm rays of the sun.
Comprised of durable resin wicker, it's made to be all-weather resistant so once you have it placed where you'd like it, you don't have to worry about the elements damaging it.
Not only that, but the super-plush cushions will stay fluffy and thick, time after time. No worrying about them collapsing or becoming flat!
As they're also water-resistant, they're very easy to clean when you're not using them.
Comfort is in high supply here, and aside from the cushions you also get 4 throw pillows. These are soft against the skin and perfect for naps.
However, it's not ideal to fall asleep in the sun so you'll want to take advantage of the included parasols! The fabric is also long-lasting and doesn't tear easily.
These are made of UV-and-fade-resistant polyester made to block out potentially harmful UV rays.
If you have friends or family over, you can break up the sectional into 5 different parts: 4 seats and a center table ideal for securely placing snacks or lunch. What more could you want?

---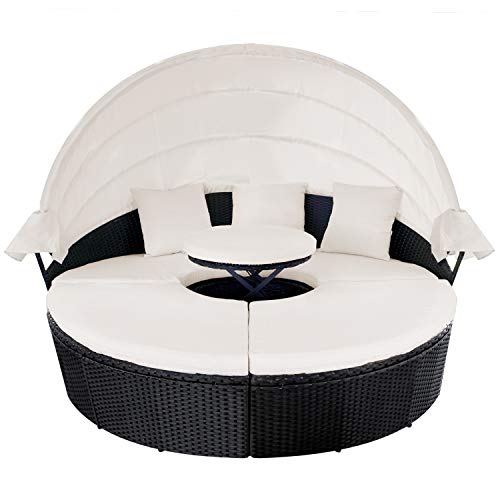 M&W Patio Furniture Round Outdoor Daybed at a Glance
:
---
Size: 72.8″ x 57″
Retractable Canopy: Yes
Center Table: Yes
Weight: 125 Pounds
Next, we have a model relatively similar to the last one we just covered. However, the M&W Patio Furniture Round Outdoor Daybed does have some defining characteristics which set it apart from the rest.
The white cushions with a dark coffee wicker frame looks like it came directly from a Mediterranean island, and you can enjoy it right from the comfort of your home.
The elegant design does much more than just offer looks, though. It comes with everything you need for you to relax or to entertain your guests.
The round daybed is actually comprised of 4 separate seats, with each one able to hold up to 250 pounds.
The steel frame that lies underneath the wicker are made to never rust and hold up to years of consistent use.
The PE rattan all-weather and water-resistant polyester fabric that's used are also made to withstand regular exposure to the elements.
Meanwhile, the center footstool can be used as a little coffee table simply by lifting up the top!
The retractable canopy is also a bright white, coming with a high-quality telescopic pull rod so you don't have to struggle to open or close it.
You can move it at your convenience, as the sun moves during the day. The steel rods are resistant to rust, too, so you'll have it in perfect shape for a long time.

---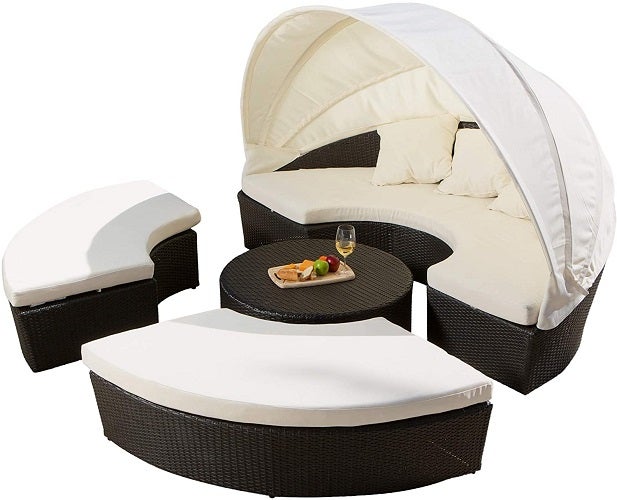 Christopher Knight Home La Mesa Cabana Daybed at a Glance
:
---
Size: 89″ x 45″
Retractable Canopy: Yes
Center Table: Yes
Weight: 116 Pounds
The Christopher Knight Home La Mesa Cabana Daybed is another you can't miss if you want to be comfortable this summer.
Combining visual attractiveness with durability, it's one of the best investments you'll make in outdoor furniture.
If you're looking for a place to hang out with family and friends when the temperatures start rising, this model will make it happen.
The trendy round daybed comes with a beige color for the cushion covers and retractable canopy, perfectly complementing the dark brown wicker.
Underneath is a solid steel frame which can hold a good amount of weight but is still light enough that you can easily move it around as you need to.
As it's relatively compact, it won't take up a ton of room, while still providing seating or a place for you to spread out and relax.
You'll receive 4 fan-shaped lounge chairs and a foot stool as well, which can also be used as a little table if you'd like.
The canopy is easy to retract, so you can use it whenever you'd like without any struggle. As it's water-and-UV-resistant, you don't have to worry about leaving it outside.
Even the wicker is tough enough to withstand extreme cold and heat! The cream sponge cushions make it feel like you're resting on clouds and feel just as soft against the skin.
The cushion covers are easily removable so you can simply zip them off and toss them into the washing machine!

---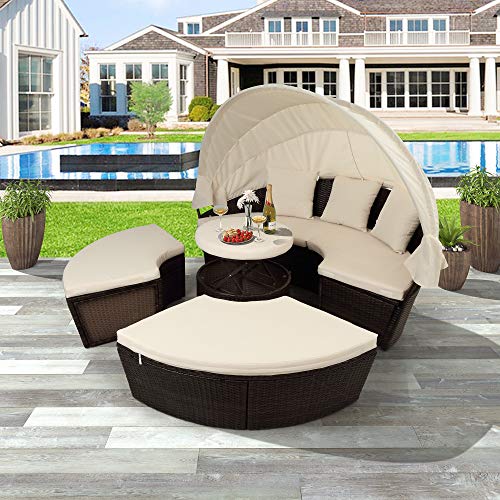 Lucakuins Patio Furniture Outdoor Daybed at a Glance
:
---
Size:

71″ x 71″ x 53″



Retractable Canopy: Yes
Center Table: Yes
Weight: 109 Pounds
Next on our guide, we have an outdoor sofa bed that's has a nice feature on the center table in that it can be adjusted so you can get the perfect height to get a beverage or snack.
The Lucakuins Patio Furniture Outdoor Daybed comes in offwhite, beige and turquoise so you have some options.
However, it has so much more than looks to offer. If you want a model for year-round use, then give it a good look! For an inexpensive daybed it's built to high standards and has a quality "feel" to it compared to some other budget priced models.
Much like the others on our guide so far, it's made of high-quality elastic PE wicker, it's going to hold up well in the cold and heat and won't crack or start to break down.
The canopy retracts so you have the option of full sun or shade and to top it off, it comes with three matching throw pillows.
If you're looking for a model that can easily be converted to a four piece sectional, then we can't recommend this one enough.

---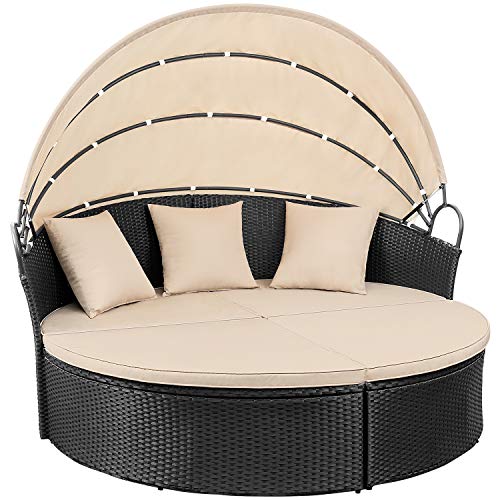 Devoko Patio Furniture Outdoor Round Daybed at a Glance
:
---
Size:

66″ x 49.4″

Retractable Canopy: Yes
Center Table: No
Weight: 99.8 Pounds
If you're on the hunt for one of the best outdoor daybed with a canopy but are on a budget, then you can't go wrong with the Devoko Patio Furniture Outdoor Round Daybed.
This model doesn't have a table included like many of the others, but if you already have a table for outdoor use or just don't need one, then you'll enjoy this design. Let's take a look!
The bed only comes in one color, which is beige. However, it looks nice and beachy, instantly putting you in the mood to soak up some rays and start relaxing the way you deserve!
Made of a lightweight rattan material, the frame is super light and easy to move around – perfect if you plan on relocating it quite a bit.
The circular design is comprised of 4 different fan chairs, perfect for entertaining guests or lying down on your own.
On each chair or bench, you'll find waterproof seat cushions, which are all soft, smooth, and well-cushioned.
We also enjoyed how they weren't too soft, offering a nice amount of support crucial for long sits or sleeps.
As with the others, every aspect of this best patio daybed is weather-resistant so you can keep it outdoors throughout every season!
However, if you do need to wash the seat cushions, the covers are quick and easy to remove.

---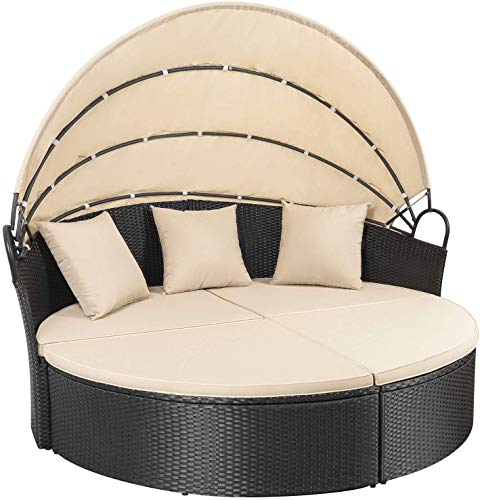 Homall Patio Furniture Outdoor Daybed at a Glance
:
---
Size:

66″× 66″× 63″

Retractable Canopy: Yes
Center Table: No
Weight: 102 Pounds
We couldn't write up a guide about the best outdoor daybeds without covering the Homall Patio Furniture Outdoor Daybed with Sectional Seating!
The design is straightforward and doesn't include a table like some of the others but is nice if you're looking to save some cash.
Not to mention the beige-and-brown design looks classy and natural anywhere you place it. The round bed-seat design is perfect for your rest and relaxation, just as much as entertainment.
The modern model is compact, and just as appropriate for the patio as on a balcony! Comprised of 4 different seats, it's perfect outdoor seating instead of purchasing separate seats.
Who doesn't want to have another bed available to them outdoors any time they want? While it is relatively inexpensive, it's actually one of the most comfortable we've had the opportunity to use.
The thick sponge cushions are the perfect balance between soft and supportive, so you don't feel like you're sinking straight to the rattan.
If it's too sunny, simply use the sturdy telescopic pull rod to pull it over you and protect you from the UV rays!
Not to mention, you can leave it out throughout the entire year, as every part of the design is made to be all-weather and very resistant to the elements.

---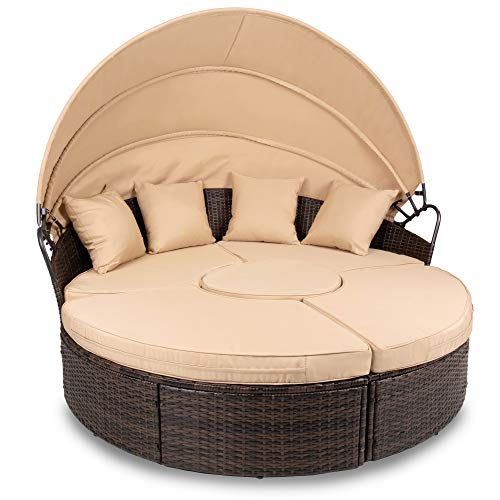 Best Choice Products Outdoor Patio Wicker Daybed at a Glance
:
---
Size:

66″ x 56″

Retractable Canopy: Yes
Center Table: Yes
Weight: 94 Pounds
Combining sheer comfort and durability, the Oakmont Outdoor Wicker Daybed with Canopy is one that really stands out.
This outdoor canopy bed is also quite the budget-friendly option, despite being so fully featured. If you want the best bang for your buck, then this one is an excellent option.
If you have a big family or enjoy entertaining, then you'll be able to take advantage of this spacious 4-person design which is a blast for having at grills, pool parties, and just for when you want to lounge around and take a serene nap.
Assembly and disassembly are nice and easy, with 6 included clips to let you adjust them as you'd like.
When you put them back together, they'll be tight and secure, with a large cover which protects the entire setup from the elements when you're not using it.
The elegant, handwoven wicker frame is definitely a head-turner, featuring a neutral color to offer a kind of natural, "homey" feel that no one will be able to resist!
Soft cushions and an additional 4 throw pillows will let you and your guests/family live in the lap of luxury all while enjoying the fresh air.

---
Outdoor Daybed Comparison Table
How to Choose the Best Outdoor Day Bed – Buying Guide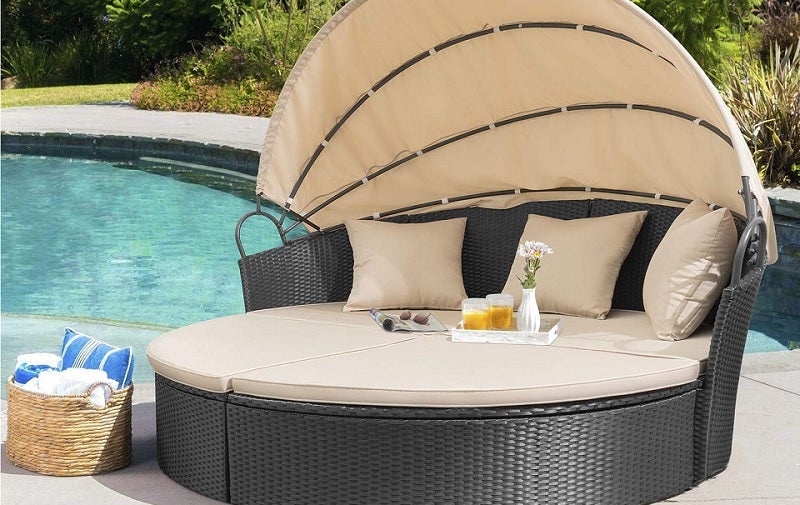 Now that you've read our in-depth reviews about each of the top outdoor day beds, have you decided on the model you want?
We understand that it can be difficult to choose just one, as there are so many excellent selections!
That's why we've decided to take it upon ourselves to write up the following user-friendly buying guide, to ensure you're successful in choosing the model ideal for you and your lifestyle.
Size/Type
First, it's important to consider the size or the type of day bed you want. How many people will be using it? If it's just going to be you then it'll be relatively easy to figure this out.
If you'll be using it with just one other person, then we'd recommend going for the 2-part beds which are comprised of a bench and an ottoman.
If you'll be using it for more people than this, then go for the 4-seater like most products on our guide are.
Durability
When it comes to outdoor furniture, durability is obviously a prime factor in how well it will perform and for how long it will last you.
First, take a look at the frame. We highly recommend choosing a model that has a steel frame.
Steel is incredibly tough and will be able to resist rust, which is one of the main reasons patio furniture often starts to disintigrate.
Also take a look at the fabric being used. Polyester is the most common fabric here, due to it being resistant against the elements while staying relatively hard to tear.
Many are treated with a kind of spray that further keeps UV rays and moisture from penetrating and fading the material.
This will keep it looking brand-new even after regular use, while also protecting those under the canopy from rain and the sun's rays.
Weight
Not only should you consider the weight of the daybed itself, but how much weight it can hold.
Many on our guide have a weight capacity (per bench/seat) of 240-260 pounds, which is quite substantial, all things considered.
The weight of the daybed is important for two reasons: one, that it's not so light it can fly off if you live in an area susceptible to storms, and two, that you can easily move it around depending on the guests and the situation at hand.
Canopy
So, we already spoke about how the canopy should be weather-resistant and help keep out UV rays. Not only that, but you want it to be easy to pull out and push back in.
Most high-quality outdoor daybeds will come with a kind of telescoping pole to facilitate this, so you can move it at a moment's notice.
As the sun is constantly moving throughout the day, you'll definitely need this.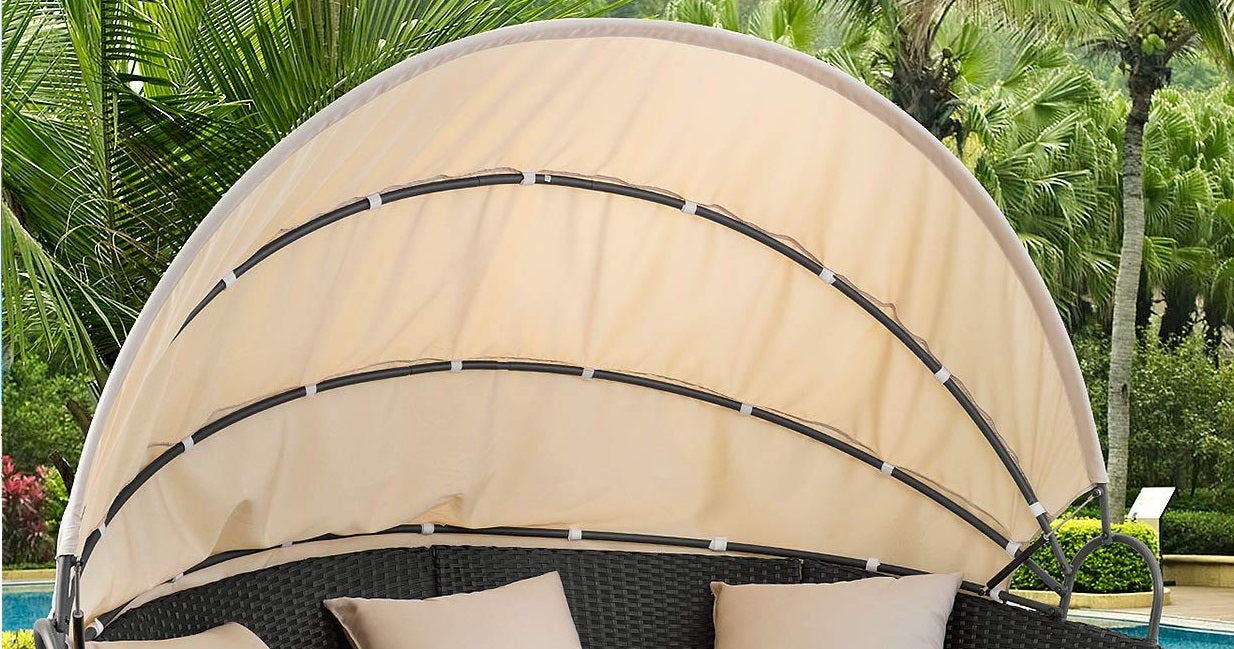 Cushions
The cushions are going to have the largest influence here on how comfortable your new daybed is.
As the frame is quite hard and not very comfy, you'll be really relying on the cushions to make or break your experience!
Cushions are a kind of personal preference in regard to how soft they are, though we do recommend opting for some that are soft enough to ease your stress.
In addition we recommend cushions that are still supportive enough that you aren't sinking down to the frame below.
The cushion covers should feel soft to the touch, look beautiful, and be easy to remove and clean. Look for those with zippers, as they take just a few seconds to take off and put back on.
Center Table
As you probably already noticed, some of the aforementioned models contain tables while others do not. So, it's a wise idea to consider what you're going to use your outdoor daybed for.
If it'll just be you, perhaps you won't need a table. Maybe you already have one, or maybe you're okay with setting your beverage on the ground next to you.
However, if you're entertaining, then it's a good idea to take advantage of a built-in table.
These vary in stability, as some also have a cushion on the top, while others are larger and more sturdy, allowing you to keep wine glasses and coffee mugs on them without worry.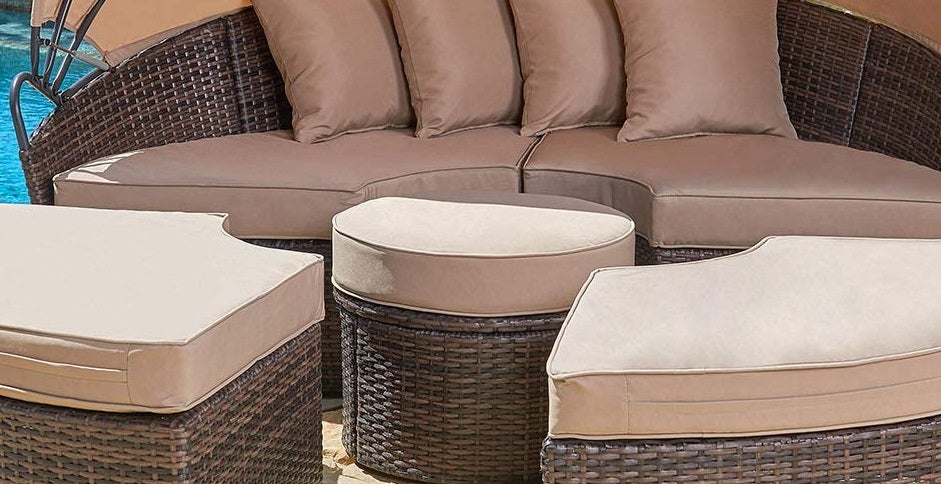 Price
How much are you willing to pay for a good quality outdoor bed? It's a good idea to figure this number out before you start shopping around.
Once you get started, it can be difficult to stop, which can end up in you spending more than you'd originally wanted.
We want you to be completely happy with your purchase. When you go up in price, you typically get longer warranties and more durability, which honestly ends up paying for itself in the long run.
Not only that, but you may get softer fabric, more seats/benches included or a table as well.
FAQs About Outdoor Patio Daybeds
Q: Can I use my daybed year-round?
A: You absolutely can! Even if you live in an area that experiences intense seasons/weather conditions, you can feel safe knowing this daybed set is ready for anything.
Each component of outdoor daybeds that are worth purchasing are going to be made to hold up to extreme cold, heat, moisture, wind, and more.
Q: How many people can my daybed fit?
A: This will depend on the model type and the weight capacity.
However, most come with 4 separate seats, with each capable of holding up to an approximately 250-pound weight capacity.
Q: Will the canopy and cushion covers fade after time?
A: While it's hard to make a blanket statement about this, most of them will not fade much, if at all.
This is because the fabric chosen is resistant to harmful UV-rays and is made to look as good as the day it landed on your doorstep.
Tips For Choosing Outdoor Daybeds
#1: It's better to purchase for too many people than too little.
Let's be honest: people are always adding to their families, whether it's immediate or extended.
If you have family that visits at all, then you may want to consider that the next time they come over, they'll have another addition in tow.
Moreover, cookouts and pool parties always seem to attract more guests than originally planned, so it's a smart idea to have an outdoor daybed set that can accommodate these situations at a moment's notice.
#2: Make sure you're not actually falling asleep under the harmful UV rays.
Outdoor daybeds come with canopies because it's simply not safe to be sleeping under the sun without any kind of protection.
Of course, they're also retractable so you don't always have to lay in the shade, but it's important to have the option to protect yourself if need be.
#3: Choose a model with additional throw pillows.
They may not seem like much in theory, but once you receive a few extra throw pillows, you're going to experience the great difference in luxury and comfort.
How We Researched
To come up with the top outdoor daybeds, we researched a variety of sources for reviews such as Home Depot, Lowes, Target and Wayfair along with our own personal experience.
We also consulted online magazines for product research and reviews to get as much unbiased information as we could. To help weed out fake reviews we used Fakespot.com to make sure we only looked at genuine reviews.
With so much quality gear available, we had to narrow it down based on what we felt were the best options were for the price. The staff authors have a wide and varied background in yard design and home repairs.
The authors have decades of experience and are eager to share their knowledge with readers.
To help narrow down the selection we used personal experiences along with recommendations from landscapers, bloggers and contractors.
After extensive research, we came up with our list to help you choose the right one for you.
Sources
Notice:
OutsidePursuits.com is a participant in the Amazon Services LLC Associates Program, an affiliate advertising program. OutsidePursuits.com earns fees from products sold through qualifying purchases by linking to Amazon.com. Amazon offers a commission on products sold through their affiliate links.