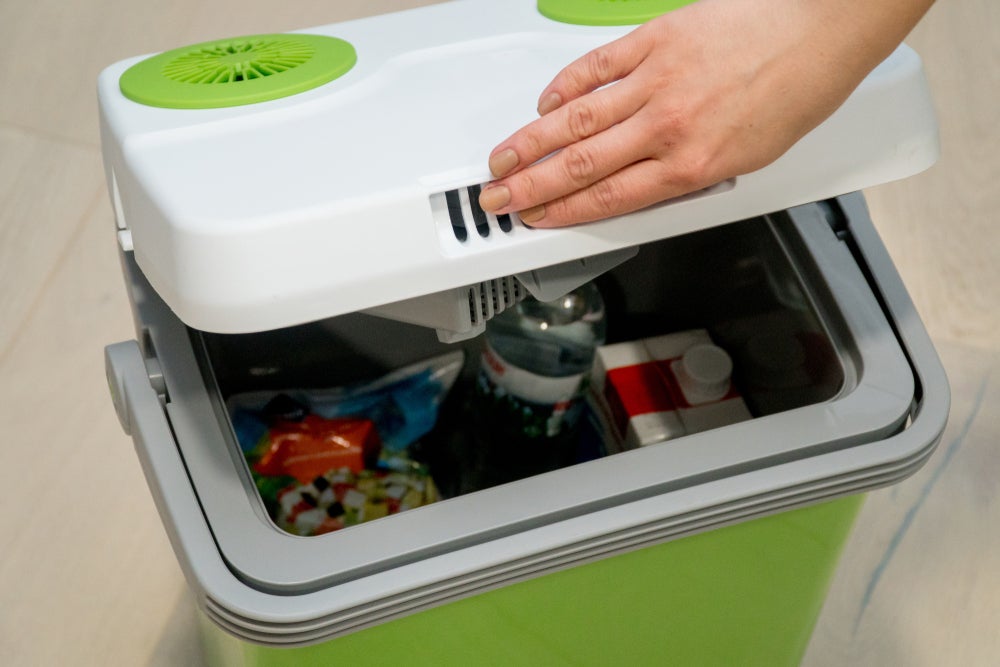 Our Editors independently research, test, and rate what we feel are the best products. We use affiliate links and may receive a small commission on purchases.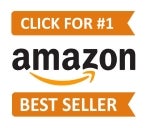 In this article we review and compare the top-rated best 12 volt coolers and camping fridges. You'll find product reviews for each camping fridge or 12V cooler along with analysis of their features and benefits.
After reading the reviews, be sure to see the buyers guide section, How To Choose The Best 12 Volt Cooler or Camping Fridge.
Best 12 Volt Coolers & Camping Fridges
| | Euhomy 12 Volt Refrigerator (various sizes) | Engel 12V Fridge/Freezer | Costway 12 Volt Fridge/Freezer |
| --- | --- | --- | --- |
| | | | |
| | | | |
| Capacities | Multiple size capacities available from 35, 45 and 55 liters | 84 Quart capacity | 54 Quart capacity |
| Freeze | Can freeze to -4 and 68 degrees Fahrenheit | Can freeze from below 0 to 45 degrees Fahrenheit | Fast Cooling setting for 30-minute chilling from 90 to 32 degrees Fahrenheit |
| Special Features | Connect with WiFi to monitor temperature via cellphone application | Draws ~0.7 amp @ 110VAC or ~3.6 amp @ 12VDC | Digital LCD Temperature Display |
| Customer Ratings | 4.7 / 5.0 Stars | 4.4 / 5.0 Stars | 4.5 / 5.0 Stars |
| | | | |
---
Quick Answer: Top-Rated 12 Volt Coolers and Camping Fridges
---
12 Volt Coolers and Camping Fridges Reviews
At A Glance
:
---
Multiple size capacities available from 35 to 55 liters
Can freeze to -4 and 68 degrees Fahrenheit
UL energy-saving certification
Running sound is 40 decibels
Connect with WiFi to monitor temperature via cellphone application
LED inner light
The Euhomy 12 Volt Refrigerator is capable of keeping your produce and food refrigerated for years to come.
Its heavy-duty steel makeup and reinforced corners ensures optimal protection of your heaviest of groceries and takes little damage.
Operating on 120/240 VAC or 12/24 Volt DC, you can use this seamlessly in both your home and vehicle. Wherever your trip takes you, Dometic has your food storage and refrigeration covered.
The overall construction quality makes the Euhomy an excellent choice for a 12 volt refrigerator for trucks, boat owners, or for a family camping trip.
Best for low impact and leave no trace ideology, the Euhomy 12 Volt Refrigerator is quiet (40 decibels)when it runs and extremely efficient in its use. Additionally, there is an internal LED light.
This cooler is perfect to use with a solar panel set-up and operates with three-stage battery protection to certify you will always have your fridge at the temperature you set it to.
The built-in digital temperature display shows the exact temperature that your car fridge freezer is set to so you're always aware of how your food is keeping.
Additionally, your Euhomy 12 Volt Refrigeratorr has WiFi capabilities and can tell you information about how its running on a downloadable cellphone application.
This high-tech iceless cooler will ensure you never need to worry about filling up your cooler with ice again!

---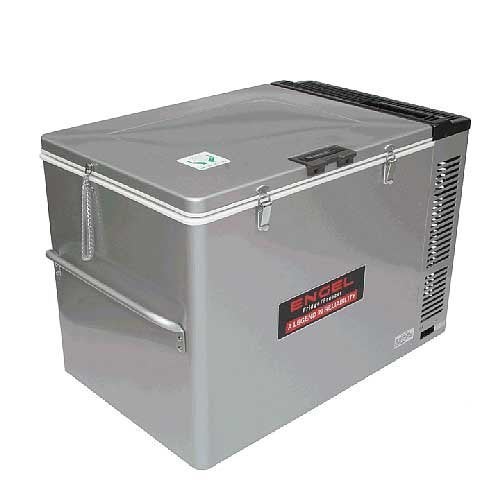 At A Glance
:
---
84 Quart Capacity
31.1 x 19.3 x 21.7 in, 100 lbs
Can freeze from below 0 to 45 degrees Fahrenheit
Draws ~0.7 amp @ 110VAC or ~3.6 amp @ 12VDC
AC and DC adapter with priority focused on AC
Engel's AC/DC Portable Dual Voltage Fridge/Freezer is perfect for those who travel frequently and would like to keep their food refrigerated on the go.
Made of heavy steel and durable plastic to protect your food from the inside and out, you'll never have to fear your groceries going bad on the road.
Just plug in the 12 volt cord into an outlet and twist the temperature knob to set the temperature. With a wide top that opens laterally, the Engel car fridge's wide 84-quart compartment can store up to 90 cans easily.
This Engel fridge freezer also comes with a removable wire basket to separate your internal fridge into two separate compartments.
And you'll never have to hear any noise coming from your new portable Engel refrigerator.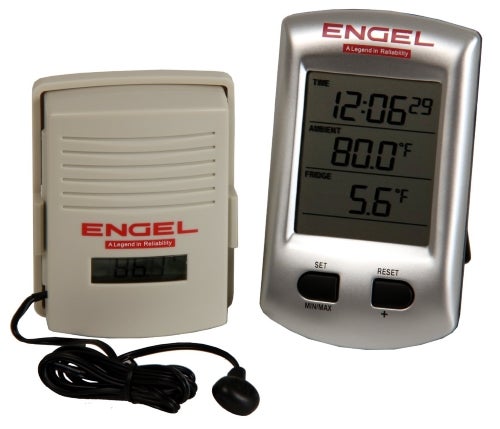 With between .7 and 3.6 amps per hour of power consumption, this energy efficient cooler is great if you want to use little energy to cool your food.
The Engel AC/DC Dual Voltage Fridge/Freezer is a great option for large capacity, boats and RVs who are looking for an effective way to keep their produce cold reliably.

---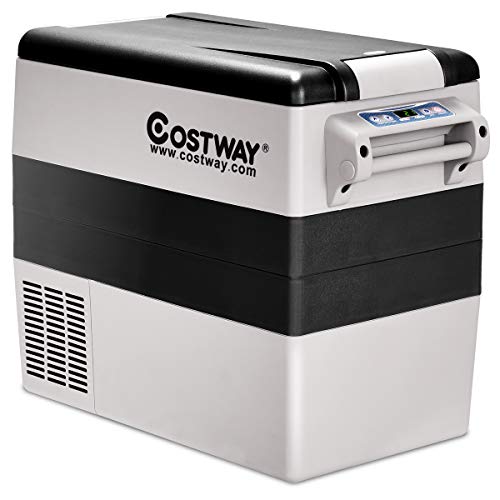 At A Glance
:
---
54 Quart Capacity
27 x 13.5 x 21 inches, 36 lbs
Fast Cooling setting for 30-minute chilling from 90 to 32 degrees Fahrenheit
Three levels of battery use to save your vehicle's battery power
Digital LCD Temperature Display
The Costway 12 Volt/120 VAC Compact Portable Refrigerator/Freezer is a powerful tool to both bring on the road and keep in your home.
This cooler can refrigerate from between -4 to 50 degrees Fahrenheit. With a 54-quart capacity, plenty of your food can fit into this cooler.
Its fast cooling setting can cool the chamber from 90 to 32 degrees Fahrenheit in 30 minutes of pressing the setting.
This way, you never have to fear about your refrigerator being too warm and spoiling your food. Check the temperature rating on the LCD temperature display to watch this amazing cooling power.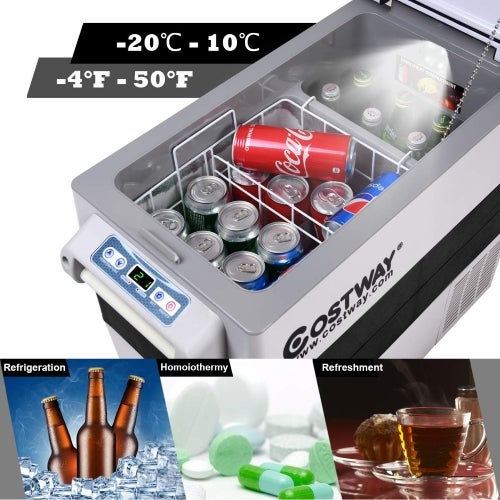 Best for small cars with small batteries, this Costway  folt/120 VAC Portable Refrigerator has an internal battery with three power settings.
Change the high, medium, and low settings to protect your vehicle's battery and prevent it from dying on the road. Nobody likes having to jump-start on the go!
This is easily one of the best portable coolers on the market. Costway's 12 Volt/120 VAC Compact Portable Refrigerator/Freezer made of durable ABS polymer is eco-friendly and best for those who camp and travel in smaller vehicles.

---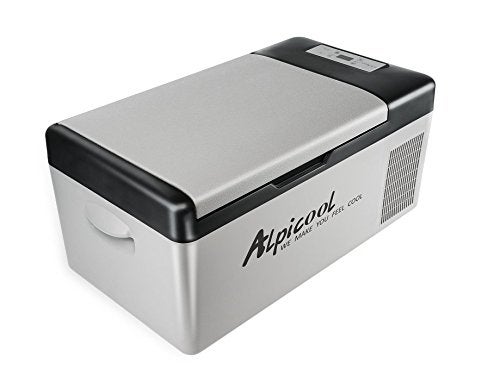 At A Glance
:
---
Capacity between 15 and 50 Quarts depending on model
Made of Durable Plastics
Foam insulation
Can freeze down to -4 degrees Fahrenheit
Three stage battery
If you're the type of person to traverse through rough or bumpy terrain, the Alpicool Portable AC/DC Mini Refrigerator/Freezer is perfect for your travel vehicle.
Fitted with a standard 12 volt plug, this plug in cooler is rugged and is unlikely to break with its few moving parts and foam insulation.
If you are a fan of steep drives but are nervous about the effect it will have on your groceries, have no fear with the Alpicool Mini Car Refrigerator.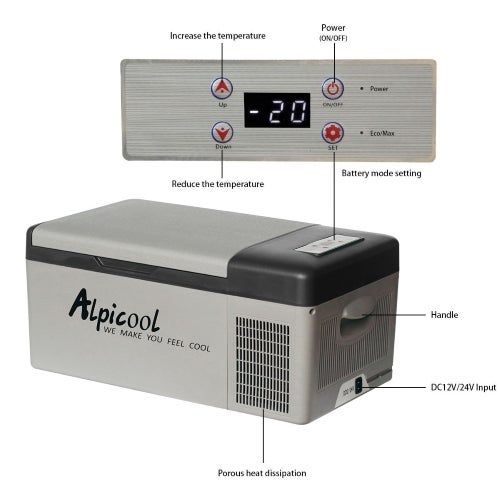 It is rated to withstand 45-degree angles and higher due to its low level of moving parts and outstanding freezing capabilities.
No matter what you put in the Alpicool Portable AC/DC Mini Refrigerator/Freezer, you can ensure your produce will stay in top shape on every adventure you choose to take.

---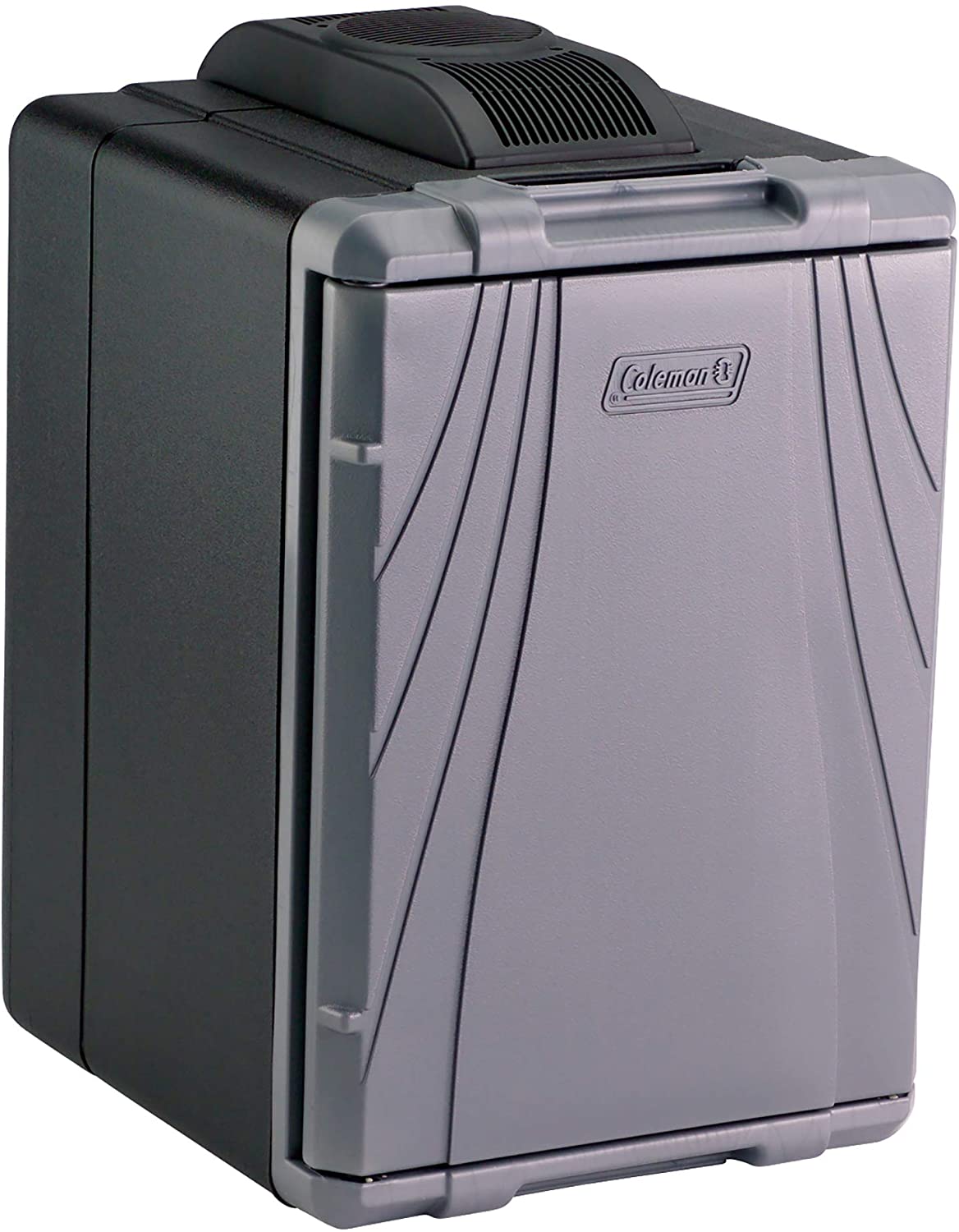 At A Glance
:
---
Unique build capable of two different orientations
40 Quart Capacity
24 x 17.25 x 16 inches, 1 kg
Operates with a convection cooling fan
Temperature can reach 40 degrees below surrounding air temperature
The Coleman PowerChill Hot/Cold Thermoelectric Cooler is one of the most unique travel coolers you'll find on the market. It can easily be identified through its ability to be positioned in two different orientations.
In one stance, it can be placed upright and functionally open just as a normal refrigerator would.
This makes for a great, compact mini fridge. The second orientation is on its back, being able to open from the top and reach in.
A stance like this is great for vehicles and travelers who want to keep their produce fresh and cold. This dual orientation is all due to the cooling technology found in this fridge.
Equipped with a convection cooling fan, this Fridge / Ice Chest Combo is different from other similar coolers on the market.
Other coolers use compressors to cool the air, while this one just uses a convection fan. Because of this, your internal temperature is solely based on the external temperature.
The fan allows the internal compartment to reach forty degrees below or above the outside air temperature. Because of this, it may not be ideal for those in warmer climates.
Something else to keep in mind is how the temperature cannot be properly regulated when disconnected from a power source.
This is because the convection cooling fan must be running to keep the internal temperature equalized. Once it is off, the temperature begins to drop, compared to a compressed compartment that holds the cold air in.
The Coleman PowerChill thermoelectric cooler is a unique and well thought out idea ideal for those who go on day trips or would like a multipurpose cooler and won't need to consistently run their power source.

---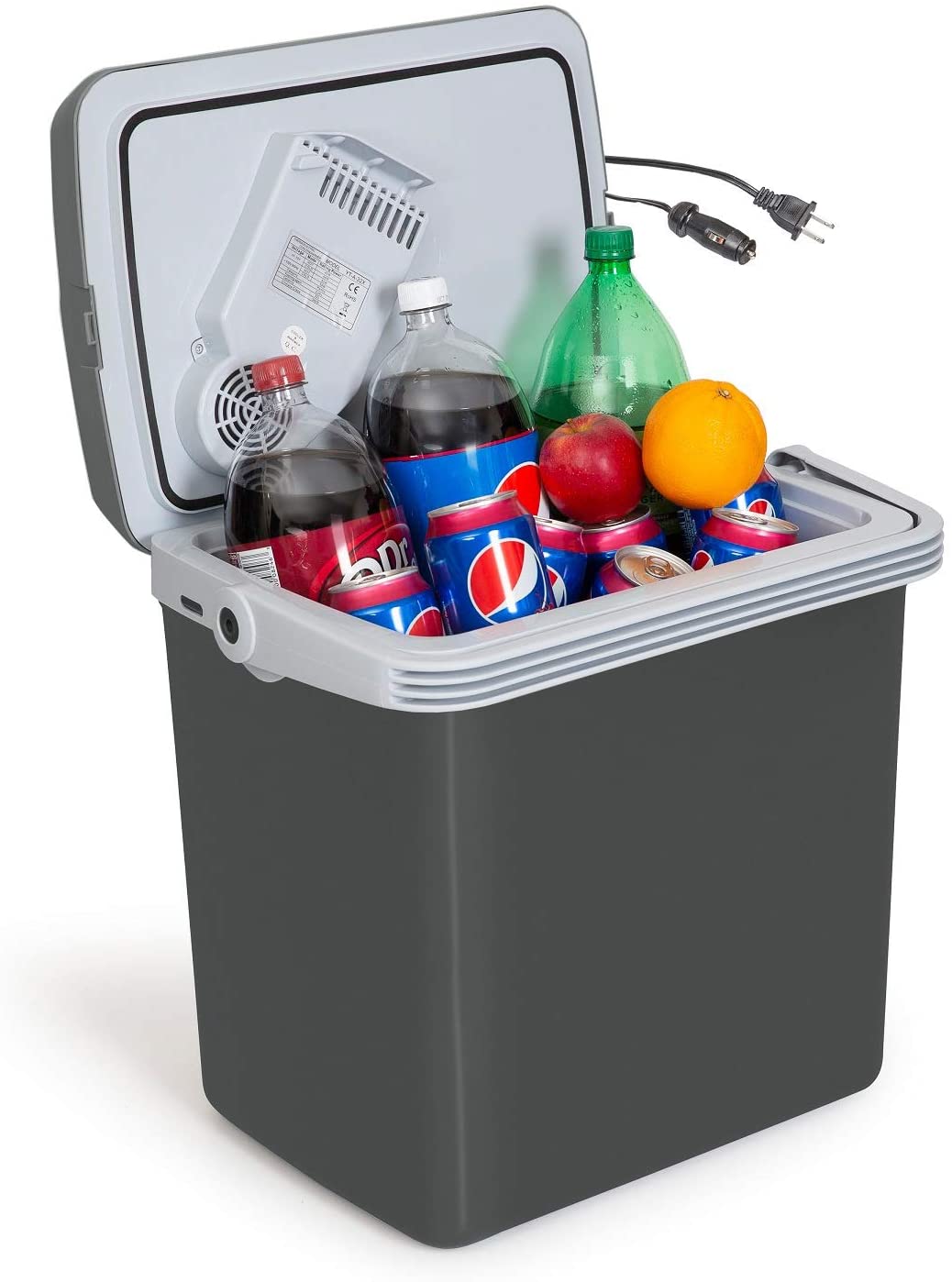 At A Glance
:
---
34 Quart Chamber
7 x 11 x 17.5 inches,
Keep temperatures at 40 to 130 degrees
Equipped with convection cooling fan
Doubles as a food warmer
The 
K-Box Electric Cooler and Warmer 
is a great travel cooler best for keeping drinks and foods chilled. If you're planning a day trip, tailgate, or picnic, bring your food along with you and save money by using your own food.
Its lightweight plastic build is compact and comes with an ergonomic handle that locks the lid to prevent air from escaping. It does not however have wheels. This is something to keep in mind if you don't want to lug around a full cooler.
These fans produce minimal noise, and inside you'll find a removable divider that helps keep your food organized for quick and easy access.
This cooler only reaches 40 degrees. This, therefore, is not the best option for you if you're looking to freeze anything or keep anything in a lower temperature setting.
This cooler features a 12V DC car adapter cable that's hidden away in the lid. The K-Box Electric Cooler also has a built-in AC adapter, so you can effortlessly use this cooler indoors and out.
This is not ideal if you have to stay somewhere overnight as it being plugged in can drain your car battery.
The most unique aspect of the K-Box 12V / AC Plug-In Electric Cooler is how it can keep foods warm as well. There is a "hot" setting that you can switch to bring your cooler up to a temperature of 130 degrees Fahrenheit.
This can keep your winter foods, such as soups and drinks, warm and toasty while on the road.
The K-Box Electric Cooler is great for adaptability and easy transportation, yet it has some downfalls and is not perfect for everybody due to the lack of wheels.

---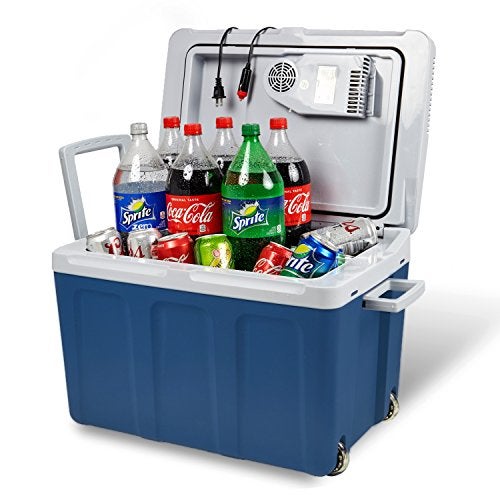 At A Glance
:
---
12 volt and standard wall outlet cords available
48 Quart cooler capacity
1 x 23.2 x 17.7 inches, 19.05 lbs
Uses convection fans to operate
Keep at temperatures higher than 40 degrees and lower than 130 degrees
The Knox Electric Cooler and Warmer for Car is great for small day trips to the beach and even longer road trips. Your food will stay chilled for as long as your cooler is plugged into a power source.
Featuring a dual functional handle which allows easy wheeling or carrying of your Knox cooler, you'll avoid transportation difficulties or muscle strain associated with heavy lifting.
Like all other convection fan coolers, the temperature inside the cooling chamber is reliant on the external temperature around it.
This works until the internal temperature reaches 40 degrees Fahrenheit, and then it maintains this until the device is unplugged.
This means that when unplugged, the cooler cannot keep things cool. If you plan to have an overnight trip, this is not the best electric cooler for your needs, as it needs to be constantly plugged in.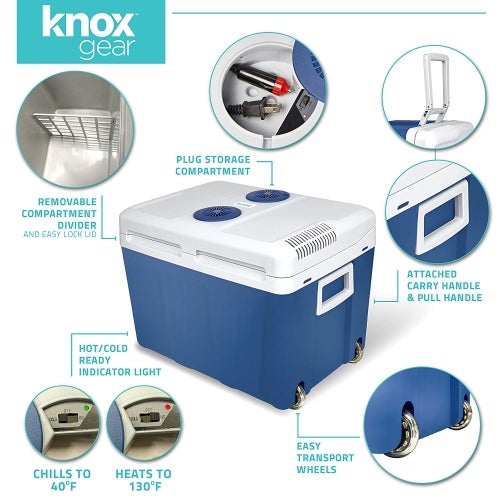 Additionally, if you need anything frozen, the internal chamber's temperature does not reach low enough to hold foods to this standard.
Great for the cold weather, the Knox Electric Cooler and Warmer for Car is great for taking winter trips! You can easily switch to the warming setting by flipping a switch on the top of the cooler itself.
Now, you have the ability for the internal chamber to reach up to 130 degrees Fahrenheit and keep sandwiches, soups, or drinks as warm as can be. No more worrying about drinking cold coffee!
The Knox Electric Cooler and Warmer for Car with Wheels is the ideal small car fridge for day trips where you don't need to rely on constant cooling or heating abilities.

---
12 Volt Coolers & Camping Fridges – Comparison Table
---
How to Choose the Best 12 Volt Cooler or Camping Fridge
If you are a frequent camper, traveler, or road tripper, you've probably come across the need for a food cooler or thought about purchasing a portable refrigerator.
With the desire to eat fresh food on the road, these are luxuries everyone should have.
Coolers and camping fridges are the most convenient ways to travel or camp with fresh food. 12 volt coolers are portable refrigerators that are equipped with an air compressor to control the temperature of the air inside it.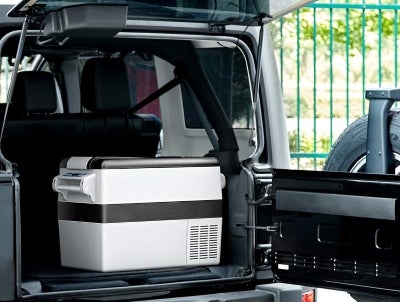 This is the most effective way to travel with a refrigerator just like the one inside your house. This guide compiles a list of the best car refrigerators available, and highlights the key factors you should consider when looking to purchase a plug-in cooler for cars.
If you love camping or being outside, or just need to go on an adventure, these best 12v fridges will give you the comfort of storing food just like in your own home.
These are the best brands in the industry for performance, quality, affordability and user ratings.
There is a lot of information you should be aware of when purchasing a 12V freezer and camping fridge. Many different models exist with various features, and some may be necessary for you while others can seem extensive.
To help you make an informed and educated decision about the best one to choose, we have compiled a list of key features and things to look out for when purchasing a camping cooler.
Read through this guide to identify how to pick the best 12 volt cooler for you.
Compressed or Convection?
There are two different distinguishable kinds of 12 volt coolers on the market. One is the air compressed chamber, and the other relies on convection fans.
Depending on your needs, consider them for their uses highlighted below.
Compressed
Air compressed chambers are best for extensive or long trips. The technology within the cooler brings your chamber up to the temperature you set it to lower to, and once it is at this temperature, you can unplug the cooler and it will maintain its chilling abilities.
This saves power and makes living off the grid simple. Additionally, these work very well with solar panels for increased environmental friendliness.
A second reason you'd consider purchasing a compressed cooler is if you have items you need to stay at low temperatures.
Most air compressed refrigerators are able to stay at temperatures at or below 0 degrees Fahrenheit. This makes freezing and storing food a simple task.
Compressed coolers are best for those looking to go on long trips, such as van or trailer road trips. This way, you'll be able to store food for long amounts of time without fear of using all the battery life in your vehicle.
This will also lower the price you pay for eating out, as you can store frozen foods for a long period of time. These are the best car fridges for long term use.
Convection
Convection coolers run by a single or series of fans cooling the chamber by pulling and chilling the ambient air into it. These run by consistently being plugged in to a 12 volt or wall outlet, therefore are better for shorter trips.
If you keep a cooler plugged into your powered off car overnight, it will drain your battery, so stick to shorter day trips with these coolers.
An additional reason a convection cooler may be best for you is if you don't need freezing temperatures.
Since fans use ambient air, they can only cool up to around 30 to 40 degrees lower than the current air temperature until the chamber reaches about 30 degrees Fahrenheit.
If you need frozen food, this is not the best choice for you. For day trips, though, these are perfect as they can keep drinks and other cool things chilled.
A unique feature that convection coolers often have is the ability to warm things as well. This, often done by flipping a switch, can make winter trips more comfortable.
Store soups, coffees, or other cooked foods warm for the coldest days. Many convection coolers can reach upwards of 120 degrees Fahrenheit.
Convection coolers are best for small, temporary excursions in cooler climates. Remember to keep in mind how these must be plugged in to a power source in order to work properly, as when they are unplugged, they cannot maintain the internal temperature set.
Orientation
If you're looking for a multipurpose refrigerator and travel cooler, you should consider the way in which your camping cooler sits.
Many have a single orientation which open from the side, but others can be dual oriented to open as a normal refrigerator does from the front. This is perfect for those looking to transfer these into a dorm room or home office space.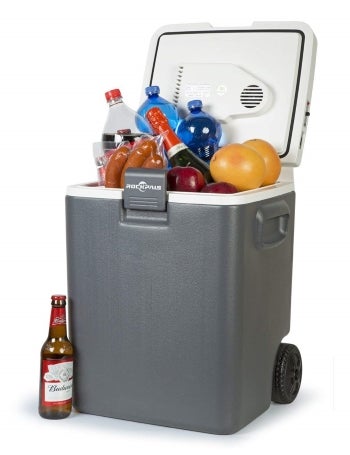 Extra Features
Both convection and compression coolers have additional features that you may or may not benefit from.
Examples of these include LCD screens to display current temperatures of your device, WiFi compatibility, and added trays and compartment separators.
Be sure to identify any extra features you may enjoy and differentiate them from ones that may seem like overkill.
FAQs – Frequently Asked Questions About 12 Volt Coolers
Question: Can air compressed coolers remain functional even when unplugged from a power source?
Answer: Yes, absolutely. It is safe for you to unplug your 12 volt cooler from a power source once it reaches the temperature you set it to. Because of the technology inside the compressed compartment, temperature will remain at or very close to the temperature you set it to even though it does not have a constant energy source.
Question: Can you use a camping cooler or fridge inside your house?
Answer: Most camping refrigerators come with two sets of cords – one for a 12 volt car port, and one for a standard wall outlet. Because of this, you can absolutely use a camping fridge inside your residence.
Conclusion
12 volt camping fridges and coolers are often necessary for those in need of food while on the road, or for people who just want properly temperate food while on the road. There are various factors you should consider while trying to purchase the best camping fridge for you.
Hopefully while reading through this guide you've been able to identify the exact criteria you want to purchase the best car cooler and camping fridge for you!
---
Thanks for reading The 7 Best 12 Volt Coolers and Camping Fridges. We hope this article has helped you to discover the best battery-powered cooler or car fridge freezer that meets your needs and preferences.
And if you're shopping for other gear take a look at these related review articles from Outside Pursuits:
SPORTS & HOBBIES  ELECTRIC SCOOTERS | AGGRESSIVE INLINE SKATES | INLINE SPEED SKATES | OUTDOOR BASKETBALLS | OUTDOOR BASKETBALL SHOES | BASKETBALL HOOPS | WATERSPORTS SHOES | PICKLEBALL PADDLES | GOPRO ALTERNATIVES | DRONES FOR GOPRO | INDOOR SOCCER SHOES | COOLER ICE PACKS | 12 VOLT COOLERS | CAMPING AIR MATTRESSES | WATERPROOF BACKPACKS | WATERPROOF BOOTS
How We Researched
To come up with the top 12 volt camping fridges and coolers, we researched a variety of sources for reviews such as Target, Dicks Sporting Goods and Best Buy along with our own personal experience.
We also consulted online magazines for product research and reviews to get as much unbiased information as we could. To help weed out fake reviews we used Fakespot.com to make sure we only looked at genuine reviews.
With so much quality gear available, we had to narrow it down based on what we felt were the best options for the price. The staff authors, have extensive experience with a variety of outdoor sports like paintball, roller skating, baseball and golf.
To help narrow down the selection they used their personal experience along with recommendations from instructors and retailers.
After extensive research, we came up with our list to help you choose the right one for you.
Sources
Photo credit: voffka23/Shutterstock
Notice:
OutsidePursuits.com is a participant in the Amazon Services LLC Associates Program, an affiliate advertising program. OutsidePursuits.com earns fees from products sold through qualifying purchases by linking to Amazon.com. Amazon offers a commission on products sold through their affiliate links.