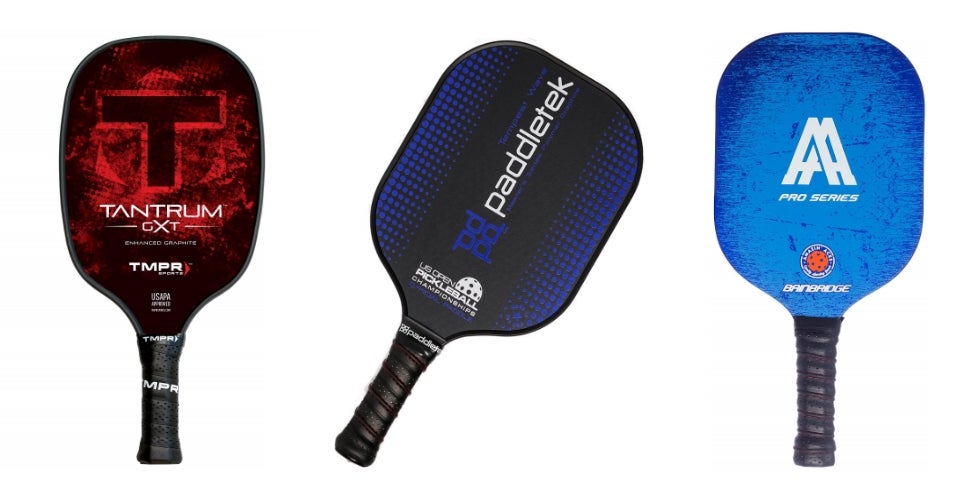 Our Editors independently research, test, and rate what we feel are the best products. We use affiliate links and may receive a small commission on purchases.
In this article we'll review the best pickleball paddle from the top brands. We will compare the types of pickleball paddles, pros/cons of each, materials and styles. In our comparison of the best paddles for pickleball we give you the highlights of the 7 top-rated paddles and select our "Editor's Choice".
Then we'll offer some background and technical information that's helpful in choosing the right paddle for your needs and preferences in our How To Choose the Best Pickleball Paddle For You section. What is the best pickleball paddle?
Best Pickleball Paddles
| | PaddleTek Tempest Wave Pickleball Paddle | TMPR Sports Tantrum GXT Pickleball Paddle | Rally Graphite Pickleball Paddle |
| --- | --- | --- | --- |
| | | | |
| | | | |
| Best for | Intermediate to Professional | Competitive and Professional | Beginner to Intermediate |
| Construction | Graphite Polymer Honeycomb Composite | Omni-directional graphite face | Durable graphite face with polypropylene core |
| Weight / Grip Length | 7.6-7.8 oz. / 5.25" | 7.6 oz. / 4.25" | 7.8 oz. / 4.25" |
| | | | |
Also see: Best Pickleball Paddles – Price Comparison Table
---
Quick Answer: The Best-Rated Pickleball Paddles – 2021
---
Best Pickleball Paddles Reviews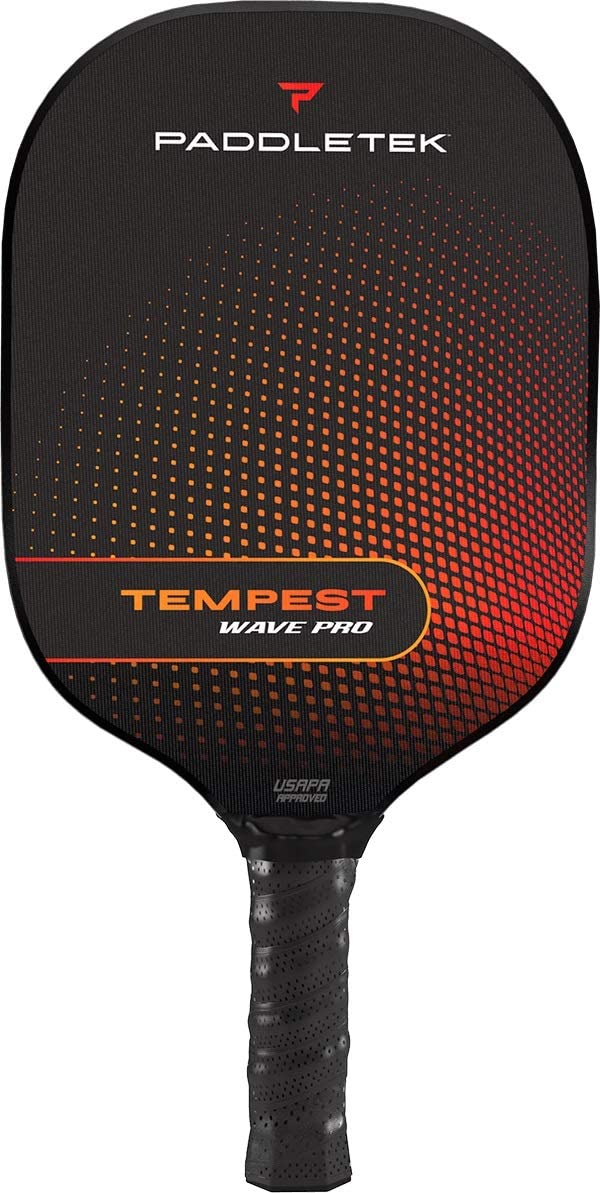 Paddletek Tempest Wave Pro At A Glance:
---
Construction: Graphite Polymer Honeycomb Composite
Weight: 7.6-7.8 ounces
Grip Length: 5.25″
User Rating: 4.7 / 5.0
There isn't much room for improvement in the design, performance and quality of the Paddletek Tempest Wave. It is frequently used by national competitors.
Graphite Polymer Honeycomb Composite construction make it generally a lighter paddle, but not at all passive when it comes to ballstrike performance.  Large radius corners give this paddle the very best aerodynamic performance in the sport. It's our Editor's Choice and with good reason.
The Paddletek U.S. Open Pickleball Championships – Official Paddle model shown in our review is functional identical to previous models of the Tempest Wave.  I confirmed this directly with Paddletek. For more on their products see: www.paddletek.com

---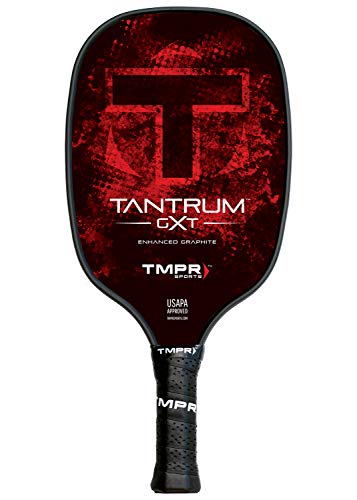 TMPR Sports Tantrum GXT At A Glance:
---
Construction: Omni-directional graphite face
Weight: 7.6 ounces
Grip Length: 4.25″
User Rating: 5.0 / 5.0
This paddle is the newest to the market in our review and it brings some significant changes to the other designs we've seen.  TMPR's Tantrum GXT is being called a high-performance paddle and designed for players who are advanced enough to need additional ball control while playing close to the net.
Namely, the changes include a curved, aerodynamic shape with less drag than traditional square-shaped paddles.
As it was explained to me by TMPR CEO, Doug Clark, "The corners of a traditional pickleball paddle are not effective for "ball strike", yet they create a significantly larger surface area that results in more  air resistance during the paddle's swing."
So, like a sail, the larger, square paddle surface is pushing more air than the GXT's new rounded design.
This actually results in a larger sweet spot than traditional square shaped paddles, that extends toward the tip of the paddle head. The GXT is made with an omni-directional graphite face and honeycomb polymer. It's a light-to-medium weight paddle with an extra-soft touch. 4.5″ handle and 4.25″ grip.
Another feature of the Tantrum paddles is the octagon shaped handle which has a similar feel as a tennis racquet handle.  I received a TMPR GXT demo paddle recently and the octo grip with a super cushy grip wrap was the best that I'd handled on a pickleball paddle. I recommend the paddle for any accomplished player.

---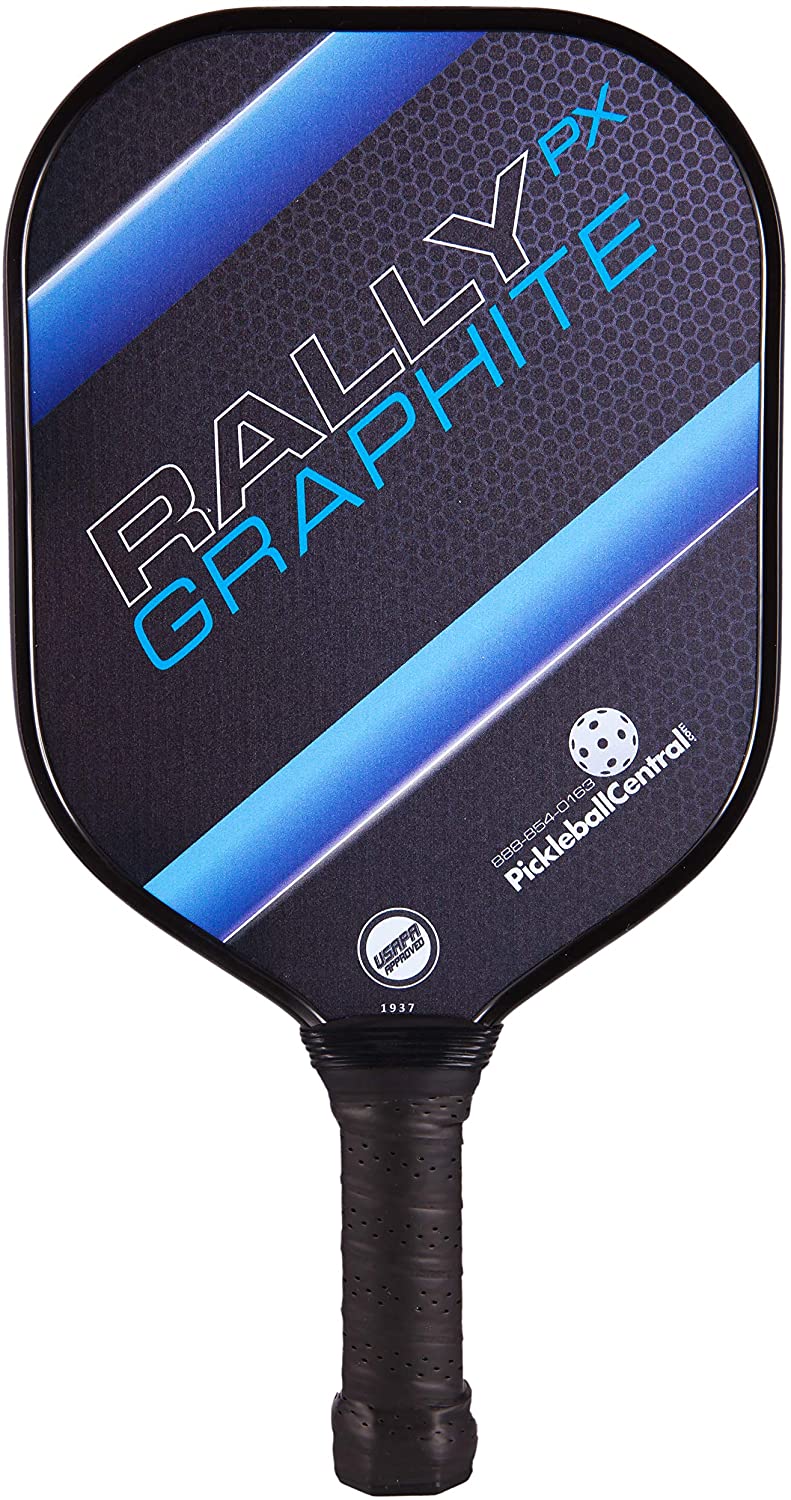 Rally Graphite Pickleball Paddle At A Glance:
---
Construction: Durable graphite face with Nomex core
Weight: 7.8 ounces
Grip Length: 4.25″
User Rating: 4.5 / 5.0
An even lighter paddle because of its 100% graphite / Nomex construction, the Rally Graphite is another great performer. A durable graphite face with polypropylene paddle core construction means the best of both worlds.
We like this paddle a lot for recreational and competitive play. According to the manufacturer product representative, "The strong graphite face will provide consistent dinks, lobs, and volleys." And the Rally Graphite claims to be the best pickleball paddle for spin.
The Rally Graphite has a nice leather-wound handle that's professional looking and well built.

---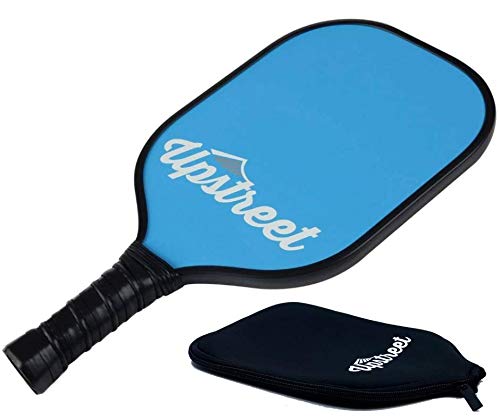 Upstreet Graphite Pickleball Paddle At A Glance:
---
Construction: 100% Honeycomb Graphite
Weight: 8.6 ounces
Grip Length: 4.75″
User Rating: 4.5 / 5.0
Moving up in weight at 8.6 oz. and down in price is the Upstreet Graphite Pickleball Paddle. Upstreet's polypropylene (PP) honeycomb core is a unique cell structure. The core has 3 layout patterns as compared to 2 orientations found in other honeycomb designs.
As a result of their honeycomb design, Upstreet believes the PP honeycomb pickleball paddle composite provides optimum mechanical performance. No question, the paddle performs well and is a good value for the price.
If you're new to playing pickleball, then the Upstreet is the best pickleball paddle for beginners.

---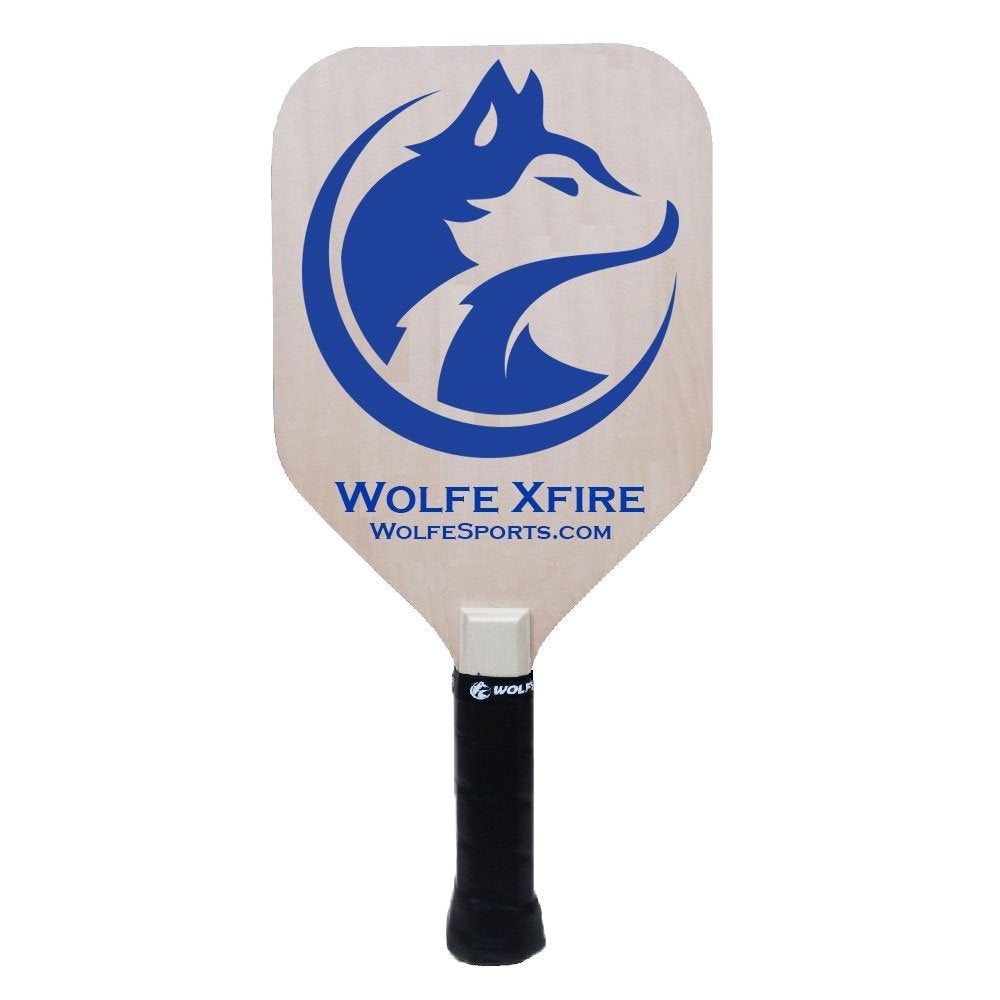 Wolfe XFire Wood Pickleball Paddle At A Glance:
---
Construction: Quality made 7-ply wooden paddle body and face
Weight: 11.0 ounces
Grip Length: 4.0″
User Rating: 4.4 / 5.0
For those pickleball purists who still love the feel (and the sound) of the wooden paddle, here's a non-nonsense fun option. Wolfe has made this paddle for decades and it hasn't gone out of style.
The XFire is claimed to to be the highest quality wooden pickleball paddle on the market. It's made of 7-ply maple for superior strength and engineered for balance and stability. It has a full Gamma tape-wrap grip and a rubber handle endcap.  XFire weighs 11 oz.
For a casual player that treats pickleball as fun and non-competitive the Wolfe XFire is the best budget pickleball paddle, and in our opinion the best pickleball paddle made from wood materials.

---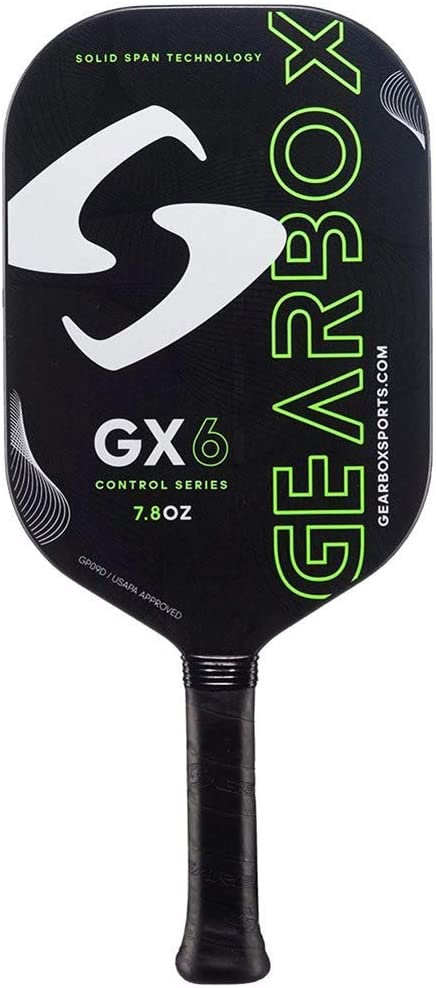 Gearbox GX6 Carbon Fiber Pickleball Paddle

 At A Glance:
---
Construction: Carbon fiber edgeless frame
Weight: 7.8 ounces
Grip Length: 3.62″
User Rating: 4.7 / 5.0
In yet another creative combination of construction materials, the Gearbox GX6 uses a carbon fiber edgeless frame which maximizes surface area. Its core is constructed from a unique Solid Span Technology that works to dampen vibrations.
This paddle is "rimless" meaning there is no guard around the edges. Some prefer this style reminiscent of the older ping pong paddles. It also has a large sweet spot making this an ideal option for those of you looking to gain more control and spin. The Gearbox GX6 weighs 7.8 oz, but is also available in a handful of other sizes, weights and colors.
We deemed the Gearbox to be the best pickleball paddle that is rimless.  

---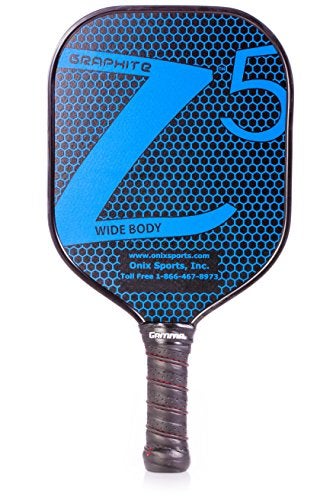 ONIX Graphite Z5 Pickleball Paddle At A Glance:
---
Construction: Durable graphite face & Nomex honeycomb core
Weight: 8.2 ounces
Grip Length: 4.25″
User Rating: 4.7 / 5.0
The Graphite Z5 is the most popular paddle in the ONIX pickleball paddle line. It is highly regarded by pickleball players, which is reflected in its high reviews on Amazon. It is associated with professional players, such as Tyler Loong.
It is a versatile paddle suitable for anyone from novices to professionals. It offers a big sweet spot, a hard graphite face, and a well-designed core to enable you to strike with accuracy and power.
Although this pickleball paddle is positioned between the lightweight and middleweight categories, it can deliver true power shots. Every part of its design complements the other.
Unlike many modern pickleball paddles, the ONIX Z5 retains the classic widebody shape. This wide face provides the large sweet spot that is especially beneficial to novice players.

---
Pickleball Paddles – Price Comparison Table
---
How to Choose the Best Pickleball Paddle For You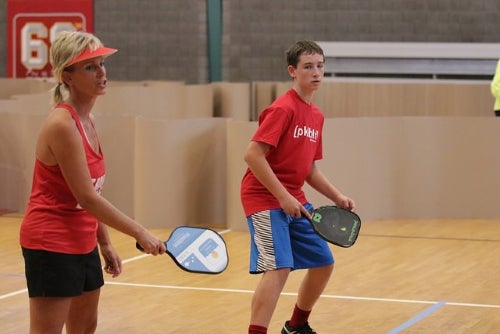 Introduction to Pickleball
Pickleball is a fun new sport for competitive athletes and young families alike. Only established in 1965, the sport is still evolving and coming into its own. Today the sport is well-supported by its organizing and governing body, The USA Pickleball Association. See: www.usapa.org for more information. Also check out Pickleball Magazine.
If you haven't heard, there is a resurgence of interest and players in pickleball all over the USA and the world for that matter. Its growing popularity may have something to do with average age of players interested in the sport, and it may be that the physical demands for pickleball are not as great as those of tennis. Therefore, more people can play – and have fun at any skill level.
Pickleball: The Fastest-Growing Sport in America
As such, there is new equipment constantly coming onto the market, and it can get confusing as to what equipment to buy. The following article breaks down the origins of pickleball, the types of pickleball paddles that are on the market, and how to select the best pickleball paddle for you. No fads, no gimmicks – just the facts.
If you're just starting out in this sport, and you learned in a backyard you probably first experienced wooden paddles.  For their durability and low cost of construction, wooden paddles are common in beginner sets.
As you progress in skill level, advanced materials like aluminum and carbon fiber, combined with grip-giving surface materials, will take you to the next levels of pickleball competitive play.  We want you to experience all that the sport of pickleball has to offer.
Pickleball is a racquet sport that combines qualities of tennis, ping-pong, and badminton. The sport was originally developed by three business-savvy family-men, who were trying to entertain their families but lacked the full equipment of one racquet sport. They utilized a badminton court and net, ping-pong paddles, and a plastic perforated ball.
If you're new to the sport of pickleball here's a quick primer on the rules:
The sport has evolved into a world-wide phenomenon, with rules and equipment all its own. Pickleball can be played both indoors and outdoors, as singles or doubles. A pickleball court is the same size as a doubles badminton court: 20 X 44 feet. It has similar striping to a tennis court, with right and left serving markers, and a 7-feet no-volley zone by the front of the net.
Most importantly, pickleball paddles are unique: they are larger than ping-pong paddles, but smaller than tennis racquets, are generally made up of three layers: the top face, core, and bottom face. The faces and core are normally made of different materials.  The type of pickleball paddle you use can make all the difference to your game.

Pickleball Paddles: Complete Overview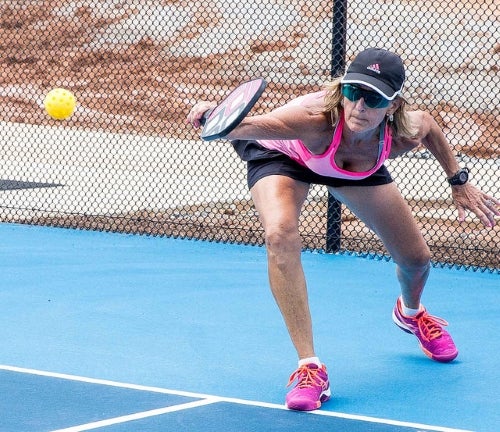 The International Federation of Pickleball (IFP) has strict requirements around paddle material and size. Stringed racquets, or paddles that produce a trampoline-like effect, are strictly prohibited. The paddle materials, sizes, and other features we cover are generally accepted by the IFP, but we highly recommend checking with them before purchasing a specific brand.

Paddle Materials: Bottom and Top Faces
Graphite
All graphite pickleball paddles are made of a combination of graphite and epoxy – no paddle is made of just graphite. Epoxy gives graphite the movement it needs to be shaped and molded into a paddle form. There are different grades of graphite and different types of epoxy, so graphite paddles can range hugely in terms of durability and quality.
PRO: Graphite faces typically mean a light paddle that is strong and offers longevity. They are excellent for players who want maximum ball control.
CON: Due to the light nature of graphite, these paddles lack power and require more physical exertion to drive the ball. These paddles can also be expensive, since graphite is a relatively new technology.
In the competitive arena most pro players believe that graphite, or a graphite composite, are the best pickleball paddles. That's confirmed by high-end makers like Paddletek and TMPR which sponsor national tournament players and supply their paddles.
Wood
The first official pickleball paddles were wooden. Wood paddles generally fall in the heavyweight category, weighing around 8.5 – 9.5 ounces. These heavy paddles allow players to hit the ball farther with minimal effort, but lack the control that some of the newer technology offers. These paddles are wooden through and through – the core is wooden as well.
PRO: Wood paddles are one of the most cost-effective paddles on the market, since there isn't any expensive technology behind it. They are also durable, which means you don't have to buy a new paddle anytime soon.
CON: These paddles can be seriously heavy. If you have delicate wrists, you might want to consider another option. If you're looking for a lot of control over ball maneuverability, you'll also want to look elsewhere.
Composite/Fiberglass
Typically called composite paddles, these pickleball paddles have top and bottom faces primarily made of fiberglass. A relatively new technology, these paddles can be more expensive than wood paddles, but not as pricey as graphite paddles (normally). Composite paddles will often have a UV vinyl laminate coating for protection.
PRO: These paddles offer a nice balance of power and control for the weight and size.
CON: These faces aren't as durable as graphite or carbon fiber.
Carbon Fiber
Carbon fiber pickleball paddles aren't as common as graphite, wood, or composite ones. They can be pricey, but they are durable and give off lots of ball control.
PRO: Very durable – even more so than graphite faces. It also offers great ball control and maneuverability.
CON: As with any light paddle that allows for ball control, the trade-off is a lack of power.

Paddle Materials: Cores
Except for wood pickleball paddles, all paddle cores are made up of a material in a honeycomb pattern. This gives off the perfect blend of strength, durability, and bounce.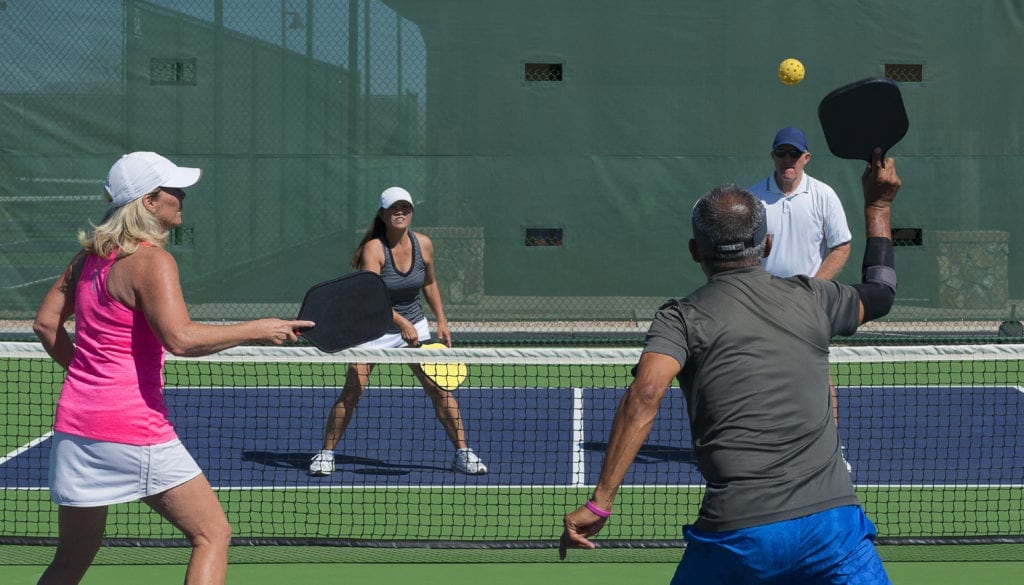 Nomex
Nomex was the first type of material to be put into a composite pickleball paddle. It is a cardboard-like material dipped in resin, which is very lightweight. Nomex is the hardest core material, and therefore the loudest, but it also gives the ball a great "pop."
PRO: Nomex core paddles are tried, tested, and true. If you are nervous about new technology, this is a great core material to go with. These paddles will last you a long time and give you excellent control.
CON: Due to the hard, dense makeup of these paddles, they can be loud. As the material is light, it packs less power than other cores (like a polymer core).
Polymer
Polymer cores are the latest technology in pickleball paddles. In fact, this core material was developed specifically for the game of pickleball. It's a soft plastic blend that is incredibly quiet. It also gives you lots of control.
PRO: If you get distracted from a noisy racquet, this is the solution for you. It's the quietest paddle on the market.
CON: Paddles with polymer cores lack power.
Aluminum Core Pickleball Paddles
Aluminum core paddles aren't as quiet as polymer paddles, but less noisy that nomex paddles. Most aluminum core paddles are in the "lightweight" category, and have fiberglass faces.
PRO: These paddles have a great amount of control and maneuverability.
CON: You need to exert lots of energy to drive the ball.

Paddle Weight
Pickleball paddles can range from 6.5 up to 9.5 ounces, depending on the material the paddle is made of. The weight of your paddle will greatly impact your game: lighter paddles give you more control, but less power.
This means you need to exert more energy when you swing. Heavier paddles require less energy to drive the ball farther, but they give you less control over ball maneuverability.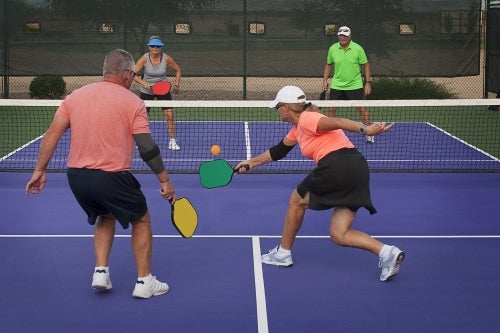 Lightweight Paddles
Pickleball paddles that are 6.5 – 7.2 ounces are considered lightweight.
Most lightweight paddles have a fiberglass, composite or lightweight aluminum core, and graphite faces. Lightweight paddles are ideal for players that want control over their hit, and don't mind using physical force.
Middleweight Paddles
Paddles that are 7.3 – 8.4 ounces are considered middleweight.
Many players like using middleweight paddles, as they combine the ability to control the ball with power. You can find middleweight paddles in almost any pickleball paddle material.
Heavyweight Paddles
Heavyweight paddles are between 8.5 – 9.5 ounces.
These paddles offer a lot drive with minimal effort. Of course, the trade-off comes with less control over the ball. Heavyweight paddles are typically made of wood.

Paddle Grip Size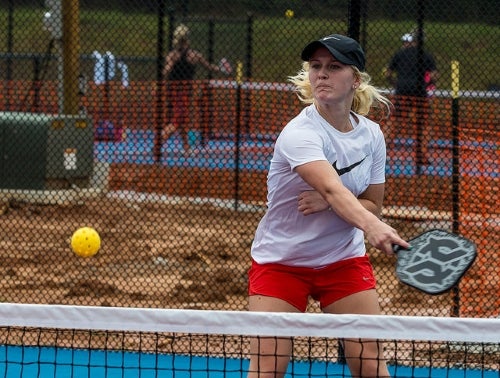 Paddle grip is incredibly important to your game. If your paddle grip is too big or small, it can cause you to drop your paddle, or worse, cause injury.
Paddles with a Small Grip
Pickleball paddles with a small grip have a circumference of 4 inches. This size is perfect for smaller women and younger players. Generally, players 5'2" and under should use a paddle with a small grip.
Paddles with a Medium Grip
Most pickleball paddles have a medium grip: 4 1/8" – 4 ¼". This is a safe size to go with for the average player. Individuals between 5'3" and 5'8" are recommended to use this grip size.
Large Grip Paddles
The largest grip you can find for a pickleball paddle is 4 ½". If you are a taller individual – 5'9 or over – a large grip is probably the right choice for you.

Paddles with Edge Guards
Some players love paddles with edge guards, others hate them. Here are the pros and cons for pickleball paddle edge guards:
PRO: You don't have to worry about dropping your paddle, or diving for a close shot. You can play as hard as you want, and know that your paddle is protected. Your paddle is less likely to de-laminate (or have the face detach from the core). Edge guards can add years to the life of your paddle.
CON: Edge guards decrease the total hitting surface area, so you have a smaller paddle to work with.
Most edgeless paddles have protective tape in place of an edge guard. It's barely noticeable, and doesn't impact your play. On the flip side, it also doesn't protect your paddle that well.

Pickleball Paddle Selection Criteria 
To summarize, you want to look at the following criteria when selecting from among the best pickleball paddles available on the market:
Paddle Material (Face and Core)
Paddle Weight
Paddle Grip Size
Paddle Edge
Consider the Type of Pickleball Player You Are
The following considerations will have some influence on the aggressiveness of the paddle that you choose. In the case of experts they will have tried out many types of paddles by the time they are playing competitively. So if you're a beginner then keep an open mind each time you try something new and before you decide that a single paddle fits all of your preferences.
Playing with an Injury
Back, shoulder, or upper arm injuries: Stay away from lightweight paddles. They require more energy exertion, which can easily lead to muscle inflammation, overextension, or other injuries that can exacerbate existing conditions. Try a wood or composite paddle that weighs at least 7.3 ounces or more.
Wrist injuries: Stick with a lightweight paddle – they are the least stressful on your wrist, and are the least likely to contribute to paddle fatigue. Aluminum core paddles are an excellent lightweight option.
Level of Expertise
You're a beginner: Wood paddles are the best for beginners. They cost the least, so don't love with the sport, you aren't out too much money. They also pack the most power, so you don't have to exert a ton of energy as you're learning. You might not have a ton of control over the ball, but when you are trying to get the basics down, it doesn't really matter.
You're an expert: Graphite paddles have an excellent balance of power and control, and are worth the money if you play often. You'll be able to feel the difference.
Type of Play
You play singles: You need to hit the ball more often than those that play doubles, so durability to something to seriously consider when selecting a paddle. You also need to hit the ball farther than those that play doubles. Larger, heavier paddles will be better for your game than small, light paddles.
You play doubles: Pick a paddle with control. Graphite paddles, or a paddle with a nomex, aluminum, or polymer core are great options.
Thanks for reading The 7 Best Pickleball Paddles. We hope this article has helped you to discover the best pickleball paddle for your style of play and skill level.
Good luck in your search for the best pickleball paddles and enjoy this great sport!
Notice:
OutsidePursuits.com is a participant in the Amazon Services LLC Associates Program, an affiliate advertising program. OutsidePursuits.com earns fees from products sold through qualifying purchases by linking to Amazon.com. Amazon offers a commission on products sold through their affiliate links.