There's no time like summer for a kayaking trip. What's that? You don't have a kayak? Well, you're in luck because we're going to walk you through everything you need to know in order to pick out your first kayak.
Then we'll review a few possible choices you have for purchasing a kayak. By the time you're done, you'll know what to look for and where to start finding the best kayak for you!
Whether you're looking for a kayak for the kids, the fisherman in the family, or a recreational kayak for yourself we've got it covered.
For more of my top gear recommendations, have a look through these popular Outside Pursuits guide links: Kayak Roof Racks, Kayak Paddles, Life Jackets
There are so many kinds of kayaks out there and not every manufacturer makes it clear what activity each kayak is best for. That's why we're going to get started with what you need to know right now.
Here are my 3 favorite kayaks with full reviews and our buyers guide below.
Ocean Kayak Frenzy Sit-On-Top Recreational Kayak
BKC 12.5 foot Sit On Top Tandem Fishing Kayak
Old Town Canoes & Kayaks Heron Junior Kids Kayak



Best Use:
Recreational kayaking
Fishing
Kids recreational kayaking
Paddlers:
Solo
Tandem
Solo
Features:
Stern and bow deck bungee cords

Bow and stern carry handles
Two lightweight aluminum paddles and two kayak seats

4 flush mount and 3 adjustable rod holders
Tag along tow system allows you tow your child

Comfortable, contoured seat for kids
Best Recreational Kayaks
Let's jump right in to what's happening today in the kayak world. We're going to show you a lineup of popular kayaks for recreation, youth, and fishing. When we're done you'll have a great idea of where to start looking for the perfect kayak! Be safe always wear a kayak PFD.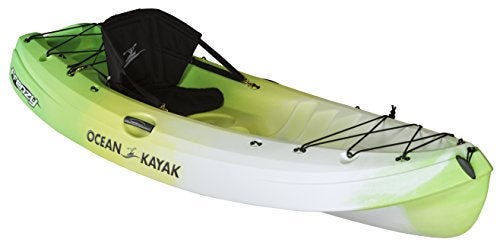 For many reasons sit on top kayaks make some the best choices for recreational kayaks. They're versatile, easy to use, and self-bailing.
I love the open design of this kayak with tons of space, a generous seat, and two large deck lashings. It weighs 43 pounds which is pretty good for an affordable recreational kayak.
One feature I like is the replaceable rear skid plate which can be changed out if the kayak becomes worn from use. Not a bad call! The Ocean Frenzy is my top pick for the best recreational kayak.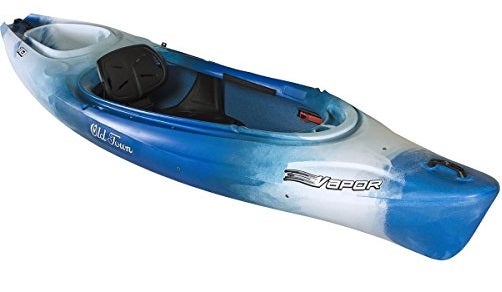 This is a single person kayak designed for recreational paddling on quiet water. This would be perfect for slow rivers, lakes, ponds, and other recreation friendly water.
It's a single layer polyethylene boat which means it won't cost an arm and a leg.
There's a gear vestibule behind the cockpit but overall, I would have liked to see them put in a little more dedicated storage space.
Adjustable seat and foot pegs are pretty standard these days but we're glad to see them included – they're vital to comfort! Old Town is known for making quality kayaks and the Vapor is the best recreational kayak under $500.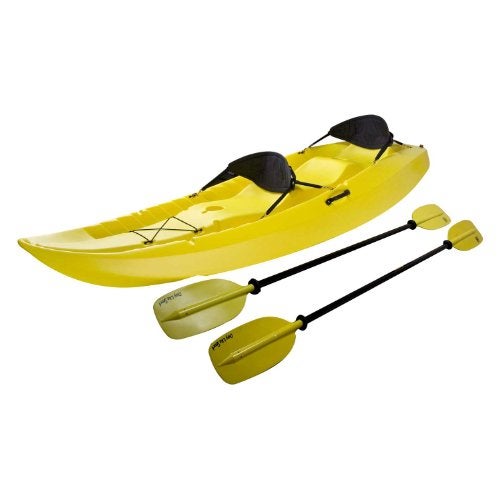 With the ability to paddle single or double person (tandem) and a sit on top design, this is the ultimate in versatility.
While the back rests leave something to be desired and the seating is not going to be comfortable for longer trips, it's a solid choice for the lake house couple. Lifetime also touts the tunnel hull design as "almost impossible to tip over".
I would say this kayak is at its best for short trips with couples that want the flexibility of a sit on top kayak and don't mind giving up some comfort.
I like the fact that they included paddles, the Manta is one my top picks for the best budget kayak.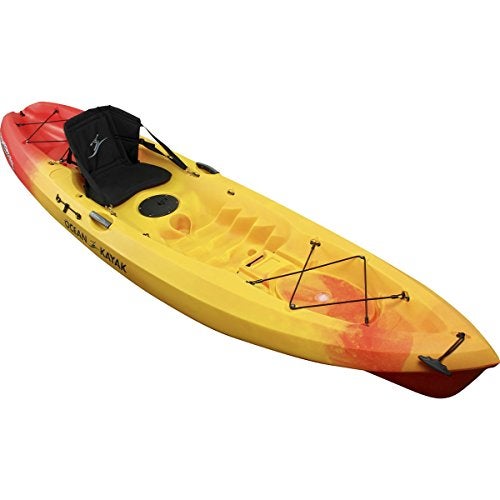 This is, of course, a sit on top kayak as the name suggests. That means more leg room and flexibility for paddlers.
It also means that the boat is able to feature an easily accessible gear compartment. Shock cord lashing is all you get for storing gear so make sure it's already waterproof! There is one in-deck waterproof storage that's just large enough for a phone or keys.
I like the flexibility and options that sit on top kayaks offer to users. Don't worry there is an adjustable seatback for the kayak so you won't have to spend all day sitting upright without back support.
The Ocean Scrambler is one of the best recreational sit on top kayaks, especially when you consider its price tag.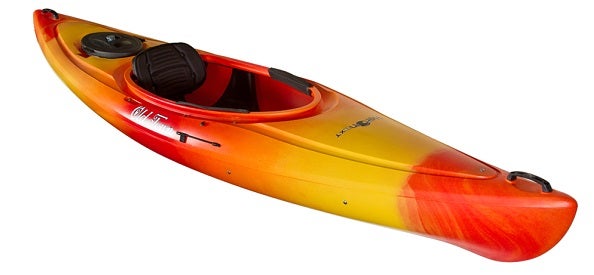 When I used to work for the local parks department back in Michigan we used this exact kayak for rentals. They're dependable, functional, and nearly indestructible.
I love the included water-resistant drywell behind the cockpit. There's also padding on the edges of the cockpit where your knees would most likely make contact. A critical feature in my mind.
Overall, I'd say this boat has plenty of features for any recreational user and the nicely designed seats are a plus compared to many competitors.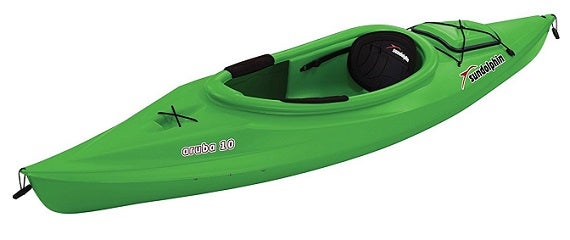 This short, 10-foot kayak comes in several colors. It features a gear well behind the cockpit with webbing straps for extra gear.
There's also a built-in water bottle holder or drink holder right in front of the cockpit which is a pretty nice addition for hot days on the river.
Made from UV-stabilized polyethylene and featuring a slightly adjustable seat this kayak makes a smart choice for the recreational user. It also comes in a bit lower on the price scale!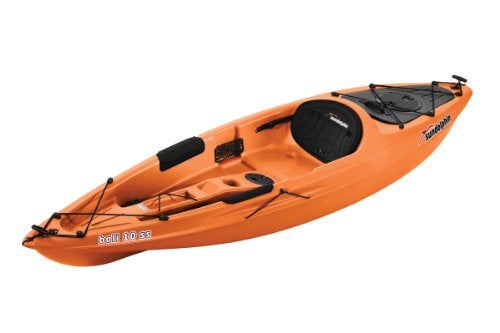 Let me just say that for the price, this kayak is packing a ton of great features! I love the portable accessory carrier system that can be used as backpack, tow-behind, or in boat storage system.
Two dry storage compartments are included along with cock cord and deck rigging for gear. It's also a sit on top design which automatically offers some of the best versatility and flexibility of any type of boat.
This is a serious contender for top choice among recreational kayak picks for the new paddler!
Best Fishing Kayaks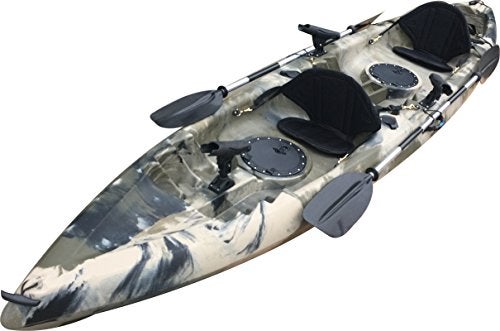 Weighing in at just 68 pounds but sporting a beefy 450-pound load limit, this two person fishing kayak can handle a lot!
It comes standard with two paddles and the boat has built in paddle holders for when you're fishing. I love the 3 adjustable rod holders for trolling or just having several lines out at once.
There are also 4 flush mounted rod holders for tons of storage. Overall, I think the adjustable seats may be the weak point of this kayak. That's just because so much of the rest of the boat is well built. Overall the BKC is one of the best kayaks for fishing.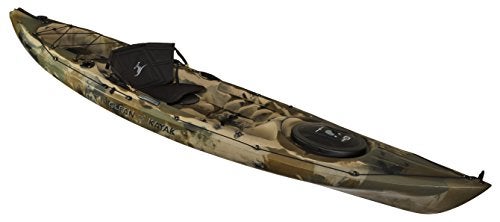 This long, slender angler kayak is stable and quiet and made for a variety of water conditions. I love the large front hatch on this boat and the rear gear storage is flexible with shock cord lashing to fit any gear or tackle boxes.
With two rod holders, two cup holders, and 2 paddle holders there's enough of everything to go around.
Once advanced feature of this boat is the capability to mount a transducer, or fish finder. This is a capability we haven't seen in the other boats we've reviewed and it may be a critical buying factor for some!
The Ocean Prowler was designed from the ground up to be the best fishing kayak for the money.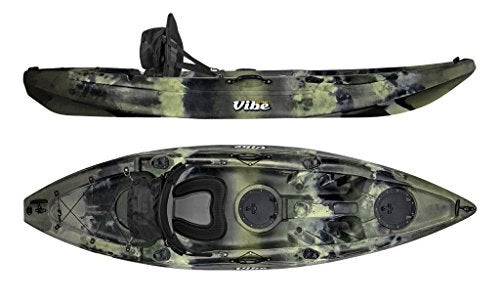 The features don't seem to stop with this one! This small, agile sit on top fishing kayak is loaded with so many options it's hard to list them.
I like the double sealed hatch design for waterproofing gear and small items that could float away in case of capsizing. There's also plenty of room in the gear storage behind the cockpit with flexible shock cord for larger items.
As all the best fishing kayaks have, the Skipjack 90 comes standard with four flush mounted rod holders for plenty of options on each trip.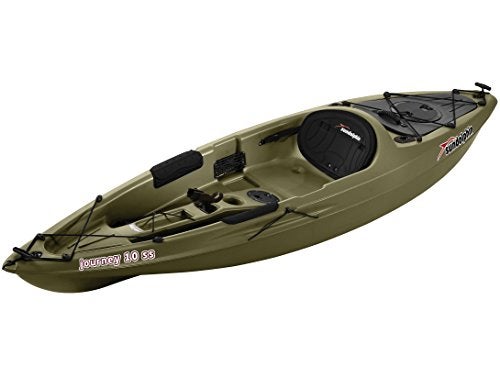 This single person angler kayak is affordable and built to meet your needs! With two vertical mount rod holders and one swivel rod holder it's all that one paddler can handle.
With two dry storage wells, paddle holder, and the PAC system there's tons of gear storage flexibility.
I'm a fan of the knee pads on the edge of the boat and the adjustable footrest which both add a level of all-day comfort.
My favorite part about this boat for any paddler is the Portable Accessory Carrier system which can act as storage, tow behind, or backpack. I would say the Sun Dolphin Journey is the best fishing kayak under $500.

With the same number of fishing rod holders and the same overall length as the Journey kayak, what could be different? The excursion is a closed cockpit design with the ability to be fitted with a spray skirt.
This makes it a good contender for rougher situations. There's also the Sun Dolphin signature Portable Accessory Carrier which I love.
There's not as much versatility here for the everyday fisherman so, unless you need a closed cockpit boat you'll be just fine with the Sun Dolphin Journey model. If your not looking to spend a lot of money, the Excursion is one of the best budget fishing kayaks.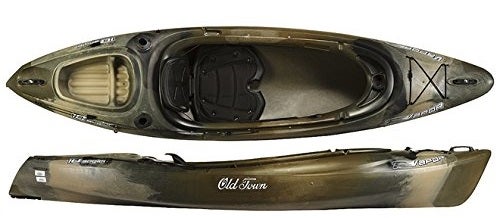 With adjustable foot rests, closed cockpit, and plenty of storage this boat could be great for many anglers. I particularly like the luxurious seat which is often overlooked by other manufacturers.
Despite the high quality adjustable seat, I would have liked to see more storage added to this boat. There is deck storage in the bow and stern but its hard to have too much.
There are two flush mounted rod holders and an anchor with trolley system for setting up camp in one spot.
Overall, I think this boat could offer some features that many on our list overlook such as the built-in anchor system.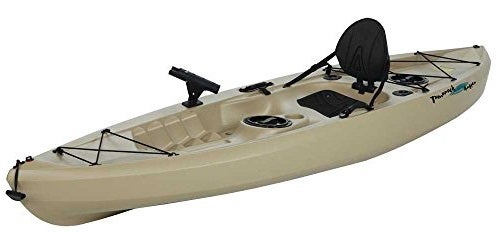 This single person fishing kayak is a sit on top design with plenty of flexibility and options. I like that they didn't go overkill with the rod holders – just two flush mounted and one adjustable.
There are two dry hatches both 6" for small gear or items that simply can't get wet. Overall I think they could have done a better job with the seat. However, the overall gear storage and versatility make it a viable option for some anglers.
Best Kayaks For Kids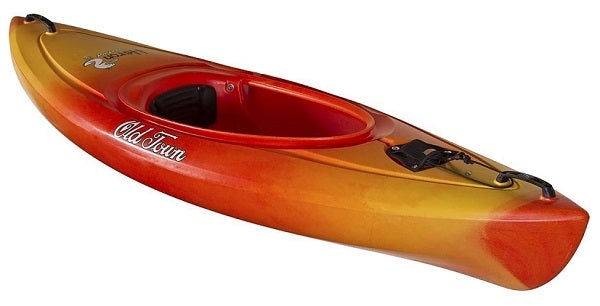 With the same design and styling as the adult version of the Heron kayak from Old Town, we can trust the kayak to do its job.
The kids model has a simpler seat with no adjustability which is probably for the best. Simple is better when it comes to kids gear for the outdoors!
At a lightweight 26 pounds, it's plenty maneuverable for children. I love the included two system that allows you to pull the kids once they get tired of paddling (and they will). The Heron Junior is my top pick for the best kids kayak.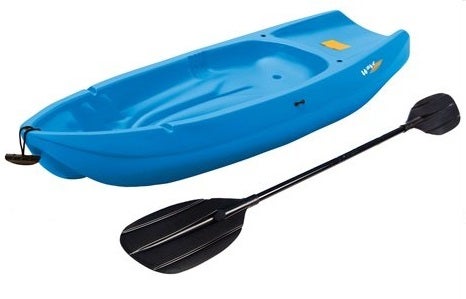 At just 6' long and weighing in at only 18lbs this kayak is lightweight, agile, and compact. One of the advantages of youth kayaks is that they're easier to steer and maneuver thanks to their short length.
This also means that it can be difficult for kids to steer and paddle straight due to the agile nature of shorter kayaks. That's why I really like that they build the kayak with a reverse chine for lateral stability when paddling.
They also included a youth size paddle which can be hard to find!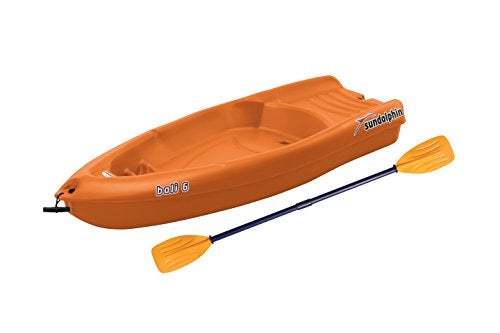 While this one is short enough for kids, it may even fit some of the adults among us with shorter legs. There's a large open seat and the kayak sports two easy carrying handles front and back.
Again, with shorter kayaks tracking and stability can be an issue. However, Sun Dolphin assures us that the design is made to track and paddle well.
If you're looking for barebones this is the sit on top kayak for you or the kids.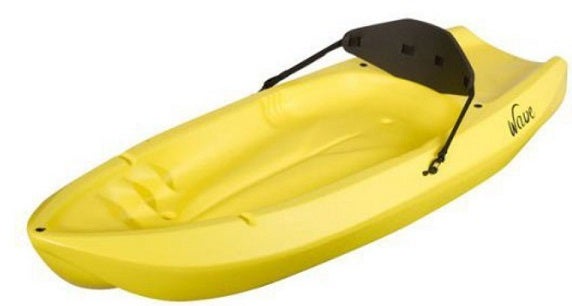 Few things that float on the water resemble a banana so much as the Lifetime Yellow Youth Kayak. If that's not enough reason to consider it then you might like the simplistic design.
It's built with inline channels under the kayak to help act as chines and keep the boat tracking straight. This kayak also has a rare feature for children's boats – an adjustable back rest!
Overall probably the most robust kayak for kids, it's designed well and functions intuitively.
How to Choose the Best Kayak for You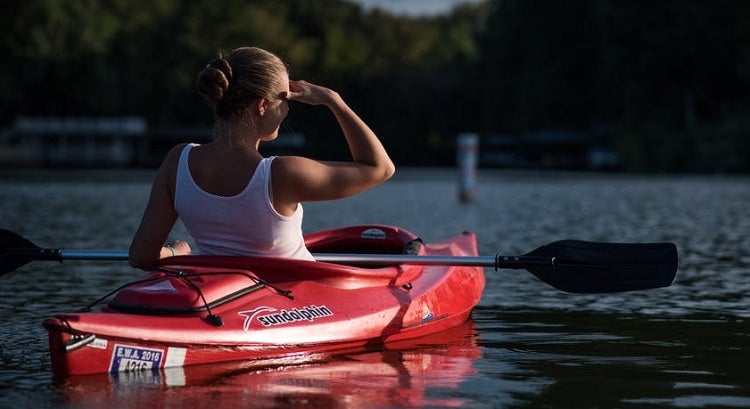 Let's start by reviewing a few of the types of kayaks available to you. Then we'll talk about specific features and what you should look for or avoid!

Recreational Kayaks
Recreational kayaks are the plastic ABS kayaks you'll find at most local liveries. These types of kayaks are designed to be affordable and perform moderately well on most flatwater. While I've made these types of kayaks work for camping and fishing trips, I wouldn't recommend it.
Seek out these kayaks if you're looking for affordable boats that you can take an occasional weekend family or friends trip with. They're not usually meant to tackle whitewater, hold gear for long trips, or be outfitted for fishing.

Whitewater Kayaks
Ranging from super short to moderately long these kayaks can span the breadth of shapes and sizes. Many of these boats are made for specific and advanced types of paddling.
They're usually more expensive and a bit harder to find than a recreational kayak. Go to the nearest whitewater rafting center and inquire if you're not sure where to begin looking for the best whitewater kayaks!

Touring Kayaks & Sea Kayaks
These boats tend to be long and narrow with features unique to long paddling on open water. Often, they'll feature a rudder or skeg to aid in navigation and tracking.
They'll always have added bulkhead space for storing gear and some will even have watertight compartments. These boats can tend to be the most expensive and niche types of kayaks available.
Put plenty of thought into your choice before choosing a touring kayak for long trips!

Fishing Kayaks & Sit-on-Top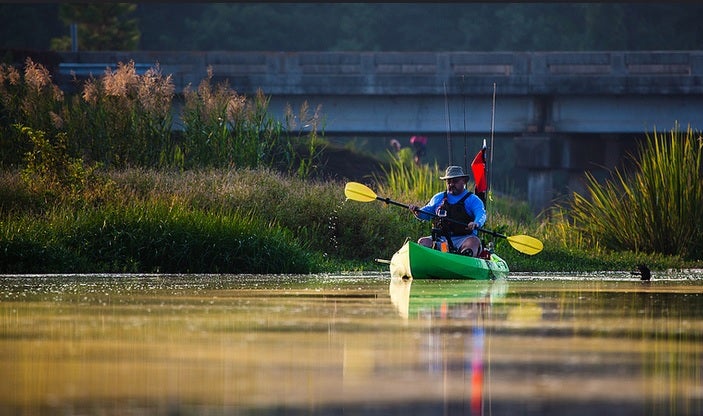 I put these two together because they tend to represent a small fraction of the overall market. Anglers' kayaks are usually defined by their special outfitting for carrying fishing equipment and rods.
They can be sit on top or traditional models and may come with any variation of features but always fishing unique additions.
Sit on top kayaks are newer and quite popular for several reasons. They're self-bailing which means they can't be filled with water. That makes them easy to use and maintain.
They also allow more leg room and flexibility in paddling. However, they lack much of the performance of many other types of kayaks. These are best for recreational trips or days around the lake cottage.

Kayak Features
Spray Skirt – this addition is common among whitewater and touring boats. It prevents waves and water from entering the cockpit and submerging the boat.
Rocker – One of several design considerations in a kayak's shape. Rocker describes the amount of arc or "banana" shape that the boat has. The more rocker, the easier to turn.
Skeg – This often detachable or retractable fin helps to stabilize some kayaks in windy conditions or when paddling straight over long distances.
Rudder – Not to be confused with a skeg, the rudder is actually use in controlling the direction of the boat as an aid to paddling.

Kayak Materials
Polyethylene – The most common and least expensive material to produce boats from. It's cheap but heavy. Poly tends to break down with exposure to UV so store boats in the shade!
ABS – More resistant to sunlight damage than Poly boats. ABS is more expensive but more durable and easier to repair.
Composite – These can be Kevlar, fiberglass, or carbon fiber and they'll cost you a fortune! These kayaks are lightweight and top-performers across all classes but they're hard to find and very expensive.
I hope this guide was helpful for finding the best kayak to fit your needs. If you want to comment or recommend a kayak I didn't include, please use my contact form to get in touch.
Have fun and be safe out there!
Notice: Outside Pursuits is a participant in the Amazon Services LLC Associates Program, an affiliate advertising program to provide a means for sites to earn advertising fees sold through by advertising and linking to Amazon.com. Amazon offers a small commission on products sold through their affiliate links. Each of your purchases via our Amazon affiliate links supports our efforts to bring you the best possible product reviews at no additional cost to you. We appreciate your support here at OutsidePursuits.com