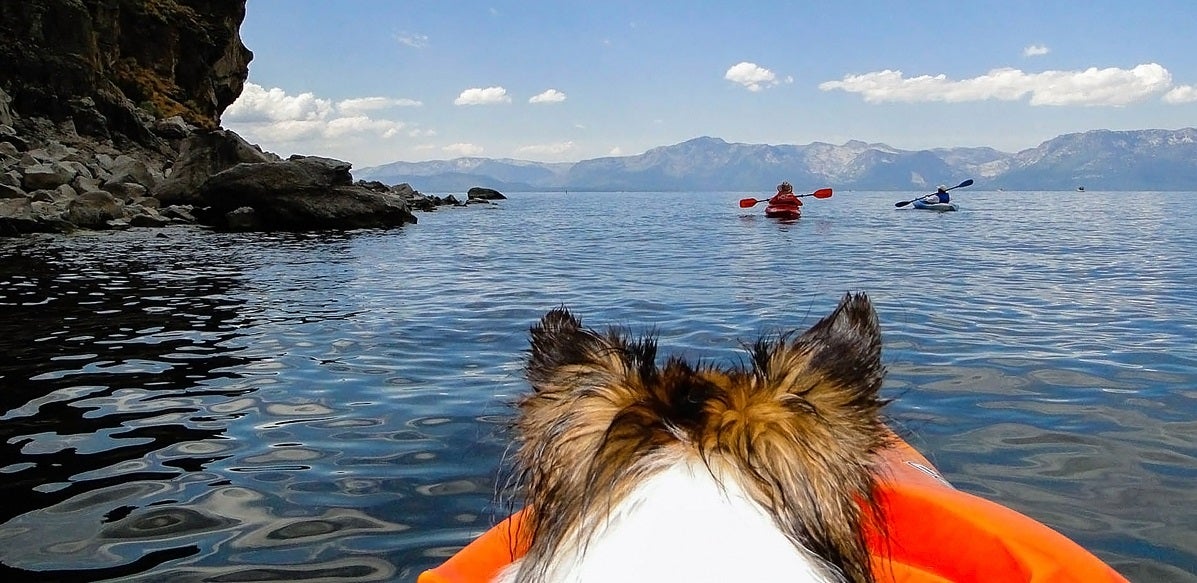 Our Editors independently research, test, and rate what we feel are the best products. We use affiliate links and may receive a small commission on purchases.
The outdoors can really be fun and amazing, especially if you live with a furry friend that can accompany you in all your adventures. It can be quite a bummer to leave your dog behind, but that should not always be the case.
If you have a dog, you can take it with you on different activities like hiking, running, swimming, etc. However, you may want to try something new and fun like kayaking with your dog.
Of course, like any other activity, you should read up on some safety precautions before you dive right into it to ensure both of your safety. Also make sure you and your companion have life vests.
Is Your Dog the Type to Go Kayaking With?
The first thing you must ask yourself before anything else is whether your dog is capable of riding in a kayak with you.
After all, if your furry friend is the type that panics in the presence of water or is unable to sit still for a period of time, your little adventure might just turn into a different one. Swimming, anyone?
To give you an example, Golden retrievers are great swimmers and can be a great kayak buddy.
If you happen to be an owner of one, then you can check this off your list. Of course, there are other factors that you should also consider aside from your pet's nature and temperament.
Is Your Dog Well Trained?
It does not matter whether your dog is a great swimmer or if you are really good at kayaking because if you fail to train your furry friend with basic command skills, you will find yourself in a very unpleasant situation out there.
Ask yourself whether your dog responds well to your orders at home. It can go from the most basic skill such as pooping in the right spot to sitting, lying down, and staying in place for long period until you say otherwise.
Is Your Dog Familiar With a Kayak?
Once you are sure that your furry friend has the appropriate temperament and training for kayaking, you can proceed to acquaint it with the kayak. After all, they are big and strange, at least to your dog's perspective.
Start by allowing it to explore the kayak until it is comfortable enough to sit still in it for a couple of minutes. If your dog remains uncomfortable with the kayak, try to motivate it with a toy or a treat.
Does Your Dog Know How to Get In and Out of the Kayak?
I recommend training your furry friend on land before trying it in the water, as that could be dangerous for the both of you. Start by ordering your furry friend to hop into the kayak and sit still.
Give your dog a treat every time it gets it right.
Do that a couple of times until it is time to train it to hop out of the kayak. Do the same procedure by ordering it to hop out and then sit still on land. Give it a treat every time it gets it right.
Remember that dogs respond to one word or phrase when it comes to commands. So, you need to develop a new command word for kayak activities.
The same commands you use to get them inside the house will not work for the kayak because it is obviously not a house. The "Come" command may work, but only if you are inside the kayak.
That's when you can order it to "stay" since that command is general and can be applied anywhere.
You can, of course, always carry smaller dogs into the kayak, but it would be harder to carry bigger dogs. Still, it can be fun since kayaks can carry people, which means it can carry dogs as huge as humans.
So, sorry to the Newfoundland breeds because they're more suited for yachts.
Start Slow
Ordering it to hop in and hop out of the kayak on land is one thing and definitely another once your start pushing the kayak into the water. The tendency is that your dog is going to panic and hop out of the kayak.
In this case, make sure that you order your furry friend to stay. Your basic training skills come into play during this time. When you say, "stay," it should be able to understand and obey the command.
Do not rush and take it one step at a time. Bringing your furry friend kayaking with you will not be a walk in the park. It will be hard work and will test your patience.
Start slow and do not go too far from the shore. Be extra sensitive with how your dog is reacting while on the kayak in the water. Based on its behavior, you can either move the kayak further or nearer to the shore.
Is Your Kayak Built For Dogs?
There are different kinds of kayaks and not all of it is going to be suitable for dogs so if you are planning to rent or buy one, make sure that it is appropriate for the type of dog that you have.
The best kayak for dogs is the Ocean Kayak Frenzy Sit-On-Top Recreational Kayak. If you would rather go with an inflatable kayak the Advanced Element Expedition Kayak is a good choice as it is a tandem kayak.
Also helpful is having a kayak paddle with a hook so you can retrieve your dog if he jumps overboard.
What would be appropriate, of course, is always dependent on the size of your dog and how much gear you are planning to bring with you when you go kayaking.
Sit on top kayaks are the best choice for kayaking with your dog. A sit inside might be suitable for a very small dog but that's about it.
Another point to consider is whether your furry friend will be more comfortable on the bow or by your feet. To decide which one is better, consider your dog's personality.
Pedal kayaks have the added advantage of you can have your hands free to pet or hold your dog. Especially good if he is getting nervous.
You will have to consider what makes you more comfortable as well. After all, it is going to be you and your furry friend on the kayak. With these tips, do you think you can now go to a kayak adventure with your dog?
Notice:
OutsidePursuits.com is a participant in the Amazon Services LLC Associates Program, an affiliate advertising program. OutsidePursuits.com earns fees from products sold through qualifying purchases by linking to Amazon.com. Amazon offers a commission on products sold through their affiliate links.