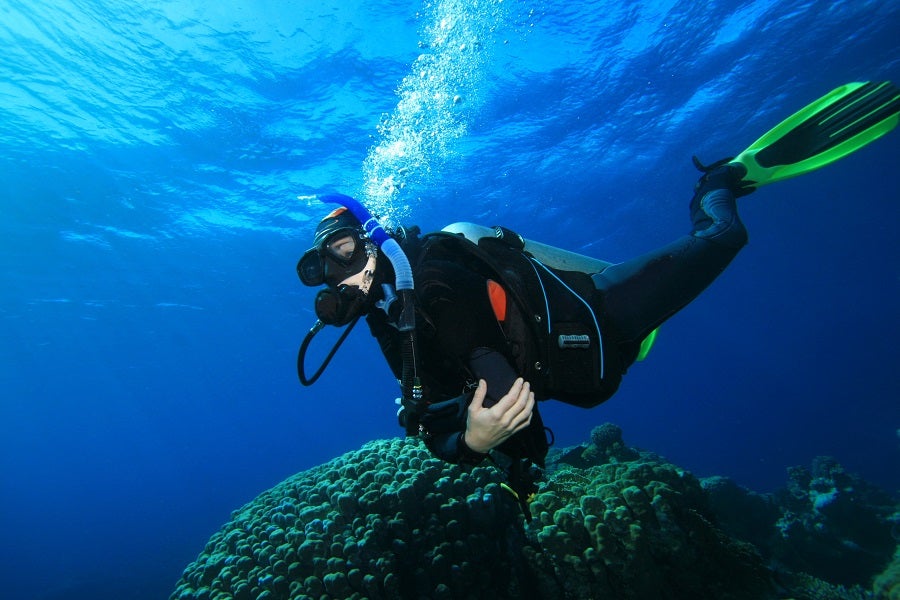 Whether you enjoy swimming through dazzling schools of fish, diving down to a ship wreck, or surfing a wave, your wetsuit serves as your protection.
The best wetsuits will maintain your body temperature in rapidly changing ocean conditions and protects you from harmful contact with sharp coral or stinging jelly fish.
Wearing a wetsuit will help your body retain heat and allow you to enjoy your dive or surfing in comfort.
We evaluated a wide variety of wetsuits and narrowed it down our top 7 picks. This guide will help you choose the right wetsuit for the water temperatures and conditions that you scuba dive or surf in.
Best Wetsuits
| | Bare Velocity Super-Stretch Wetsuit | ScubaPro Everflex Steamer Wetsuit | O'Neill Wetsuits Reactor Wetsuit |
| --- | --- | --- | --- |
| | | | |
| | | | |
| Thickness: | 5mm | 5/4mm | 3/2mm |
| Type: | Full Length | Full Length | Full Length |
| Sizes: | 11 | 16 | 20 |
| Colors: | 3 | 1 | 4 |
| Rating: | 5.0 / 5.0 | 4.0 / 5.0 | 4.3 / 5.0 |
| | | | |
For more of my scuba diving gear recommendations, have a look through these popular Outside Pursuits guide links: Scuba Diving Masks, Diving Computers, Dive Knifes, Dive Lights.
Quick Answer: The 7 Best Rated Wetsuits For 2019
Our reviews of the top rated wetsuits with our guide and comparison table will help you choose the right wetsuit for you.
---
Wetsuit Reviews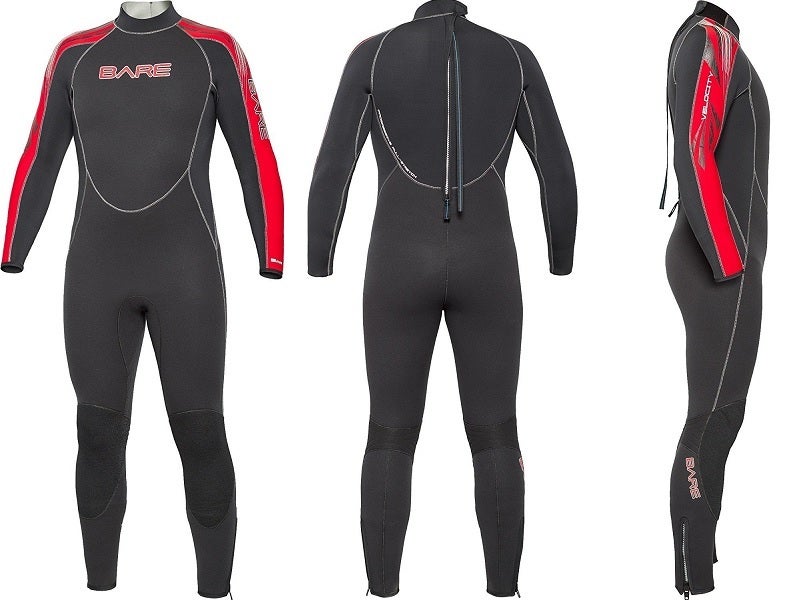 If you're looking for a combination of comfort and quality, the Bare Velocity wetsuit delivers in both departments.
Available in 3mm, 5mm, and 7mm thickness full wetsuits, they feature Full Stretch technology, which Bare claims to stretch 200% more than a traditional wetsuit.
This provides for an enhanced fit that will allow for greater body mobility while diving or surfing.
Expand To See MoreSee Less

In addition, the Bare Velocity includes an adjustable Velcro collar to help keep warmth in and the cold out, zippered ankles, knee pads, and a back zip with a leash.

This is a technical suit where the designers paid attention to every detail — including seamless underarms and unique flip seals in the forearms and legs.

If your looking for one of the best wetsuits available, the Bare Velocity is for you. Looking for a shorty? Check out the Bare Velocity Shorty Wetsuit.

Women's Model: Bare 5mm Velocity Women's Fullsuit

Bare Velocity Super-Stretch at a Glance

:
---
Type: Full length suit
Thickness: 5mm (3mm & 7mm available)
Sizes: 11
Other: Knee pads, Velcro collar
---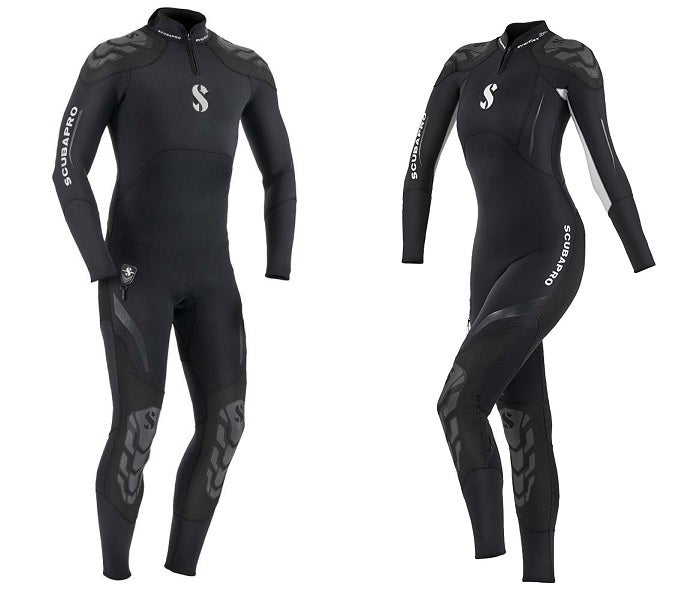 If you're looking for the best 5/4 wetsuit that's easy to take on and off, the Scubapro Everflex is about as easy as it gets.
The Everflex is available in 3mm, 5mm, and 7mm thicknesses, constructed of 100% Everflex neoprene for excellent abrasion resistance.
Its highlight feature?
Expand To See MoreSee Less

A diagonal back zipper that runs from the left hip to the right shoulder, making for easy removal that will be much appreciated in those exhausted, post-dive moments.

An added bonus is the solvent-free, water-based glue used in the construction, a 100% green process welcomed by those who care about the environment.

The Scubapro Everflex incorporates a Pure Design Concept, which reduces the number of seams for added flexibility.

This quality dive suit is completed with Glideskin seals, knee and shoulder pads and an abrasion-resistant seat area, delivering high scores in both areas of fit and durability.

In my opinion the Scubapro is one the best diving wetsuits on the market! ScubaPro makes a shorty, the Scubapro Definition 2.5mm is a good choice.

Women's Model: ScubaPro Women's Everflex Steamer 3/2mm Wetsuit 

ScubaPro Everflex Steamer at a Glance

:
---
Type: Full length suit
Thickness: 5/4 mm
Sizes: 16
Other: Multi-thickness panels, diagonal back zipper
---
A water sports brand known for its quality, anything O'Neil makes is going to be top-notch. The Reactor boasts an affordable price tag — yet is designed to last a lifetime.
Available in three different thicknesses, the Reactor features FluidFlex/FluidFoam for combined heat retention and abrasion resistance.
Krypto knee pads prevent knee rashes and soreness for surfers and a single super-seal neck collar keeps the cold water out for divers and is entirely adjustable.
Expand To See MoreSee Less

O'Neill Wetsuits Reactor at a Glance

:
---
Type: Full length suit
Thickness: 3/2 mm
Sizes: 20
Other: Flatloc seams, knee pads
---
Although a bit on the pricey side, the Xcel Thermoflex is worth its hefty price tag. Available in two different thicknesses of 6mm and 7mm, every detail exudes durability.
The product boasts a Thermo Dry Celliant lining that the Ecel states dries 30% faster than standard neoprene, a stand-out feature of its own accord.
Expand To See MoreSee Less

Smart Dry Fiber Technology keeps your body warmer by helping you recycle your own body heat.

The Xcel Thermoflex features Ultrastretch neoprene, which is the company's softest, most durable, and most lightweight neoprene to date.

An additional highlight?

The product's DuraFlex knee panels are contoured to the body and designed for abrasion resistance. Another top contender for the best scuba wetsuit.

Women's Model: 8/7/6mm Women's XCEL ThermoFlex TDC SCUBA Wetsuit

XCEL Thermoflex Ultrastretch at a Glance

:
---
Type: Full length suit
Thickness: 7/6 mm
Sizes: 14
Other: Easy on/off ankle zipper, DuraFlex knee pads
---
There's a good reason why Bare wetsuits are favored by seasoned divers.
This 7mm wetsuit features full stretch technology similar to the Bare Velocity, making for the ultimate in comfort and mobility.
The Elastek boasts the company's trademark Seamtek dry technology and Protekt, which is coveted for its abrasion resistance, making the product extremely durable.
Expand To See MoreSee Less

This semi-dry wetsuit provides seals around the wrist and ankles, reducing the likelihood of flushing.

If you're looking for a combination of comfort and mobility in addition to a suit that offers advanced technology features the Bare Elastek needs to be on your short list.

Women's Model: Bare 7mm Elastek Full Womens Wetsuit

Bare Elastek Wetsuit at a Glance

:
---
Type: Full length suit
Thickness: 7mm
Sizes: 9
Other: Blind stitched seams, Ultra stretch neoprene
---
The Epic delivers high-end value for an affordable price. 100% UltraFlex neoprene affords excellent comfort, performance, and mobility.
The BackZip offers a Blackout zipper so that the suit is easy to take on and off and includes a watertight seal.
This wetsuit also includes the company's trademark Lumbar Seamless Design and a double seal neck cover.
Expand To See MoreSee Less

The Epic's FluidFlex firewall provides for warmth and wind resistance, in addition to a water wicking internal layer.

The seams are glued and blindstitched and Krypto knee pads are contoured, adding a provision of comfort where you need it most.

In addition, the Epic includes wrist and ankle seals and an external key pocket with a loop, as is standard on O'Neil products. If your looking for the best 4/3 wetsuit, look no further!

Women's Model: O'Neill Wetsuits Women's Epic 4/3mm Full Suit

O'Neill Wetsuits Epic Full Suit at a Glance

:
---
Type: Full length suit
Thickness: 4/3 mm
Sizes: 17
Other: Seamless paddle zones, blind stitched seams
---
The Mares Flexa is known for its attention to detail. Available in three different thicknesses, the Flexa is made with Trilastic material that also varies in thickness throughout the body, ensuring warmth where it's needed the most.
An additional layer of neoprene has been stitched into the back for extra comfort and abrasion resistance. The inside boasts a Thermo Plush material that is soft to the touch.
Expand To See MoreSee Less

Newly designed for this year is a soft, ergonomic custom closure. The front zip includes a smooth neoprene flap.

In addition, there is an integrated buckle on the collar for a hood attachment and on the leg for attachment of the Flexa Smart Pocket, sold separately.

The wetsuit is made with 100% ultrastretch, high quality neoprene. If you are looking for a shorty, check out the Mares 2.5mm Reef Shorty Wetsuit.

Women's Model: Mares Flexa 5-4-3 mm Women's Wetsuit

Mares Flexa Wetsuit at a Glance

:
---
Type: Full length suit
Thickness: 5/4/3 mm
Sizes: 7
Other: Ultrastretch trilastic neoprene
---
Wetsuit Comparison Table
| Wetsuit | | Thickness | Type | Made From | Features | Rating |
| --- | --- | --- | --- | --- | --- | --- |
| Bare Velocity Super-Stretch | | 5mm | Full | Super-Stretch neoprene | Stretches 200% more than standard neoprene with adjustable Velcro collar | 5.0 / 5.0 |
| ScubaPro Everflex Steamer | | 5/4 mm | Full | Everflex neoprene | Single blind-stitched inner seams for comfort | 5.0 / 5.0 |
| O'Neill Reactor | | 3/2mm | Full | FluidFlex neoprene | Flatloc seams and easy to use back zipper | 4.3 / 5.0 |
| XCEL Thermoflex Ultrastretch | | 7/6mm | Full | DuraFlex neoprene | Contoured, articulating knee panels with easy on/off ankle zipper system | 4.5 / 5.0 |
| Bare Elastek | | 7 mm | Full | Ultra Flex Neoprene | Knee pads provide exceptional grip and durability | 5.0 / 5.0 |
| O'Neill Epic | | 4/3 mm | Full | UltraFlex neoprene | Krypto knee pads and double seal neck closure | 4.2 / 5.0 |
| Mares Flexa | | 5/4/3 mm | Full | Ultra stretch Neoprene | Thermo plush interior for warmth and comfort | 4.6 / 5.0 |
How to Choose the Best Wetsuit – Buyers Guide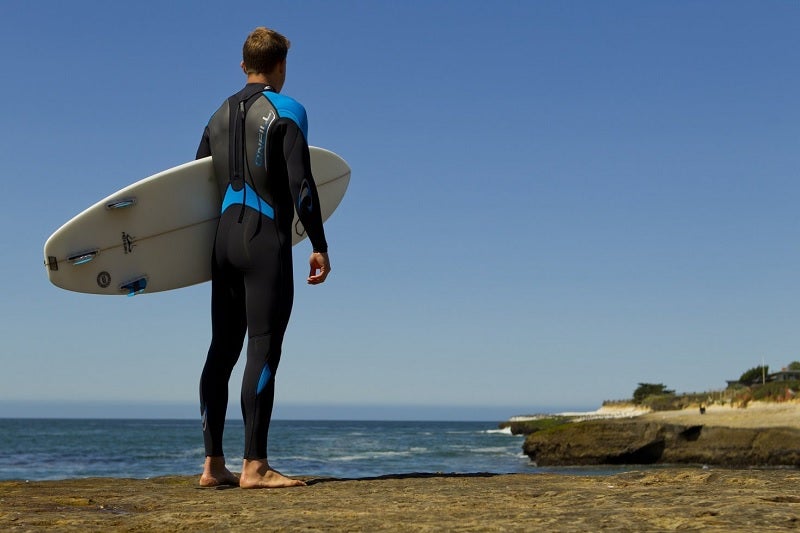 Wetsuit Thickness
The type of thickness you choose depends entirely on the water temperature in which you will be diving or surfing. Most models are available in 3mm, 5mm, and 7mm thicknesses.
When you're warm water diving exclusively, it might be more feasible to select a thinner suit of 1mm or 2mm in thickness.
When you encounter split numbers such as 7/5 this means the wetsuit offers different thicknesses in the torso. The torso thickness is indicated by the first number, and your extremities is indicated by the second number.
A general rule of thumb to follow when determining appropriate thickness:
2mm: 85+ degrees Fahrenheit
3mm: 70-85 degrees Fahrenheit
5mm: 60-70 degrees Fahrenheit
7mm: 50-70 degrees Fahrenheit
Types of Wetsuits
Wetsuits are available in four different types and it's important to understand the differences when you're selecting one.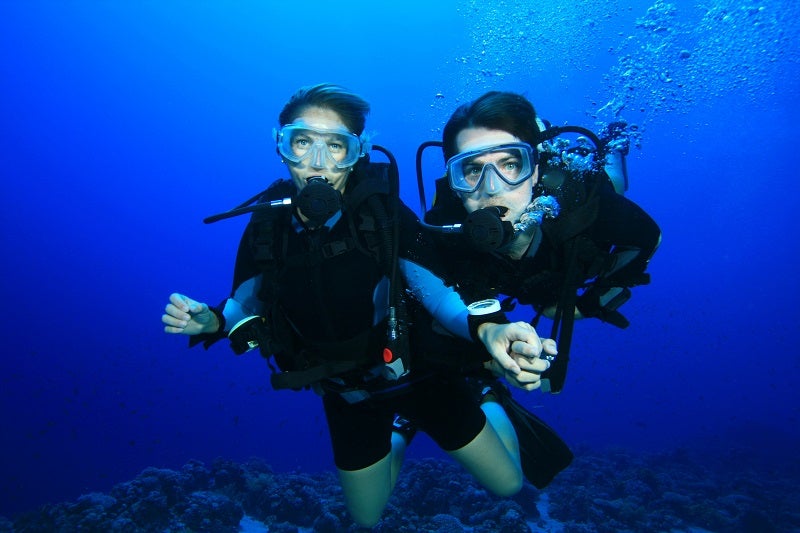 Shorty
Shorty wetsuits are designed for diving/surfing, or in warmer water temperatures and have short arms and short legs, meaning the neoprene only extends a short distance down the extremities.
Shorty wetsuits are ideal for diving in warmer water conditions, ideally over 80 degrees Fahrenheit. They are also popular in other water sports including snorkeling, body boarding, skimboarding and swimming.
A shorty wetsuit is recommended if you're diving exclusively in tropical conditions.
Full Length
A full suit is the most common type of wetsuit. It is a one-piece suit that covers the torso and extremities, down to the wrists and ankles.
The extremity coverage provides your arms and legs with added protection in case you come into contact with coral reefs or jelly fish, in addition to more heat retention than a shorty suit can provide.
If you're looking for a wetsuit for surfing, this is a good choice for you.
Long John
Long John (or Jane) suits involve two separate pieces. The first piece covers the legs and torso but leaves the arms bare.
The second piece is a jacket, which doubles up the torso insulation, making it ideal for diving in colder water temperatures. Favored by free divers, this type of wetsuit allows for added mobility through the shoulder section.
Semi-dry
Semi-dry wetsuits include seals at the wrists and ankles that serve to reduce flushing and are designed with heat retention in mind. These wetsuits are typically higher quality and more ideal for diving in colder water temperatures.

Wetsuit Material
When you're scuba diving you're not only concerned about the type of wetsuit you're wearing, but also the materials that serve as your first line of protection from the elements.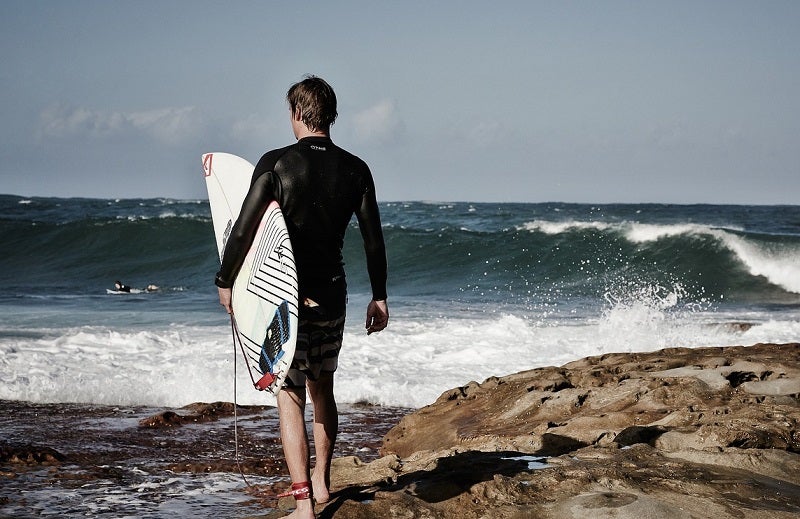 Closed Cell
These are typically more common than other types of wetsuits. Closed cell wetsuits do not have the ability to suction to the skin and water moves more freely between the skin and the suit.
This makes for less heat retention than higher-quality open cell wetsuits. Closed cell wet suits get their thermal regulation from their thickness and therefore tend to be more rigid.
Open Cell
Open cell wetsuits keep the diver warmer by providing suction between the skin and the neoprene. This is provided by a kind of watertight seal. Open cell wetsuits are also softer and more flexible, usually allocating to increased comfort under water.
Lycra
Lycra comes into play in warmer water conditions. When insulation is not necessary, lycra is often incorporated into a wetsuit in order to provide protection from sharp or painful objects under water, such as coral or jelly fish. Lycra also provides a level of UV protection.

Types of Stitching
When you're reading through our reviews of the best scuba diving wetsuits, you're going to come across stitching terms you'll probably want to better understand.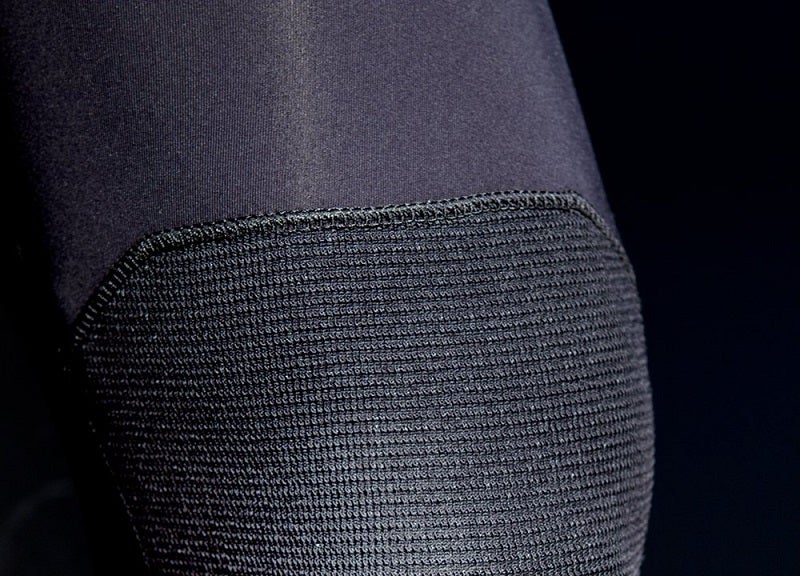 Overlock
With this kind of stitching, seams are still present. Overlock stitches are incorporated on the inside so you don't actually see exterior stitching.
Because of the possibility of water seeping through seams, overlock stitched suits are better suited to warmer water conditions.
Flat Stitch
While seams are still recognizable in flat stitching, they are flatter, and tend to be more comfortable than those incorporating overlock stitching.
Again water seepage is an issue, so these kind of wet suits are recommended for warmer water conditions. Flat stitching is visible on the outside of a wetsuit.
Blindstitch
Similar to flat stitching, blind stitches are narrower. The seams are glued, which helps prevent water seepage and makes blindstitched suits more appropriate for colder water conditions.
When a suit is blindstitched and seam taped, this means that the inner seams are reinforced as well, making these wetsuits ideal for water temperatures 50 degrees Fahrenheit and below.
Welded Seams
While not a "stitch", this method uses a silicon-based urethane seal to bring the neoprene panels together. You're typically only going to see this kind of stitching on the higher-end suits. The seal creates a watertight barrier, so, as you can probably guess, the entire suit becomes watertight.
Zip Styles
What is the difference between a back zip, chest zip, and zip-free wetsuit?
Back zip wetsuits feature a zip from the base of the spine to the back of the collar/neck. As it's so long, it creates a big opening for you to easily get in and out of the wetsuit. While this may seem like the most logical option for that reason, it does have a downside. The back zips reduce flexibility and the collar generally isn't as tight and can let water in.
Chest zip wetsuits feature a kind of flap across the chest which makes a small opening. This increases flexibility of the wetsuit, however, it is more difficult and takes more time to get into this type of suit. The tighter seal, however, will make sure you're warmer in colder water.
Zip free wetsuits have the highest level of flexibility, as you might imagine. As there's no zip, it's also more lightweight and watertight. This makes it the warmest style, as there's hardly any water flush.
Sizing
A difficult part of choosing the best wetsuit, is figuring out what size you need. If you've never worn a wetsuit before, it can feel a bit unnatural to wear one the way it's supposed to be. At first, it may be odd, but we promise you'll get used to it, especially with regular use.
To get the best wetsuit fit, make sure to get one as tight against your skin as possible to prevent water flush through the arm, leg and neck openings. You aren't going to want your wetsuit completely full of water if you're planning on staying warm and comfortable.
You'll find that for most, you're going to go off of your height and chest size. For women, you can also go off dress size, but just make sure it's a tight fit. If you're having doubts, a proper measurement will make sure you have a good idea.

FAQ About Wetsuits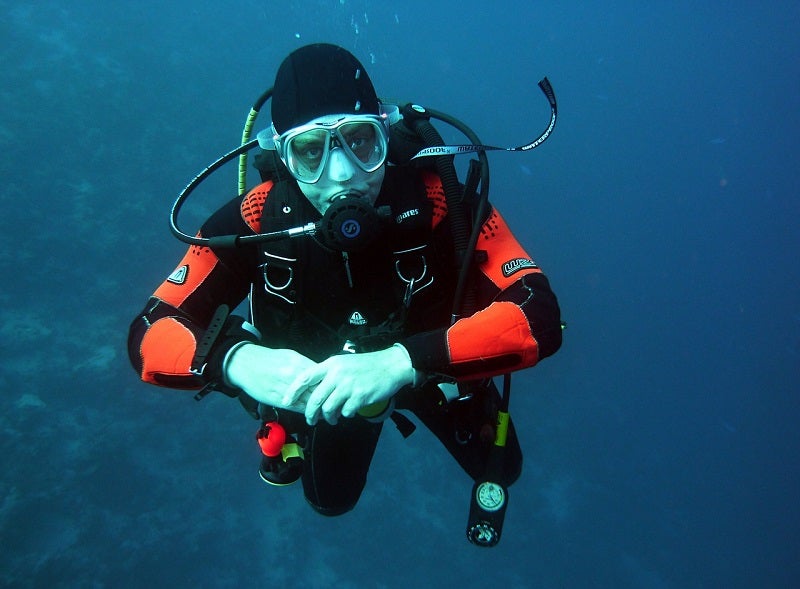 Q: Do I need to buy more than one wetsuit?
A: One wetsuit is typically sufficient for general scuba diving. You only need to buy more than one wetsuit if you plan to dive in both extremely warm and extremely cold conditions, in which case you won't be comfortable in one wetsuit in both water temperatures.
Q: How do I take care of a quality wetsuit?
A: Some tips for taking care of a wetsuit include taking off your wetsuit slowly so that you don't stretch seams, rinsing it inside out with freshwater to avoid degradation from salt water. Store the wetsuite on a wet suit hanger and on occasion using wetsuit shampoo to clean your wetsuit with a odor-removing products such as Mirazyme.
Q: Do I need to buy an expensive wetsuit?
A: Quality usually equates to a higher price tag. Depending on how often you plan on scuba diving, it might be worth investing in a more expensive wetsuit up front that will last you longer. If you only plan on going once or twice a year, a more basic model will suffice.
Q: Do I need to buy a scuba-specific wetsuit?
A: It is highly recommended that you buy a scuba-specific wetsuit for diving. They are designed to compress while in the depths of the sea and will provide more protection than a wetsuit designed for general water activities.
Q: What does flushing of a wetsuit mean?
A: Flushing involves a sudden rush of water through your wet suit, eliminating the layer previously warming your body.
Q: What is flatloc stitching?
A: Flatloc stitching is when two raw edges are brought together then covered with machine stitching, making for a smoothly combined fabric.
Q: What is blindstitching?
A: Blindstitching is stitching that is not easily seen or noticed.
Q: How do I know if a wetsuit is simply too tight?
A: While it's important to keep your wetsuit tight, there is a such thing as it being too tight. Here's what to look for:
If it restricts either your breathing or blood flow, it's too tight.
If it's making you nervous from being too tight around your neck, it's too small.
If there's a space between your back and the fabric, it's too tight. This can easily let water come into the wetsuit which is going to make you cold and uncomfortable.
If it's stretched thin over any part of your body, it's too small.
Q: Should I internally tape my wetsuit to make it even warmer?
A: This is a common suggestion, but it's not really necessary with a new wetsuit. The idea behind this taping is that it acts as a kind of backup seal when the suit's seals fail. However, new suits should have properly functioning seals, so this isn't necessary. Once you've had it for a while and the seams begin to break down, then you may consider this as an option.
Q: What are some methods for into a tight wetsuit?
A: There are quite a few, so we'll just cover a couple of the most popular methods.
Using a plastic grocery bag over your foot before sliding it in can help a ton. Once your foot is in the leg it's supposed to be in, take the bag off and place it on the other foot. After your feet are both in, do the same with each hand.
Begin with your suit inside-out, then place one foot through the ankle while reversed. After you do this, slowly roll the garment up your leg. Once this is done, repeat with your other leg and work your way up the torso and end with your arms.
Putting your suit on in the water is often more convenient and the material just feels more flexible. Just make sure that when the material tries to stick to your body, you pull it away and allow it to break the seal.
We definitely do not recommend using soaps, detergents, shampoos, and so on as lubricants. This is actually bad for the suit's neoprene if they're not biodegradable. Not only that, but it could irritate your skin, and having those kinds of materials in the oceans are not healthy either.
Wetsuit or Dry Suit – Whats the Difference?
Wetsuits are exactly what they say — suits that trap water against your skin, keeping you wet, yet still retaining your body heat for warmth.
Wetsuits limit the flow of water in and out of your suit so that after a few minutes submerged you're floating in a warm layer of water, its temperature maintained by the neoprene.
The amount of warmth is determined by the thickness of the wetsuit. The thicker the neoprene, the warmer your body stays.
Drysuits are essentially airtight vessels around your body that keep water out, with seals located at the wrists and ankles. You stay warm in a drysuit by wearing layers underneath the suit.
The garments you can wear under a dry suit vary wildly depending on the temperature of the water you are diving in.
Drysuits are most ideal for ice diving or when you're diving in extremely cold water temperatures.

Best Wetsuit Brands for Diving and Surfing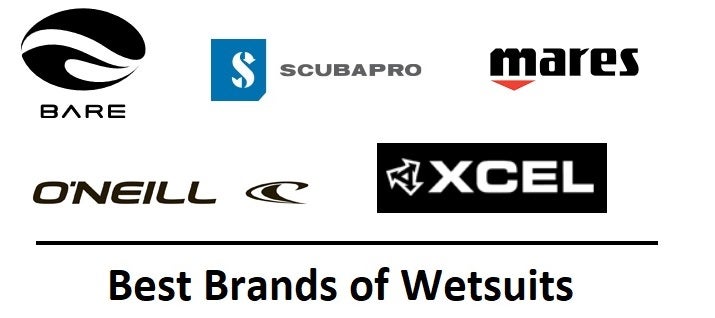 There are quite a few quality manufacturers of wetsuits for diving and surfing. We'll cover some of our favorite brands.
O'Neill: Founded in 1952 by Jack O'Neill by making surfboards, they have since expanded in making a quality lineup of wetsuits.
Scubapro: Founded in 1963 and only make scuba diving equipment, they make some of the best wetsuits on the market!
Mares: Ludovico Mares founded Mares in 1949 making scuba masks and spearguns, they now make just about anything related to diving.
Bare: The only thing bare makes are suits for diving and surfing. They have a large line of dry and wetsuits that are of the finest quality.
Xcel: Ed D'Ascoli founded Xcel in 1982 in his bedroom making hand sewn wetsuits for surfers. Xcel makes some of the finest wetsuits available at any price!
Final Thoughts
With all the training and certification required before you head out on your first scuba dive, it would be foolish to skimp on your wetsuit, which is the primary form of protection between you and the elements.
Use this guide to help you select the most appropriate wetsuit for you. The Bare Velocity is an ideal option for both seasoned and first-time divers.
If you're looking for something more affordable, I recommend one of the O'Neil products, and the Scubapro Everflex is also a quality option.
---
I hope this guide was helpful in picking the best wetsuit to fit your needs. If you want to comment or recommend a suits I didn't include, please use my contact form to get in touch.
Have fun and be safe out there!
The Bare Velocity Super-Stretch is our Editor's Choice for the best wetsuit with its combination of warmth, versatility and quality.
OutsidePursuits.com is a participant in the Amazon Services LLC Associates Program, an affiliate advertising program. OutsidePursuits.com earns fees from products sold through qualifying purchases by linking to Amazon.com. Amazon offers a commission on products sold through their affiliate links.