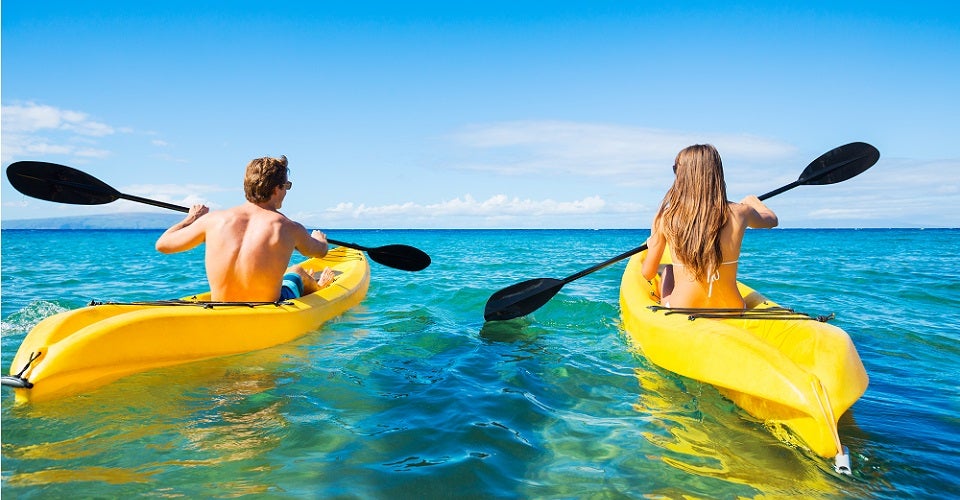 Our Editors independently research, test, and rate what we feel are the best products. We use affiliate links and may receive a small commission on purchases.
Whether you're a recreational kayaker, angler or paddling for exercise, a sit-on-top kayak has many advantages over a traditional kayak.
We're going to dive into what makes the best sit on top kayak, what to look for, and what to avoid. As we go along I'll do my best to point out all the details you need to know in order to buy a kayak that you'll love!
Let's dive right into taking a look at the top kayaks and learn how to choose one!
Best Sit-on-Top Kayaks
| | Lifetime Tamarack Sit-On-Top Kayak | Ocean Kayak Malibu Tandem Kayak | Intex Excursion Pro Kayak |
| --- | --- | --- | --- |
| | | | |
| Length: | 12 Feet | 12 Feet | 12.5 Feet |
| Weight Limit: | 275 Pounds | 425 Pounds | 400 Pounds |
| Seating: | One | Two | Two |
| Hull: | Solid | Solid | Inflatable |
| | | | |
For more of my kayak gear recommendations, have a look through these popular Outside Pursuits guide links: Kayak Paddles, Kayak Roof Racks, Kayak Carts.
Quick Answer: The 8 Best Rated Sit on Top Kayaks For 2021
Sit on Top Fishing Kayaks
Sit on Top Recreational & Tandem Kayaks
Sit on Top Inflatable Kayaks
Our reviews of the top rated SOT kayaks with a comparison table and buying guide below will help you choose the right one for you.
---
Sit on Top Kayak Reviews
Let's now take a closer look at all the sit-on-top kayaks and find the right one for you!
---
Best Sit on Top Fishing Kayaks
---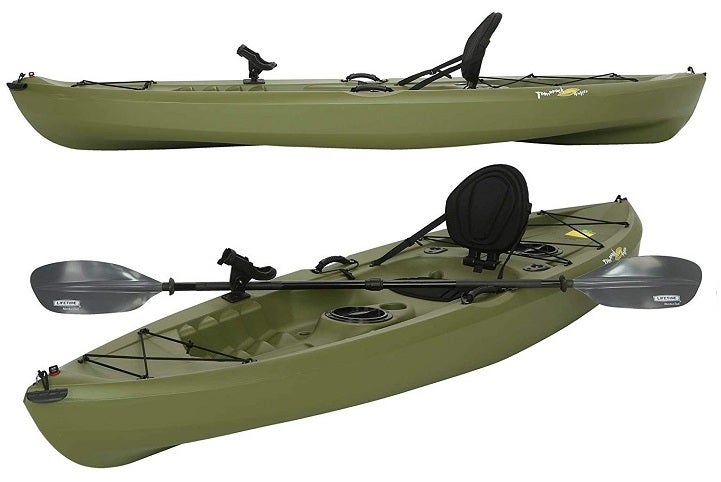 Lifetime Tamarack Sit-On-Top Kayak at a Glance
:
---
Length: 12 Feet
Weight Capacity: 275 Pounds
Seat: Adjustable foam
Storage: Two 6' hatches, shock cord
Weight: 52 Pounds
Lifetime kayaks are all over the place. Seriously – I feel like I see them constantly. It's because they're a great balance of price, features, and reliability for the average kayaker.
Everything we need without paying through the nose! When it comes to stability you'll be hard pressed to find a more reliable boat.
They made this kayak extra wide with chines along the length under the boat which adds tons of side-to-side stability. Of course, it comes with a drawback – you'll lose some speed and efficiency when paddling.
There are two flush mounted rod holders and a top mounted rod holder for anglers. However, you need not be an angler to use this boat. The width and stability will appeal to anyone who is tired of trying to master squirrelly boats.
Inside you'll find two 6" internal waterproof storage hatches. At the bow and stern are shock cord lashings for holding down your jacket, tackle box, or lunch bag.
Our pick for the best SOT fishing kayak that is stable and keep anglers and recreational kayakers from flipping over.

---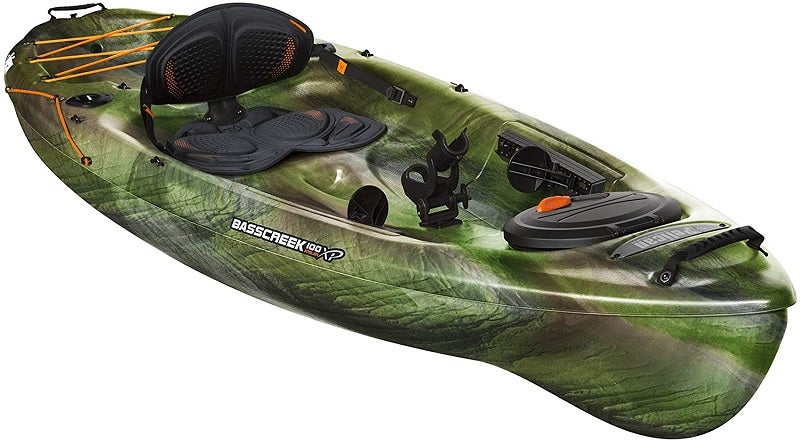 Pelican Sit-on-top Fishing Kayak at a Glance
:
---
Length: 10 Feet
Weight Capacity: 325 Pounds
Seat:

ERGOFIT G2

seat
Storage: Large front hatch, shock cord rear storage
Weight: 50 Pounds
Let's take thing up a notch with the Pelican kayak. Short of pedal-powered fishing kayaks, you'll be hard pressed to find a better boat for the angler.
I want to take a moment to recognize the importance of the ERGOFIT G2 Seating System in this boat. Raised slightly above the deck is a folding, adjustable, padded seat.
Behind you is a backrest that's just high enough to be supportive, but designed to pair with a fishing kayak PFD.
Taken together with the adjustable foot braces, this boat's seating is made to promote comfort over a long day of throwing lures.
Of all the fishing kayaks in the Pelican lineup, the Prowler is the widest. This makes it highly stable side-to-side but not very fast when paddling. If you're looking for something sleek and fast, you can certainly find it in their lineup though!
Best for anglers who need the best in storage, comfort, and organization when fishing from their kayak.

---
Best Sit on Top Recreational Kayaks
---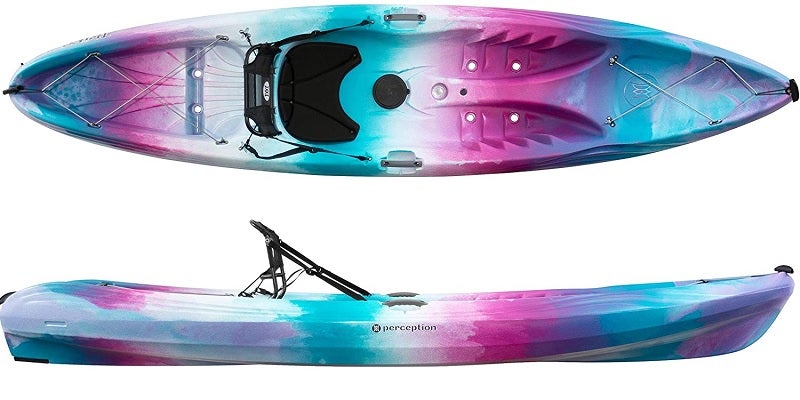 Perception Tribe Sit on Top Recreational Kayak at a Glance
:
---
Length: 11.5 Feet
Weight Capacity: 350 Pounds
Seat: Molded seat
Storage: Front and rear

well storage with bungee

Weight: 52 Pounds
If you're not ready to drop 4 digits of cash on a new kayak, it's easy to keep things affordable with this boat. For beginner to intermediate kayakers on gentle water, the Tribe kayak is a simple and effective solution.
This short 11.5' kayak is a little faster and more agile than some on our list. What you gain from that short length is a lightweight boat that's easy to paddle and easy to transport.
I want to note also that it comes in several color combinations so there should be one that appeals to everyone.
There are several features here like front and rear storage of the boat with bungee cords and a small well storage in front of the seat.
To further add to the things Iike about this kayak is the comfortable seat with an adjustable seatback. This is common on many sit on top boats and to top it off there are quite a few molded foot rests.
Our top pick for the best sit on kayak that is an affordable, lightweight boat that's great for occasional recreational use.

---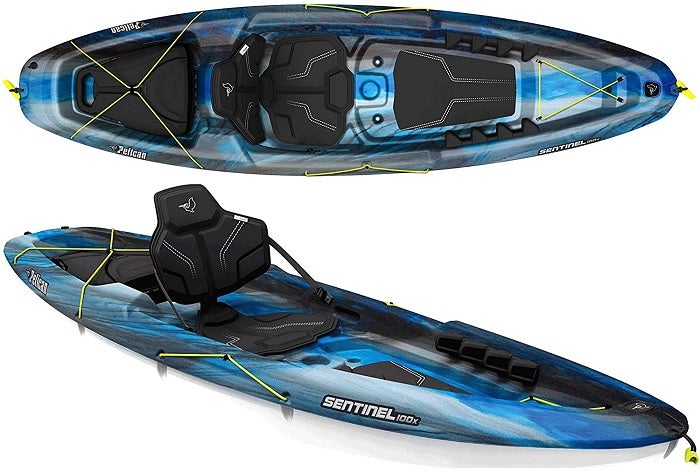 Pelican Sit-on-Top Kayak Sentinel 100X at a Glance
:
---
Length: 9.5 Feet
Weight Capacity: 275 Pounds
Seat:

ErgoLounge Seating System

Storage: Front and rear well storage with bungee
Weight: 42 Pounds
---
For recreational paddlers, cash is king is it not? For just a few bucks more than the Perception Access you can get the Pelican Sentinel 100X with some seriously upgraded features!
At 9.5' long this boat is right about in the middle of the spectrum as far as length. With a large seating cockpit, pads for your knees, and plenty of storage it's obviously aimed at comfort!
One feature that sets it apart is the twin-arched multi chine hull of this kayak gives superior tracking and stability compared to similar sized kayaks.
There are storage options all over like paddle leashes, accessory holders, and other goodies!
If you are a recreational paddler on a budget looking for something that is just loaded with storage options you'll want to make sure you look hard at this boat.
The best budget sit on kayak that has ample and versatile storage when you're heading out for a day trip on the river!

---
Best Sit on Top Tandem Kayaks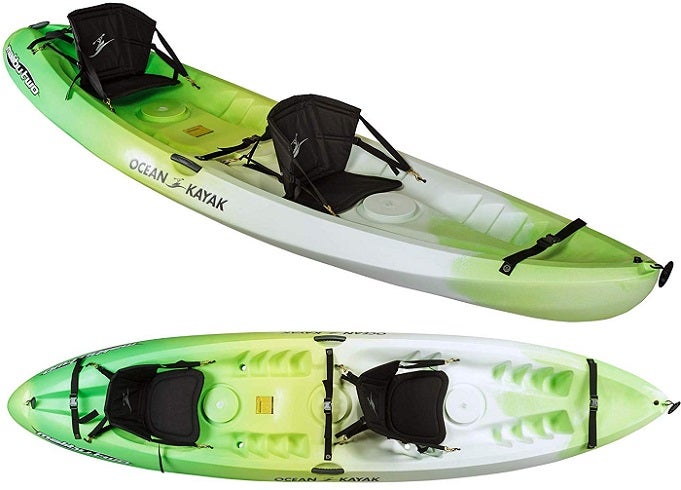 Ocean Kayak Malibu Sit-On-Top Recreational Kayak at a Glance
:
---
Length: 12 Feet
Weight Capacity: 425 Pounds
Seat: Tandem adjustable seats
Storage: Three gear straps
Weight: 57 Pounds
Tandem kayaks may not be for everyone, but when it's time to head out with your partner or friend it's fun to paddle together!
If you're looking for a two person kayak that has minimal features and a reasonable price then look no further. Seriously this boat essentially has just two seats, a couple straps for gear, and enough room for two people.
That said, the minimal features keep this tandem kayak lightweight. In fact, it's barely heavier than some of our solo kayaks and it has a combined weight capacity of 425 pounds.
If you're a taller or larger person looking for a slightly bigger boat you can get the XL version of this same boat which just has a bit more leg room.
Overall the features may be minimal, but the seats are fully adjustable which is a big deal for me!
Best for two people looking for a good tandem sit on kayak that performs well and doesn't break the bank!

---
Perception Kayak Pescador Tandem Sit On Top Kayak at a Glance
:
---
Length: 13 Feet
Weight Capacity: 500 Pounds
Seat: Molded, adjustable backrest
Storage: Two hatches, cup holder, shock cord
Weight: 69 Pounds
Everything about this kayak is molded, solid, and reliable. There are few moving parts which makes for a kayak that will last a very long time with few problems.
At 13' long this boat is the longer of the two tandems on our list so if you're worried about legroom, look here! It's also a no-nonsense boat with minimal storage and molded seats.
While I do like molded seats for the fact that they're simple, durable, and nearly indestructible the lack of padding around the butt can become… numbing. At least the seat backs are adjustable so there's some customization to be done.
At the front is a very small gear vestibule and the rear of the boat has a large(r) vestibule. Each paddler has a waterproof hatch between the legs for storing small items like phones and keys.
Best for pairs of paddlers seeking a reliable boat with minimal accessories.

---
Best Sit on Top Inflatable Kayaks
---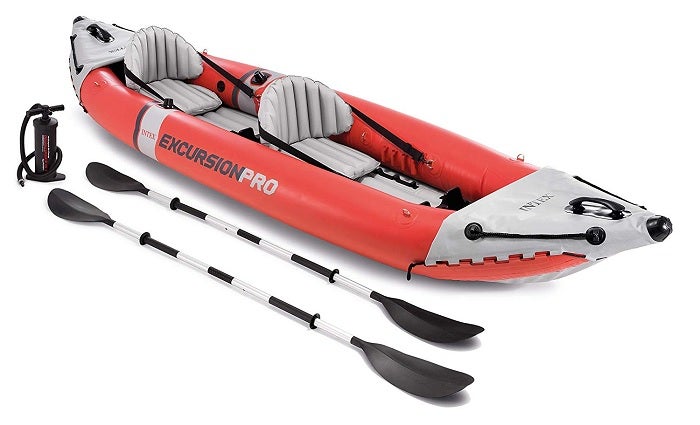 Intex Excursion Pro Kayak at a Glance
:
---
Length: 12' 7"
Weight Capacity: 400 Pounds
Seat: Inflatable adjustable
Storage: None
Weight: 39 Pounds
Inflatable boats have many advantages and this Intex tandem kayak is an awesome idea for paddling pairs with minimal storage and transportation space.
At just 30 pounds and packed down into a smaller space than any other tandem kayak on our list, this boat makes a strong contender for those without storage and transport space.
If you live in an apartment or maybe drive a smaller vehicle to the water you can get it done thanks to the flexibility of an inflatable kayak.
To get things going you have to use a high output air pump which is included with the boat. Underneath you can attach a removable skeg (a fin that stabilizes the boat in the water). Inside the boat are two seats for paddlers and storage in the front and rear.
Care to try some fishing? The Intex Pro has two swivel fishing rod holders and an adjustable mounting bracket for a fish finder.
When you consider everything this boat has to offer, it makes a strong case. Plus it comes at a fraction of the price of most kayaks!
Best for calm waters and some fishing when you don't have space to store or transport a full size kayak.

---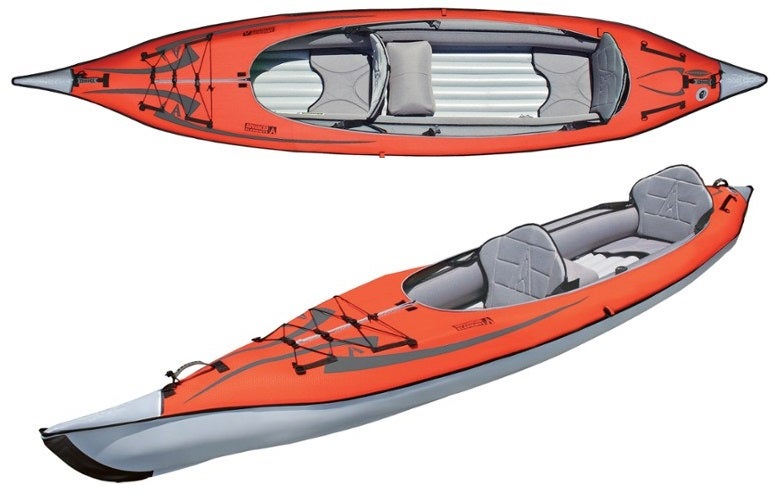 Advanced Elements AdvancedFrame Inflatable Kayak at a Glance
:
---
Length: 15 Feet
Weight Capacity: 550 Pounds
Seat: Inflatable adjustable
Storage: Front & rear gear vestibule
Weight: 52 Pounds
Stepping it up in terms of quality and performance is the Advanced Elements AdvancedFrame kayak. To obtain a rigid kayak feel there are aluminum ribs built into the hull for solid tracking and stability.
This is a long kayak at 15 ft so there is plenty of room for storage and this kayak is suitable for camping trips. There is a surprising amount of storage in the front and rear of the kayak and it has a few rod holders if you want to try your hand at fishing.
One of the nicest features is the ability to be able to use it as a solo or tandem kayak by changing the seats.
If you are worried about getting a puncture, the triple layered PVC is tough and with 6 chambers this is the safest tandem kayak you can buy.
If you want to get even better performance, Advanced Elements makes an option "drop stitch" floor for even more rigidity.
Comes with a carry bag that the kayak fits into easily but you need to buy the pump separate.

---
Sit on Top Kayak Comparison Table
How to Choose the Best Sit on Top Kayak – Buyers Guide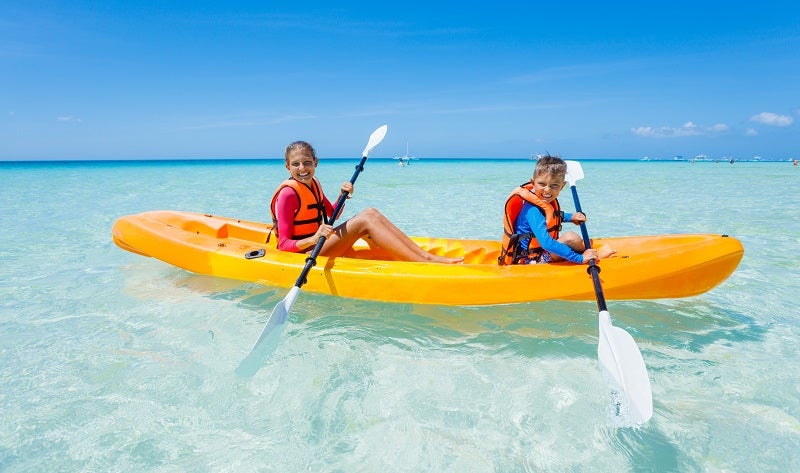 When I first saw sit on top kayaks I really thought they were some cheap beginner kayak gimmick.
Of course, I couldn't have been further from the truth since sit on top kayaks come in all sorts of varieties and can be great boats for many paddlers!
Let's look at some of the features and considerations of SOT kayaks so you can make a good choice.

Kayak Types
Yes, we're talking about sit on top kayaks in this article. However, I'd like to briefly remind you of all the different styles out there and who they're ideal for so you can make the best choice.
Recreational kayaks are what I call the "sit inside" traditional boats. In their cheapest form, these kayaks can range in performance from moderate to downright awful. However, they're usually aimed at occasional paddlers on a budget.
Whitewater kayaks are purpose-built for tackling whitewater rivers. They're costly, but extremely high performance for their tasks.
Sea kayaks are purpose-built for multi-day paddling in open water. These boats can be extremely expensive but they're outstanding at their job.
Fishing kayaks usually have extra features like rod holders, rudders, and even pedal-powered movement. These are often sit on top style kayak.
Sit on top kayaks may span multiple categories. These boats may be for fishing or casual recreation and can vary widely in their purpose. Sit on top kayaks, however, are not used for whitewater or open water.

Kayak Hulls and Stability
Are you the kind of person who hates it when a kayak or canoe starts wobbling under you? Kayak stability plays a major role in how secure you feel on the water. Fortunately, sit on top kayaks can be one of the most stable forms of recreational kayak you can find!
Flat hull boats are popular among sit on top kayaks. These boats have fantastic stability when flat on the water. Tip them up on edge, however, and they may lose it!
Pontoon hull boats are one step more stable than flat hulls and they're ideal for kayak anglers. This is another popular hull shape for sit on top kayaks.
Rounded and V hulls are more maneuverable and have better speed than flat and pontoon hulls. However, they're a little more squirrelly when getting in and out or trying to sit still.
Which type of hull you choose can really impact how your boat performs. Choose wisely and you'll have a boat that matches your needs. Choose poorly, however, and you may be struggling to keep your boat from flipping over when you catch that big fish!

Understanding Scupper Holes

What are those little holes in the frame of a sit on top kayak? Some think they are fishing rod holders. Other think they may be drainage holes for water. I've even heard that they're supposed to make the boat lighter.
Well, it turns out that scupper holes are there to help the sit on top kayak drain any water that might get on deck. That means waves, splashes, capsizes, and paddle drips all can just drain right on out without any harm!
Of course, when you're nice and dry and water squirts up through the scupper holes to get your bum wet, it can be annoying! To fix this problem you can try using scupper plugs, but if you get into trouble these plugs can prevent the scupper holes from self-bailing so be careful with their use!
Note: Scupper holes are also a great place to use a stake out stick or a scupper anchor pole for kayak anglers in shallow water.

Kayak Seats

Sit on top kayaks are kind of notorious for bad seats but that's not a rule. You'll find plenty of boats with great seats out of the box but remember that you get what you pay for.
Fortunately you can get around a bad seat in most cases. Many kayaks have seats that can be easily replaced with aftermarket options!
When buying your kayak, if the seat looks questionable make sure it's at least removable. If it doesn't hold up to your needs you can always swap it out later and some aftermarket seats are just downright luxurious so I recommend it!
Note: If you choose a seat with a high back, pair it with a seat-friendly PFD (life jacket). A bulky lifejacket stuck between you and your seat is never comfortable.

Kayak Hull Materials
We are going to cover just two of the possible materials a kayak hull could be made out of. Yes, there are other materials available but they're very expensive and uncommon such as carbon fiber or custom fiberglass hulls.
Instead we'll focus on affordable and common hull materials that most of us mere mortals can actually afford.
Polyethylene is prolific in beginner kayaks and those on the less expensive end of the spectrum. If you're like me, this probably sounds good already! Unfortunately, this is also the heaviest material you can choose and it's relatively susceptible to UV damage from prolonged storage in sunlight. Overall, however, it's relatively durable and very affordable.
ABS plastic is probably the second most common hull material for kayaks. You'll gain a bit more efficiency in the water, a little more overall durability, and a little lighter weight with ABS plastic hulls compared to poly hulls. This material is also a bit more UV resistant but will cost you more in the end.
Note: Inflatable kayaks are made from one of several different options. We will include some inflatable kayaks in this article, but for the full buyer's guide on inflatable kayaks, please see our other article here.

Kayak Length
Any good kayak roundup needs to at least tip the hat toward kayak lengths. You can get kayaks in lengths from about 6' to 14' or even more.
Short kayaks are more agile.
Long kayaks are more efficient at paddling straight.
That's about as simple as I can make it, however, it's a gross oversimplification.
Longer kayaks tend to have better stability and more room for gear. They're often chosen for long days of paddling or kayak anglers who want more room for tackle and stability on open water.
Short kayaks are great for agile river paddling such as whitewater or other nimble application.
Your average recreational kayak will probably range somewhere between about 9-14' depending with 10-12' probably being the most common off-the-shelf option out there.

Kayak Rocker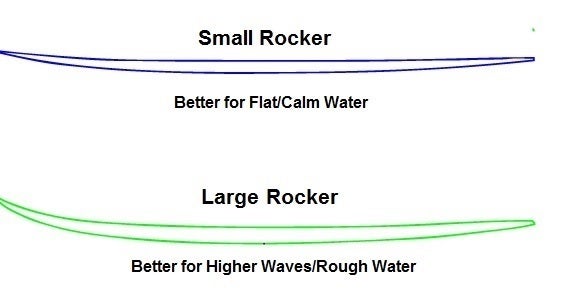 We talked about the length and materials that make a kayak. Now let's consider the "rocker" of a kayak.
If you're a paddle boarder then you have probably heard the term rocker. A boat, or SUP that has rocker is turned like a banana. When set flat on the ground both the bow and stern are lifted off the ground.
Most every boat have some rocker. Rocker aids in steering because the bow and stern have less material submerged. So that way when a paddler starts trying to turn the boat, there's less resistance to the turn.
Having more rocker is desirable in rougher water as it will cut through the water better with water less likely to splash into the cockpit.
With touring kayaks having less of a rocker is preferable. Flatter touring kayaks leave more of the boat underwater at the bow and stern which aids in tracking and keeping the boat in a straight line.
When you are paddling long distances, we want to minimize the amount of zigzag of the kayak.
Pros and Cons of Sit-on-Top Kayaks
Since you are here you have probably decided on s SOT style kayak but lets look at a few pros and cons anyway:
Pros:
A sit on top kayak is much more beginner friendly. It is easier to get into and out of a SOT vs a sit in style. If you are at all claustrophobic, then the enclosed cockpit of a sit in kayak may make you uncomfortable.
A sit in kayak will be self-bailing because they have "scupper holes", discussed above. These holes allow water splashed into the kayak while paddling to drain out of the kayak.
Cons:
This style of kayak is best for warm weather and calm water conditions.
You are more likely to get wet from both waves splashing over the hull and water that drips off the paddles.
Storing Your Gear

Storage comes in several flavors when it comes to sit on top style kayaks. Deck lashing and bungee cord is the most simple and very common in SOT kayaks.
With deck lashing, whatever you store will be open to the water dripping from your paddle or a if you flip the boat. Oops!
The more watertight option is called a hatch (often just called storage compartment). Hatches are not always waterproof though. However if you having some gear you don't want getting wet, you will want a kayak with a cover storage compartment.
Having a completely waterproof hatch is necessary only if you ae in danger of flipping the boat or in rough water where the boat is being soaked. Most recreational and beginner paddlers don't go out in these conditions, however.

FAQs About Sit-on-Top Kayaks
Q: Can inflatable kayaks "pop" and sink?
A: It's easy to think that an inflatable boat might pop like a balloon and sink to the bottom of the river. That's really just not the way it works. Instead these boats are made with multi-camber construction. That means if you should get a puncture, only a small portion of the boat may deflate.
Sure, it'll be hard to paddle a lopsided boat but at least you won't be in danger of sinking like a rock!
Like any kayak there is always the danger of tipping, flipping, or even sinking. I recommend keeping important gear like your keys or phone in a safe place such as a lockable box clipped to your PFD.
Q: What are the advantages of tandem kayaks?
A: Honestly, paddling in the same boat as someone you like (whether it's a spouse, friend, or acquaintance) is a great way to get grumpy. However, some people love spending time "stuck" together.
Tandem kayaks allow for a sense of cooperation to overcome the challenges of paddling
There is also something to be said about taking just one boat to the water. You can share the weight when carrying it to the water or loading the truck.
Among the disadvantages are that you're locked together. You have to make collective decisions. Plus a tandem kayak happens to be pretty large and heavy compared to a solo boat.
Q: What kind of paddle should I get?
A: I always recommend people get a new paddle with any boat. Every time paddles come with a kayak, they always suck!
To be fair, included paddles are usually just fine and usable. However, they're usually also made cheaply and tend to be as heavy as a brick compared to good aftermarket paddles.
Look for two-piece paddles that can be broken down for ease of storage and transport. If your budget allows for it, make sure you get the lightest weight paddle you can afford – it will make your paddling day so much easier!
Don't forget that paddle length should be tailored to your height to get the best use out of your paddle.
Q: Why not just get a traditional sit-inside kayak?
A: There's nothing wrong with a traditional cockpit. In fact these cockpits are ideal for whitewater, racing, or touring.
Sit on top kayaks, however, are a little simpler. They're easier to get in and out, more forgiving, and less claustrophobic. There is more leg room and you can easily enjoy a relaxing day on the water.
For pure performance traditional kayak cockpits can't be beat. For a day on the river with some choice beverages or dropping the anchor and throwing some lures for the anglers among us, sit on top kayaks make a good choice for their ease of use and friendliness.
Q: What length kayak should I get?
A: Most people will do just fine with a 10-12 foot long kayak.
Longer kayaks are great at paddling straight, efficiently, and over long distances. However, they're harder to transport, less agile, and usually narrower (which means harder to get in and out).
For the beginner or recreational user something with a little stability and ranging in that sweet spot of 10-12' is usually a solid choice.
Of course if you're looking for something really specific like a touring kayak or a whitewater boat, go talk to your local outfitter and find out exactly what length is ideal for your uses.
How We Researched
To come up with the top sit-on-top kayaks we researched a variety of sources for reviews such as REI, Dicks Sporting Goods, Cabelas and Backcountry along with our own personal experience.
We also consulted online magazines for product research and reviews to get as much unbiased information as we could. To help weed out fake reviews we used Fakespot.com to make sure we only looked at genuine reviews.
With so much quality gear available, we had to narrow it down based on what we felt were the best options for the price. The author, Casey Fiedler has been an avid kayaker and leads kayak camping trips during the summer months in his native state of Michigan.
To help narrow down the selection he used his personal experience along with recommendations from kayak tour guides and rental shops.
After extensive research, we came up with our list to help you choose the right one for you.
Sources
Notice:
OutsidePursuits.com is a participant in the Amazon Services LLC Associates Program, an affiliate advertising program. OutsidePursuits.com earns fees from products sold through qualifying purchases by linking to Amazon.com. Amazon offers a commission on products sold through their affiliate links.