Cross country skiing, sometimes called Nordic skiing, is a relaxing and fun way to get out and enjoy the winter snow. This type of skiing can be done in the mountains, or on flat land and doesn't necessarily involve the speed and dangers of downhill skiing.
There are several different styles, a cross country skier might be touring, racing, or setting fresh tracks in backcountry snow.
We're going to take a look at cross country skis for modern skiing and I'll walk you through how to choose the best cross country skis for you. Finally, we'll analyze a handful of great cross country skis and packages available today.
If you already are familiar with cross country skis, you can skip to the reviews here:
How to Choose A Cross Country Ski
Types of Cross Country Skis
Touring Skis
In most areas, a touring ski is the prevalent ski choice for skiers on groomed terrain. These skis are long and very narrow. You may have a local ski area with groomed touring trails and often these areas will even rent touring skis for beginners.
Metal Edged Touring Skis
These skis are usually wider than touring skis and feature steel edges for better grip in rough snow conditions. Metal edged skis are meant for setting your own track, or skiing off of groomed trails. Often these skis see use on steeper terrain and deeper snow where their sidecut and metal edges can be used to greater advantages.
Race
Similar to touring skis, these high-performance skis feature a few upgrades to make them appropriate for advanced skiers and racers. While also meant to be skied in groomed tracks, race skis are stiffer and more difficult to ski but offer improved high-end performance.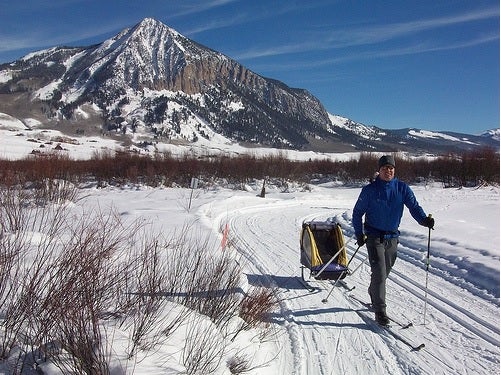 Ski Length
For cross country skiers, choosing a ski length is most heavily influenced by skier weight. Heavier skiers need longer skis and each ski length should have a recommended weight range. Research the specifications of your skis before ordering to be sure your ski will be appropriate for your weight.
Ski length can also be affected by skier ability level and terrain. For beginner skiers, a shorter ski will prove easier to learn and handle than a longer ski. For advanced skiers, a longer ski will offer greater speed. In steeper or more challenging terrain a skier may wish to choose a shorter ski length.
Ski Width
When ordering skis, you'll find that the majority of skis fit within a narrow and standardized range of sizes. For touring skiers, those wishing to ski in groomed tracks, a ski width no greater than 70mm is appropriate as ski tracks are groomed at 70mm or less.
Skiers wishing to ski both in track and out of track may want to look for a ski near 70mm wide as the ski will still fit within tracks but the relatively wide base will provide adequate floatation in deep snow.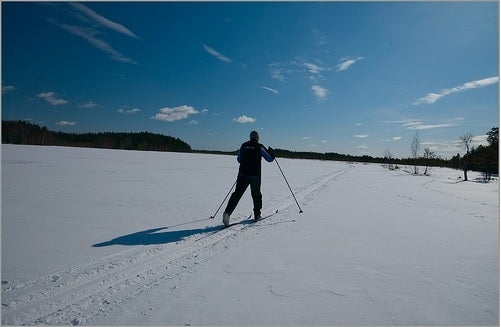 Wax vs Waxless Skis
Today's cross country skiers have choice to make: to wax or not to wax? In order for cross country skis to do their job, they need some way to grip the snow when skiers kick off and glide. A cross country ski might grip the snow by using textured ski bases, or by utilizing a combination of ski waxes on a flat base.
Waxable Skis
These skis gain their snow grip by using a special rub on wax applied to the middle of the ski base. Waxes must be perfectly matched to snow temperature and some practice and skill is required to master regular maintenance and waxing of these skis. For the vast majority of skiers, especially those just starting out, a waxable ski is not the most ideal choice.
Waxless Skis
These skis gain their grip and traction thanks to a section of textured material on the ski base in the center just under the foot. When skiers kick off with each ski, the textured base is able to grip and propel the ski forward. These skis require almost no maintenance or attention and perform equally well in all snow conditions. Skiers may still wish to use a rub on wax, such as the Swix F4, on these waxless skis in order to maintain best performance.
Cross Country Ski Bindings
New Nordic Norm
These bindings are usually designated "NNN" and operate by using a single steel bar which clips into the toe of a compatible cross country ski boot. Be sure your ski boots and bindings are both NNN compatible when choosing this binding.
Salomon Nordic System
These bindings are most often designated "SNS" and operate the same way as NNN bindings. The only difference is a single large ridge running down the length of the bindings versus the double ridge on the NNN bindings.
SNS Pilot
An advanced adaptation of the SNS binding, these Pilot bindings use a double bar for clipping the ski to the boot and result in higher perofmance.
Best Cross Country Skis

This is an entire package set, designed to minimize hassle and maximize fun for the beginner skier.
You tell the seller your skier information, they hook you up with the perfect setup.
Here are the specs:
NNN Rottefella bindings are a great standard beginner binding perfect for the Alpina Control 60 Waxless Skis.
With a width of 60mm, these skis will make great in-track touring skis and can be used out-of-track when needed. This package even comes with matching Alpina NNN ski boots and beginner ski poles.
If I had to recommend a beginner ski package for minimal hassle, reasonable cost, and maximum efficiency it would definitely be this one.
For any beginner cross country skier looking to ski primarily in track on groomed trails it'll be hard to beat this package.

Another package set, this time even more focused on groomed trail skiing.
These Salomon Elite 5 cross country skis are 51mm wide which means great skiing in track and poor flotation out of track.
You will really appreciate the boots of this package, not only are they extremely comfortable, the fleece lining will keep your feet nice and warm.
It's nice not to have to compare specs and worry about compatibility as a beginner so a package like this, featuring matching skis, bindings, and boots, really takes the guess work out of getting started.
With matching Salomon boots (both men's and women's) as well as beginner ski poles you'll be out the door and on the trail in no time.
Choose this package if you plan to ski primarily on-trail in groomed tracks.

This 59mm ski is great for groomed or ungroomed skiing and the occasional hill that are not too steep.
The skis feature the NNN bindings and unlike the other packages we reviewed, this is simply the ski and binding.
You'll want to find and purchase your own choice of NNN ski boots and poles.
Rossignol is a great name in skiing and it's hard to go wrong with a manufacturer who understands the needs of skiers.
These skis are great for beginners as they're sized to be slightly shorter than traditional length while still providing support to heavy skiers. That means increased agility and maneuverability.
If you're looking for a replacement for an old pair of skis and your boots are already NNN boots, then the Rossignol Evo Glade would make a great replacement.
These are an excellent pair of skis from beginner to intermediate skiers.
Conclusion
For most skiers, a waxless ski makes the most sense. On top of that, for beginners, buying a packaged product from an outfitter where you'll be assisted in purchasing the correct equipment can help minimize chances of a mistake. Both of the package products we reviewed are great options for these reasons.
Many skiers may wish to purchase their own equipment specifically and the Rossignol Evo can be a great beginner through intermediate level ski for pairing with your own choice of boots and poles.
Remember that it's often helpful to go in person to an outfitter or gear store when you're getting started to get advice and help from trained pros. Don't be afraid to ask around and see if you can borrow a friend's equipment to get started, too. Then you'll have a better idea of what works for you!
Notice: Outside Pursuits is a participant in the Amazon Services LLC Associates Program, an affiliate advertising program to provide a means for sites to earn advertising fees sold through by advertising and linking to Amazon.com. Amazon offers a small commission on products sold through their affiliate links. Each of your purchases via our Amazon affiliate links supports our efforts to bring you the best possible product reviews at no additional cost to you. We appreciate your support here at OutsidePursuits.com