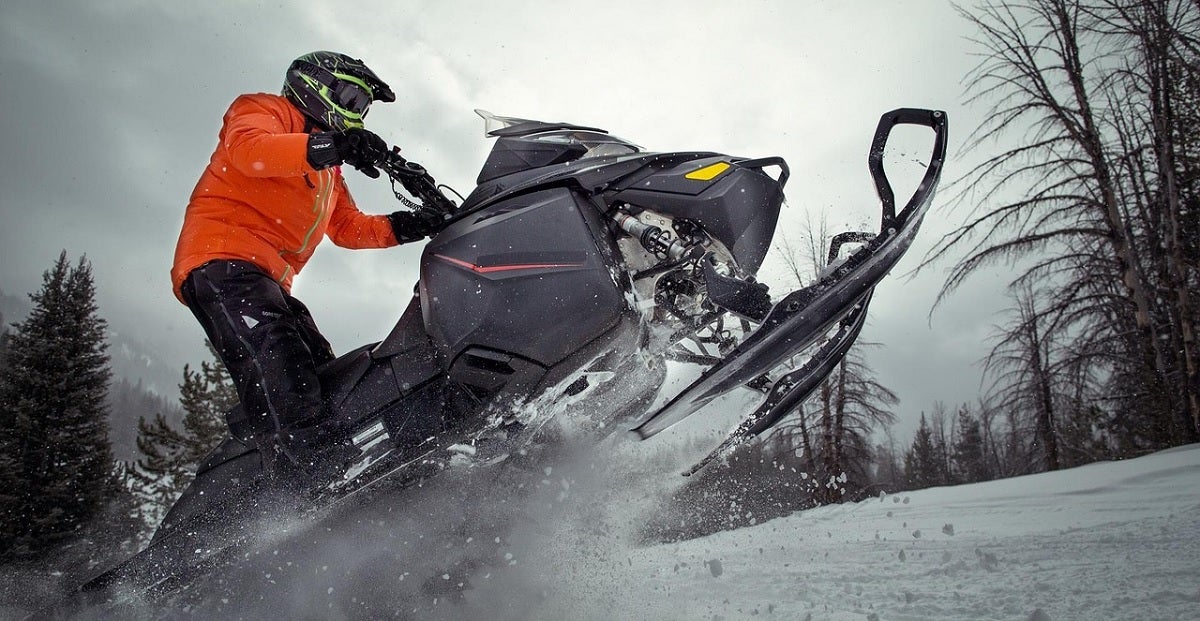 Our Editors independently research, test, and rate what we feel are the best products. We use affiliate links and may receive a small commission on purchases.
Snowmobiling is some of the most fun anyone can have in the wintertime. Who doesn't love zooming through the fresh snow, enjoying that crisp fresh air and just being out in nature? Well, one thing is for sure: a quick way to dampen that fun is by not dressing properly for the occasion.
No matter if you're an experienced veteran or a beginner snowmobiler, we're here to help you out on how to dress for snowmobiling. No more having to suffer from the cold anymore, getting blinded, or feeling like you can't move around freely!
Goggles
All of the best and warmest clothing in the world isn't going to mean much if you can't even see properly! We don't need to tell you that if you can't see properly on a snowmobile, things aren't likely to end up well.
However, not just any goggle will do. Cheap or poorly fit snowmobile goggles may mean you have to pull over regularly to wipe the fog or moisture out of them to see okay.
First, check out the foam and padding on the goggles you have your eye on. I greatly recommend checking out goggles with flexible frames and 3-layer foam padding. This quality of padding is the perfect balance of thickness and softness and will actually contour to your specific bone structure to avoid sore spots.
Lenses vary widely, with polarized lenses reducing glare and photochromic lenses which darken when in the path of bright sunlight. If you're tight on cash, polarized lenses are the way to go. Some people also report photochromic lenses taking too long to darken in the sun, which can create a glare and make it difficult to see your path clearly.
Helmets
In just about every type of extreme sport, you need to protect your head with a snowmobile helmet. Even the best snowmobiler in the world isn't perfect and is susceptible to accidents. We need to remember that it's not only the rider who has control of the ride, but the environment as well.
The nature of snowy terrain means that occasionally there will be obstacles like downed trees or rocks that can cause accidents or issues.
Helmets are also a great way of keeping you warm as it will cover all around your head and ears. Many times, it can be difficult or downright annoying having snow and wind blowing in your face, which can make it hard to breathe properly. Helmets often come with breath guards. These guards seal your nose and mouth which will also make sure your breath isn't fogging up the lens.
Some people also prefer to wear a type of face mask or balaclava underneath their helmets. This can help greatly with keeping your face and neck warm and can even eliminate the risk of frostbite. The winter air is bitter enough. When you're blasting through at top speeds, you can expect it to be painful if you're not wearing the right gear.
Gloves
It's going to be pretty much impossible to ride a snowmobile without using your hands on the handlebars. This makes our hands particularly exposed to the whipping wind and frigid ice blowing back onto us.
However, we need high-quality snowmobile gloves that are made specifically for the sport as they need to offer an iron grip on the handlebars as slippery hands can mean trouble. Look for gloves with rubber fingers and palms to keep your fingers and hands firmly gripped around.
You'll get to choose from either gloves or mittens, and that's really all down to personal preference. Mittens keep all your fingers together which can help keep fingers warmer, more effectively. However, gloves offer a bit more dexterity in many situations.
You may like to use a two-glove configuration where you have a thinner insulating glove and then a thicker waterproof glove or shell on the outside. Some even use a liner glove and then a mitten on the outside. It's all up to you.
Finally, you'll obviously want to make sure your glove is very waterproof. Gore-Tex used to be the go-to but now you'll find various other materials and manufacturers offering something similar: waterproof yet breathable.
Boots
No, we don't recommend wearing Converse or your Air Jordans out to snowmobile, as cool as that may look in your head. You absolutely need to wear a proper pair of snowmobiling boots, just like if you were planning on going snowshoeing, skiing, or snowboarding.
Snowmobiling is an extreme sport, and you absolutely need to remember this when operating these vehicles. Your feet need to be protected well just in case. Ideally, find a model which comes with rubber, excellent traction on the bottom so you don't lose your footing, a synthetic upper which repels moisture and wind, as well as a warm removable liner.
Moreover, they should be adjustable so you get the best fit possible. You may want to go half a size up (refer to the manufacturer first) as you'll be wearing thick fleece or wool socks most likely. Cotton socks are not recommended as they aren't as efficient at letting your feet breathe and can actually absorb moisture, making your feet cold. Once your feet are cold, it's hard to get them dry out there again, which can really ruin your entire day.
Summary
In addition to all of this essential gear for snowmobiling, it's advised that you layer properly and also have a high-quality pair of snowmobile pants and a jacket on. We cover snowmobile jackets in detail here.
I hope that this guide has helped you out and that you're well aware of what you need to be wearing each time you hope on board your snowmobile. This is an amazingly fun sport and offers a great workout, but it's only fun when you're warm and comfortable as well. Thanks for tuning in, and we'll see you again shortly!
Notice:
OutsidePursuits.com is a participant in the Amazon Services LLC Associates Program, an affiliate advertising program. OutsidePursuits.com earns fees from products sold through qualifying purchases by linking to Amazon.com. Amazon offers a commission on products sold through their affiliate links.