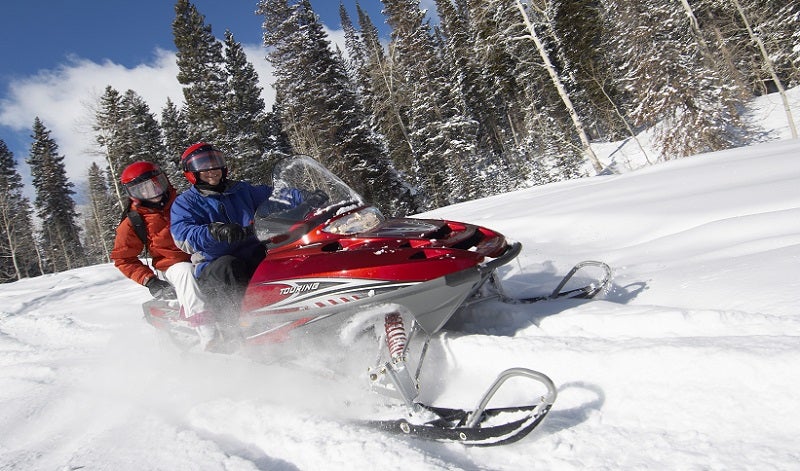 Whether you're heading out on a sled (snowmobile) for the first time, or you're a seasoned pro, there are always new solutions on the market.
With wind, water, and snow whipping by in the nasty conditions of winter and spring snowmobiling, you'll need the best snowmobile gloves that can keep pace with your sled. It's just not going to cut it to run to Walmart and buy something cheap.
I'm going to help you navigate the hassle of identifying the best glove qualities, materials, and design for your next snowmobile trip and we'll narrow it down to what really works.
With so many options on the market you'll be glad you stopped by to learn what's working and what's not. Let's get to it.
For more of my top gear recommendations, have a look through these popular Outside Pursuits guide links: Snowmobile Helmets, Snowmobile Goggles, Snowmobile Boots
Quick Answer: The 5 Best Snowmobile Gloves For 2018
First let's take a look at a feature overview of my 3 top rated snowmobile gloves, then we'll talk about how to choose a pair for you in our buyers guide.
Best Snowmobile Gloves
| | KLIM Klimate Glove LG Hi-Vis | Flambeau Heated Gloves Kit | Outdoor Research Alti Mitts |
| --- | --- | --- | --- |
| | | | |
| | | | |
| Shell: | Nylon | Nylon | 40D Ripstop Nylon |
| Insulation: | 200g on top of hand, 100g in palm | 100g fleece | 170g in shell, 340g in liner |
| Other: | Gore-Tex lining for Windproof, waterproof & breathable | Waterproof, breathable | Moisture Wicking, Windproof & Waterproof |
| Heated: | No | Yes: Up to 5 1/2 hours | No |
| | | | |
Snowmobile Gloves Reviews
Let's get right into it – what's the best snowmobile glove for your next pick? Well, let's find out.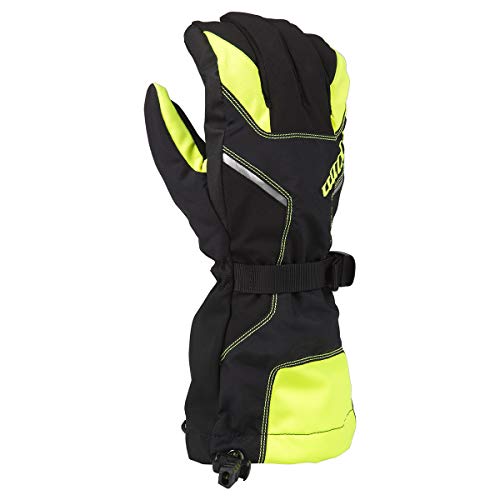 When it comes to snowmobiling Klim is among the best brands you will find and our Editors Choice for the best snowmobiling gloves. To start off they have Gore-Tex to keep your hands dry while allowing sweat to evaporate.
They have 200G of 3M Thinsulate Insulation on the top of glove with another 100G on the palms, enough to keep your hands toasty when the needle drops below zero.
One feature I especially like is the palms have a tacky non-slip grip to help maintain control of the sled. Being a gauntlet style glove they seal up against your jacket and cinch closed to keep the cold out.
I really never use them but they also feature goggle squeegies, a bit of a gimmick if you ask me but they are there if you want them! All in all, these are a good pair of snowmobiling gloves that will keep your hands warm!
---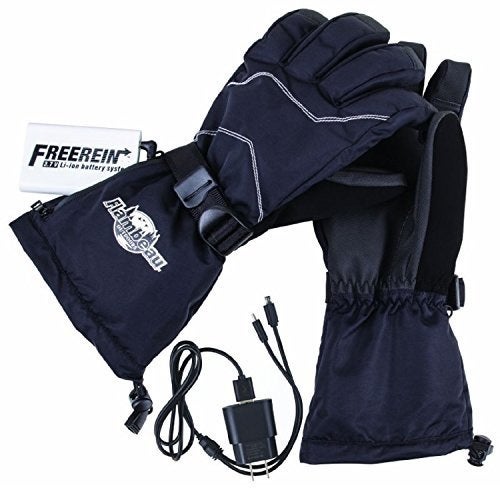 Heated and rechargeable gloves are becoming more popular as the tiny batteries needed to make them feasible become more efficient. There are several different models available but this one, from Flambeau, features waterproof breathable construction.
On top of a great weatherproof outer shell, a good battery powered glove needs to last a while. These will run 4 hours at a time and can be charged using the included double wall charger.
With two settings, you'll be able to adjust them for the quick trip into town, or the long afternoon snowmobile tour down the lake. If you are looking for cold weather snowmobile gloves, these are it!
You can always combine this glove with a liner or vapor barrier to triple the effectiveness in the harshest climates.
---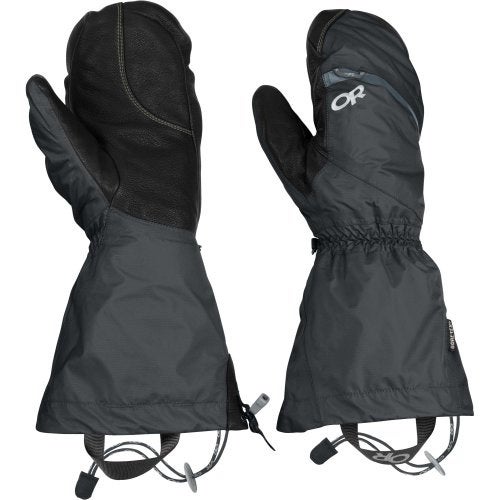 For a standard mitt, you'll be hard pressed to beat the quality of Outdoor Research. OR headwear and gloves have been a standard go-to choice for me for years.
Their styling and quality is second to none and you'll love these waterproof / windproof snowmobile mittens.
When the weather turns wet and the wind is ripping by on the sled, you're going to want to breathe easy knowing your gloves can handle the challenge.
Video: Overview of the Outdoor Research Alti Mitts.
These are gore-tex snowmobile gloves with with an updated construction method that make these gloves more protective and limber than ever.
Best part?
They have removable liners for fast drying and adjustable cuffs. Pull the mitts over your jacket and cinch down the elastic wrists to lock out the cold and snow.
---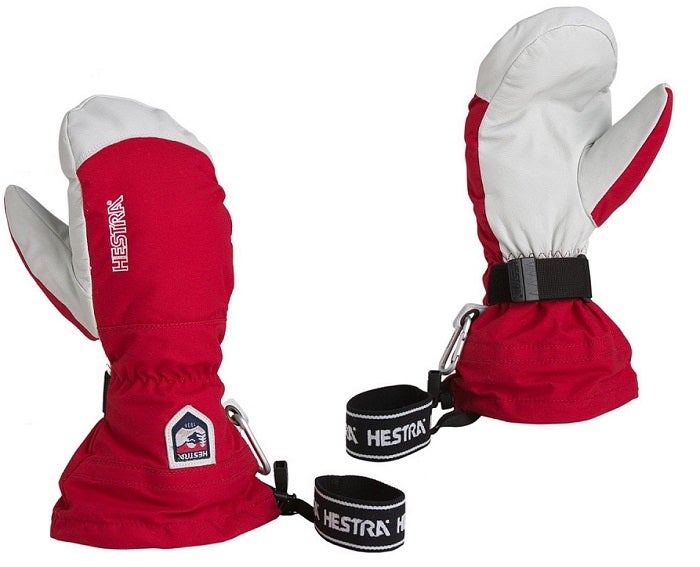 My personal skiing mittens are Hestra made and I must say – they're about the best in the industry. Though they're not waterproof, they'll serve you perfectly in any condition but rain.
For spring snowmobiling, be sure to look for a waterproof mitt, these are best kept for mid-winter.
Without a doubt, the removable liner is a critical element to any great winter mitt. Why? Because you can quickly pull out the liner when you get to the bar or your family's house and toss it on the heater to dry.
Once the liner is dry in an hour you'll be ready to hop back on the sled and tackle the winter weather.
These are made from 70% goat leather which is known for being tough and supple at the same time. I think these are the best leather snowmobile gloves you can buy.
Taking off on a longer snowmobile trip? I'd recommend buying two sizes larger and wearing a thin liner inside your Hestra mitts for ultimate warmth. Pair that with a set of nitrile exam gloves for a vapor barrier and there's no way you'll be chilly!
---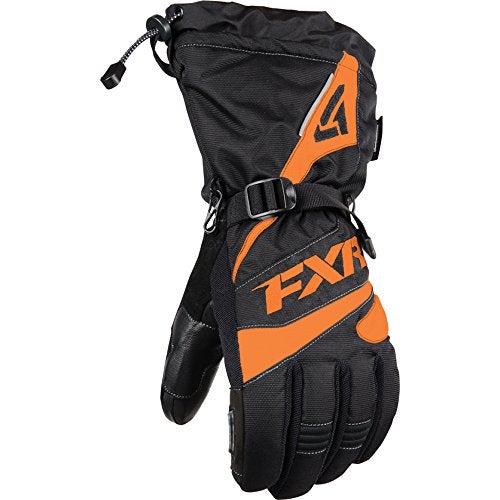 FXR is one of the best known brands in snowmobiles so you can trust they know how to make a pair of gloves. Were looking at gloves that have 250 grams of Thinsulate insulation throughout the gloves for warmth when your out riding on the cold winter days.
The shell of the gloves are water resistant along with a breathable Hipora membrane liner to keep you hands dry and comfortable.
I like the articulated (pre-curved) fingers, they make a difference when gripping the handlebars for hours.
Little extras like a goggle wipe on the thumb and an adjustable cuff to keep the snow and cold out make these gloves a solid contender. With a sub $100 price tag, these are probably the best snowmobile gloves under $100.
If you're looking for extra warmth, consider the FXR Heated Recon Gloves for 4.5 hours of battery heat.
---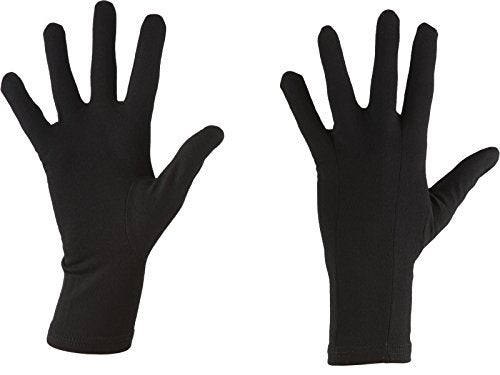 Here's the solution to any liner glove need. Thin, stretchy merino wool liner gloves are fast drying, wicking, and skin tight.
Why are these important qualities? You'll want a skin-tight fit on your liner gloves for snowmobiling to retain dexterity and control of the sled. It also leaves ample room to fit inside most gloves – especially if you go a size up on your main pair of gloves.
Merino wool is one of the best next-to-skin fabric choices for cold weather as it's absurdly warm, odor resistant, and has some of the best moisture wicking properties of any fibers on the market today.
It even exceeds polyester in its ability to wick away moisture which keeps the skin warm and dry.
This is the perfect solution for a little extra layer of warmth and dexterity when you need to take off the outer glove or mitten.
---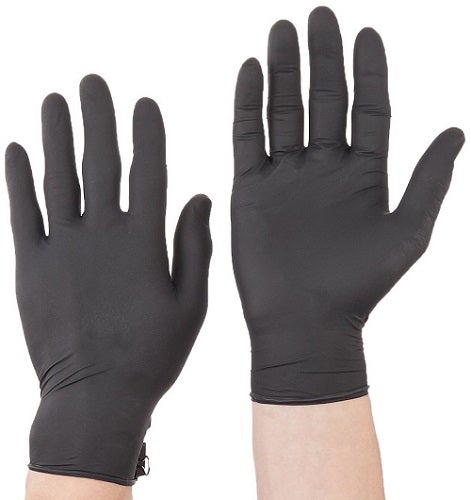 Many people think I'm joking about using exam gloves to increase the warmth and protection of your snowmobiling gloves or mittens?
Think again.
By keeping our sweat from soaking in to our liner gloves or our main gloves and mittens, we can significantly increase the effectiveness of our gloves. It's dirt cheap to pick up a few pairs of nitrile exam gloves and they'll last for ages.
Take them on your next trip and share a pair with your buddies when they start whining about cold hands. You'll be the hero.
A little pro tip for the trail: save your gloves and reuse them a few times. They're more durable than you might think and a single glove will probably last half a dozen trips if you're gentle with them.
---
Snowmobile Glove Comparison Table
How to Choose the Best Snowmobile Gloves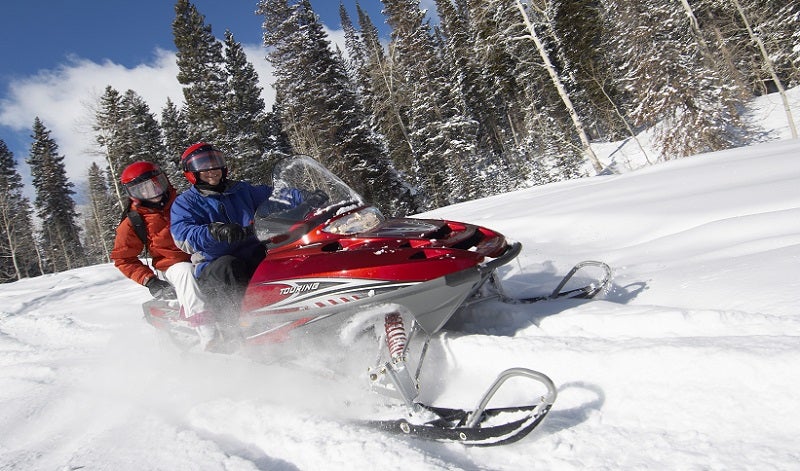 There are tons of criteria for picking out the best gloves. Which materials get the job done the best? Which waterproof fabric is the winner today? We'll take a look at what makes a great snowmobile glove:

Waterproof Materials
There was a time when Gore-Tex reigned as the only name in waterproof breathable fabrics. Today, Gore-Tex's patent has expired and just about every fabric maker has their own waterproof breathable fabric.
Some of these waterproof breathable fabrics are actually better at their job than Gore-Tex. One example is eVent. This fabric is much more breathable and just as waterproof as Gore-Tex. If you can find an eVent fabric glove – go for it! These are great options.
Is breathable really necessary? It's arguable. I don't personally put much stock in breathable fabrics. My experience has been that they'll get wet from sweat no matter what you do, in most conditions.

Liner Gloves
Many people choose to use a two-glove system. This is a type of layering for gloves which involves one thin liner glove inside of a thicker waterproof and warm shell glove or mitten.
I personally prefer this method over a single glove solution. Because liner gloves allow you to remove your hand and do things like easily buckle a helmet or zip a zipper without removing your gloves entirely.
They're also easier to wash and dry than a full glove once they're wet or sweaty.

Glove or Mitten?
This can be personal preference but, as a rule, I recommend mittens. Unless you need the fumbling dexterity of large gloves, mittens are a better option.
Why? Because keeping all your fingers inside a single pocket helps to insulate much better than individual fingers.
For most situations, mittens will be warmer than the equivalent glove and I recommend their use.

Vapor Barrier
Vapor barrier liners are a simple concept but often overlooked. In theory, a vapor barrier simply is an occlusive liner between your skin and your clothing.
This keeps sweat from collection on your insulative clothing. Once your clothing becomes wet from sweat, the insulation value begins to rapidly drop. For this reason, some people choose to use vapor barriers.
A simple solution to this issue is a plan-old nitrile glove. Many skiers and outdoor professionals use a laboratory glove such as a nitrile exam glove under their main glove to help prevent the buildup of sweat on the glove.
This is a particularly effective solution and you'll be amazed at how well it actually works!

Conclusion
For some serious firepower on your next snowmobiling trip try this: use a pair of disposable nitrile gloves and wear some thin liner gloves over the top of them.
Then, toss a pair of heated gloves over all of that and head off on the trail. You'll be blown away at how warm your hands stay.
Of course, in most situations you'll probably overheat with that approach. For most days on the sled, you'll be well off with a great pair of waterproof and windproof mitts for maximum warmth.
Keep some liner gloves in your pocket in case it gets really cold and toss some nitrile gloves in the saddle bag for extreme weather. Nothing can hold you back with the right equipment.
---
I hope this guide was helpful for finding the best snowmobile gloves to fit your needs. If you want to comment or recommend a pair of gloves I didn't include, please use my contact form to get in touch.
Have fun and be safe out there!
Notice: Outside Pursuits is a participant in the Amazon Services LLC Associates Program, an affiliate advertising program to provide a means for sites to earn advertising fees sold through by advertising and linking to Amazon.com. Amazon offers a small commission on products sold through their affiliate links. Each of your purchases via our Amazon affiliate links supports our efforts to bring you the best possible product reviews at no additional cost to you. We appreciate your support here at OutsidePursuits.com