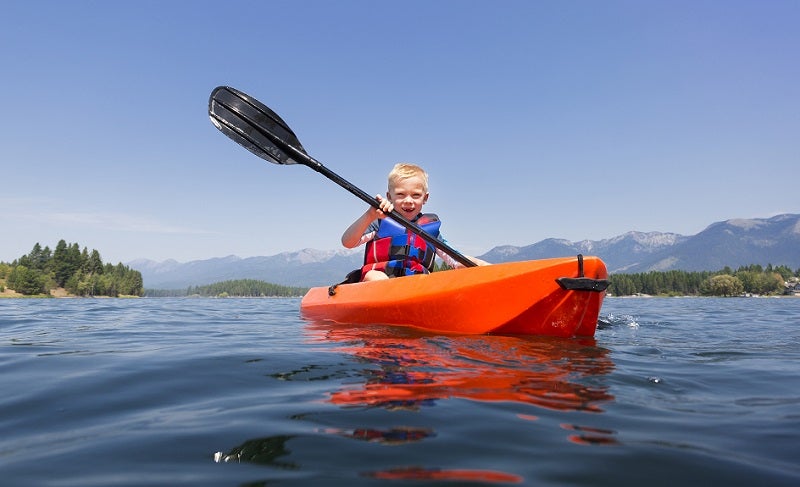 Our Editors independently research, test, and rate what we feel are the best products. We use affiliate links and may receive a small commission on purchases.
When it's time to take the kids out on the water with you, you'll be faced with a plethora of options. In fact, the number of options for purchasing kids kayaks is nearly as broad and deep as adult kayaks. Luckily, there are a few shortcuts we can take when it comes to buying the best kayak for kids.
My goal throughout this article is to help you decide on which features are the most important when buying a kids kayak. We'll talk about the differences between kids and adult kayaks, what makes a top rated product better than others, and we'll cover all of that in our "how to choose" section. Let's get started by taking you through some of the most popular kayaks for kids that are available today.
Best Kids Kayaks
| | Lifetime Youth 6 Feet Wave Kayak | Intex Challenger K1 Kayak | Pelican Solo Sit-on-top Youth Kayak |
| --- | --- | --- | --- |
| | | | |
| | | | |
| Length: | 6 Feet | 9 Feet | 6 Feet |
| Max Weight: | 130 Pounds | 220 Pounds | 110 Pounds |
| Paddle Included: | Yes | Yes | Yes |
| | | | |
For more of my kayak gear recommendations, have a look through these popular Outside Pursuits guide links: Life Jackets, Kayak Paddles, Kayak Roof Racks.
Quick Answer: The Best Rated Kids Kayaks
Our reviews of the top kids kayaks with our comparison table and buyers guide will help you choose the right kayak for your little ones.
---
Kids Kayaks Reviews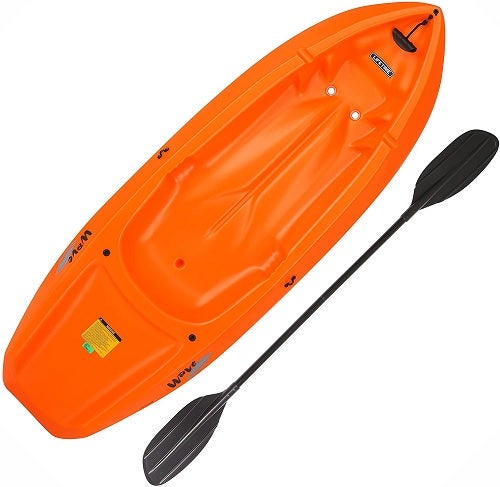 Lifetime Youth 6 Feet Wave Kayak at a Glance
:
---
Weighs only 18 pounds
Durable molded design
Paddle included
Stable hull design
5 year limited warranty
It's no wonder why Amazon rates the Lifetime Youth Kayak as their top choice, and our Editor's Choice for the best kids kayak. It's affordable, simple and effective. One of the advantages of youth kayaks is that they're easier to steer and maneuver thanks to their short length. This also means that it can be difficult for kids to steer and paddle straight, due to the agile nature of shorter kayaks. That's why I really like that they built this kayak with a reverse chine for lateral stability when paddling. Like most of the molded plastic kayaks for kids in this class, the Wave kayak features an aggressive hull design meant to keep the boat stable. Underneath is a combination of reverse chines and the pontoon style hull design. These all help to keep your kids safe and avoid unnecessary tips.
I do have to admit that I love the included paddle. Most children's kayaks include paddles simply because it's hard to find kids' sized paddles elsewhere. One neat feature of the Wave kayak is the step-up design on the back of the kayak. The boat slopes down to meet the waterline where kids can get back into the kayak easily if they want to get out and swim, or fall overboard by accident. Overall, there are tons of features that make this kayak simple and easy to use. The boat itself weighs just 18 pounds, and is able to support up to 130 pounds.

---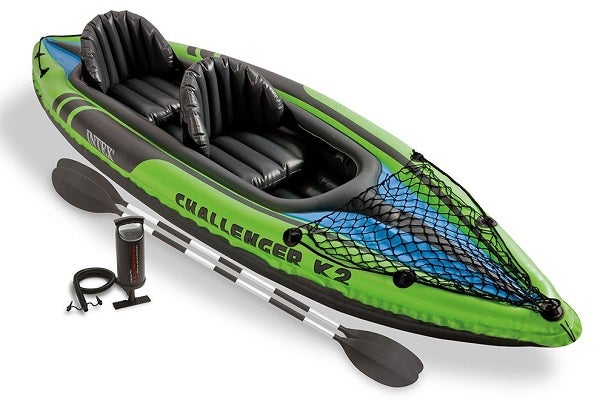 Intex Challenger K1 Kayak at a Glance
:
---
Weights 27 pounds, 220 pound weight capacity
High pressure air pump
Paddle included
Tons of deck rigging
Inflatable kayaks offer tons of advantages that solid boats just can't match. That's why our second choice is one from Intex, and it's the best inflatable kayak for kids. Made for a single paddler, this boat comes with a high pressure hand pump to get it water-ready every time! One thing I think this boat brings to the table that other kayaks don't is the deck rigging. Inflatable features aside, deck rigging is a great feature. As kids get a bit older and go with you on longer trips, it's nice to let them carry some of their own gear. The deck rigging on the Challenger has space for some extra layers, some lunch etc.
Inflatable boats have several major advantages. When stored, the boats take up less room than traditional kayaks when deflated. That means if the kids only use their kayak once per year, you won't have it taking up room in the garage. This model is a little more on the full-sized range, so expect to use it with kids who are a bit older. The boat can handle up to 220 pounds, so even the adults can borrow it from time to time!

---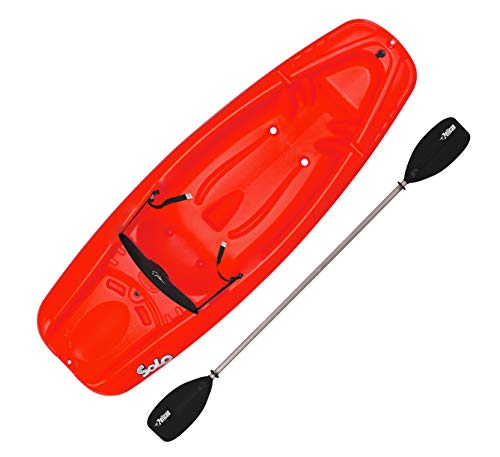 Pelican Solo Sit-on-top Youth Kayakat a Glance
:
---
Weighs 19 pounds
Paddle included
Built in paddle holder
100 – 110 pound range
2 year warranty
If you want the kids to learn to paddle in a kayak that's easy to handle, the Pelican Solo would be a great option. While you may not have heard of them, they have an impressive lineup of recreational kayaks. Their Solo is an adaptation of a popular adult kayak that's made to help kids learn to paddle. The boat is only 19 pounds overall, so you'll be able to handle it quite easily. There's plenty of seating area, but there's no padded seat. If you plan on longer kayaking adventures, I would consider adding a padded seat.
Nothing is worse than getting sore after only a few minutes, when you know the trip is going to take much longer than that! Kids feel the same way, so a padded comfy seat is nothing to scoff at. Being a sit on top kayak, it's easy to learn how to get in and out to build your little one's confidence. That way when they're older, it's an easy transition to larger kayaks.

---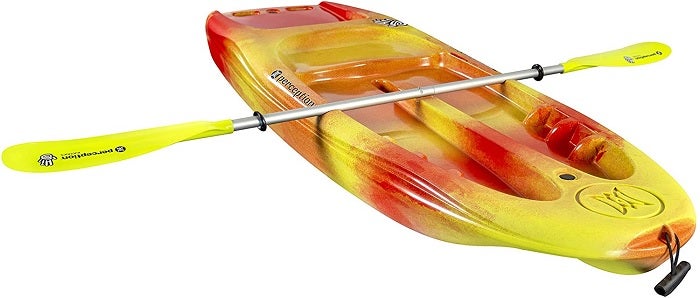 Perception Hi Five Sit on Top Kids Kayak at a Glance
:
---
Weighs 21 pounds
Single piece molded design
Tag along tow system
Paddle Included
5 year limited warranty
Somewhere between a sit on top and a traditional SUP, the Hi Five has tons of features and makes a great kayak for kids. I like that this boat takes a hybrid approach, so kids will be ready to try paddle boarding. This kayak can be used as a traditional sit on top kayak, but also as a paddle board! This is a great dual-use that gives them an idea if paddle boarding is something they might be interested in. I like that this boat still has the integrated towing system. Even though the boat design might be more advanced, your kids may still get tired.
Perception Kayaks have made this model with tons of storage which could also be used to bring the family dog along. While it's a minor feature, I also appreciate the addition of a cup holder. Kids like to be treated as equals and of course, they'll get thirsty as they paddle!

---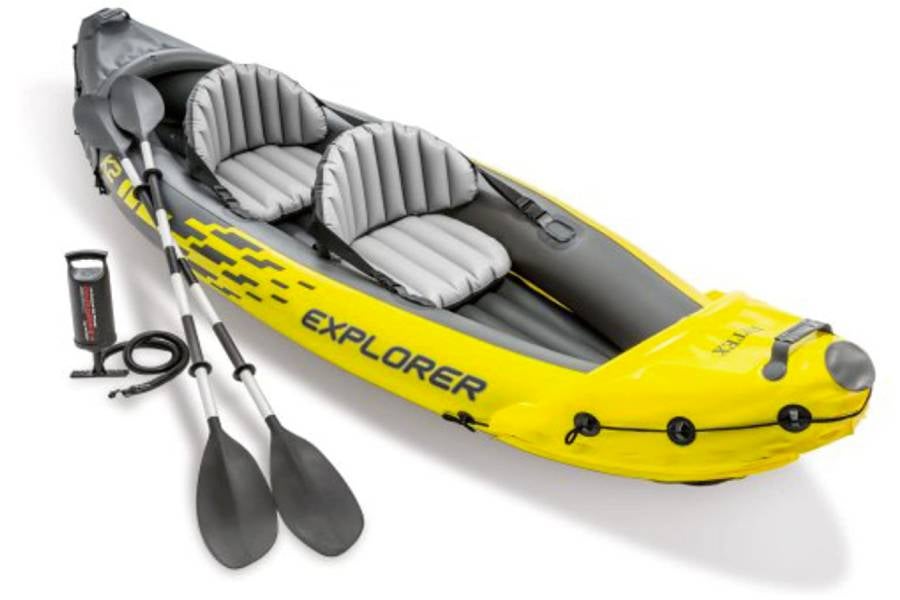 Intex Explorer Kayak at a Glance
:
---
Weighs 35 pounds
Aluminum oars and pump included

Padded, contoured seat

Adjustable seat with backrest
Last but not least on our list, we had to include a two-person kayak for kids. This option from Intex is ideal for those more experienced kids or teens who want to enjoy kayaking with a friend. This is another inflatable kayak, but Intex actually gives you the whole set with this purchase. Aluminum oars and a high-output air pump are included, so your kids will be ready to go with no extra tools or accessories needed. It has front and rear carry handles for easy transport to and from the water. It also comes with a padded and contoured seat for comfortable, all-day paddling.
This Intex two-seater kayak has an impressive 400 pound weight capacity, so it should be able to fully support your kids, teens and certainly adults too. Another awesome bonus is that the bright yellow exterior is great for visibility, particularly in case of emergencies.

---
Kid's Kayak Comparison Table
How to Choose the Best Kids Kayak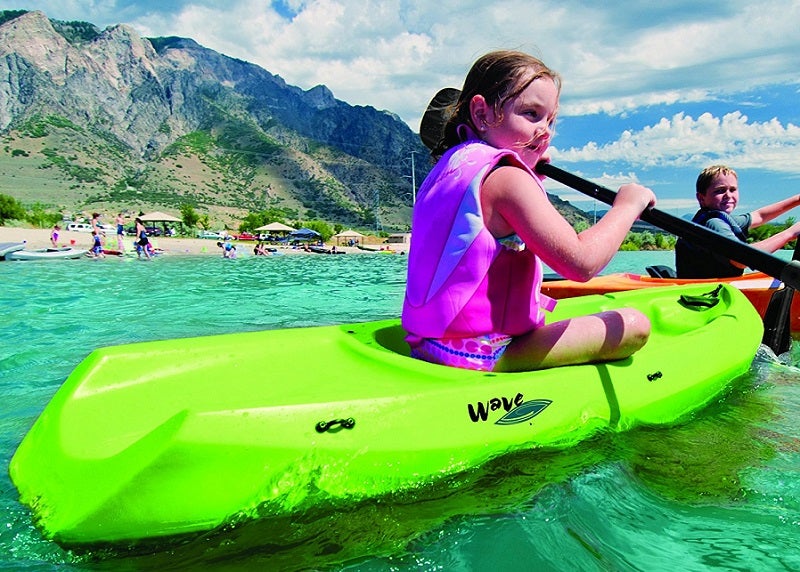 Length
Unlike adult ones, kids kayaks tend to be quite short. When we talk about kayaks for kids, most will be used on gentle, slow rivers and flat open water. There's no need to worry about specialized boat lengths or types. For that reason, short kayaks tend to be the easiest for kids. They turn better than longer boats, they're lighter and are easier to transport. Most won't even have a length option – they're just pre-made to be the right size for most kids. To make sure the boat is correct for your child, you'll probably want to look at weight capacities. Some beginner kayaks may also feature a height rating to help with sizing for children.

Weight Ratings
Most kayaks built for kids are sized by the average child's weight. Manufacturers will provide a weight range of acceptable users, and that's all you really have to go by. If your child is lighter than the recommended weight range, they may need to grow a bit to fit the boat properly. If they're heavier than the recommended maximum weight, you'll need to look for a larger kayak.
Of course, at some point you'll find that your child has outgrown all of the kayaks for kids available. This will become an issue when there aren't any with weight ratings that are appropriate for your child. At this point, it's time to find an appropriate full-size kayak for them. They're ready for the big leagues!

Sit on Top Kayaks
This style of kayak is a little different from the traditional adult kayak where paddlers sit inside the cockpit. Sit on top kayaks are simple, durable and perfect for kids. They're made from a single piece of molded plastic where the seat is on top of the deck. It's very easy to get on and off the boat, and they tend to be made quite stable so kids won't roll and flip into the water by accident.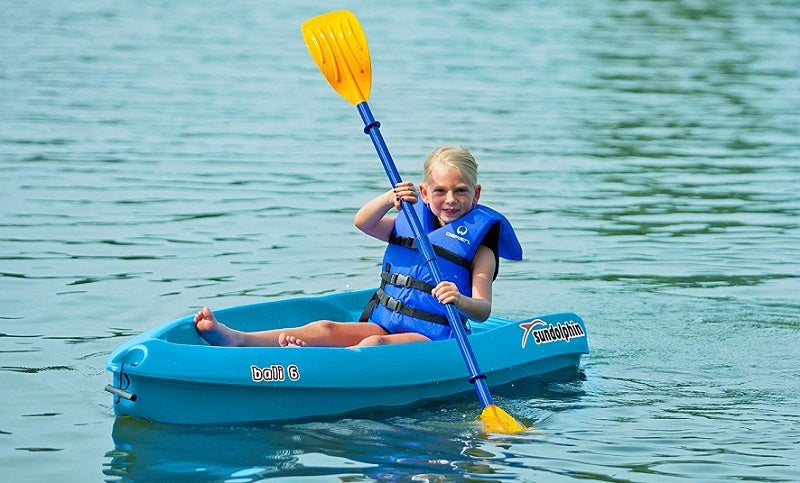 Adding a Tow Rope
Some kayaks for kids come with these or a similar feature already attached. Imagine you're 1 mile into a 6 mile paddling trip, and Timmy decides to throw a fit and stop paddling. Now imagine you have no way of helping to rescue or speed up the child who is sore, tired, upset or simply throwing a tantrum.
Make sure to permanently tie a 20ft length of rope to the front of your kids' kayak so you can pull them out of the brush, pull them off the river bank, or tow them along when they're tired. Trust me, you'll find 1001 uses for a good length of rope attached to your kids' kayak.

Kayak Width
There are several major factors that impact kayak stability. One of the most direct is the width of the boat overall. Wider kayaks tend to be more stable and less prone to flipping. For kids' boats, this is ideal. A wider kayak is technically less efficient, but efficiency isn't a top priority for kids. We want them to stay safe and learn to have fun paddling in a user-friendly way.
Along with width is hull design. Most kayaks you're used to have a rounded bottom. There are several different hull shapes, but the most stable is the pontoon hull or double hull. Double hulls are relatively common on sit on top kayaks, but they're rare elsewhere. These hulls are by far the most stable of all kayak hull designs.

Other Stability Features
As well as the width of your boat, there are several other features that will help stabilize kids' kayaks. Chines are features on the boat hull that stabilize the kayak. Kayaks made for kids may have what are called reverse chines. These are essentially fins that jut out and help stabilize the boat, both laterally and in tracking straight as your kids paddle.
Anytime fins, chines or skegs are added, boats gain stability and tracking. You'll often find that kids kayak makers have combined the pontoon hull shape with the skeg and chine concept to form an overall more stable shape, which falls somewhere between all of these things.

Paddle Holders
This one gets overlooked quite easily. Paddle holders are usually just depressions in the plastic that have a shock cord lashing to go over the paddle. They're simple, but they definitely come in handy. If you do have to tow the kids for a while, they probably won't want to hang on to the paddle the whole time. With sit on top boats, there's also nowhere to stash the paddle without it rolling off into the drink! If you can find a kayak with a paddle holder, I think it's worth it every time.

Conclusion
There are tons of options on our list for kids' kayaks that will fit your child's needs at any age or stage of development. Remember that you'll want to consider your child's age and experience level in kayaking before you make your purchase. Younger kids just starting out need simple, easy to use boats. Older kids may need something more advanced and feature-rich. Just like clothes and sneakers in your little one's closet, it's inevitable that you'll eventually have to upgrade as they grow. So don't be surprised when it's time to hand the old kayak down and search for a new one that fits the ever-changing needs of your kids.
FAQs
What type of kayak is the best for children? Is a sit-on or sit-in kayak better for kids?
A great bonus of sit-on kayaks is that if they flip over, they have self draining holes so there's nowhere for water to build up. Because of this, sit-on kayaks are often more stable than the traditional sit-in models. Due to their reliability, ease of control and durability, sit on top kayaks make the perfect choice for kids.
However, if your child does prefer the traditional cockpit style, you'll still be able to find a few of them. There are a small handful of kayaks for kids being made in this style, but they're far less common than the sit on top boats.
What size kayak is good for kids?
Kayaks that are specified as being built for kids are obviously the most ideal, and this size typically corresponds to 6-9 feet in length and up to 25 inches in width. It's also best if a kayak is on the lightweight side, so that your child or teen is able to maneuver it easily.
Is it safe for kids to kayak? How old should a child be to learn to kayak?
While your child can safely sit in a kayak under your supervision at any age, they're usually safe to learn on their own between the ages of 7 and 10.
Recent Updates
March 23, 2022: The MaxKare Kids Kayak has been removed due to unavailability, replaced with the popular Intex Explorer 2-Person Kayak Set. FAQs have also been included to address common consumer queries.
How We Researched
To come up with the top kayaks for kids we researched a variety of sources for reviews such as REI, Dicks Sporting Goods, Cabelas and Backcountry along with our own personal experience. We also consulted online magazines for product research and reviews to get as much unbiased information as we could. To help weed out fake reviews we used Fakespot.com to make sure we only looked at genuine reviews.
With so much quality gear available, we had to narrow it down based on what we felt were the best options for the price. The author, Casey Fiedler has been an avid kayaker and leads kayak camping trips during the summer months in his native state of Michigan. To help narrow down the selection he used his personal experience along with recommendations from kayak tour guides and rental shops. After extensive research, we came up with our list to help you choose the right one for you.
Notice:
OutsidePursuits.com is a participant in the Amazon Services LLC Associates Program, an affiliate advertising program. OutsidePursuits.com earns fees from products sold through qualifying purchases by linking to Amazon.com. Amazon offers a commission on products sold through their affiliate links.