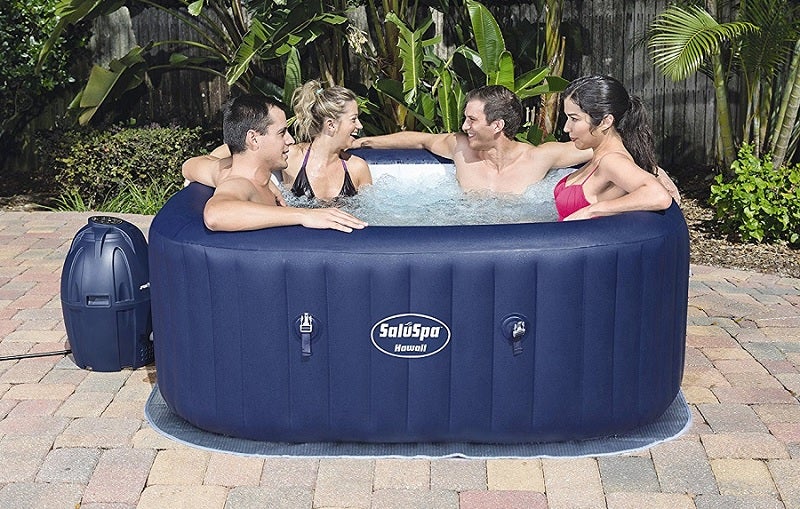 Our Editors independently research, test, and rate what we feel are the best products. We use affiliate links and may receive a small commission on purchases.
The best inflatable hot tubs are a practical and economical option that allows you to enjoy the relaxing and calming effects of a hot tub or Jacuzzi bubble bath even when you don't have the space for a permanent installation.
Among the benefits of inflatable hot tubs are that they're inexpensive and portable plus you can easily store them when they're not in use.
You get the health benefits of a rejuvenating soak or muscle massaging bath without having to worry about the hassle and expense of a permanent tub installation.
Best Inflatable Hot Tubs
| | Bestway Miami Inflatable Hot Tub | Coleman SaluSpa | Intex Pure Spa |
| --- | --- | --- | --- |
| | | | |
| | | | |
| Seating: | 4 People | 4 People | 6 People |
| Capacity: | 177 Gallons | 254 Gallons | 290 Gallons |
| Size: | 71"W x 26"H | 77" | 85"W x 28"H |
| Heater: | 1,400W | 1,400W | 1,300W |
| Rating: | 4.3 / 5.0 | 3.9 / 5.0 | 4.0 / 5.0 |
| | | | |
For more of my home & garden recommendations, have a look through these popular Outside Pursuits guide links: Fire Pits, Inflatable Loungers, Patio Umbrellas.
Quick Answer: The 7 Best Rated Inflatable Hot Tubs For 2021
Our reviews of the top-rated inflatable hot tubs with our guide and comparison table will help you choose the right one for you.
---
Inflatable Hot Tub Reviews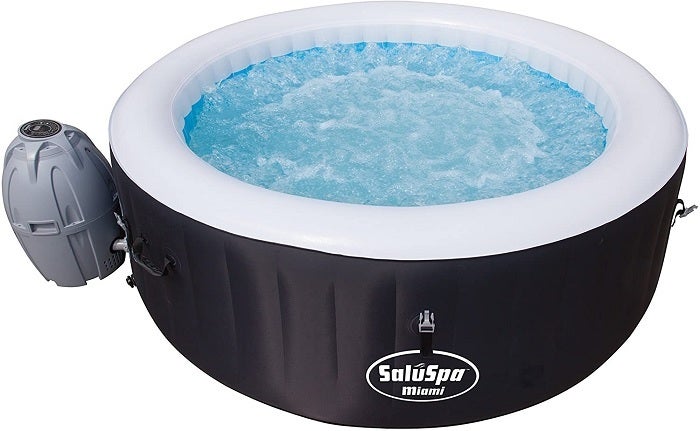 Bestway Miami Inflatable Hot Tub at a Glance
:
---
Shape, Size, Weight: Round, 71″ x 26″, 53 lbs, filled weight 1,400lbs
Capacity: 177 gallons, 4 People
Heater: Powerful heating element (temperature rise 2°-3° F/h)
Temperature range: up to 104° F
Bubble jets: 60 air jets
Extras: Insulated cover & floor, filter cartridge, chemical floater, pump, hard water & salt water treatment
The Bestway Miami is our Editor's Choice inflatable hot tub that can seat four people comfortably (unless they're all giants).
Unlike the other portable hot tubs in our list, this one has a unique feature: not only do you get 60 air jets for a relaxing bubble bath, there are also 8 hydrotherapy jets for a deep body massage.
It's the perfect treatment for sore muscles or to unwind after a long day.
A pair of jets is built into each corner of the tub with directional targeting. The noise impact from the bubble pump is very low.
This inflatable hot tub is constructed from a 3-ply TriTech shell to resist punctures and provide a durable structure. The inner skin is strong, yet soft for comfort.
Thanks to an insulated cover, you can trap the heat inside. The cover features a safety lock. The base of the tub is soft, yet insulated as well.
Video: Setting up the Bestway Inflatable Outdoor Spa
Bestway 54123 Miami Spa ***English
The heating unit of the Bestway Miami hot tub is powerful and efficient. You get a temperature rise of two to three degrees per hour. A power-saving and programmable timer allows you to set the heating in advance.
This inflatable spa also comes with a hard water and salt water treatment system, a filter cartridge and chemical floater.
The Miami is the best inflatable jacuzzi for hydrotherapy and a relaxing experience in a square tub for up two four people.

---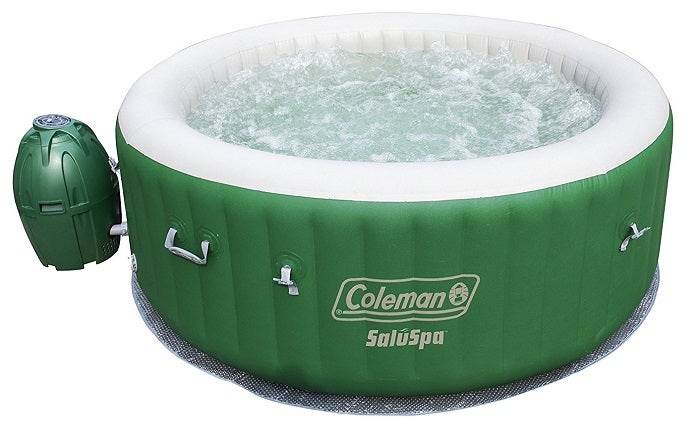 Coleman SaluSpa Inflatable Hot Tub at a Glance
:
---
Shape, Size, Weight: Round, 77″D x 28″H, 85.9 lbs, filled weight 2,700 lbs
Capacity: 254 gallons, 4-6 people
Heater: 1400W (temperature rise 2°-3° F/h)
Temperature range: up to 104° F
Bubble jets: 60 air jets, 320 gal/h
Extras: Cover, heating timer, filtration system, insulation liner, inflation hose, chemical floater
The main difference between this inflatable hot tub and our editor's pick is the capacity.
It can contain up to 254 gallons of water and is specified for four to six people. However we felt the slightly smaller dimensions results in a comfortable fit for only four people.
The Coleman SaluSpa inflatable hot tub is quick and easy to set up thanks to the included pump and hose.
The material provides durability and comfort and is resistant to punctures.
The TriTech 3-ply reinforced shell features a polyester mesh core with two layers of PVC for strength. The walls come with a beam construction and are sturdy enough to sit on.
From the inside, the inflatable jacuzzi is comfortable with a separate air pad cushioned floor. Not only does it support your feet and backside, it also provides additional insulation.
In combination with an aluminum foil coating, this makes the Coleman tub great at retaining heat. The provided cover speeds up the heating process by preventing heat escape.
The internal heater consumes 12A and can rise the temperature by two to three degrees Fahrenheit per hour. It comes with a timer and control panel for conveniently setting your desired temperature up to 104°F.
The massage system relaxes you with light air bubbles delivered by 60 air jets with a flow rate of 320 gallons per hour. Draining the tub is straightforward with the floor drain valve. Two handles allow you to easily move the empty spa pool.
The Coleman inflatable hot tub is the best portable hot tub for up to four people. It comes with many extras and includes a filtration system with filter cartridge.

---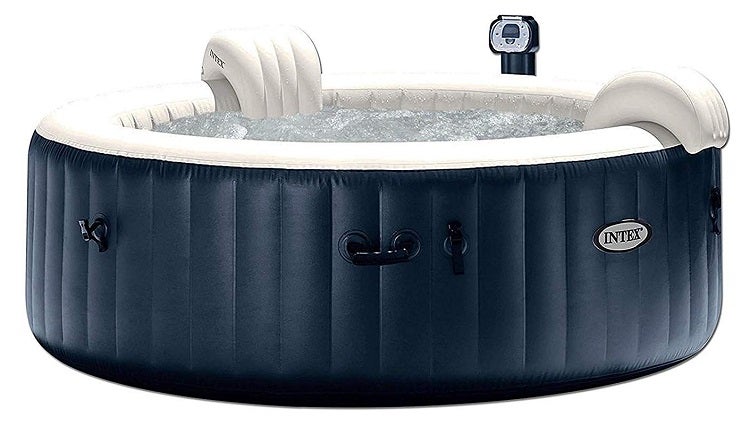 Intex Pure Spa Inflatable Hot Tub at a Glance
:
---
Shape, Size, Weight: Round, 65″ inner diameter x 28″H, 116 lbs
Capacity: 290 gallons, 6 people
Heater: 1,300W (temperature rise 1°-2° F/h)
Temperature range: 68°-104° F
Bubble jets: 170 jets, 1.1 HP, 460 GPH
Extras: Pump, two headrests, 2 filter cartridges, built-in hard water treatment & cover
The Intex Pure Spa is our editor's choice for the best inflatable hot tub that can seat up to 6 people. It features a powerful jet blower for a relaxing bubble massage and includes a pump.
This inflatable hot tub is made from a durable triple-ply PVC material with a construction with 48 fiber-tech beams for a sturdy structure. Horizontal panels give you sturdy walls you can even sit on for just soaking your feet.
The strong structure is also ideal for elderly people who need to steady themselves.
Despite its resistance and strength, the material is comfortable for a relaxing experience. Two cushioned headrests are included.
The Intex Pure Spa portable hot tub holds up to 290 gallons of water and comes with a 1,300W heater that can raise the temperature by one to two degrees Fahrenheit per hour. The included insulated cover is not only a safety feature but will also speed up the heating process.
The 170 high-powered bubble jets provide massages with efficient air blowing and a high flow rate. The control panel comes with a protective cover and can easily be used while you're in the tub in case you need to regulate the temperature while you're soaking.
A treatment system for hard water is also included, making your hot tub soothing for your skin. You also get a 3-way water test strip and a floating chlorine dispenser.
Video: Setting up the Intex Inflatable Pure Spa
Intex PureSpa - Bubble Massage & Bubble Therapy
The included thermal ground cloth insulates the tub against cold surfaces. Inflation is easy with the pump and inflation hose and includes a bag for transporting and storing it.
This portable jacuzzi requires at least 11 feet square feet on a flat surface to set up. The filled tub will exceed 2,500 lbs, and with four adults seated inside, the total weight can be greater than 3,000 lbs.
The Intex Pure Spa is a great choice for you if you're looking for a 6 person inflatable hot tub. It includes a powerful massage system and a 1-year warranty.

---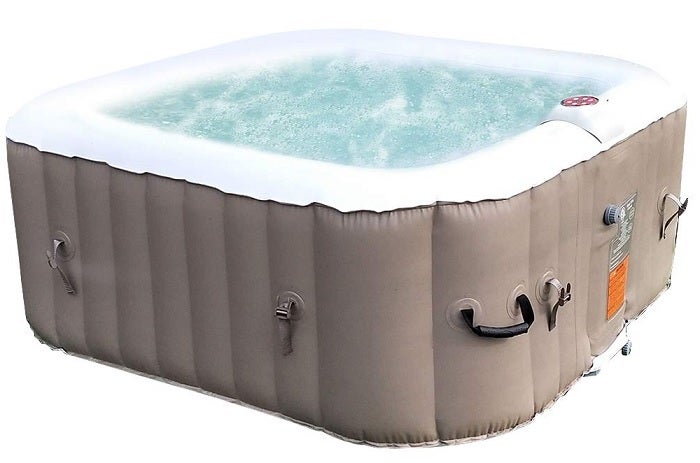 ALEKO HTIR4BRW Inflatable Hot Tub Spa at a Glance
:
---
Shape, Size, Weight: Square,

59″D x 26″H

, 48 lbs
Capacity: 160 gallons, 4 people
Heater: 900W, PTC technology (temperature rise 2°-3° F/h)
Temperature range: up to 107° F
Bubble jets: 108 air jets, 600W, "whisper quiet"
Extras: Manometer, filter pack, pump, garden hose adapter, inflation hose
The ALEKO Inflatable Hot Tub Spa is a square model that seats two people comfortably and can fit up to four people seated with angled knees.
It's ideal for a couple and its shape makes it more energy efficient while also giving you additional support when seated in a corner.
The ALEKO is sturdy enough that you can sit on the walls or use them to support yourself as you climb in.
It comes in several color and features a PVC construction with 6 layers and internal vertical panels.
The portable hot tub is durable yet comfortable on the inside thanks to a premium PVC liner. A protective ground mat protects the bottom and traps the heat inside. The included cover has a safety buckle design to connect the lid to the ground mat, preventing accidents.
The control panel with LEDs offers easy operation and you can set a temperature up to 107° F. With a powerful 900W heater, you can increase the temperature between two and three degrees per hour.
The Positive Temperature Coefficient (PTC) heating element offers superior heat transfer.
The hut tub has a 600W bubble jet blower with a total of 108 air jets to surround you with gentle bubbles, supporting and massaging your body in the water. The element is "whisper quiet" for a fully relaxing experience.
With a water capacity of 160 gallons, the hot tub can weigh up to 1,500 lbs when filled. With the additional weight of people inside, the total can exceed 1,800 lbs.
The ALEKO is the best inflatable spa that includes extras such as a pressure measuring device, a filter pack, inflation pump and hose, and a garden hose adapter.
It's a perfect for couples and people looking for a quiet but powerful massage system in a square hot tub.

---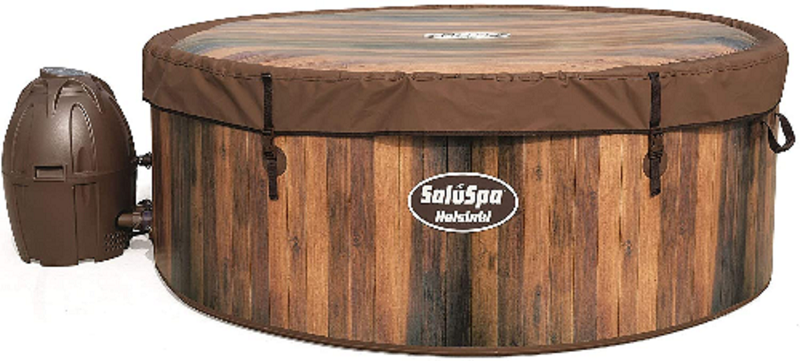 Bestway 54190E SaluSpa Helsinki at a Glance
:
---
Shape, Size, Weight: Round, 71″D x 65″ inner diameter x 26″ H, 2,500 lbs filled
Capacity: 297 gallons, 7 people
Heater: 900W (temperature rise 1°-2° F/h)
Temperature range: 40°F -104°F
Bubble jets: 81 air jets
Extras: Digitally controlled pump, slip-resistant seat, and aluminum foil coating
The Bestway 54190E SaluSpa Helsinki is the largest capacity inflatable hot tub in this review. It can hold a family of up to 7 people!
It also stands out because of its aesthetically pleasing traditional hot tub appearance. While other inflatable hot tubs are clearly that, this hot tub is decorated to resemble a wooden tub.
The control unit regulates the heating, massage jets, and air pump. A soft-touch button panel enables you to make subtle adjustments.
Realistically, this tub is great for 5 adults, and can handle 5 adults and 2 kids in comfort. It would be a squash for 7 adults, though possible.
Despite its capacity, it's only as wide as comparable inflatable hot tubs in this review. The reason it holds more water and people than the others is its innovative wall design. The walls are only 3″ thick, much thinner than other models.
Like other hot tubs, it takes time for this inflatable hot tub to reach its operating temperature. Given that it holds more water than most other tubs, don't expect miracles.
If you want to fill this inflatable hot tub to its capacity and heat the water to its maximum temperature, you'll need to prepare it well in advance.
This hot tub is fitted with a filtration system with 2 filter cartridges on the spa walls. A ChemConnect dispenser automatically adds chlorine to keep the water safe.
With all these features, you may be wondering why this inflatable hot tub isn't the #1 choice in this review. Well, with great features comes a great price tag. It costs more than twice the price of our top pick.
The Bestway 54190E SaluSpa Helsinki is the best inflatable hot tub you can get for a larger family as long as you don't mind paying a higher price.

---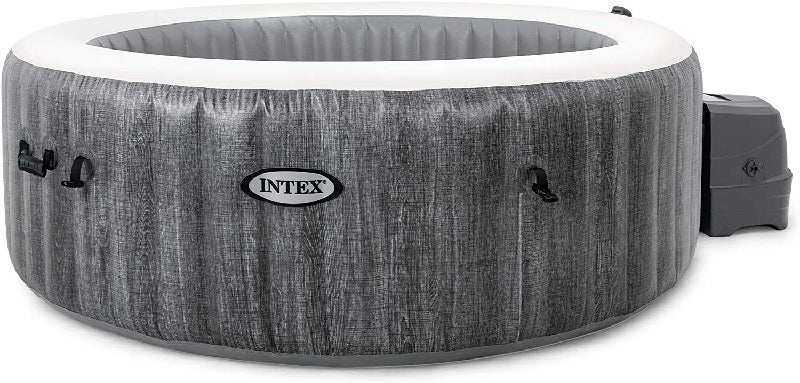 Intex PureSpa Greywood Deluxe at a Glance
:
---
Shape, Size: Round, 85″D x 65″ inner diameter x 28″H
Capacity: 290 gallons, 6 people
Heater: 1,300 W, PTC technology (temperature rise 2°-3° F/h)
Temperature range: up to 104° F
Bubble jets: 170 air jets
Extras: Built-in hard water treatment, carry bag, wireless control panel, color-changing LED light, and1-year warranty
The Intex PureSpa Greywood Deluxe is the luxury version of the Intex PureSpa reviewed earlier. It contains all of the great features of the Intex PureSpa but with a few nice extras.
Like the Intex PureSpa, the Deluxe provides a relaxing spa for up to 6 people sitting comfortably in 290 gallons of water heated up to a maximum temperature of 1040F. Your whole family can be pampered by the 170 high-pressure water jets.
The Intex PureSpa Deluxe can be assembled, inflated, and be ready to be filled within 20 minutes. Just lay out the thermal ground mat provided and follow the simple instructions provided with this spa.
However, like all hot tubs, it takes time to heat 290 gallons of water to the maximum temperature level. The insulated cover provided will help to retain the temperature while you're getting your spa ready.
The built-in hard water treatment system combats the potential damage from water with a high mineral content on your clothes, skin, and the spa's systems.
One of the features carried through from the standard Intex PureSpa is the aesthetically pleasing color-changing LED lighting. You also get the 2 padded headrests for complete relaxation.
What the Deluxe model gives you that the standard PureSpa does not is the easy-to-use wireless control panel. You won't have to leave the water to make adjustments to the bubbles or the heat when the control is in your hands wherever you go.
The Intex PureSpa Greywood Deluxe is ideal for families who are prepared to pay just a little bit extra to enjoy a more luxurious and relaxing experience.

---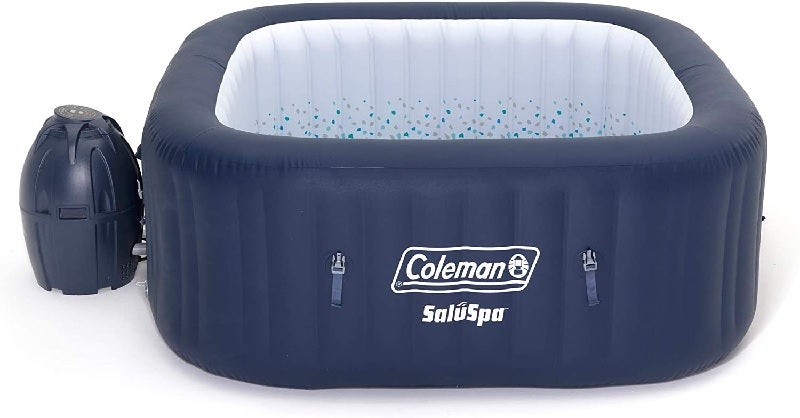 Coleman 90454 SaluSpa Hawaii at a Glance
:
---
Shape, Size, Weight: Square, 71

"D x 28″H, filled weight 1,938 lbs

Capacity: 160 gallons, 4 people
Heater: 1,400 W (temperature rise 2°-3° F/h)
Temperature range: From 40°F to 104°F
Bubble jets: 114 water jets
Extras: Reinforced cover with safety clips, 1-year pump warranty, and 90-day liner warranty
The Coleman 90454 SaluSpa Hawaii is another quality inflatable hot tub from Coleman. This model is designed to be portable for people who like to get around and enjoy the outdoors.
Its inflatable walls are constructed using a 3-ply material for added durability, and it is fitted with 2 easy-lift handles.
With this inflatable spa, you can enjoy a luxurious spa treatment anywhere you can find a flat surface, a water supply, and a power outlet.
A repair patch is included in case of accidents, but the liner is protected by a 90-day warranty to assure you that this is a well-made product.
The AirJet massage system uses 114 water jets, and the heating system can raise the temperature up to 1040F, so you can enjoy a luxury massage outdoors.
If that's too hot for you, the digital control panel enables you to adjust the heat to your perfect temperature. The chemical floater helps keep the water clean and safe for you to use.
When the spa is not in use, an inflatable and insulated cover is provided to keep debris out of the water, to keep the water warm, and to protect your curious kids from danger. Secure safety clips help hold it in place.
Given that Coleman is such a well-respected brand, it is surprising to find that the Coleman 90454 SaluSpa Hawaii is one of the most affordable inflatable hot tubs in this review. You and your family can enjoy a luxurious hot tub experience without spending a fortune.

---
Inflatable Hot Tub Comparison Table
How to Choose the Best Inflatable Hot Tub – Buyers Guide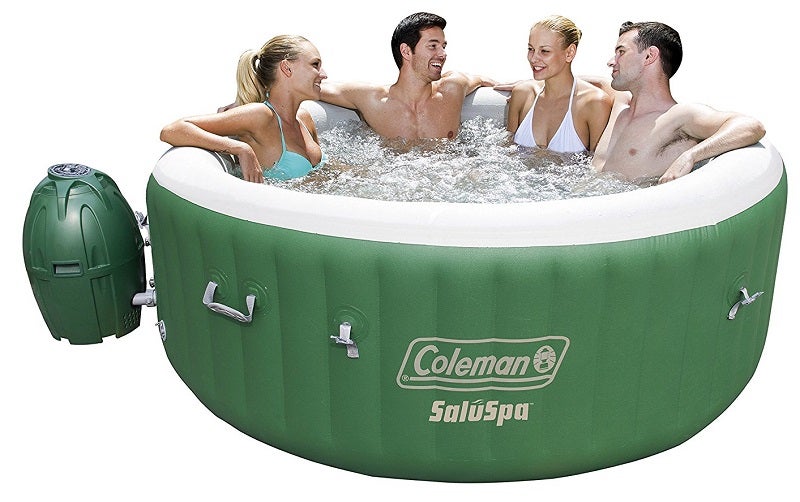 Inflatable hot tubs are much more affordable compared to a permanently installed tub or jacuzzi.
With their portability, you're flexible as to when and where to use them: take them out into the garden, to a friend's house or on vacation. They allow you to bond with a loved one or family and enjoy the health benefits of a relaxing bath or bubble massage.
In our following guide, we'll highlight the most important aspects of inflatable hot tubs so you can pick the model that best suits your needs and preferences.
How do you decide which model is best for you?
Apart from your budget, you will need to consider where you'll set up your inflatable hot tub. How much space do you have, and what tub capacity are you looking for?
Do you have a desired temperature range, and do you require any extras such as bubble jets, a pump for inflation or a cover? We'll go into more detail regarding the deciding factors in our guide after our top selection.

Heater & Temperature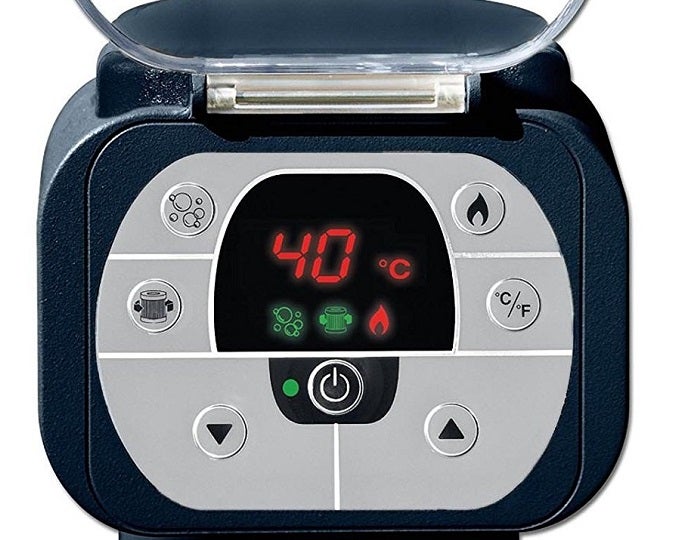 The heating element is of course one of the essential parts of the hot tub experience. A higher power means the unit can heat the water faster, but also means more consumption and a higher heating bill.
Slower units can only bring the temperature up by one or two degrees, whereas the powerful heaters can rise the temperature by two to three degrees. Most heaters have an output of more than 1,000 Watts.
A common temperature range for inflatable hot tubs is 68° to 104° Fahrenheit. You can set and control the temperature with the built-in panel. A timer is a practical feature if you want to program when the tub should start heating to be ready for your bath in time.

Capacity
The capacity specified by manufacturers is the absolute maximum in most cases. Fewer people means more comfort and requires more water.
A larger volume of water increases the heating time, the energy consumption and also the amount of chemicals required for treating the water.

Size & Shape

Ultimately, it's question of preference if you should get a round or square inflatable hot tub. In terms of simple math, a square unit is more economical, requiring less water and space.
A round tub will take up a larger area. In terms of comfort, some people specifically enjoy being seated in the corner of a square tub, using the walls as armrests.
A square tub makes it easier for a couple to sit on opposite sides. The more people you fit in any tub, the more likely it is they will have to sit with angled knees.
Pay attention to the height: if you're particularly tall, a higher wall means you will sit more submerged, though 28" seems to be a standard height for most tubs.

Jets
All the inflatable hot tubs in our selection not only deliver a hot water experience, they allow you to soak in a bubble bath.
For the bubble jets, a higher number of jets or a more powerful unit basically means more bubbles. The jets are located at the tub base so the bubbles rise all around you when you're seated with your back against the wall.
The Bestway 54155E Hawaii inflatable hot tub also has a total of eight hydrotherapy jets, two in each corner. They give you an additional premium massage experience.

Material & Construction
PVC and vinyl are common materials for inflatable hot tubs, but manufacturers also increase durability with nylon or polyester fabrics. They often use proprietary names for these, such as Fiber-tech or TriTech.
The structure helps increase the stability and durability of of the tub with segments, panels, and beams. Most hot tubs are sturdy enough that you can use them seated on the wall, or support yourself on it while getting in and out.

Cover
A locking top cover is not only for safety, it will also insulate the tub and trap the temperature inside while the unit is heating up. An inflatable and insulated cover is better than just a simple fabric. A tight fight helps with keeping the heat inside.

Extras & Accessories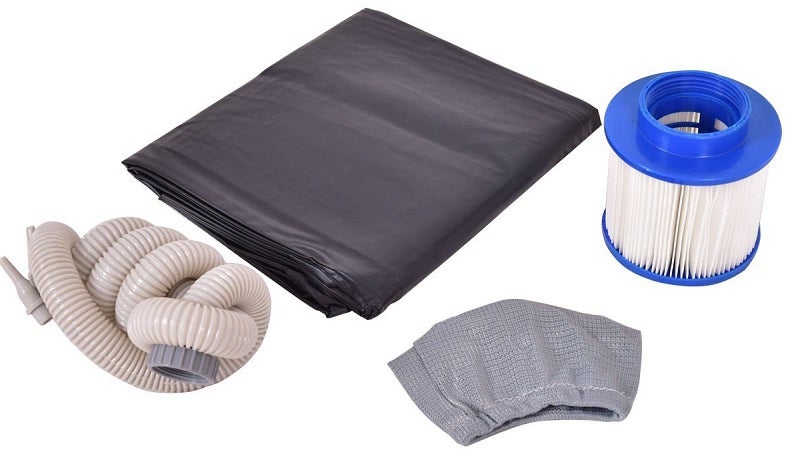 The inflatable hot tubs we've reviewed include all the necessary basics to get you started with your hot tub experience. Our editor's choice model also includes two headrests to comfortably lie back in the tub.
With time, you will need to buy new filter cartridges for the included water treatment filter. You also need pool chemicals to keep the water sanitized.
A solar blanket / thermal pool blanket helps you heat up the tub without a cover by using the sun's energy. A pH and alkalinity water test kit allows you to determine how many chemicals you need to add.
A sanitizing solution is required to treat the water after filling the tub.
Check out the available hot tub accessories to find what you need.

FAQs: About Inflatable Hot Tubs & Spas
Q: How does an inflatable hot tub work?
A: Inflatable hot tubs are an economical alternative to a regular hot tubs or a permanently installed jacuzzi. They work in much the same way: with a heater, you can control the water temperature, and many models feature extras such as bubble jets for added comfort.
A major advantage is the portability of an inflatable hot tub. You're flexible as to where you want to use it and you can stow it away when you need space. You can also bring it with you on vacation.
Q: Do I need to connect the tub to anything?
A: You will need a power outlet close by that can handle the high demand of the heater. Most tubs also feature an air pump for inflation which might require an additional outlet. Avoid damage from electrical surges or a short circuit due to water splashes. Always use safe cables and avoid exposed extensions.
You do not need to connect the inflatable hot tub to a permanent water source or drain. You can fill it manually with a hose and drain it with a hose and pump combination or manually by tipping it towards a drain.
Q: Where can I set up an inflatable hot tub?
A: The surface for your inflatable hot tub should offer sufficient space for the tub and around it, and it should be as flat as possible. It's also important that an ground, structure or surface on which you place the tub can hold the weight of the tub, the volume of water and the people inside it.
Pay close attention to the total weight when using a deck or porch. If the tub comes with an insulation liner, place it underneath the tub before inflation.
Q: How often do I need to change the water?
A: It is recommended to change the water at least once per month. In the summer month, sunlight will facilitate the buildup of bacteria and algae and you'll need to change the water more often. Greenish or murky water should be discarded. Always clean the tub with a sponge and mild detergent before refilling it with fresh water.
Q: Can I leave an inflatable hot tub outside?
A: Consult the manufacturer's instructions regarding temperature resistance. During the colder months, temperatures below 40°F can commonly cause permanent damage to the heater or pump of an inflatable hot tub. For using the tub during the winter, you'll need to place it inside and use it in a warmer location.
Q: Are inflatable hot tubs safe for children?
A: Inflatable hot tubs are no environment for bathing an infant. Children should always be under parental supervision.
Q: What maintenance does an inflatable hot tub require?
A: Hot tubs are built from sturdy and highly resistant material, but nonetheless, damage can happen. Holes can easily be patched up using a repair kit, similarly to how you'd patch an inflatable boat.
Regarding the use of chemicals for cleaning and sanitizing, follow the manufacturer's suggestions or instructions for your specific model. Inflatable hot tubs have a water filter that requires regular cleaning. Check the manual for instructions.
You may need to adjust the pH and alkalinity level of the water by adding chemicals. A common range for portable hot tubs is between 7.4 and 7.6 pH in order to prevent damage to the material. A water testing kit helps you determine the pH level for your water. You will need to readjust the level after a water change.
Outside Pursuits Overview
An inflatable hot tub allows you to enjoy a relaxing experience and spa treatment in your home or backyard without spending a fortune on a permanent installation or remodeling. The models we've reviewed are efficient, affordable and durable.
With the proper care and maintenance, any of these inflatable hot tubs can last you years. Determine your needs and preferences and use our guide above to match them to a model from our top selection. Then pamper yourself and enjoy your inflatable hot tub!
---
I hope this guide was helpful for finding the best inflatable hot tub to fit your needs. If you want to comment or recommend a spa I didn't include, please use my contact form to get in touch.
Enjoy!
How We Researched
To come up with the top inflatable hot tubs, we researched a variety of sources for reviews such as Home Depot, Lowes, Target and Wayfair  along with our own personal experience.
We also consulted online magazines for product research and reviews to get as much unbiased information as we could. To help weed out fake reviews we used Fakespot.com to make sure we only looked at genuine reviews.
With so much quality gear available, we had to narrow it down based on what we felt were the best options were for the price. The staff authors have a wide and varied background in yard design and home repairs.
The authors have decades of experience and are eager to share their knowledge with readers.
To help narrow down the selection we used personal experiences along with recommendations from landscapers, bloggers and contractors.
After extensive research, we came up with our list to help you choose the right one for you.
Sources
Notice:
OutsidePursuits.com is a participant in the Amazon Services LLC Associates Program, an affiliate advertising program. OutsidePursuits.com earns fees from products sold through qualifying purchases by linking to Amazon.com. Amazon offers a commission on products sold through their affiliate links.