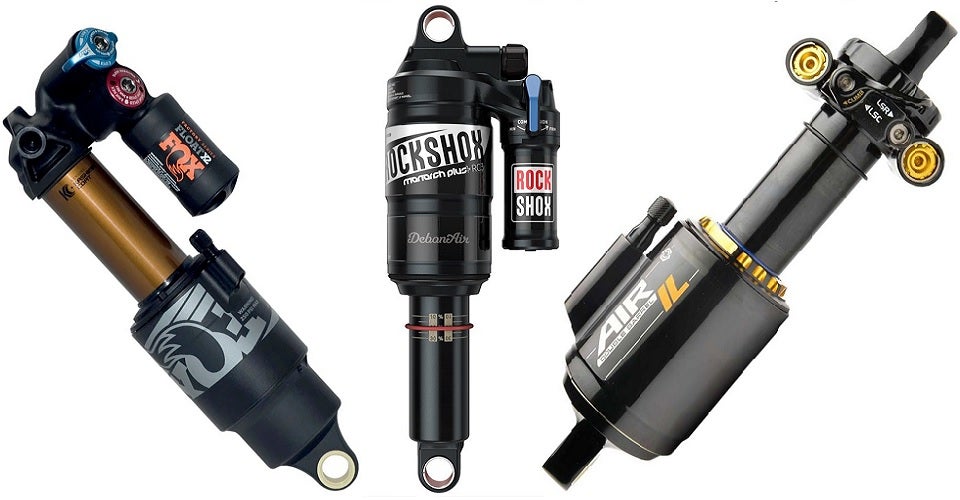 Our Editors independently research, test, and rate what we feel are the best products. We use affiliate links and may receive a small commission on purchases.
If you are reading this article, you are probably interested in upgrading or replacing your existing rear shock.
You may also be considering purchasing a full-suspension bike and want to learn about the different shock options that you are being offered.
There is a lot to consider when choosing the best rear MTB shock for you. Different styles of riding have different demands, and there are different shocks to match these.
Once you know what type of shock you want, you have to find one that is compatible with your frame. Check out the guide below to find out more.
Best Mountain Bike Rear Shocks
| | RockShox Monarch RT3 Rear Shock | Fox Float X2 Factory | Marzocchi Bomber CR Rear Shock |
| --- | --- | --- | --- |
| | | | |
| | | | |
| Spring: | Air Spring | Air spring | Coil spring |
| Damping: | External Rebound, 3 Position Compression | RVS damping system | RVS (Rod Valve System) |
| Weight: | 215g | 398g | 924g |
| Coating: | Anodized | Kashima | Anodized |
| | | | |
For more of my MTB biking recommendations, have a look through these popular Outside Pursuits guide links: MTB Dropper Posts, MTB Helmets, MTB Saddles.
Quick Answer: The 5 Best Rated MTB Rear Shocks For 2021
Our reviews of the top-rated MTB rear shocks with our comparison table and buyers' guide will help you choose the right one for you.
---
MTB Shock Reviews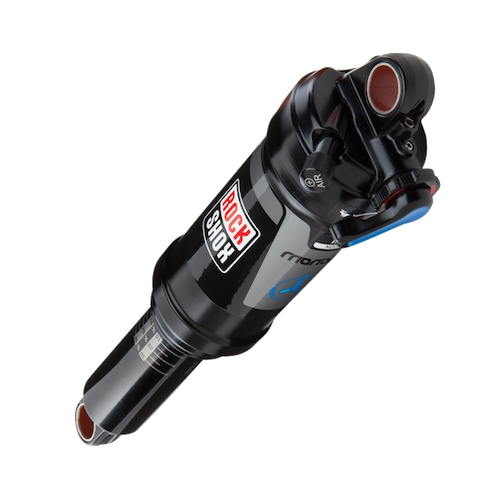 RockShox Monarch RT3 Rear Shock
at a Glance
:
---
Spring: Air Spring
Damping: External Rebound, 3 Position Compression
Weight: 215g
Coating: Anodized
This lightweight shock is an excellent choice for short-travel XC and trail bikes. Setup is a quick affair.
Simply find the correct air pressure to achieve the desired sag and then dial in the rebound. 20 clicks of rebound adjustment are available, so you have a wide range.
After that, you have a choice of three compression damping settings called open, pedal, and climb. The pedal setting will probably give you the perfect setting for general trail riding.
If you are about to tackle a technical descent then you can switch into open while climb firms the shock up for fireroad or asphalt ascents.
The Monarch RT3 feels great with smooth movement and great sensitivity at the start of the stroke to give a planted feel on the trail.
RockShox's "Rapid Recovery" rebound damping returns the shock faster from big impacts than small ones.
Although you do not really notice it when riding, this prevents the shock from getting packed down over multiple large impacts. This is especially important for short-travel bikes.

---

Fox Float X2 Factory at a Glance
:
---
Spring: Air spring
Damping: RVS damping system
Weight: 398g
Coating: Kashima
This shock is for serious enduro racers who require top performance and adjustability. The Float X2 Factory with its Kashima-coated stanchion offers plush and smooth traction.
A huge air can with the option of adding spacers for personalized tuning deals with big as well as small impacts wonderfully while staying supportive when you need it to.
It certainly isn't for everyone. First of all, you will need to check that there is enough frame clearance on your bike to fit this fat shock.
If there is, you will need to dedicate some serious time to set it up once it has been installed.
There are 22 clicks of both high and low-speed compression, as well as 22 clicks of high and low-speed rebound for you to dial in.
This cannot be done by hand but with the two included hex keys, so you cannot make an adjustment on the fly.
When you finally have it set up correctly you will be amazed at how smaller trail objects are squashed and big impacts swallowed.
In the case of the very biggest hits that push your suspension to the end of its travel, there is a progressive bottom-out bumper to prevent a harsh impact.
---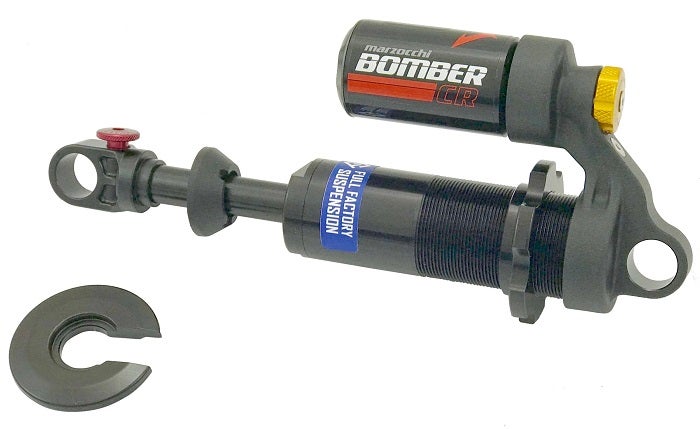 Marzocchi Bomber CR at a Glance
:
---
Spring: Coil spring
Damping: RVS (

Rod Valve System)

Weight: 924g
Coating: Anodized
If you want to try a coil shock on your enduro bike, the Bomber CR offers excellent and reliable performance at a great price.
It is, in fact, almost exactly the same as the highly-regarded Fox Vanilla RC shock. Fox bought Marzocchi a few years ago and now use the brand for their affordable shocks and suspension.
An affordable price always comes at a cost. In this case, it is a lack of adjustment.
However, this is not a problem as once you have found the right settings, you can just leave it alone and enjoy the ride.
Once you have installed the correct spring for your weight (springs are sold separately), you will need to dial in the low-speed compression and rebound.
There is no climb mode or lockout, so you will notice a bit of pedal bob when climbing. The Bomber CR is not intended for riders looking for climbing performance though.
It is on furious descents that this shock shines. Both small and big impacts are taken in their stride and the damping tuning is designed to deal with repeated big hits.
In short, it wants you to get rowdy on the trail. If the stock tune is not enough for you, customization is possible.
---

Cane Creek Double Barrel Air IL at a Glance
:
---
Spring: Air spring
Damping: Twin-tube independent compression
Weight: 509 g
Coating: Anodized and laser-etched
With separate dials for high and low-speed compression, as well as high and low-speed rebound, you can fine-tune the DB Air IL to turn it into a traction-seeking weapon that will help you rocket down trails.
You will need some patience to get it set up correctly though, especially because the dials require a hex key to adjust them, rather than a dial that can be turned by hand.
Fortunately, Cane Creek offer recommended setups and tools to help you get to find your perfect tune.
Once you have found the right settings, you will love the supreme traction that glues your rear wheel to the ground.
The LinEair Spring has been designed to give the supple feel of a coil shock but everything ramps up towards the end of the travel when sucking up big landings or impacts.
Spacers can be added to tune the level of progression.
For those long climbs back to the top of the mountain, there is a climb switch to firm everything up and a remote lever is also available if you do not want to reach down to the shock each time.
---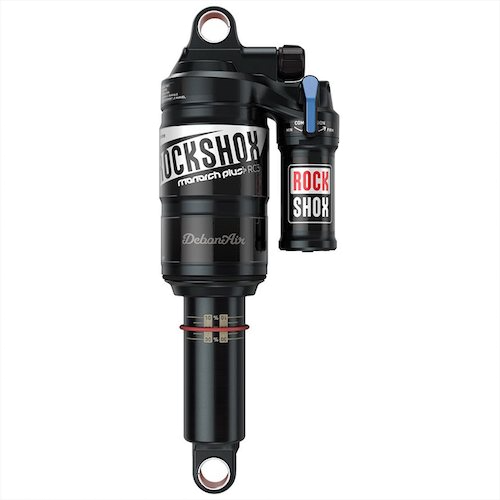 RockShox Monarch Plus RC3
at a Glance
:
---
Spring: Air Spring
Damping: External rebound, 3-position compression
Weight: 335g
Coating: Anodized
If you are into enduro or aggressive trail riding and want a shock that performs great while being easy to set up, the Monarch Plus is what you need.
You are not wrong in noticing that it looks like the bigger brother of the Monarch RT3.
It is just as easy to find the correct settings with air pressure and rebound and the Plus does the same great job out on the trail.
The difference is that the Plus has a bigger air can and a piggyback oil reservoir.
Thanks to the large negative air chamber, the beginning stroke of the Monarch Plus has a similar plush feel to a coil shock.
The other advantage of the huge air volume is that this shock deals very well with big impacts, ramping up a lot towards the end of the stroke.
Factor in the piggyback reservoir and you have a shock that is very well adept for long, technical descents.
Various tunes are available, with the medium tune being recommended for aggressive riders. Setup is just as easy as the Monarch RT3.
Set the correct sag and dial in the rebound with the 20 clicks of adjustment. There are three compression damping settings for climbing, trail, and all-out descending.
Further tuning can be done by adding internal volume reducers.
These are essentially rubber bands that reduce the volume of air inside the air can, making the shock more plush at the start of the stroke and ramp up more at the end.
---
MTB Rear Shock Comparison Table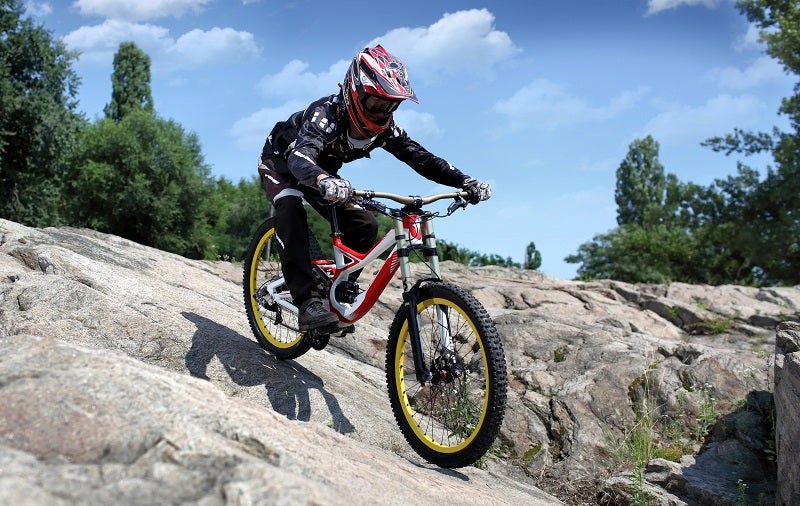 Frequently Asked Questions: (FAQ)
Should I choose a rear air shock or a coil shock?
Most bikes are specifically designed for air shocks and some can accept coil as well.  So an air shock is often the safe option. But if your bike allows you to choose between the two, here are the trade-offs. The coil shock allows for a plusher, more comfortable ride but the spring has to be matched to the weight of the rider.  The air shock can be adjusted with air pressure to match the rider's style and weight. It is also lighter and has a wide range of options for adjustment options.
2. What shock will fit my bike?
The two key rear shock measurements of any bike are eye-to-eye length and stroke. The eye-to-eye measurement is the length of the shock from the center of one mounting eye/hole to the center of the hole. The stroke length is the amount of shock travel through its movement.
3. What is spring weight in coil shocks?
The key characteristic of coil shocks is the rider can change the springs to match the bike suspension and the rider weight. Springs for coil shocks are rated using two numbers, eg 450 X 2.25. The first number is the weight (in pounds) needed to compress the spring by an inch, and the second is the travel length of the spring (in inches, similar to stroke).
How to Choose the Best MTB Rear Shock – Buyers Guide
Frame and suspension designs are improving all the time with the result that even lower-end full-suspension bikes can offer great performance.
Suspension design refers to the frame itself and how the rear triangle moves.
The performance of the suspension is a combination of this design as well as the shock absorber.
A shock is responsible for smoothing out the ride by sucking up energy when the rear tire hits an object, or lands from being in the air.
It will compress before returning the wheel back to where it started. Exactly how well and with what properties a shock will do this, depends on the shock itself, as well as how it has been set up.
So unless you have a hardtail MTB, you will need a rear shock. Let's get into how to choose a shock and what makes a good one!
Spring Mechanism
Shocks are either air-sprung or coil-sprung and each type has its pros and cons. Air springs are standard on XC and trail bikes.
They are lightweight and the spring rate (how hard it is to compress) can be easily adjusted by changing the air pressure.
Because the spring works by compressing air, it gets increasingly harder to compress the shock as it moves through its travel.
An air shock will, therefore "ramp up" towards the end of its travel to prevent a harsh bottom out.
This property is especially favored by freeriders and some downhill racers, who want a progressive feel to their suspension.
Coil shocks make use of a metal spring instead of air and are the normal choice of downhill and enduro racers looking for a plush suspension system.
Coil shocks are heavier but give a much more supple feel on the trail. The full length of suspension travel with a coil shock is linear, meaning that they do not ramp up towards the end like an air shock.
The only way to adjust the spring rate is to install a different spring and it is important to match rider weight with spring strength to get optimum performance.
There are also progressive springs available that ramp up towards the end of the travel just like air shocks do.
All shocks have an oil damping system. Damping is what prevents a shock from behaving like a pogo stick and bouncing uncontrollably.
You will often see a "piggyback" oil reservoir on a shock, which is there to ensure the shock is still performing at the end of long descents.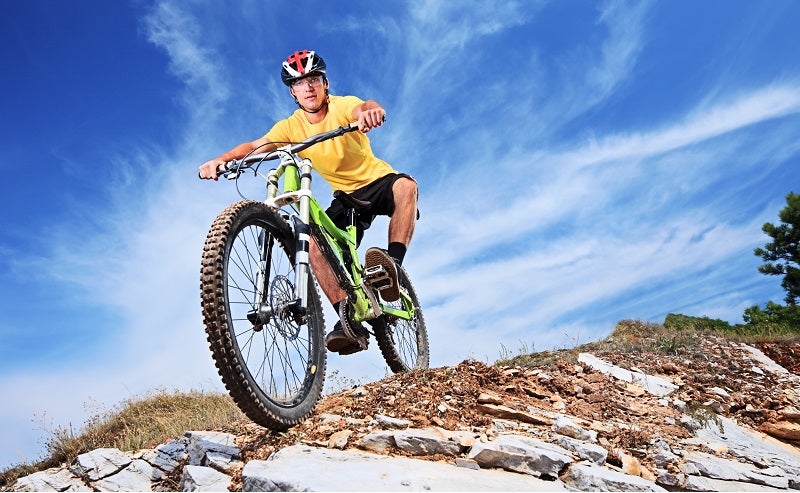 Length
Just in case you are unsure, the length of a shock has nothing to do with the amount of suspension travel on a bike.
You could find a frame with 100mm of travel and another with 160mm both using the same shock.
However, not every shock has the same length and it is crucial that you get the correct length shock for your frame, otherwise, it simply will not fit.
There are two measurements that you need to be aware of. The first is eye-to-eye length. This is the measurement between the center of the eyelets at each end of the shock.
These eyelets are where the shock gets bolted onto the frame. The other measurement is stroke length. This is the length of the stanchion that slides into the shock body.
Two different shocks might have the same eye-to-eye length but a different stroke length.
Check what lengths are compatible with your frame if you are looking at something with different measurements to your current shock.
Mounting Hardware
Once you have decided on the type of shock you need and found out what size it should be, you also need to consider the mounting hardware.
Put simply, mounting hardware is everything that is needed to securely attach the shock to the frame. Every frame design is differently as well as shocks.
Mounting hardware is therefore always sold separately and it can be a nightmare finding out exactly what you need.
It is best to refer to the handbook that came with your frame or get in touch with the manufacturer if you are in doubt.
Adjustment
As described above, the spring rate of a shock can be adjusted by changing the air pressure or swapping the coil.
There are other adjustments for high and low-speed compression, as well as rebound that you are likely to find on shocks.
High-speed compression determines how the shock behaves when hit hard or fast. It prevents the shock from blowing through all of its travel.
Low-speed compression is how supple the shock is in response to smaller bumps on the trail. Rebound is how fast the damping allows the shock to return.
Too much rebound will make the rear wheel bounce off objects and buck you into the air off jumps, whereas too little will result in the shock packing down under repeated impacts.
Getting the right balance of all the settings can be a tricky procedure with lots of testing. Not all shocks have dials to adjust each of these. At the least, they will have rebound adjustment.
Frame Compatibility
Last but not least you need to be certain that your new shock will work with your frame.
It may have the correct measurements, but if your new shock has a piggyback reservoir whereas the old one did not, you need to make sure that the shock will not hit your frame or water bottle under compression.
You may experience similar issues when upgrading to a coil shock. Checking with your frame manufacturer can help you predict any problems in advance.
How We Researched
To come up with the top mountain biking rear shocks, we researched a variety of sources for reviews such as Competitivecyclist, JensenUSA, REI, EVO along with our own personal experience.
We also consulted online magazines for product research and reviews to get as much unbiased information as we could. To help weed out fake reviews we used Fakespot.com to make sure we only looked at genuine reviews.
With so much quality gear available, we had to narrow it down based on what we felt were the best options were for the price. The author, Richard Bailey has a wide background in mountain biking in a variety of countries, terrain types, and bike packing for weeks on end.
The author has decades of experience and is eager to share his knowledge with readers.
To help narrow down the selection we used personal experiences along with recommendations from fellow MTB bikers, bloggers and bike shops.
After extensive research, we came up with our list to help you choose the right one for you.
Notice:
OutsidePursuits.com is a participant in the Amazon Services LLC Associates Program, an affiliate advertising program. OutsidePursuits.com earns fees from products sold through qualifying purchases by linking to Amazon.com. Amazon offers a commission on products sold through their affiliate links.